Osaka became my absolute favorite city in Japan. Even though we didn't have much time to spend there (At first, we thought we could just spend 2 days in Osaka). Basically, we had to come up with an Osaka itinerary 2 days.
However, as life sometimes plays, we would return to Osaka just one week later being given some more time to explore this wonderful city.
Due to its busy streets, skyscrapers and advertising signs Osaka might even remind me a little of my Big love New York City. Don't you guys think? And with a little imagination, Shinsaibashi could be even similar to Times Square. Well, just with a river running through. But who hasn't looked at the Times Square and thought to himself: A river running through here would be so cool. However, whether it is similar to New York City or not. Let's just agree on the fact that Osaka is an amazing city.
In the following, you can find your Ultimate Osaka 2 Days Itinerary.
Osaka Facts
The second largest Metropolitan area in Japan (after Tokyo)
The former name is Naniwa
Was Japan's first capital city
How to get to Osaka
You can find flights directly to Osaka from many destinations. Sometimes it is even cheaper flying directly to Osaka than to Tokyo. Check here for the cheapest flights.
From Tokyo to Osaka
There are different ways to get from Tokyo to Osaka. The cheapest is probably to go by bus. On the other hand, the trip by bus takes about 8 hours. You can as well go by train, but it is way more expensive than the bus but much faster, on the other hand.
On this website, you can read about the different options between Tokyo and Osaka. Or you can as well go by hitchhiking – it's for free! 😉
From Kyoto to Osaka
Price: from 400 yen (about 3.30 €/ $ 3.60)
Duration: from 12 minutes with Shinkansen Train
It is pretty easy to get from Kyoto to Osaka. The two cities are not far from each other and trains run hourly between the two Japanese cities (e.g. from Sanjo Station).
The price differs depending on the type of train you choose. The Shinkansen Train (Highspeed Train) takes you from Kyoto to Osaka in just 12 minutes but also costs 1420 yen (approx. € 12/ $ 13 *).
If you don't want to spend that much, you can use the JR Kyoto Line for 560 yen (approx. € 4.70/ $ 5) with a 28-minute journey instead. It is even cheaper with the Yodoyabashi Line for 410 yen (approx. € 3.40 / $ 3.75) with a 55-minute journey. If this is too long for you, you can also take the Hankyu Line. It costs only 400 yen (approx. € 3.30/ $ 3.60) and takes you 40 minutes.
* Free with the Japan Rail Pass
Is the Osaka Amazing Pass worth it?
Like many other major tourist cities, Osaka also offers its visitors a tourist pass, the so-called Osaka Amazing Pass
.
What does the Osaka Amazing Pass include?
24 or 48 hours
Free entry to more than 40 sights
Unlimited bus and train rides
Special offers and discounts in over 65 restaurants and shopping opportunities
How much does the Osaka Amazing Pass cost?
1 day: 2,700 yen (approx. € 23/ $ 25)
2 days: 3,600 yen (about 30 €/ $ 33)
Conclusion – Osaka Amazing Pass yes or no?
Whether the pass is worth its price is entirely up to you. Do you plan to move around a lot on public transport and visit a lot of attractions throughout the city? Then you should think about buying an Osaka Amazing Pass, as it can save you a lot of money.
However, if you would rather get to know Osaka on your own without visiting many of the attractions that are subject to a fee, then the pass is not worth it.
It is best to be clear beforehand about which Osaka attractions you want to see during your stay. And then it's time to compare prices. Does the cost of individual tickets exceed the price of the Osaka Amazing Pass? Then you should definitely purchase it.
Where can I buy the Osaka Amazing Pass?
The best way to buy the Osaka Amazing Pass is online.
See more information about the Osaka Pass
Your Ultimate Osaka Itinerary
Osaka 2 Day Itinerary – Day 1
Osaka Map
Amerikamura
Amerikamura, also called Amemura, is a shopping district in Osaka. It is popular, especially for teenagers as it has more of a young vibe, rather than only selling well-known brands. This area is great for having a little insight into modern Japanese culture and fashion.
As you might be already able to guess by its name, this district is highly influenced by the American culture.
Minami, Shinsaibashi & Dotonbori
Shinsaibashi is a district in Osaka, which is popular for its shopping streets. In this area, nothing seems impossible. It should definitely be included in your Osaka itinerary. You can simply find everything you could possibly be looking for.
From little shops with things, you might never need, to restaurants up to stores for luxury brands. Accordingly, the streets of Shinsaibashi are usually full of people of every age. During the daytime as well as during night time, you will find a lot of things to do around. And also a lot of good food and street food.
The highlight of this area might be the Minami, the Shinsaibashi Bridge that leads over the Dotonbori River. (That's why this popular area is also called Dotonbori) Surrounded by dozens of shinning banners and advertisements you can have a nice view on the river running through Osaka. Especially at night, we got the feeling that all these lights make the square become as illuminated as during daytime. What an amazing feeling.
From here you can also have a view of the famous Glico Running Man sign. If you haven't heard of him yet: He became quite an icon for Osaka throughout Japan and is, therefore, a popular photo spot.
From Minami, you can as well see the huge Don Quijote Store of Osaka. You will recognize those shops as they usually have a penguin hanging outside wearing something that looks like a Santa hat. Inside of it, you can find everything you have never been looking for and even more. But don't worry if you are running out of time. Any bigger city in Japan has such a Don Quijote Store.
The Tempozan Ferris Wheel
Opening Hours Tempozan Ferris Wheel: 10 am – 10 pm
Entrance Fee: 800 Yen (ca. 6,35 € /$ 7,16)
Another super popular option when staying 2 days in Osaka is this Ferris Wheel. From one of the 60 cabins of the wheel, you have a simply amazing view of the Osaka Bay.
Some of the cabins are even accessible by wheelchair.
But even from the outside, this Ferris Wheel offers an amazing picture as it's colorful and can even display pictures.
You can find Tempozan after a 5-minutes walk from Osakako Station.
Tempozan Marketplace
After enjoying your ride with the Tempozan Ferris Wheel, make sure to check more parts of this area. A great way to do so is the Tempozan Marketplace. Here you can find amazing shops, restaurants as well as the Kaiyukan Aquarium, which is also worth a visit if you have the time. Have a snack in one of the restaurants or Food Courts and make sure to buy an amazing Japanese Souvenir to take home.
You can find more information about the Tempozan Marketplace here.
Okonomiyaki
I know I have mentioned it before and I don't mind repeating myself. This dish is just so tasty! Okonomiyaki became our absolute favorite dish in Japan. And it doesn't only taste good but also gives you a nice opportunity to spend time together with friends. The food usually gets grilled on a hot plate in the middle of the table. If you want to know more about this yummy dish (and even nine more) you can find our Top 10 popular food in Japan here. (Maybe you shouldn't read it when you are hungry, though)
Karaoke
Japan is famous for its love for Karaoke. So obviously we couldn't leave without trying. On our first evening in Osaka after having our amazing Okonomiyaki dinner, we went to sing Karaoke with our friend Kana and a friend of hers. The chain is called Karaoke Room. Well, at least that's what the only Latin letters in its logo say.
In Japan, usually, every group gets its own little karaoke room. This way you don't have to embarrass yourself in front of everyone. (Well, after being forced to sing la Isla Bonita by Madonna in front of around 200 people (including my boss and colleagues) in order to motivate people to join singing in a Maldives Resort I've been working in (no one did in the end. So I even was to only one singing at all) I guess nothing can really embarrass me anymore when it comes to karaoke. But that's another story) Moreover, you can get as much to drink as you want. (Alcohol-free though) Anyway, the rooms are comfortable and come with an air conditioner.
We were really surprised by how many songs they offer to sing. They had everything we've been looking for actually. Even recent songs from the charts. We just had a great time. And time went by so fast. I can just highly recommend that to everyone!
Osaka 2 Day Itinerary – Day 2
Sumiyoshi Taisha
Opening Times: 06.00 am – 05.00 pm
Entrance Fee: Free of charge
The Sumiyoshi Taisha (The Sumiyoshi Grand Shrine) is one of the oldest shrines in Japan. It was founded back in the 3rd century. The architecture is purely Japanese and not influenced by the Asian mainland which makes this shrine even more unique.
Another famous thing you can find here is the Sorihashi Bridge, which you can see in the photo above.
Kuchu Teien Observatory of Umeda Sky Building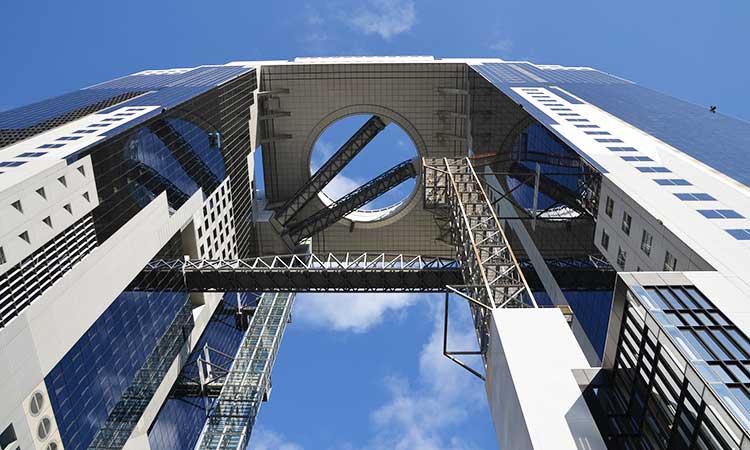 Opening Hours Umeda Sky Building: 9.30 am – 10 pm / 10.30 pm
Entrance fee Umeda Sky Building: 1,500 yen (approx. € 12.50/ $ 14)
The Umeda Sky Building is one of the largest and most impressive buildings in the city. It's therefore just a great opportunity that the Umeda Sky Building has its own viewing platform. From here, you have an incredible 360-degree view of Osaka.
The viewing platform is a kind of bridge between the two towers of the Umeda Sky Building. Whether you visit during the day or at night, this is surely one of the most breathtaking experiences waiting for you in Osaka.
The castle of Osaka
Opening Times: 09.00 am – 05.00 pm
Entrance Fee: 600 Yen (ca. 4,50€ /$5,50)
Probably the most famous sight of Osaka is its castle. It looks so impressive in the middle of a relaxed park.
We got the recommendation to go see the Osaka castle during night time. As being illuminated by the lights around it even seems more impressively. And yes, it totally does. The only drawback is that its doors were already closed and there was no way for us to enter.
For this reason, we recommend a visit here in the late afternoon. So you can discover the museum inside the castle without any rush. It is full of interesting facts about the history of the city and the castle itself. There is also an observation deck on the 8th floor from which you can enjoy a great view over the roofs of the city.
The castle itself can look back on a history dating back to the 16th century. At that time it was one of the most important buildings in the whole country. If that's not a reason alone for a visit here?! Anyway, the castle can no longer be seen in its original form, as it has been destroyed and rebuilt several times over the years. Today it even offers its visitors an elevator.
The Umeda- and Fukushima district
If you are looking for a district to go out in Osaka, you definitely don't have to look far. We got recommended especially the Namba-, the Umeda-, and the Fukushima district. So we spent our first night in Umeda and our last night in the Fukushima District.
We got accompanied by our lovely friend Kana, but I will tell you about her later. Besides the Okonomiyaki restaurant, we went to in Umeda, which is located in one of the top floors of a huge shopping mall you find also a big variety of other restaurants. Moreover, Umeda offers a ton of stores and bars. In short words, it's perfect for going out. As I already mentioned before we spent the evening going to sing karaoke.
If you are looking for possibilities to go shopping in Fukushima you might not be in the right place. But for restaurants and bars, it is the place to be. The cool part about Fukushima is that it looks more like a traditional Japanese area. But on the other hand, you can see those huge skyscrapers from there. What a great combination. But feel free to take a look around yourself. Maybe you find an even better area in Osaka?
Another thing I would like to share with you, guys: In Osaka, we met this amazing person I can't help but tell you about. Her name is Kana. Here the quick story of how we met. In February we hosted a nice guy (Kenta) from Tokyo in our place. We had a fun time going out together in Barcelona. So it happens that his girlfriend Kana offered to host us in Osaka as well. And more than that. She is just such an amazingly helpful and kind person. Not only she went out with us and showed us great places in Osaka, but also did she let us stay at her place (even at her birthday) and she also gave us some device with wifi to carry around, which helped us a lot for the rest of our trip through Japan.
We are just so endlessly thankful for everything she has done for us. And we also had the chance to meet her boyfriend Kenta again, which was a nice surprise. I can't wait to meet her anywhere in the world.
More great things to see in Osaka
Universal Studios
If you have more time to spend in Osaka make sure to also check out the Universal Studios. It's a fun experience whether you are traveling alone or with children.
The Kaiyukan Aquarium
Another highlight in Osaka, which is particularly suitable for families with children, is the Kaiyukan Aquarium. This aquarium, which is one of the largest of its kind, has a lot to offer. In addition to the usual fish, the manta rays and whale sharks are real highlights.
Osaka Museum of History
If you are interested in history and culture or just want to learn more about this interesting city in Japan, you should not miss a visit to the Osaka History Museum.
Day Trips from Osaka
If you have more time make sure to plan a day trip from Osaka as well as there are great destinations around to see as well.
Day Trip from Osaka to Nara
Nara is a cute little town not far from Osaka. You can get there by joining a tour or on your own. If you want to know more make sure to check our Nara Guide here.
Day Trip from Osaka to Kyoto
Kyoto is a city in Japan you definitely don' want to miss on your Japan itinerary.
Since Kyoto is not far from Osaka, it's a great day trip from there. Make sure to check our favorite Top 5 temples in Kyoto before you go.
FAQ about Osaka
How many days do I need in Osaka?
To discover the main attractions, you should spend at least 2 days in Osaka. However, if you have more time, we definitely recommend staying longer. The ideal itinerary would be 3-5 days.
Is Osaka expensive?
Of course, that depends on how you define expensive. Compared to Germany, Osaka is not exactly cheap (approx. 2% more expensive) Compared to the US, Osaka can be quite expensive. Compared to Tokyo, Osaka is a bit cheaper.
Which city is better Osaka or Tokyo?
Unfortunately, there is no one-size-fits-all answer, and of course it depends on your preferences. Tokyo is larger and has more sights than Osaka. But Osaka is quieter and has many other places worth visiting in the surrounding area, such as Kyoto or Nara.
Is Osaka worth a visit?
Absolutely! There is so much to see, lots of great food and friendly locals. Osaka has a very different vibe than Tokyo and should, therefore, be part of every Japan itinerary.
Best accommodation in Osaka
Best Budget Accommodation in Osaka
Bed in a dorm, 1 Star
Check further information, price, and availabilty
Best middle-range accommodation in Osaka
Double room with private bathroom, 2 stars
Check further information, price, and availabilty
Best Luxury Accommodation in Osaka
Japanese style room, 5 stars
Check further information, price, and, availabilty
Interested in Japan?
Subscribe!
Follow my adventures and get inspired for your next trip ;). No spam!
If you want, you can read a summary of our Data Protection here:

Owner: Vicki Franz
Purpose: manage the registration to the newsletter and send periodic newsletters with information and prospective offer of products or services. Your data will be stored at GetResponse, an email marketing provider that also complies with the RGPD.
Rights: You can exercise your rights of access, rectification, limitation and deletion of data on hello@eduardosans.com as well as the right to file a complaint with a supervisory authority.
Additional Info: At https://vickiviaja.com/privacy-policy-and-disclaimer/, you will find additional information about the collection and use of your personal information, including information about access, retention, correction, deletion, security, and other topics.