Osaka is definitely one of my favorite places in Japan. And this even though we didn't even have that much time during our first visit. But even two days in Osaka is enough to fall for this stunning Japanese city entirely.
Therefore, we created a 2-days Osaka itinerary for all the must-see Osaka sights. – As fate sometimes plays, we ended up spending two more days in this unique city. But despite all that, here I would like to introduce you to the best sights of Osaka for two days (or more).
However, as life sometimes plays, we would return to Osaka just one week later, being given some more time to explore this wonderful city.
Due to its busy streets, skyscrapers, and advertising signs, Osaka might even remind me a little of my big love of New York City. And with a bit of imagination, Shinsaibashi could be even similar to Times Square. Well, just with a river running through. But let's be honest, who hasn't looked at Times Square and thought to himself: A river running through here would be so cool?! However, whether it is similar to New York City or not. Let's just agree on the fact that Osaka is an amazing city.
In the following, you can find our Ultimate Osaka 2 Days Itinerary and a whole bunch of valuable tips for your visit. So let's not waste more time and start.
Osaka Facts
The third largest city in Japan (after Tokyo & Yokohama)
The former name is Naniwa
Was Japan's first capital city
Osaka is also known as the " Kitchen of the Nation" because of its delicious food
How to get to Osaka
You can find flights directly to Osaka from many destinations. Sometimes it is even cheaper to fly directly to Osaka than to Tokyo. Check here for the cheapest flights.
From Tokyo to Osaka
There are different ways to get from Tokyo to Osaka. The cheapest is probably to go by bus. On the other hand, the trip by bus takes about 8 hours. You can also go by train, but it is way more expensive than the bus but much faster, on the other hand.
On this website, you can read about the different options between Tokyo and Osaka. Or you can as well go hitchhiking – it's for free! 😉
From Kyoto to Osaka
Price: from $ 6
Duration: from 14 minutes with Shinkansen Train
It is pretty easy to get from Kyoto to Osaka. The two cities are not far from each other, and trains run hourly between the two Japanese cities (e.g., from Sanjo Station).
The price differs depending on the type of train you choose. The Shinkansen Train (Highspeed Train) takes you from Kyoto to Osaka in just 14 minutes but also costs 1420 yen (approx. € 12/ $ 13 *).
If you don't want to spend that much, you can use the JR Kyoto Line for 560 yen (approx. € 4.70/ $ 5) with a 28-minute journey instead. It is even cheaper with the Yodoyabashi Line for 410 yen (approx. € 3.40 / $ 3.75) with a 55-minute trip. If this is too long for you, you can also take the Hankyu Line. It costs only 400 yen (approx. € 3.30/ $ 3.60) and takes 40 minutes.
* Free with the Japan Rail Pass
Your Ultimate Osaka Itinerary
Osaka 2-Day Itinerary – Day 1
Amerikamura
Amerikamura, or "Amemura" for short, is a neighborhood in Osaka, Japan, known for its young, trendy residents and abundance of Western-style fashion and dining options. The area is also home to several small businesses, many of which are independently owned and operated. Amerikamura is a popular destination for both tourists and locals alike and is well known for its lively atmosphere.
As you might be already able to guess by its name, this district is highly influenced by American culture.
Minami, Shinsaibashi & Dotonbori
Shinsaibashi is a district in Osaka which is famous for its shopping streets. In this area, nothing seems impossible. It should definitely be included in your Osaka itinerary. You can find everything you could possibly be looking for.
From little shops with things, you might never need to restaurants up to stores for luxury brands. Accordingly, the streets of Shinsaibashi are usually full of people of every age. During the daytime as well as during nighttime, you will find a lot of things to do around. And also a lot of good food and street food.
The highlight of this area might be the Minami, the Shinsaibashi Bridge that leads over the Dotonbori River. (That's why this popular area is also called Dotonbori) Surrounded by dozens of shining banners and advertisements, you can have a nice view of the river running through Osaka. Especially at night, it almost feels like daytime due to all the lights surrounding this area.
From here, you can also have a view of the famous Glico Running Man sign. If you haven't heard of him yet: He became quite an icon for Osaka throughout Japan and is, therefore, a widespread photo spot.
From Minami, you can as well see the huge Don Quijote Store in Osaka. You will recognize those shops as they usually have a penguin hanging outside wearing something that looks like a Santa hat. Inside it, you can find everything you have never been looking for and even more. But don't worry if you are running out of time. Any bigger city in Japan has such a Don Quijote Store.
The Tempozan Ferris Wheel
Opening Hours Tempozan Ferris Wheel: 10 am – 10 pm
Entrance Fee Edo Museum: 800 Yen (ca. $ 5.5)
Another super popular option when staying 2 days in Osaka is this Ferris Wheel. From one of the 60 cabins of the wheel, you have a simply incredible view of Osaka Bay.
Some of the cabins are even accessible by wheelchair.
But even from the outside, this Ferris Wheel offers a fantastic picture as it's colorful and can even display images.
You can find Tempozan after a 5-minutes walk from Osakako Station.
Tempozan Marketplace
After enjoying your ride with the Tempozan Ferris Wheel, make sure to check more parts of this area. A great way to do so is the Tempozan Marketplace. Here you can find unique shops and restaurants and the Kaiyukan Aquarium, which is also worth a visit if you have the time. Have a snack in one of the restaurants or Food Courts, and make sure to buy a fantastic Japanese Souvenir to take home.
You can find more information about the Tempozan Marketplace here.
Okonomiyaki
I know I have mentioned it before in many other of my Japan articles, and I don't mind repeating myself: This dish is just so tasty! Okonomiyaki became our absolute favorite dish in Japan. And it doesn't only taste good but also gives you an excellent opportunity to spend time together with friends.
This yummy dish is a Japanese pancake made from batter, which is usually filled with savory ingredients such as pork, shrimp, or cabbage. It can also be served as an appetizer or side dish and can be topped with a variety of sauces and toppings. This type of food usually gets grilled on a hot plate in the middle of the table.
Karaoke
Japan is known worldwide for its love of karaoke. If you want to really immerse yourself in Japanese nightlife, karaoke is a fabulous way to do so. Of course, we also wanted to try. So we went to karaoke on our first night with our friend Kana and one of her friends.
In Japanese Karaoke bars, each group is assigned its own little private room. This way, you have more privacy and don't have to sing in front of everyone at the karaoke bar. Also, you can drink as much as you like (non-alcoholic) during your stay (depending on the provider). The rooms are cozy and have air conditioning.
The song selection surprised us a lot. There is a vast selection of music – also many international songs. So you don't have to be able to read Japanese characters to enjoy a karaoke session. Of course, we had a lot of fun, and the hour flew by. (If one hour is not enough, you can easily extend your stay).
In Osaka, there are various karaoke venues with different prices. We chose the karaoke chain Uta Hiroba. But there are countless others spread all over the city. In this article, you will find a good selection of various chains.
Osaka 2 Day Itinerary – Day 2
Sumiyoshi Taisha
Opening Hours: 06.00 am – 05.00 pm
Entrance Fee Edo Museum: free of charge
The Sumiyoshi Taisha (The Sumiyoshi Grand Shrine) is one of the oldest and most important shrines in Japan. It was founded back in the 3rd century. The architecture is purely Japanese and not influenced by the Asian mainland, which makes this shrine even more unique.
It is dedicated to the three gods of the sea and has been a popular pilgrimage site for centuries. The shrine is located a short walk from the Sumiyoshi Park stop on the JR Loop Line. The shrine grounds are beautiful, and there are several exciting features to see.
Another famous thing you can find here is the Sorihashi Bridge, which you can see in the photo above.
Kuchu Teien Observatory of Umeda Sky Building
Opening Hours Umeda Sky Building: 9.30 am – 10 pm / 10.30 pm
Entrance fee Umeda Sky Building: 1,500 yen (approx. $ 10.30)
Tickets for Umeda Sky Building: It is worth reserving your ticket online in advance to avoid long lines, e.g., here on Klook
The Umeda Sky Building is one of the city's largest and most impressive buildings. It's, therefore, just a great opportunity that the Umeda Sky Building has its own viewing platform. From here, you have an incredible 360-degree view of Osaka.
The viewing platform is a kind of bridge between the two towers of the Umeda Sky Building. Whether you visit during the day or at night, this is undoubtedly one of the most breathtaking experiences in Osaka.
The castle of Osaka
Opening Hours Osaka Castle: 09 am – 05 pm
Entrance Fee Osaka Castle: 600 Yen (ca. $ 4,50)
Probably the most famous sight of Osaka is its castle. It looks so impressive in the middle of a peaceful park. So before visiting the castle itself, make sure to take your time for a long stroll through the park.
We got the recommendation to see the Osaka castle during night time. As being illuminated by the lights around it even seems more impressively. And yes, I couldn't agree more.
For this reason, we recommend a visit here in the late afternoon. So you can discover the museum inside the castle without any rush. It is full of interesting facts about the history of the city and the castle itself. There is also an observation deck on the 8th floor from which you can enjoy a great view over the city's roofs.
The castle itself can look back on a history dating back to the 16th century. At that time, it was one of the most important buildings in the whole country. If that's not a reason alone for a visit here?! The castle can no longer be seen in its original form, as it has been destroyed and rebuilt several times over the years. Today it even offers its visitors an elevator.
Explore Osaka's Nightlife in Umeda- or Fukushima district
If you are looking for a district to go out to in Osaka, you definitely don't have to look far. We got recommended, especially the Namba-, the Umeda-, and the Fukushima district. So we spent our first night in Umeda and our last night in the Fukushima District.
Umeda District
Umeda, also called Kita, is a central district in Osaka known for its lively and vibrant atmosphere. The neighborhood is home to many (underground) shopping malls, department stores, and restaurants, as well as office buildings and apartments. Umeda is a popular destination for both residents and visitors of Osaka and is considered one of the city's main business districts.
But a visit here is especially worth it at night when Osaka's locals go out to have a drink after work. Your options are endless – you can visit one of the countless bars or restaurants, try Okonomiyaki or finish your night with a fun Karaoke session or a refreshing Japanese drink in a bar.
Fukushima District
Also, Fukushima District is a lively area full of great bars and restaurants, perfect for a night out. You'll find everything from traditional Japanese pubs to hipster hangouts, so there's something for everyone. And if you're looking to keep the party going until the early hours, Fukushima District is the place to be.
While the Umeda district has been popular as a nightlife spot for many years, Fukushima still has more of a local vibe. Although this is also gradually changing in recent years.
More time? More great things to see in Osaka
Universal Studios
If you have more time to spend in Osaka, make sure also to check out Universal Studios. It's a fun experience whether you are traveling alone or with children.
The Kaiyukan Aquarium
Another highlight in Osaka, particularly suitable for families with children, is the Kaiyukan Aquarium. This aquarium, one of the largest of its kind, has a lot to offer. In addition to the usual fish, the manta rays and whale sharks are real highlights.
Osaka Museum of History
If you are interested in history and culture or just want to learn more about this exciting city in Japan, you should not miss a visit to the Osaka History Museum.
Day Trips from Osaka
If you have more time, make sure to plan a day trip from Osaka as well, as there are remarkable destinations around to see as well.
Day Trip from Osaka to Nara
Nara is a cute little town not far from Osaka. You can get there by joining a tour or on your own. If you want to know more, make sure to check our Nara Guide here.
Day Trip from Osaka to Kyoto
Kyoto is a city in Japan you definitely don't want to miss on your Japan itinerary.
Since Kyoto is not far from Osaka, it's a great day trip from there. Check our favorite Top 5 temples in Kyoto before you go.
Best accommodation in Osaka
Best Budget Accommodation in Osaka
This popular 1-star hostel welcomes guests in a variety of budget rooms. You can choose from affordable beds in a shared dormitory (also available as a females-only option) or private single rooms. Osaka's main attractions are just a few minutes away by public transport. This accommodation is also perfect for backpackers as it offers cooking options and space to meet other travelers.
Check more info, prices, and availability of Guesthouse Nest
The best mid-range accommodation in Osaka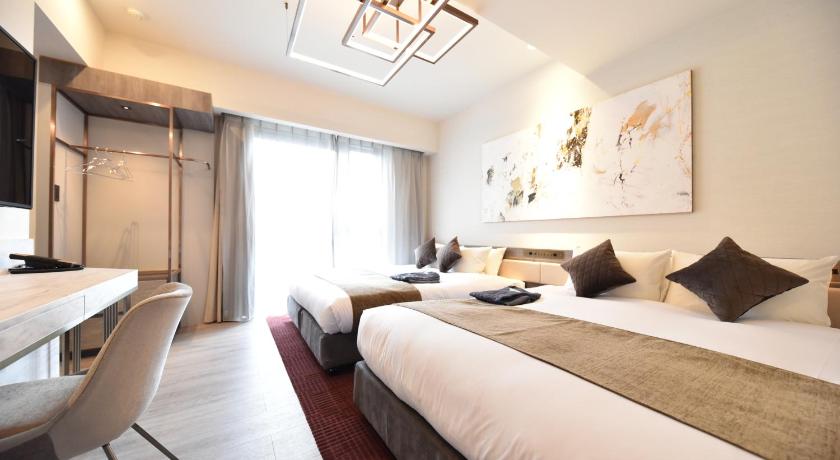 The 3-star Hotel Cordia Osaka Hommachi offers everything you need for a great stay in Osaka. Convenient location close to public transportation, clean, comfortable rooms, service-minded and friendly staff, air conditioning, and much more. In addition, the hotel is one of the best-rated in the city.
Check more info, prices, and availability of Hotel Cordia
The best Ryokan in Osaka
Staying in a traditional ryokan is essential to a complete trip to Japan. The Kaneyoshi Ryokan in Osaka is one of the most popular in the city and invites its guests on a traditional journey into Japanese culture. In addition to the typical futon beds, there is a traditional yukata outfit for each guest to sleep in, a tea set, air conditioning, and a TV in each private room.
Of course, in typical ryokan style, in addition to a private bathroom for each room, there is also a traditional public Japanese bath that guests of the resort can use.
Check more info, prices, and availability of Kaneyoshi
Didn't see the perfect accommodation for you?
>> Check all accommodations in Osaka on Booking.com
Is the Osaka Amazing Pass worth it?
Like many other major tourist cities, Osaka also offers its visitors a tourist pass, the so-called Osaka Amazing Pass
.
What does the Osaka Amazing Pass include?
24 or 48 hours
Free entry to more than 40 sights
Unlimited bus and train rides
Special offers and discounts in over 65 restaurants and shopping opportunities
How much does the Osaka Amazing Pass cost?
1 day: ca. $ 19
2 days: ca. $ 25
Conclusion – Osaka Amazing Pass, yes or no?
Whether the pass is worth its price is entirely up to you and your exact Osaka itinerary. Do you plan to move around a lot on public transport and visit a lot of attractions throughout the city? Then you should consider purchasing the Osaka Amazing Pass, as it can save you a lot of money.
However, if you would rather get to know Osaka on your own without visiting many not-free attractions, then the pass is probably not worth it.
It is best to be clear beforehand about which places in Osaka you want to visit during your stay. And then, it's time to compare prices. Does the cost of individual tickets exceed the price of the Osaka Amazing Pass? Then you should definitely purchase it.
Where can I buy the Osaka Amazing Pass?
The best way to buy the Osaka Amazing Pass is online.
See more information about the Osaka Pass
FAQ about Osaka
How many days do I need in Osaka?
To discover the main attractions, you should spend at least 2 days in Osaka. However, if you have more time, we definitely recommend staying longer. The ideal itinerary would be 3-5 days.
Is Osaka expensive?
Of course, that depends on how you define expensive. Compared to Germany, Osaka is not exactly cheap (approx. 2% more expensive) Compared to the US, Osaka can be quite expensive. Compared to Tokyo, Osaka is a bit cheaper.
Which city is better, Osaka or Tokyo?
Unfortunately, there is no one-size-fits-all answer, and of course, it depends on your preferences. Tokyo is larger and has more sights than Osaka. But Osaka is quieter and has many other places worth visiting in the surrounding area, such as Kyoto or Nara.
Is Osaka worth a visit?
Absolutely! There is so much to see, lots of great food, and friendly locals. Osaka has a very different vibe than Tokyo and should, therefore, be part of every Japan itinerary.
What currency is used in Osaka?
As in the rest of Japan, payment in Osaka is made in Japanese yen. 1 Us-Dollar is equivalent to around 150 yen.
How many inhabitants does Osaka have?
The Japanese city of Osaka has a population of around 2.6 million.
---
Interested in Japan?