I can not emphasize enough what a wonderful city Barcelona is. No wonder I have been living in the Catalan capital for almost six years now. And still, I discover something new every time I leave the house. You can spend months or even years here without getting bored. But what if you have only very little time to discover this great city?
For example, if you come to the city during a cruise trip or Spain tour and only have one day in Barcelona. For this very reason, below you will find an ideal Barcelona itinerary 1 day to see the most important and most beautiful sights and attractions in Barcelona in a day. Plus, you'll find helpful Barcelona travel tips to get the most out of your stay in this sunny city.
Author's note: 1 day in Barcelona may be enough to see the main attractions. If you have more time, I recommend spending at least 3 days in Barcelona to discover the city with more tranquility and to immerse yourself in the Catalan culture and food scene. The perfect itinerary for 3 days or more can be found in our great 3 Days Itinerary Barcelona.
Barcelona in a Day – Transport
From the Airport (El Prat) to the City
There are several options in order to get from the airport in Barcelona to the city center.
My favorite option is the train. The price for a single trip is 2.40 € and you can even get it cheaper by using the T-Casual-Ticket (1.35 € per trip). The train usually leaves two times per hour.
The big drawback is that the train is only leaving from Terminal 2. There is a shuttle bus between Terminal 1 and 2, which you can use free of charge, but it might take around 15 – 20 minutes.
The fastest option is probably the bus. The Aerobus is operating between both terminals and the city center several times an hour. It takes about 35 minutes to get to the city. The price for one trip is 5,90 € (10,20 Roundtrip).
Another fast option (depending on which part of the city you want to go to) is the Metro. You can take the Metro from both Terminals. A Billet Aeroport costs 4,60 € one-way. (Please note that you can't use the T-Casual ticket to go to or from the airport by Metro.)
The last option is to go by taxi, which should cost you around 25 – 30 € going to the city center.
How to get around during your Barcelona Itinerary 1 day
Depending on how long you are going to stay and how many people you are, it might be worth it to buy a T-Casual Ticket (10 trips ticket) for 11.35 € (as of 2021). (It's already worth it starting from 6 trips!)
You can use it in the Metro, Busses, and trains in Barcelona. You can buy the T-Casual Ticket at the airport and on any train- or Metro Station.
Since you are only staying one day and don't have much time to go everywhere on foot, it might be worth it to purchase a day pass. You can purchase them online here.
Another way to get to all the places to see in Barcelona in 1 day is the hop-on-hop-off bus. More information about this tour, prices, and tickets can be found here.
Best time to visit Barcelona
Find a quick overview of the different seasons in the next paragraph or check our detailed best time to visit Barcelona post.
High Season
June – August
Pros: Warm weather and sunny
Cons: crowded – many tourists
Low Season
April – May; September – November
Pros: Fewer tourists, different kinds of festivals (Sant Jordi, Merce …)
Cons: Weather might not always be suitable for the beach
Winter Season
December – March
Pros: Way fewer tourists, cheaper accommodation prices
Cons: Colder weather, might be cloudy or rainy
One Day in Barcelona
The Sagrada Família
Opening Hours Sagrada Familia: 09.00 am – 06/07/08 pm (depending on the season)
Entrance Fee Sagrada Familia: from 30 €
Tickets: You may want to book your ticket online in advance to avoid sold-out tickets on the spot and hours of waiting in line. You can find tickets and tours online here.
Metro-Stop: Sagrada Familia (L5 or L2)
It's no secret that the Sagrada Família is arguably the most important sight of the city. No Barcelona trip is complete without a visit to this popular basilica. Thousands of tourists flock here every year to admire this masterpiece by designer Antoni Gaudí. Let's start our tour here. The sooner you start in the morning, the fewer tourists you will find.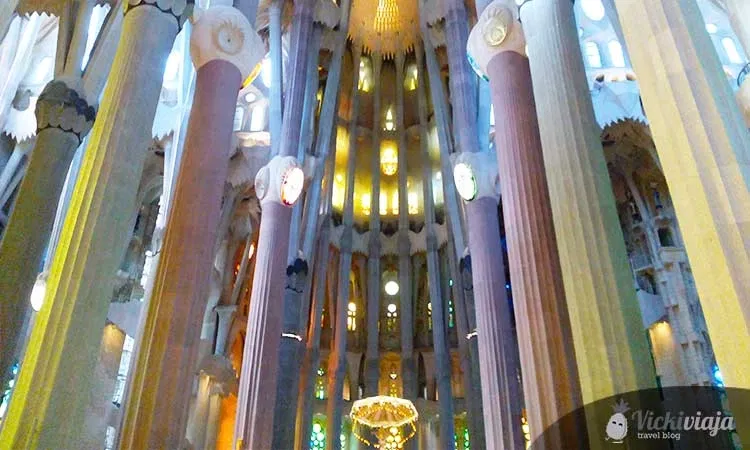 The construction of this popular basilica began in 1882 and has not been completed to this day. That's why it's sometimes called the Eternal Construction Site. While the construction in modern times was initially rather sluggish, it is now in full swing again and it can be quite difficult to see the Sagrada Família on your visit without cranes or construction workers. According to the plan, the famous basilica will be completed in 2026 which is the 100th death anniversary of its designer Gaudí.
Plaça Catalunya
Opening hours Plaça Catalunya: 24 hrs
Entrance fee Plaça Catalunya: free of charge
Getting there: Metro Catalunya (L1 or L3)
How to get to Plaça Catalunya from Sagrada Família: There are several options to get from the Sagrada Família to Plaça Catalunya. The fastest connection is usually the metro: Line L5 (blue) to Diagonal & from Diagonal Metro line L3 (green) to Pl. Catalunya or line L2 (purple) to Passeig de Gràcia – from there it is a 400 m walk.
Plaça Catalunya is considered the center of Barcelona, as it connects the old town with the new town (Eixample). Plaça Catalunya is full of pigeons waiting to be fed (although this is not officially allowed). This popular square is surrounded by bars, restaurants, and shopping opportunities. After having a look around, you can just cross the street to get to the famous Las Ramblas.
Las Ramblas
Opening hours Las Ramblas: 24 hrs
Entrance fee Las Ramblas: free of charge
Getting there: Metro Catalunya (L1 or L3), Drassanes (L3), Liceu (L3)
Las Ramblas is also known as Les Rambles (Catalan) and La Rambla (Spanish). The 1,2 km long promenade in the center of Barcelona connects Plaça Catalunya with the old port of the city (Port Vell). It is considered one of Barcelona's tourist hotspots and is always well visited.
Although there are many restaurants and bars, we strongly advise against visiting them (Tourist trap ahead!). But if you feel like having a snack or a tasty fresh juice, just pay a visit to the Mercat de la Boqueria along your way.
Mercat de la Boqueria
Opening hours Mercado Boqueria: 08.00 am – 08.30 pm
Entrance fee Mercado Boqueria: free of charge
Getting there: Metro Liceu (L3) or Catalunya (Rambla Exit – L3)
If you are in Las Ramblas, you shouldn't miss a visit to the Mercat de la Boqueria. This market is one of the oldest and definitely the most visited in the city. Here you will find everything from fresh meat, seafood, fish, all kinds of candies to fresh fruit, tapas, and delicious dishes. I never leave this market without a delicious juice of fresh fruit.
Plaça Reial
Opening hours Plaça Reial: 08.00 am – 08.30 pm
Entrance fee Plaça Reial: free of charge
Getting there: Metro Liceu (L3) or Catalunya (Rambla Exit – L3)
If you continue along Las Ramblas Promenade, you will eventually pass a small turn that will take you to Plaza Real. Plaza Real (Catalan: Plaça Reial) invites you to relax a little before you continue your walk.
Here you will also find plenty of restaurants, ice cream parlors, and bars. Or you just enjoy your fresh fruit or juice from the Mercat de la Boqueria, which we visited before. In addition, Plaza Real is one of the most beautiful and famous places that Barcelona has to offer.
El Gòtic (Barrio Gótico)
Getting there: Metro Liceu (L3) or Bus V15 to Via Laietana – Correus
If you leave the Plaza Real through one of its small exits, you are already in Barrio Gòtico, one of Barcelona's most famous quarters. Barrio Gótico (also called Barò Gòtic or El Gòtic in Catalan) is the oldest part of Barcelona. Discover its narrow streets and the gothic-styled neighborhood while taking a 10-minute walk to the Cathedral of Barcelona (La Catedral).
However, my personal highlight in El Gòtic is Plaza de San Felipe Neri (Catalan: Plaça de Sant Felip Neri). You can find this beautiful square near the cathedral. Apart from its dark history (the holes in the buildings date back to a bombing during the civil war), one usually finds a few quiet minutes to relax briefly.
In the Barrio Gótico, you will find plenty of bars and restaurants. Treat yourself to some delicious tapas, churros con chocolate, or a typical Spanish Menú del Día, which are available everywhere. After enjoying Barcelona's amazing cuisine we can continue our tour.
Park Güell
Opening hours Park Güell: 09.30 am – 07.30 pm
Entrance fee Park Güell: from 10 €; rest of the park: free of charge
Tickets: You should definitely reserve your ticket in advance to avoid long queues. Tickets and tours for Park Güell online can be found here.
Getting there: Metro Lesseps (L3) or bus 24 (direction El Carmel) to Trav de Dalt.
Besides Sagrada Família, Park Güell (read: Park Gu-ey) is arguably the main attraction of Barcelona. Both sights were designed by the same architect: Antoni Gaudí. He created the Park Güell (Spanish: Parque Güell) in the years 1900 to 1914 after the model of English gardens.
In addition to a beautiful park, which you can even visit for free, you can enjoy an incredible view of the city. The part of the park which you need a ticket for offers a collection of Gaudí's artworks as well as grandiose photo spots.
Different Options
For the last attraction of the day, we would like to give you 4 different options to choose from in order to visit Barcelona in a day even more individually. Depending on how fast you manage "to be done" with the other points of interest, you may even make it to several of these program points.
Option 1: Bunkers del Carmel
Opening hours Bunkers: Public place, can be visited anytime
Entrance fee Bunkers: free of charge
Getting there: Bus 119 to Marià Lavèrnia
Since your time in the Catalan capital is already coming to an end, here you get the opportunity to get an overall impression of the whole city: Los Bunkers del Carmel. One of my absolute favorite places in Barcelona. The bunkers are located far above the rooftops of the city, so from here you have an incredible 360-degree panoramic view over Barcelona. But have a look for yourself …
During the Spanish Civil War in 1937, an air raid shelter was built here. It was the perfect location for the bunker because, from here, attackers from all directions could be seen easily and early. Today you can visit this bunker and what's left of it free of charge.
Until a few years ago, the bunkers were still one of the few really Barcelona Unique things to do. Unfortunately, today they are no longer a secret, and you will probably find many people.
Option 2: Casa Batlló
Opening Hours Casa Battló: 09.00 am – 06.30 pm; Noches mágicas: 06.30 pm – 08 pm
Entrance Fee Casa Batlló: 35 € Standard // 49 € Noches Mágicas
Tickets Casa Batlló: Book your ticket online here.
Metro-Stop: Passeig de Gràca (L2, L3 or L4)
Although the building has been constructed already back in 1877, it was rebuilt between 1904 and 1906 by Antoni Gaudí for Josep Batlló i Casanovas. Since then, it is another impressive modernist building that is so typical for Gaudí. The construction also involved famous sculptors. The building depicts the history of the patron saint of Catalonia: Saint George, also known as Sant Jordi. Since 2005, the building has been a UNESCO World Heritage Site.
Option 3: La Pedrera – Casa Milà
Opening Hours: 09 am – 06.30 pm; Night tour: 08.40 pm – 10 pm
Entrance Fee: from 24 €
Tickets: Check tickets and tours on GetYourGuide here
Metro-Stop: Diagonal (L3 or L5)
Also, this building was designed by Gaudí. The order was given by the family Milà (hence the name). The building was constructed between 1906 and 1910. It can be visited either during the day or at night, including a drink and live music. If you follow this 1-day-in-Barcelona itinerary, you will reach this popular attraction in the evening.
Option 4: Plaça d'Espanya
Opening Hours Plaça d'Espanya: 24 hrs
Entrance Fee Plaça d'Espanya: free of charge
Metro-Stop: Espanya (L1)
Plaça d'Espanya is historically one of the most important and beautiful squares in Barcelona. It was built for the International Exhibition that took place in the area of Montjüic-Sants in 1929. From here you have access to important museums and exhibitions in the city.
The Magic Fountains
Opening Hours Magic Fountains: Depending on the season. Check here for current Opening Hours
Entrance Fee Magic Fountains: free of charge
Metro-Stop: Espanya (L1)
As one of the most popular attractions in Barcelona, thousands of visitors get here every week to admire the wonderfully romantic water show of the Magic Fountains.
This show is special as it combines the performance of water, music, and light. This magical light show takes place near the Plaça Espanya, which is also an amazing place to visit in Barcelona.
Restaurant Tip near Plaça Espanya: Tapas of Poble Sec
Not far from Plaça Espanya, you can find some of the best Tapas in Barcelona. To be exact, it's the so-called Pinchos. That means you have different kinds of tapas for one person displayed, and you can take as many of them as you like. In the end, the waiter counts the sticks that come with the Pinchos to see how much you have to pay. Each color of the stick has its own fixed price. This kind of Tapa tradition comes from the Basque Country.
You can choose any of the Tapas Restaurant in the street. So far, all of them served us amazing tapas.
Enjoy the Nightlife of Barcelona
You still haven't had enough of the city and would like to enjoy your day in Barcelona even longer? Of course, the famous nightlife of the city should not be missed. You can, of course, follow the typical recommendations of bars and clubs such as Catwalk, Opium, and others near the seafront of Barceloneta. But if you want to discover Catalan restaurants and bars and meet locals, you might want to go where the locals go. Our recommendation is, therefore:
Carrer Ample
In addition to numerous traditional Catalan restaurants and pubs, you will find here, above all, one special drink: the so-called Panther Milk (Leche de la Pantera). Since the 70s, this drink, whose exact recipe is not known, has been served in Barcelona and is now offered by more and more bars and restaurants. This drink is usually served in transparent glass bottles, through which one can see the striking white or pink color of the milk. After pouring a bit of cinnamon on top and you can enjoy it. This and, of course, many more drinks, snacks, and restaurants can be found in the locally popular Carrer Ample (wide street) in the district Gòtic.
How about some non-touristy things to do in Barcelona?
Make sure to check our Ultimate Local Guide to the best unusual things to do in Barcelona.
Day Trips from Barcelona
Not only Barcelona but also its surrounding Catalan towns are well worth a visit. We collected the best 26-day trips from Barcelona recommended by locals and professional travelers.
Accommodation in Barcelona
In the following, we present to you 3 popular accommodations in Barcelona for different Budgets. If you want to know which neighborhood is the best for you, make sure to check our comprehensive Barcelona Neighborhood and Accommodation Guide before booking.
Best Budget Accommodation in Barcelona
This hostel (formerly Safestay Barcelona) is especially popular with backpackers. It is popularly booked for its excellent beachfront location and friendly staff.
Mid-range Accommodation in Barcelona
The 2-star accommodation in the center of Barcelona (Born neighborhood) not only convinces with a fantastic location but is also particularly praised for its cozy beds and outstanding cleanliness.
Luxury Accommodation in Barcelona
This popular 3-star hotel is great for those who want something special for their trip to Barcelona. The pool on the roof terrace combines beautiful views with a little refreshment. But guests also enjoy the location and friendly staff.
Need a Tour of Barcelona?
Check the best tours for your personal day in Barcelona on GetyourGuide here.
Traveling as a couple?
Read about the most romantic things to do in Barcelona for couples here.
Where to next?
Make sure to check the best Spanish cities to add to your Spain Bucket List here.
---
Interested in Barcelona?