I have lived in Barcelona for more than seven years and have probably seen all the famous tourist attractions here (more than once). But since travelers usually don't have several years to explore the city, I decided to create you an Ultimate 3 Days Itinerary Barcelona. (So, you know what to do in Barcelona for 3 days + some extra attractions in case you stay longer ).
Seriously, Barcelona is one of the most beautiful places you can visit. And there are just so many amazing things to do in Barcelona. Therefore, knowing where to go and what to see is essential if you only have three days in the city. You surely don't want to miss any of the stunning places this city offers.
Before taking you to our Barcelona Itinerary to see Barcelona in 3 days, let's check some basic facts about the sunny Catalan capital.
Barcelona Transport
From the Airport (El Prat) to the City Center
There are several options to get from the airport in Barcelona to the city center.
The most affordable option is to go by train. The price for a single trip is € 2.40, and you can even get it cheaper using the T-Casual-Ticket (€ 1.35 per trip as of 2023). The train usually leaves two times per hour.
The big drawback is that the train is only leaving from Terminal 2. There is a shuttle bus between Terminal 1 and 2, which you can use free of charge, but it might take around 15 – 20 minutes.
The fastest option is probably the bus. The Aerobus operates between both terminals and the city center several times an hour. It takes about 35 minutes to get to the city. The price for one trip is € 5.90 (10.20 Roundtrip).
Another option is to go by Metro. You can take the metro from both Terminals. A Billet Aeroport costs 5.15 € one-way. (Please note that you can't use the T-Casual Ticket to go to or from the airport by metro.
The last option is to go by taxi, which should cost you around € 25 – 30 to go to the city center.
For more details, be sure to check our detailed Barcelona Airport to the City Center Guide with all Transport Options from all airports.
How to get around during your Barcelona 3-day itinerary
Depending on how long you stay, it might be worth buying a T-Casual Ticket (10 trips ticket) for € 11.35. (It's already worth it starting from 6 trips!)
This ticket is valid on all metros, busses, and trains in the city during your 3-day itinerary Barcelona. You can purchase the T-Casual Ticket at the airport and any train- or metro station.
There are also Day-Passes, but since you can walk almost everywhere, it's not really necessary most of the time. (Many visitors told me they regret having purchased this ticket). Anyway, a day-pass might be useful if you don't have much time or are not comfortable walking long distances. You can purchase the day ticket (Hola BCN pass) online here.
Best time to visit Barcelona
High Season
June – August
Low Season
April – May; September – November
Pros
Fewer tourists
Different kinds of festivals (Sant Jordi, Mercè …)
Cons
The weather might not always be suitable for the beach
Winter Season
December – March
Pros
Way fewer tourists
Lower accommodation prices
Cons
Colder weather
It might be cloudy or rainy
The Ultimate 3 Days Itinerary Barcelona
Barcelona Attractions – Day 1
Plaça Catalunya
Opening hours Plaça Catalunya: 24 hrs
Entrance fee Plaça Catalunya: free of charge
Getting there: Metro Catalunya (L1 or L3)
Plaça Catalunya lies at the heart of Barcelona, serving as a bridge between the historic old town and the modern district of Eixample. Our journey through this stunning European city begins here. Plaça Catalunya is renowned for its captivating fountains and the abundance of pigeons that call it home. The multitude of birds in the square isn't coincidental; despite official regulations prohibiting it, many visitors and children can't resist feeding the pigeons.
In the vicinity of Plaça Catalunya, you'll discover a bunch of options for shopping and grabbing a bite to eat. Other notable attractions surrounding the square include the Corte Inglés shopping center and Hard Rock Café Barcelona.
Las Ramblas
Opening hours Las Ramblas: 24 hrs
Entrance fee Las Ramblas: free of charge
Getting there: Metro Catalunya (L1 or L3), Drassanes (L3), Liceu (L3)
Las Ramblas is also known as Les Rambles (Catalan) and La Rambla (Spanish). This ca. 1 ½ km long Promenade in the center of Barcelona connects Plaça Catalunya with the old harbor (Port Vell). Las Ramblas is one of THE sightseeing hotspots in Barcelona and is always full of people.
Besides a whole bunch of bars and restaurants (be careful: Tourist cams ahead!), you can find many souvenirs, ice cream, and flower stores. While walking through Las Ramblas, you can as well enjoy many street artists. But keep your eyes open, this street is also full of pickpockets.
Mercat de la Boqueria
Opening hours Mercado Boqueria: 08.00 am – 08.30 pm
Entrance fee Mercado Boqueria: free of charge
Getting there: Metro Liceu (L3) or Catalunya (Rambla Exit – L3)
When you walk around Las Ramblas, you shouldn't miss the Mercat de la Boqueria. This market is one of the oldest in Barcelona, and they have sold food and other things here since the 13th century. Nowadays, you can find many fresh products, such as fruits, fish, and meat.
But the first thing you see when entering is probably the huge range of candies and chocolates. My favorite product in the market is freshly pressed juice for € 2.50. Why don't you try the flavors Mango-Strawberry or Pineapple-Coconut? In the back of the market, you can also find stalls with food for a little snack or a refreshing Spanish drink.
Plaça Reial
Opening hours Plaça Reial: 08.00 am – 08.30 pm
Entrance fee Plaça Reial: free of charge
Getting there: Metro Liceu (L3) or Catalunya (Rambla Exit – L3)
Just a stone's throw away from Las Ramblas, you'll discover Plaza Real (or Plaça Reial in Catalan). This tranquil haven offers a welcome respite from the bustling streets of Barcelona and is undoubtedly one of the city's most picturesque squares.
Encircling Plaça Reial, you'll encounter a diverse mix of cafés, bars, and restaurants, creating a vibrant atmosphere. As the warm nights unfold, you'll frequently be surprised by live music that fills the air with a lively charm.
Columbus Statue
Opening Hours Columbus Column: 08.30 am – 08.30 pm
Entrance Fee Columbus Column: 8 €
Getting there: Metro Drassanes (L3) (Las Ramblas)
At the exit of Las Ramblas, you can find the Columbus statue in front of the old harbor. If you feel like it, you can enter and go up to a viewpoint from which you have a great view over the port and the surrounding area while enjoying a nice glass of cava or wine.
But the statue is impressive even if you don't enter. The arm of Columbus points in the direction of Majorca. In this direction, Colombus once started his trip on which he found the "new world." On the other hand, the bronze Colombus holds a sea map.
Fun Fact: Since 2022, architects and designers of Barcelona have been working on redesigning the statue due to its cruel history. One idea is to make it a huge walkable tree.
Harbor – Port Vell
From the Columbus statue, it's just a quick walk to Port Vell, the harbor of the city. To be exact, the port of Barcelona is divided into two parts. One on each side of the beach. The one we are visiting right now is the old part, Port Vell, and the other one is called Port Olímpic.
Port Vell doesn't only offer the Maremagnum Shopping Mall but also different restaurants, the aquarium, and the possibility to have a nice walk around while overlooking the harbor and its boats. And if you are lucky, you can see the bridge opening for boats to enter the harbor.
El Gòtic (Barrio Gótico)
Getting there: Metro Liceu (L3) or Bus V15 to Via Laietana – Correus
The Barrio Gótico, known in Catalan as Barri Gòtic or El Gòtic, holds the distinction of being Barcelona's oldest neighborhood.
Featuring narrow, gothic-style streets, this charming area of Barcelona provides the perfect setting for a leisurely stroll. There's always something new to uncover, with even locals continuously stumbling upon fresh discoveries. As you meander through the winding streets of this district, you'll be delighted to find an ever-changing array of shops, bars, and restaurants. It's truly remarkable.
La Catedral
Opening Hours La Catedral: Depending on the season. Mostly from 8.30 am – 07.45 – Check the exact opening hours here.
Entrance Fee La Catedral: 7 € (5 € if you visit in a group)/ 3 € for rooftop access
Tickets: We recommend visiting La Catedral either early in the morning or late in the afternoon, as the line is shortest at this time. Tickets can best be purchased on-site.
Getting there: Metro Jaume I (L4), Liceu (L3), Urquinaona (L1)
The arguably most popular part of the Barrio Gótico is the cathedral (La Catedral). The impressive cathedral often stands in the shadow of the famous Sagrada Família, but trust me, it's equally worth a visit, for sure.
Especially popular is the observation deck on the roof of the cathedral. From here, you have a unique view over the surrounding alleys of the Barrio Gótico.
Already in ancient times, a Roman temple stood on this very spot. Initially, this was replaced by a church in the 6th century and consecrated in the 11th century in Romanesque style.
However, the construction of the cathedral as we know it today began only in the 13th century. According to tradition, the construction work lasted until 1448. In the 16th century, a bell tower was added to the building. Despite all this, the extraordinary facade following the original plans of the cathedral was completed only in the 19th century. Later, the central tower was added.
Nowadays, Barcelona Cathedral attracts hundreds of tourists every day. Especially on Sunday mornings during the summer, the plaza in front of the cathedral is a popular meeting place. Because there often traditional Catalan dances are performed then.
But also in winter, a visit is particularly worthwhile. Because then some stands are built up here to a kind of Christmas market, in which one can buy above all traditional Christmas decorations and handicraft goods.
Right next to the cathedral, opera singers in training often show their skills. And by the echo of the stone walls, the sound of their powerful voices is even amplified and provides an impressive atmosphere.
Plaça de Sant Felip Neri
My personal highlight in El Gòtic is the Plaza de San Felipe Neri (Catalan: Plaça de Sant Felip Neri). Besides its dark history, this square is super quiet and peaceful, and you can get some quick rest here.
The craters you can see all over the walls date back to the Spanish Civil War. At that time, the fighters dropped bombs over the plaza, responsible for the dents in the stone walls.
By the way, in this square, they filmed many scenes of the video clip of My Immortal by Evanescence.
Option: Born
The neighborhood El Born is perfect for discovering the nightlife of Barcelona. Moreover, you can find great Tapas-Restaurants where the locals go to. If you aren't too tired, you should definitely have a look.
Stroll along Passeig del Born, which is full of local restaurants, bars, and little shops, and ends at the Born Market. With its medieval vibe and modern bars, it's simply one of the best places to spend your night in the city.
Restaurant Tip in Born: Bar Celta Pulperia – Tapas
If you are looking for yummy traditional Spanish Tapas, this is your place.
Address: Carrer de Simó Oller, 3, 08002 Barcelona
Bus Station: Via Laietana – Correus (V15)
Barcelona 3 day itinerary – Day 2
Park Güell
Opening hours Park Güell: 09.30 am – 07.30 pm
Entrance fee Park Güell: from 10 €; rest of the park: free of charge
Tickets: You should definitely reserve your ticket in advance to avoid long queues. Tickets and tours for Park Güell online can be found here.
Getting there: Metro Lesseps (L3) or bus 24 (direction El Carmel) to Trav de Dalt.
Besides the famous Sagrada Família, Park Güell (pronounced: Park Guh-ey) is probably the main attraction of Barcelona. Did you know that both of them have the same architect? It's the "Barcelona Architect" Antoni Gaudí. He created Park Güell (Spanish: Parque Güell) between 1900 and 1914 after being inspired by English Gardens he saw while traveling abroad.
And he created this place with success. Besides the magnificent constructions you can find in the park, the location is just chosen amazingly. From here, you have another great view of Barcelona.
Besides the wonderful views, the main reason for a visit here is, of course, the famous mosaic benches of its designer, Gaudí. Because no one can leave the city without a photo from this iconic spot, am I right?
Bunkers del Carmel
Opening hours Bunkers: Public place, can be visited anytime
Entrance fee Bunkers: free of charge
Getting there: Bus 119 to Marià Lavèrnia
There is one spot in Barcelona where I take all of my visitors, whether it is Couchsufers, friends, or family: Los Bunkers del Carmel. One of my absolute favorite spots in Barcelona. The Bunkers are located way above the roofs of Barcelona. Therefore, you have a perfect 360-degree Panorama view of Barcelona from up there. But just have a look yourself in my video…
During the Spanish Civil War, they built an air-raid shelter here in 1937. It was the perfect place, as from here, you could see the attacker coming from every direction since you have a good view of the whole city.
Still today, you can have a look at this air-raid shelter free of charge.
Even though the Bunkers of Carmel are not as unknown anymore as they were some years back, they are still not as crowded as other tourist attractions and viewpoints in Barcelona and, therefore, still kind of an insider tip.
Sant Pau Recinte Modernista
Opening hours Sant Pau: Mon – Fri: 10 am – 02 pm; Sat + Sun: 10 am – 05 pm
Entrance fee Sant Pau: from 15 €
Free Entrance Days Sant Pau: 23rd April., 24th September
Tickets: To avoid waiting in line, we recommend purchasing your ticket in advance, e.g. here.
Getting there: Metro Sant Pau I Dos de Maig (L5)
While no one typically looks forward to visiting a hospital during their vacation, Sant Pau is a remarkable exception. In fact, visitors eagerly queue up for the chance to step inside the historic portion of this building. No longer functioning as a hospital, Sant Pau now serves as a unique museum.
Sant Pau, or Hospital de la Sant Creu i Sant Pau, offers far more than just mundane hospital corridors. It exudes the charm of a close-knit community, boasting a lovely courtyard adorned with a small garden at its heart, which once linked the complex's nearly 30 buildings. The awe-inspiring architecture of Sant Pau is truly a sight to behold, and while the entrance fee might be a tad steep, the experience is undeniably worth it.
The Sagrada Família
Opening Hours Sagrada Familia: 09.00 am – 06/07/08 pm (depending on the season)
Entrance Fee Sagrada Familia: from 30 €
Tickets: You may want to book your ticket online in advance to avoid sold-out tickets on the spot and hours of waiting in line. You can find tickets and tours online here.
Metro-Stop: Sagrada Familia (L5 or L2)
Surely, you can't call the famous Sagrada Família an insider tip. Probably everyone has already heard of it, and every month thousands of visitors come here to see this famous basilica. Whether from the inside or the outside: The Sagrada Família (Holy Family) is simply impressive.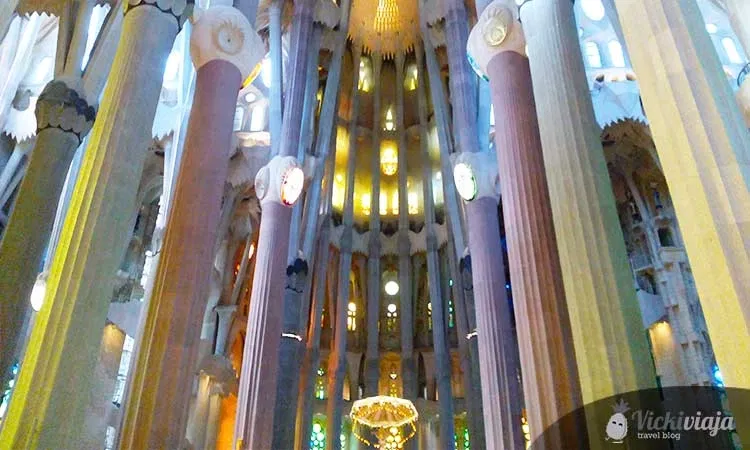 The construction of this popular building started in 1882 and still hasn't been finished up to the present time. While the constructions were rather slow until some years ago, you can tell that the building is being developed much faster now, and it is hard to see the Sagrada Família without any cranes or construction workers.
A couple of years ago, the company responsible for the construction had originally announced the 100th death anniversary in 2026 of its designer Antoni Gaudí as the inauguration date. However, by now, it is already clear that this date will not be met. Anyway, they have not yet publicized a new due date.
Update 2023: By now, they have announced that they actually might actually be able to meet the original 2026 due date. We will see.
Restaurant tip around Sagrada Família: El Felino – Italian Restaurant
The pizza here is simply amazing!
Address: Carrer de la Marina, 269, 08025 Barcelona
Metro Station: Sagrada Familia (L2)
Casa Batlló
Opening Hours Casa Battló: 09.00 am – 06.30 pm; Noches mágicas: 06.30 pm – 08 pm
Entrance Fee Casa Batlló: 35 € Standard // 49 € Noches Mágicas
Tickets Casa Batlló: Book your ticket online here.
Metro-Stop: Passeig de Gràca (L2, L3 or L4)
Even though the building was initially constructed in 1877, it was rebuilt between 1904 and 1906 by Antoni Gaudí for Josep Batlló i Casanovas in the modernist style. The constructions included some modern sculptors of that time as well.
The building is supposed to represent the story of the patron saint of Catalonia: Saint George, or as they call him in Catalonia: Sant Jordi. Regarding the famous legend of Sant Jordi, the rooftop of this majestic building is formed like the back of a dragon. With a little bit of imagination, you can even recognize the lance of Sant Jordi. Too bad that it's difficult to see this unique architectured rooftop from the street.
Since 2005, this building has been part of the UNESCO World Heritage.
La Pedrera – Casa Milà
Opening Hours: 09 am – 06.30 pm; Night tour: 08.40 pm – 10 pm
Entrance Fee: from 24 €
Tickets: Check tickets and tours on GetYourGuide here
Metro-Stop: Diagonal (L3 or L5)
This building, which has been part of the UNESCO World Heritage since 1984, was also designed by the popular designer and architect Antoni Gaudí. Family Milà gave the assignment for this building, and the construction took place between 1906 and 1910. On the top floor of this unique building, you can find a museum dedicated to the works of Gaudí.
You can visit this unique building either during the daytime or at nighttime with live music and a drink. Especially if you have read the newest novel by Dan Brown (I'm a big fan!) Origin, you might want to visit this place even more.
Fun Fact: While today many travelers visit this iconic building in Barcelona, the actual owners, the couple Milà, was not quite so happy with the result of the construction. Thus, they even ended up in court, refusing to pay the architect's final bill. Ultimately, Gaudí won the trial, and they settled the bill.
Option: Gràcia
How to get there: Metro Lesseps (L3) or Fontana (L3)
Gràcia is a trendy neighborhood of Barcelona and is known to be one of the city's quietest and most modern neighborhoods. Many artists and authors live here, trying to get inspired by Gràcia's creative atmosphere.
Strolling around this area, you can discover many peaceful cafés and restaurants where you can relax and have a coffee, beer, or vino.
When exploring the neighborhood, you might notice that Gràcia seems to have quite a different vibe from other neighborhoods in the city. This can be due to the fact that actually, Gràcia used to be an independent city until it was absorbed by Barcelona in the 19th century.
A visit to Gràcia is especially worth it around August when the neighborhood festival, La Festa Major de Gràcia, takes place. Every part of this area builds its own decoration for a given topic. Afterward, visitors can vote for their favorite.
3 Days in Barcelona – Day 3
Arc de Triomf
Opening hours Arc de Triomf: 24 hrs
Entrance fee Arc de Triomf: free of charge
Getting there: Metro Arc de Triomf (L1)
This triumphal arch of Barcelona is located near the South Bus Station in the China-Town-like area of the city. This arch which is around 30 meters high, was used as the entrance to the world exhibition, which took place in Barcelona in 1888.
While this impressive Triumphal Arc has been equipped with the arms of Barcelona in the middle, it shows the arms of all the other Spanish parchitecturalits left and right sides and is therefore seen as a tribute to all the nations and provinces that joined the world exhibition. It was built in Moorish architectural style, which was modern during that time throughout Spain and stood in contrast to the Gotic architecture, which dominates the streets of Barcelona.
From here, you can easily walk to Ciutadella Park through the promenade, which is usually full of street artists.
Ciutadella Park
Opening hours Ciutadella Parl: 10 am – Sunset
Entrance fee Ciutadella Park: Free of charge; Renting a boat: 6 € for 30 min. for 2 people
Getting there: Metro Ciutadella I Vila Olímpica (L4)
With 30 hectares, Ciutadella is one of the most beautiful and popular parks in Barcelona. In summer, you can find activities taking place here on every corner, such as yoga and gymnastics. Many locals come to visit the park to enjoy the sun and use the green parts to relax.
The most beautiful part of the park is arguably the fountain you can see in the photo above. It's called Cascada de Gaudí ( Gaudi's Waterfall), even though the famous Barcelona architect was only a helping hand in the design of this fountain while still a student.
Accompanied by ducks and geese, you can rent a boat and drive around the lake.
Another popular spot in this park is the Zoo of Barcelona. It has been an essential highlight for generations of Barcelona's children and families since September 1892.
Barceloneta
Opening hours Barceloneta: 24 hrs
Entrance fee Barceloneta: free of charge
Getting there: Metro Barceloneta (L4)
Before the Olympic Games in 1992, tourists mainly avoided this part of Barcelona due to its high crime rate. Today, this thought seems almost impossible as the beach area has become one of the most tourist areas of the entire city. With its proximity to the city center, it's not surprising that tourists love visiting Barcelona's main city beach.
You can also find many great bars, restaurants, and tapas places at and around the beach. But keep in mind that the food is might be a little bit pricier than in other parts of town.
Fun Fact: Did you know that the sand that you can find at Barceloneta Beach was actually imported here from Egypt?
Barceloneta Top Tip: You will most likely find people walking along the beach selling self-made Mojitos and Sangrias. Even though I've never tried them myself, I've never seen anyone who wasn't already super drunk actually finish them. So better stay away from them.
Montjuïc
Opening hours: 01.11. – 31.03.: 10.00 am – 06 pm & 01.04. – 31.10.: 10.00 am – 08 pm
Entrance fee: 3 € (for people under 30) and 5 € (for adults over 30)
Free entrance: First Sunday of the month & Sundays after 3 pm.
Getting there: Bus 150 to Castell or by cable car from the port or the foot of the mountain
Tickets: Tickets for Cable Car from Harbour can be found here, the Tickets for the Montjuïc Cable car can be found here.
Montjuïc is one of three local mountains in Barcelona. At its top, an old castle is waiting for your visit.
Once, the castle of Montjuïc was built to protect the port of Barcelona from attackers. Since then, it belonged to different dominions, and only since 2007 the Catalan government has been the official owner.
A visit to Montjuïc is especially worth it for its fantastic views over the port. In addition, you can learn a lot about the history of the city on the museum's information panels.
As with the bunkers del Carmel, the great views you can enjoy from here are not accidental. Rather, the choice of this location for the castle has strategic reasons. Conveniently, this place was chosen because enemies approaching from the sea could be spotted from afar.
To get up to the top of the hill, you can either walk, take the bus, or cable car from the harbor. Of course, the cable car might be the most pricey but the most fun option.
Plaça d'Espanya
Opening Hours Plaça d'Espanya: 24 hrs
Entrance Fee Plaça d'Espanya: free of charge
Metro-Stop: Espanya (L1)
Plaça d'Espanya is one of the most important squares in Barcelona. It was built for the International Exhibition, which took place in the Montjüic district in 1929. From here, you have access to different museums and exhibitions. The most important (and impressive) of those museums is the Palau Nacional, the Museum of Catalan Art.
Here you can also find the former bullfighting stadium, Las Arenas (the big round building you can see on the right in the picture above). Luckily, bullfighting has been banned in Catalonia for several years (the last bullfight took place in this stadium in 1977).
The Magic Fountains
Opening Hours Magic Fountains: Depending on the season. Check here for current Opening Hours
Entrance Fee Magic Fountains: free of charge
Metro-Stop: Espanya (L1)
The Magic Fountains rank among Barcelona's top attractions, captivating multitudes of visitors every week. This enchanting spectacle weaves together water, light, and music to create a mesmerizing display. Situated near the equally distinctive Plaça d'Espanya, the show is a must-see while in Barcelona. To secure a prime viewing spot, particularly if you're keen on snapping photos, it's a good idea to arrive a bit early, as the area tends to fill up quickly.
Restaurant Tip near Plaça Espanya: Tapas of Poble Sec
Not far from Plaça Espanya, you can find some of the best Tapas in Barcelona. To be exact, it's the so-called Pinchos. That means you have displayed different kinds of Tapas for one person. You can take as many of them as you like. In the end, the waiter counts the sticks that come with the Pinchos to see how much you have to pay. Each color of the stick has its own fixed price, usually between 1 and 2 Euros.
You can basically choose any of the tapas restaurants on Carrer Blai. So far, all of them have served us excellent tapas.
More Things to do in Barcelona
Camp Nou
Opening Hours Camp Nou: Depending on the Season and matches. Get all the information on their official website.
Entrance Fee Camp Nou: from 26 €
Tickets: Make sure to make a reservation for your tour online in advance.
Metro-Stop: Palau Reial (L3), Les Corts (L3), Collblanc (L5), Badal (L5)
For all kinds of soccer fans, this is the true highlight of their three days in Barcelona: The stadium of FC Barcelona, the biggest soccer stadium in the world. When there is no actual game taking place, you can join a guided tour and get to know the home stadium of your favorite soccer team.
Fun Fact: The name Camp Nou can be translated as New Field.
Camp Nou is located in the Les Corts area, a little bit outside of the city center, but anyway, easy to reach by public transport. Especially if you have tickets for a Barça game, simply follow the people with soccer shirts walking towards the stadium. You won't miss it. However, you will need to be fast in order to purchase your ticket. So make sure to check well in advance.
A Day at Tibidabo
Opening Hours Amusement Park Tibidabo: You can check the current opening hours here.
Entrance Fee Amusement Park Tibidabo: 28,50 € (Only Panorama-Area 12,70 €)
Tickets Amusement Park Tibidabo: Check tickets online here.
Opening Hours Sagrat Cor: 11 am – 07 pm (Check recent Opening Hours here)
Entrance Fee Sagrat Cor (Tower): 4 €
Getting to Tibidabo: Bus T2A and T2B or Bus 196 and Cable Car (4,10 € per Person)
Tibidabo is a great option to see the city from above and helps you awaken your inner child together. It's also a great option for families traveling with children.
You can either visit the famous church Sagrat Cor, which looks like a fairytale castle from the foot of the mountain or spend the day in the Tibidabo Amusement Park.
There, you can find anything a child could ask for: a Ferris Wheel, a White-Water Ride, a hall of mirrors, and many more attractions for young and old. Spending a whole day at Tibidabo is easy as there are many attractions. Simply make sure to get there early to avoid waiting in line in front of every attraction.
A Day Trip to Sitges
How to get there: R2S St. Vicenc de Calders (From Barcelona Sants Station)
Travel Duration: 34 Minutes
Travel Cost: 3,85 € one way
Sitges is a small dreamy town, only about half an hour's ride by train from Barcelona.
This cute little town is one of the most popular destinations for a day trip from the Catalan capital. And not only for followers of the LGBTQIA+ movement, among whom the town has become incredibly popular in recent years. That being said, Sitges is also a great getaway destination for families, couples, and solo travelers.
The small Catalan town is wonderful for a peaceful stroll through its narrow streets. Afterward, you can also take a dip in the refreshing waters of the Mediterranean.
Parque del Laberinto de Horta
Opening Hours Horta: 10.00 am – 07.00 pm
Entrance Fee Sagrada Familia: 2,23 €, Sundays free
Metro-Stop: Mundet (L3)
Who has never secretly wanted to be in a Labyrinth and check whether you'd find the way out? That's possible in the Parque de la Horta (Catalan name: Parc del Laberint d'Horta) in Barcelona.
You can try to find the way out and have a little break when reaching the middle of the maze while deciding which path to take from there.
By the way, a scene for Perfume: The story of a murderer was filmed in this park.
Poble Espanyol
Opening Hours Poble Espanyol: Mon: 10 am – 08 pm; Tue – Sun: 10 am – 12 am
Entrance Fee Poble Espanyol: from 11,20 €
Tickets: You may want to book your ticket online in advance to avoid sold-out tickets on the spot and hours of waiting in line. You can find tickets and tours online here.
Metro-Stop: Espanya (L1 or L3)
Poble Espanyol ("Spanish Village") is the largest open-air museum in the city. Covering an area of 49,000 square meters, as the name implies, this is a whole village representing 33 different regions of Spain with 117 buildings without leaving Barcelona. The Spanish Village was built for the 1929 World's Fair in just 13 months to guide visitors through the different architectural features of Spain. And still today, you can stroll through the various streets of Poble Espanyol and feel like you are being transported to different places in Spain.
Fun Fact: Poble Espanyol was supposed to be demolished after the World Fair. However, due to the high level of popularity with the visitors, it was decided to keep it.
Fun Fact: 1,600 different Spanish towns and villages were visited by the designers before they decided which of them should be represented in the Poble Espanyol.
Museu Picasso
Opening hours Picasso Museum: Tue – Sun: 10 am – 07 pm
Entrance fee Picasso Museum: 12 €
Free Entrance Picasso Museum: Thursdays after 04 pm, every first Sunday of the Month
Tickets: You can find several tickets and tour options for the Picasso Museum here
Getting there: Metro Jaume I (L4), Arc de Triomf (L1)
Barcelona is full of breathtaking attractions and architectural features. But art lovers will also love this treasure of Barcelona: the Picasso Museum. Here you will find works by the famous artist Pablo Picasso. In this museum, there is an extensive collection of the most diverse pieces of the artist.
However, particular attention is placed on the youth works of Picasso, although works from his later creative period are exhibited as well. Already from the outside, the museum is a real highlight. It is made up of 5 gothic houses connected together to form one of the most popular museums in the city.
Is a Barcelona Tourist Pass worth it?
Depending on how much time you want to spend in the city, how much public transport you are going to use, and how much you want to see, a Barcelona Tourist Pass can be worth purchasing for your 3 days in Barcelona.
In the following, we give you a small overview of the different tickets available. In general, you can say that the more you want to see and the more trips you will take, the higher the chances that a Barcelona Tourist Card will be worth it for you. For more information, make sure to check out our comprehensive Barcelona Pass comparison here.
Barcelona Card
From 46 €
Pros
Available for 3, 4, or 5 days
Unlimited transport in Barcelona's means of transport
Train, bus, and metro to El Prat airport included
Free admission to various museums and attractions in the city
Various discounts
Cons
Pass must be picked up at the airport or in the center
Not available as 1 or 2-day ticket
No free admission to major attractions such as Sagrada Familia included
Is great for
Travelers who want to visit many museums
Travelers who need many trips
or travelers who are poor on foot
Is not suitable for
Travelers who don't want to visit sights and museums
Travelers staying less than 3 days
Check more information & prices of Barcelona Card
Barcelona Museum Pass (Articket)
From 35 €
Pros
3 months validity
Entrance to 6 Art Museums
Cons
No transport included
Only art museums included
The ticket must be picked up at the airport or in the center
Is great for
Travelers interested in art
Travelers who have enough time to see the museums
Is not suitable for
Travelers with little time
Travelers who are not interested in art
Check information & prices of Barcelona Articket
Hola BCN Card
From 15,20 €
Pros
Available for 48, 72, 96, or 120 hours
Unlimited transport in Barcelona's means of transport (except at night)
Train, public bus, and metro to El Prat airport included
Cons
Pass must be picked up at the airport or in the center
Does not include discounts or admission to attractions
Not available as a 1-day ticket
Is great for
Travelers who want to visit a lot
Visitors who are poor on foot
Travelers who want to have unlimited trips
Is not suitable for
Travelers who are in the city for only one day
Travelers who walk a lot
Check more information & prices of Hola BCN Card
FAQ about Barcelona
How many days do you need in Barcelona? Is 3 days enough time in Barcelona?
Try to stay as many days as you can. You should try to stay at least 3 days in Barcelona in order to see the most important sights of the city. I would recommend staying for 5 days in Barcelona or longer, though.
Can I call Barcelona Barça?
No, please don't do that! Barça is the Football-Team of the Catalan capital and not the city. Locals might get upset if you call the city like that. If you want to use a shorter name, feel free to use Barna instead.
Is Barcelona a walkable city?
It absolutely is. You can walk almost everywhere. There are many pedestrian zones within the cities and all the important neighborhoods are connected with each other.
Do you tip in Barcelona?
Tipping is not mandatory in Spain. Anyway, if you experience good service, you can surely leave a couple of coins if you want to (but don't feel forced to do so). However, if you take tours, you should tip your guide at the end of the tour.
Is it safe to walk around Barcelona?
In general, I'd say Barcelona is not more dangerous than any other big city in Europe. However, Barcelona does have quite a lot of pickpockets. So stay wary of your belongings at all times, especially in crowded and very touristy places.
Anyway, in my four years of living in the city (with my blond hair clearly looking like a foreigner), I've never been robbed. Just try not to look too much like a tourist and make sure to follow our Safety in Barcelona Guide.
Is Barcelona expensive to visit?
Barcelona and the Spanish capital Madrid are the most expensive cities to visit in Spain. Anyway, compared to cities in Northern Europe, Barcelona is still quite affordable. Make sure to read our Barcelona Budget tips before you go in order to save some money on your trip.
Can you drink tap water in Barcelona?
The tap water in Barcelona is completely safe to drink. You can even refill your water bottle at the fountains you can find throughout the city. Anyway, the water doesn't really taste great due to chlorine.
Do you need cash in Barcelona?
Barcelona's locals pay for almost everything by credit card. However, I'd recommend bringing a little bit of cash with you just in case. Just remember not to carry too much cash with you while walking around the city.
Which currency is used in Barcelona?
Barcelona belongs to Spain, so you need Euros.
Can you use US-Dollars in Barcelona?
No. In general, only Euros are accepted throughout the whole of Spain.
What time do you eat dinner in Barcelona?
I have to admit we eat pretty late in Spain. Dinner time is usually between 9 and 10 pm. So don't be surprised if some restaurants don't open before 8 pm or later.
Does Barcelona do Siesta?
Siesta time is a really typical Spanish thing. However, the typical afternoon nap happens more in the Southern part of the country. In Barcelona, little shops might close during the afternoon (between 2 and 5 pm). But the big shops in the center and tourist areas usually stay open for the whole day.
Do you have more questions about Barcelona?
Make sure to let us know your question in the comments below, and I am trying to answer it as fast as possible.
How about some non-touristy things to do in Barcelona?
Make sure to check our Ultimate Local Guide to the best unusual things to do in Barcelona.
Day Trips from Barcelona
Not only Barcelona but also its surrounding Catalan towns are well worth a visit. We collected the 26 best day trips from Barcelona, recommended by locals and professional travelers.
Accommodation in Barcelona
In the following, we present to you 3 popular accommodations in Barcelona for different Budgets. If you want to know which neighborhood is the best for you, make sure to check our comprehensive Barcelona Neighborhood and Accommodation Guide before booking.
Budget Accommodation in Barcelona
Mid-range Accommodation in Barcelona
Luxury Accommodation in Barcelona
Traveling as a couple?
Read about the most romantic things to do in Barcelona for couples here.
Where to next?
Make sure to check the best Spanish cities to add to your Spain Bucket List here. Or how about a Trip to Cordoba?
---
Interested in Barcelona?