Coffee in Spain can be traced back to a long-standing tradition. Historians even believed that Spain was the first European country to enjoy coffee. Therefore, it is worth looking at the variety of coffee specialties in Spain.
The awakening hot beverage is simply part of the Spanish way of life and is not only drunk during sobremesa (when sitting together after a meal).
But if you take a closer look at the Spanish coffee menu, you can quickly be overwhelmed by all the different varieties. That's why we present the 17 most common Spanish coffees and their preparation. So the next time you visit a bar in Spain, you'll know exactly what and how to order.
Coffee in Spain – The 17 most popular types of Spanish Coffee
Café Solo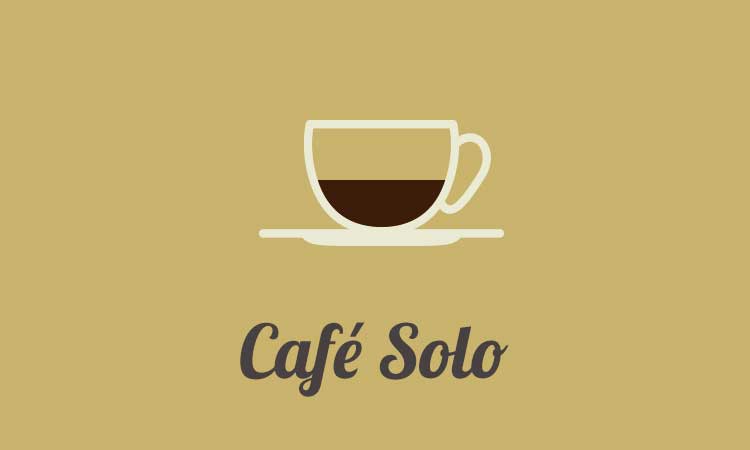 The Café Solo ("coffee alone") is the standard coffee in Spain, i.e. what you will get when you order "un café, por favor". At this point, it is important to know that the standard coffee here is what we would call espresso in most Western countries.
So, in short, the coffee in Spain is smaller and stronger than the one in Central Europe and the US.
Café cortado
Café cortado ("cut coffee") is also known as espresso macchiato in many other countries such as the US or Italy. This popular type of coffee is a café solo (espresso) with a shot of (usually warmed) milk.
The milk in the coffee not only helps make the coffee a little less bitter but also reduces the coffee's acidity at the same time.
Many perceive it as easier to digest this way. For others, pure coffee without milk would otherwise simply be too bitter.
In Catalonia and the Balearic Islands, Café Cortado is also often called "Tallat".
Café con leche
Café con Leche ("coffee with milk") is the Spanish version of latte. However, unlike in most Western countries, the Spanish latte is prepared with espresso. So it may well be a bit stronger than we are used to from home or many other European countries.
While the Cortado has only a small layer of milk, the Café con Leche comes with a larger amount of milk. In some bars, it is customary to serve the milk separately in a small jug. For this purpose, the milk is first warmed and lightly frothed.
Some bars in Spain now also offer cow's milk alternatives such as lactose-free milk, soy milk, or oat milk.
Café americano
If you order a Café Americano in Spain, you will receive the typical filter coffee that many of us know from home. The name of the Café Americano ("American coffee") alludes to the typical fame of coffee from American movies and culture
Usually, the coffee is prepared in the machine and infused directly with water. It is suitable for those who do not like their coffee so strong.
Café descafeinado (de máquina)
It's getting late and you have trouble sleeping after consuming caffeine? Whatever the reason, in Spain you can order a decaffeinated coffee in the form of a descafeinado.
If you order a simple café descafeinado, you'll get a café solo (espresso) without caffeine. However, you can usually order any other type of coffee as a descafeinado.
Café largo
Café Largo ("long coffee") is the Spanish version of the Italian Café Lungo. In this coffee blend version, a little more water is added through the coffee beans. This makes the coffee a little less strong. At the same time, however, it gives the coffee an even more bitter taste.
Café Largo is therefore just the right drink for everybody that like their coffee as black and bitter as possible.
Cappuccino
The good old cappuccino is made the same way in Spain, just as we know it from home or from our last vacation in Italy.
Warm foamed milk is poured onto an espresso so that the creamy milk foam remains at the top of the cup. The milk is firmer and frothier than in the classic latte.
Similar to Italy, the cappuccino is among the most popular coffee variations in Spain.
Café Manchado
The Café Manchado ("stained coffee") is quite similar to the Italian Latte Macchiato ("stained milk") – a lot of milk with little coffee. In Café Manchado, you add only a small splash of coffee that colors ("stains") the milk very slightly.
This type of coffee is especially famous in the south, for example, in Andalusia. Café Manchado is great for those who are not a big fan of the general coffee taste but still do not want to miss its effect.
Café con hielo
Café con Hielo ("coffee with ice") is the Spanish version of iced coffee. The Spanish iced coffee is particularly popular during the hot summer months.
As the name suggests, it is a coffee (espresso) with ice. Ice in this case means conventional ice cubes made of water. In some bars or on-demand, the iced coffee also comes with cold milk.
Café Doble
Café doble ("double coffee") is quite simply a double café solo, in other words, two espressi. Some bars also offer this coffee under its Italian name, café doppio.
This type of coffee is perfect for early mornings or for anyone who could use an extra dose of a pick-me-up.
Café Carajillo
Spanish coffee with alcohol is a very popular mixture in the country. And so it happens that Café Carajillo is universally popular. The original Café Carajillo is a combination of espresso (Café solo) and brandy.
Today, however, this type of coffee can also be found in combination with other types of alcohol as coffee with liqueur 43, with rum, whiskey, or anise liqueur. In one version of this coffee, "quemado", the liqueur is first ignited and then deglazed with coffee.
Café carajillo is especially popular after lunch but can also be ordered in the morning and evening.
The name of the coffee is derived from its Cuban roots. That's because troops in colonial Cuba once mixed their coffee with alcohol to drink for courage. The Spanish word for courage, coraje, provided the name Corajillo, which over the years, evolved into Carajillo.
Café Bombón
Those who like it a little sweeter will particularly enjoy this version of coffee. Café Bombón blends a café solo (espresso) with a large shot of condensed milk.
This coffee with condensed milk is especially popular as a kind of Spanish dessert.
The sweet Bombón coffee is usually served in a small transparent glass to highlight the two layers between the coffee and condensed milk.
Belmonte
If the previous two coffees, Café Bombón and Café Carajillo, already made your mouth water, you should definitely try a blend of the two, Café Belmonte.
This is a café solo (espresso) served with condensed milk and a shot of alcohol, usually brandy. This yummy coffee creates a great balance of bitter coffee, sweet condensed milk, and the light taste of alcohol.
The mixture is usually presented in a small transparent glass, as the three layers show up well.
This coffee creation originates from the Murcia region, but nowadays, it can be enjoyed in other regions of Spain as well.
Café leche y leche
Let's move from the Iberian Peninsula to the Canary Islands. Because from there comes this delicious coffee creation of Spain, the Café Leche y Leche ("coffee milk and milk").
This beverage is not simply a coffee with double milk, as the name might suggest. Instead, the coffee type is served with condensed milk and a portion of warm milk on top.
This combination makes the coffee taste extra mild and sweet at the same time.
Café Vienés
Café Vienés, or Viennese coffee, is reminiscent of the typical coffee with whipped cream that we love so much in Austria. While there may be small variations depending on the region and preparation, it is usually a cappuccino or latte with sweet whipped cream.
Often, Viennese-style coffee is served with chocolate sprinkles or cocoa powder on top. In addition, there are variants of this coffee with honey, chocolate, or even liqueur.
Café Nube (Málaga)
The Spanish city of Málaga is famous throughout the country for its specialty coffees. So besides visiting some of the beaches and untouristy things in Málaga, you should not miss their great coffee. One of the most popular coffee varieties in Malaga is the Café Nube ("cloud coffee"). If you order this coffee, you will receive only a tiny portion of coffee (about ¼ of an espresso shot) with a large amount of milk.
This coffee is especially good for afternoons or for those who enjoy their coffee with "as little coffee taste as possible".
Café Sombra (Málaga)
The last coffee on our list originates also from Málaga. The Café Sombra ("shadow coffee"), is prepared quite similar to the Café Nube just presented. The only difference between the two is the amount of coffee it contains.
Because Café Sombra contains twice the amount of coffee as Café Nube (about ½ espresso).
How to order a coffee in Spanish – A quick guide
Enjoying a cup of excellent coffee in the sun on one of Spain's many terraces is part of the real Spanish vacation feeling for many people. Here are a few helpful phrases for ordering your coffee in Spanish.
Un café, por favor – A coffee, please
Me pones un café? – Can you bring me a coffee?
Ponme un café (por favor) – Bring me a coffee (,please)
More helpful Spanish words that might be helpful when ordering your coffee in Spain
decaffeinated – descafeinado
big – grande
small – pequeño
To-Go – para llevar
with – con
without – sin
sugar – azúcar
Milk – leche
lactose-free – sin lactosa
vegetarian milk – leche vegetal
Soy – soja
Oat – avena
Honey – miel
please – por favor
thank you – gracias
the check, please – La cuenta, por favor
FAQ to Spanish Coffee Culture
What kind of coffee do you drink in Spain?
The standard coffee in Spain is Café Solo. This is a type of espresso that is strong and full-bodied, often enjoyed with milk.
How to drink coffee in Spain?
In Spain, people drink coffee around the clock, often even after dinner. Coffee is firmly anchored in Spanish culture. It is said that Spain was the first country in Europe to enjoy coffee.
How much to tip in Spain?
Tipping is not obligatory in Spain and is reserved for top service. If you enjoyed your coffee, you can leave a few coins after paying. >>Read also our tipping guide for Spain
What does coffee cost in Spain?
The price of coffee in Spain varies by region. You can expect a price of about 1 – 2.5 euros.
---
Interested in Spain?