If you think of Spanish food, you probably have paella, tapas, tortilla de patata, and similar in mind. Each of those delicious Spanish dishes is also a popular food in Catalonia but are not typical of the region. But since the Catalan cuisine is also full of unique culinary delights, we want to introduce you to 18 tasty Catalan foods in this post.
The following Catalan dishes are typically Catalan. We, therefore, recommend that you try at least one of the dishes while admiring the most beautiful Catalonia destinations.
The best Food in Catalonia – 18 excellent traditional Catalan dishes
Here you will find 18 delicious Catalonia foods that you should try during your trip to this wonderful Spanish region. It doesn't matter whether your trip is to Barcelona or other parts of Catalonia.
As always, the order of the dishes is not meant as a ranking. The dishes are only listed in alphabetical order.
Allioli
Also in the rest of Spain, in many other countries, this white sauce is known under its Spanish name "Aioli". However, what many don't know is that it actually comes from Catalonia. This is also evident in its name, which can clearly be derived from Catalan: Alli + Oli = garlic + oil. Because in its original form, the popular Allioli was only prepared from these two ingredients.
Nowadays, egg is usually added to make it particularly creamy. The whole thing is then usually served as a side dish with potatoes, meat, or fish or with Catalan tapas as an appetizer with bread.
The history of the Allioli goes back to the 11th century. However, it is believed that it was even enjoyed before that time. Some researchers even suspect that this popular Catalan garlic creme gave rise to the mayonnaise known today.
Arròs Negre
Although this dish is sometimes referred to as paella negre, it is not really a paella – despite everything, I have to admit that the preparation is very similar. Likewise, it is not actually black rice, but only regular rice colored with squid ink.
Apart from that, Arròs Negre is very similar to seafood paella. This is because it is black-colored rice, which is prepared with peppers, squid, olive oil, and a seafood broth. Although this is the traditional variant, some restaurants add more seafood, such as crab or shrimp.
Just like the original paella, this dish is very popular not only in Catalonia but also in Valencia. There is also a version with noodles called Fideuà Negra.
Botifarra (amb mongetes)
The Botifarra (also called butifarra in Spanish) belongs to Catalonia just like the bratwurst to Germany. This makes the delicious lean pork sausage one of the most popular dishes in Catalonia. Although Botifarra is used as a general term, there are different variants of the Catalan sausage. The different alternatives of the Botifarra are grilled, fried, boiled, or enjoyed raw.
The most popular is probably the Botifarra Vermella (red Botifarra), which is best served grilled or fried with beans (Botifarra amb mongetes or Botifarra amb seques). But the white and black versions of the sausage (Botifarra negra and Botifarra blanca) are also popular options. There are also variants that are made with egg, rice, or truffles.
Fun fact: There is even a sweet alternative made with cinnamon and honey.
No wonder that the Botifarra is so deeply rooted in Catalan culture because it was already eaten in the region during Roman times.
Calçots (amb salsa romesco)
If I had to choose my favorite Catalan dish, it would definitely be Calçots. Too bad that you can only enjoy this Catalan food once a year – in spring at a so-called Calçotada.
The meaning of the colçot to the Catalans is comparable to what asparagus means to the Germans. Because not only in terms of popularity but also in appearance, the German asparagus and the Catalan calçots are quite similar.
The calçots are a kind of spring onion. These 15-25 cm long onions are much milder than conventional onions. In a calçotada, they are grilled in the oven, usually over an open flame. Then they are served on a terracotta plate.
In order to enjoy this Catalan specialty, some practice is required. The best is to let a local show you how it works first – but don't worry, it's not even difficult.
And this is how it works: The calçots are held with one hand at the upper end. The burnt black skin is pulled off with the other hand. Now the calçot can be dipped in a pot with Romesco sauce, a typical Catalan sauce made from tomato, dried fruits, peppers, and nuts. After dipping them in sauce, you can finally enjoy the calçot.
Calçotada tip: Be sure to wear the gloves and protective film that are usually brought to you, otherwise it can be a very dirty affair.
Canelons (amb carn d'olla)
We come to another absolutely delicious dish of Catalan cuisine: Canelons. To understand the history of this popular meal, we don't even have to go back so far. Because this dish only became popular in the region in the 1920s.
By the way, does the name seem familiar to you? Exactly, because the Catalan Canelons were inspired by the Italian cannelloni. Nevertheless, there are some differences between the Catalan and Italian versions of the dish.
Although it is the same pasta dough, the Catalan version is usually cooked through (not al dente like the Italian version) and served with bechamel sauce all around. The meat inside is also often different.
At the latest in the 50s and 60s, Canelons became a popular dish that the families enjoy on boxing day until today. This tradition has a very practical background. The meat, Carn d'olla, which Catalan families like to eat at Christmas, is mostly leftovers from the previous day. Thus, the Canelons are a perfect variant of the recycling of leftovers from Christmas.
Cargols a la llauna
Admittedly, this Catalan specialty will certainly not appeal to everyone. Even though this dish smells delicious, I have not been able to force myself to try it. Since my Catalan father-in-law loves this dish and always likes to order it and it is also a typical dish in Catalonia, it still belongs on this list.
However, this very unusual dish is made out of snails. These land snails are prepared in the oven in a so-called llauna (a tin vessel). The whole thing is then usually served with Allioli or a tomato vinaigrette.
This way of preparing snails goes back to a tradition from the 80s of the Catalan province of Lérida. Since then, there has even been a weekend every May in the region dedicated to this dish.
Coca
Contrary to how it might appear at first glance on its name, this is not a drug, but actually a cake. While you usually only eat the sweet form of coca cake at certain celebrations, such as Sant Joan Coca in June, there are also heartily variants that can be enjoyed all year round.
The tradition of coca doesn't come directly from Catalonia but from the Balearic Islands. For this reason, Coca is sometimes referred to as a Mallorcan pizza. But Coca differs from pizza not only in its shape. Rather, coca is traditionally not baked with cheese.
Coca is usually enjoyed heartily. There are various varieties to choose from, particularly popular are coca amb trempó (with onions, tomatoes, and peppers) or coca d'espinacs (with spinach) or varieties with peppers, sardines or sobrassada. The last one is a kind of Mallorcan greasy sausage with peppers.
Escudella
Escudella is a soup that is particularly popular in the whole region in winter. There are different forms of this soup that are made differently. The simplest form consists only of broth and pasta or rice. In this version, it is often eaten as a starter.
The most popular form is the Escudella i carn d'olla. In this form, well-seasoned large meatballs and mostly some vegetables are added to the soup. Each Catalan probably has his own preferences. While some prepare the popular soup with bones, others add Botifarra.
By the way, the roots of it date back to at least the 14th century.
Another important form of soup, the Escudella de nadal (Christmas soup) or sopa de galets, is traditionally eaten at Christmas. It is also a tradition in our family. Here the mussel pasta (galets) are filled with meat.
Escalivada
After so many meat dishes, we come to something completely vegetarian. Basically, grilled vegetables are called Escaliva. These are mostly eggplants and peppers with olive oil. The dish can also contain tomatoes, onions, garlic, salt, or other vegetables.
The delicious dish is usually served as tapas or as an accompaniment to grilled meat or fish. Escalivada can also sometimes be enjoyed as a topping of coca (see above) or salad. Due to its diversity, Escalivada can now be found not only in Catalonia but also in Valencia, Murcia, and all the way to Aragon.
Incidentally, the name of this food can be traced back to the old Catalan verb escalivar ("to cook in ashes").
Esqueixada (de bacallà)
Esqueixada is a popular dish throughout Catalonia, especially in summer. Also known as "Catalan ceviche", it is a kind of fish salad.
The preparation and contents of the salad can vary depending on your taste. In most variants, however, you will find olive oil, vinegar, salt, tomatoes, onions, and so-called clip fish. This is salted and then air-dried fish. The most popular type of fish for Esqueixada is cod (Bacallà). Hard-boiled eggs, peppers, or olives are also popular ingredients for this salad.
The name of this dish is derived from the Catalan word "esqueixar", which means "tear apart". The name comes from the fact that the fish for the salad is usually pulled apart and not cut to get the perfect consistency for the salad.
Fricandó
Fricandó is another very traditional Catalan dish, the roots of which go back to the Middle Ages. This dish is meat, mostly veal served with a classic sauce. The sauce is usually made from tomatoes, white wine, mushrooms, and onions.
Fricandó is more likely to be found in restaurants and on special occasions since its production is rather complex. Strictly speaking, the dish should be cooked the day before so that the meat can really absorb the taste of the tasty sauce. The secret of this dish is said to be the quality of the meat used for cooking.
It is believed that the name of the Fricandó is derived from Occitan, which in turn has influences from the Latin word frigere (to fry). In foreign countries, the name is often translated with Fricandeau. However, this is a French dish, which, like the Fricandó, is not a piece of fillet, but rather legs of meat.
Fuet and other Embutits
Catalonia can look back on a long tradition of sausages and cold cuts (embutits). No wonder there is so much choice between selected and high-quality sausage options. Great varieties can be found especially in the smaller towns and villages in the interior of the region.
The most famous representative of these sausages is Fuet. Anyone who has tried it will most likely buy it again and again. It is a kind of hard salami with different spices. The best places in Catalonia to try Fuet are Olot and Vic.
Other representatives of the Catalan sausage art are Salchichón and Llonganissa, which could be described as Catalan salami. The Botifarra already presented is also an integral part of the Catalan sausage specialties.
Sausages are so popular in Catalonia that they can be ordered as tapas, starters, or snacks in many bars and restaurants. But also at home or at celebrations, the sausages are often served as a snack.
Mar i Muntanya
If you can't choose between the sea and mountains in your vacation plans, Catalonia is the place for you. Because hardly in any other region, mountains and the coast are so close together. Of course, this is also reflected in the dishes of Catalonia. Because at Mar i Muntanya (sea and mountain) fish and meat come together on the plate.
While there are countless varieties of this dish today, it is believed that the first variant that was cooked by fishermen on the Costa Brava consisted of chicken and shrimp in a white wine sauce. Today, monkfish, lobster, sausages, and crawfish are also particularly popular.
Even if the combination may sound a bit daring at first, it has stayed in the Spanish region for years and is still a popular treat with its locals.
Pa amb Tomàquet
Hardly any other dish is so easy to make and yet so delicious. Pa amb Tomàquet (bread with tomato) is a Catalan food that is usually served as a starter or side dish and has also become very popular as a pan con tomato in the rest of Spain.
Here's how easy it is: Take a toasted white bread and rub a piece of garlic over it. Now take a piece of tomato and rub it over the bread covered with garlic until only the skin of the tomato is left. Finally, add a few drops of olive oil and your pa amb tomàquet is ready to enjoy.
Depending on the taste, the garlic can be omitted or the bread can be salted afterward.
Pa amb Tomàquet is so popular in the country that it is considered an important part of the Spanish food culture. If you like, you can even buy the tomatoes in the supermarket already squeezed out on the cooling shelf.
Suquet de peix
Suquet de Peix is another dish that comes from the Catalan fishermen. This was once a simple dish that was consumed by the fishermen themselves to get rid of the fish residues that were least sold.
Today, however, the dish is considered one of the best fish dishes in the region and is offered in many high-quality restaurants along the Catalan coast up to Valencia.
The special thing about this casserole is that there are no special rules as to which types of fish should be used. However, the most common are monkfish, sea bream, and grouper.
Trinxat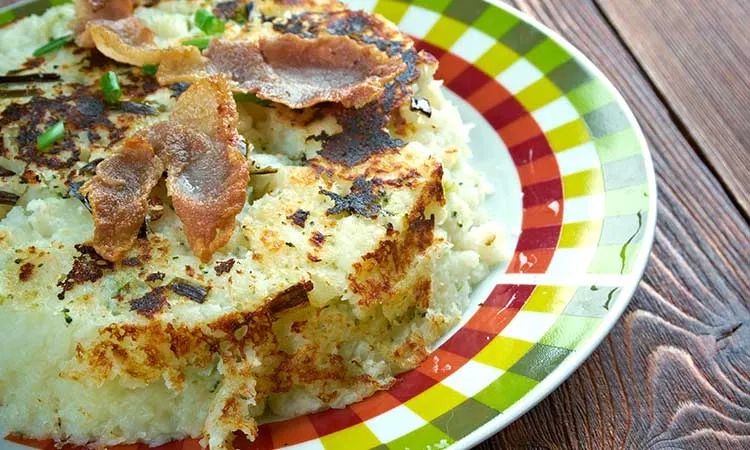 The last dish on our list is called Trinxat. This is a food that is basically made from three ingredients: potatoes, cabbage, and pork (mostly bacon). Although Trinxat originally comes from Andorra and the northern part of Catalonia in the Pyrenees, it can now be found throughout the whole of Catalonia.
The name of this dish is derived from the Catalan verb trinxar, which can be translated as slice. When preparing this dish, all ingredients are cut very small and cooked for a long time. The whole thing is served similarly to the tortilla de patata, which is so popular in Spain.
The delicious dish is particularly popular in winter because it is high-calorie and warming. Since it can get very cold in winter, especially in the area of the Pyrenees, it is hardly surprising that Trinxat is particularly popular in this region.
For the sweet tooth – 2 typical Catalan dishes
Crema Catalana
Crema Catalana is by far the most popular Catalan dessert and can now be enjoyed not only throughout Spain but also internationally. Even though it is quite similar to its French neighbor, the Cremè Brulée.
The cream itself is usually made from milk, sugar, egg yolk, cornstarch, cinnamon, and lemon peel and is therefore very high in calories. Like Cremè Brulée, it also has a caramelized layer of sugar as a lid. The cream is often served with a small biscuit or cream.
Crema Catalana can look back on a long history. Although some suspect that it goes back to Jewish traditions, there is a popular legend about the creation of the cream. A few nuns wanted to serve the cream to a visiting priest.
However, since the priest didn't have enough time to wait for the cream to cool down, the nuns added some cornstarch and gave him the hot cream as a pudding. Unfortunately, he burned his mouth and called "Crema" (which means "it burns" in Catalan). Despite everything, he ate the cream completely because it tasted so good. Therefore, it is often also referred to as Crema Cremada (Baked cream).
Panellets
Let's go on with another popular Catalan dessert, the Panelletes. The name can be translated as "small bread". Panellets are usually served as a dessert with sweet wine. They are particularly typical of All Saints' Day.
These are small marzipan balls that are served wrapped in pine nuts. However, there are different variants. The delicious little balls are sold as far as Seville. By the way, there they are called Empiñonados in that region of Spain.
Although the pastry is now considered typical Catalan, its origin is believed to be either from Northern Europe or Arabia.
---
Is your new favorite dish included? Which of the dishes do you really want to try? Or maybe you have a suggestion on which specialty should we add to the list? Let us know in the comments below!
Interested in Spain?