The Iya Valley is is part of the Japanese Island Shikoku which is getting more and more popular. The river that runs through the valley is called Iya river, by the way. Yeah I know, so much creativity when giving names here.
Although this area is quite famous for Tourists, getting around by public transport is not really easy.
What to find out in this post
How to get there?
The easiest way to get to Kazurabashi, Iya Valley is from the Oboke Station. (for example from Takamatsu in around 1 1/4 hours for 3510 Yen [27,30 Euro]) From Oboke Station you can catch the Shikoku Kotsu Bus. (Make sure to check the schedule prior your arrival as there are just around 4 busses a day, at least during the raining season). As soon as you finally catched one of those busses be sure to get off at Kazurabashi Station.
Camping in Iya Valley

I gotta admit, staying in Kazurabashi is not quite the cheapest option to stay in Japan. If you are traveling on a budget as we do the perfect option might be the Campingsite. The view you get from there is amazing and you have pure nature all around. And I guess there are far worse things than waking up to the rushing of the Iya River, which is running through the food of the camping ground.
One night in a tent costs 1000 Yen (ca. 07,70 Euro) per tent and one night in a Bungalow would be 5350 Yen (ca. 41,25) per Bungalow (including electricity and tap water).
We decided to stay in the Bungalow as we already gussed it would get kinda cold at night. Moreover, the actual plan was to work a little there within the beautiful and peaceful nature. (I needed some time to keep this blog going and Eduardo is working as a Webdesigner) Unfortunately, we didn't think of not having wifi. And even our little wifi device that our friend Kana lent us didn't get any connection up there in the deep nature.
Some extra advice: Even if it seems to be warm during day time, it can get really cold at night. Better make sure to either bring a blanket or rent one there (100 Yen, 0,77 Euro) In the second night we even got third blanket as we've been freezing a lot.
The Kazura Bridge
The Kazura bridge (Kazurabashi) gives its name to this part of the Iya Valley. The whole thing is actually kinda confusing though. As apparently there are two parts of the Iya Valley being called Kazurabashi. In both of this parts you will find those famous hanging bridges being made out of liana. Both of this parts are around one hour by car away from each other.
Usually, if you talk about Kazurabashi, the part which is nearer the Oboke Station is meant. There you can find the Biwa-no-taki waterfall.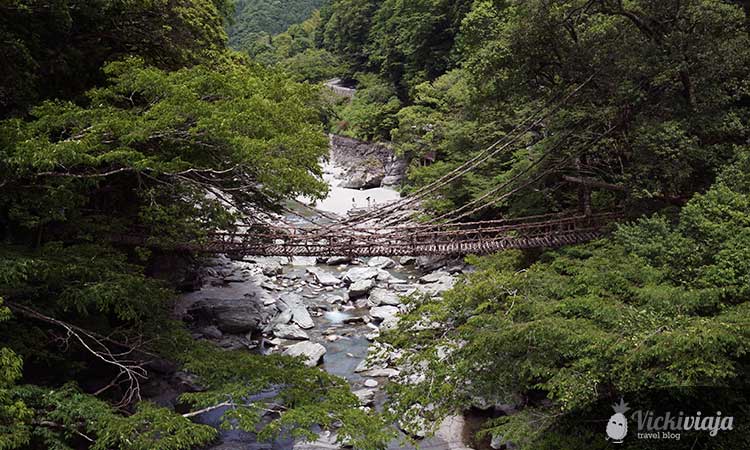 If you wanna walk over the Kazura Bridge you need to buy a ticket for 500 Yen (about 3,85 Euro)
Yes, seriously. We obviosuly weren't quite sure whether it was really worth it paying that much money on a bridge. A friend told us before you could just try to sneak in from the exit and go for free. Unfortunately, they kept really good care of the exit and that Chinese Couple starting to scream at us when they saw us standing at the exit didn't really make it easier. Thus, we had to give up on this one.
Looking for Food
If you decide to visit the Iya Valley, please be smarter than us and bring a sufficient ammount of food with you. As soon as the tourists are starting to leave the town (around 6 pm latest) all of the restaurants and supermarkets close. (but to be honest, I wouldn't even call this little thing a supermarket) So get ready for a really early dinner. (some of the restaurants are already closing at 5 pm) and bring enough food for breakfast and the little hunger for in-between. Let me tell you, spending one half day just sharing one chocolate bar we had left is not fun.
Our first evening we actually had kinda trouble finding something for dinner. And we were really hungry. In the end we came by a little restaurant. And since the door was still open we entered. Apparently, the restaurant was already closed. We realized that when the owner was walking around inside with a huge amount of dirty laundry in his arms about the put it into the laundry machine. Anyway, this man didn't complain but acted like everything was perfectly normal. And we could still order something. So lucky! So you can see how close we've been to starve in Japan. 😉
Through Iya Valley by Hitchiking
Actually we had everything planned. (Don't chaotic stories always start like that?) We checked about buses that would bring us to Nagoro as we really wanted to see the Scarecrow village. So we decided to take the first bus in the morning up to Nagoro. Only problem was that you couldn't check the bus schedule in English on the internet. But it was mentioned that the English bus schedule was available in Kazurabashi. So what could go wrong, right? Well, I tell you what could go wrong. Around Dry Season there are only busses once a week. Great! But a helpful man in the tourist info told us that we could get the earliest bus up to the last station of the line and walk from there around 4 km up to Nagoro. In Nagoro we would be able to spend around maybe 1 1/2 hours until we would have to walk back to the bus station in order to catch the last bus back. (as there are just four busses a day) Sounded like a plan!
As the plan might have been a little tight we thought to ourselves: Maybe we could get some hitchhiking signs in case a car comes by, so we don't have to walk for so long and have more time to have a look around the puppet town. The helpful man told us that there are actually really few cars coming by usually. Anyway, he helped us writing signs in Japanese characters. Would have been a great plan, don't you think?
At night we went to bed pretty early to be fit for our walk the next day and getting up early. And as it was so early we didn't really bother putting an alarm… Well, maybe one or two have already realized what's coming next… At night it got really cold and we didn't sleep really well. And even though any other day before we had woken up around 7 am, that day we overslept and woke up at 9 am. And since we missed the first bus it would have simply been impossible to fit the 8 km walking into the tight bus schedule. So what do we do?
Right. Taking out our hitchhiking signs and standing near the next bus station. But unfortunately, the man from the tourist information was right. There were almost no cars coming. We maybe saw 2 cars and 3 trucks every ten minutes.
Already about to give up suddenly a car stopped next to us. Inside a cute Japanese couple. And off we went with them. They didn't speak any English though. But we were more or less able to communicate with hands and feet. And thanks to our map we could exactly show them where we wanted to go.
Even though they were actually on the way to an Onsen they didn't really seem to mind about the huge detour they took. After around one hour drive we finally arrived at the bus station that the bus would have taken us. But the couple just kept driving. We couldn't believe it, would they even drive us to Nagoro?
But even after we arrived in Nagoro they didn't stop. We started to get confused. Where are they bringing us? They just told us something about Kazurabashi. We were totally confused at this point. After checking the map again we realized that there happened to be another part called Kazurabashi. Did they misunderstand us and think we are camping in this part?
After arriving in the second Kazurabashi we finally understood what was going on. They wanted us to see the other hanging bridge that was located there. (Actually, there were even two bridges to be exact. A "male" and a "female" one)
Moreover, there is a little wood house with which you can go across the river. The entrance for this whole area was 550 Yen (about 4,25 Euro)
I guess the entrance of this Kazurabashi is much more worth it than the one we were staying in. Especially because the bridge was longer and higher and besides us there was no one around.
So we invited our new Japanese friends for a tour around that area.
Aferwards we kept heading back to the scarecrow village of Nagoro, the actual destination of our little trip. And the Japanese couple decided to join us even there.
On the way back from Nagoro we got ready to get out at the bus stop that we actually asked to be left out in the beginning. But no. Again we just passed by. After some minutes we realized that they were actually giving us a ride back to our campingsite. Can you belive that?! So this way we not only had a free ride up and down, saved a lot of time and even saw more than we actually planned to, but also made some new friends. After getting out of the car back in Kazurabashi it still took us a while to realize what actually just happend and how lucky we were to meet this great couple.
Interested in Japan?
Subscribe!
Follow my adventures and get inspired for your next trip ;). No spam!
If you want, you can read a summary of our Data Protection here:

Owner: Vicki Franz
Purpose: manage the registration to the newsletter and send periodic newsletters with information and prospective offer of products or services. Your data will be stored at GetResponse, an email marketing provider that also complies with the RGPD.
Rights: You can exercise your rights of access, rectification, limitation and deletion of data on hello@eduardosans.com as well as the right to file a complaint with a supervisory authority.
Additional Info: At https://vickiviaja.com/privacy-policy-and-disclaimer/, you will find additional information about the collection and use of your personal information, including information about access, retention, correction, deletion, security, and other topics.