You want to move to Spain and start living in Madrid or Barcelona? But you just can't decide which of the two Spanish cities you should choose for your stay?
No problem, because here, you can find the ultimate comparison of Barcelona and Madrid. I have been living in Barcelona for a few years, and I know the Spanish capital, Madrid, quite well.
In addition, for this article, I got some help from a few friends who have lived in both cities for longer. So, let's get right into our comparison: Barcelona vs. Madrid city.
Spoiler: I'm going to completely disregard the soccer clubs of the two cities for this comparison – even though they might be a "crucial selection measure" for some.
In a nutshell: Living in Madrid or Barcelona?
Both Madrid and Barcelona are perfect for a (more extended) stay and moving to. Barcelona is a rather modern, very touristy city by the sea with many European influences and Catalan culture and language. Conversely, Madrid is a more traditional Spanish city with great nightlife and is very open to visitors.
Living in Madrid
Madrid is great for living and spending time abroad for anyone who would like to experience traditional Spanish life.
The people of Madrid are very open to (foreign) visitors and welcome you with open arms – even if communication is not always that easy. The level of English in Madrid is relatively low.
However, Madrid is the perfect place to learn Spanish, as it is said to have the purest Spanish spoken in the country.
Madrid offers a diverse cultural scene with typical Spanish traditions, excellent cuisine, a distinct nightlife, and lots of great places to visit nearby.
Living in Barcelona
To live in Barcelona one day is a dream of many. With its location on the Mediterranean coast of Catalonia, Barcelona simply offers the perfect mix of fantastic classical architecture, sun and beach, and a modern metropolis.
In Barcelona, you will meet people from all over the world who settle here for long or short periods. Barcelona is cosmopolitan and traditionally Catalan at the same time.
As the capital of Catalonia, Barcelona comes with various Catalan dishes and traditions – including, of course, its own language: Catalan.
But this mix of cultures makes Barcelona so unique, and thousands of visitors come here every year to experience these Catalan traditions and dishes and, of course, Barcelona's beaches.
Shared features between Barcelona and Madrid
Some might say that the two Spanish metropolises could not be any more different from each other. But despite everything, they also have some things in common. In the section below, I'll introduce you to the most significant of them.
Barcelona and Madrid are both Spanish metropolises with their own personality.
Both cities are very international and offer many opportunities for visitors.
Both cities are relatively expensive compared to other Spanish towns.
They have a wide and varied cultural offer.
Great day trip destinations in the surrounding area
Good train connections to the main Spanish cities
A well-developed transportation system, including public transportation
A modern infrastructure
Plenty of nightlife options
Outstanding cuisine with delicious dishes
A chaotic registration process
Barcelona vs. Madrid – Major Differences between the two Spanish Cities
After briefly getting an impression of life in both cities, I would like to talk about the most crucial differences between Barcelona and Madrid in the following part of the article.
Cost of Living Madrid vs. Barcelona
We can assume that Barcelona is almost 6% more expensive than Madrid. If we disregard the rental prices and only look at the general prices, we even find a price difference of 7.5% between the two cities.
The high price difference is mainly due to the high proportion of expats and tourists in the Catalan capital. But we'll get to that at another point in a second.
Catalan Culture and Language
Although both Barcelona and Madrid are Spanish cities, there is one significant difference between the two cities: and that is the Catalan culture and language. As the capital of Catalonia, two languages are spoken in Barcelona: Spanish and Catalan.
For some years now, Catalonia has even had a law that requires all signs in supermarkets to be displayed in Catalan. Whether additional translations are given in Spanish is up to the respective store.
But not only the language but also the culture of Catalonia differs in many details. Starting with the traditions, over the food up to holidays. Many things work a little differently in Catalonia than in other regions of Spain.
The Difference in Spanish
We have already discussed in the previous point that Catalan is spoken in Barcelona in addition to Spanish. But there are also some small but significant differences in spoken Spanish.
Madrid, together with Castile, is considered the country's area with the most neutral Spanish – the purest Spanish, if you will. Therefore, if you want to learn the language at a high level, Madrid is the place to be.
In Barcelona, on the other hand, spoken Spanish shows some Catalan influences. But even without this mixture, the Spanish here is considered "less pure," and you will find a few idioms that Spaniards from other regions of the country probably won't use.
Tourism in Madrid and Barcelona – Which one is more touristy
It's probably no secret that Barcelona is the most visited city in Spain. Millions of tourists ( pre-pandemic, there were about 13 million annual visitors) visit the Catalan capital every year.
Especially when you consider the relatively small area of the city, such tourist numbers naturally make their presence felt. While on the one hand, tourism provides jobs in the region, the city is becoming more and more touristy.
This comes with so many disadvantages for Barcelona. Some of the following can be directly attributed to Barcelona's over-tourism.
Hospitality towards visitors
Another factor on which so many, especially foreign residents of both cities, surprisingly agree is the friendliness of the people towards strangers.
Barcelona is practically flooded with tourists, especially during the summer months. And some of them don't always show themselves on their best behavior.
In addition, rents in Barcelona continue to rise due to the steady increase in tourism, driving residents out of their homes who can no longer afford the rents in the city center.
Signs with "Tourists go Home" are, therefore, unfortunately, no longer a rarity in Barcelona.
But even Spanish visitors don't always feel completely welcome. Catalan national pride hopes to preserve its own language and culture, and so people often prefer to converse in their own language. Unfortunately, non-Catalan speakers may quickly feel excluded.
On the other hand, more people in Barcelona speak English. This makes it easier for expats to get around and communicate, perhaps even make friends with the locals.
On the other hand, Madrid is known for giving its visitors and immigrants a friendly welcome and taking them in. Especially if the newcomers make an effort to learn the language, they can more quickly become part of a Spanish group of friends.
Long-term Expats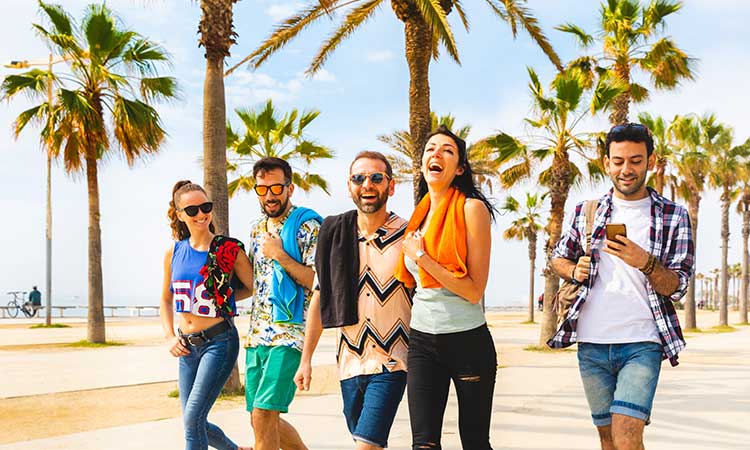 One experience that I, too, have again and again in Barcelona is that friendships in the city are not always long-lasting. And there's a reason for that: many "expats" don't stay in the city for long – often only a few months.
Long-term expats, on the other hand, often have to make new friends repeatedly, which can be really exhausting in the long run. Therefore, even locals are sometimes skeptical about friendships with immigrants.
For this reason, it also happens that these short-term expats hardly have time (or desire) to learn the language and discover the local customs and traditions. As a result, the distinction between emigrants and locals is usually greater than in Madrid.
In the Spanish capital, on the other hand, expats often stay for a few years or even long term. This gives them more time to learn the language and integrate into Madrid life.
As a result, many expatriates feel that they are "better accepted into the city."
This also benefits the friendships between expats. This is because long-term friendships can be built and maintained between immigrants.
Author's note: The distinction described here outlines tendencies in the respective cities. Of course, there are also plenty of exceptions, both in Madrid and Barcelona.
Distance to the Sea
Let's face it. The most significant difference between the Spanish metropolises of Barcelona and Madrid is Barcelona's location directly on the sea.
For many, this is an absolute knockout criterion for choosing to live in the Catalan capital.
Temperatures in Barcelona and Madrid
Another factor that many people who have lived in both cities agree on is the more favorable temperature of Barcelona.
Barcelona, with its Mediterranean climate, offers mild temperatures all year round. This means short, mild winters and warm summers.
On the other hand, Madrid is located in the country's interior. Therefore, the climate here is more continental, which leads to cooler winters (it can even snow here in the winter.) and hot summers.
Better Job opportunities
Admittedly, it is relatively easy in Barcelona to find an English-speaking job to start with: Call centers and similar offices are always waiting for English-speaking newcomers.
But if you want to build a serious career, it usually takes a little longer to find something that suits you. In many jobs, Catalan and Spanish language skills are required.
Madrid, on the other hand, has a lot of industry, and many important companies in the country are based here. If you want to make a career in Spain, Madrid is the right place.
Compared to most other EU countries, finding a well-paying job in either city can be pretty challenging. (Knowledge of Spanish is an essential factor that increases your job chances many times over), but you have relatively better chances in Madrid.
The size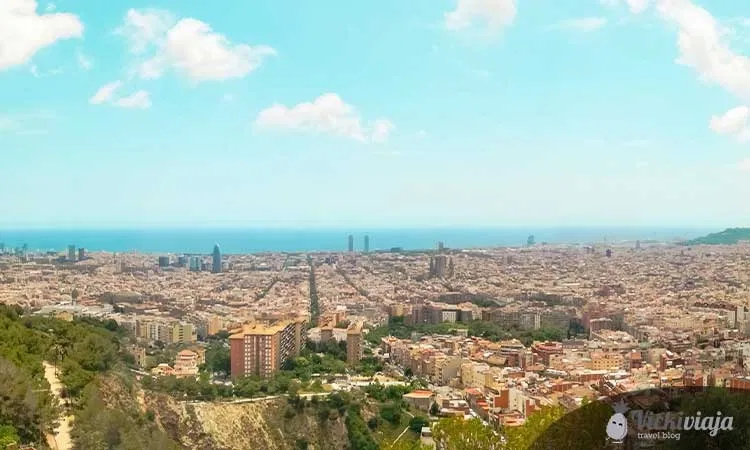 Barcelona is a relatively small metropolitan area of around 100 km² (38.6 sqft). Conversely, Madrid has an impressive size of just under 600 km² (231.6 sqft). This means that Madrid is almost six times larger than Barcelona.
Of course, this is also reflected in the culture of life. Madrid is a typical big city, with lots of living space and everything a modern capital should offer.
Barcelona is a big city by official standards, but for many, it doesn't have that typical big city atmosphere.
This difference in size comes with its advantages and disadvantages.
Who is greener?
With its enormous size, Madrid offers its 3.2 million inhabitants a lot of space. So it's hardly surprising that the available room has been used to bring many excellent green areas to the city. One of these is the famous Retiro Park, which invites its residents and visitors to relax or play sports in green surroundings.
Barcelona, on the other hand, is bordered by mountains on one side and the Mediterranean Sea on the other. That is why Barcelona cannot continue to grow. What at first glance may seem somewhat positive brings quite a few disadvantages.
Because the approximately 1.6 inhabitants of the Catalan capital want to be accommodated somewhere. This means that more living space is needed on the same amount of land. Green spaces, in particular, suffer due to having to make way for the required living space.
In summary, Madrid has almost twice as many inhabitants as Barcelona in an area nearly six times larger than the Catalan capital.
Getting there faster
Despite everything, the small area of Barcelona also brings a decisive advantage: you simply reach your destination faster.
While Madrid covers a much larger area, in Barcelona, you can reach your destination within a few minutes by bus and metro. There is almost no point in the city you can't get to within half an hour.
In Madrid, on the other hand, the distances and, accordingly, the travel times can be a little bit longer.
Food in Madrid vs. Barcelona
Even though I have just mentioned it before, I would like to emphasize this point in more detail. The typical dishes between Madrid and Barcelona can differ.
In Barcelona, the Catalan influence is especially noticeable. With Catalan specialties like Bombas, Escalivada, and Botifarra, there are not only differences in the selection of typical Spanish tapas.
Also, the calçotada, common in Barcelona every early spring, is relatively uncommon in Madrid.
In Madrid, the calamari sandwiches and the giant tortillas are particularly popular, while in Barcelona, they are rare. Also, if you feel like Cocido Madrileño, which is popular in the capital, in Barcelona, it might not be that easy to find.
All in all, it can be said that both cities have great dishes, and moving to one of them will most likely result in a few new pounds on your hips.
Tapas
While we have already discussed that the type of dishes and tapas served differs between the two Spanish destinations, we should mention that, likewise, the way they are enjoyed is somewhat different.
In Barcelona, tapas are usually ordered for the whole table. Each of the tapas ordered is charged individually.
In Madrid, on the other hand, many tapas places follow a different principle typical in some parts of Spain. Here, you only pay for the drinks. With each drink you order, a tapa is served free of charge.
The Nightlife
One thing that many who have lived in both cities agree on is that the nightlife between Madrid and Barcelona is somehow distinct.
What is certain is that in both capitals, there are great places to end your evening. Both cities are famous for their extensive nightlife. So, going out is worthwhile in both Barcelona and Madrid.
While Barcelona is home to some of the country's best clubs, it is more international, while Madrid is more social.
The difference between the two cities in terms of nightlife can't quite be put into words – you'll probably have to experience it for yourself to compare the two places.
One explanation is that Barcelona's night scene is more tailored to tourists and international visitors. Madrid is more traditional, in the good sense, of course.
Our friend Pablo, who grew up in Madrid but has lived in Barcelona for several years, describes the difference something like this: "There are no closed groups. People [in Madrid] are always open to meeting new people. Here in Barcelona, everyone kind of has their own [friend] group. It's harder to connect with new people here."
The beauty of the towns
Barcelona is a magnificent city. Even visitors who haven't fallen head over heels in love with the Catalan metropolis, as I have, have to admit that Barcelona is full of incredible architecture.
The Catalan Modernisme style and its famous representative Antoni Gaudí have transformed the city into a true masterpiece. And only a few remain unimpressed while looking at the gigantic Sagrada Família or Barcelona's Gothic Quarter.
Of course, as the capital, Madrid also offers some extraordinary sights, such as the Plaza Mayor, Retiro Park, and the impressive Almudena Cathedral.
However, even a few absolute Madrid fans admit that Barcelona is simply picture-perfect, bursting with beautiful buildings at every turn.
It's all about connections.
Madrid did not become Spain's capital just by chance. With its location in the center of the country (that's to take it literally), there are excellent connections all over the country.
Even with public transportation, you can easily and quickly reach the main cities in Spain, such as Barcelona, Valencia, or Seville.
On the other hand, Barcelona is somewhat secluded with its location on the northern Mediterranean Sea. A trip to the south of the country takes a relatively long time from here.
On the other hand, from Barcelona, you can reach France or the small Pyrenean state of Andorra within only about two hours.
Day Trips
The selection and type of day trips from the two Spanish metropolises also differ.
From Madrid, there are plenty of great destinations, such as Segovia and Toledo. You can reach many of these places by car, tour, or public transportation.
From Barcelona, you can especially reach other day trip destinations in Catalonia. These include mainly small coastal destinations such as Cap de Creus.
Off into nature
One thing I miss a bit in Barcelona is nature. There isn't really much of it in the city itself.
Although more and more green spaces have been added in recent years, Madrid still has a lot more.
On the other hand, Barcelona is bordered by mountains. And so it only takes a short walk from the city center to the hills of the city. From here, you can enjoy a nice Barcelona hike.
Even the sea in Barcelona is always just a stone's throw away.
In Madrid, however, it takes a bit longer to get out of the city due to its vast size. Although there are mountains and nature in Madrid's surroundings (yes, even ski resorts), reaching them from the city center can take a bit longer.
Conclusion: Moving to Barcelona or Madrid?
That was quite a few points. And the truth is, you probably already have a favorite in mind. Am I right? Otherwise, here's a little summary:
| | | |
| --- | --- | --- |
| Feature/City | Barcelona | Madrid |
| Size | 1.6 million inhabitants on 100 km² (38.6 sqft) | 3.2 million inhabitants on 600 km² (231.6 sqft) |
| Tourism (Visitors in 2019) | ca. 14 Million | ca. 7,5 Million |
| Temperature average | 5 – 28°C (41-82°F) | 0 – 33,5°C (33-91°F) |
| Cost of living | around 6% more expensive than Madrid | about 6 % cheaper than Barcelona |
| Distance to the Sea | Located on the coast | In the interior of the country |
| Snow in the winter | rather uncommon | occasionally |
| Language | Spanish and Catalan | pure Spanish |
| Surroundings | Mountains and sea | many popular destinations, nature & mountains |
| Connection | Good connections to Europe | Good connections to other Spanish cities |
The best way to find out which city is right for you would be to take a short vacation in both Spanish metropolises and see for yourself. The best decision is still made on your gut feeling.
Otherwise, as a rule of thumb, if you want to pursue a career, learn Spanish, or simply experience traditional Spanish city life, Madrid is probably the right city for you.
Barcelona might be the better choice if you want to meet other expats, get to know the Catalan culture or have a great time at the beach.
---
Interested in Spain?