Welcome to our Tokyo Itinerary 7 days. In this article, you will find the Ultimate list of unmissable things you definitely should see when spending one week in Tokyo (on a budget). Besides telling you what to see in Tokyo, we will also give you a little insight into our personal experience visiting this Japanese capital. Moreover, you can find our 1 week in Tokyo Budget and everything we spent during our time in Tokyo.
For many, Tokyo is the starting point on their Japan itinerary. And we think the city is a perfect starting point for a journey through a country as extraordinary as this. Below you will find the most beautiful places in Tokyo and many helpful tips for your visit.
Tokyo Facts
Counts as one of the 20 most visited cities in the world
Capital of Japan
Almost 40 million residents in the metropolitan area
Divided into 23 districts
Each district of Tokyo is officially a separate municipality
Costs of one week in Tokyo on a budget
Tokyo is known to be one of the most expensive cities in the world. Anyway, we've been surprised that in the end, we haven't even spent that much money actually. But how much to spend for a week in Tokyo? Let's check our 7 days in Tokyo budget.
For seven days in the Japanese capital, we have spent around 200 Euro/$240 per person. (197,64 Euro/ $235,35 to be exact)
That is on average 28,23 Euro/$ 33,75 a day. Not that bad, is it?
How did we manage to spend that few?
Accommodation
We lowered our expenditures by just using Couchsurfing instead of using hostels.
Anyway, we didn't, of course, just do it because of the money. Couchsurfing just offers so many benefits. There is probably no easier way to meet locals and get to know their habits and way of life.
But let's go back to the expenditures we had in Tokyo.
If you are looking for conventional accommodation, it helps t book in advance to save some money. Make sure to also check our Ultimate Tokyo Accommodation Guide.
Food in Tokyo
The highest amount of money we spent on food. Besides the expensive restaurants, there are also pretty cheap ways to eat in Tokyo. Like small restaurants and convenience stores as the infamous 7 eleven.
Just have a look around and I am sure you can find something suitable for every budget.
And since we ate so cheap, in the end, we had enough money left to invite of host Yuki to her favorite restaurant for dinner. We will talk about that later in the text. But a quick spoiler – it was absolutely delicious.
Per day, the costs for food added up to 10,64 Euro/$ 12,68 per person on average. Excluded is water (2,92Euro/$ 3,48 in total – we tried to fill up our bottles as often as possible with tap water, as it is drinkable in the whole of Japan).
Going Out
For going out we spent 18,11 Euro/$ 21,58 for the whole week. (In this 18 Euro are included the costs for the snacks and the entrance we had to pay in one bar. And the beers we bought in a supermarket for our host and us.
Transport / Metro
Another high source of expenditures was the metro. Even though we tried to walk as much as possible (around 20 km per day), we had to spend a lot on transportation. On our first day, we bought a Suica card which you can use for all the different Metro companies. (Really practical because there are a lot of different lines). We paid around 9,18 €/$ 10,35 a day for the metro.
If you can't or don't want to walk much, check also the options for Tokyo Subway Tickets (24, 48, or 72 Hours) here.
Entrance Fee & Activities
Our expenditures for entrance fees and activities in Tokyo for a week weren't actually that high. But we spent 2510 Yen/18,76 Euro /$ 22,35 per Person for visiting the Sky Tree. Which added up our costs for entrances up to 27,63 Euro/ $ 32,92.
The remaining 10 Euro something we spent on random things, such as snacks and a pack of Aspirin.
An authentic Tokyo Itinerary 7 Days –
One Week in Tokyo
What to see in Tokyo on Day 1
On your first day in Tokyo, you will surely want to arrive first without any rush. You can use the day to check-in at your accommodation, exchange money, get a transport-ticket, and get a first impression of the city.
Arrival in Tokyo
When we arrived in Tokyo we actually didn't expect anything special. I mean, we all know this scenario from your average long-haul flight, don't we? With a serious lack of sleep getting out of the plane jet lacked and still sleepy. Just to stand in line getting sent from one place to another by the annoyed and often unfriendly airport staff.
But in Tokyo, everything was so different… We've been overwhelmed by all this kindness we experienced. We almost couldn't believe it.
At the pass control, one of the agents welcomed everyone in their native language. And this actually describes this country pretty well – You always get a little more kindness than expected.
Transport to Tokyo from Narita Airport
Journey Duration: ca. 65 Minutes until Tokyo Station
Journey Price: 900 – 1000 Yen (ca. 8 €/$ 9)
Tokyo Narita Airport is quite a bit away from Tokyo itself.
The cheapest way to get into the city is with one of the TYO-NRT buses (as of June 2020). You can get the tickets directly at the airport. The bus runs several times a day between Tokyo Station and Narita Airport.
If you book your ticket at least two days in advance, you pay 900 yen; If you only choose the bus on-site, you pay 1000 yen and if you have a Suica Card, you can get your ticket for 950 yen.
Extra tip: We don't recommend reserving your bus in advance, as you never know if your flight will be delayed.
Tokyo Station District
In the area around Tokyo Station, you can find a lot of skyscrapers and little restaurants. Here, you can even see Mario and his friends driving by while playing the real-life Mario Kart. (Check prices and more information about this unique experience here.) After we bought our metro card (Suica card) in the Tokyo Station we had lunch around this area.
Shibuya Crossing
Shibuya Crossing may be comparable to Times Square in New York. But somehow it's also very different. There are lights and billboards everywhere. Colorful and diverse. This area of the city is exactly as we have imagined Tokyo prior to our trip. Shibuya offers exactly this feeling, which I love so much about big cities. Therefore, you should not forget a visit here during your time in Tokyo.
Furthermore, you will also find the memorial statue for Hachiko there. If you've never heard of Hachiko, this touching story may surprise you. It is about a dog that is considered a symbol of fidelity for the Japanese. Hachiko once lived in the city with his master, a university professor. He happily picked up his owner from Shibuya Station every day at the same time when he came from work. Even after the professor had died, his dog was expecting him here every day for more than 10 years until his own death.
What to do in Tokyo on Day 2
Edo Museum
Opening Hours: 9.30 am – 5.30 pm; closed on Mondays
Entrance Fee: 600 Yen (ca. 4,60€/ $ 5,50)
Did you know that there was a time in which Tokyo used to be called Edo? The Edo Museum, therefore, contains relics that reflect life in the Edo era in ancient Tokyo. Here you can learn a lot about the history, culture, architecture, and people of Edo (1603 – 1868).
Despite everything, many of the exhibits, such as portfolios and statistics, are exclusively in Japanese and, therefore, difficult for us tourists to understand.
The museum is really interesting. However, personally, to be honest, I wouldn't consider it an absolute must-see. Anyway, if you are interested in Tokyo's history, there is still a lot to see. You can find more information on their website.
Extra info: You can leave your luggage at the entrance for a deposit of 100 yen. This was very practical for us as we had our luggage with us and were also very tired.
Rikugien Park
Opening Hours: 09.00 am – 05.00 pm
Entrance Fee: 300 Yen (ca. 2,30€/$ 2,75)
A walk through Rikugien Park doesn't give you the feeling of being in a big city like Tokyo. Because here it is calm and relaxed. It is even less conceivable that some visitors already came here during Edo times to find some relaxation outside the hustle and bustle of the city. But even today, the Rikugien Garden is one of the most beautiful in Tokyo.
Fun fact: The name of the garden can be translated as "6 poems garden". Therefore, some parts of the garden are designed according to famous lines of Japanese poetry.
After an extensive walk, you can also look forward to a little refreshment. Because food is allowed in this park. (It is forbidden in many other parks) So you can have your lunch there while you enjoy the view of the beautiful landscape.
Tokyo Extra Tip: Don't forget your mosquito repellent. Eduardo's legs were totally stabbed in the evening, and by the way, your luggage can also be locked here.
Akihabara
Akihabara is probably the most extraordinary part of Tokyo. Known as the electronics mile, this shopping district is just what you imagine Tokyo to be: big, colorful, loud, and a little bit crazy.
In addition, Akihabara is full of game centers. On the ground floor, there are usually the typical toy arm machines that we know from fairs. On the other floors, there are slot machines, mangas, or all kinds of different things to discover.
You will also find a wide variety of shops in the streets. Whether you are looking for the latest technology, mangas, or cosplay accessories, you will definitely find it here. In short, the perfect place in Tokyo for otakus and those who want to become one. Even the largest sex shop in the world is at home in this unusual district.
Things to see in Tokyo on Day 3
Ueno District & Ameyoko Market
In Ueno's Ameyoko Market District, there is simply nothing that does not exist. This part of Tokyo is considered the city's shopping paradise for tourists and locals alike. Whether you are still looking for a souvenir, bag a few fashion or make-up bargains, or just want to go window shopping: Ameyoko is definitely the right place for it.
Even if you wouldn't consider yourself a true Shopping queen, this part of Tokyo is still worth seeing to dive even deeper into the colorful culture of the metropolis.
Extra tip: It is best to come here in the morning before the crowds arrive.
Ueno Park
Opening Hours: 5.00 am – 11.00 pm
Entrance Fee: Free of charge
Ueno Park is not only one of the largest parks in the city but was once one of the most important. Even though it wasn't actually a park at the time. Because the area was once part of the impressive Kaneiji Temple.
Although you can still find the temple in the park today, it is no longer as remarkable as it used to be. Since it was almost completely destroyed so that today you can only find an unspectacular new temple at this point today.
Despite everything, a visit to this temple is worthwhile. In addition to beautiful nature and a place for a little refreshment in between, there are plenty of smaller temples to discover here. Even a number of important museums can be found around this area. Among others, the Tokyo National Museum, the Tokyo Metropolitan Art Museum, and the National Science Museum open their doors here for you. Furthermore, the park is also home to a zoo.
Asakusa & Sensoji Temple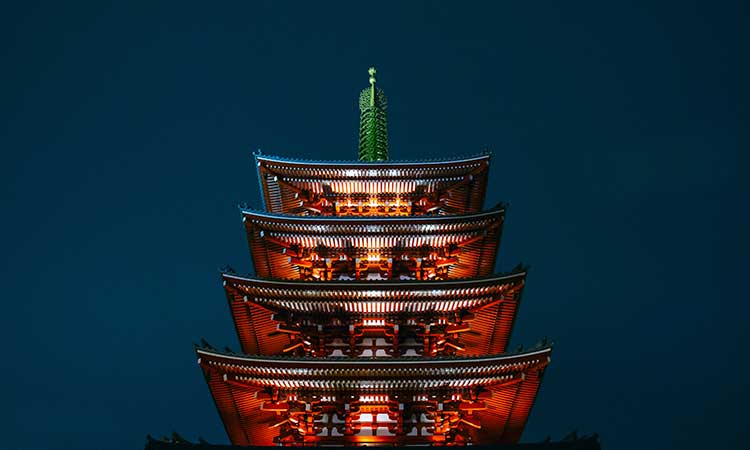 Opening Hours Sensoji Temple: 6 am – 5 pm
Entrance fee to Sensoji Temple: 1000 yen (approx. 8 €/$ 9)
From Ueno Park, we walk towards Tokyo Skytree, which can be seen from far through the houses. The district through which it leads is called Asakusa and is one of the most famous neighborhoods in the city.
Moreover, Asakusa is one of the most traditional parts of the city. If you stroll through the alleys here, you can imagine what life in ancient Edo must have looked like. Walk through the Nakamise shopping street and don't forget to try some authentic Japanese dishes and snacks.
Past classic Japanese culture, it takes you to the Sensoji Temple. This wonderful temple is considered one of the most famous temples in the city.
The Sensoji Temple was built in the 7th century. Even though some of the extensions are a bit newer, it's one of the oldest and most important in Tokyo.
Tokyo Skytree
Opening Hours: 08.00 am – 10.00 pm (last entry: 09.00 pm)
Entrance Fee: Between 2060 – 4000 Yen (ca. 15,80€ – 30,60€/ $18,80 – $36,60) (depending on ticket). Find the exact prices and information here
.
Tokyo Skytree is about an hour's walk from Ueno Park. At 634 meters high, it is the second-largest building in the world. So it happens that the Skytree is difficult to miss from a distance.
Anyone going up the Skytree has a magnificent view of Tokyo. Especially during the dark, when the city is illuminated from everywhere, this view is really impressive.
Despite everything, we cannot personally recommend the Skytree 100% since the admission is not cheap. And if you want to get to the top, you even have to pay around 10 euros more.
Since this is a room and you are not outdoors, as I am used to from other such buildings (Taipei 101, Eiffel Tower, and Empire State Building), the photos, unfortunately, don't turn out as beautiful either. Because the lights are dazzling from the inside and there are just too many people up there.
However, I can't deny having had a really nice view from up there. But next time I'd definitely chose the Metropolitan Building. (See day 7)
Yakitori Restaurant
In the evening we ate with our host Yuki in her favorite restaurant for yakitori. Yakitori is roughly explained skewers with fried chicken. I can tell you, they are absolutely tasty.
The way of eating them can be compared to the Spanish tapas. You order several portions and divide them so that everyone can try. It was definitely worth it.
However, one should note that the prices for drinks, especially for beer and other alcohol, are significantly higher than for Spanish tapas.
Yakitori can actually be found everywhere in the city. I do not recommend our restaurant at this point, as it is relatively far outside the city center. It is best to ask for recommendations in your accommodation or from locals or check Tripadvisor.
Tokyo Attractions to see on Day 4
The Tsukiji Fish Market
Opening Hours: 05.00 (for 120 people) / 10.00 am – 3.00 pm
Entrance Fee: Free of charge
Another popular Tokyo point of interest is the Tsukiji Fishmarket. It's known to be the biggest fish market in the world. If you like fish and seafood you should definitely check it out.
You can either get there at 05.00 am to see the big fish auction. But keep in mind that only 120 people can enter and only for around 20 minutes.
The other option is to get there from 10 am. (Keep in mind that the earlier you go, the more fish you will see)
Tokyo Tower
Opening Hours: 09.00 am – 11.00 pm
Entrance Fee: 900 – 2800 Yen (ca. 6,88€ – 21.50€ /$8,22 – $25,60) (Depending on which platform you want to go to). Find the exact prices and information here
.
We would also like to spend the fourth day in Tokyo with a visit to one of the city's landmarks, the Tokyo Tower. Not to be confused with the Tokyo Skytree, this tower also stands out from the cityscape.
In terms of its construction, the red television tower is somewhat reminiscent of the Eiffel Tower in Paris. This almost 333-meter high tower can also be climbed and used as a viewing platform. Although the Tokyo Tower is nowhere near as high as the Skytree, it still offers a completely different view of the city.
Imperial Palace
Opening Hours: 09.00 am – 04.00 pm (+30 Minutes in high-season, – 30 minutes in low-season), Mondays closed
Entrance Fee: Free of charge
The Imperial Palace is the remains of the former Edo Castle, which was surrounded by a mighty stone wall. This important palace was the home of the Tokugawa Shougun after they were driven out of Kyoto.
Sadly, the palace was destroyed during World War II, so that it can no longer be viewed in its original condition. When you visit, be prepared to admire the wonderful gardens. Because only the two bridges that lead to the inner part of the palace are visible to visitors. This is because the palace itself is still inhabited by the Imperial Family. The gates are only opened to visitors once a year.
Attention: We initially had a few problems finding the entrance, because many people are romping around one place to take photos. If you go from there, you will find that this is not an entrance. The next access, which can be found from there, is the exit. So we had to walk around half of the garden to get to the entrance. The signage is unfortunately difficult to understand or does not exist. So it's best to check the map beforehand to find out exactly where to go.
Don't be surprised: the Imperial Palace itself does not cost admission. You only get an admission ticket when entering, which you have to hand in again when you leave.
What to do in Tokyo on Day 5
On the fifth day, we did a day trip to Kamakura and Zushi. You can read about it here.
Things to do in Tokyo on Day 6
Omiya Hachimangu Shrine
We liked the Omiya Hachimangu Shrine a lot. On the one hand, because there was a lot more to see than at some other shrines in Tokyo. On the other hand, because we went there accompanied by our host. He could answer all of our questions. (and we had a lot of questions!) It's always so practical to have a local with you to explain all the procedures of the temples. Another reason why I love traveling via Couchsurfing.
Finally, we knew what the water in the entry of the Shinto temples is for. And it was not for drinking. But for washing your hands before praying. Moreover, our host explained to us that we shouldn't walk in the middle of the way. This way is actually just made for the gods. Good to know!
Kichijoji
Kichijoji is another district that is great for going out or shopping. We met there with a good friend of Eduardo who spends a few months in Japan every year. After a walk through the park, it was time for dinner.
We went to a small restaurant for ramen. There was neither an English menu nor the chef who was also the waiter couldn't speak any English. (Accordingly, I couldn't read the name of the restaurant, sorry). Despite everything, you will also be able to discover a lot of great ramen restaurants in this area as there are many of them.
In addition to two typical Japanese ramen varieties, he also made us his special option: Ramen Carbonara. In total, we paid around 700 yen per person and were absolutely full afterward. And it was super tasty. The ramen so famous for Japan should not be missing from any visit to Japan.
Japanese Bar
After our Japanese dinner, we decided to discover the nightlife of Tokyo by having a drink.
We went to another district, which had a wide range of bars we could choose from.
In the first bar, we paid the price that was shown on the signs outside. Everything fine.
In the next bar, the beer seemed to be unusually cheap. Actually, it should have seemed quite suspicious to us in the first place.
But all that we thought was: What a great deal. When we entered, we've been guided to a table that was a little bit apart from the others. It was nice to have that little piece of privacy since it was super loud in that bar.
The first surprise was that suddenly there was an obligation to order at least one dish per person. It hasn't been mentioned outside on the sign, though. So, we ordered the three cheapest dishes on the menu.
After another table got free we were guided to the center of the restaurant, where it was much louder.
The next surprise was waiting for us when we were about to leave and asked for the bill.
Suddenly it turned out that they have an entrance fee. Neither on the signs, on the menu or anywhere else, did they mention anything about any entrance fee. Nor did any of the waiters tell us when entering the bar.
In the end, we simply paid the 900 Yen (ca. 7,20 Euro) entrance fee just to be able to leave this bar.
So, next time we will definitely choose our bar more carefully!
What to see in Tokyo on Day 7
Shinjuku
In the Shinjuku District, you will find all kinds of crazy things in addition to normal shopping and malls. The entertainment district is particularly famous for its train station, which is considered the most important for travelers across the country.
In addition to numerous shopping opportunities and high-rise buildings, you will also find the largest redlight district in the city.
If you want to discover a bit more about Tokyo's crazy side, you shouldn't miss this area of ​​the city. Despite the possible robot café and owl café, we decided on the so-called 8-bit bar.
According to the announcement, you could play there on various consoles of the 80s for an entrance fee. For Eduardo, paradise on earth.
Despite GPS and Google Maps, it was not that easy to find. After more than half an hour of searching, we were now in a small hallway in which a sex club was also signposted. Arrived in the bar, then the great disillusionment. In addition to an admission price, the purchase of at least one beer per person was mandatory. So the equivalent of about 10 euros.
The 80s game consoles that were advertised so big were, in the end, just three small consoles (the only one I knew of was Tetris) It wasn't worth it to us. So we left again.
Metropolitan Building
Opening hours: North: 09.00 am – 11.00 pm; South: 09.00 am – 05.30 pm
Entrance Fee: Free of charge
The Metropolitan Building actually is a Government Building. But anyway, you can get up with the elevator for free.
From there you have a great view over the skyscrapers of Tokyo. Moreover, there is a restaurant in which you can listen to a piano concert while having this view of the city. (And yes, you guessed right. It is not really cheap to eat there)
Unfortunately, it was pretty tricky to find the entrance of the building which leads to the observatory (Or maybe it was just us) because you have to enter from the basement.
If you are not sure just follow the arrows and signs and you will find it eventually 😉
Meiji Jingu Shrine
Opening hours Meiji Shrine: sunrise to sunset
Admission fee to the Meiji Shrine: free of charge
Did you know that in the middle of the urban jungle of Tokyo you can experience a small forest: the Meiji Shingu grove. In the middle of this small forest, there is also the Meiji Shingu Shrine to discover.
By placing it in the middle of nature, this shrine was really beautiful. And strolling through the forest is a welcome change from the hustle and bustle of the big city. As you stroll through the temple complex accompanied by birdsong, it's easy to forget that you are actually in one of the largest metropolises in the world.
The shrine was built in 1920 in honor of the late Emperor Meiji and his wife, Empress Shoken.
Yoyogi Park
If you want to experience the locals in a city, you should visit a park. And that's exactly what we did several times during our days in Tokyo. In Yoyogi Park, you will find less impressive gardens, but all the more impressions of life in Japan.
Yoyogi Park is just full of life. Children played everywhere, families lie in the sun or couples go for a walk. So we could treat ourselves to a little relaxation after a short night. We lay down in the shade for a short nap, then went for a walk through the park.
Bring some snacks and a drink with you to relax a little and fortify yourself before visiting the next attraction.
Harajuku
Hanjuku is another of the typically colorful parts of Tokyo. Here, too, there are lots of unusual things to be found. There are cat cafes at several corners. You will also find the unusual Kawaii-café in this area, which is a dream of all Japan-loving Instagrammers.
In Hanjuku there is also Takeshita Street, where you can find many different shops. In addition to Kawaii, clothing, and beauty shops, there is a Disney shop, and many stands for crepes.
Get lost in the hustle and bustle of this area, meet the city's youth and see the city's most extraordinary outfits.
More Tokyo Attractions
Rainbow Bridge at Tokyo Bay
If you want to have an amazing view of Tokyo's Skyline the Rainbow Bridge at Tokyo Bay might be the right place to go. You can have a great walk here and at night, the bridge gets illuminated in rainbow colors.
Robot Restaurant
Opening Hours: 4 Shows (03.10 pm; 05 pm; 07 pm; 09 pm)
Entrance Fee: 8.000 Yen (ca. 62,04 €/$ 71,99)
Meal Fee: 1.000 Yen (ca. 07,75 €/$ 09) or 1.500 Yen (ca. 11,63 €/$ 13,50)
If you don't have a chance to spend a night in the popular Robot hotel in Japan during your trip, a great thing to see in Tokyo is the famous Robot Restaurant. While enjoying the delicious food, you can see one of 4 unique Robot shows.
Make sure to make a reservation in advance and arrive 30 minutes before the shows start. You can make your reservation here
.
The best Neighborhoods to stay in Tokyo
The neighborhood you chose your accommodation in can have a big influence on your overall Tokyo experience. We compared the best neighborhoods for you and show you the best accommodation in each for every budget. Check our Guide to the best neighborhoods to stay in Tokyo here.
Our personal experience in Tokyo in 7 days
Our week in Tokyo was definitely an exciting and very interesting experience. So many unique places and a culture so rich and exotic. And don't let me get started with the food which was not only amazingly delicious but also mostly super healthy.
Tokyo is probably the cleanest city I've ever been to. Anyway, we thought this city would be more exotic and crazy in some ways. The big buildings and some of the residential areas could have as well be located in some western cities.
On the other hand, many of the shopping streets and temples looked more like what we have expected of the Japanese capital.
All in all, I can definitely recommend a visit to Tokyo and we will definitely be back one day.
Hospitality in Tokyo
Wherever you might go in Tokyo, people are always kind and helpful. It starts with strangers you meet on the street up to the amazing hosts you can find on Couchsurfing. The hospitality and helpfulness in Japan are just unbelievable for us Westerners.
Our Couchsurfing hosts both prepared delicious meals for us. And not only one dish as we might know it from home, but a whole bunch of. Moreover, one of them let us sleep in her apartment while she already had to go to work. But not only that. When we got up we even found a breakfast prepared for us in the living room.
I'll give you an example in order to give you a little idea of the Japanese kindness: on the second day, we asked awaiting man whether we were on the right gate. Instead of just telling us that we were at the gate for the other direction or pointing out the one on the other side. He even accompanied us to the correct gate up to exactly this point where we had to enter the train. But not only that. On the way there he even bought two bottles of water for us as a present in one of Tokyo's countless vending machines. As "it is a hot day and you need to drink much on those days". We just couldn't believe what just happened.
Where to stay in Tokyo
Here you can find the best accommodation recommendation for Tokyo divided by Budget. If you are interested in one place, just click on its name for more information, availability, and prices.
Budget-Option
This 2 Star-Hostel is a great and cheap option to stay in Tokyo if you don't want to use Couchsurfing. It is one of the best-rated accommodations of Tokyo and is located around 1,5 km from the Imperial Palace.
The dorms all come with a shared bathroom.
Middle-Class Option
This 2-Star Hotel is just a 2-minutes walk from the Jimbocho Subway Station and a 10-minutrs walk from the Imperial Palace.
This hotel offers a lounge area, with Microwaves, Internet PCs, and fridges.
All rooms come with AC, while the private ones offer a flat-screen TV. All bathrooms are shared.
$ Accommodation in Tokyo
This 3-Star Hotel is located in the center of Tokyo, just a 4-minutes walk from the Akasaka Subway Station.
All rooms come with a 32-inch flat-screen TV and video-on-demand program as well as an air purifier. Each room offers a private bathroom with a bathtub.
This Hotel offers a specific floor just for female guests.
Have you also been to Tokyo? Which place would you recommend? Let me know in the comments below!
Not enough? Find 50 unusual and weird things to do in Tokyo here.
Interested in Japan?
Subscribe!
Follow my adventures and get inspired for your next trip ;). No spam!
If you want, you can read a summary of our Data Protection here:

Owner: Vicki Franz
Purpose: manage the registration to the newsletter and send periodic newsletters with information and prospective offer of products or services. Your data will be stored at GetResponse, an email marketing provider that also complies with the RGPD.
Rights: You can exercise your rights of access, rectification, limitation and deletion of data on hello@eduardosans.com as well as the right to file a complaint with a supervisory authority.
Additional Info: At https://vickiviaja.com/privacy-policy-and-disclaimer/, you will find additional information about the collection and use of your personal information, including information about access, retention, correction, deletion, security, and other topics.