What comes to your mind when talking about typical Spanish beverages? Surely you think of good red wine, an ideal drink to accompany tapas or to chat with friends.
But in every region of the country, we can find a wide variety of traditional Spanish drinks that are ideal for refreshment, to pass the time, or to accompany the dish of our preference: Paella, tortilla de patatas, black rice, prawns, etc.
In this post, you will find a variety of drinks from Spain, both alcoholic and non-alcoholic, that will surely catch your attention and that you will want to try one day, either at breakfast, lunch, dinner or maybe for a snack.
The most popular drinks in Spain with alcohol
Agua de Valencia
This Spanish drink is a cocktail made from cava, gin, and vodka, plus natural orange juice, ice, and sugar. According to the story, this drink has its origin in the late '60s in the Café Madrid in Valencia (formerly Cervecería Madrid), a place where some Basque travelers frequently asked for Agua de Bilbao as a way of referring to the best sparkling wine of the place.
One day, they asked the owner to prepare something new for them, and he gave them what he called Agua de Valencia, which became popular in this region and, later, in the rest of the country.
According to the chronicles, Constante Gil is its creator, and although he tried to register the drink, he failed, so the original recipe is known to only a few. But what is certain is that the ingredients listed above must be present in this rich drink.
Cava
Cava is a high-quality sparkling wine that began to be produced in the mid-nineteenth century in Catalonia and has gained great prestige and acceptance nationally and internationally.
Its elaboration is quite similar to that used in the production of champagne, although, of course, with particular characteristics that may vary according to the region where it is produced.
That is why different varieties of this drink can be found throughout Spain: Valencia, Aragon, Catalonia, La Rioja, Extremadura, Castile and Leon, Navarre, Basque Country, Lleida, and Zaragoza.
It can be rosé or white, and grape varieties such as Macabeo, Parellada and Xarel-lo, Chardonnay or Pinot Noir, Garnacha, Monastrell, and Trepat are used in its production.
You may be wondering, what is the difference between champagne and cava? Both are sparkling beverages that differ basically in 3 characteristics: soil, climate, and grapes. In addition, the first drink is made in the Champagne region of France.
Cerveza (beer)
Among the traditional drinks in Spain, you can, of course, also find beer (Spanish: Cerveza), a very popular drink in several countries that you will surely have tried. It has a bitter taste, is made from barley, fermented with yeast, and flavored with hops.
Historians place its origin in ancient Egyptian, Sumerian, and African tribes, but over time it has spread and become popular all over the world.
It is believed that the production of this popular drink began in Spain during the Middle Ages and that the first brewery appeared in Flanders in 1500 during the reign of Charles V, who apparently was a great lover of beer, and from there, it would go to Castile.
Little by little, production began to grow, and at the beginning of the 20th century, the first industrial breweries appeared. With tourism, demand increased, and today you can find it and enjoy it in any bar or restaurant.
If you like this drink or want to try a Spanish beer, I recommend trying Estrella Galicia 1906, which has an intense flavor and abundant foam. Or Alhambra 1925, whose flavor is fruity and smooth.
Nowadays, Spain has a vast beer production of any type, which also includes craft beers. If you are a fan of those, you might also like to try our favorite kind, which is called IPA (Indian Pale Ale).
Clara
An excellent drink for the summer is Clara, a mixture of beer with lemon or carbonated soft drink, although there are other variants depending on where you order it. In any case, this drink offers a feeling of freshness in hot weather.
It has its origins in a small bar in Deisenhofen, Germany, where between 1920 and 1922, many thirsty cyclists used to go, so the barman Franz Xaver Kugler decided to mix beer with lemonade to avoid running out of beer. Many of the customers liked this invention because of its pleasant and refreshing taste.
It is not known for sure when it arrived in Spain, but what is known is that it became trendy. But the thing is not so simple because, depending on the region, the mixture can vary.
For example, in Madrid and Andalusia, a Clara is a beer with lemon, but you have to specify if you want it with soda. In Basque Country, it is a beer with soda; if you want it with lemon, the name varies depending on the place (pika, lejía). In Barcelona, Clara is a beer with lemon, while soda with beer is called xampú.
Regardless of the name, any of the mixtures will surely please and refresh you.
Kalimotxo (Calimocho)
Another one of the famous drinks in Spain is called Calimocho, which is a cocktail made with a base of red wine and cola. It is said that this drink has existed since the 1920s and was known by the names Cuba Libre del Pobre ("Cuba libre of the poor") and Rioja Libre. However, it became popular in 1972 with the Basque country name Kalimotxo.
This happened during the festivities of San Nicolás del Puerto Viejo de Algorta after a group of Antzarrak (in charge of organizing the party) bought 2,000 liters of red wine that was out of date and, although it was not harmful to health, they had to come up with something to remove the unpleasant taste, which they managed to do by adding soda.
Later, they tried to give it an attractive name, and when a friend of the gang nicknamed Kalimero arrived, who apparently was a bit ugly (motxo), they quickly associated it and named the drink Kalimotxo. Later it was popularized and commercialized under the name of Calimocho, which can be seen as the Spanish version of the name.
Orujo
Among the typical drinks in Spain, we can also find Orujo, a spirit that originated in the 14th century in the Valley of Liébana, Cantabria, where it was made in family homes for their own consumption. Nowadays, this region celebrates the Orujo Festival.
Orujo is a distilled drink made from grape bagasse and is very popular in Cantabria, Galicia, and other areas of northern Spain. If you dare to try it, you should know that there are different variants: Aguardiente Blanco (White spirit), aguardiente de hierbas (herbal spirit), aguardiente crema (Creme spirit), aguardiente con café (a spirit with coffee), and others.
Queimada
One of the Spanish alcoholic beverages is Queimada, which is part of Galician gastronomy. Although initially it was said that this drink was of Celtic origin, in 1972, the professor of Prehistory, Carlos Alonso del Real, said that this was not possible because the alembic and sugar were introduced in Spain between the twelfth and thirteenth centuries, so he believes that the origin is rather medieval.
What is certain is that it is made with brandy and sugar, in addition to orange or lemon peel, although in some areas, other ingredients such as coffee beans or pieces of grapes, among others, are added.
And as a curious fact, it is said that it is a healing drink and that if a spell is pronounced, it is perfect for protecting us against evil. The drink is traditionally served in a typical burning bowl and lit.
Ratafía
Among the liqueurs of Spain, you can also find Ratafia, which, although of Italian origin and known in different Mediterranean countries, the Catalan one is still famous as the region where the oldest recipe has been found (1842).
The liquor has a sweet flavor and is made with a base of alcohol, such as brandy, macerated fruits such as green walnuts, and herbs such as mint, thyme, and basil, among others. As well as spices such as cinnamon, nutmeg, and cloves.
In the past, it was a drink that was used for medicinal purposes, such as for example, menstrual pains; hence it was one of the liqueurs that women could drink. Each house had its own recipe, and one of the characteristics of its preparation was to make it on St. John's Day (San Juan) since this is the time when walnuts are at their best.
Risol
If we talk about alcohol in Spain, we can not fail to name Risol, which is a typical drink of the Villa de Canena, Jaén, and whose origin is estimated between the eighth and fifteenth centuries.
Its origin is known to have been passed from generation to generation for many years. It consists of a mixture of dry aniseed, sugar, water, liquid coffee, apple, pure chocolate, and five essential herbs: marjoram, mint, lemon verbena, lemon balm, and celery.
All these ingredients are left to macerate for 24 hours in a pitcher, then filtered several times in a homemade cotton sleeve. It is drunk very cold and is usually preferred on holidays.
Sangría
Undoubtedly, sangria is one of the typical drinks of Spain. For some, it is even considered the national drink of Spain. Anyway, its origin is quite confusing, as some believe that it was born in the West Indies when it was a British colony. Regarding this theory, the term Sangria comes from the English pronunciation of the word sangaree (from the Spanish word for blood: Sangre). Others claim that they have consumed it in Ecuador already since the 19th century.
But in Spain and Portugal, wine producers since time immemorial, it has been considered that the origin of sangria must be in the Iberian Peninsula. However, there are similar drinks since, in the past, the wines were very strong, and fruit was added to sweeten them.
In any case, it is a drink made with wine, juice, pieces of fruit (sugar), and some liquor. It has a very pleasant taste and is known worldwide.
Another variant of sangria is Sangria Blanca, which is made with white wine or cava.
Sherry
One of the most popular ancient Spanish beverages is sherry, which is said to have originated in the 1st century B.C. But when we talk about sherry, we are not really referring to a beverage per se but to a range of Spanish wines that are produced in the area known as Marco de Jerez.
Fun Fact: The name of this drink derives from the ancient name of Jerez de la Frontera, Ceret.
This geographical area is made up of both the production area and the aging area and includes the Andalusian cities of Jerez de la Frontera, Sanlúcar de Barrameda, El Puerto de Santa María, Chipiona, Chiclana de la Frontera, Trebujena, Rota, Puerto Real and Lebrija (Seville).
In any case, you will find a variety of colors, flavors, and textures in this incredible drink, which is ideal to accompany our meals or as an aperitif.
Sidra
Among the traditional Spanish drinks, we can name cider, which is made with fermented pear or apple juice, and although its origin is not entirely clear, it is presumed that it is very old and was already known by the Egyptians and Hebrews.
Many countries produce it, so it is possible to find it in Germany, France, Mexico, and Argentina, among others. In Spain, it is produced mainly in Asturias and the Basque Country, places where we can find festivals and pilgrimages in its honor.
If you happen to visit Asturias, don't forget to ask for a culín, they will give you the perfect amount to enjoy the cider.
Tinto de verano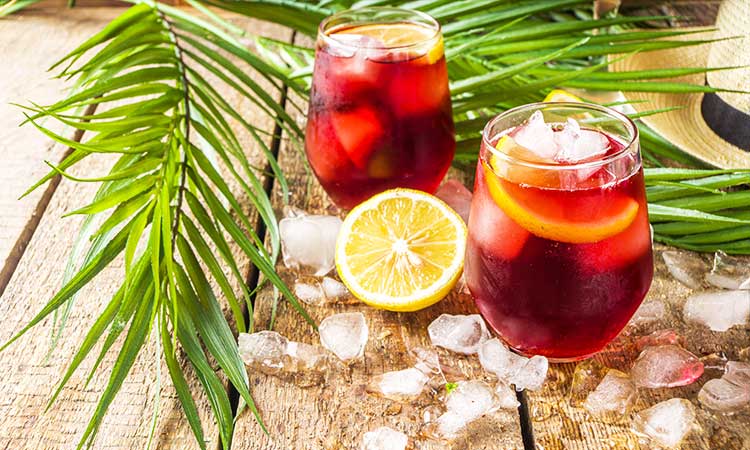 Another typical Spanish drink is the popular Tinto de Verano, which is nothing more than a mixture of red wine with lemon soda and ice that is usually very refreshing during hot days.
It is said to have its origins in the mid-20th century in a business in Cordoba located on the road and attended by famous singers and guitarists. This place was called La Venta de Vargas, after the name of its owner, who, with this combination, made the drink popular.
In the '60s, with the increase of tourism, the drink became a reference that has lasted until today. Once you try it, it will become your favorite, especially on hot days.
Vino
When it comes to Spanish beverages, we cannot fail to mention wine. A drink that is obtained by fermenting the juice or must of the grape and is perfect to accompany our meals, to share with friends and family, or to celebrate any special occasion.
It is said that this drink was already produced during the Neolithic, and archaeological testimonies have been found in the Zagros Mountains (today, Iran and Iraq). An example of this is a wine vessel from 5400 BC. Today, wine production is of great importance in France, Italy, and Spain.
In Spain, you will find a great variety and quantity of wines, either the so-called still wines, that is, red, rosé, and white wines, or the so-called special wines, among which are sparkling and fortified wines.
Some of the most important wine-producing regions in Spain are Rioja, Navarra, and Ribera del Duero, with Catalonia also becoming increasingly important in wine production.
Vermú (Vermouth)
This drink was invented by the philosopher Hippocrates, who macerated wine with wormwood and díctamo, which is why in the Middle Ages, it was called Hippocratic wine or herbal wine.
However, at the end of the 18th century and thanks to technology, the Italian brothers, Luigi and Giuseppe Cora, gave it an industrial character. It was in 1860 that the Italian Perucchi also brought his recipe to Spain to produce it in Barcelona, hence Catalonia is considered the cradle of Spanish vermouth.
Vermouth is one of the most popular drinks in the country used to accompany aperitifs. It is composed of white wine, absinthe, and other aromatic herbs, and, depending on its elaboration, it can be sweeter, drier, or with higher alcoholic content.
The best Spanish drinks non-alcoholic
Clipper de fresa
If Clipper de fresa sounds unknown to you, even if you have been to the Spanish mainland, it's because it's a soft drink from the Canary Islands that began to be manufactured in 1956. It is said that this drink was born thanks to brothers Mario and Octavio Juan Gómez in the garage of their house. As in previous years, it was easier to manufacture than to import, but they managed to make this drink that is today an icon of the islands.
All those who visit the island say that it is a wonderful refreshment and, if by chance you do not like this fruit, you can find it in other flavors.
Cola Cao
Cola Cao is THE cult drink from Spain that takes many Spaniards' memories straight back to their childhood. It is a sweet cocoa powder that is dissolved in milk to create a delicious chocolate milkshake.
Cola Cao is a well-known brand in Spain and is often consumed hot or cold for breakfast or as an afternoon snack. The drink is also popular among many Spanish expats and tourists and can be found in so several countries around the world.
Even though Cola Cao also originates from Catalonia, the cocoa variety Cacaolat is just as popular in Catalonia.
Granizado de limón
This is one of the Spanish non-alcoholic drinks usually consumed in ice cream parlors, cafeterias, and bars. It involves using a slushie machine to mix lemon, sugar, and water and refresh both children and adults. It is a good option when we are with the family and the heat is on us.
Horchata
It is a drink originally from Valencia, which is prepared with tigernuts, water, and sugar, adding lemon peel and cinnamon.
Surely you are wondering what a tigernut is? Well, they are tubers that come from the roots of the hazelnut sedge, whose name comes from its resemblance to the hazelnut. It is said that this plant was already used in Ancient Egypt.
This white-colored drink is usually preferred on hot days because it is very refreshing. It is also highly nutritious. Horchata is one of these drinks that most people either love or hate. Eduardo, for instance, is a huge fan. So try it for yourself, and maybe you will find your new favorite drink to refresh yourself with during hot Spanish summer days.
Coffee (Café)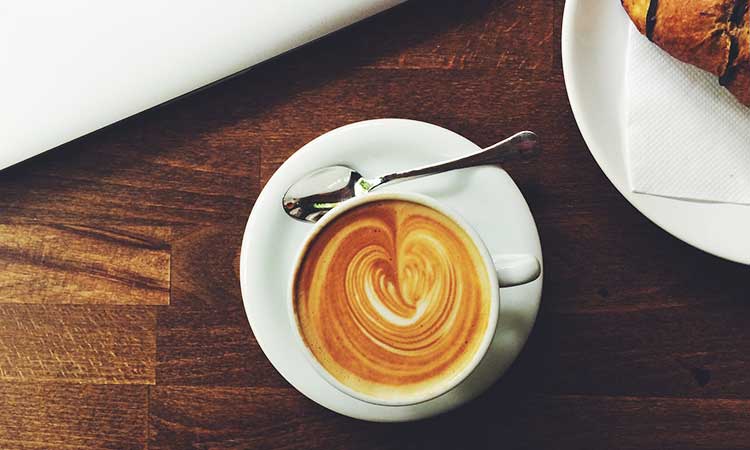 Coffee is a beverage that is drunk in most parts of the world; it originated in Africa and began to be consumed in Europe in the 17th century, arriving in Spain a century later thanks to the Italians who came with the Bourbons after the War of Succession.
Fun Fact: The first café was opened in Madrid in 1764 in the Fonda de San Sebastián, and from there, they appeared in other cities. Generally, the type of coffee common in the US and Central Europe is called Café Americano, while the Spanish standard coffee is known to many of us as Espresso. The thing is that, depending on the café you want, you will have to discover the name given to it according to the place.
For example, if you are in Malaga and you want a Spanish coffee (espresso), you should ask for Sombra, but if you want another type of coffee like the one in Murcia, which has condensed milk, and brandy, you should ask for Belmonte. Thus, the different blends and flavors vary in the different regions of the country.
Leche merengada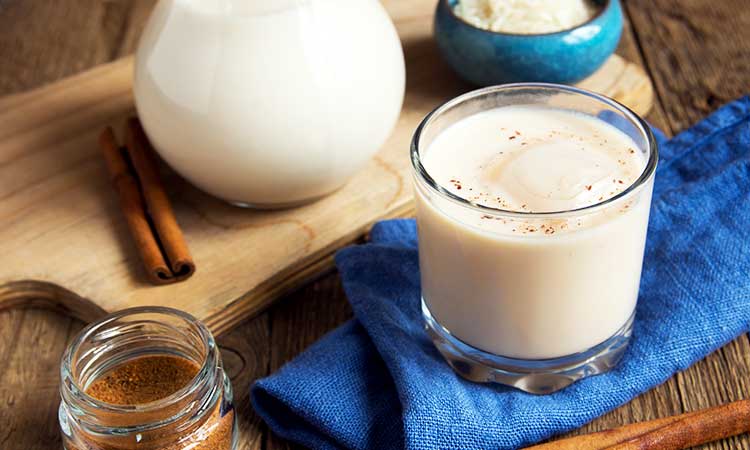 Leche Merengada (Milk meringue) is one of the Spanish non-alcoholic drinks that are very typical of the country's gastronomy. It is made with egg white, milk, sugar and cinnamon for flavoring.
Some believe that its origin is Valencian. However, it is not known for sure. But it is very popular throughout Spain during the summer.
This sweet kind of milk is usually served very coldly so that it has a texture like snow and can be found in horchaterias and ice cream parlors throughout Spain.
Freshly pressed Orange Juice
In Spain, it is common to drink orange juice in the morning, which is nothing more than juice obtained by squeezing oranges. Not only is it delicious, but it is also extremely beneficial for your health. If you go to Spain, you will surely have a nutritious and refreshing breakfast.
In Bars, Restaurants, and bakeries throughout the country, it is widespread to find juicers with which fresh oranges are pressed. Even in supermarkets, you can find machines to press your own fresh, natural orange juice instead of buying it packed.
FAQ about Drinking in Spain
How do you say Drink in Spanish?
Drink in Spanish is called "bebida". It is pronounced approximately as you write it.
What does a typical Spanish drinks list in a restaurant look like?
Similar to other drinks menus in Europe. Depending on the restaurant, there is usually a whole selection of international soft drinks (Coke, Fanta Orange, Fanta Lemon, Sprite, Nestea), water, and usually a selection of wine and beer (Spanish beers and international brands) to choose from. The exact selection differs, of course, depending on the city and restaurant.
What is the legal drinking age in Spain?
Similar to most countries in Europe, the legal drinking age in Spain is 18 years. From then on, one can legally buy and consume alcohol.
Are drinks expensive in Spain?
The price of drinks depends entirely on the location and type of restaurant. Compared to Central Europe, supermarket prices can be slightly more expensive for international brands, while cocktails and long drinks cost about the same in restaurants. Beer and wine, on the other hand (local brands), are usually much cheaper outside tourist areas than in Central Europe.
How to order a drink in Spain?
To order something in a Spanish restaurant, you can use the following terms:
"Me pones un X?" – "Will you bring me an X?"
"Un X, por favor" – "One X, please."
"Para mi, un X" – "For me, an X".
Will I find the same drinks throughout Spain?
The drinks, similar to the typical dishes in Spain, can vary from region to region. Especially local brands, like beer brands or wines, differ in the different regions, while soft drinks are mostly the same.
Which is the most popular drink in Spain?
That is difficult to answer so sweepingly. Generally, a lot of wine, beer, water, coffee, and of course, sangria are drunk. The typical soft drinks like Coke and Fanta are also popular here, of course.
---
As you have seen, you have many options to choose from when it comes to typical Spanish drinks, so which one would you like to try, or what is your favorite drink? Let us know in the comments below.
Interested in Spain?