The wonderful things to do in Cameron Highlands were definitely a big highlight of our Malaysia trip, which I would not want to miss under any circumstance. With its picturesque lush green tea plantations, the biodiverse Mossy Forest, and its extraordinary charm, the Cameron Highlands' attractions definitely belong on your Malaysia itinerary.
The Cameron Highlands in Malaysia are part of a large mountain range and are located in the Malaysian state of Pahang. They are famous for their unique and diverse nature, such as in the Mossy Forest, and are, therefore, sometimes even called the Garden of Malaysia. They are perfect for nature lovers and photographers or anyone who wants to cool off a bit from Malaysia's tropical weather.
Below, you will find everything you need to know about your Cameron Highlands tour, the Mossy Forest, and the most popular tea plantations in Malaysia to make your trip a complete success.
Cameron Highlands, Malaysia Facts
Located in the East of the town Ipoh
200 km distance to Kuala Lumpur
The biggest subdistrict and administrative center is Tanah Rata
712 km² area
The most popular subdistricts are Tanah Rata, Brinchang & Kea Farm
CAMERON HIGHLANDS INFOBOX
Where to stay in Cameron Highlands: Fathers Guesthouse (comfortable guesthouse for adults) or Orchid Haven (central hostel as a budget option)
The most popular activities and tours in Cameron Highlands
Halfday Tour with Discover Cameron (make your reservation on-site)
Day Trip to the Tea Plantations
Sheep Sanctuary Cameron Highlands
Mossy Forest
Getting there: Make sure to check for the best flight deals on Flight comparison-Sites like Skyscanner Take the bus from Kuala Lumpur or Ipoh. You can purchase your ticket at the bus terminal or online on 12AsiaGo.
Transport: Bus, Tours, RentalCars or Taxi
Need Travel Insurance? Well insured with one of the world's most popular travel insurance for travelers: World Nomads.
Cameron Highlands Must-Have: Rain jacket and Travel adapter
Best Travel time to Cameron Highlands
If you have the choice, try not (!) to visit the Cameron Highlands on weekends. Due to its mild temperatures, it is a popular destination for local tourists. Therefore, on weekends, the roads and accommodations are often overcrowded. So, if you are coming to enjoy the quiet and peaceful nature, you might want to get here during the week.
Climate & Weather Cameron Highlands
Due to its altitude (around 1.500 meters/ 0,93 Miles above sea level), a cooler climate (between 15-25 ºC/ 59-77 °F) dominates these Malaysian Highlands. Therefore, you might want to leave your shorts in your suitcase and bring a sweater instead. Especially because at night, the temperatures can drop to 10 °C/ 50 °F.
By the way, January and February are the driest months.
Temperatures Cameron Highlands
The average temperature in the Cameron Highlands changes during the year just in a margin of around 2°C (21°C/ 70°F in November, December, and January and 23°C/ 73°F in April, May, and June)
How to get to Cameron Highlands
Taking the bus from Kuala Lumpur to Cameron Highlands
Duration: ca.5 hours
Price: ca. $ 10
There are direct buses of different companies from the Malaysian capital to the Tanah Rata Bus Terminal. If your booked accommodation is on the way, you can ask your bus driver to let you get out near your accommodation. To be sure, ask when buying your ticket.
You can book your bus ticket on-site at the bus terminal or online via 12Go Asia.
Taking the Bus from Penang to Cameron Highlands
Duration: Ca. 4 ½ hours
Price: ca. $ 8
From Penang, you can find direct buses to Tanah Rata Bus Terminal as well.
You can find the schedules and Buses from Penang to Cameron Highlands here.
Taking the bus from Ipoh to Cameron Highlands
Duration: 1 ½ – 2 hours
Price: 18, 50 RM (ca. 3,8 € /$4,72)
Unfortunately, there is just one company that operates daily between Ipoh and Cameron Highlands. The buses are running between 8.00 am and 07.00 pm.
Check for Buses from Ipoh to Cameron Highlands here.
Renting a car to Cameron Highlands
If you don't have a problem with the left-hand traffic that prevails in Malaysia, you can, of course, rent a car and drive yourself to the Cameron Highlands. Different routes lead to the destination. On TripAdvisor, you can find a good overview of the different routes.
You can either find your rental car locally at a reputable car rental company or book online via RentalCars.
With Mini Van to Cameron Highlands
Another option is to take a Mini Van. Many travel agencies offer this service. You can either charter a private Mini Van or choose a fixed route. The easiest way is to compare different travel agencies on-site and do some bargaining.
We took a shared Mini Van from Kuala Besut for 60 RM (12,30€/ $15,31) per person that brought us directly to our accommodation.
Taking a taxi to Cameron Highlands
The last option is to take a taxi. The prices will probably be much higher than taking public transport. Check on-site and try to get help from your accommodation regarding fair prices.
The best things to do in Cameron Highlands
The Cameron Highlands Tea plantations
If you're considering visiting the Cameron Highlands, you probably already know that the region's tea plantations are arguably the Highlands' key sight. As the largest tea-growing area in the country, tea cultivation was once the region's main economic source before the tourism boom began.
Boh Tea Plantations (Sungai Palas)
Sungai Palas Boh is the largest and most famous tea plantation in the Cameron Highlands. It was founded by the colonial supplier Boh Tea, which still owns most of the fields in the region. When talking about the tea fields in the Cameron Highlands, this tea plantation is usually meant.
A large number of the typical strong green pictures from the tea plantations of the Cameron Highlands were taken here. Most of the tours that you can book locally will take you right here. This was also the case for us on our tour.
The first stop on our tour with Discover Cameron was the Cameron Highlands tea plantations. The big advantage of our tour was that we left before all the other tours, and it was accordingly empty when we arrived at the tea plantations. So we could take beautiful landscape pictures and enjoy nature peacefully. When we left the tea plantations at the end, more and more tourist groups had arrived and started wandering around the fields.
Bharat Tea Plantation
Those who like it less touristy can also visit the Bharat tea plantations. These belong to the local supplier Bharat and have been used since the 1950s. While Boh is obviously oriented towards the British market, Bharat produces more Asian-inspired tea. You can discover the tea all over the region but also in the rest of the country under the name Cameron Valley Tea.
The Tea production in BOH Sungai Palas Tea Center
Opening Hours Boh Tea Center & Café: Tue – Sun: 09 am – 04.30 pm; Closed on Mondays
Entrace Fee Boh Tea Center & Café: free of charge
If you have decided to visit the BOH plantation and after you have seen the idyllic tea plantations up close, you probably want to know where exactly the tea is processed afterward. Luckily, you can find out at the Boh Sungai Palas Tea Center.
Author's note: On Mondays, the tea company + café is closed and therefore not part of the tours.
Stroll through the small factory and learn about tea production. Afterward, it's time for tasting.
Boh Sungai Palas Café
Right next to the tea factory, you can find a café with a simply spectacular view over the wide green fields. Order a small pot of tea (about $2.5) and sit in the area outside or inside. Now you can enjoy the freshly brewed delicious tea while you gaze over the tea plants from which the full-bodied tea is made.
There are so several varieties to choose from. If you can't decide, you can ask one of the staff or your tour guide for a recommendation.
If you are hungry, there is also a small selection of different types of cakes, which are also quite worthwhile. In addition to typical varieties, you can purchase a couple of local treats. Our favorite was the carrot cake.
Cameron Valley Tea Houses
Opening Hours Cameron Valley Tea House: 08.30 am – 06 pm
Eintrittspreis Cameron Valley Tea House: free of charge
If you visited the Bharat tea plantations instead of the BOH tea plantations, a stop at one of the three Cameron Valley Tea Houses is certainly worthwhile as well. While the Cameron Valley Tea House Kuala Terla is mostly used as a store, the other two tea houses are also very cozy. So here, you can taste a delicious freshly brewed tea while enjoying the extraordinary view over the deep green fields.
There are also viewpoints from which you can see the beautiful surrounding fields. Some visitors prefer the Cameron Valley Tea Houses to BOH because they are less touristy. However, if you want to walk around the area, you might have to pay a small entrance fee.
The Mossy Forest & Gunung Brinchang
Opening Hours Mossy Forest: No official Opening Hours
Entrance Fee Mossy Forest: 30 R (ca. $7)
Please note: Unfortunately, due to non-observance of the rules and littering by visitors, Mossy Forest is often closed for longer periods of time. Make sure to check before your visit whether the forest is currently open or whether you can enter it alone or only in the company of a guide.
A major highlight of the Cameron Highlands is the Mossy Forest. It is located at an altitude of about 2032 meters above sea level on the Gunung Brinchang. Gunung Brinchang is the highest mountain in Southeast Asia that can be driven on a road.
Due to the altitude of the Mossy Forest, it is always surrounded by clouds and fog, allowing moss, ferns, orchids, and many other unique plants to grow. The mystical forest is considered not only the oldest forest in Malaysia but even one of the oldest in the world.
The Mossy Forest Boardwalk
If you are traveling with a group, you can first walk through the forest as a group to get some exciting information about the different (carnivorous) plants. However, it is crucial that you only walk on the marked trails to avoid damaging the delicate plants and the unique ecosystem here.
Afterward, it is worth taking some time to walk independently along the short trail of the Mossy Forest. (about 20 minutes walk)
From here, we could enjoy this mesmerizing view that makes the Mossy Forest so special.
There is just so much to see, and the forest clearly has something mystical.
Sadly, during the walk, again and again, you can see tourists that leave the marked paths, climbing the trees and stepping on plants just to get a nice selfie. Seriously, guys, how would you feel if you'd spent hundreds of years growing there just to be stepped on by some idiot that wants to take a selfie? Please, please, please don't be that guy!
Cameron Highlands Strawberry Farm (Raaju's Hill)
Another product grown in the Cameron Highlands and enjoyed by locals and visitors alike is strawberries. It so happens that you can discover a few strawberry farms in the region. Here you often have the opportunity to buy fresh strawberries and strawberry products or to pick some of the delicious red berries yourself, like here in Raaju's Hill.
There are also several other strawberry farms in the region, such as Kok Lim Strawberry, Big Red Strawberry, Healthy Strawberry, or the Abang Strawberry Farm.
Even outside the actual strawberry season, locals have found a way to harvest fresh strawberries all year round. Namely, they plant strawberries from the Netherlands, as they can be harvested at a different time of year.
And then it's time to taste! Besides the products for sale, you can usually try some local strawberry products, such as strawberry jams. I also highly recommend you try one of the fresh juices or strawberry milkshakes.
Several Hiking Trails
Attention hiking enthusiasts. Due to the cooler temperatures, the climate here is perfect for a hike. In addition, the Cameron Highlands are full of species-rich forests and idyllic nature.
There are various hiking trails for beginners and experts, as well as routes that can be taken alone and those that can only be hiked with a guide.
When you arrive at your accommodation, ask about the different available routes.
The Night market of Tanah Rata
Opening Hours Night Market: Fri – Sun: 04 pm – 11 pm
Entrance Fee Night Market: free of charge
The night market is held every weekend in Tanah Rata. (Opposite the hotel Casa dela Rosa).
Here you can buy anything you might be looking for. From souvenirs to fresh fruit, local honey, and delicious street food.
But don't forget to put on a jacket. It can get quite chilly here at night.
Kea Farm Market
Opening Hours Kea Farm Market: 08 am – 06 pm
Entrance Fee Kea Farm Market: free of charge
Not only at night can you experience a fantastic market in the Cameron Highlands, where fresh products and souvenirs are offered. During the day, you have the possibility to visit the Kea Farm Market. It is located between Tringkap and Brinchang on the side of the road.
Stroll along the stalls of the farmer's market and discover delicious products, fruits and vegetables from the region. Especially during the strawberry season, this market is worth a visit.
The Butterfly Farm
Opening Hours Butterfly Farm: 08 am – 05.30 pm
Entrance Fee Butterfly Farm: 5 R (ca. $1.5)
Not only for visitors with children but the butterfly farm in Cameron Highlands is also an excellent destination. As one of the oldest attractions in the region, the farm offers various plants and butterflies in bright colors and shapes.
In addition to the butterflies and various plant species, you can also hang out with rabbits, guinea pigs, and ducks, among others.
Bee Farms
Opening Hours Bee Farms: different opening hours
Entrance Fee Bee farms: free of charge
Besides the popular tea, there is another delicious product for which the Cameron Highlands are famous: Honey. There are three bee farms in the region that are open for visits (e.g., the Ee Feng Gu Bee Farm in Brinchang). Here you can also buy strawberries and of course the delicious fresh local honey.
Time Tunnel Museum
Opening Hours Time Tunnel Museum: 09 am – 08 pm
Entrance Fee Time Tunnel Museum: 6 R (ca. $2)
For those interested in souvenirs, vintage products, and history, the Time Tunnel Museum is the place to be. The full pride of locals is home to more than 4,000 collectibles, photos, and memorabilia. This is definitely not your typical museum with dozens of interesting items and unique exhibits.
In addition to entertaining exhibits, you can also learn more about the region and its history.
Located in the Kok Lim Strawberry Farm building, the museum is a great way to combine a visit here with a visit to the Kea Farm Market.
Sam Poh Temple
Opening Hours Sam Poh Temple: 08 am – 05 pm
Entrance Fee Sam Poh Temple: free of charge
Extra info: Before entering, make sure to take off your shoes.
Another place of interest in the region is the Sam Poh Temple. This is a remarkable Buddhist temple. It is located on a small hill in Brichang.
The temple is a popular destination not only because of its great view over Brichang.
Its colorful decorations, oriental design, and considerable size (it is the fourth largest Buddhist temple in the country) attract many visitors and locals to the temple every day.
See the Rafflesia
Rafflesia is a large flower that can only be found in Peninsular Malaysia and Borneo.
When Rafflesia is in season, you can find various regional offers for tours to see this rare flower. Inquiring locally at the travel centers or at your accommodation about the various options is best.
Orang Asli Village
The Orang Asli are the indigenous people of Malaysia. They still live in different villages spread over the country. Here you can visit them in one of their villages and learn about their interesting culture.
A Tea Plantation & Mossy Forest Tour with Discover Camerons
Since our hostel recommended this tour, we decided to join a half-day tour with Discover Cameron. The big benefit of this half-day tour in the Cameron Highlands is that the groups are kept quite small, so you don't have to follow a big loud group of tourists. For us, it actually felt more like a trip with friends.
Our Guide
Our tour guide is called Appu and was definitely one of the best guides on our whole Southeast Asia trip. He has a talent for giving information and explaining things in an interesting and fun way listening to and learning new things.
But the thing that made a big difference for us is that you can tell that he is passionate about his job. Basically, educating the visitors about the unique nature of the Cameron Highlands felt more like a mission to him rather than him just doing his job. He knows something about probably every little plant we've seen during the tour and could tell us a funny story about every part of the forest.
How can you book a Tour with Discover Camerons?
We booked our tour with our Hostel Orchid Haven.
Where to stay in Cameron Highlands (Tanah Rata)
The best budget accommodation in Tanah Rata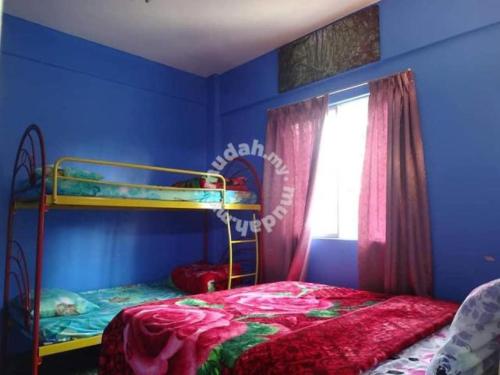 For us, the best accommodation was definitely the Orchid Haven Hostel. The hostel is centrally located in the capital Tanah Rata. With its cozy lounge full of plants, you can quickly meet new people while drinking a tea or coffee, which you can prepare free of charge throughout the day.
The staff are super friendly and helpful and are happy to explain what hiking and touring options are available in the area. The owner gives a cooking class every evening for those interested but is also happy to invite others to join him for dinner.
Regarding the rooms, you can choose between a private room (family room) and a dorm.
Check more info, prices, and availability of Orchid Haven
The best Guesthouse in Cameron Highlands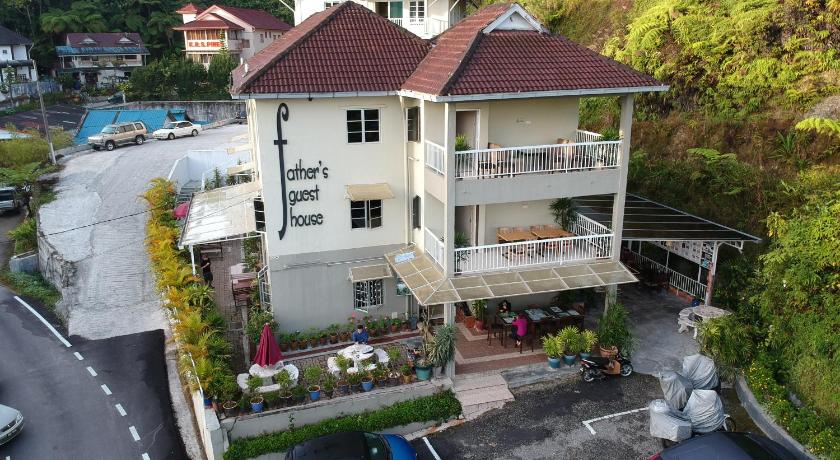 This guesthouse offers cozy rooms for adults in a homely atmosphere. The friendly staff will be happy to help visitors organize a hike or tour. Moreover, there is great seating outside on the terrace to relax a bit after a long day in nature.
Check more info, prices, and availability of Fathers Guesthouse
The best Apartment in Cameron Highlands
If you are traveling in a group or with children or need a lot of space, you can rent a whole apartment. In Tanah Rata, there is a vast selection of vacation apartments to be found. One of the most popular is the W7HomeStay Golden Hill Nightmarket. It offers a good location, great amenities, and a small balcony with views of the surrounding mountains and city.
Check more info, prices, and availability of HomeStay Golden Hill NightMarket
The right accommodation for you not included?
>> Check all accommodations in Cameron Highlands
Historical Background and how the Cameron Highlands got their name
The history of the Cameron Highlands began in 1885 when the British surveyor Sir William Cameron was sent by the Colonial Government to map the border to the next federal state Perak. Although the Cameron Highlands obviously got named after him, it was Sir George Maxwell that realized just 40 years later that this area would be suitable as a resort and hill station.
Due to the cooler climate, this region was way more pleasant for the British than the heat that dominates most of the peninsula of Malaysia.
At the same time, they also started using the fertility of the grounds by growing tea, coffee, and similar products.
Today, we know that the Highlands is home to different kinds of unique flora and fauna. However, unfortunately, the construction of accommodation and roads destroyed a large amount of the former nature.
Common Question about a trip to Cameron Highlands
How do I get to the sights in Cameron Highlands?
You can rent a car locally, order a taxi, or join a tour. Depending on where you stay and what you want to see, you can also walk to some of the attractions in the region.
How many days in Cameron Highlands?
There is no ideal time to stay in Cameron Highlands. You can discover the main sights by taking a day- or half-day tour. Accordingly, one or two nights stay is enough. If you have more time, you can also stay longer to relax in nature or go hiking.
How are the temperatures in Cameron Highlands?
The average daytime temperatures in Cameron Highlands are usually between 21 and 24°C (60-77°F). At night, however, temperatures can drop to as low as 10°C/50 °F.
Can I drink the tap water in Cameron Highlands?
If possible, you should avoid drinking the tap water in the Cameron Highlands.
---
Have you ever been to the Cameron Highlands? What was your highlight? Let me know below in the comments!
---
Interested in Malaysia?