When Vicki offered me the opportunity to write about the city that has seen me born and grow over the years, it simply seemed like a gift and a unique opportunity to share with so many people the Valencia hidden gems that we Valencians enjoy daily.
Valencia is probably one of the best cities in the world. Everyone who comes stays, or falls in love wants to return. Whether for its climate, its traditions, its festivals, or its people, this city has something that does not leave any of its travelers untouched.
In today's post, I'm going to uncover those hidden gems in Valencia and non-touristy places that only those of us who live here know exist. We will walk through the streets of mythical neighborhoods like El Carmen, Ruzafa, or Cabañal.
We will experience a jet ski excursion on the waters of the Mediterranean, we will have the typical "Esmorçaret" in one of the most traditional bars of the Malvarrosa, we will have a Gin and tonic in an old ice factory, see the most spectacular sunset you have ever seen and simply discover Valencia off-the-beaten-path.
And, of course, we will enjoy a Valencian paella in one of the emblematic places of the city Casa Carmela and a good fresh tigernut horchata in Casa Daniel, Alboraya. In the end, I will also show you some alternative things to do in Valencia if you want to avoid the main tourist sights.
Note: This post is part of our "Local Experts" series, in which locals present their land. The text was written by Zaira Pacheco, who was born and raised in Valencia.
Valencia Hidden Gems – 17 Unusual Things to do in Valencia
Palacio del Marqués de Dos Aguas & the Ceramic Museum (Museo Nacional de cerámicas y artes Suntuarias)
Opening Hours: From Tuesday to Saturday 10 am to 02 pm; from 04 pm to 08 pm. Sundays and holidays 10 am to 02 pm.
Entrance Fee: Tuesday to Saturday from 10 am to 2 pm: 3 euros. The rest of the days free admission
How to get there: Autobús L10, L11, 1183. Metrovalencia L3 y L7
The palace of the Marqueses de dos Aguas was built in the 15th century and is considered a Gothic construction. This construction has been considered since then as a symbol of the opulence of the time.
The palace alone is striking from the outside because of the sculptures and marbles that make up the facade. Inside, you can find the hall of the carriages, with special carriages dating from the sixteenth century.
Inside the splendid building, you can find the ballroom, the Pompeian room, the red room, the porcelain room, the marquises' bedroom, the Gothic Room, the oratory, the smoking room, the confidence room, and several boudoirs, and countless other rooms for different uses.
Currently, in the Gothic room, we find the National Museum of ceramics and that you shouldn't miss when visiting Valencia. The artisan tradition of Valencian ceramics dates back to the 14th century and was exported all over the world from Grao de Valencia.
Museo Fallero
Opening Hours: From Tuesday to Saturday from 10 – 07 pm. (last entrance at 06 pm.). Sundays and holidays from 10 am – 02 pm. (last entrance at 01 pm). Closed on January 1st and 6th, May 1st, and December 25th.
Entrance Fee: 2 €
How to get there: Autobús L13, L14, L15, L18, L24, L25, L95
One of the most important festivals that the city has is the Fallas, which are celebrated from March 15 to 19. If you visit Valencia outside these dates, you can visit this museum where you can find the Ninot indultats (Dolls that have not been burned with their fallas, as their major falleras have chosen them).
In this museum are the dolls that have been released from the flames since 1934. You can also see silk fallera costumes (espolín), posters of the festivities, and even photographs of the Falleras Mayores de Valencia.
Definitely, a must-see if you do not come on the dates on which this festival is celebrated.
Mercado de Ruzafa
Opening Hours: Monday – Saturday: 7.30 am – 03 pm
Entrance Fee: free of charge
How to get there: Autobús L6, L14, L15, L35
This colorful building houses gourmet gastronomy in a local market with 100 points of sale in 4,780 square meters. If you want to taste products harvested in the Valencian orchards here, you can do it.
You can enjoy poultry and game meats, and charcuteries where you can taste the best Iberian ham, and even the best fishmongers with fresh products, one of our secret places in Valencia. On a trip to the palate, which is not touristy, you can find quality products at an excellent price.
Monforte Gardens – Jardines de Monforte
Opening Hours: From March to October 10 am to 8 pm, from November to February 10 am to 6 pm
Entrance Fee: free of charge
How to get there: Autobús L6, L70 y L80. Metrovalencia L3 y L9
This wonderful garden is one of the green spaces of Valencia, where you can find large grounds and 33 marble statues, ponds, and many different types of plants.
One of the most visited statues in this garden is some lions that the sculptor José Bellver created. Originally, they were going to be placed at the entrance of the Congress of Deputies in Madrid. But instead, the owner of the garden acquired them because they were considered too small.
As you can see, it is a tranquil garden and one of the most beautiful in Valencia. This place is not very touristic and a perfect alternative to the gardens of the Turia riverbed where there are usually a lot of people because they are more touristic.
Parque de Cabecera
Opening Hours: 24 hrs
Entrance Fee: free of charge
How to get there: Autobús L6, L7 y L8
If you feel like in the middle of your touristic Valencia itinerary to pause in the middle of nature, at the foot of the Bioparc, you can head to the Parque de Cabecera.
There is a hiking trail of several kilometers, an idyllic pond where you can see ducks and turtles, swan-shaped water scooters, bars, and playgrounds.
It is a perfect place to spend an afternoon with the family, to see another part of the city where Valencians enjoy picnics in its huge gardens, where we feed the ducks. So do remember to bring some slices of bread, or simply stroll along its paths.
Another curious fact about this park, is that being so close to the Bioparc, the zoo of Valencia, you can hear the lions roar, the elephants bark, and the hippos shout when you least expect it.
Curiosities that can only happen in this city if you go to the right places at the best time of day, in the late afternoon.
Museo del silencio – Cementerio General de Valencia
Opening Hours: Monday to Saturday: 9 am to 6 pm; Sundays and holidays 9 am to 2 pm.
Entrance Fee: free of charge
Telephone for guided tours: 96.3525478, Extension: 2565
How to get there: Autobús L10, L9, L99. Metrovalencia L1, L2, L7
The next place on our list is a museum located in the General Cemetery of Valencia. Inside the museum, several routes have been organized that take you to visit the tombs of well-known people of Valencian culture, such as Nino Bravo, Joaquín Sorolla, Vicente Blasco Ibáñez.
There are different routes to follow; Illustrious characters, Popular characters, Women who left their mark, and "18 lives, 18 silences".
There are also several interesting guided tours that start at 11 am every Saturday and last an hour and a half.
Piccadilly – The quietest discotheque in Valencia
Opening Hours: Wednesday to Saturday: 01 am – 07:30 am
Entrance Fee: 12 €
Entrance: Only for adults older than 21
How to get there: Autobús L63, L89 y L8. Metrovalecia L1, L2 y L7
A very peculiar disco that had to adapt as a result of numerous complaints from neighbors and has now been awarded by the Business Federation of Hospitality in Valencia thanks to its "Silent Disco".
What is its peculiarity, you ask? Well, everyone who enters puts on headphones to enjoy the music of the DJs playing in the club.
When you go to this peculiar disco, you find 2 DJs. Each one is represented with a different color. This means that you can listen with your headphones to the DJ you want by pressing one or the other color.
This allows you to listen to something different from your companions at the same time. Your dances will be different from theirs, and you will laugh a lot.
But there comes a moment in the middle of the night when they announce "Temazo," and then all attendees must set the same color in their headphones. This will be one of the top moments of the night.
Undoubtedly, a very curious disco and something very rare to do in Valencia.
Fábrica de Hielo – A somewhat different Ice Factory
Opening Hours: Tuesday to Friday from 05 pm to 01:30 am. Saturday and Sunday from 12 pm to 01.30 am
Entrance Fee: free of charge
How to get there: Autobús L18, L32 y L92. Metrovalecia L4 y L6
In the heart of the Cabañal neighborhood, we find this old ice factory converted into a cozy sociocultural space.
In the factory, you can find a place to spend the afternoon or evening in a relaxed atmosphere – Independent live music, good cocktails, and delicious food. A corner in Valencia for the Valencians, not touristy and, without a doubt, our little secret.
Barrio de Ruzafa
How to get there: Autobús L63, L89 y L8. Metrovalecia L1, L2 y L7
This lovely Valencian neighborhood used to be an Arab quarter. Until today, it is a pleasure to stroll through its colorful streets. You can enjoy buildings with old and large facades, with architecture that has been rehabilitated over the years and that leaves no one unimpressed.
Moreover, Ruzafa becomes the center of Valencian nightlife from Thursday onwards. There are plenty of restaurants and pubs where you can enjoy an evening among Valencians since the tourist leisure area is located in the neighborhood del Carmen.
If you decide to visit this neighborhood, I recommend a series of cafes, restaurants, bookstores, and galleries to discover this area so popular among Valencians.
Zalamero: Valencian pizza.
Canalla Bistró: Local Michelin star Ricad Camarena.
Plastic Murs: Contemporary art exhibition.
Gnomo: Shop of local artisans.
Kawori: Sushi restaurant.
Dulce de leche: Perfect brunch, artisan pastries, and a great place to spend a good afternoon or morning.
Ubik Café: A very cozy and interesting café-bookstore.
La cooperativa del mar: It is a very curious restaurant since it specializes in gourmet canned food. Undoubtedly a very peculiar place to eat in Valencia
Barrio del Cabañal
The Cabañal neighborhood is an old fishermen's quarter, where the constructions of its houses are very peculiar. You can encounter everything from shacks and tiled houses to colorful buildings.
All in all, it's a highly distinctive neighborhood with a very great cultural value. When you walk through this neighborhood, you notice that life moves at a different pace and that you have streets that even look like labyrinths.
You can visit the fishermen's market, the houses of Sant Pere street, the Reina, or even the area of Amparo Guillem.
Some theater companies have bet on this neighborhood and have launched some actions to promote this art in Valencia. For example, the Cabanyal Íntim festival takes place in spring, and its stages are the houses of the neighborhood.
In the Cabañal, you can also enjoy traditional Valencian gastronomy on the beachfront:
Vermutería Anyora.
Brasería Fumiferro.
La Peseta.
La Pascuala y la Paca
La Fábrica de Hielo.
Mercado de Tapinería
Opening Hours: Monday – Wednesday: 09 am – 05 pm.; Thursday – Sunday: 09 am – 00 am
Entrance Fee: free of charge
How to get there: Autobús L6, L14, L15, L35
Perhaps of all the sites proposed in this post, this is the most touristic. It is located in the Barrio del Carmen, behind the cathedral of Valencia.
The trendy market is a square surrounded by four places that change business every two weeks. It is a space in the heart of Valencia where you can eat and cook creatively.
If your idea is to visit this curious square, check its agenda for the days of your visit to the city.
Undoubtedly this place is definitely worth a visit not only for foodies and is a must-visit if you come to the city.
The Trinity Bridge – Puente de la Trinidad
How to get there: Autobús L1 y L2
This significant bridge is the oldest in Valencia. It consists of Gothic art and is made of ashlar stone (the previous ones were made of wood). Moreover, the trinity bridge is adorned by two dominant sculptures of San Luis Bertrán and Santo Tomás de Aquino.
This stone bridge, which passes over the old bed of the Turia River, connects the northern part of the city with the Jardines del Real or also known as Viveros. A bit of history while strolling through the city.
Garrofera Beach – Playa de la Garrofera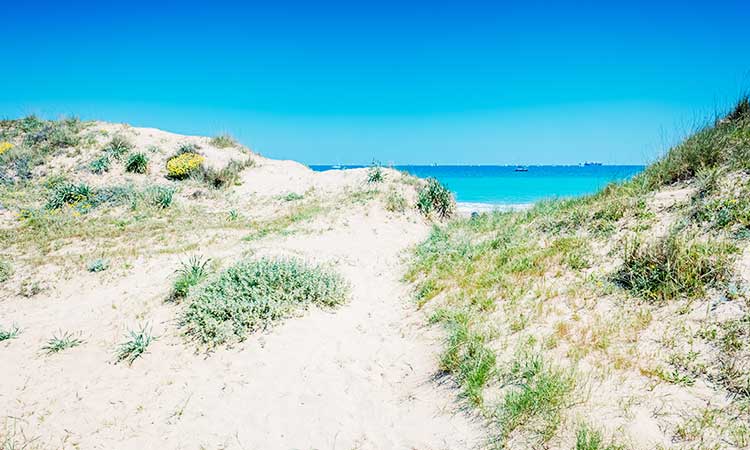 How to get there: Autobús L190A , L24 y L25
You cannot leave Valencia without visiting one of its magnificent beaches.
Undoubtedly the most touristy and most crowded because of its proximity to the city is the Malvarrosa beach. But here I am going to show you one of the secrets of this city, a non-touristy place that you can easily access by bus or bike from the city.
This beauty with fine sand and surrounded by dunes and vegetation is located in the middle of Albufera Park. Despite being in the middle of nature, you have access to rental services for umbrellas and hammocks, even a walkway adapted for people with reduced mobility.
As you have already moved here, you can not miss one of the most beautiful sunsets that we have on these lands. So you just have to head to the Albufera pier to see a spectacular sunset that you will talk about on your return home – a jewel that you should not miss.
Pier de l'Albufera
Taking advantage of being on the beach of La Garrofera, you just have to walk just a few steps and approach the pier in the Natural Park of l'Albufera at about 8 pm (summertime).
This pier is located in the middle of the amazing Natural Park. Every hour, a typical Valencian boat will take you around the park. If you go there to see the sunset, you have the option of getting on the boat or staying at the pier.
When the sun goes down, all you have to do is sit down, drink a good horchata and enjoy.
It usually takes about half an hour, but I recommend that you go without any rush, that you go with the desire to enjoy the views, intending to see nature in its purest form and to discover a charming corner of our terreta.
We Valencians are very proud of this corner we have in the world, and that doesn't have to envy the best sunsets in Bali or Formentera.
Parque Gulliver
Opening Hours: April – June + September: 10 am. to 08 pm.; July + August: 10 am. to 01:30 pm. & from 5:30 pm to 09 pm. October – March: 10 am to 5:30 pm.
Entrance Fee: free of charge
How to get there: Autobús L89 , L94 y L95. Metrovalencia L3, L7 y L9
You can not leave Valencia without coming to one of the most visited parks by Valencians on weekends. It is a figure designed by a fallero artist of the character Gulliver at the moment he is captured by the inhabitants of Lilliput.
The figure measures 70 meters and is full of slides, ramps, and stairs where the little ones, and sometimes the not-so-little ones, have a great time.
It is a super fun activity that you can experience during your visit to Valencia. You will certainly not be disappointed.
Horchatería Daniel, Alboraia
Opening Hours: Tuesday – Friday: 10 am to 10 pm; Saturday: 10 am – 00 am; Sunday: 10 am – 09.30 pm
Entrance Fee: free of charge
How to get there: Autobús L70. Metrovalecia L3 y L9
This is another emblematic place located in Alboraia, a town adjacent to Valencia that has a great tradition in the Valencian horchata tiger nut milk.
Vicki's note: For everyone that doesn't know it: Horchata is a typical drink from Valencia, which is now enjoyed in all of Spain. The milky summer drink is made from tiger nuts and is usually served sweet and ice cold.
In addition to being an artisan horchata shop with a long tradition dating back to 1949, they also have a workshop where they make the traditional fartones, which are the perfect accompaniment to this cold drink, 100% Valencian.
You can also enjoy Daniel's horchata in the Mercado de Colón, as they have one of their Horchaterías there, making it the perfect option to try it without having to travel to Alboraia.
Paella Valenciana
And if after all the walking through Valencia you will feel like eating a good paella in a not very touristic and very Valencian place you should go to Casa Carmela. This restaurant, located in the Cabañal neighborhood, still preserves the traditional way of making this delicious rice dish.
This yummy dish is cooked with firewood and orange wood, as did the founder of this restaurant, and, of course, without forgetting the local ingredients. Since all its suppliers are from the area, it's a truly local product.
I recommend the Valencian paella, but if you are a fish lover, without a doubt, their Arroz del Señoret will not leave you hungry. Bon profit!
Alternative things to do in Valencia
Below, you will find typical things to do in Valencia and its alternative, non-touristy places in Valencia.
| Touristic things to see in Valencia | Alternatives to see in Valencia |
| --- | --- |
| Catedral y plaza de la Virgen | Iglesia de San Nicolas, Monasterio de San Miguel de los Reyes |
| Mercado Central | Mercado de Ruzafa & del Cabañal |
| Cauce del antiguo río Turia | Jardines Del Real or Viveros and Parque de Cabecera |
| Ciudad de las artes y de las ciencias | Without any alternative. An absolute must-see! |
| Playa de la Malvarrosa | Playa de la Garrofera or Perelló |
| Barrio del Carmen | Barrio de Ruzafa or Cabañal |
| Campo de fútbol de Mestalla Valencia CF | Campo de fútbol Ciudad de Valencia Levante UD |
| Palacio de la Generalitat | Palacio del Marqués de Campo or Palacio de Cervelló. |
| La Lonja de la Seda | Museo Fallero, Museo de Vellas Artes, centro del Carmen de cultura Contemporánea. |
I hope you liked today's post and that it helps you on your next trip. If you have any questions, make sure to leave a comment below!
---
Interested in Spain?