Barcelona is a destination that gets more popular every year and you can see that being reflected in the city image of the Catalan metropolis. When many tourists visit the same place, there are usually things to avoid. In Barcelona lately, you can find many pickpockets and even some scams taking place against tourists. That's why we created this comprehensive list of what not to do in Barcelona in order to avoid the most common Barcelona Travel Fails.
Moreover, you can find some useful information on things not to do in Barcelona in order to be respectful towards the locals living in the Catalan capital.
I live in Barcelona for more than five years now and can see tourists misbehaving every day. On the other hand, I also hear about visitors being scammed or being robbed. With the following Barcelona travel tips, you can make sure to be this kind of tourist that locals like to see in their town and have an amazing time visiting this sunny city without inconvenient surprises.
What not to do in Barcelona – Barcelona Travel Fails you should avoid
Not keeping an eye on your belongings
It sounds so logical, but still, every day in Barcelona, dozens of tourists get robbed of their belongings out of their bags or pants pockets.
Even though in Barcelona, there are not many violent robberies, the pickpockets seem to grow a lot during the last years. When my best friend came to visit me, her phone was stolen from her bag on the first evening.
Places in which the pickpockets are most active
In Public Transport, such as Metro, bus, and train
In and around Las Ramblas
Around Sagrada Família
In Bars & Clubs
What can you do
Bring a bag that you can close properly and that can't be opened without you noticing. When entering public transport, make sure to have an eye on your bag or backpack. (Maybe wear it in front of you). More and more people use the practical anti-theft-backpacks in order to avoid getting robbed.
Another option is to put a little combination lock on your backpack, so you can only open it when you put the correct number combination.
You can as well hide your money in hidden pockets, for instance in a money belt.
Try to take out your electronic devices as rarely as possible, such as your phone, laptop or tablet. If you want to check your phone while using public transport try to stand as far away from the doors as possible. (A popular trick for pickpockets is to snap your phone and run away with it the second in which the doors are closing, so you can't run after them)
Surprising fact: Apparently, most pickpockets in Barcelona are women.
Eating (Paella) in Las Ramblas
Las Ramblas is one of the Tourist Hotspots of Barcelona. It might be obvious that many tourist ripoffs are waiting for you here. Besides, some young men trying to sell drugs (Just say No thanks! and go on – they are harmless and usually accept a no without arguing), you will find a lot of restaurants that are way too expensive for Barcelona standards.
Just by walking by those restaurants, you can tell that the only locals you can find here are the waiters. And seeing a restaurant where there are no locals should already look suspicious.
A local friend once told me that when taking place in one of those restaurants to have a drink, the waiter warned him that he gets overcharged and should rather look for a place which is not only for tourists as the quality here doesn't match the high prices at all.
But obviously, after drinking those bucket-sized sangrias that you can order here, you might not care so much anymore about the quality of your Paella. 😉
Where to eat instead
Following Las Ramblas, you will arrive at the harbor. Here, you can find much better places to eat.
For a little snack or some tasty fruit (juice), make sure to check Mercat de la Boqueria.
Call Barcelona "Barça"
I can see that Barcelona is a long name for a city. That is why many tourists (including, unfortunately, too many self-proclaimed "Barcelona experts") like to call the Catalan capital Barça. However, please don't do this in front of the locals (or, best, don't do it at all). It's not only super cringy but, for some of the locals, even offensive.
Barça is the nickname of the city's soccer team (FC Barcelona) and not the nickname of the city itself.
How can you call Barcelona instead?
Instead, just use the city's official nickname, which the locals use: Barna. This way, you save yourself a lot of nasty looks and annoyed eye-rolling from the locals.
Hoping for authentic Paella near Sagrada Família
Even though around Sagrada Família, there might be one or two good restaurants I've never heard from anyone who had good authentic Paella in this area.
As you can imagine, the food around Sagrada Família is not particularly cheap. So, if you are looking for an average Paella, you can find it in other areas at least cheaper.
What or where to eat instead
If you are looking for a nice place to eat near Sagrada Família you might want to consider Italian food. You can find my favorite Italian restaurant in the city around there: El Felino.
Address: Carrer de la Marina, 269, 08025 Barcelona
If you would rather have Paella: The restaurant La Barca del Salamanca, at the harbor offers amazing Paellas.
Address: Moll de Gregal, 17, 08005 Barcelona
Buying your tickets for the attractions just on-site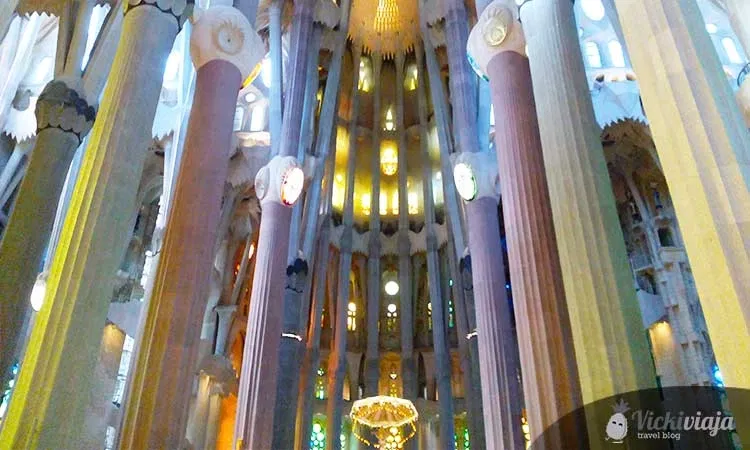 This is one of the biggest mistakes that tourists in Barcelona do and regret all the time. Sure, it sounds logical at the first glance. This way, you seem way more flexible and are not obligated to go to Sagrada Família, Park Güell, you name, it at a specific time. The problem is that 1000 other people might have the same plan. But would you like to stand in line with all of them for hours just to be more flexible? Sometimes, the tickets are even already sold for the whole day when you get there.
Where and when should I buy the tickets
If you want to visit Sagrada Família, Park Güell, etc., you should buy your tickets definitely on the Internet. Just make sure that the website is trustworthy as there are also some scams out there. You can check here for trustworthy Barcelona entrance tickets, for instance.
Buying your ticket online has several benefits
This way you make sure that you will be able to see this attraction
You don't have to stand in line for hours and can skip the crowds
You can look for times that are actually convenient for you
You can even save money as the tickets online are usually cheaper than on-site
Have you already thought of a Barcelona Itinerary? Here, you can find the best places to visit in Barcelona in 3 to 5 days with useful information from a Barcelona local, maps and prices.
A Beach Day in Barceloneta
The beach of Barcelona, Barceloneta, is great for a relaxed walk. But if you are looking for a place to spend a beach day at, Barceloneta is not precisely the place I would recommend you to go to. Especially in the summer months, it usually is extremely crowded. How could you really relax if you are surrounded by other people from one site listening to the whole conversation from a bunch of teenagers while on the other side someone is blowing his cigarette smoke into your direction? No, thanks.
But there is an even bigger problem: the huge amount of waste that gets left at the beach every day. You can't walk a meter without stepping into cigarette butts, plastic waste, or empty beer cans. Volunteers come here almost every day to pick up the trash from the beach. But it's just too much of it. Such a pity as Barceloneta actually is a really beautiful beach.
Where to go instead
Obviously, you don't want to miss a visit to the beach during your time in Barcelona. Just take a train and go in the direction of North or South, and you will surely find better beaches. The Costa Brava, for instance, is famous for its stunning beaches. Or how about Sitges?
Paying Single Trip Tickets
In Barcelona, there are many different options for tickets. The easiest obviously is a single trip which usually costs 2,40 €. Anyway, if you take more than 5 trips, you should definitely go for the T-Casual Ticket (Ticket for 10 trips for 11.35 € as of 2021). Another option is buying day tickets.
Which ticket is the right one for me
Depending on how many trips you plan to take during your stay, you can choose between different kinds of tickets. If you are fine with walking a lot, I'd recommend the T-Casual Ticket. If you can't or don't want to walk and rather go by bus or Metro, the Hola Barcelona ticket might suit you best. Also, check beforehand where your accommodation is located and whether you have to take many trips in order to get to the Barcelona attractions from there.
For prices and information on the Hola Barcelona Ticket, check here.
Rent a tourist apartment with Airbnb
Don't get me wrong, I am a big fan of Airbnb. At least of the idea behind it. Staying with locals is an amazing way to travel. You can get a much better insight into the culture and see how locals are actually living. We love to use Airbnb & Couchsurfing on our trips in order to meet locals and get amazing insider tips.
However, Barcelona and other touristic places worldwide have big problems with this way of renting flats these days. In general, flat owners can earn much more money by renting their flats to tourists than to locals for a living. Therefore, more and more people can't find flats anymore inside of the city and have to move to the suburbs. At the same time, the rents for flats are increasing super fast, so that many locals have to move as they just can't afford to live in the city anymore.
Most of the flats offered on Airbnb don't belong to locals but rather to big companies that earn a lot of money from renting their flats to tourists.
What kind of place should I stay in?
I highly encourage you to stay with locals if this is your way of traveling. This way, you can meet amazing people which can give you great useful tips on what to see and do in Barcelona. Anyway, if you want to rent accommodation via Airbnb you might want to rent a room inside of a local flat instead of a whole flat for yourself. When renting a room, you usually are going to stay with locals, so your money goes straight to the locals and therefore, helps to support them. Many locals are renting their room because they need money in order to pay the rent which is much higher now than it was just some years ago.
Looking for authentic Tacos and Burritos
For some, it might sound like a bad joke, but yes, at this point I feel the need to mention: Spain is not Mexico. Yes, they might share the same language – So do the USA and the UK. But you would probably not walk around Times Square looking for authentic fish and chips, would you?
No joke: Some years ago, they had to forbid Mexican Sombreros from being sold around the Sagrada Família area, as there were just too many tourists walking around with them. Obviously, neither the Spaniards nor the Mexican locals were really amused by that.
More than one of our guests asked us where they could find the most authentic Tacos, Quesadillas, etc. – How about trying it in Mexico? 😉
Instead
There are some Mexican restaurants in Barcelona offering amazing food. Obviously, if you like Mexican food, you should definitely try it. But please keep in mind that those are no local dishes as they belong to another culture.
If you want to try something typically Spanish, how about some Tapas or Paella?
Not knowing that you are in Catalonia
Many of you have probably heard of what is going on lately in Catalonia since the referendum in October 2017. Even though Catalonia is still part of Spain, you can still feel big tensions on both sites. At this point, I don't want to take sites or ask you to do so. Anyway, when visiting Barcelona, keep in mind the current situation in the area. Therefore, you might want to avoid expressions like "Viva España" and others along those lines.
Try not to get into any kind of political discussions with the locals as many people are very passionate about this topic on both sites.
However, the Catalan culture also differs from the Spanish on many points. Many signs and prices will only be displayed in Catalan.
A common misconception: Catalan is a language and not a dialect of Spanish, as many people believe. Anyway, you can easily tell that both languages have the same roots as e.g. Danish and Swedish or German and Dutch.
Assuming that everyone speaks English
When I traveled to Spain for the first time, I was quite surprised about the English level in the country. While in most countries of Central and Northern Europe, most people of my generation can at least speak English on a basic level, I couldn't find many Spaniards my age that actually spoke English.
Even in the touristic sector, you can find many people that don't speak English. If you don't speak Spanish or Catalan communicating with the locals can be quite difficult at times.
What to do
If possible, try to learn some important words in Spanish before you go, even if it is just hello and bye. If you don't have time to learn, how about bringing a little dictionary that fits in your bag?
The locals usually appreciate it a lot if you can use some words in their language. But what is better?
In Spanish or Catalan?
Many Catalans are proud of their native language and you can definitely make them happy by saying some words in Catalan. Anyway, in Barcelona, you will find many people from all over Spain and many of them don't speak Catalan. Moreover, Catalan is in my opinion much harder to pronounce than Spanish.
In the following, you can find a small list of the most important words in Spanish and Catalan and choose yourself.
Spanish
Hello – Hola
Goodbye – Adiós
Thank you – Gracias
Please – Por favor
Where is…? – Dónde está…?
Good – Bien
Toilette – Lavabo
Catalan
Hello – Hola
Goodbye – Adéu
Thank you – Gràcies
Please – Si us plau
Where is…? – On és…?
Good – Bo
Toilette – Lavabo
Booking a flight from the wrong airport
In theory, Barcelona has three airports: El Prat, Barcelona Girona, and Barcelona Reus.
However, just one of them is actually located in Barcelona: The El Prat. This is the official airport of the Catalan capital. The other airports are both at least a 1 ½ hour drive away from the city. Keep that in mind before booking your flight.
Wearing beachwear outside of the beach
Do you know why beachwear is called beachwear? – You see where I am getting with this… More and more tourists walk around the city in their beachwear. Especially, near the beach and the harbor, you can find a lot of people that don't seem to have realized that they are not at the beach yet/anymore. Even in restaurants and supermarkets, you can see girls in bikinis and guys only in their bathing shorts.t. There are more security guards these days asking people to please wear something over the bikini. But usually, they take it off again at the next corner.
The weirdest thing for me is finding people dressed in beachwear while they are in a restaurant, supermarket, or café on the other side of the city.
How to do it right
On the beach, obviously, you can wear whatever you feel like. As a woman, you can even go topless if you want to. However, as soon as you leave the beach, please show some respect to the locals and put something on.
Being drunk and noisy at 5 pm
Barcelona is famous for its nightlife worldwide and for many people, this is the main reason to choose Barcelona as a destination. Many groups come here for their bachelor parties etc. I mean, I can totally get why so many people are getting here for the parties. It's the perfect destination: Partying during nighttime and relaxing at the beach during daytime…
Anyway, on almost every flight I take between Barcelona and Germany, there is at least one group on the flight getting drunk already during the journey. After arriving, they are already super noisy bawling in the Metro, Bus, or train and disturb other tourists and locals. In the early evening, they already walk through the streets of Barrio Gotico with beer cans in their hands screaming or listening to loud music. Thanks to the echo of the narrow stone walls, you can hear them everywhere.
Instead
Drinking in public is forbidden in Barcelona and if you get caught you might have to pay a fee. If you come to Barcelona to party, do so, go to bars and clubs, get drunk, have fun. But please, don't walk through the streets totally wasted – Don't be this kind of noisy tourist that locals get so tired of neither at 05 pm nor at 05 am.
"Forget" your trash
As mentioned before, the beach of Barceloneta is full of trash. It's nearly impossible to walk around the beach and see no one that throws away his cigarette butt or his can after finishing their drink.
The waste that people produce during their beach days simply gets "forgotten". Many people come here every day just for cleaning. But it is not enough anymore to keep the beach clean.
But also in the rest of the city, you can find people dropping their waste and leftovers just wherever they are. Please, please, don't be this guy!
Standing on the wrong side of the escalator
During Rush-Hour, most of Barcelona's Metros are usually crowded with people. Changing between the lines can be quite stressful during those times of the day. While as a tourist, you are usually not in a hurry, there are many people that have to be at work on time and might run late.
In Barcelona (and many other big cities, such as e.g. London) there is this unwritten rule about which site you should be standing on when using the escalator. Standing on one side, walking on the other. Sounds like a great solution for everyone involved, don't you think?
Which site should I stand on?
Usually, the people stand on the right-hand side, so that people in a hurry can pass by on the left-hand side.
Looking for bullfights
Many people connect Spain automatically with bullfights. It' true that there is a long tradition in Spain of fighting with bulls. Anyway, here in Barcelona (and in the whole of Catalonia), you will look for bullfights without any success.
For several years now, this old Spanish tradition is forbidden in Catalonia.
To be honest, I am happy that those cruel traditions stopped in Catalonia and hope that the rest of Spain is going to follow this law in the near future.
Assume you are buying real brands at the beach
In the beach area, you can usually find a lot of people selling blankets, shoes, sunglasses and other things along those lines. If you take a look at the prices of those products, you might already guess that those might probably be fake.
Anyway, I can't really judge the quality of those products as I've never bought them. But I just assume that if you buy "Nike" sneakers for 10 €, you can't really expect high-quality, can you?
Not using sunscreen
Please, don't be this guy – burned from top to bottom looking like a shrimp. While walking around Barceloneta beach, you can find so many people that you just want to give an umbrella to and cover them in After-Sun Lotion.
Obviously, I am not your mom, and don't let me get started on what the sun is doing to your skin. Just keep in mind that Barcelona's sun intensity is not comparable with the sun, which you might find in Germany or England. Especially during the summer months, I never leave the house without applying sunscreen.
Look for the Gaudí Park
Park Güell is one o the most popular sights in Barcelona. However, its name is not particularly easy to pronounce, especially if you are not familiar with the Spanish language.
That's why, for instance, we Germans simply call it "Gaudí Park", after its architect. However, if you ask locals for the way to the "Gaudí Park", you might only get some weird looks instead of a helpful answer. And I don't like to admit that I am actually talking from my own experience. When I came to Barcelona for the first time some years back, I also had no clue how to pronounce the name of this park correctly.
So, how is he called correctly?
The famous park in Barcelona which was designed by Gaudí is called Park Güell. We Germans would probably pronounce that as Park Güll.
And how is it pronounced correctly?
In order for the locals to understand you, you should pronounce it like Park Goo-ey.
Further useful information about Barcelona
Accommodation in Barcelona
Here, you can find an overview of the most popular accommodations in Barcelona.
They are separated by estimated price so that there is something for every budget.
For the latest prices, deals, and availabilities, just click on the name of the accommodation that has caught your interest.
Please note that the prices can differ from their estimated budget due to seasonal differences etc.
Best Budget Accommodation in Barcelona
This hostel (formerly Safestay Barcelona) is especially popular with backpackers. It is popularly booked for its excellent beachfront location and friendly staff.
Mid-range Accommodation in Barcelona
The 2-star accommodation in the center of Barcelona (Born neighborhood) not only convinces with a fantastic location but is also particularly praised for its cozy beds and outstanding cleanliness.
Luxury Accommodation in Barcelona
This popular 3-star hotel is great for those who want something special for their trip to Barcelona. The pool on the roof terrace combines beautiful views with a little refreshment. But guests also enjoy the location and friendly staff.
Barcelona Points of Interest and attractions off the beaten path
Make sure to check out our Barcelona Guide to the best attractions in 3 days with useful information, maps, prices, and opening hours as well as our Unique things to do in Barcelona Guide with non-touristy activities.
Traveling as a couple?
Read about the most romantic things to do in Barcelona for couples here.
---
Interested in Barcelona?