Croatia is definitely one of the most beautiful countries that I have been able to visit so far (I know, I know, I say that about many countries) – but honestly, this beautiful country simply offers the perfect mix of beach and sun, historic old towns and unique Nature. Even though you can't spend enough time in the country, I recommend you to plan at least a 10 days Croatia itinerary.
For this reason, I asked 18 locals and travel blogger colleagues about the most beautiful places in Croatia. Therefore, in this article, I would like to introduce you to these fascinating places. In addition, you will also find a lot of helpful travel tips and Croatia road trip or round trip routes for 10 days in Croatia for every type of traveler.
Whether you are a first-time visitor, plan a nature vacation, cultural, or beach vacation – here you will find the perfect Croatia 10 days itinerary for yourself.
Croatia Facts
Independent of Yugoslavia since October 1991
About 56,000 km² area
Member of the EU since July 2013
The official language is Croatian, although some minority languages are also spoken
Currency: Kuna (HRK)
UTC + 1 Time Zone
Croatia Itinerary Planning
Before you get in the car or on the plane to Croatia, there are a few things you should consider before starting your Croatia travel. So in order for your trip to become a huge success, you will find some information below that can help you plan your trip.
Best travel time for Croatia
The best time to travel to Croatia is generally from May to October. Because this time is particularly suitable for beach vacationers and sun lovers. But if you prefer to explore the cities and national parks of the country without tourist crowds, the off-season might even be more suitable for you.
Transport in Croatia
Before your trip, you should, of course, consider how you want to move from A to B within Croatia. There are various possibilities.
Transport in Croatia by bus or train
A popular way to get from one city to another in Croatia is by public transport. The bus is usually the fastest and cheapest option. You can actually find buses from almost every tourist city.
Croatia tip: If possible, book your ticket a few days in advance so that you really get a seat – especially during the main season in summer.
Croatia budget tip: To save money on overnight stays, you can also book a night bus.
Benefits of traveling in Croatia by Bus
Not having to drive yourself -> more comfortable
often the cheapest option
Transport in Croatia with a rental car/own car
Another popular way to get from one place to another in Croatia is by car. During our last visit, we traveled from Germany in our own car (approx. 12 hours drive).
You can also travel by plane/train and just take a car from there. You can either look for good offers on-site or rent a car online beforehand. If you don't have a lot of time on-site, you should decide in advance for a car that only has to be picked up.
A popular platform for renting cars online is RentalCars.
Benefits of traveling in Croatia by car
More flexibility
More privacy
No fixed schedules/routes
Transport in Croatia by boat
If you want to visit one of the many islands on the Croatian coast, you have to travel by boat. The crossing to the islands can be done from some larger cities (e.g., Split or Dubrovnik).
Experienced sailors can also rent their own boats to discover the coast on their own.
Visa for Croatia
Since Croatia has been officially part of the EU since 2013, we EU citizens generally don't have to worry about entering the country.
Also, US citizens don't need a visa for 90 days if they visit only for tourism purposes. Anyway, make sure to check the exact entry requirements at official sources prior to your trip to Croatia.
Croatia 10 Days Itinerary Travel Cost
Currency in Croatia
Since 2023, Croatia is using the Euro. So if you want to visit other EU member countries along the way (or come visit from one), you won't have to exchange your money anymore.
Croatia Vacation cost
Unfortunately, holiday costs cannot be predicted easily for everyone. Of course, it all depends on your travel style, the places you visit, and the chosen accommodation standard and mode of transport. To get an idea of your travel expenses: The average traveler spends around € 75 a day during his trip to Croatia.
If you are traveling with a smaller (backpacking) budget, you should expect around 35 € a day. This is the case when you stay in hostels in Croatia, eat out only once or twice per day, and use public transport.
10 Days Croatia Itinerary
In the following, we put together the best Croatia itineraries for every type of traveler. If you haven't heard of those places before, don't worry. Because in the next paragraph, you will find all places described in more detail.
10 Days Itinerary in Croatia for Firstimers
Day 1: Zagreb
Day 2: Zagreb
Day 3: Plitvice Lakes
Day 4: Zadar
Day 5: Split
Day 6: Hvar
Day 7: Hvar
Day 8: Dubrovnik
Day 9: Dubrovnik
Day 10: Dubrovnik & Return Home
10 Day Istria Itinerary
Day 1: Porec
Day 2: Porec
Day 3: Day Trip to Baredine
Day 4: Day Trip to Motovun – Later Arrival in Rovinj
Day 5: Rovinj
Day 6: Day Trip to Brijuni – Later Arrival in Pula
Day 7: Pula
Day 8: Opatija
Day 9: Opatija
Day 10: Opatija & Return home
Beaches in Croatia Itinerary
Day 1: Zagreb
Day 2: Porec
Day 3: Porec/Opatija
Day 4: Opatija
Day 5: Pag
Day 6: Split
Day 7: Split
Day 8: Brac/Hvar/Korcula/Elaphiti (chose 1-2)
Day 9: Brac/Hvar/Korcula/Elaphiti (chose 1-2)
Day 10: Dubrovnik
Croatia Itinerary 10 Days for Culture and towns
Day 1: Zagreb
Day 2: Zagreb
Day 3: Pula
Day 4: Zadar
Day 5: Sibenik
Day 6: Trogir
Day 7: Split
Day 8: Stari Grat, Hvar
Day 9: Dubrovnik
Day 10: Dubrovnik
10 Days in Croatia for Nature Lovers
Day 1: Zagreb
Day 2: Porec
Day 3: Porec
Day 4: Baredine
Day 5: Brijuni
Day 6: Plitvice Lakes
Day 7: Krka
Day 8: Hvar
Day 9: Hvar
Day 10: Zagreb
Itinerary in Croatia for less touristy places
Day 1: Zagreb
Day 2: Motovun
Day 3: Rovinj
Day 4: Rijeka
Day 5: Pag
Day 6: Sibenik
Day 7: Trogir
Day 8: Brac
Day 9: Lumbarda, Korcula
Day 10: Lumbarda & Return
The most beautiful places to add to your Croatia travel itinerary
Baredine Cave
The Baredine Cave, also called Jama Baredine, is located in the Croatian part of Istria. It is considered one of the most popular day trips in Croatia, especially in Istria.
The stalactite cave is almost 10 km long and is not far from the city of Porec. The cave has been open to tourists since 1996. To explore the cave, you can join a tour that lasts about 40 minutes. On such a tour, you will learn more about the history as well as about the materials that are found here.
The stalactite cave has some incredible stone and rock formations that make you think you've landed in another world. During the tour, it goes down a few meters – in some places, even over 100 meters. Nevertheless, the ceiling does not drop below 1.80 meters in most areas, so that taller people can also take part in the tour.
The bottom line is the Baredine Cave is a great trip for families or anyone interested in nature or rocks.
Brijuni National Park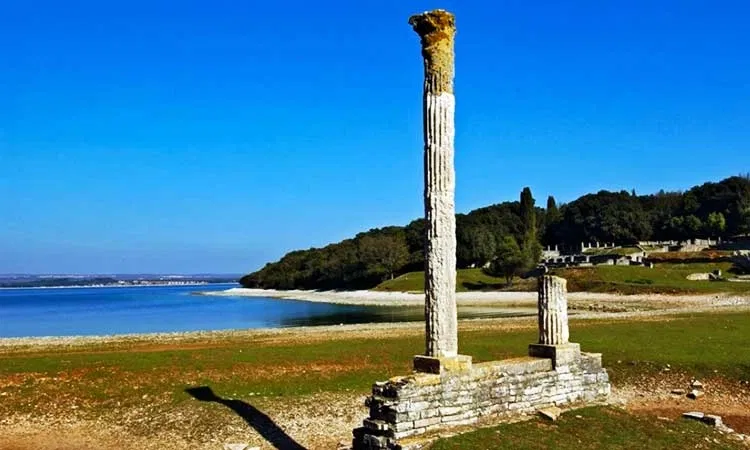 A group of 14 islands and islets on the northwestern coast of the Istrian peninsula form Brijuni National Park. It's known for its extraordinary biological diversity, as well as for its archaeological, geological, and paleontological sites. From dinosaurs' footprints to Roman ruins, Brijuni offers history and culture, together with nature.
There are guided excursions organized by the National Park, starting from Fažana, a port a few kilometers north of Pula. A boat takes you to the main island, Veliki Brijun, where you'll take a tourist train ride around the island with an expert guide. The visit includes the safari park, the Mediterranean garden, the oldest olive trees in the Mediterranean, and a museum.
If you prefer to start from Pula, you can book one of the many tours offered by the seaside.
The park also houses one of the residences of Josip Broz Tito, the president of Yugoslavia. Actually, the safari park features all the animals that Tito was given by other heads of state during his presidency.
If you want to stay active, there are 13 kilometers of bicycle trails, an underwater trail, and several foot trails, including and educational trail, and the path of good vibrations –described as an area for relaxation and positive thoughts.
The best Croatia travel tip I can give you about visiting Brijuni is to go offseason. During summer it gets really crowded, but if it's your only alternative, catch the first boat in the morning, or stay overnight in the park, so you can enjoy it without the day-trippers.
Recommended by Coni from Experiencing the Globe
Brač
Brač is the largest of the Dalmatian islands, just a short ferry hop from Split on the mainland, though it does have its own airport. It's a lovely island to spend a couple of days to a week.
For the active, the real draw here for me is Vidova Gora, the highest mountain at 780m on the Dalmatian coastline. You can drive up here, or trek from the town of Bol, and the peak offers superb views over the island.
Elsewhere of note is the famed Zlatni Rat beach near Bol. Much photographed and overused in Croatian tourism literature, be prepared that the place does get busy and, in my humble opinion, is better at the beginning and end of the season (as long as the water is still warm!)
Other draws are Bol on the South Side, a pleasant village, and the biggest populated center of Supetar on the North Side of the Island. Brač is an island best explored by car, taking in the Blaca Monastery with a hike in too and visiting the quaint little village of Skrip.
Otherwise, the island is all about beaches, swims, the food and drink including Posip and Plavac Mali wine, and maybe some windsurfing or water sports.
That's why you can take it fast and hop around in two days, or simply spend a week and relax.
Recommended by Dave from Dave Chant
Dubrovnik
Dubrovnik is probably the most popular destination in Croatia and it is famous for a reason. The walled old town with red rooftops is such an iconic view that it's impossible not to fall in love with it. With so many things to do in Dubrovnik, you definitely won't be bored there.
Most of the attractions are located in the fully pedestrian Old Town. You should walk down the main street, Stradun, and get lost in the maze of the narrow backstreets. Make sure to see the famous Jesuit Stairs that you most likely have seen in the famous "walk of shame" scene in "Game of Thrones". To escape the crowds hide in the yard of Franciscan or Dominican monastery.
However, the biggest attraction of Dubrovnik is the walk on the City Walls. It is a bit expensive but definitely worth the money. You should walk the full circle to admire the rows of red rooftops from each angle. There are two more viewpoints you shouldn't miss – Fort Lovrijenac (another GoT location) and Mount Srd. Dubrovnik can get really busy, especially in the summertime, but the crowds are gone in the late afternoon, and visiting the Old Town is much more pleasant then.
The city can be also used as a great base for day trips from Dubrovnik – you can visit some great nearby places in Croatia, as well as in Bosnia and Herzegovina and Montenegro.
Recommended by Kami from My Wanderlust
Elaphiti Island
The Elaphiti Islands are a real gem of Croatia. They consist of several little islands near Dubrovnik. The three biggest ones are inhabited. The island of Sipan, Lopud, and Korčula can be accessed by ferry from the port of Dubrovnik.
The journey time is about 30 minutes. However, there are also several yacht charters, who organize private tours around the islands. This way you can also explore some of the hidden bays around the islands.
Sunj Beach on Lopud is ideal for families because it is a sandy, shallow beach. These are very rare in the country. Lopud is a car-free island, so visitors can feel like they have just traveled back in time. Everything is very peaceful and quiet.
On the island of Sipan, there is a very cool underwater Green Cave. You can access it by kayak. Paddling around the islands is a great way to find nice cliff jumping rocks, hidden beaches, lagoons for snorkeling, and unique arch formations.
All of these islands have nice Airbnb and guest houses, but you can also just make a day trip from Dubrovnik. The local restaurants offer delicious seafood that they caught on the day. The locals are very friendly and helpful, so you will definitely feel welcomed on the Elaphiti Islands.
Recommended by Eniko from Travel Hacker Girl
Hvar
Easily accessible and utterly beautiful, the island of Hvar is one of the most popular islands in Croatia–which is definitely saying something, considering how many beautiful islands there are in the country!
Home to excellent swimming, adorable towns, impeccable views, and some of the best day trips in all of Croatia, Hvar is definitely well worth visiting, whether you have a day or a week to enjoy it.
Some of the best things to do in Hvar include climbing to the top of the Spanish Fortress that overlooks Hvar Town for some of the most beautiful views in Croatia, taking a day trip to Brac or the Pakleni Islands, visiting the blue and green caves, and renting a small boat to explore the water independently for a day.
While Hvar Town is the most popular town in Hvar–and it is both beautiful and interesting, with sights like a 13th-century Venetian loggia and a Franciscan monastery to explore–travelers looking to get off the beaten path in Hvar will also love the quieter coastal village of Jelsa.
There are also beautiful lavender fields in Hvar, and if you're visiting during their bloom, it's worth making an effort to track them down for a visit!
Recommended by Kate from Our Escape Clause
Stari Grad, Hvar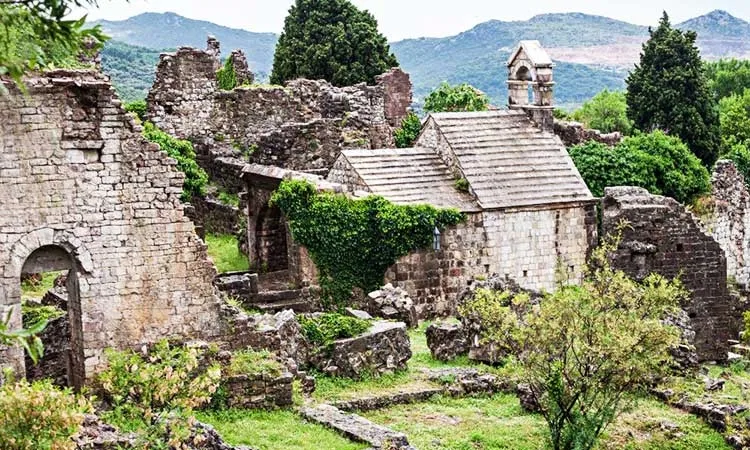 One of the most beautiful places you must visit on a trip to Croatia is undoubtedly the island of Hvar. On the island is one of the very oldest towns in Europe, Stari Grad. Its name means 'old town,' but it was originally called Pharos and was settled in 384 B.C.
The palm-tree-lined Riva is a beautiful place to stroll and for wine or gelato bars. The architecture of the Venetian Renaissance is apparent in the buildings fronting the Riva. Behind the Riva, Hvar's small squares and churches are connected by narrow streets and lanes with marble pathways. Its old stone houses, for centuries, the homes of craftsmen and the maritime trade, are being renovated and re-used for tourism. You can visit landscaped palaces such as Tvrdalj palace, and everywhere is evidence of the antiquity of these ancient towns.
Stari Grad is situated at the end of a safe harbor in the center of the island. It is surrounded by pine forests and olive trees and vineyards. Amongst the hills and on the plains, you will find picturesque ruins, and it makes for a wonderful cycling adventure. The fertility of this protected environment created a system of field divisions. They are so old that the Stari Grad plains have been protected as a UNESCO World Heritage Site since 2008.
Recommended by Monique from TripAnthropologist
Korčula
Korčula is an island about 100 km out of Split. It is located close to the very popular tourist islands, Hvar and Vis. Korčula is a lot less visited but just as charming and beautiful. There are a lot of reasons to visit Korčula, but the beaches and nature is probably the main one.
You can spend days just exploring different beaches – Both on the island itself and on smaller surrounding islands. They are so close that you can even explore them by kayak if you want to. The ocean is so clear and blue that you will be mesmerized.
If you are looking for more engaging activities, there are plenty of those too on Korčula. You can try out a lot of watersports like windsurfing, sailing, and stand up paddleboards. You can even drive through the amazing nature on a buggy car.
Korčula is also famous in Croatia for its great wines. There are multiple wineries on the island, and you can spend a day or two just exploring them and tasting great wines. There will not be a boring moment on Korčula. This island has something for everyone, no matter if you are looking for a relaxing vacation or an adventurous one.
Recommended by Maria from Both Paths
Lumbarda, Korčula
Lumbarda is a small, friendly coastal village five miles south of Korčula Town on Korčula Island. It boasts a scenic location, set among rolling hills on a beautiful stretch of coastline with a great view of the Peljesac Peninsula across the sparkling Adriatic.
Lumbarda is famous for its sandy beaches and for the local Grk white wine made from the grape of the same name. There are several vineyards in the area that welcome visitors for free tours and tastings of Grk, which only grows in the sandy vineyards of this region. Lumbarda has three sandy beaches, the largest of which is Vela Przina – a long stretch of narrow soft sand around a sheltered bay. The location, plus the long, gentle slope into the sea make this a popular beach for families.
Lumbarda has several restaurants and cafes, but the lack of large developments and resorts enables the village to retain a local, relaxed vibe. Every Friday night in the summer season, local families gather for the Fisherman's Market. This convivial and charming market is more a village gathering where local families sell delicious homemade food and produce from pop up stalls. You can buy dinner at one stall, dessert from another family washed down with wine from a local producer.
If you are looking for a quiet, rural location in Croatia, Lumbarda is a perfect choice.
Recommended by Sinead from Map Made Memories
Krka National Park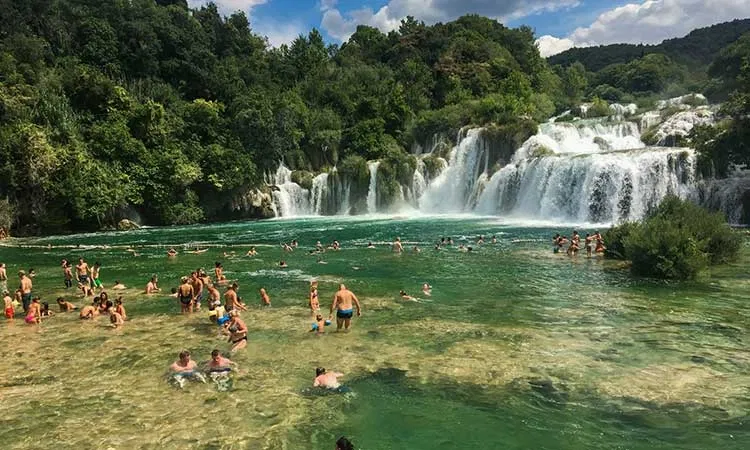 Krka National Park is one of the most famous and beautiful attractions in Croatia. The park is lush and magical and offers a welcome escape from the surrounding cities. Krka is often left as a second option after the other major national park in Croatia: Plitvice Lakes. However, leaving Krka out of your itinerary is nothing short of a mistake. This national park is located only an hour from Split and is the perfect place to run for a day trip and enjoy an untouched side of Croatia.
Upon arrival at Krka, you will feel the immediate change from the stone cities of Croatia to the lush, stunning natural attractions of the country. The main draw to Krka is the stunning waterfalls that form huge emerald green pools. Not only can you admire the unique waterfalls and naturally colorful waters, but you can also swim in the pools with this as your backdrop. This experience in Krka is unlike anything else you can experience.
In addition to spending time swimming in the amazing setting, you can also hike through the park on the paths all around it. This offers an amazing nature hike and a great way to see Croatia's finest natural beauty.
Recommended by Samantha from Sam Sees World
Motovun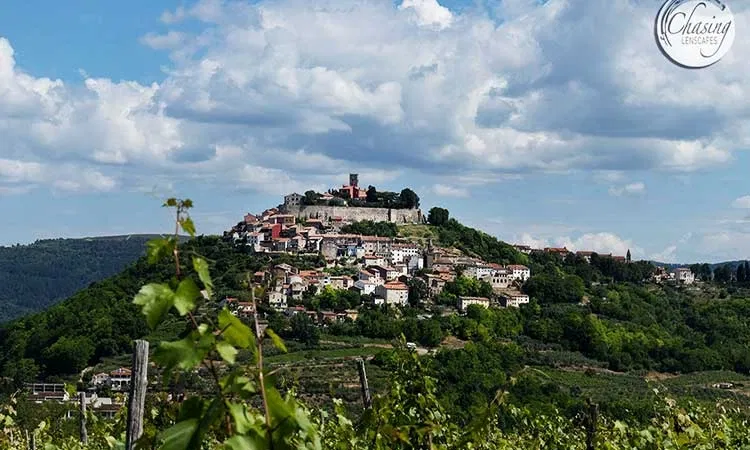 Croatia has so many beautiful places to visit, from ancient historical towns to stunning beaches and gorgeous national parks, but it also has some hidden gems, not many people have heard about.
The Istrian peninsula is an area that gets only a fraction of the tourists that visit the Dalmatian Coast, but it has so much charm and so many stunning locations. One of the most beautiful towns in Istria must be Motovun, whose location also makes it one of the best viewpoints in the area.
Motovun is the perfect place to visit if you love charming medieval towns, breathtaking views, truffles, and wineries, which means everyone is going to enjoy visiting Motovun. Motovun is situated on a hill and surrounded by vineyards and olive groves.
One of the best things to do in Motovun is looking for the best viewpoints, and there are plenty of stunning vistas all around. Motovun also has charming cobbled streets that are filled with lots of cute shops where you can buy some souvenirs and everything truffle-related.
After visiting the historical monuments and admiring the Gothic, Romanesque and Renaissance architecture, have lunch at one of the most famous restaurants in the area, Konoba Mondo. If their truffle pasta was good enough for Anthony Bourdain, it is certainly good enough for you.
After lunch, you can go wine or olive oil tasting in one of the many wineries and olive groves that surround Motovun, and in the season, you can even go truffle hunting! So when you put together your Croatian bucket list, you'd better add Motovun to the top of the list!
Recommended by Maya & Sari from Chasing Lenscapes
Opatija
Opatija, also known as the Queen of the Adriatic, deserves this title more than underlined as it makes you feel so enchanted with the historic villas and crystal clear sea. Not only that, but you also have a chance to make a beautiful promenade all the way to another town Lovran with the elegance of the sea. Even the mountaineering at nearby Učka will burst with the splendid views and ancient towers. Opatija is situated in close proximity to one of the largest cities in Croatia, Rijeka, so it's very easy to reach.
Not only is Opatija a popular summer destination, but it's also a wellness treasure that makes it perfect for a winter visit. In spring and fall, it offers many sport manifestations, including the wellness activities and festivities of the wild plants. Vienna week in autumn absorbs the total feeling of being in Wien, which culminates with the big ball.
The name itself comes from the Croatian word for abbey. Opatija is the cradle of Croatian tourism with the foundation of Villa Angiolina in 1844., today the museum of tourism. Excellent ancient hotels spread along the popular promenade Lungo mare.
Opatija is filled with elegant parks and gardens, the remains of the Austro-Hungarian Empire. Maiden with the seagull, a statue in the sea is what makes Opatija special. The Open Air Summer Theatre hosts numerous concerts and happenings. The first Croatian Walk of fame is also built in Opatija. Opatija is a charming town that blends history with the present.
Recommended by Gabrijela from Under Flowery Sky
Pag
The coast of Croatia is scattered with hundreds of tiny islands, each with their own identity. Pag on the Dalmatian Coast might seem a little quiet, but in fact, this 60 km long island, reached from the mainland by a modern concrete bridge, offers a wealth of different options.
To the north of the island, Zrce Beach and the town of Novalia is a party center. The other side of the island is packed with heritage thanks to the salt flats which surround Pag. From about 6000 BC, salt has been a valuable commodity, thanks to its ability to preserve food.  The Romans paid their soldiers in salt (a 'salary'), and their influence is still evident on Pag today, although the island later passed into the hands of the Croatians.
Like many of the Dalmatian islands, it was heavily fought over – and passed into the hands of the Venetians for several hundreds of years, resulting in some fine Italianate architecture in an otherwise simple island. Salt is still produced on Pag and there's a salt museum where you can learn more about 'white gold'. Pag is famous too for lace, which has been made there since the 15th century.
The particular, freeform style of lace that is still passed down from generation to generation on the island has a UNESCO listing.  And, finally, the island produces a unique sheep's cheese, Paski Sir, which is made from a heritage breed of small sheep, Paska Ovca, who feed on the salt marshes and produce an intensely salty, but low yield of milk. The PDO cheese can only be made on Pag and is definitely worth seeking out.
Recommended by Fiona from London-Unattached
Plitvice Lakes
No visit to Croatia is complete without visiting the incredible UNESCO world heritage site Plitvice Lakes. An extraordinary spectacle of nature, Plitvice Lakes is famous for its 16 cascading lakes, 90 waterfalls, and the awe-inspiring kaleidoscope of colors from the water.
Depending on the time of the day you're visiting and the sun's placement, the water can appear to be a vivid azure to turquoise green or a deep grey. If you're a lover of extraordinary nature and one of a kind scenery, visiting Plitvice is a must for anyone when making your Croatia itinerary.
You can easily visit Plitvice by going on a tour from Split or Zagreb. Still, if you want to experience the park with fewer people, it's better to rent a car and arrive in Plitvice Lakes the night before so you can get to the park early in the morning the next day.
The national park gets over 1 million visitors a year, so it's safe to say it's a popular spot for many when visiting Croatia, so it's essential to get there before the tour busses arrive if you want to avoid the throngs of people. Due to the nature of the small walking trails, the crowds can become unbearable, so getting there right when it opens is the best way to experience the park.
Recommended by Christina from Live A Wilder Life
Poreč
Poreč is the first city in Croatia that I was setting foot on. Even if you haven't planned a tour or road trip through the country, Poreč is the perfect travel destination. Because we stayed here for two weeks without getting bored.
The small town in the north of the country is a great starting point for a beach vacation or trips and day trips to nature or surrounding cities.
But Poreč is not just an excellent beach vacation destination. Also, the old town is definitely worth a visit. A special highlight of the city center is the Euphrasian Basilica. After all, this impressive cathedral has been part of the UNESCO World Heritage since 1997. It is also considered one of the most important buildings in the whole country.
In any case, take a few hours during your stay to stroll through the beautiful small Mediterranean streets of Poreč. Or enjoy a delicious ice cream on the Slobode Square. Afterward, I can also recommend a walk along the picturesque harbor.
Pula
Pula was definitely the highlight of my trip through Istria. It's not for nothing that the city is considered the cultural center of the region. Moreover, it is the oldest town in Istria. If you stroll through the old streets of Pula, you can discover a lot of influences from the times of the Roman Empire.
Accordingly, the most famous attraction in Pula is the city's amphitheater. The Pula arena was built at the same time as the famous Colosseum in Rome. Today it is considered to be one of the largest of its kind. While gladiatorial battles still took place here during Roman times, there are a lot of events here today. For example, concerts are held here in the summer.
In addition, there are other impressive sights in Pula that date as well from the Roman era. One of them is the triumphal arch, which can be found in the middle of the old town. But also don't miss the Augustus Temple and the Pula's Forum when you visit.
If you later had enough of all the sightseeing and are just looking for some relaxation, Pula has something to offer you here too. Because in addition to breathtaking ancient architecture, Pula also has really great beaches.
Rijeka
Have you ever heard of Rijeka? Then it's about time! This special city in Istria was even declared the Capital of Culture of the Year in 2020 because Rijeka offers its visitors not only lots of great sights but also some great beaches.
With its location, Rijeka was not only an important trading city in the past. It is perfect for all visitors who are looking for a walk in quiet surroundings. The waterfront also invites you to linger. With countless small cafes and restaurants, you can enjoy a coffee here with a great view.
But don't miss the pedestrian area of ​​the city called Korzo. In addition to many shopping opportunities, there are some artists who show their skills, especially during the warm months.
A visit to Trsat Castle is also a must. From the top of the castle built in the 13th century, you have a great view of the Rijeka Bay. During the summer, there are also numerous interesting music and theater performances.
Rovinj
The port city of Rovinj is one of the prettiest places in Istria and welcome addition to any Croatia itinerary.
Like many other towns in this section of the Adriatic coast, Rovinj was historically part of the Republic of Venice. The influence of 500 years of Venetian rule can still be felt today – Rovinj has two official languages, Croatian and Italian, and two official names, Rovinj and Rovigno.
One of the most important changes the Venetians made to Rovinj was to join the then-island settlement to the mainland. Today, the city is clearly divided between the old town (the island part) and the new city. As you pass through Balbi's Arch, a gate built in 1680 to permit entry through Rovinj's defensive walls, you enter into the old town proper, all winding cobbled alleys, colorful houses and courtyards. Rovinj's centerpiece is its lovely harbor, where you can see traditional wooden batana fishing boats, a symbol of the city, and recognized by UNESCO for their cultural value.
Rovinj is a summer town that comes alive between May and September and is very quiet in the off-season. If you don't mind skipping the water activities, winter is a lovely time to visit. You'll probably have the pedestrianized streets of the old town all to yourself.
Other things to do in Rovinj include visiting St. Euphemia's Basilica, a massive church with a beautiful Baroque interior. Just south of the city, Zlatni Rt Park is a cedar and Cyprus forest with trails, picnic areas, and a white-sand swimming beach at Lone Bay.
Recommended by Emily from Wander-Lush
Šibenik
Šibenik belongs to one of the most unique cities in Croatia – after all, it was the very first town in the country that was established by Croats, not by Greeks or Romans as was common at the time.
Šibenik offers a charming Old Town of immense historical value. The highlight of all the sights is the St. James Cathedral from the 15th century. The unique Renaissance style, uncommon in the area back then, together with some unique engineering features such as usage of interlocking stone slabs (no cement), contributed to a listing in the UNESCO World Heritage List.
The whole town is full of wonderful narrow alleys, lined by picturesque houses and small churches. A series of three fortresses overlooks the town. St. Michael Fortress, located on the lowest level, still a good few flights of stairs above the city, offers striking views over the Old Town of Šibenik and the bay below.
After you're done exploring the city, you should head out to Sibenik's surroundings, because there's so much more to see and do. Great places to visit include the town of Vodice with its nearby ancient settlement Arauzona, wonderful Prvić Island with a town called Prvić Luka and a unique museum dedicated to Croatia's most notable inventor Faust Vrančić, as well as lovely seaside towns of Tribunj and Betina. You can also pay a visit to the unique Kornati Islands.
Recommended by Veronika from Travel Geekery
Split
Though it is one of the most popular destinations amongst tourists in Croatia, that is not without reason, and no trip to this beautiful Adriatic country would be complete without a visit to Split! As Croatia's second-largest city, Split has a tonne to offer visitors, and it is one of the most beautiful and historical places to visit in the country.
Boasting a beautiful old town, wonderful beaches, and great restaurants, it is also a delightfully compact city meaning that you can easily see Split in two days or so. Some of the best things to do in Split include exploring Diocletian's Palace and taking in all of the incredible sites. Make sure to climb to the top of the bell tower of the Cathedral of St Dominus and to see the two Egyptian Sphinxes that reside in the city. You can also take beautiful views from the top of Marjan Hill, a vast green space just outside of Split's Old Town.
Split also makes for an excellent base for exploring more of Croatia's Dalmatian coast, as it is the hub for numerous ferries to some of Croatia's most beautiful islands and is located within easy reach of some of the best natural sites and towns in Dalmatia.
All in all, if you're planning a trip to Croatia and want to experience some incredible Adriatic charms, you can't go wrong with spending some time in Split.
Recommended by Maggie from The World Was Here First
Trogir
If you like medieval towns filled with cobblestone streets and beautiful architecture, you'll definitely want to visit Trogir. This UNESCO World Heritage Site is considered to be one of the best-preserved of all medieval European towns. Trogir was ruled by Venice for centuries, and the delicate columns and Gothic arches that adorn its buildings are sure to remind you of La Serenissima.
It's located on a small island and encased in fortified walls, which has certainly helped to preserve its medieval appearance, as modern development is restricted to the mainland. You can climb up on top of the walls at the Kamerlengo Fortress and admire the spectacular views of the town and the surrounding sea.
The Cathedral of St. Lovro is hands down the most impressive of Trogir's buildings. As you enter, admire the portal that was sculpted by Master Radovan in 1240 AD. Among the sculpted figures, you'll see a lion, the symbol of Venice, and the nude figures of Adam and Eve. This was the first nude sculpture displayed in Dalmatia, and, despite the strategically placed fig leaves, it still caused a scandal at the time.
Even though Trogir is certainly doable as a day trip from Split, you'll probably be tempted to stick around for a bit longer. If you do stay overnight, Konoba TRS is a good place to have dinner. The garden outside is lovely, and the staff is happy to accommodate vegetarians and vegans visiting Croatia.
Recommended by Wendy from The Nomadic Vegan
Zadar
A beautiful gem of a city on the northern coast of Croatia, Zadar is a charming little town that many tourists wouldn't think to visit.  Not as well known as cities Dubrovnik and Split, Zadar is just as splendid of a coastal city with wonderful things to see and equally deep history.
The streets of Zadar are narrow, and the opportunities to visit islands off the coast are plentiful, while prices are overall lower.  Zadar has its own airport, where many budget airlines fly into easily.  There are several main things to see in Zadar.  One of the most well-known and beautiful places to visit is the sea organ.  Carved into the rock on the side of the sea, the organ plays when water flows from the sea into one of its many portals.  The water sloshing around creates an echo that sounds like an organ.  There are places to sit on top of the sea organ and enjoy the beautiful music that is naturally created.
Further up along the coast is the Monument to the Sun disc built into the walkway.  They soak up the sun during the day, and a fantastic interactive light display occurs in the evening.
Zadar also has ancient Roman architecture throughout the city, which tells a deep history of what occurred.  Boats are also available to take to surrounding islands and enjoy a day on the beaches off the coast.
Recommended by Diana from Travels in Poland
Zagreb
What's a Croatia Itinerary without the capital city Zagreb?
Zagreb is often overlooked by tourists, but this relatively small capital city actually has quite a lot to offer for tourists!
Zagreb's Upper Town is the oldest and most romantic part of town. It consists of small streets on a hill and cozy cafes and restaurants. Yet, it never seems too crowded.
Head to the Zagreb Cathedral, Croatia's largest Sacral building, and the St. Marcus Church to see some stunning architecture. The latter is the most famous beautiful and distinct pattern on the roof. Learn more about the history of Zagreb in the City Museum, or visit the Museum of Broken Relationships for interesting exhibitions.
Next, head to the Dolac market to experience local Zagreb life. It's a daily fruit, veggies, and meat market, but you will also find small bakeries, cafes, and restaurants as well as souvenirs.
Downtown Zagreb may not be as romantic as Upper Town, it should not be missed by tourists, nonetheless.
Walk around Zagreb's main square Jelacic Square, and admire all sorts of architectural-style buildings around the square. If you want a great view over the city, go to the Zagreb 360 observation deck, the only high building at Jelacic square.
Besides visiting all these highlights of Croatia, don't forget to sit down at one of the cafes and enjoy a great Croatian coffee. And lastly, if you enjoy beer, you also have to try Croatian craft beer at one of the craft beer bars on Opatovina Street!
Recommended by Lara from Both Feet on the Road
---
Did we include the perfect Croatia travel itinerary for you? Which is your favorite? Or have you ever been to Croatia yourself and have a great tip for us? Let us know in the comments below!
Interested in Europe?