Hamburg, the pearl of Germany, is clearly my favorite city in the country (together with my beautiful hometown Goslar, of course). Starting with the addictive sweet Franzbrötchen over the swans on the Alster Lake to the Port of Hamburg – Hamburg simply has its very own atmosphere that enchants so many visitors every year.
In this article, you will learn how you can experience 3 days in Hamburg without missing out on anything. We'll take you to the most beautiful Hamburg weekend trip sights and give you lots of helpful tips on the best places, transport options, savings tips, and more.
What makes Hamburg so special?
Hamburg is simply something extraordinary and cannot be compared with any other city. Known as the city of bridges, Hamburg is primarily known for its extensive nightlife, and fresh fish, as being a student city, having a unique German dialect, great musicals, historical buildings, a spectacular harbor, modernity, and of course, Franzbrötchen. Granted, the weather could definitely be better, but this also adds to the city's charm on the Alster.
Hamburg Facts
With around 2,500 bridges, Hamburg holds the world record as the city with the most bridges in Europe.
The full name is Free and the Hanseatic City of Hamburg.
The second-largest city in Germany
Many locals speak and understand the Hamburger Platt (Low German) to this day.
The port of Hamburg is one of the largest transshipment ports in the world.
The North Sea island group Neuwerk is also considered a district of Hamburg.
The best travel time for Hamburg
Hamburg is worth a visit at any time of the year. As in the rest of the country, the warmest months are June – August. Christmas time is also prevalent for visiting the city, while November – March is known for rain and fog. However, it can also be advantageous to come outside of the main travel times to share the attractions in Hamburg with as few other travelers as possible.
How to get to Hamburg
Getting to Hamburg by train
Within Germany, traveling by train may be the most environmentally friendly and comfortable mode of transport. With its huge main station, the Hanseatic city expects hundreds of arrivals from cities across Germany every day.
As always, it is worth reserving your ticket in advance with Deutsche Bahn to benefit from discounts and early bird offers.
Getting to Hamburg by bus
Bus travel is becoming more and more popular, so there are more and more providers and routes available. Often you can save a lot when traveling by bus compared to other modes of transport, so taking the long-distance bus is particularly worthwhile.
There are bus connections from almost all important surrounding cities and starting points throughout Germany. You can find cheap offers on long-distance bus comparison sites such as Busbud.com. Arguably the most famous provider in Germany is Flixbus.
Getting to Hamburg by airplane
Hamburg can also be easily reached by plane from cities in Germany and abroad. The airport is connected to the main train station in the city center by train to get to the city center quickly and easily from Hamburg Airport.
The earlier you book, the better your chances of finding a great bargain. Personally, I use Skyscanner to find the best deals.
Getting to Hamburg by car
The motorway connection to Hamburg is also practical. This also allows you to travel by car. You can use your private car or rent a car.
Hamburg Transport – How to get around
City Train and Subway (S-Bahn and U-Bahn)
Probably the most popular means of transportation in Hamburg are the S-Bahn and U-Bahn. Most of the city is well connected by rails to get from A to B quickly and easily.
If you have many things to see in Hamburg on your plate, you should perhaps think about using a day ticket (Hamburg Budget tip: only buy your day ticket after 9 am, then it will be cheaper!) while the Hamburg Card includes free transport.
Bus
In addition to the S-Bahn and U-Bahn, you can also take the bus within Hamburg. Various routes take you to different points in the city.
Port ferry
You can use public transport not only on land but also on the water. The harbor ferry gives you a view of Hamburg from a whole new angle. The trip with the port ferries is included in the day ticket price. Especially the trip with number 62 is one of the most popular routes for Hamburg visitors.
Boat
If the trip with the harbor ferry is too fast or too impersonal for your taste, you also have the possibility to rent a small boat and explore the Alster by yourself. Other possibilities are round trips and tours in which you can participate.
Tourist bus
Another option to get around Hamburg is to take the tourist bus Hop-On-Hop-Off through the city to see the most important Hamburg sights. You can find the tickets on-site, at the tourist information, or online on GetYourGuide.
By foot
The arguably easiest way to get around Hamburg is on foot. This way you can discover much more about the city. If you follow the Hamburg itinerary given in this article, you will find that many of the sights are indeed within walking distance of each other.
City Tour
Another option is to join a guided tour of the city. Depending on the tour, you can discover exactly those corners of Hamburg that interest you, get a great overall view, and get a lot of background information. You can register for a guided tour either on-site or online via GetYourGuide.
A comprehensive 3 days in Hamburg Itinerary
Hamburg Weekend Trip – Day 1
Speicherstadt
Stop: Baumwall, Meßberg, Überseequartier
Let's start our first day right in one of the city's most famous neighborhoods and an attraction that should not be missing from any Hamburg itinerary.
The Speicherstadt is a warehouse complex at the port of Hamburg. It may not sound like anything special at first, but it is surprisingly worth seeing. So worth seeing that this area, together with the Kontorhausviertel, has now officially been included in the UNESCO World Heritage List since 2015. The neo-Gothic brick buildings offer quite a contrast to the modern adjacent HafenCity.
HafenCity
Stop: Elbbrücken, Überseequartier, HafenCity Universität
As already mentioned, HafenCity is the newest and most modern part of the city. This project, which is currently considered the largest development project in Europe and is still not completed, expands the city center of Hamburg as a modern and chic district. Already today a visit is worthwhile because you can do so many things.
Especially in summer, when you can enjoy the water view with a typical Hamburg fish sandwich on the deck chairs or attend one of the numerous free events on the stages of this district.
Check all of the construction plans of HafenCity on the official Hamburg Website here.
Elbphilharmonie
Stop: Elbbrücken, Überseequartier, HafenCity Universität, Am Kaiserkai
Elbphilharmonie is a concert hall inaugurated in January 2017 and probably the most famous attraction of HafenCity. Although Elbphilharmonie is one of Hamburg's newest attractions, it is already considered one of the city's landmarks.
In addition to its unique facade, designed by architects Jaques Herzog and Pierre de Meuron, the 110-meter-high building contains the concert hall, a residential and parking garage, and gastronomy as the luxury Hotel The Westin.
Another great attraction of the building is the observation deck, from which you can enjoy a breathtaking view over the Elbe River and the harbor.
Miniatur Wunderland (Miniature Wonderland)
Opening Hours Miniatur Wunderland: generally, 09 – 06 pm; find the exact opening hours on their official website
Entrance Fee Miniatur Wunderland: 20 €
Stop: Baumwall, Messberg, Überseequartier, Auf dem Sande
If Hamburg seems too big for you at first glance, why not start small? At Miniatur Wunderland, you can experience Hamburg from a whole new perspective and many other destinations around the world. Wunderland is a great way to get an overview of Hamburg already as it gives you a little taste of what you can discover here in the coming days.
Especially for families traveling with children, a visit to Miniatur Wunderland is a fantastic change from regular sightseeing.
Michel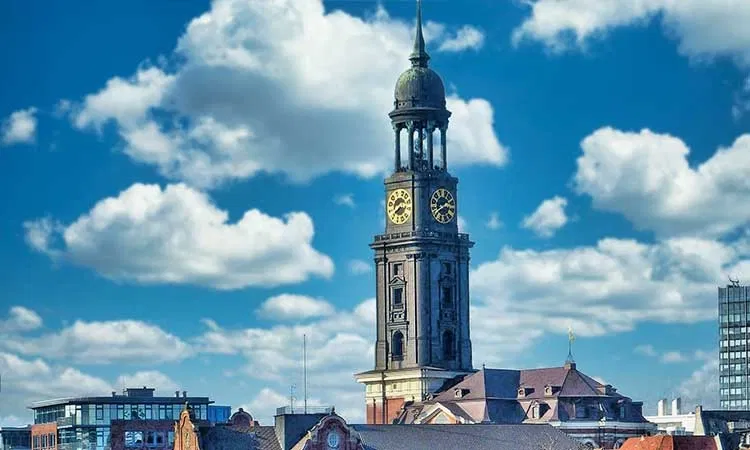 Opening hours Michel: 10 am – 6 pm
Entrance fee Michel (Tower): 6 €
Stop: Stadthausbrücke, Rödingsmarkt, Baumwall, St. Pauli
Now let's move on to our next city landmark. Because what would Hamburg's city center be without its Michel? We are talking, of course, about the main church of St. Michaelis.
Even from a distance, you can see the 132-meter-high tower of the Michel through the city's roofs. On the next two days of our individual Hamburg discovery tour, you will also be able to discover its spire repeatedly from different angles of the city.
During the day, you can walk up the 452 steps to the top of the tower to enjoy the fascinating view over Hamburg and the Elbe River (don't worry, there's also an elevator!). For many visitors, a stop by the observation deck in Michels Turm is one of the highlights of any visit to Hamburg.
See a Musical
Hamburg is also known as Germany's city of theater and musicals. So if you are a fan of musical entertainment or theater, you should not miss such an event. A classic is, of course, the Lion King Musical (absolutely recommendable!). But also newer musicals like Pretty Woman or Mamma Mia are really worth seeing.
If you are more of a fan of theater, you can check Deutsches Schauspielhaus's schedule before you arrive to see if there is a performance that might interest you.
Things to do in Hamburg in 3 days – Day 2
Rathaus (City Hall)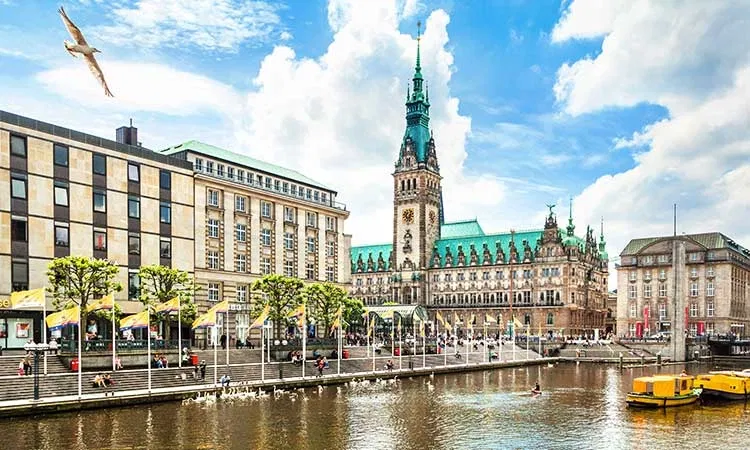 Opening Hours Rathaus: Mon – Fri: 7 am – 7 pm; Sat: 10 am – 6 pm; Sun: 10 am – 5 pm
Entrance Fee Rathaus: free of charge
Guided Tour: To register in advance by phone at +4940/428312064
Stop: Rathausmarkt, Jungfernstieg
Built in a neoclassical style, the Hamburg City Hall is reminiscent of a castle located in the city center. The magnificent building, which is now used as the seat of the Senate and the Parliament, was built in the late 19th century.
With its 112 meters high tower, the town hall stands out from the cityscape, much like Hamburg's main churches, and is therefore hard to miss.
But the interior of the town hall is also awe-inspiring. Many of the interior rooms are freely accessible. Already the entrance area, where exhibitions are held regularly, and the inner courtyard are worth visiting.
Jungfernstieg
The Jungfernstieg is one of the most famous promenades in Germany. Hardly surprising because here there are not only plenty of restaurants, cafes and shopping opportunities but also an excellent view of the Alster.
Be enchanted by the water play of the Alster fountains in the warm months while you let the sun warm you or enjoy the panoramic view from the top of the Alsterhaus.
Since October 2020, the Jungfernstieg has even been declared a car-free zone, which further enhances the feeling of relaxation as a pedestrian.
Lombardsbrücke (Lombard Bridge)
Stop: Stephansplatz, Jungfernstieg, Rathaus, Kunsthalle
This picturesque bridge is considered one of the most beautiful photo motifs in Hamburg (and that's saying something, considering how many terrific photos spots the city of bridges offers). The Lombard Bridge separates the Außenalster from the Binnenalster and offers a great view during a relaxing walk.
But you can, of course, also make the bridge itself a photo motif. From the neighboring Kennedy's Bridge, you have a fantastic view of the Lombard Bridge.
Außenalster and Binnenalster
Stop: Stephansplatz, Jungfernstieg, Rathaus, Kunsthalle
If you are still looking for a romantic activity during your 3 days in Hamburg, you have found just the right thing: A long walk along the idyllic Alster. But also tours on the water are popular with residents and visitors alike. There is simply something for everyone here.
And while you're strolling along the picturesque Alster or sailing laps through the peaceful waters on a small sailing boat, you could easily forget that you're in one of Europe's largest metropolises.
Option: Planten un Blomen
Opening hours Planten un Blomen: 7 am- 8 pm (depending on the season. You can find the current opening hours on the official Website here.
Entrance fee Planten un Blomen: free of charge
Stop: Stephansplatz, Bahnhof Dammtor, Hamburg Messe
If you haven't had enough harmonious landscapes yet, you can also pay a visit to Hamburg's Planten un Blomen Park. Planten und Blomen is Low German for "plants and flowers." In one of Germany's most beautiful parks, there is a lot to discover on more than 45 hectares.
Walk through the colorful park and discover numerous small lakes and ponds, a rose garden, or enjoy tea in the authentic Japanese garden. During the summer months, don't miss the water show in the evening, attracting dozens of visitors from young to old every day.
If you're visiting Hamburg during the winter, a visit to the Botanical Garden's Tropical House or a ride on Europe's largest open-air ice skating rink is a must.
Option: Deutsches Schauspielhaus Hamburg
Opening Hours: Registration required (All information on their official Website here)
Entrance Fee: Guided tour 6 €
Duration of the tour: 1 ½ hour
Stop: Hauptbahnhof
Founded in 1900, the Deutsches Schauspielhaus Hamburg is considered one of the largest and most important theaters in Europe. If you are interested in culture, theater, and drama, you should not miss a guided tour here (be sure to book in advance!). During such a tour, you can discover all about the theater world from a different angle and learn more about the work on stage.
Of course, you can also get tickets and watch a play during your stay in Hamburg.
Main Church St. Jacobi
Opening Hours: 11 am- 5 pm
Entrance Fee: kostenfrei
Stop: Mönckebergstraße, Meßberg, Jakobikirchhof
St. Jacob's Church is another unique place of worship in Hamburg that is well worth a visit. Especially if you pass by here on a Sunday during the warm months, you should definitely make a stop for coffee and cake because they are served here on Sundays in the church's tower café.
But on other days, too, it's worth taking a look at the Pilgrims' Church. Because the unique baroque organ, which is located here, is the great pride of the church.
Main church St. Petri
Opening hours St. Petrikirche: Mon – Tues + Thurs – Fri: 10 am – 6:30 pm; Wed: 10 am – 7 pm; Sat: 10 am – 5 pm; Sun: 10 am – 8 pm
Opening hours Petri Tower: Mon-Sat: 11 am – 4.30 pm; Sun: 11.30 am – 4 pm
Entrance Fee Petriturm: 3 €
Stop: Rathaus, Jungfernstieg, Rathausmarkt (Petrikirche)
Not far from St. Jacob's Church is the city's next impressive place of worship: the main church of St. Peter. This is considered the oldest parish church in Hamburg and once used to be the tallest building in the city.
But even today, the 123-meter-high tower offers a great view over the city. With its unique height, the viewing platform is considered the highest in all of Hamburg.
But the interior of the church at ground level is also worth a visit. Especially popular are the marble sculptures of important evangelists and other wonderful works of art.
Kontorhaus Quarter and Chilehaus
Stop: Meßberg, Mönckebergstraße, Jakobikirchhof
After visiting Speicherstadt yesterday, we naturally want to check out the rest of Hamburg's UNESCO World Heritage-listed area. Walking through this neighborhood, you'll travel back to the early 20th century and discover brick expressionist architecture.
The Kontorhäuser (office buildings) offer a very different flair than other areas of the city, which is why they are so popular with residents and tourists alike.
If you are looking for some special souvenirs from your Hamburg trip, the Kontorhaus Quarter is perfect. Because here, you can find stores and boutiques away from the typical chains. Whether cigars from Havana, clothing stores, soap manufacture, porcelain, perfumery, tea, or the Kölln Haferland. There is simply something for everyone here.
If you would like to learn more about this area of the city, you can also join a guided tour through Kontorviertel and Speicherstadt. You can find offers for this on-site or online on GetYourGuide here.
Chilehaus
Chilehaus is the most famous building in the Kontorhaus district. Typically Hamburg, the building built between the two world wars, resembles a ship's bow. With almost 5 million bricks used, the Chilehaus is one of the most iconic buildings in Hamburg and a real eye-catcher.
The name of this imposing building comes from the building's owner, Henry B. Sloman, who became the richest man in Hamburg through his trade in Chile.
Experience the nightlife on Reeperbahn
During a visit to Hamburg, one thing, in particular, must not be missed: A visit to the Reeperbahn. Whether you are a night owl or not, a walk here at night is simply part of a real visit to Hamburg. The sinful mile is so much more than just a red light district. Because here, you will find the most iconic clubs and bars in the city.
Immerse yourself in the nightlife that has made Hamburg famous around the world, and watch the city's night owls party and go out while enjoying a cocktail or two yourself. A visit to Hamburg's Kiez will definitely not be boring. Alternatively, you can join a Kiez-Tour to learn more about Hamburg's cult district in St. Pauli.
3 Days Itinerary Hamburg – Day 3
Landungsbrücken
Let's start our third day in Hamburg in another important district in the city, St. Pauli. Yesterday, we already discovered the cult quarter at night. Today we are going to see the Landungsbrücken. The listed building was once a landing stage for steamships.
Today, various harbor tour boats and shuttle ferries of popular musicals depart from here. The Landungsbrücken is, therefore, the perfect place to start the last day of your Hamburg trip. Take a short walk around the harbor, buy a souvenir or enjoy one of the fish sandwiches typical for Hamburg.
Stintfang Observation Deck
If you want to get a better overview of the Landungsbrücken, you should not miss the Stintfang observation deck. A magnificent view over the docks and the Elbe awaits you here.
The Stintfang youth hostel is also located on the hill, which can serve as a point of orientation. The Stintfang viewpoint is especially popular at sunset to take breathtaking photos.
Alter Elbtunnel (Old Elb Tunnel)
Opening Hours Alter Elbtunnel: 24 hours
Entrance Fee Alter Elbtunnel: free of charge
Stop: Landungsbrücken, Alter Elbtunnel
Now that we have discovered Hamburg from the ground, from the water, and lofty heights on various viewing platforms, the only thing missing is a look below the earth's surface. So let's go and check out the old Elbtunnel. As the name suggests, this is the old part of the Elbe Tunnel, which has not been in use since 1975.
Through a tunnel system, the Old Elbe Tunnel connects the Landungsbrücken with the Elbe island of Steinwerder, which is about 426 meters away. The tunnel system runs underground under the Elbe River. During a visit, you have the opportunity to walk through the tunnel system yourself and experience this crazy feeling that there are just tons of water above you.
Viewpoint Steinwerder or Steinwerder Beach
When you come out of the Old Elbe Tunnel on the other side in Steinwerder, there is a great viewpoint right in front of you. From here, you have a great view of the Hamburg skyline and the Landungsbrücken.
However, if you take a little walk from here, you'll find an even better and lesser-known viewpoint, Steinwerder Strand (Steinwerder Beach). Because from here, you have an even better view of the Hamburg skyline – perfect for a souvenir photo.
Hamburg Fish Market (Sundays)
Opening Hours: Sundays
Stop: Landungsbrücken, Reeperbahn, Fischmarkt
If your Hamburg trip happens to fall on a weekend, be sure to visit the Hamburg Fish Market on Sunday. The weekly fish market is a popular event for locals and visitors alike whether you take the chance to get some fresh fish, enjoy a delicious fish sandwich or look around for a souvenir.
There is something for everyone at the market: fresh fruit, souvenirs, music, and plenty of fresh fish. With thousands of visitors, the market screamers, as the stand owners are called, really have plenty to sell.
Option: Treppenviertel (Staircase District) Blankenese
Stop: Blankenese, Beckers Treppe
Depending on when you have planned your departure for today, you may still have a little time to visit another unique district of Hamburg: the staircase district Blankenese. The district owes its name to its many steps and winding alleys, as it is located directly on the slopes of the Elbe.
This area of Hamburg also offers a very unique atmosphere and has little in common with the rest of the metropolis. Rather, you feel like you're in a small fishing village on the Mediterranean Sea as you stroll through the many alleys of the Treppenviertel. However, this village atmosphere does not come about by chance because Blankenese actually used to be an independent fishing village.
If you follow the hill all the way to the top, you can enjoy a fabulous view over the Elbe or relax in one of the bars with a cold beer.
If there's still some time left at the end, you can hike down to the Elbe beach.
Alternative things to do in Hamburg
If you have some more time in Hamburg or are looking for more attractions, you can also include one or more of Hamburg's following attractions in your itinerary and combine them as you wish.
Elbstrand (Elbe Beach)
Hamburg offers its visitors numerous opportunities for sightseeing and relaxation. But did you know that the metropolis in the north of Germany even has its own beach? The Elbe beach invites young and old to relax every day, especially during the warm summer months.
The beach is easy to reach by public transport and is popular with all sun worshippers. Your physical well-being is taken care of in the Strandperle, one of the most popular bars in the city. When swimming, you should be absolutely careful, because there is a strong current in the Elbe. Although swimming in the Elbe is not officially prohibited, it is generally discouraged.
International Maritime Museum Hamburg
Opening Hours International Maritime Museum: 10 am – 06 pm
Entrance Fee: 15 €
Anyone interested in shipping and ports should not miss Hamburg's Maritime Museum. More than 3,000 years of shipping history are presented here with the help of more than 100,000 exhibits.
Planetarium
Opening hours Planetarium: Tue: 09 am – 2 pm; Wed + Thu: 09 am – 9 pm; Fri: 09 am – 10:30 pm; Sat: 12 pm – 10:30 pm; Sun: 10 am – 7:30 pm
Entrance fee: 12 € (2D events) or 13,50 € (3D events)
Tickets: Be sure to reserve tickets in advance to avoid sold-out events.
Directly in the Stadtpark (City Park) is another Hamburg highlight that allows you to travel to the stars. Follow fantastic events in the Sternensaal (Star Hall) and learn more about unknown dimensions beyond our earth. Later, don't miss the 360-degree panorama platform of the planetarium.
Kunstmeile (Art Mile)
Opening Hours Kunstmeile: Depending on the Museum
Entrance Fee: 3-Day Art Mile Pass (5 museums in 3 days): € 25; Art Mile Pass (5 museums within 12 months): € 36; free admission under 18 years.
Tickets Kunstmeile: On-site, in the tourist information, or online via GetYourGuide
If you are interested in art, you shouldn't miss the Hamburg Art Mile during your stay in Hamburg. These are 5 art museums that have joined together to form the so-called Art Mile. So you have the chance to visit different museums for one price. The following museums belong to the Kunstmeile:
Bucerius Kunstforum (Art Forum)
Deichtorhallen Hamburg
Hamburg Kunsthalle (Art Gallery)
Hamburger Kunstverein (Art Association)
Museum für Kunst und Gewerbe Hamburg (Museum for Art and Crafts)
Karo Quarter and Schanzen Quarter
The Karo quarter is another popular area of the city that is full of joie de vivre. Whether you're looking for a cozy café, hip restaurant, or an extensive shopping experience, you're sure to find it in the Karoviertel.
If you have more time, you can continue your Hamburg walk in the Schanzen quarter. Here you will also find lots of boutiques, cafes, and bars. Maybe you would prefer to relax in the Schanzenpark or experience the nightlife in this popular neighborhood.
St. Marien Cathedral
Opening hours: 09 am – 7 pm
Entrance fee: free of charge
If you enjoyed the churches on our Hamburg tour of the last few days, you should definitely pay a visit to the Mariendom. Since 1995, the Catholic Church bears the title cathedral.
Dialog im Dunkeln (Dialog in the dark)
Opening hours: Tue – Fri: 10 am – 5 pm; Sat: 11 am – 04 pm; Sun: 11 am – 04 pm, closed Mondays
Entrance Fee: from 17,50 €
Tickets: On-site or online via GetYourGuide
For once, perceiving the world the way blind people do and relying on one's other senses. Dialogue in the Dark was definitely one of the experiences in Hamburg that I will remember for a long time. During the guided tour through the exhibition, you will be guided by a blind guide. Equipped with a long cane, you can now master everyday situations without seeing anything.
Where to stay in Hamburg
If you want to spend three days in Hamburg, you need a place to stay. You can find great deals on various budgets on Booking.com.
Below, you'll find three great places to stay in Hamburg for first-timers on various travel budgets.
The best cheap place to stay in Hamburg
This accommodation is perfect for all backpackers and travelers on a budget. You will be accommodated in a dormitory. The shared lounge is also a great way to meet other travelers.
Check more info, prices, and availability of Backpacker St. Pauli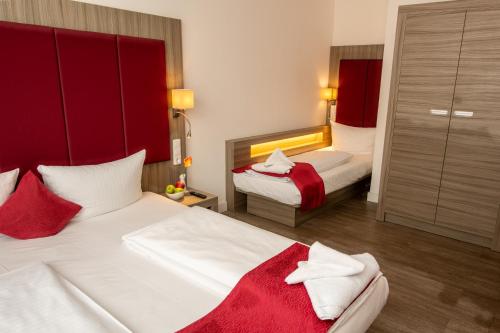 Hotel Richter offers double rooms, twin rooms, and three – and four-bedrooms at good prices. This accommodation is perfect for travelers who want to save money but still do not want to sacrifice quality.
Check more info, prices, and availability of Hotel Richter
The best Hotel in Hamburg
This eco-friendly design hotel is located in one of Hamburg's most beautiful districts near many attractions on our route (e.g., 200 meters from Chilehaus). The hotel offers various high-quality rooms with natural wood furniture and city views. It also convinces with facilities such as a restaurant, bar and an in-house gym.
Check more info, prices, and availability of Scandic Hamburg Emporio
The best luxury hotel in Hamburg
If you want to treat yourself to something special during your stay in Hamburg, you should book a room at The Westin. This is the hotel that is located inside the Elbphilharmonie. In this 5-star hotel, you can expect outstanding service, exceptional comfort, and a breathtaking view over the Elbe.
Check more information, prices, and availability of The Western In
Didn't find the perfect place for you? Click here to check all accommodations in Hamburg.
Is the Hamburg Card worth it for 3 days?
Like many tourist destinations, Hamburg also offers a discount card with its Hamburg Card. With the Hamburg Card, you'll receive discounts on entrance fees at many providers and food, drinks, and tours; there are various discounts. Besides, you can use public transport with the Hamburg Card free of charge.
What does the Hamburg Card cost?
10,90 € per Person for a day
19,90 € per person for two days
18,90 € per group ticket (1 day – up to 5 people)
48,90 € per group ticket (3 days – up to 5 people)
Is the Hamburg Card worth it for our Hamburg Itinerary?
Depending on whether you want to take city tours and how many attractions you want to visit, the Hamburg Card can be worthwhile for you. Especially if you rely on public transportation, it can pay off to purchase the discount card.
Tip: Think about what exactly you want to see in Hamburg beforehand. This way, you can see exactly whether the pass is worth it for you.
Where can I purchase the Hamburg Card?
You can purchase the Hamburg Card online from reputable suppliers, e.g., on Musement. You can also buy them at various tourist information offices in Hamburg.
FAQ about Hamburg Travel
How many days in Hamburg are enough?
Hamburg is a huge city, and there is so much to discover. Therefore, you should plan at least 2-3 days in Hamburg to see the city's main sights.
Is Hamburg easy to explore on foot?
Many of the sights are within walking distance from each other. Therefore, you can easily explore Hamburg on foot.
Is a visit to Hamburg expensive?
That depends on your travel style and the sights you want to see. Basically, Hamburg is not more expensive than other German cities. Some of the sights you can even discover for free.
What food is famous in Hamburg?
Hamburg is particularly proud of its fish and Franz rolls ("Franzbrötchen"). But also the dishes Labskaus and Pannfisch are typical for Hamburg. Hamburgers are also convinced that currywurst was invented in Hamburg.
Can I drink tap water in Hamburg?
Yes, tap water in Hamburg can be drunk without any concerns. In fact, around 40% of Hamburgers say they drink mostly tap water.
Do you give a tip in Hamburg?
Giving a tip for your meal or drink is common practice in Germany. It's common to leave between 5 – 10 % tip. For small amounts, you can just round up to the next best even amount.
What currency is used in Hamburg?
Like in most European Countries, Germany uses Euros.
Are dollars accepted in Hamburg?
US Dollars are not an accepted currency in Hamburg or any other German city. You should change your dollars to Euros when starting your trip.
Can I pay with Credit Card in Hamburg?
In accommodations and big shops, it's common to pay with a credit card. Anyway, since Germans usually pay with German debit cards ("EC-Karte") or cash, make sure to always carry some cash with you, just in case.
What plugs do they use in Hamburg?
In Germany, plugs of type F are used. If you are traveling from countries that use other kinds of plugs (such as the USA or Great Britain), you need an adapter to charge your electronic devices. We recommend you carry a world adapter, so you can use it everywhere in the world instead of buying one for every country you visit.
Do I need a visa to visit Hamburg?
That totally depends on what kind of passport you are carrying. If you live in the European Union, you can visit Germany and Hamburg just by carrying your ID. If you are visiting as a US-citizens, you can visit Germany for tourist purposes for up to 90 days without a visa. However, make sure to always check the current entry requirements before your trip.
---
Could you find all the information you need? Let us know how you liked your time in the Hanseatic city. Or maybe you have some great Hamburg tips for us? Let us know in the comments below!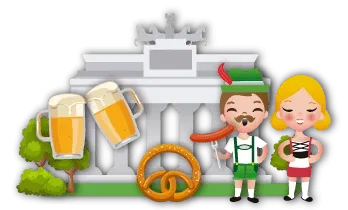 Interested in Germany?