When you hear the name Copacabana, you are probably thinking of the sunny beach in Rio de Janeiro in Brazil. But did you know that the namesake of the world-famous beach is not in Brazil at all? Copacabana Bolivia is a small place of pilgrimage on Lake Titicaca, on the border with Peru. You will find lots of sun here, but far less heat than at the Copacabana beach. Despite everything, Copacabana on Lake Titicaca is worth a visit as much as its namesake is.
In the following article, we would like to introduce you to the original Copacabana with all the important things to do in Copacabana sprinkled with a bunch of helpful travel tips.
Where is Copacabana Bolivia?
Copacabana is located on Lake Titicaca, in northern Bolivia, right on the border with Peru. The town is about 165 km (102 miles) from La Paz.
What is the height of Copacabana?
Copacabana lies at an incredible altitude of 3,841 meters (12.600 ft.). Like other cities in the South American Andes, it is quite high. With an average of 3,810 meters (12.500 ft.), Lake Titicaca is even considered the highest lake in the world.
How to get to Titicaca Copacabana
Since Copacabana does not have its own airport, you will most likely arrive either from La Paz or from Puno, Peru (even if you are coming from Cusco, you will have to go through Puno). In the following section, you will find the travel options from La Paz and Puno to Copacabana.
Bus from La Paz to Copacabana
Travel time: approx. 4 hours
Price: from 20 – 25 BOB (approx. 2.5 – 3.2 €/ $ 2.8 – 3.5) + 2 BOB (approx. 0.25 €/ $ 0.30) for boat
To get to Copacabana from La Paz (or vice versa) you can either take a local bus or a tourist bus. In our opinion, the local bus is perfectly adequate for the short and easy route between the two Bolivia highlights. The tourist buses (e.g. Bolivia Hop) are a lot more expensive.
The buses leave La Paz several times an hour (once the bus has filled up) either from La Paz Cemeterio General Station or from La Terminal Nuevo de El Alto. You can easily buy your ticket on-site.
The tourist buses leave La Paz from the Terminal de Buses. The best thing to do is to buy the tickets directly at the bus station or online.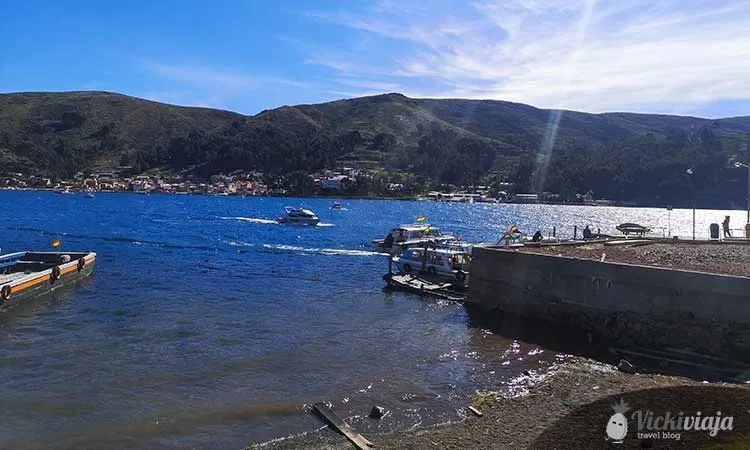 About 45 minutes before Copacabana, you have to cross the water with a boat. The boat trip takes about 5 – 10 minutes. The bus is brought to the other side by a separate ferry and collects you there again. You can leave your luggage on the bus. However, you should take your valuables with you.
Fun fact: Did you know that the Terminal de Buses in La Paz was designed by Gustave Eiffel, the designer of the Eiffel Tower in Paris?
By bus from Puno to Copacabana
Travel time: approx. 3-4 hours (depending on the duration of the border crossing in Kasani)
Travel price: from about 5 €/ $ 5.5
The easiest way to get from Puno to Copacabana is by bus. The bus takes you to the border crossing in Kasani, where you can pick up your exit stamp from Peru and then enter Bolivia.
As soon as everyone has received their stamp, your trip continues.
Benefits Bus
same transport company on the Peruvian and Bolivian side
fixed price
Drawbacks Bus
possibly longer waiting time at the border (waiting for other travelers)
higher price
The cheapest option from Puno to Copacabana (on your own with Colectivo)
Travel time: approx. 3-4 hours (depending on the duration of the border crossing in Kasani)
Price: about 3 € / $ 3 [9 PEN (about 2.4 €/ $ 2.6) + 4 BOB (about 0.5 €/ $ 0.7)]
The cheapest option to get from Puno to Copacabana is the Colectivos. The Colectivos leave Puno several times an hour once enough people have gathered. Just ask for a Colectivo to Kasani or the Bolivian border.
When we arrived at the border, we found that we were the only passengers who crossed the border. So it happened that we could cross the border to Bolivia within a few minutes without standing in line or waiting.
As soon as you arrive on the Bolivian side of the border, you will find Colectivos that will take you to Copacabana, just a few minutes away. The downside is that you have to wait until the car is full.
Benefits Colectivo
Cheap price
usually less waiting time at the border
Nachteil Colectivo
possibly waiting until enough passengers have come together
The best things to do in Copacabana
Copacabana is a relatively small place. Therefore, you shouldn't expect too many sights – on the contrary: what made this place in Bolivia so special for us was its calm and relaxed atmosphere, good food and the beautiful nature in the area.
Despite everything, we would now like to introduce you to the most beautiful Copacabana sights and activities.
The Basilica of Our Lady of Copacabana
Entry fee: free entry
As a place of pilgrimage, Copacabana naturally also needs a place to go on a pilgrimage to. In this case, this is the Basilica of Copacabana or Basilica of the Virgin of Candelaria (Basílica de la Virgen de la Candelaria de Copacabana or Basílica de Nuestra Señora de Copacabana). Since the basilica is very central (and Copacabana is not really big in itself), you have certainly reached the church before you have pronounced its full Spanish name.
The basilica is particularly famous for its Virgen de Candelaria, which is also called Virgen Morena (dark virgin) due to its color. The figure has been here since the late 16th century and is considered the patron saint of Lake Titicaca.
But what makes the church even more extraordinary is that Bolivians from all over the country (and even Peruvians) come to this basilica to have something very special blessed. Do you have any idea what that could be? Ok, it's your car. Anyone who stays a couple of days in the city might occasionally see those rare cars decorated with flowers on their way to the basilica. Many Bolivians come here with their newly bought cars to be blessed by a monk and a shaman.
But even if you don't have your car with you, the church is well worth a visit.
Fun fact: The basilica was built on the site of a former Inca shrine.
Cerro Calvario
Height: 4.011 Meter/ 13.215 ft.
Such a place of pilgrimage needs more than just a basilica and a place for car blessings. At least that's was what the locals Copacabanas thought in the 50s when they built a hiking trail at Cerro Calvario that replicates the 14 stations of the Cross.
But even if you are not religious, the hike up this mountain is a real must-do for every Copacabana visitor. The climb is not that difficult – in the end, you only have to walk upwards for around 30 minutes. Only the altitude of this place can be a bit challenging at times. Despite everything, once you get to the top you'll be rewarded with an incredible view of Lake Titicaca.
By the way, many travelers come here to watch the sunset over Lake Titicaca. If you want to watch the sunset from here, be sure to bring a (cell phone) flashlight with you for the way back.
The Waterfront of Copacabana
Admittedly, it may not be able to keep up with the waterfront of Copacabana Beach in Brazil – you will certainly not find any suntanned bikini beauties here – and yet this is a real must for Bolivia visitors.
Here you can enjoy a nice walk with a gorgeous view of Lake Titicaca. Since the lake seems to extend almost endlessly over the horizon, you hardly have the feeling that it is really just a lake. The huge body of water seems much more like the sea. Especially with the dozen boats, slowly shaking back and forth on the lakeshore.
While strolling along the waterfront, not only locals can be observed in their daily routine. But also many small bars and restaurants on the banks invite you to relax.
Isla del Sol
Travel time to Isla del Sol: approx. 2 hours
Ticket price Isla del Sol: approx. 40 BOB (approx. 5.20 €/ $ 5.65) Return Ticket, 30 BOB (approx. 3.90 €/ $ 4.25) One Way + Isla de la Luna
The highlight of our stay in Copacabana was definitely our trip to the Isla del Sol. While most travelers only visit Isla del Sol on a day trip, we decided to stay overnight. And it was just a great decision.
We basically had the island to ourselves and didn't see any other travelers after the last boat back to Copacabana left in the afternoon. That being said, both sunrise and sunset already are worth a night on the island. There is no wifi on the island, but all the more beautiful nature in which you can wander around.
Important: Due to a conflict between the northern and southern parts of the island, the north of the island is completely closed to tourism and is therefore not accessible. But don't worry – the southern part of the island alone is definitely worth a visit.
Isla de la Luna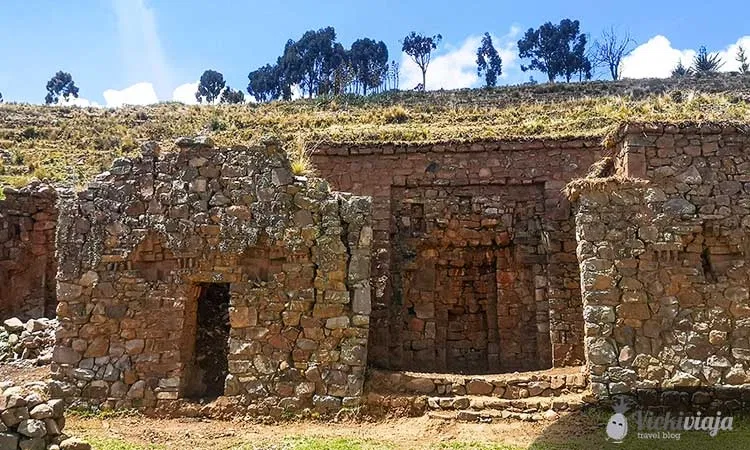 When you buy your ticket to Isla del Sol, you can also directly book a trip to the neighboring island of Isla de la Luna (Moon Island). The journey takes about half an hour from Isla del Sol.
Here you will find some ancient ruins and a great view from the top of the island (and also lots of sheep). On the island, you have almost an hour before the boat takes you back to the Isla del Sol.
Hiking in beautiful nature (e.g. Yampupata)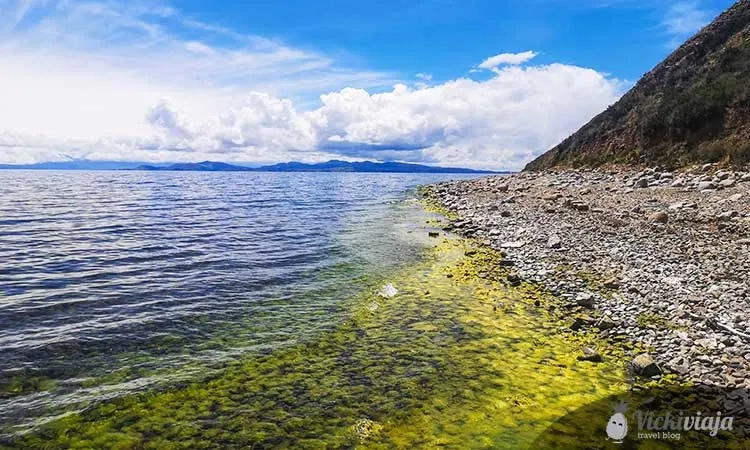 But it is not only the Isla del Sol that attracts visitors with its incredible nature. On the mainland, around Copacabana, you can also experience fascinating hiking trails, spectacular nature, and magnificent views.
Be aware, however, that hiking at almost 4,000 meters is not precisely a walk in the park. So try to get used to the altitude before you go on strenuous hiking tours.
A popular hike is e.g. the 17 km route between Copacabana and Yampupata. You can take a taxi from Copacabana to Yampupata and then hike the route back. Just make sure to protect yourself well from the sun (there is hardly any shade during the trek) and to carry enough drinking water with you.
Tip: It is, therefore, best to start your hikes in the region with the Cerro Calvario to see whether hiking at this altitude is doable for you
Try a freshly caught trout from Lake Titicaca
Fish fans and foodies will certainly not be neglected in Bolivia. What you will never lack are trout (Spanish: Trucha) and chicken (Spanish: Pollo). Not surprisingly, Copacabana is considered the best place in the country to taste freshly caught trout.
On the waterfront, but also in the city center, you will find many restaurants that offer fresh fish with various side dishes. We were lucky enough to try the trout on Isla del Sol, where the fish, according to the owner of the restaurant, was of course much better and fresher.
And even I, that is not really a big fan of fish, was thrilled. Both the trout with garlic and the one with lemon was super delicious. And with a view of the highest lake in the world, the fish tasted almost twice as good.
Make friends with cute alpacas
If I couldn't get enough of one thing in South America, it was watching the cute alpacas. For Eduardo's birthday, which we spent in Copacabana, I wanted to give him a very special memory. And I found exactly what I was looking for: The Ecolodge Las Olas and neighboring Hotel La Capula not only offer great accommodation with incredible views, but also a garden that visitors can share with free-running alpacas.
The alpacas are used to humans and therefore anything but shy. If you are accommodated in one of the two accommodations, you can even get free food for the fluffy fellers to get even closer to them.
But even if you are not feeding them, it is simply an extraordinary feeling to sit there on one of the chairs and watch the alpacas graze and lie around.
Check available rooms in Las Olas
Watch a breathtaking sunset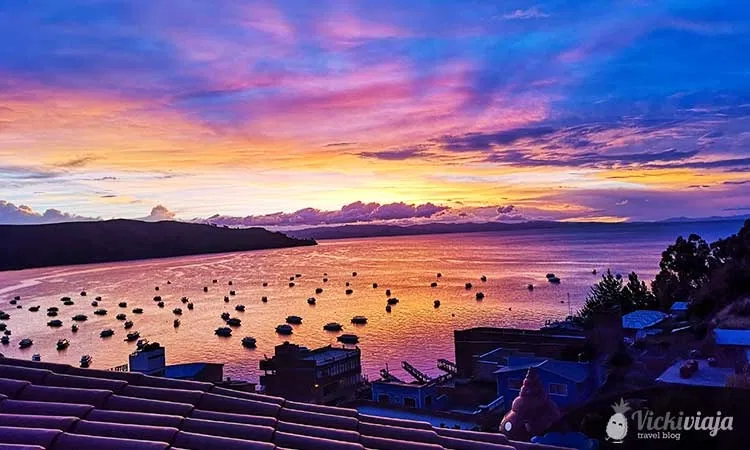 If there is one thing to see in Copacabana, it is impressive sunsets. When the sun seems to sink into the water of the Titicaca, it dips everything in a beautiful purple-orange shade – just incredible.
Many visitors watch the sunset from Cerro Calvario, from where you have an amazing view of the lake. However, our favorite place to watch the sunset was a completely different one: directly from our bed.
Yes, you've read that correctly. For us, our bed had definitely the best views of Lake Titicaca – and definitely the most comfortable. If you book your accommodation in Las Olas, you can kill two birds with one stone: during the day you can hang out with the fluffy alpacas and in the evening you can admire a unique sunset directly from your room.
Copacabana FAQ
Is Copacabana dangerous?
Copacabana is no more dangerous than other places in Bolivia – rather the opposite. Of course, as everywhere in South America, you should always keep an eye on your belongings and not just walk around with a whole bag full of cash. That being said, apart from pickpockets and tourist traps, you have little to fear.
Can I swim in Lake Titicaca?
With an annual average temperature of 10 – 14 °C (50 – 57 °F) the water of Lake Titicaca is unfortunately too cold for swimming. However, if the freezing temperatures don't bother you, it is theoretically possible to bathe in Lake Titicaca.
How big is Lake Titicaca?
Lake Titicaca stretches over 8,288 km², making it one of the largest lakes in the world. 4,916 km² of it belong to Peru, while 3,372 km² of the lake belongs to Bolivia.
The length of Lake Titicaca is 190 km, while the maximum depth is 281 meters.
What does the name Titicaca mean?
The name Titicaca is composed of the Quechua word "Titi", which means "Puma" and the word "Caca", which means "mountain".
What does the name Copacabana mean?
To date, one is not 100% sure where the name Copacabana comes from. Either from the Aymara "Quta Qawana", which can be translated to "view of the sea". Or from the god of fertility, Kotakawana. According to the mythology of the Andes, he originates in Lake Titicaca.
Does Lake Titicaca have fresh or saltwater?
Lake Titicaca consists of freshwater.
Have you ever been to Copacabana? What was your highlight? Let us know in the comments below!
More Bolivia
Read our other Bolivia guides to plan your trip even better
Interested in Bolivia?