The imperial city of Goslar is not only a wonderful destination in summer. Because also in winter, but especially in the pre-Christmas period, the Goslar Christmas market attracts visitors from all over the world to the small town in the German Harz Mountains.
Goslar's Christmas market is almost every year among the ten most beautiful Christmas markets in Germany in some independent elections. And not without reason – with its medieval charm, romantic Christmas market atmosphere, and delicious snacks, the Christmas market in Goslar can definitely compete with other famous markets in the country.
So in this article, I would like to introduce you to this festive Christmas market in my beloved hometown. Here you will find out everything you need to know for your visit.
Goslar Christmas Market Facts
The Christmas market in Goslar takes place every year from the end of November until shortly after Christmas. In 2022, this will be from November 23 to December 30.
During this time, you can visit the Christmas market daily between 12 pm and 8 pm. Exceptions to this are Christmas Eve (11 am – 2 pm), Christmas Day, and Boxing Day (12 pm – 7 pm).
The Goslar Christmas market consists of the primary market, which is located on the central market square and extends from here around the market church, another part in the neighboring Marktstraße (Market Street), as well as the beautiful Christmas forest on the Schuhhof.
The Christmas Market and Christmas Forest in Goslar – Highlights
As soon as you enter the Christmas market in the heart of Goslar, you feel a bit like you've been transported into a fairy tale book – the kind you loved to read as a child. With its festive decorations and around 60 Christmas market stalls, the market square is transformed into an absolute Christmas dream. With its medieval charm and delicious smells, this is truly no market like any other.
Especially after dark, when the market fountain with its golden eagle, the huge fir tree in front of the town hall, and the market stalls are illuminated with Christmas lights, a visit is particularly worthwhile.
Of course, it will be even more beautiful if we include a little bit of snow. The general picture is already perfect. So let's check what the highlights we can find.
The Goslar Christmas Forest
For several years now, the annual Christmas Forest has become a festive tradition. For some visitors, it may even be the main reason for a visit to pre-Christmas Goslar.
During the Christmas market season, the neighboring Schuhhof is transformed into a real Christmas forest. With more than 50 pine trees decorated with Christmas lights, the small forest creates a fabulous festive atmosphere. There are small wooden huts between the dense fir trees offering delicious snacks and hot drinks.
The romantic forest is a great experience for young and old, and a stop here for a hot drink is an absolute must when visiting during the Christmas season.
Hot Drinks
A few delicious snacks and a hot drink or two are part of every Christmas market visit. Over the years, I have tried some of the most delicious drinks on the market.
Here are a few highlights you definitely shouldn't miss.
Author's note: Some of the highlights may be located at Marktstraße, Marktkirche, or the Christmas forest at Schuhhof.
Mulled wine [Glühwein] (because mulled wine and Christmas market simply belong together!)
Children's punch
Feuerzangenbowle
Hot liqueur 43 with milk or orange juice
Hot white chocolate with macadamia and rum
Hot dark chocolate with chili and tequila
Blueberry and cherry mulled wine
Hot absinthe
Nönnchen mit Haube (liqueur with creme)
White angel (white chocolate with liqueur)
Christmas Market Mugs
Now that you might already have an idea of what you want to drink, it's worth knowing that there are special Christmas market mugs every year. With an annually changing design, mulled wine and other hot drinks are served in these cups.
For each order, you will have to pay a little bit of a deposit for the mug. If you like the cups, you can simply keep them at the end and take them home as a souvenir. If not, you will get your money back when returning the mug after finishing your drink.
Yummy Christmas Food
Of course, a perfect Christmas market visit also includes something delicious to eat. Here are a few highlights you can discover at the Goslar Christmas market.
Medieval gratinated flatbread
Garlic baguette
Goslar pepper roll (spicy bratwurst with pepper)
Harzer Bratwurst
1/2 meter bratwurst
Meat skewers
Smoked fish
Roast suckling pig with crust
Wild goulash
Mushroom pan
Horse specialties
baked Camembert
Delicious Candies and deserts
Roasted almonds
Lard cake
Goslar gingerbread hearts
Baked apple
Crêpes
Poffertjes (little dutch pancakes)
Mulled wine sweets
Herbal candies
Honey from Goslar
"Schneeballen" – sweet balls
Germ dumplings
More highlights of the Christmas Market
With more than 50 exhibitors, I could go on expanding this list. Below you will find a few more highlights of the Christmas market in Goslar.
The annual city tombola
Children's carousel
Children's railroad
homemade cloth and leather goods
Goslarer ZimtZauber (Wöltingerode cinnamon liqueur – highly recommended)
Goslar Christmas tea
Goslar arc of lights
Pottery and ceramics
Wooden goods
Lavender products
Christmas tree decorations
Candles
Arts and crafts products
Winter accessories like scarves and hats
Jewelry
and many more
The Christmas Market from above
Opening Hours Zur Himmelsleiter: During the Christmas Market season: daily from 11 am – 07 pm
Entrance Fee Zur Himmelsleiter: 2,50 €
If you want to experience the gorgeous market square and the surrounding buildings and Christmas market stalls from a whole new angle, you should definitely not miss a visit to the so-called Himmelsleiter (ladder to heaven).
This is the top of the Marktkirche tower. The north tower of the market church of St. Cosmas and Damian gives you a fantastic view of the surrounding city.
It takes about 220 steps to get to the top. Halfway up, you can also marvel at the old clockwork of the Weule clock. However, if you want to get to the top, you should have a good head for heights.
But once you've made it to the top, you'll be rewarded with a fantastic view over the Christmas market, the forest, and the old town. – Worthwhile not only in the pre-Christmas season.
But also make sure to visit the inside of the church. Have a look around at your leisure, admission is free.
Christmas Rammelsberg – The mine Christmas market below ground
But not only the famous Christmas market itself enchants visitors from all over the world every year. Goslar's second Christmas market tradition is also absolutely worthwhile. The UNESCO World Heritage Site Rammelsberg traditionally invites visitors to the "Christmas Rammelsberg" every year on the third weekend of Advent.
Here you can take part in a tour of the impressive Roeder mine. The tour lasts about half an hour and immediately puts you in the Christmas mood with festive candle lighting.
In addition, there is a small Christmas market with handicraft stalls and Christmas treats.
The Tree of Help
While there are rumors according to which the sold drinks of the market are counted with the lighting of the Christmas tree on the market square, the true story is so much nicer.
With the action of the Lions Club Goslar-Kaiserpfalz and the Tafel, you can buy one light for the Christmas tree for 1€. After the purchase, you have the possibility to light your light yourself by pushing a button.
The money collected will then be used for a good cause.
Tips and further info for your visit to the Christmas Market in Goslar
Getting to Goslar
Getting to Goslar by plane
You might have guessed so, but due to its size, Goslar doesn't have its own airport. The nearest airport is Hannover Airport, around 1½ by train from Goslar. You can find great deals by checking flight comparison sites like Skyscanner.
Getting to Goslar by car
Depending on where you are located, traveling by car is probably the easiest way to get there. This way you are not dependent on the departure times of public transport.
In the next point, you will also find out where you can park in Goslar to visit the Christmas market. Travel either with your own car or with a rental car. You can find great deals on RentalCars.
The big disadvantage is that you should not try too much of the delicious mulled wine when you travel by car.
Getting to Goslar by train
Goslar has a train station with direct connections to the next three major cities Hannover, Braunschweig, and Göttingen. If you book in time, you can always find good prices. Within Lower Saxony, the Niedersachsenticket is worthwhile. Especially if you are traveling as a group. Have a look at the Deutsche Bahn (the German train company).
Getting to Goslar by bus
Probably the cheapest way to get to Goslar is by bus. The city is served by many destinations. The only disadvantage is that this usually happens only once a day because Goslar – well – is not exactly huge.
Otherwise, you can simply take the bus to one of the surrounding cities and then take the train from there to Goslar. You can find bus connections via Busbud.
Goslar Parking
The Christmas market itself is located in the pedestrian zone in the center of the city. If you travel by car, you should be aware that it is not always easy to find a good parking space nearby, depending on the time of day.
Here you will find a small list of free and paid parking options.
Paid Parking opportunities near the Christmas Market
The advantage of paid parking is that you can usually find a parking space faster and park directly near the market.
| | | | |
| --- | --- | --- | --- |
| Parking | Distance to Christmas Market | Price | Address |
| Kaiserpfalz Nord | 350 m | 1€/hr | Kaiserbleek 1 |
| Kaiserpfalz Süd | 450 m | 0,5€/hr | Wallstraße 1B |
| Christian-von-Dohm-Platz | 150 m | 1€/hr | Charly-Jakob-Straße |
| Parkhaus Kartstadt | 400 m | 3€/2hr | Rosentorstr. 1 |
| BäringerStraße | 600 m | 0,5€/hr | Bäringerstraße |
| Parkhaus am Zentrum | 600 m | 3€/2hr | Mauerstraße 38 oder Bismarckstr. 3a |
| Marktstraße | 270 m | 1€/hr | Marktstraße 43 |
| Parkhaus bei C&A | 450 m | 3€/2hr | Piepmäkerstraße 18 |
| Kornstraße | 400 m | 1€/hr | Kornstraße |
| Klubgartenstraße | 850 m | 0,5€/hr | Klubgartenstraße |
| Glockengießerstraße | 250 m | 1€/hr | Glockengießerstraße 87 |
Free Parking in Goslar
Finding free parking during the Christmas market and Advent shopping season can sometimes be quite a challenge. In the following, you will find an overview of the most important free parking options in Goslar for the Christmas market.
Extra tip: On Sundays and daily after 6 pm, you can also park for free in many otherwise paid parking lots.
Füllekühle (Bertha-von-Suttner-Str. 1)
Kostenfreie Parkplätze am Bahnhof (Klubgartenstraße ZOB)
Stadtgarten
Hildesheimer Straße
Osterfeld
Where to stay in Goslar to visit the Christmas Market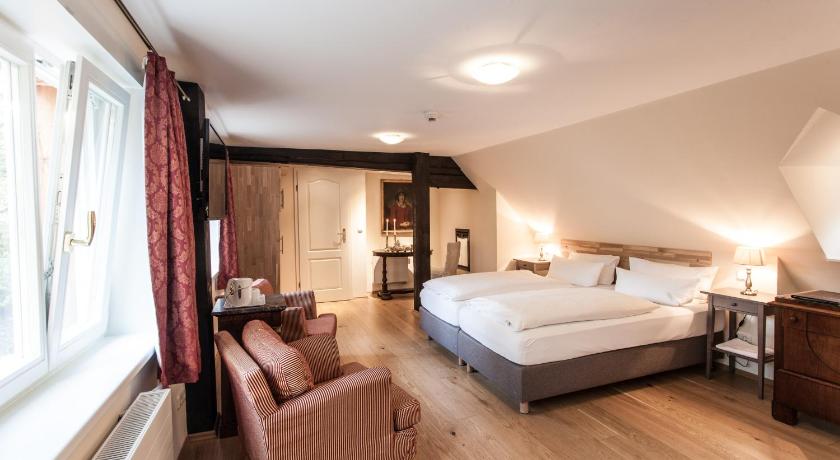 Located right in the heart of Goslar, this hotel offers everything you need for a romantic Christmas Market visit. The hotel is housed in one of the most iconic half-timbered buildings of the city, directly at the market square, and convinces with cozy rooms, high cleanliness, and friendly staff.
Check further info, prices, and availability of Alte Münze Hotel
Christmas Market Program 2022
The Christmas market is open daily from 11 am to 7 pm from November 23 to December 30.
06.12. St. Nicholas visits the Christmas market in Goslar to bring presents for the smallest visitors.
10 & 11.12. Christmas market underground (Rammelsberg)
24.12. Opening hours: 11-14 h
25.12. Opening hours: 12-19 h
26.12. Opening hours: 12-19 h
In addition, the various churches in Goslar offer lots of events and various church services during the Christmas season (in German).
---
Are you going to visit the Goslar Christmas Market this year? What are you particularly looking forward to? Or maybe you've already been there and have a personal tip for us? Let us know in the comments below!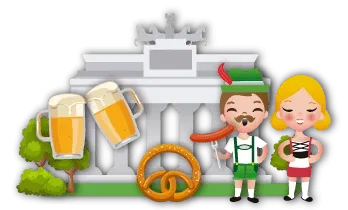 Interested in Germany?