Valencia is not only one of the largest but also one of the most beautiful cities in Spain. With its fantastic mix of historic old town, modern, even futuristic backdrop, gorgeous beaches – and don't even get me started on the delicious food – Valencia attracts thousands of visitors to its heart every year. But not only the city itself is worth a visit. I definitely recommend you to also take at least one Valencia day trip.
So here we show you the best day trips from Valencia in the region. Whether it's a picturesque small town, a paradise beach, extraordinary architecture, and culture, or peaceful nature – you will definitely find the perfect destination for you as well.
In the article, you will find 14 beautiful places near Valencia with info on how to get there and their distance from Valencia. So let's jump right into it.
The best Day Trips from Valencia – An Overview
| | | |
| --- | --- | --- |
| Day Trip Destination | Kind of Day Trip | Mode of Transport |
| Xàtiva | Castle & Middle-age small town | Train, Car |
| Sagunto | Castle & Middle-age small town | Train, Car |
| El Palmar & L'Albufera | Nature, Food | Car, Public Bus |
| Altea | Small town | Car |
| Castillo de Guadalest | Small town & Nature | Car |
| Alicante | City Break | Train, Bus, Car |
| Benidorm | City Break, Beach, & Party | Train, Bus, Car |
| Beaches | Beach | Train, Bus, Car, Tram |
| Calpe | Small town & Hiking | Car |
| Peñiscola | Coastal Town & Castle | Car |
| Gandia | City Break | Train, Car |
| Requena | Small town & vineyards | Train, Car |
| Teruel | Small town | Train, Bus, Car |
| Les Fonts de l'Algar | Nature & Hiking | Car |
The 14 best Valencia Day Trips
Xàtiva
How to get to Xàtiva: Train (C2) or car
Distance from Valencia: ca. 60 km/40 mi
Xàtiva is a small medieval town with an impressive castle towering over the town's rooftops. With its location less than an hour from Valencia, Xàtiva is considered one of the most popular day trips from Valencia.
The historic small town has a long history. After its foundation by the Iberian people, the Romans, and the Moors also settled here.
The magnificent castle, which is more than a thousand years old, is considered the city's main attraction. Many visitors combine the way up to the castle with a hike. But you can also reach it by car.
Nevertheless, the rest of the city is definitely worth seeing as well. The small town has a lot to offer, with many historical sites and remnants of various eras.
Extra tip: If you have the time, I encourage you to spend the night at Mont-Sant. The former monastery is a sight in itself and offers its visitors a beautiful monastery garden, where you can not only refresh yourself with a small dip in the pool but also enjoy the incredible view of the Castell of Xàtiva and the surrounding nature.
Sagunto
How to get to Sagunto: Train (C3) or car
Distance from Valencia: ca. 30 km/20 mi
Sagunt (Spanish name: Sagunto) is another medieval town near Valencia. With a distance of only about 30 minutes by car, the small town is considered an excellent excursion destination from Valencia.
Like Xàtiva, the main attraction is the small town's imposing castle. While the castle of Xàtiva enchants its visitors with its well-preserved walls, the castle of Sagunto is especially popular for its immense size and fantastic views. This is because the castle ruins extend over a distance of about one kilometer (0.6 mi).
As you explore the enormous complex, be sure to appreciate the magnificent view as well. While overlooking the Mediterranean Sea on one side, you can gaze over the rooftops of the city to the former Teatro Romanum on the other.
The Roman Theater from the 1st century AD is considered a great example of Roman architecture in the region and once held up to 6,000 visitors.
El Palmar & L'Albufera Nature Park
How to get to El Palmar: car or public bus
Distance from Valencia: ca. 20 km/ca. 13 mi
Although this day trip is theoretically two separate destinations, it is recommendable to visit the two neighboring destinations together.
El Palmar is a small town located right next to l'Albufera Natural Park. While the town center itself consists of what feels like only one street, it's worth visiting for the great restaurants. This is because El Palmar is famous throughout the entire region for its exceptional paella.
With so many restaurants in a small space specializing in Valencian rice, the competition is fierce, making the quality of each restaurant even better. It's especially worth visiting at lunchtime when some restaurants offer high-quality paella menus for just under 15 euros per person.
Extra tip: In Spain, but especially in Valencia, it is not common to eat paella for dinner. For this reason, usually only one or two paella restaurants, if any, open at dinner time.
After you have enjoyed this delicious dish in Palmar, you can continue to l'Albufera Nature Park. Here, you can join a boat trip in the evening, taking you to the big lake. One of the most beautiful sunsets you have ever seen is waiting for you.
Altea
How to get to Altea: car
Distance from Valencia: ca. 130 km/ 80 mi
If you're looking for a picturesque white, old town near the sea, Altea is probably the right stop for you.
This idyllic coastal town is perfect for those who want to discover a relaxed small town with a Mediterranean charm.
Stroll through Altea's narrow winding streets and discover fresh local produce at the town's market. Grab a seat at one of the many cafes and enjoy a cool drink or a full-bodied Spanish coffee.
Even though Altea is relatively small, you can easily stay for some hours. You're guaranteed to discover a new fantastic photo opportunity at every turn.
Castillo de Guadalest
How to get to Castillo de Guadalest: car
Distance from Valencia: ca. 140 km/ ca. 85 mi
If you are looking for a mixture of a picturesque little old town, historical buildings, and breathtaking views, Castillo de Guadalest is definitely a must-see.
The very entrance to the old town looks like a gateway to another world. Stroll through the idyllic streets of the small town until you reach the viewpoint.
From here, a spectacular view of the reservoir a little further down awaits you. The picture is genuinely unspoiled with its turquoise waters in a lush green setting.
The Castillo itself has a history dating back to its construction at the time of the Moors. Over the centuries, influential personalities and their families have inhabited it, and it has been destroyed and rebuilt several times by earthquakes or fire.
This remarkable place was recommended to us during our last Valencian trip by a good friend who grew up in the Alicante region. Castillo de Guadalest immediately became one of our favorite destinations in the Valencian region.
Alicante
How to get to Alicante: Train (Intercity), Bus (Alsa), or car
Distance from Valencia: ca. 170 km/ ca. 105 mi
Alicante is the nearest major city, less than a two-hour train ride from Valencia. With its proximity to the capital of the Valencian Community, visitors like to combine the two Spanish cities.
Alicante's downtown in the Barrio de Santa Cruz is particularly popular. With its colorfully decorated buildings and narrow streets, Alicante immediately captivates its visitors.
Especially in the afternoon, Alicante's bars and cafes for the so-called "Tardeo alicantino" and other local favorites in Alicante are always well visited.
Additionally, a visit to Santa Barbara Castle is a real highlight for any visitor. The climb is well worth it for its incredible views all the way across the city's famous harbor.
Benidorm
How to get to Benidorm: Train or Bus (Alsa)
Distance from Valencia: ca. 140 km/ 85 mi
I have to be honest with you, Benidorm is definitely not my kind of holiday destination. However, we also made a curious little detour here on our last trip to Valencia.
One popular attraction in town is the Balcón del Mediterráneo. I have to admit, from here, you have a breathtaking view of the turquoise waters of the Mediterranean, which really stand out, especially on sunny days.
Otherwise, the city is mainly known as a seaside and tourist party place and therefore especially popular with young people.
So if you want to relax on the beach and then dance the night away, Benidorm is probably the perfect place for you.
Valencia's Beaches
How to get to the beaches: Depending on the beach
Distance from Valencia: Depending on the beach
You may have already heard – maybe this is even the main reason for your trip to the Valencian Community – Valencia is home to some amazing beaches.
In addition to the city beaches, the entire coastal region around Valencia offers gorgeous options.
After all, it's not for nothing that the Costa Blanca (meaning "the White Coast") is one of the most popular stretches of Spain's Mediterranean coastline. Locals and visitors alike fall in love with the beaches around Valencia every year.
Among the region's most beautiful (and popular) beaches are Playa Terranova, Playa Recó de la Mar, Playa de Pinedo, and Playa de la Garrofera.
Calpe
How to get to Calpe: car
Distance from Valencia: ca. 125 km/ 80 mi
Calp (Spanish name: Calpe) is another fantastic day trip destination from Valencia that offers just the suitable activity for any visitor.
Whether it's an extended hike, a beach excursion on the Costa Blanca, a relaxed, small-town atmosphere with a Mediterranean flair, or the search for the perfect Instagram photo.
Probably the most famous sight of the small town is the Peñón de Ifach. In addition to fantastic hiking opportunities, the local mountain offers a simply unforgettable view of Calp and the picturesque Costa Blanca.
Just follow the almost 5 km/ 3mi long circular trail, which rewards you with this incredible view at the top.
Peñiscola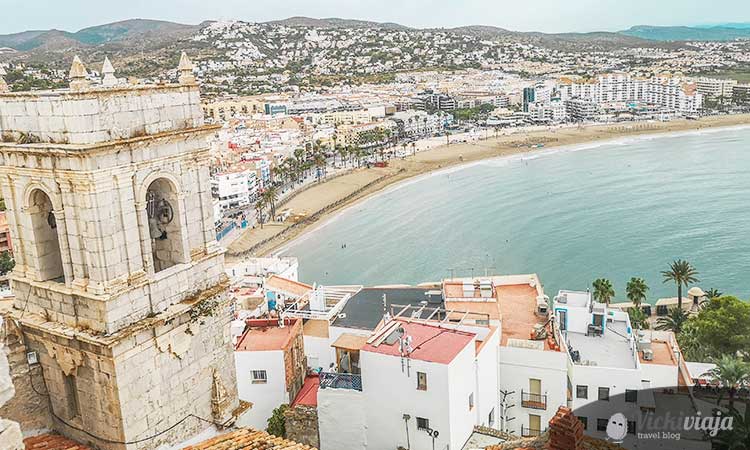 How to get to Peñiscola: car
Distance from Valencia: ca. 150 km/ 95 mi
Peñiscola is a little further from Valencia than many other destinations on this list (about halfway between Valencia and Barcelona), but it's always worth a visit.
Similar to the small coastal town of Tossa de Mar on the Costa Brava, Peñiscola (also called Peníscola) combines a wonderful stretch of beach with a picturesque old town and an impressive castle.
A visit to the Castillo is a must, because from no other place in the town can you get such a fantastic view over the city, the sea, and the neighboring beach.
But there is also a lot to discover inside the castle. In addition to information boards, you can also find out about the various points of interest inside via a free app.
Afterward, it's also worth taking a walk through the peaceful old town.
Extra tip: It's worth getting there early because Peñiscola is also a popular day trip from Barcelona.
Gandia
How to get to Gandia: Train (C1) or car
Distance from Valencia: ca. 70 km/ 45 mi
If you fancy a little city break with historic buildings mixed with beaches and mountains, Gandia is the ideal place. Located on the Costa del Azahar, the city offers its residents and visitors a wonderful stretch of beach.
A mountain belt lies directly around the city, inviting you to take long walks and almost making you forget that you are only a few meters away from the city.
Once Gandia was an important cultural and commercial center. And this is still reflected in the cityscape today. Discover the remains of the ancient city wall, the old university, or the Plaça Major in the historic center of the city.
Extra tip: Whoever visits Gandia should not miss the city's excellent cuisine. It is said that the "noodle paella" fideuá was invented here.
Requena
How to get to Requena: Train (C3) or car
Distance from Valencia: ca. 70 km/ ca. 45 mi
If you are looking for a small medieval town with a bit fewer tourists, Requena is an excellent choice. The picturesque little town enchants its guests with small narrow streets and buildings with Arabic influences. These date back to the time of the Moors, who once settled here.
While strolling through the streets of the old town, you can admire picturesque houses with antique decorations and old coats of arms. In addition, there are two impressive churches from the 14th century in the center of Requena.
But also the ancient homage tower and the various wine cellars of the small town contribute to a pleasant day trip. A visit is especially recommended in late summer during Requena's annual wine festival.
Teruel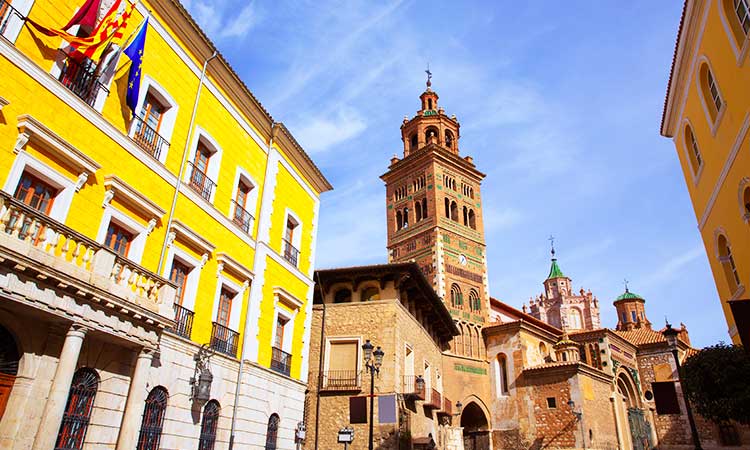 How to get to Teruel: Train, Bus, or car
Distance from Valencia: ca. 145 km/ 90 mi
Even though Teruel is one of the farthest destinations from Valencia on our list, the small town should not be left out. The idyllic small town in Aragon belongs to the most beautiful small towns in Spain.
Today, Teruel is not only a UNESCO World Heritage site but also bears the unofficial title of "Capital of Mudejar Architecture." And so you can find plenty of fantastic examples of Mudejar architecture in the historic city center, such as the dome and roof of the city's imposing cathedral or the towers of various churches.
In addition to gastronomic delights such as Teruel ham, popular in the region, a visit to the city is also worthwhile for families with children. Because in the Dinopark Dinópolis, you can go back in time. Discover the region at the time of the dinosaurs between realistic replicas.
Les Fonts de l'Algar
How to get to Fonts de l'Algar: car
Distance from Valencia: ca. 140 km/ 85 mi
Those who are drawn to nature certainly visit Fonts de l'Algar. After all, the waterfalls are considered one of the most beautiful natural sites in the country. And despite their tourist interest, this protected wetland near Benidorm has preserved its natural beauty very well.
This excursion is especially worthwhile for hiking enthusiasts. But don't worry, the circular route is pretty relaxed and stretches for just under 1.5 km/1 mi. During the pleasant short hike, you walk along the small river Algar and can enjoy the vivid nature surrounding it.
If that's not enough, there are more natural hiking opportunities in the region afterward.
Important information: There is a small entrance fee to the nature park. Currently, this amounts to 4 €.
---
Interested in Spain?