During one of our day trips in Catalonia, we discovered one of the most beautiful Costa Brava beaches. And of course, we don't want to deprive you of it: So let's talk about Cala Estreta in Palamós.
Costa Brava definitely has some of the most beautiful beaches in Spain. And while looking for a great place for snorkeling in Costa Brava, we found the arguably most beautiful ones: The beaches of Palamós.
The beaches of Cala Estreta, Palamós, and Platja de Castell, Palamós couldn't be more different from each other. So they offer the perfect beach experience no matter what kind of beach you are looking for.
Later in this post, we will introduce you to these two beaches in more detail and compare them. This way, you will know which beach fits you better and where to go in Costa Brava. But first, let's have a look at the famous Costa Brava in general.
Costa Brava Facts
The name can be translated to Wild Coast
Name invented by the Catalan writer Ferran Agulló in 1908
Got its name because of its many cliffs
Approx. 220 km long
Around 60 km from Barcelona
Location Costa Brava
You can find the Costa Brava on the Northeast coast of Spain, beginning at the foothills of the Pyrenees (Portbou) in Catalonia up to the Costa del Maresme, ca. 60 km. from Barcelona.
Platja de Castell & Cala Estreta, Palamós, Costa Brava – Beach and Snorkeling in Costa Brava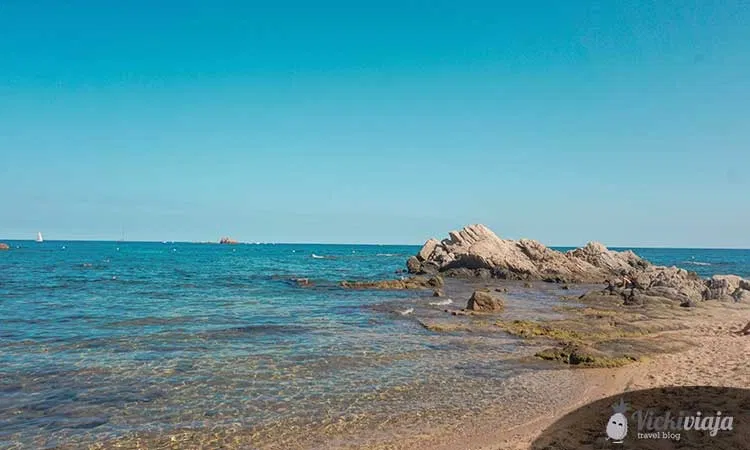 Where is Palamós on the Costa Brava Map?
How to get to Costa Brava's Palamós
Getting to Cala Estreta from Barcelona
The best option from Barcelona to Palamós is the car. The ride takes about 1,4 hours. From the parking spot, you have to walk around 20-30 Minutes to Cala Estreta and around 5 Minutes to Platja de Castell.
It is possible to get here by Public Transport, but the ride takes about 4 1/2 hours. The last 2 km have to be walked, though.
Getting to Cala Estreta from Girona
From Girona, your best option is the car as well. The ride takes about an hour.
Anyway, from Girona it is easier to get to the beaches of Palamós than from Barcelona. The trip takes about 2 hours. However, the last 2 km must be walked as well.
Just take the Bus 42 to Palafrugell Estació D'Autobusos from Girona. From here take the Bus 64 to Calella de Palafrugell. From there, it is another 2 km walking.
Best Travel time for Costa Brava
The best time is to visit during the summer months as the water will be warmer and you can therefore fully enjoy swimming. However, if you don't mind the water being a little bit colder, spring and fall might also be good for a visit, as there will be way fewer people.
However, in winter, it's usually way too cold for a beach trip. You might want to check out those best beaches to beat the winter blues instead.
Cala Estreta
Hidden behind the cliffs of Costa Brava, you can find this wonderful beach with crystal-clear water. A perfect place to go snorkeling in Costa Brava or just to soak up some sun.
The way to this beach takes about 20-30 Minutes along the rocky cliffs of Costa Brava. Even though it might take you more effort to get here than to other Costa Brava Beaches, you will usually find way fewer people here especially fewer children.
The clear water here is perfect for snorkeling, and you can see a lot of fish swimming around. Anyway, there are also many stones that can be problematic, especially when entering the water. Therefore, you should make sure to bring some swimming shoes.
This beach is open for nudists, but many visitors are wearing swimwear. So, you can choose what you feel more comfortable with.
Platja de Castell
Just around 5 minutes ' walking from the parking, this beach is easily accessible.
Therefore, you can usually find more people here than at Cala Estreta, including families with kids. That's why it can get a little noisier here than at Cala Estreta. Especially in the evening, when some private boats are parked near the shore with people listening to music while having drinks.
The Platja de Castell is one of the sandy beaches in Costa Brava, and the sand here is finer than at Cala Estreta.
At this beach, you can find public restrooms, a beach bar, a lifeguard, and even water sports options like a kayak school.
Moreover, at Platja de Castell, you can rent hammocks, sandbanks, and umbrellas for the perfect beach vibe.
If you get hungry, you can find two restaurants/bars for some snacks, beer, or even lunch.
Platja de Castell vs. Cala Estreta
| Beach / Feature | Cala Estreta | Platja de Castell |
| --- | --- | --- |
| Accessibility | ca. 20-30 Minutes walk along the cliffs | ca. 5 Minutes easy walk |
| Tranquility | rather quiet | rather busy |
| Suitable for Families with small children | Way there can be quite exhausting for small children, few place to play at the beach | easy and short way, much space for playing |
| Service | Fisher Hut from the 16th century can be rented | Public Restrooms, Restaurant/ Bar, Sunbanks, Umbrellas, Water Sport |
| Sand | small stones / Coarse sand | Coarse sand (finer than in Cala Estreta) |
| Water | clear | clear |
| Life Guard | Just on the weekends in July and August | Yes |
More Points of interest around
Barraca de Dalí
Another point of interest in the area of the Barraca de Dalí. This little cabin constructed by the artist and good friend of Dalí, Puig Palau, is located on a little path between those beaches. As you can tell by its name, this cabin was created for the famous artist Salvador Dalí, who used it several times.
In the past, the beaches of Palamós used to be the inspiration and one of the most popular Costa Brava Towns for several celebrities, such as Elizabeth Taylor, Marlene Dietrich, Coco Chanel, and Orson Welles.
Accommodation in Palamós
Budget Accommodation
If you are traveling on a small budget, it can be quite difficult to find high-quality accommodation in Palamós. You might want to stay in Girona, Barcelona, and Lloret the Mar and get here on a day trip.
Middle- Range Accommodation in Palamós
This 2-star Hotel is about 2-minute walk from the beach and offers AC, such as private bathrooms.
This 3-star Hotel is about an 11-Minutes walk from the beach. It offers a big garden with an outdoor pool (opened from June to October) and Whirlpool.
Luxury Accommodation in Palamós
This 4-Star Apartment is 2 minutes from the beach and comes with a sea view.
In this apartment, you can find everything you need: 2 sleeping rooms, a kitchen with a Nespresso Coffee machine and microwave, a seating area, a TV with DVD-Player, a Bathtub, and free Internet.
Tours in Costa Brava
You can check the best tours to Palamós on GetYourGuide here.
More Catalonia?
Make sure to also check out these 19 amazing day trips in Catalonia.
When traveling to Barcelona, you will love our comprehensive Barcelona Travel Guide with all the important sights.
More beaches in Spain?
Check out the best beaches in Malaga.
---
Interested in Spain?