Salento, Colombia, offers a wealth of fascinating activities and sights, so a visit to Eje Cafetero should definitely be on your itinerary for Colombia.
In this blog post, you'll learn all about the best things to do in Salento to get the most out of your stay. From breathtaking hikes through the Cocora Valley to the fascinating coffee tours that will delight more than just coffee fans among us – Salento is the ideal place for nature lovers and culture enthusiasts alike.
Get inspired by our list of the best things to see in Salento and prepare for an unforgettable adventure in one of Colombia's most beautiful regions.
Salento, Colombia Facts
Municipality in the department of Quindío
Less than 10,000 inhabitants
Part of the Eje Cafeteros, the Colombian coffee triangle
The region is located at an altitude between 1,300 and 4,750 meters above sea level
Considered the oldest modern settlement in the region
Where is Salento?
Colombian Salento is located in the Departamento de Quindío, in the heart of Colombia's coffee triangle. The charming village is situated at an altitude of about 1,900 meters/ 6.233 ft. above sea level.
How to get to Salento
Getting to Salento from Medellín
By bus
The cheapest way to travel from Medellín to Salento is most likely by bus. Usually, the bus company Flota Occidental is responsible for the trip. There are normally several buses daily (in most cases, there are three).
It is worth booking your ticket in advance to be sure to have one available. (We tried to book our ticket for the following day only spontaneously the night before, and all seats were already sold out).
Extra tip: Even if the trip officially only takes 6 hours, you shouldn't rely on these travel times (in our case, it was a good 10 hours of travel thanks to traffic jams and construction sites on the road). This is not only true for this particular trip but for bus trips in Colombia in general.
By car
Travel time: ca. 6-7 hours
Renting a car: on-site or at RentalCars
Another option is to rent a car and drive the route yourself. This way, you also have the opportunity to visit different places along the way (e.g., the enchanting city of Jardín) and do not depend on bus schedules.
However, note that the rental prices will be a bit higher if you don't drive your rental car back to Medellín afterward.
The roads on this route are relatively good, but there may be road closures along the way. Therefore, be sure to listen to the instructions of the local road police. Especially during the rainy season, flooding of the roads can occur from time to time.
By airplane
If you are traveling with little time or long bus rides are just not your thing, you can also travel from Medellín by plane. Salento itself does not have an airport, but the nearby cities of Pereira and Armenia both offer daily flights to and from Medellín.
From there, you can get to Salento by bus or taxi. From Pereira airport, however, you must first take a bus or cab (about 10 minutes) to the bus station. From here, buses leave about once an hour to Salento (about 1 – 1 1/2 hours).
Getting to Salento from Bogotá
By Bus
From the Colombian capital Bogotá, you can also take the bus to Salento several times a day. First, you must book a bus to one of the surrounding cities, Armenia (or Pereira) (about an 8-hour drive).
From here, you can continue by bus or taxi to Salento (about 1 hour).
There are several operators from the Terminal de Salitre in Bogotá, which means you can find buses to Armenia several times daily.
By airplane
If the long bus ride from Bogotá is too strenuous for you, you can also travel by plane. Since Salento itself does not have an airport, you should book your flight via the neighboring cities of Pereira or Armenia.
From there, you can take a bus or cab to Salento. From Pereira airport, you have to take a bus or taxi (about 10 minutes) to the bus station. From here, buses leave about once an hour to Salento (about 1 – 1 1/2 hours).
Salento Transport
The Willies of Salento
The Willies in Salento (Jeeps) belong to the city like Sagrada Familia to Barcelona. They are already a cult object in the area. It's hardly surprising that they can simply be found in various iconic places in Salento as a photo point.
You can use the Willys for various excursions in the area. For example, they will take you to the Cocora Valley to see the famous wax palms, Filandia, or the coffee farms in the area.
To use the Willys, all you have to do is go to Salento's main square, Plaza Bolívar. From there, you can hardly miss the departure point. Buy your ticket at the small stand by the cars.
Extra info: The Willys are often filled up to the last "seat." This also means the footboard outside the jeep, on which up to three people can ride standing up. If that's too risky for you, better sit inside or wait for the next Willy.
Walking
Salento itself is relatively small and thus easy to explore on foot. Even many coffee farms can be reached within 30-90 minutes of walking if you enjoy a walk.
Bus and Colectivo
If you want to visit places further out, like Pereira, the best way is to take the bus. You can buy your bus ticket at the bus stop, a short walk (about 7-10 minutes) outside the center.
The best things to do in Salento
Explore the colorful center of Salento
When visiting Salento, many people focus on the famous Cocora Valley. But many forget that the city itself is also worth seeing.
Admittedly, the historic center of Salento is not particularly large. Therefore, it is worth taking 1-2 hours of your time to discover the colorful alleys of the small Colombian town.
Let yourself be enchanted by the colors of the multicolored buildings, and check out the small handicraft stores, where you can indeed find a suitable souvenir always to remind you of this trip.
Plaza Bolívar – Salento's Main Square
Plaza Bolívar in Salento is the vibrant heart of this charming village and an absolute must for any visitor. Surrounded by colorful colonial buildings that reflect the history and culture of the region, the central square invites you to linger and enjoy the relaxed atmosphere.
At the latest, when you leave for the Cocora Valley or any other Salento excursion destination, you will end up in this square. Because this is where the Willys, the city's iconic jeeps, are waiting.
The town's church, the Church of Nuestra Señora del Carmen, is also in this plaza. It's worth taking a peek inside, as something is always going on here.
Calle Real
Calle Real is the main pedestrian street in Salento. Characterized by vibrant colors and traditional, well-preserved colonial buildings, this picturesque pedestrian street is great for taking some travel snapshots.
Along Calle Real, you'll find various interesting stores offering everything from handmade jewelry and traditional clothing to locally grown coffee.
You can enjoy local delicacies in the many cozy cafes and restaurants while watching the hustle and bustle of the street.
Hike in the Valle de Cocora and discover the impressive wax palms
Opening Hours Cocora Valley: 08 – 18 Uhr
Entrance Fee Cocora Valley: 10.000 COP (ca. 2 €/$ 2.2) + 6.000 COP (ca. 1,20 €/1.3) for the extended hike
Getting there: approx. 25 minutes by Willy from Plaza Bolívar (9.000 COP/approx. 1,80 €/$ 1.90 return)
For many travelers, Valle de Cocora, the Cocora Valley, is the main reason to visit Salento. Home to giant wax palm trees, Cocora Valley is definitely one of the most unique places I have ever seen. This picturesque place will definitely captivate you immediately as well.
After about a 25-minute ride in the Willy, you will reach Cocora Valley and can start your hike. There are two trails you can choose from. One option is to hike exclusively in the Valle de Cocora, that is, through the wax palm area.
Another option is to take the circular trail, which will take about six hours. The route takes you through beautiful scenery, along and maybe even a bit through the region's river, along forest landscapes, to a hummingbird farm (entrance fee: 15,000 COP/approx. 3 €/$ 3.2), where you'll be greeted with hot chocolate and cheese (yes, weird combo, I know, but this combination is very popular in Colombia).
For me, the long hike in the Cocora Valley was an absolute highlight of our trip. It is truly recommended for those who like hiking and want to spend more time in Colombian nature.
Extra tip: I recommend leaving no later than 8:30 am from Salento (ideally at 7:30 am) to visit the Cocora Valley. Especially during the high season, it can get really crowded.
Eje Cafetero: Visit a Coffee Farm
Opening Hours Finca Buenos Aires: 09 am – 04 pm (Tours start at every full hour)
Entrance Fee Finca Buenos Aires: 35.000 COP (ca. 7 €/$ 7.5)
Getting there: about 25 minutes by Willy from Plaza Bolívar (8,000 COP/approx. 1.65 €/$ 1.7 round trip) or on foot (about 1½ hours each way) or as a guided Tour
A visit to Eje Cafetero, Colombia's famous coffee triangle, is an invitation to take a closer look at the region's coffee cultivation. And Salento is definitely an ideal place to do so.
Surrounded by numerous coffee farms, you have many great places to visit. Among the most visited in the region are the coffee fincas Don Eduardo, Las Acacias, and El Ocaso.
Looking for a coffee farm that is not right by Salento and is less touristy, a local highly recommended the Buenos Aires Coffee Farm.
And indeed, the tour was just great. Beginning on the hour, the guided tours start at the Finca and take you on a journey from planting to harvesting and later preparation of the coffee beans. The tours are given in English and Spanish in relatively small groups.
Each of our questions was answered, and our tour guide, Pablo, clearly enjoyed his work and had a lot of knowledge to share with us.
And most importantly, of course, you get to taste at the end of the tour. Besides a freshly brewed coffee, we were surprised with a small snack and a refreshing lemonade.
Enjoy the local gastronomy
Salento has two special dishes that are the pride of the region and are usually served in combination: Trout ("Trucha") and Patacón (A kind of crispy tortilla made from plantains).
If you visit the region, you can try both dishes in different versions.
If you don't like to eat fish, I recommend the patacóns as a single dish. At Restaurante Bambu, you can enjoy them, for example, with mushrooms (highly recommended) with a simply fantastic view over the idyllic nature of the region.
Delicious lunch menus, sandwiches, and soups of the day (also many vegetarian options) can be found at the Meraki restaurant.
The Mirador of Salento – En las Manos de Dios
Opening Hours Viewpoint: 08 am – 06 pm
Entrance Fee Viewpoint: 5.000 COP (ca. 1 €/$ 1.10)
This particular viewpoint is located just a short walk (about 10-15 minutes) from downtown Salento towards the coffee fincas. So if you're heading there on foot or with a private driver, this is a convenient option for a short stopover.
The viewpoint offers several photo opportunities, such as a willy, an eagle, or some butterfly wings, including antennae you can pose with.
The highlight, however, is the hands that you can climb up to get a great view of the surrounding nature or snap a nice photo for your travel album.
Admittedly, the lookout is more for fun, to snap a few amusing photos, than to enjoy a grand view. But for the small entrance fee, it's well worth the enjoyment.
Visit Filandia
Travel time Filandia: approx. 40 minutes
Journey Price: 16.000 COP (ca. 3,2 €/$ 3.4) return
Getting there: By Willy from Plaza Bolívar once an hour.
If Salento is too touristy for you or you just want to visit a charming local village nearby, then a visit to Filandia is just what you are looking for. You can easily get to the small town between Pereira and Salento by taking a Willy, which runs about once an hour between the two towns.
Filandia is a quiet authentic place with tranquil, colorful colonial buildings surrounded by beautiful green nature.
Stroll through the small town, let yourself be enchanted by the picturesque colors of the buildings, drink a coffee with a view over the coffee-growing areas, or climb the observation tower just a short walk from the town center.
Extra tip: For a small lunch with a view, visit the Helena Adentro restaurant. Some of the best coffee we had in Filandia was at Café Quindío.
Bike Tour & Mountain Biking
Mountain biking and cycling around Salento are fantastic ways to actively explore the region's stunning scenery and breathtaking nature. With various routes and difficulty levels aimed at less-trained and experienced cyclists, the scenic trails and narrow country roads offer unforgettable experiences.
Cycle through dense forests, past lush green hills, and along rivers while enjoying panoramic views of the majestic Andes.
Extra tip: Don't forget your helmet and sunscreen! Especially during the midday hours, the sun gets pretty intense.
Santa Rita Waterfall
Travel time Santa Rita: approx. 40 Minutes (10 minutes by Bus + 30 minutes walk)
Journey Price: 3.000 COP (ca. 0,6 €/$ 0.65) return
Entrance Fee: 7.000 COP (ca. 1,50 €/)
Santa Rita Waterfall is an impressive place to visit during your trip to Salento. Located about 6 km/3.7 mi from Salento, this picturesque waterfall is surrounded by lush vegetation and offers a refreshing swim in its natural pool.
To get there, you can either go for a hike (you can also take the bus for the first kilometers) or join a horseback riding tour to fully enjoy the beauty of the surrounding landscape.
Go on a day trip
The Eje Cafetero area around Salento is considered by many to be one of the most beautiful areas in Colombia. If you have more time to spare, planning an additional day trip in the area is worthwhile.
You can book a tour to many of the following places locally or online. If you are a confident driver, it is also worth renting a car on-site and exploring the area on your own (especially recommended outside the rainy season!).
The best way to do this is to book your car through RentalCars and then pick it up at Pereira Airport.
Santa Rosa de Cabal Hot Springs
Opening Hours Hot Springs: 06.30 – 10.30 am + 11.30 am – 05.30 pm + 06 pm – 11.30 pm
Entrance Fee Hot Springs: Depending on the season and time, between 41.000 COP (approx. 8,50 €/$ 8.7) and 100.000 COP (approx. 20,50 €/$ 21.20). You can find the exact prices on the official website
Getting there: about 60 km/37 mi from Salento, journey ideally with a rental car or as a guided tour from Salento
The hot springs of Santa Rosa de Cabal, located in the picturesque region, are a true paradise for recreation seekers and nature lovers. These natural hot springs, surrounded by lush vegetation and beautiful waterfalls, offer a relaxing retreat after a long hike through the Cocora Valley.
These springs' mineral-rich, warm waters are known for their soothing and therapeutic properties that pamper the body and mind alike. Here you can relax in a beautiful setting and enjoy the healing powers of the water while listening to the sounds of nature.
Unfortunately, our own trip to the hot springs fell through thanks to heavy rains. However, other travelers and locals have praised this place so much that it simply can't be missed on this list.
Jardín Botánico del Quindío – The Botanical Garden
Opening Hours Botanical Garden: 08 am – 03.30 pm
Entrance Fee Botanical Garden: 60.000 COP (ca. 12,50 €/$ 12.7)
Getting there: About a 1-hour drive from Salento by rental car or taxi
The Jardín Botánico del Quindío in Colombia is a unique natural paradise that emphasizes ecological conservation, scientific research, and environmental education.
In this fascinating botanical garden, you can admire various plant collections and exhibits, including the notable national palm collection, which includes nearly every species of palm native to Colombia.
Additionally, the garden offers unique attractions such as a beautiful butterfly garden, an insect zoo, and bird-watching areas.
Pereira
A visit to Pereira is an excellent opportunity to experience Colombia's urban life while you're in the region. This lively city lies only about 1 to 1.5 hours from Salento and offers an abundance of sights, stores, and restaurants. It is also far less touristy than many other Colombian cities.
Here you can admire modern architecture, explore local markets, and enjoy delicious Colombian cuisine. A detour to Pereira is an excellent addition to your stay in Salento and allows you to discover Colombia's diverse flair in all its facets.
Extra tip: If you later fly to Medellín or another region of Colombia, you can kill two birds with one stone and visit Pereira on the way to the airport.
Pijao
A visit to Pijao, a picturesque village in the coffee region of Colombia, is a beautiful opportunity to experience traditional Colombian life off the beaten path. Pijao is about 35 kilometers/22 mi from Salento and is surrounded by impressive mountains and lush vegetation.
In this charming town, you can stroll through the narrow streets, admire the colorful colonial facades, and enjoy the relaxed atmosphere. Pijao also offers an excellent opportunity to learn more about coffee production in the region, as it is surrounded by numerous coffee farms where you can take part in guided tours and see the coffee-making process up close.
Unfortunately, during our trip, we didn't manage to visit Pijao as planned, as the rainy season started way too early for us and flooded the roads. However, since we had already put a lot of planning into our local trip, I didn't want to withhold this fantastic place from you.
Extra tip: If you want to visit this beautiful and less touristy place, you should know that its accessibility is not exactly easy. You can reach it either by rental car, motorcycle, or taxi.
Horseback riding
For some visitors, one of the best activities around Salento is a horseback ride through the breathtaking landscape of the coffee region. Guided horseback rides allow you to explore the picturesque valleys, green hills, and traditional coffee farms in a very special way.
However, before you go horseback riding, it is essential to ensure that the horses are well-treated and healthy. Make sure they look well-fed, groomed, and not overworked. Unfortunately, we have seen some horses that looked really anything but happy. However, if you consider these aspects, you can have an unforgettable and responsible riding experience in the enchanting surroundings of Salento.
Where to stay in Salento
Casa La Eliana
I'll be completely honest with you. There doesn't seem to be a perfect place to stay in Salento: But of all the ones we looked at, Casa La Eliana was by far the best option.
Not located right in the center of town – but a 3-minute walk from it and therefore much quieter – this place has cozy rooms with beautiful views of the surrounding nature.
The owner Jesús and his wife will give you many practical tips for your excursions and can help you spend a few wonderful days in Salento and its surroundings.
Check further info, prices, and availability of Casa La Eliana
The best place to stay for nature lovers
Coffee Tree Boutique Hostel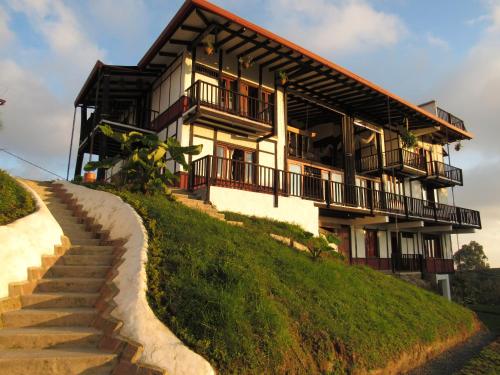 If you are looking for simply gorgeous views over the nature of Salento, this hostel is the right place for you. Besides the beautiful nature, the house's dogs also help you feel almost at home.
The location on the outskirts of the village provides a quiet environment, and the common area offers the option to get in touch with other travelers.
Check further info, prices, and availability of Coffee Tree Boutique
The best budget accommodation in Salento
Viajero Hostel Salento
If you are traveling on a smaller budget and like to stay in hostels where you can quickly get in touch with other travelers (thanks to the communal lounge), this is the right place to stay.
Viajero Hostel is one of the most popular accommodations in Salento, especially for backpackers. You can choose from rooms of different sizes and facilities, private rooms, family rooms, or dormitories.
Check further info, prices, and availability of Viajero Hostel Salento
Is your ideal accommodation not included?
Check all accommodations in Salento
FAQ about visiting Salento
What is the best travel time for Salento, Colombia?
The best time to visit Salento is probably between December and early March. You will find the best temperatures with less rainfall during this dry season. However, this is also the most touristy time in Salento.
How do I get to Salento, Colombia?
Salento is easily accessible by bus from larger cities such as Pereira, Armenia, or Medellín. The trip from Pereira or Armenia takes about 1 to 1.5 hours, while the journey from Medellín takes about 6 hours.
How many days to stay in Salento, Colombia?
To explore Salento and its surroundings at your leisure, it is recommended to stay at least 2 to 3 days. This way, you will have enough time to visit the most important sights, like the Cocora Valley and the coffee farms, and enjoy the local culture and atmosphere.
Is Salento safe for tourists?
Salento, Colombia, is considered a reasonably safe destination, even for solo travelers. However, as with any tourist destination, you should keep an eye on your valuables and exercise some caution.
What currency is used in Salento, Colombia?
In Salento, as in the entire country, the Colombian currency, the peso (COP), is used. It is advisable to carry cash in smaller denominations for daily use, as not all stores and restaurants accept credit cards.
Do locals in Salento, Colombia, speak English?
In general, you should assume that not all locals speak English. However, in the tourist area, many can communicate in English. It is recommended, nevertheless, to speak some basic Spanish.
---
Interested in Colombia?