Medellín, Colombia, is rightly one of the most popular places in Colombia. To make the most of your trip, let's discover the best things to see in Medellín in 3 days.
Back in the 90s, Medellín was considered one of the most dangerous cities in the world. Since then, the tide has turned. The metropolis is regarded as one of South America's showcase cities and should not be missing from any Colombia itinerary.
So let's dive into the city on this Medellín 3 days itinerary and discover the top things to see in the "City of Eternal Spring."
Medellín Facts
Capital of the region (Departamento) Antioquia
The second largest city in Colombia (about 2.6 million inhabitants)
Nickname: City of Eternal Spring
Named the Most Innovative City in the World in 2012 (by the Wall Street Journal)
The inhabitants of the region call themselves Paisa
MEDELLÍN INFO BOX
Where to stay in Medellin: Hotel Brana (4-Star Hotel with pool in Laureles) or Casa Egos Pop (Comfortable hostel in Laureles with private rooms)
The most popular activities & tours in Medellin
Paragliding Adventure in Medellin
Getting there: Make sure to check for the best flight deals on Flight comparison-Sites like SkyscannerBustickets for South America can be found at Busbud.
Transport: Bus, Metro, Tramvia, or Taxi
Want to rent a car? You can find great deals on RentalCars.
Need travel insurance? Well-insured with one of the world's most popular travel insurers for travelers: AXA Travel.
Medellin Must-Have: Colombia Travel Guide
Best time to travel to Medellín, Colombia
As Medellin's nickname, "The City of Eternal Spring," suggests, Medellin can be easily visited at any time of the year. Temperatures are spring-like warm all year round and fluctuate only slightly.
The rainy season in Medellin is between April and May and October and November. The primary tourist season for Medellin is December to March.
Where is Medellin
Medellín is located in the lower northwest of Colombia, about 500 km from the border with Panama. The city is located in the Aburrá Valley in the South American Andes in the Antioquia region.
How to get to Medellin
Getting to Medellín by plane
If Medellin is the only/first stop of your trip, you will most likely arrive by plane. There are several connections from the US and Europe to the Colombian city.
To find a good deal on your flight to Medellin, it is worth looking for good flights early (ideally at least six weeks before departure). For this purpose, I definitely recommend a flight comparison site like Skyscanner.com.
From Medellin airport to the city center
Medellin's international airport (José María Córdova Airport) is located about 45 minutes' drive from the center of Medellin. You have several options to get there. The cheapest is the airport bus. However, for two or more people, it is worth taking a taxi.
The price of the cab is negotiated before boarding (expect to pay about $ 20). The cabs leaving from the airport are usually safe. Many of the drivers also speak English.
Getting to Medellín by bus
If you are already in Colombia or South America, it is worthwhile to travel by long-distance bus. South America has various providers. You can buy your ticket directly at the bus terminal (best at least one day in advance) or book online via Busbud.
Extra tip: Be sure to read the reviews of the bus company online before booking to avoid unpleasant surprises.
Medellín Transport
There are several ways to get around the big city of Medellin. In this section, we will briefly introduce you to the different means of transportation in Medellin.
Public Transport
Medellin's public transportation network is the pride of its inhabitants and is very well developed. Several options will take you from A to B and almost every corner of the metropolis.
The options available to you are:
the metro
Metrobus (Metroplús)
city bus
Tranvía
Metrocable (cable car)
Most public transportation can be used with a standard rechargeable ticket. You can get these at almost every stop at the ticket machine (often also usable in English).
The navigation is quite simple and similar to other big cities worldwide. You can check current fares on the official website here.
Metro Cable
Since Medellín is located in the mountains, it can sometimes be rather challenging to get from A to B by regular means of transportation. That's why Medellin introduced an innovative cable car system a few years ago.
For many visitors, the ride on the so-called Metro Cable is an absolute must to enjoy the view over the city's rooftops. Medellin's cable car can also be used with the regular ticket.
Taxi
If you like, you can also use the good old cab for a ride. Especially for the trip to and from the airport, a taxi can be worthwhile. In the city itself, you don't need a cab. Especially in the sometimes somewhat chaotic city traffic, you might be faster with public transport.
If you still don't want to miss out on a ride in a cab, make sure it is a reputable taxi. Another option is to use the cab app Uber. Except for the way to and from the airport, you can use Uber without any problems.
By Foot
While some of the Medellin attractions from this list are a bit further out and, therefore, can only be visited by transportation, you can also see some of the attractions on foot.
If you like walking, this will allow you to discover even more great places in the area.
3 Days in Medellín Itinerary
Medellín in 3 days – Day 1
Pueblito Paisa (Cerro de Nutibara)
Opening Hours Pueblito Paisa: 09 am – 09 pm
Entrance Fee Pueblito Paisa: free of charge
Want to combine a fantastic vantage point over the rooftops of Medellin with a glimpse of the region's wonderful traditional architecture? Then a visit to Pueblito Paisa is probably just what you need.
At this site, you'll find a 20th-century recreation of a traditional village from Colombia's Antioquia region. Stroll through the colorful alleys of the small village, take photos, discover the souvenir stalls, or enjoy a hot coffee or Colombian snack.
A photo of the "Medellín" sign in front of the small square in the center of the village is a real highlight for many visitors.
The small tourist village is located on the Cerro de Nutibara, after an ascent of about 80 meters in altitude. For those who want to spend more time in nature, the Cerro de Nutibara offers several hiking trails and a cultural park.
To reach the Pueblito Paisa, take a cab to the top or walk up a stairway from the bottom of the hill. The way up is slightly strenuous but quite doable for a person of average fitness.
La Candelaria
La Candelaria is located in the center of Medellín. You should plan a visit here, especially during the day, when the streets are safe. In addition to the already mentioned Plaza de Botero and the Antioquia Museum, this part of the city is also home to Parque San Antonio, Parque Berrío and the Candelaria Church, and Plaza de Cisneros.
Stroll through the streets of the city center and be surprised by the atmosphere so different from other neighborhoods in the city.
Fun Fact: The name La Candelaria comes from the Virgin of Candelaria figure from the Canary Islands in Spain.
Plaza de Cisneros
Let's move on to another of the city's plazas, Plaza de Cisneros, or "Lights Park" (Spanish: Parque de las Luces). It is named after the Cuban engineer Francisco Javier Cisneros, who worked on the historic Antioquia railroad.
The project, with approximately 300 24-meter high light columns, is intended to serve the rejuvenation of the city and is primarily designed as an art project.
Parque San Antonio
Parque San Antonio is, contrary to its name, not a park but a historic square of Medellín. Today, this plaza is a popular and lively part of the city, where you can spot children playing, lemonade vendors, and many locals.
Unfortunately, the history of the plaza is not quite as vibrant as it may seem today. As you enter the plaza, you'll spot the two bird statues by famous Colombian artist Fernando Botero.
The first statue was placed as the "Bird of Peace" when it originally opened in the mid-90s. Only a year later, both the bird statue and 23 passersby were killed in a bomb attack here.
An identical sculpture was placed next to the remains of the destroyed bird in 2000 to serve as a "tribute to stupidity" and a symbol of peace.
Extra tip: The Plaza is popular not only with visitors but also with pickpockets. So keep an eye on your bag during your visit.
Parque Berrío
Parque Berrío is arguably the city's most prominent square for many locals and is considered a meeting point and reference point for popular spots around the center.
From here, you also have a view of the Candelaria Church, the oldest church in the city.
The plaza has a long history and was used as a marketplace and place for political announcements as early as the 17th century.
Plaza Botero
Opening Hours Plaza Botero: 24 hrs
Entrance Fee Plaza Botero: free of charge
When you visit Colombia, you can't help but hear about the artist Fernando Botero. The Colombian sculptor and painter's artwork can be found almost everywhere in the country. In his birthplace Medellin, a whole square is dedicated to the artist.
On the Plaza Botero, you will find numerous bronze statues of Botero. Discover the impressive and entertaining works of art as you stroll through the large square.
Fun Fact: If you think you can only find the artist's unique statues in Colombia, you're wrong. There are statues of this Colombian artist in both my adopted home of Barcelona and my hometown of Goslar, Germany.
Museo de Antioquia
Opening Hours Museo de Antioquia: Mon – Sat: 10 am – 5.30 pm
Entrance Fee Museo de Antioquia: For foreign visitors: 24.000 COP (ca. 5 €/$ 5)
If you haven't had enough of the Colombian artist after Plaza de Botero, or if you're also interested in his paintings after seeing his imaginative statues, this is the museum for you.
Fun Fact: Did you know that there is also another Botero Museum in the capital of Colombia? It's one of the most fascinating museums in Bogotá and is home to even more of his unique art creations.
Fernando Botero has a whole floor dedicated to him in this art museum. In addition, you will also find works of art and information about many other artists and art styles.
The main goal of the exhibition is to show the history of the Antioquia region immortalized in works of art.
Although we are honestly not art museum fans, we really liked the museum and can definitely recommend it. However, I doubt whether I would call it an absolute must-see in Medellin.
Palacio de la Cultura Rafael Uribe
Opening Hours Palacio de la Cultura: Mon – Fri: 08 am – 5 pm; Sat: 08 am – 2 pm
Entrance Fee Palacio de la Cultura: free of charge
This eye-catching palace, located in the middle of Plaza de Botero in the heart of downtown Medellín, is the headquarters of the Antioquia Institute of Culture and Heritage.
Even though the impressive architecture of the vast building is already impressive from the outside, a look inside is also worthwhile. In addition to some events such as concerts and the like, it houses Medellín's Historical Archive and various exhibitions on the life and work of its namesake, Rafael Uribe.
You can find other things inside the palace: a small art gallery, a sound gallery, a documentation center for music, and more.
Optional: Catedral Metropolitana – Medellín's Cathedral
Opening Hours Catedral Metropolitana: Mon – Fri: 07 – 08 am; 10 – 11 am; 6 – 7 pm; Sat + Sun: 07 – 08 am; 10 – 11 am; 12 – 13 pm; 6 – 7 pm
Entrance Fee Catedral Metropolitana: free of charge
Anyone interested in places of worship should not miss Medellín's cathedral, the Catedral Metropolitana. With an impressive size of around 5,000 m², it is considered the largest adobe building in the world.
The impressive building was completed in the earlier 1930s. Today, it's difficult to imagine Medellin's cityscape without it.
Things to do in Medellín in 3 days – Day 2
Medellín Botanical Garden
Opening Hours Botanical Gardens: Tue – Sun: 09 am – 04 pm
Entrance Fee Botanical Gardens: free of charge
The Botanical Garden of Medellín turned out to be a pleasant surprise for us. It's a perfect place to escape the hustle and bustle of the city.
Discover tropical plants, cacti, and other flora as you wander through the park. We especially liked the pond, where you can spot a variety of ducks, turtles, and fish.
If you're lucky, you might spot one of the giant iguanas roaming freely in the park.
Mercado del Rio
Opening Hours Mercado del Rio: Sun – Tue: 08 am – 10 pm; Tue + Thu: 08 am – 11 pm; Fri + Sat: 08 am – 00 am
Entrance Fee Mercado del Rio: free of charge
I once read a quote somewhere that the best way to get to know a city is to visit a local market. A great option for this is the Mercado del Rio (Engl. "River Market") in Medellín.
With more than 30 different restaurants, bars, and cafes, you can definitely find something for all tastes here. Whether breakfast, lunch, a drink, or a small snack between meals.
Indulge in Medellín's delicacies and dishes and discover the local scene.
Even though the market itself is still relatively new (the opening was in 2016), the building dates back to the 19th century and used to be a soap factory.
Comuna 13
Today, Comuna 13 is one of the city's most impressive neighborhoods. But not too long ago, Medellín's 13th municipality was one of the most dangerous neighborhoods in the world.
Stroll through Comuna 13 and be enchanted by the impressive street art and murals. I highly recommend taking a graffiti tour to learn about the background of the different art pieces and the neighborhood itself.
Such a tour lasts about 2 – 4 hours and supplies you with interesting information that makes the artworks seem even more impressive. Many tours also include a cable car ride to experience the remarkable neighborhood from above.
Extra tip: I recommend the afternoon tour. This way, you can discover the neighborhood in daylight and enjoy the view over Medellín in the dark.
During the 90s and early 2000s, many innocent people who had settled in illegal settlements in this area over the years lost their lives due to guerrilla organizations and military operations. However, starting in 2006, a large sum of money was invested in this neighborhood.
Especially the construction of the cable car and escalators helped the neighborhood to improve its connection to other parts of the city and, thus, the infrastructure of Comuna 13.
Medellín Itinerary – Day 3
Metro Cable
Medellín is simply enormous – and not only in the figurative sense. Nestled between mountains, it is always worthwhile to experience the mighty city from above.
The Metro cable, the cable car of Medellín, carries you far above the city's roofs and allows you to experience a fascinating view of Medellín.
You can quickly pay for the ride with your regular metro card by recharging your card at any station.
Extra tip: A ride on the Metro cable can be perfectly combined with a visit to Comuna 13 or Parque Arví (see next point).
Parque Arví
Opening Hours Parque Arví: Tue – Sun: 09 am – 06 pm
Entrance Fee Parque Arví: Foreign visitors: 50.000 COP (ca. 10 €/$ 10.5)
Costs of Getting there by Metro cable: Depending on the starting point, approx. 6-7 €/ $ 6.5-7.5 (round trip)
It's hard to believe, but this park with more than 1,760 hectares of forest is located in Medellin's urban area – even though you'll probably end up feeling like you're in the middle of pure nature while hiking here.
Within the park, there are several trails you can follow: From 1½ hours to several hours of hiking.
While it is possible to do the first easy hike on your own, for safety reasons, the longer trails may only be entered with a guide.
Long trails of beautiful nature await you in the park, providing a nice break from the usually bustling city of Medellín.
To reach the park, you can take the metro cable (cable car). It will take you on an impressive ride over the rooftops of the city and the treetops of the park. Enjoy the views!
Laureles Neighborhood
Laureles is one of the two most popular neighborhoods among visitors. While El Poblado is quite international and modern, Laurels captivates its visitors with lush greenery.
Numerous delicious restaurants and cafes await you here. Suppose you haven't chosen Laureles as your base. In that case, it's worth visiting for a delicious Colombian coffee (e.g., at La Civeta y el Elefante Café or Délmuri Café) or a delicious meal (e.g., at Vegarden).
Another popular attraction in Laureles is Primer Parque de Laureles, a popular park surrounded by numerous bars and restaurants. If you're in the mood to meet other travelers or digital nomads, you'll certainly find them here.
We spent a few weeks in this neighborhood. We totally liked it here; a bit off the beaten tourist path. The greenery here and the tranquil atmosphere really won us over.
El Poblado Neighborhood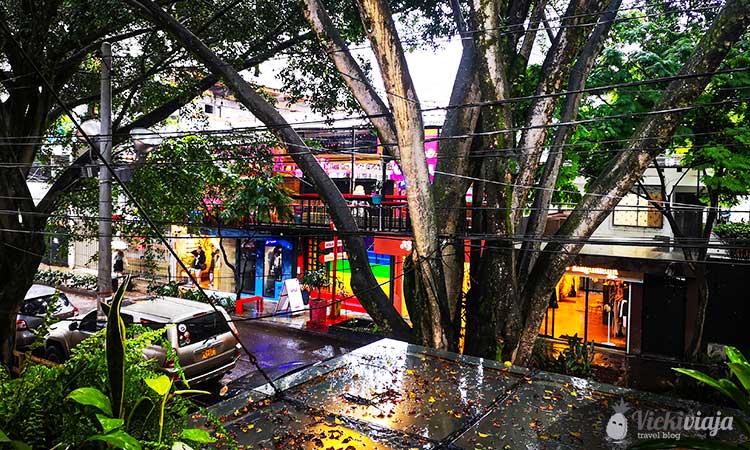 Chances are you are staying in the Laureles or El Poblado neighborhood. Depending on which area your accommodation is located in, it is worth visiting the respective other one.
El Poblado is a very international neighborhood with many nightlife options, restaurants, bars, clubs, and cafes. Stroll through the streets and discover some cool places.
One of the most popular places in the neighborhood is the hippie café Pergamino. While I have to admit that the coffee here is seriously delicious, I found the hype around the bar a bit over the top, to be honest. There are also many other decent cafes in the area where you don't have to wait in line for 15 minutes to order.
For many, a visit to a rooftop bar is simply part of a stay in El Poblado. Especially popular are the Envy Bar and the Mosquito Rooftop Bar.
More time? More Things to do in Medellín
If you have a little bit more time or want to mix up things a little, feel free to add some of the following items to your itinerary.
Museo Casa de la Memoria
Opening HoursMuseum: Tue-Fri: 09 am – 5 pm; Sat+Sun: 10 am – 3:30 pm
Entrance Fee Museum: free of charge
You've probably heard about Medellin's terrible past. Due to Pablo Escobar, in the 90s, the Colombian city became one of the most dangerous and feared cities in the world.
The museum "House of Memories" is about the past. There is plenty of information about Colombia's history and the commemoration of thousands of deaths that the armed conflicts in Medellin have claimed over the years.
Important: Not all information in the museum is available in English.
The Castle Museum – Museo El Castillo
Opening Hours Castle Museum: Mon-Fri: 09 am – 5 pm; Sat+Sun: 10 am – 5 pm
Entrance Fee Castle Museum: 20.000 COP (ca. 4 €/$ 4.3)/ only gardens: 17.000 COP (ca. 3,40 €/$ 4)
Already starting to miss European castles during your visit to South America? Then you should plan a visit to Medellin's Castle Museum.
Although, to be honest, the castle doesn't quite fit into the city's backdrop, a visit here is enough to make you forget where you are. Stroll through the idyllic garden of the castle, located in the El Poblado neighborhood, or visit the glass, antiques, and porcelain exhibition inside the castle.
Try the regional dishes.
Besides the typical Colombian dishes, the Antioquia region is known for its delicious cuisine. To dive even deeper into the region's culture, it is worth trying a few of the typical dishes.
Bandeja Paisa
Bandeja Paisa is THE dish of the Antioquia region. It is considered an actual must-try plate for all visitors to the region. However, you should bring an appetite when trying it because the Paisa plate, as it can be translated, is quite a mouthful.
This dish comes with two different types of sausage, ground beef, red beans, rice, a piece of avocado, chicharrón, arepa (see next item), fried plantain, and a fried egg.
Arepa Paisa
Arepas can be found and enjoyed all around Colombia. These are flatbreads made from corn or flour. While they tend to be dry, they can be found in any style: stuffed, as a side dish, or just plain and simple.
Calentado
If you ask a Colombian about a typical breakfast in their country, you will most likely get calentado (in English: "warmed up") as an answer.
This is a popular breakfast dish from the Andean region made with beans, rice, egg, South American chorizo, and chicharrón.
Fun Fact: The dish is traditionally made with leftovers from the previous day. And for breakfast, the rice and beans are reheated – which is how the dish got its name.
Colombian Coffee
Coffee fans know that some of the best coffee in the world has its roots in Colombia. So when you visit this diverse country, don't miss out on a full-bodied Colombian coffee.
Medellin is a great place to do so. That's because numerous cafes and coffee roasters are here waiting to hand you a memorable cup of Colombian tradition.
Extra tip: Unfortunately, not all coffee is the same here. While Colombia is home to some of the best coffees, people here also like to drink the typical instant coffee. The best coffee can be found in cafes that specialize in quality coffee.
Join a Free Walking Tour
A city tour is a great way to get to know a new place, socialize with other travelers, and get exciting information about your destination. So why not join a free walking tour?
As the name suggests, these tours are completely free. However, you should leave a generous tip because that's what the guides live on.
Day Trips from Medellín
Not only Medellín itself but also the surroundings of the city are well worth a visit. From beautiful coffee fields to picturesque small towns, you can really find it all here.
Two of the most popular day trips are Guatapé, with its famous giant rock, and El Jardín, an idyllic little village with colorful classic Colombian architecture.
Where to stay in Medellín
Most visitors to Medellín stay in either the El Poblado or Laureles neighborhood. These two neighborhoods are considered very safe and offer plenty of options for their visitors.
Personally, I'm not too much of a fan of El Poblado, so I recommend staying in Laureles. However, if you are looking to party and meet fellow travelers, El Poblado might be a better option for you after all.
The best budget accommodation in Medellín
This accommodation certainly sweetened our stay with plenty of space to work or just chill in the hammock after a long day. This accommodation awaits you in a very local part of the gateway to Laureles, with lots of great restaurants, bars, and cafes in the neighborhood. The owners are always available to help and advise you, and the three cats and the little dog in the accommodation are ready for a little cuddle session.
Check further info, prices, and availability of Casa Egos Pop
The best Hotel in Medellín
This 4-star hotel in Laureles leaves little to be desired. With private rooms and a pool, the hotel invites its guests to one of the most beautiful neighborhoods in the city. The room rate also includes a delicious breakfast. Hotel guests especially appreciate the hotel's excellent location, cleanliness, and good service.
Check further info, prices, and availability of Hotel Brana
The right accommodation not included?
>> Check all accommodations in Medellín
FAQ about traveling to Medellín
How many days to stay in Medellín?
Medellin, Colombia, is a big city with a lot to discover. It is recommended to stay at least three to five days in the town to see the main sights.
Is Medellín, Colombia, safe?
Surprisingly, Medellin has become one of the safest cities in South America in recent years. Due to many investments, the image of the city has completely changed since the 90s.
How much does it cost to stay in Medellín?
Depending on the travel standard, the Colombian city of Medellín can be considered quite affordable. You can expect around $ 30-40 per day per person during your trip.
Can you drink the tap water in Medellín?
The tap water in Medellin, Colombia, is of excellent quality and safe to drink.
What language do they speak in Medellin?
In addition to several native sublanguages, Spanish is spoken in Medellin, as in the rest of Colombia.
---
Interested in Colombia?