Welcome to Guatapé, Colombia – a picturesque gem known for its colorful zócalos, impressive El Peñol rock, and breathtaking nature.
A Guatapé day trip or extended stay is the perfect way to escape the hustle and bustle of Medellín and discover the beauty of this charming town.
In this post, we'll show you how to easily reach Guatapé from Medellín and the best things to do in Guatapé. Let us guide you through the colorful streets and beautiful surroundings of Guatapé and discover why this place is a must-see for any traveler to Colombia.
Guatapé, Colombia Facts
Like Medellín, it is also located in Antioquia.
The name Guatapé comes from the Quechua, from the former leader of the ethnic group that lived here.
Formerly also called La Ceja de Guatapé ("the eyebrow of Guatapé")
Less than 9,000 inhabitants
Founded in 1811 under Spanish colonial rule
Where is Guatapé?
Guatapé is located in the department of Antioquia, about 50 km/31 mi east of the capital Medellín at an altitude of 1.890 meters/6.200 ft.
How to get to Guatapé from Medellín
Getting to Guatapé by bus from Medellín
Travel Duration: ca. 2 hours
Price: 18.000 COP (ca. 3,50 €/ $4)
Arguably the most popular way to get there is by bus. The ride is fast and relatively smooth, and except for the end of the route, there are fairly few curves.
You can take the bus without booking in advance, and it leaves as soon as it is full, so at least once an hour.
To get there, first, go to the Terminal del Norte. Head down the stairs to the stalls and look for stall number #14 to buy your ticket. From there, they will tell you the way to the bus (usually right around the corner from the stall).
Getting to Guatapé by shared taxi from Medellín
Travel Duration: ca. 1½ hours
Price: 25.000 COP (ca. 5 €/ $5.5)
We were surprised to hear that for a small extra charge, you get the option of taking a shared taxi to Guatapé instead of the bus. However, the choice is not always available, and they run at somewhat varying frequencies.
I honestly found the shared cab a bit more pleasant since you get to your destination faster. Eduardo, on the other hand, found the bus ride much more relaxing. Of course, it also depends on which seat you catch in the car and how tall (or big) your co-passengers are.
You can buy your ticket to the shared taxi with the same provider as the bus, and you need to accordingly also purchase your ticket at the Norte terminal, in the lower area, at sales booth #14.
Getting to Guatapé by private taxi from Medellín
Travel Duration: ca. 1½ hours
Price: ca. 200.000 COP (ca. 40 €/ $44)
If you want to avoid the option of large or noisy fellow travelers, you can just as well hire a private taxi. This can be done directly from your accommodation and ride apps like Uber or Capify.
A private cab comes with distinct advantages, of course, but also a significantly higher price.
Getting to Guatapé by a guided tour
Another popular option is to join a tour to visit Guatapé. This choice is especially suitable for solo travelers and travelers with limited time. This way, you don't have to worry about anything and can spend the day with like-minded travelers.
Many tours are combined with an additional activity, making the trip even more worthwhile. Possible ways of combination are a visit to Guatapé in combination with:
You can book the tours at a local travel agency (be sure to compare prices!) and online at GetYourGuide.
Getting to Guatapé by airplane
Guatapé itself does not have its own airport. If you travel directly by plane, you should book your flight to Medellín. From there, you can use one of the previously presented options to get to Guatapé.
Getting around Guatapé – Transport Options
Within Guatapé, getting from one place to another is very easy. While visiting the town, you can easily walk around by yourself. The city center is not very big, and it is beautiful. It can be worthwhile to see every little corner of it.
If you want to visit the Peñon or some of the more remote places in the area, you can take one of the moto taxis. Believe me, you won't have to look for them for long. At the latest, you will see them everywhere on the main road.
If you want to discover the region by boat instead, you can (how surprising!) take a boat. Boats leave from the Malecón several times a day. There are different providers with different prices and features. As always, it's worth comparing prices.
Visiting Guatapé as a day trip or overnight stay?
Guatapé is an absolute must-see for many when they visit Medellín. I also highly recommend a visit. You can see the colorful city like many, as part of a day trip or overnight. Both options, as always, come with their advantages and disadvantages.
Advantages of a Guatapé Day Trip
You need less time
You don't have to travel with all your luggage or arrange luggage storage in Medellín.
Usually cheaper
You have the option to take a guided tour
Advantages of a Guatapé overnight stay
More time to explore everything or to do other activities
Be at Peñol first thing in the morning
You can leave your daypack at the accommodation when you climb the rocks
In the evening/early morning, you can see Guatapé with far fewer tourists.
You stay flexible
As you can see, both variants come with their advantages and disadvantages. My personal recommendation is:
If you have the time, definitely stay overnight. We even stayed two nights and totally enjoyed the relaxation and tranquility of this place. Accordingly, we were far more flexible and could also explore the city center calmly without having an eye on the clock or having to keep the return trip in mind.
If you have less time available or like to travel with other travelers as part of an organized tour, you can also see Guatapé in one day. In this case, I recommend you start early in the morning and get off directly at El Peñol before visiting the city center.
What does a day trip to Guatapé Cost
Naturally, it depends on which way you travel and which local activities you want to participate in.
A self-guided day trip (including a return bus ride from Medellín, entrance fee to El Peñon, moto taxi to the city center, simple lunch/menú del día, a juice, and a coffee would cost you around 100,000 COP (approx. 20 €/$22).
A guided tour (like this one) including round trip, boat trip, and guide you can join from about 27,50 €/$30 per person.
The best things to do in Guatapé, Colombia
La Piedra del Peñol
Opening Hours El Peñol: 08 am – 06 pm
Entrance Fee El Peñol: 20.000 Yen (ca. 4 €/$ 4.5)
Getting there: Moto taxi from Guatapé (15.000 COP/3€/$3.3) or Bus from Medellín (18.000 COP/3,50€/$4)
La Piedra del Peñol is known by various names: El Peñon de Guatapé, La Roca, La Piedra, or in English, simply the rock. Whichever name you choose, it doesn't change its massive figure.
About 700 steps (the number changes with every source and ranges from 670 – 740 steps) lead you up to the enormous rock. At the top, a beautiful view of the impressive lake landscape of Guatapé awaits you.
I have to admit, I actually considered whether I really wanted to walk up all those steps, but in the end, it was definitely worth it! Apart from that, it wasn't as exhausting as I thought it would be.
How long it takes you to get to the top depends on your walking speed and the crowd on the stairs in front. It took us about 20 minutes to get to the top, with plenty of breaks to take photos and enjoy the view.
At the top, you can climb a few extra steps to an observation tower for a complete panoramic view of the stunning landscape. Plus, there are a few cafes to enjoy a cool drink.
Extra tip: I can't mention it enough, but I definitely recommend getting there as early as possible. We were there right at 08:30 am and could walk up the stairs without any problems with only a few people in front of us. Walking down (luckily, there is a staircase just for walking down) around 10:30 am, the stairs up to the top were already super crowded.
Did you know: that the idyllic reservoir landscape of Guatapé does not look like this by chance? On the contrary, the entire lake landscape was artificially created in the 70s. Even parts of the original city had to be flooded.
Enjoy the Piedra del Peñol Cafés with a view
As you finally conquer the last of those 700 steps, a reward that is nothing short of spectacular awaits you. Perched atop El Peñol, a small selection of cafés offers you the perfect spot to unwind and soak in the breathtaking panorama of Guatapé's enchanting lake landscape.
As you sip your well-deserved drink and marvel at the vibrant colors of the surrounding water and hills, you'll be captivated by the beauty of this artificial wonder.
We were told micheladas are THE drink here on the Peñol, and I must admit they weren't bad. If you'd rather not drink alcohol, there are also options for coffee, sodas, fresh juices, lemonade, and ice cream.
Visit the historic center of Guatapé
After climbing the big rock, it's time to take a closer look at the center of Guatapé. For many, Guatapé is one of the most beautiful cities in Colombia – but definitely one of the most colorful.
Discover the colorful Zócalos of Guatapé
One feature that makes the houses and downtown so unique are the so-called zócalos. These are decorations on the bases of the houses. Almost every house in the center has such a colorful plinth, and each one of them is a work of art in itself.
Locals explained to us that the plinths were decorated according to the characteristics of the inhabitants of the house. And even today, you can find such, for example, we found some dancing keys on the home of a locksmith.
There are so many creative designs to discover in the streets of the center. So you can follow the colorful houses up to outside the tourist paths to discover even more of the colorful artworks.
The History of the Zócalos
The colorful house bases are beautiful, but did you know that they were once painted for a practical reason? The paint protected the house bases from moisture and the farm animals that roamed the streets.
Plazoleta de los Zócalos – Guatapés most colorful square
Let's journey to one of the most picturesque spots in the entire city: the Plazoleta de los Zócalos, or "The Little Square of the House Pedestals" in English. Nestled along Carrera 28A, this vibrant square is the perfect place to immerse yourself in the city's lively atmosphere.
Allow yourself to be captivated by the kaleidoscope of colors adorning the houses and steps, all while capturing some colorful photos.
Why not sit at one of the charming cafés, savoring a rich Colombian coffee or a yummy hot chocolate as you observe the dynamic and colorful activities unfolding in the square?
Extra tip: Be sure to sample the delicious zocarolls (cinnamon buns) available in the area – they're simply divine, especially when enjoyed warm and fresh!
The umbrella street of Guatapé
Right next to the Plazoleta de los Zócalos is the next colorful sight in Guatapé, Umbrella Street. Not only on rainy days a real highlight. (No joke, we reached the street on our first day when it just started to rain cats and dogs, so we felt twice as happy to get there).
The Umbrella Street looks terrific, and its bright colors create a simply uplifting atmosphere. The earlier you go to see it, the better: because there's always a lot going on – just about everyone wants to take a photo here.
Extra tip: It's worth not stopping right at the entrance to the street but walking a few steps in to get a photo with fewer people on it.
Calle del Recuerdo
Another beautiful street in Guatapé is the Calle del Recuerdo ("Memory Street"). You will recognize the street by the colorful little fountain at the entrance.
The small alley is considered one of the most beautiful in the city and is also home to the Guatapé Historical & Community Museum.
The alley's name was not chosen by chance but had to do with its history. In fact, the original street was flooded in the 70s for the construction of the Guatapé reservoir. What you see here is a replica of the colorful actual street.
The Malecón
The reservoir of Guatapé makes up a large part of the charm of this region. And so a stroll along the Malecón (lake promenade) is simply part of any visit to Guatapé.
Many visitors stop at the prominent Guatapé sign, set against the backdrop of shimmering waters, to capture a memorable keepsake photo.
Along the water, plenty of small stalls offer everything from boat tours to snacks, drinks, and souvenirs. Browse the stalls or enjoy the view of the tranquil waters.
Discover the reservoir of Guatapé
Visit the reservoir of Guatapé, a manufactured formation of lakes and green islands. Enjoy a boat ride across the peaceful waters, appreciating the scenery and considering activities like kayaking or jet-skiing.
The beauty of Guatapé's reservoir, with its hidden spots and diverse wildlife, offers a memorable experience. Take the opportunity to discover this unique destination, where you can create lasting memories.
Sign up for water activities, enjoy the view in one of the restaurants at the harbor, or simply walk along the beautiful landscape of the area.
Take a Boat trip on the reservoir of Guatapé
Another activity that many visitors enjoy in Guatapé is a boat tour. There are various offers, from "Disney Cruise" to small boats with private drivers to shared boat tours with different price points.
However, the route is the same for most trips. A particular highlight is said to be the villa of Pablo Escobar – but most people don't mention that there is only a ruin left (the original was burned down in the 90s).
Otherwise, a boat tour can be pretty relaxing and gives you insight into the region from a different angle. Most tours cost around 5 € and last about 1½ – 2 hours.
Extra tip: If you visit Guatapé as part of a guided tour, you can book the boat trip included in the tour.
Kayaking & Stand up paddle boarding
If you're the more active type, Guatapé has plenty of opportunities for you to really let off some steam. This also includes various water activities.
You will find various offers for activities in the town and in many accommodations. Among the most popular are kayaking and stand-up paddling. There are even more unique options like water yoga (yoga on SUP boards) and many more.
Sample the hot chocolate and coffee of the region
Guatapé not only has a lot to offer in terms of scenery. Its gastronomy also offers visitors a treat or two. During our stay, I had one of the best hot chocolates I've ever tried.
But the coffee is not to be underestimated either – no wonder Colombian coffee is known worldwide. So be sure to take a few minutes during your visit to enjoy a delicious hot drink – for instance, at Plazoleta de los Zócalos.
Try the fresh Trucha
But Guatapé not only offers a wide range of beverages – the colorful city also has its own culinary specialties. One of the main dishes of the region is trout ("trucha").
You can find it in different ways, grilled, with garlic, on its own, with vegetables, or as part of the daily menu ("Menú del día"). If you like fish, you shouldn't miss this dish.
Extra tip: Many of the restaurants along the Malecón are mainly for tourists – overpriced and sometimes of relatively poor quality. Feel free to walk around a bit to find better options. Our favorites during our stay were the restaurant El Rosal and another, whose name we can't remember, sorry.
Hiking in the surroundings
Guatapé's surrounding nature makes it an ideal place for hiking. The picturesque landscapes, characterized by green hills and the impressive El Peñol-Guatapé reservoir, offer numerous opportunities for outdoor activities.
The well-marked hiking and biking trails allow visitors to enjoy the beauty of the region thoroughly. You can look forward to unforgettable adventures in a breathtaking environment- whether on your own or as part of a tour.
Take the bike
Biking in the surroundings of Guatapé offers a delightful way to explore the region's natural beauty and charm. As you pedal along winding paths, immerse yourself in the lush green landscapes and the gentle breeze that brushes past you.
Whether you're an experienced cyclist or a casual rider, the diverse terrain around Guatapé caters to various skill levels, ensuring an enjoyable adventure for all. Don't forget to pause and admire the panoramic views of the vibrant reservoir and the local flora and fauna along the way.
Zip-Lining & Kletterparks
As already mentioned, Guatapé offers plenty of opportunities to spend a few action-packed days. Besides hiking, biking tours, and water activities, ziplining and climbing parks are also on the agenda.
To find those, you don't have to search for long at all. We discovered the first climbing park right next to the Peñon. And the view was really not for the faint of heart – so if you're looking for a little adrenaline rush, you'll definitely find it in Guatapé.
Try a typical Antioquian meal
Trout is not the only meal typical in the region. If you need more proteins after a long day of hiking, the Antioquians have the right thing for you. Experience the flavors of Antioquia by indulging in the local dish, Bandeja Paisa. Be mindful that this traditional meal is quite heavy and not suitable for vegetarians.
Bandeja Paisa is a typical combination of red beans, white rice, ground beef, chicharrón (fried pork belly), plantains, avocado, arepa (cornmeal cake), and a fried egg. This filling dish is typically savored as a substantial lunch, offering a unique taste of Colombian culinary culture. Give it a try to appreciate the region's distinct gastronomic identity truly.
Extra tip: If traveling with a partner or in a group, you might want to share the dish with someone as it can be quite a lot.
Just switch off and enjoy the view
When I think of our weekend in Guatapé, this is the image I remember most fondly: lying in the hammock, enjoying a few rays of sunshine on my skin, a good book in my hand with the unique backdrop of the reservoir in the background.
Guatapé is a perfect balance to the big city of Medellín and is ideal for just coming to rest. Therefore, I recommend that if you stay a little longer, just take some time for yourself and enjoy the incredible landscape. Whether with a view of the reservoir or hot coffee or fruity juice with a picture of the colorful city center.
Day Trip to San Rafael
Admittedly, Guatapé is a rather touristy place. If you prefer it to be more authentic, less touristy, and closer to nature, San Rafael is the right place for you.
The small town is about 45 minutes by bus from Guatapé and lets you dive even deeper into the culture of Antioquia. Experience typical Colombian life in its purest form, swim in natural pools and refresh at picturesque waterfalls, learn Spanish at a popular Spanish school, or get an extra dose of action biking, tubing, or hiking in nature.
Reach San Rafael by Guatapé's public buses or book a tour locally.
Helicopter flight over Guatapé – See Guatapé from above
For those looking to make their visit to Guatapé truly unforgettable and have the budget to spare, consider booking a helicopter flight over the area. The stunning lake landscape is a sight to behold from the top of the rock, but it becomes even more breathtaking when viewed from the sky.
A helicopter flight can be a fantastic way to surprise your partner for an anniversary or simply indulge in a unique vantage point. To make the experience more cost-effective, consider combining the flight with another activity, allowing you to make the most of your time in Guatapé.
You can book the helicopter flight on-site, but it is advisable to book it online in advance, e.g., here.
Nuestra Señora del Carmen Church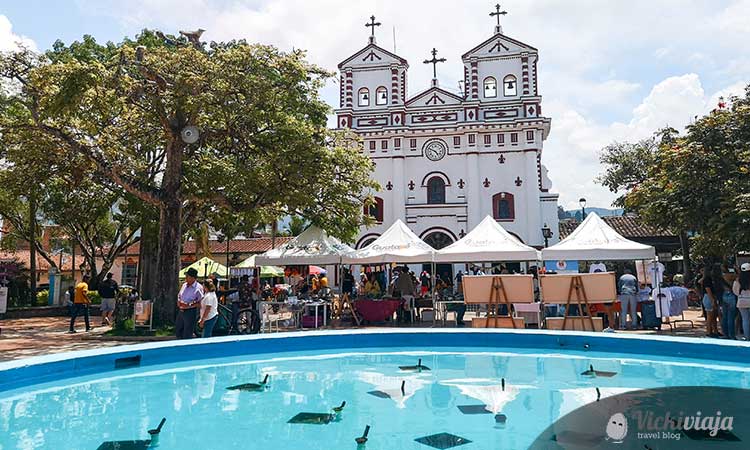 Even if you are not religious, a visit to the main square of Guatapé is worthwhile. The pretty church of our Lady Carmen is located here, which is usually open and can be visited from the inside.
There are also a few bars, restaurants, and places to sit on the main square. On weekends, you can often find a small market here, where you can buy artistic souvenirs and other things.
Monumental sheep for the 100th anniversary of the Zócalo
For over 100 years, the colorful zócalos have been produced in Guatapé. A sheep statue was erected near the Malecón (the first zócalos were sheep paintings) to commemorate this long artistic tradition.
Parque Comfama
For a fun-filled day in Guatapé, consider visiting Parque Comfama, a popular recreational and leisure park catering to families and visitors alike. The park boasts a variety of engaging activities, such as ziplining, swimming pools, playgrounds, and walking trails. In addition, Parque Comfama provides ample picnic areas, perfect for a relaxing outdoor meal.
As you explore the park, be sure to take in the picturesque views of the Guatapé reservoir, which add to the charm of the location. A visit to Parque Comfama promises a delightful experience, making it an ideal destination for creating lasting memories with friends and family.
Personally, we haven't visited the park and only seen it from the outside, but a couple of locals highly recommended us a visit.
Where to stay in Guatapé
The best Hotel in Guatapé
We chose this accommodation and couldn't have chosen better. Alone for the fantastic view of El Peñol, the accommodation already pays off. The super lovely staff also ensures that nothing stands in the way of a comfortable stay here.
The accommodation is located only a few minutes walk (about 5-10 minutes walk) from the city center, but far enough to avoid the loud music of the bars and restaurants. Just the right balance for us.
Check further info, availability, and prices of Finca-Hotel Montecarlo
Best Budget accommodation in Guatapé
Lake View Hostel is one of the most beloved accommodations in town and is not only popular with backpackers. With its great views and common areas, the hostel is perfect for meeting other travelers.
Be sure to check out the Thai food at the on-site restaurant, which is a hit with all guests.
Check further info, availability, and prices of Lake View Hostel
>>The suitable accommodation not included? Check out all accommodations in Guatapé on Booking.com
FAQ about visiting Guatapé
Is Guatapé, Colombia, safe?
Guatapé, Colombia, is generally considered safe for tourists. However, as with any destination, always be vigilant and inform yourself about the current security situation on-site.
Guatapé as a day trip or stay overnight?
If you have more time, it is worth staying overnight to experience Guatapé without the tourist crowds. Otherwise, a day trip is enough for the main sights.
How far is Guatapé from Medellín?
The colorful city of Guatapé is located about 50 km/31 mi east of Medellín and can be reached within a 1 1/2 – 2 hour drive.
Wie weit ist El Peñol von Guatapé entfernt?
The rock El Peñol is located about 4 km/2.5 mi from Guatapé and can be reached in a short drive of about 15 minutes. If you come from Medellín, you will pass the rock before reaching Guatapé.
Is it possible to swim in the Guatapé reservoir?
Theoretically, you can swim in the reservoir of Guatapé, but only in places explicitly allowed. Moreover, the water in the reservoir is freezing.
Best time to visit Guatapé?
The best time to visit Guatapé is from December to March when it is driest. However, a visit is recommended at any time of year, as less rain often means fewer tourists, allowing you to enjoy the city in a more relaxed atmosphere.
---
Interested in Colombia?