Córdoba is part of the Golden Andalusian triangle, and together with the cities of Granada and Seville, it showcases the very best of what Andalusia has to offer. Thanks to its location close to the Malaga International Airport and its deep-rooted historical and religious heritage, Córdoba is often a top choice for bucket list destinations in Southern Spain.
Whether you're staying in Córdoba for an extended trip or just venturing to the city for a day trip, you have probably covered the details for visiting the main attractions like the famous Mosque-Cathedral of Córdoba (Mezquita) and the Alcázar de Los Reyes Cristianos.
Córdoba has much more to offer than its historical sights and flower-covered courtyards. In this article, I will recommend some of the best Cordoba hidden gems, monuments, and museums that deserve a spot on your itinerary and will allow you to get more familiar with the city and its history.
Note: This post is part of our "Local Experts" series, in which locals introduce their hometowns. The following article is written by Lucia, who lives in Andalusia.
9 Córdoba Hidden Gems Worth Exploring
Here are my picks for some lesser-known places to explore – in no particular order, but my favorite being the Palacio de Viana, where you can easily get lost for a few hours and admire the beauty.
In case you're traveling off-season, there are also some recommendations for museums that are a good pick for a rainy-day activity!
Palacio de Viana
Opening Hours Palacio de Viana: Depending on the season: 09/10 am – 03/07 pm. Check the recent opening hours on their official website
Entrance Fee Palacio de Viana: 11 €
Address: Plaza de Don Gome 2
Palacio de Viana is a 15th-century home that used to belong to the Marquis of Villaseca. From the street view, it looks just like any other regular house. So you would never guess what treasures hide inside!
This beautiful, well-preserved palace features a labyrinth of rooms and 12 stunning courtyards. Gardens, fountains, and sculptures fill the space, accompanied by the buzz of bees, the trickle of water, and blooming flowers, making your exploration truly unique.
Tickets include access to ground floors, gardens, stables, and select lower-floor rooms. Feel free to explore these areas freely without a guide. However, to visit the upper floor and palace rooms, it's necessary to join a guided tour led by a Spanish-speaking guide.
During summer visits, the gardens offer an ideal refuge from the sun and a respite from the heat. Additionally, they serve as a family-friendly attraction and notable landmark within the city.
Bonus tip: If you're visiting on Wednesday, you can get in free of charge from 2 pm to 5 pm! Free visits are also available every day in winter, from 15th December till 5th January.
El Templo Romano – The Roman Temple of Cordoba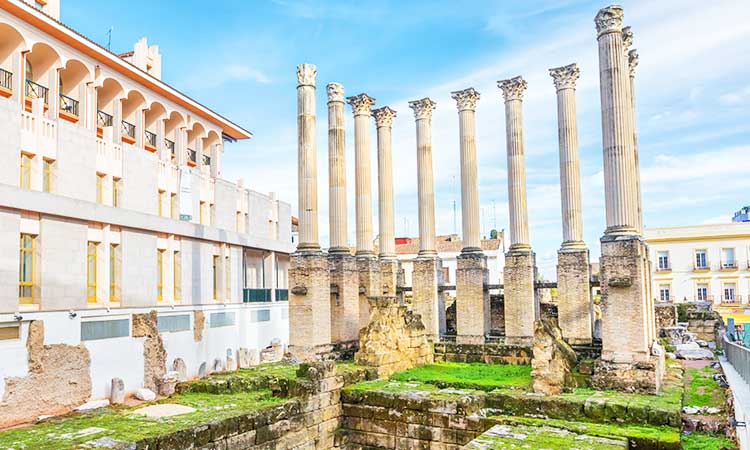 Opening Hours Templo Romano: 24 hrs
Entrance Fee Templo Romano: free of charge
Address: Calle Capitulares 1
In the 1950s, the remains of the Roman Temple in Cordoba were discovered. This occurred during the expansion of the town hall, which is located right beside it.
The temple's construction began during the reign of Emperor Claudius (41-54 AD) and took around 40 years to complete. While it's not the only temple in the city, it's the most important one due to its size and location.
Today, at the temple site, you can see the original part of the construction, which is the foundation, the stairs, the altar, and some shafts of columns and capitals. There are six columns on the front facade of the temple, making it really easy to spot from a distance.
Unfortunately, you can't stroll on the temple grounds. However, all the parts are easily accessible from the street view without paying any extra fees.
Baños del Alcázar Califal – Caliphal Baths
Opening Hours Caliphal Baths: (16.06.-15.09.): Tues-Sun: 08.30 – 02.30 pm; (16.09.-15.06.): Tues-Sat: 08.30 am – 08.15 pm; Sat: 08.30 am – 04.30 pm; Sundays and holidays: 8:30 am – 2:30 pm; Mon: Closed
Entrance Fee Caliphal Baths: 2,5 €
Address: Plaza Campo Santo de los Mártires
In 1903, these traditional Hamman baths were accidentally uncovered in Cordoba. They are thought to have been part of the Omeyan Castle complex, the largest of their kind in the city.
Built under Alhakem II, the baths facilitated Muslim pre-prayer washing rituals and emphasized personal hygiene. With vaulted ceilings, star-shaped openings, and supportive pillars, the baths exhibit classic architecture.
The baths are quite small but worth checking out as the tickets are only 3 euros per visitor. They are located at Pl. Campo Santo de los Mártires.
Bonus tip: For a genuine Hamman bath experience, including rituals and a plunge pool, consider visiting Hammam Al Andalus Baths in Cordoba. These traditional Arab baths offer a wide range of treatments amid beautiful surroundings.
Calleja de las Flores
Opening Hours Calleja de las Flores: 24 hrs
Entrance Fee Calleja de las Flores: free of charge
Address: Calleja de las Flores
Cordoba is known for its flower-covered streets, and if you're visiting the city, this is the one you don't want to miss. Calleja de las Flores is located at the intersection with the street Velázquez Bosco, and it's a very narrow street beautifully decorated with lots of flowers.
With the Great Mosque of Cordoba in the background, it provides the perfect photo opportunity for some gorgeous holiday photos.
Museo Taurino Córdoba – The Bullfighting Museum
Opening Hours Bullfighting Museum: (Summer): Tues-Sat: 08:30 am – 03:00 pm; Sun and holidays: 08:30 am – 02:30 pm; (Winter): Tues-Fri: 08:30 am – 08:45 pm; Sat: 08:30 am – 04:30 pm; Sun and holidays: 08:30 am – 02:30 pm; Mon: Closed
Entrance Fee Bullfighting Museum: 4 €
Address: Plaza Maimónides, 3
Bullfighting history is an integral part of the Andalusian heritage. And Cordoba happens to be one of the most important cities for this old tradition.
Major Andalusian cities typically feature a bullfighting history museum, often within a bullfighting arena. In Cordoba, a local bullfighting museum resides near the Mezquita, housed in a 16th-century aristocratic mansion.
Thanks to the long bullfighting history in Cordoba, the museum collected artifacts from five bullfighting 'Caliphs': Lagartijo, Guerrita, Machaquito, Manolete and Manuel Benítez, El Cordobés. What would you see in the museum? There are exhibitions with traditional bullfighting clothing, old posters, equipment, sculptures, and paintings.
Vicki's note: If you are, like me, against this outdated tradition of bullfighting, you might as well ignore this sight (and tradition in general). Feel free to enjoy some of the other places on this list instead.
The Calahorra Tower with Al Andalus Museum
Opening Hours Tower & Museum: Oct, Mar, Apr, May: 10:00 am – 07:00 pm; Nov, Dec, Jan, Feb: 10:00 am – 06:00 pm; Jun, Jul, Aug, Sep: 10:00 am – 02:00 pm & 04:30 pm – 08:30 pm.
Entrance Fee Tower & Museum: 4,50 €
Address: Puente Romano
The Calahorra Tower of Cordoba is an old defense structure at the end of the Roman Bridge, which is currently being used as the Al Andalus Museum.
As you stroll across the Roman Bridge, taking a short break to visit the museum is well worth your time. The museum pays tribute to the peaceful coexistence of Jewish, Christian, and Muslim cultures. Through eight unique rooms, visitors can explore how these different communities lived and worked together within the city.
Casa del Agua (House of Water)
Opening Hours Casa del Agua: Wed-Mon: 10.15 am – 02.15 pm
Entrance Fee Casa del Agua: 5 €
Address: Calle Portillo, 6 y 8
This peculiar-sounding landmark is home to a museum dedicated to explaining how water has been used in daily life throughout different centuries.
The museum focuses on the natural interpretation of water usage in Cordoba while also addressing preservation and environmental concerns. It features five distinct halls with dedicated exhibitions: water supply, Andalusian water ceramics, Cordoba's public fountains, the water trade, and Cordoba as a world heritage site.
The museum is located at Calle Portillo 6 and 8, and the entrance fee is 5 euros.
Museum of Julio Romero de Torres
Opening Hours Museum: (16 Sep – 14 Jun): Tues-Fri: 08:15 am – 08:00 pm; Sat: 09:30 am – 06:00 pm; Sun: 08:15 am – 02:45 pm; (15 Jun – 15 Sep): Tues-Sun: 08:15 am – 02:45 pm
Entrance Fee Museum: 4 €
Address: Plaza del Potro 1-4
The Julio Romero de Torres museum, dedicated to the Spanish artist, is housed in a 14th-century building. It boasts the most comprehensive collection of the artist's work.
Comprised of six themed halls, the museum takes visitors on a journey through the artist's life and work. The visit begins with an exploration of the artist's background, followed by a look at his early period, and includes scenes from Cordoba and traditional Spanish elements such as Flamenco.
Botanical Gardens of Cordoba
Opening Hours Botanical Gardens: Tue-Sat: 10 am – 08 pm; Sun: 10 am – 03 pm (hours can vary depending on the season. Make sure to check the official site before your visit)
Entrance Fee Botanical Gardens: 3 €
Address: Avenida de Linnaeus
Established in 1987, Cordoba's Botanical Gardens invite you to delve into a captivating natural environment. Explore the diverse garden sections and sights to fully appreciate their beauty.
The highlights of the botanical garden include its arboretum built as a natural forest, rose garden, various greenhouses, the Paleobotanical Museum (explaining the use of different plants and flowers throughout history), and the Hydraulic Museum integrated with the Martos Mill.
---
I hope you enjoyed this selection of Cordoba's hidden gems and found lots of inspiration for planning your trip to this beautiful city!
Interested in Spain?