Granada is a beautiful city in Andalusia and should be on your itinerary not only as being the home of the famous Alhambra. Although Granada is actually a relatively large city, it offers that small-town feel that Andalusian cities are so popular for.
But the city's charm is shaped by more than just its size. The clear Arabic influences also make Granada look like a dream from 1001 nights in some corners. I could stay here for days and let this beautiful city work its magic on me. But what if your schedule leaves you only one day in Granada?
In this article, you'll find everything you need to experience Granada in one day without missing anything – the best sights for your perfect Granada Itinerary, travel tips on food, attractions, accommodations, and more.
Granada, Spain Facts
City in Andalusia
Capital of the province of Granada
First mentioned in 500 BC
Some monuments are UNESCO World Heritage Sites
Where is Granada?
Granada is located in Andalusia in the south of Spain. At an altitude of about 735 m/ 2410 ft above sea level, the rivers Darro and Genil flow together here.
How to get to Granada
Getting to Granada by airplane
Those who are planning to visit only Granada or are traveling from a more distant destination within Spain, such as Barcelona, will most likely fly to Granada.
Granada's airport is Granada-Jaén Airport is located about 16 km/ 10 mi from the city of Granada.
Fun Fact: The full name of the airport is Aeropuerto Frederico García Lorca de Granada-Jaén.
You can reach the city from many destinations within Europe or other continents (often including a transfer in Madrid). You also have the option to combine your trip to Granada with other beautiful Spanish cities or to visit Granada during a unique Spain itinerary.
As always, you can find the best flight deals on Skyscanner.com (the earlier you book, the more discounts you can find).
How to get from Granada airport to the city center
There are several ways to get from Granada's airport to the city center. The cheapest is probably the airport bus. The ride takes about 45 minutes (depending on traffic) and costs € 3.
You also have the option of taking a taxi for just around € 25-30 or organizing private transportation before you arrive.
Getting to Granada by bus
Of course, you can also reach Granada by long-distance bus. This is especially convenient if you are already in another Spanish city nearby. But theoretically, you can even travel from central Europe to Granada by long-distance bus (but I recommend that you plan a few stops in between. Otherwise, the trip will be quite long).
You can find great bus deals on Busbud.com.
Getting to Granada by train
Another option to travel to Granada from surrounding or more distant places is by train. You can either use the regional train or the high-speed train AVE. Spain generally has excellent train connections between the main cities of the country. And with the AVE you can also travel quickly from one part of the country to the next.
You can buy your train ticket on-site or book online in advance. A good place to do so is at Omio.es.
Getting to Granada by car
As an important tourist city, Granada also has very good highway connections. So you can easily reach the city either in your own car or a rental car. You can find a rental car either on-site at your first destination in Spain or online at RentalCars.
Granada Transport – How to get around
Despite its size, Granada is quite a pedestrian city. Therefore, you can easily discover the sights of the following Granada Spain itinerary on foot. We strongly recommend a pair of comfortable shoes to walk from one place to another.
One day in Granada itinerary – Discover the most beautiful places in Granada in one day
Visit Alhambra
Opening Hours Alhambra: Depending on the season 08.30 am – 11.30/09.30 pm (See exact opening hours here)
Entrance Fee Alhambra: from 14 €/ 21 € with Generalife and garden
Tickets for the Alhambra: We strongly recommend reserving tickets online in advance to secure your visit. Tickets on-site may sell out. Purchase your tickets on the official website or on GetYourGuide.
For many, the Alhambra is one of the main reasons to visit Granada. It is hardly surprising, since this impressive building seems unique in the world in its nature and attracts many visitors. With its imposing mix of different architectural styles, the Alhambra is one of the most important UNESCO World Heritage Sites in the world.
The incomparable urban castle of Granada towers above the city's rooftops on Sabikah Hill. With its impressive length of about 750 meters, it is hard to miss. Part of the complex is also the summer palace Generalife, which we will come to in a moment.
Fun Fact: It is thought that the name Alhambra derives from Arabic names for "red fortress" or "fortress of the red."
Even in Roman times, the castle hill was settled and was an important part of the city. Subsequently, in the 9th to 12th centuries, the Moors built their first fortifications here, from which the Alhambra developed over the years.
Generally, the Alhambra today consists of the Alcazaba (citadel), the Nasrid Palaces, the Palace of Charles the V, and the palace city. Those who wish to visit the summer palace Generalife must buy an additional ticket.
Generalife
If you have enough time at hand, I highly recommend combining your visit to the Alhambra with a walk through the wonderful gardens of the Generalife. The gardens here are clearly some of the most beautiful I've ever had the pleasure of visiting.
Here, too, architectural features impress with their Islamic charm. In addition to lots of greenery and various plants and flowers, you'll find irrigation systems, fountains, and various orchards. For the gardens were once intended for a walk for the supreme sultans of the city.
Fun Fact: The Arabic name of the garden Yannat Al-Arif, translates to "Garden of the Architect".
Calle Elvira
After you've spent the morning in a dream from 1001 nights, you'll probably be super hungry by now. But, don't you worry, Calle Elvira offers the perfect solution for your upcoming hangriness. Lots of delicious restaurants are waiting for you to discover them.
Especially popular with visitors and locals alike is the bar La Buena Vida, which offers a particularly good price-performance ratio. Here you can enjoy delicious tapas and traditional Spanish dishes.
Catedral de Granada – The Cathedral of Granada
Opening Hours Catedral de Granada: Mon-Sat: 10 am – 2 pm & 3 pm – 7 pm
Entrance Fee Catedral de Granada: 5 €
Guided tour Cathedral of Granada: While you can visit the cathedral on your own, there is also the possibility to discover La Catedral de Granada as part of a guided tour. You can book such a guided tour either on-site or online via GetYourGuide.
After enjoying some delicious Spanish snacks, we move on to explore the historic center of Granada. Begin at the arguably most impressive sight of Granada, the cathedral.
While its full name is Santa María de la Encarnación de Granada, the cathedral is usually just referred to as Catedral de Granada. The construction of the cathedral took over 180 years (between 1523 and 1704). And let me tell you, it was worth it. Today, the magnificent place of worship is considered one of Spain's most important Renaissance buildings. Therefore, it is a real must-see for religious visitors and architecture lovers alike.
The cathedral, built on the ruins of a mosque, was surprisingly started in the Gothic style. Therefore, even today, you can find some remains from the Gothic construction phase, especially in the interior part of the cathedral.
But not only the stylistic features of Granada Cathedral are impressive. The paintings, statues, and tapestries inside are truly worth a visit as well.
Capilla Real – The Royal Chapel
Opening Hours Capilla Real Mo – Sat: 10 am – 2 pm & 3 pm – 7 pm; Sun: 11 am – 2 pm & 3 pm – 7 pm
Entrance Fee Capilla Real: € 5 (with audio guide)
If you haven't had enough of Spanish places of worship, you should definitely also plan a visit to the Capilla Real, the so-called King's Chapel. As the name suggests, this is the final resting place of some important Catholic kings.
Completed in 1512, the late Gothic building still contains the remains of Queen Isabella of Castile I and some members of her family.
Nowadays there is a museum inside. Here you can discover interesting exhibits of the Spanish royal family such as swords and scepters. In addition, it also houses an impressive collection of paintings by Mediterranean artists of the 15th century.
Plaza de Bib-Rambla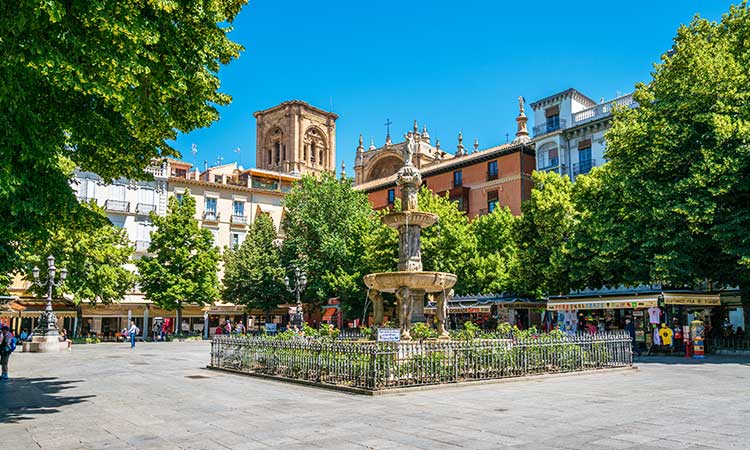 Now that we have already explored some of the most important things to see in Granada in 1 day, we would like to use the rest of the afternoon to discover the historic center of Granada. So let's start in what is arguably the most beautiful square in the city.
Plaza Bib-Ramblas is located within walking distance of Granada Cathedral. With its Spanish charm, the plaza is popular with locals and visitors alike. Recharge your batteries while sipping a café con leche at one of the many cafés or check out the fountain in the center of the plaza.
La Alcaicería
If you still need a souvenir or simply want to experience the historic alleys of Granada, La Alcaicería is the place to be. The Arabic influences can hardly be hidden in this part of the city. And it is this mix of different cultures that makes this quarter of Granada so special.
La Alcaicería is a mixture of bazaar and alley. Strolling through the narrow streets of the neighborhood and the smell of exotic spices, you immediately feel like you're on a trip to the Arab world. For us, this part of the city reminded us very much of our trip to Morocco.
Mirador de San Nicolás
Surely you've seen pictures of the Alhambra in all its glory. Most likely, this picture was also taken here: At the viewpoint of San Nicolás. Because from here, you simply have a breathtaking view of the Alhambra.
A visit to this viewpoint is a must for every visitor to Granada. Many even bring a drink or some snacks and make themselves comfortable while enjoying the fantastic view of the Alhambra from here.
Eat your weight in Andalusian tapas
Tapas are a classic delicacy throughout Spain. But especially the Andalusian appetizers are considered among the best tapas in the whole country. Therefore, you should not miss the chance to try some of the most delicious tapas in Granada.
Popular tapas bars are especially the restaurant Entrebrasas in Calle Navas and La Riviera. Or just walk around the city streets and find a table in a place where some locals have already been seated. There are many great places in Granada to enjoy the popular Spanish appetizers.
Option: Watch a Flamenco show
While some may end their day in Granada with a glass of sangria or another refreshing Spanish drink, for others it is an absolute highlight to watch a flamenco show in Granada.
Andalusia is known as the capital of flamenco and is therefore popular for flamenco performances. You can either book a ticket to an event or combine the performance with a relaxed dinner.
Book your ticket or make a reservation in advance on-site or online at GetYourGuide.
Do you have more time? More great things to do in Granada
Do you have more than 1 day in Granada? Then you should definitely explore some of the other Granada attractions. Or maybe you would like to replace one of the above-mentioned sights of the city with one of the following.
Hammam Al Ándalus
If you've ever been to Arab countries looking for some relaxation, you certainly already know what the term hammam is all about. For those who don't know: A hammam is a kind of Arabic recreational bath.
The Hammam Al Ándalus is considered one of the oldest and most popular hammams in Europe and is popular with visitors as well as locals. Arabic baths, relaxation, and traditional massages are on offer here.
You can book your beauty treatment at Hammam Al Ándalus either on-site, through the Hamman directly, or online through Viator (the hammam's official partner).
Museums in Granada
If you have more than one day in Granada, it may also be worth visiting one of the city's museums. In the following paragraph, you will find a small overview of the most popular museums in Granada.
Parque de las Ciencias
Opening hours Parque de las Ciencias: Tue – Sat: 10 am – 6 pm; Sun: 10 am – 3 pm
Entrance Fee Parque de las Ciencias: € 7
The Parque de las Ciencias, the science park, is a popular destination for the young and old. You can learn a lot about interesting scientific achievements in the park or try them out yourself with interactive exhibits in the park. A visit is fun for the whole family.
Fundación Rodríguez Acosta
Opening Hours Fundación Rodríguez Acosta: 10 am – 2 pm
Entrance Fee Fundación Rodríguez Acosta: € 5 standard admission / € 10 exclusive admission + library
The Fundación Rodríguez Acosta houses not only an impressive art collection but also so some architectural features. But the museum is also a real eye-catcher from the outside. The impressive white building is called Carmen Blanco by local residents.
Museo de Bellas Artes Granada – Granada's Art Museum
Opening hours Granada Art Museum: 10 am – 2 pm
Entrance Fee Granada Art Museum: € 5 standard admission
For the art lovers among us, a visit to Granada's art museum, the Museo de Bellas Artes, is, of course, a real must-see in Granada. Housed in the Palace of Carlos V in the Alhambra complex, you can perfectly combine a visit with a tour of the Alhambra.
Although the art museum has existed since 1839, it has changed its location several times over the years until it is now housed in the Palace of Carlos V since 1958. Among the exhibits are mainly paintings and sculptures from the 15th to the 20th century.
El Bañuelo
Opening hours El Bañuelo: 10 am – 2 pm
Entrance fee El Bañuelo: free of charge
If you still couldn't get enough of Arabic baths, a visit to Bañuelo might be just what you need. Similar to the Hammam Al Ándalus, here you can really relax in the Arabian style. The building itself is one of the most important baths in the country and one of the oldest buildings in Granada.
Guided City Tour in Granada
In the previous part of the article, we assume that you want to discover Granada on your own. However, if that's too boring for you or you just want some more background information during your tour, a guided city tour is probably just the thing for you.
You can either join a free city tour on-site (but we still recommend leaving a good tip) or choose a paid city tour directly. To do so, either sign up on-site at the tourist information office or book your tour in advance through GetYourGuide.
Where to stay in Granada
When visiting Granada, you will of course need a suitable place to stay. Below, you will find a short selection of great places to stay in Granada, sorted by budget.
The best Hostel in Granada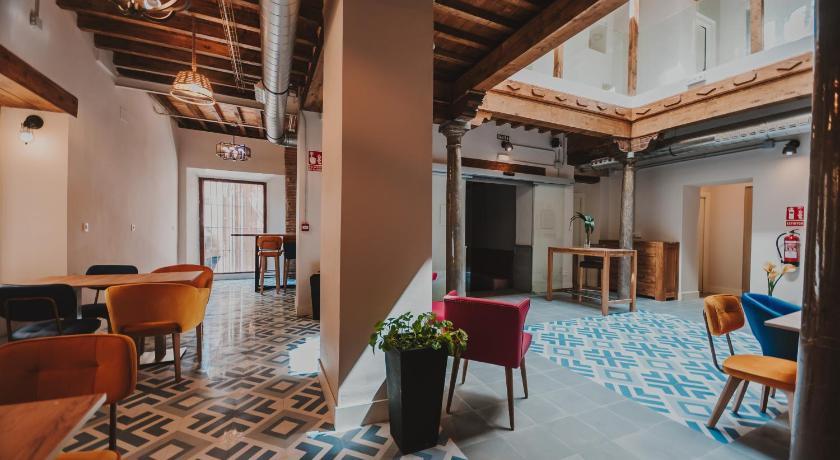 This well-rated hostel offers dorms and family rooms of various sizes and features. Many of the rooms are equipped with a balcony and air conditioning. Especially popular is the lobby with drinks selection and the hostel's proximity to the city center (400 meters from Plaza Bib-Rambla).
Check further information, prices, and availability of 4U Hostel
The best budget accommodation in Granada
While staying in this accommodation, you will surely feel just like at home. The family-run accommodation convinces with good service, friendly owners and cleanliness. The owner, Lucas, can also give you great Granada insider tips. In addition, you can use the kitchen of the accommodation.
Check further information, prices, and availability of Itinere Rooms
The best middle-class accommodation in Granada
The 2-star Hotel Cedran offers everything you could want from a great stay in Granada. This is a top-rated hotel with a private bathroom and a location around 0.5 km from Granada Cathedral. Guests also particularly like the friendly staff and the cleanliness of the accommodation.
Check further information, prices, and availability of Hotel Cedran
The best luxury accommodation in Granada
If you like things a bit more stylish, Room Mate Leo is just the place for you. The fabulous view from the roof terrace of the design hotel alone is worth the room price. Modernly furnished rooms in the colors black, gold and white, provide a great ambiance. Guests also praise the good breakfast, friendly staff, and location in the center of Granada (100 meters from Plaza Bib-Rambla).
Check further information, prices, and availability of Room Mate Leo
Didn't find the perfect place for you?
>> Check all accommodations in Granada on Booking.com
FAQ about traveling to Granada
What does Granada mean?
Granada is Spanish for "pomegranate". However, it is believed that the name of the city derives from the Arabic Karnattah, which means "hill of strangers".
How many days in Granada?
It is worth spending at least one complete day in Granada. However, it is recommended to stay around 3-4 days in Granada to see everything without any rush.
At what altitude is Granada?
Granada is located about 735 meters/ 2410 ft. above sea level.
How far is Granada from the sea?
Granada is located about 80 km/50 mi from the sea. The nearest beach is in Almuñecar (Cantarriján Beach).
Do you tip in Granada?
In Spain, it is only customary to leave a tip if the service was out of the ordinary. So if the service was average, you don't need to leave a tip.
Can you drink the tap water in Granada?
With its location in the mountains, Granada's tap water is of good drinking quality and can usually be drunk without any concern.
Where is Granada in Spain?
Granada is located in the south of Spain. Strictly speaking, in the region of Andalusia south of Madrid.
Have you ever visited Granada? Which is your favorite part of the city? If you haven't been to Granada yet, which sight are you looking forward to most? Let us know in the comments below!
Interested in Spain?
Subscribe!
Follow my adventures and get inspired for your next trip ;). No spam!
If you want, you can read a summary of our Data Protection here:

Owner: Vicki Franz
Purpose: manage the registration to the newsletter and send periodic newsletters with information and prospective offer of products or services. Your data will be stored at GetResponse, an email marketing provider that also complies with the RGPD.
Rights: You can exercise your rights of access, rectification, limitation and deletion of data on hello@eduardosans.com as well as the right to file a complaint with a supervisory authority.
Additional Info: At https://vickiviaja.com/privacy-policy-and-disclaimer/, you will find additional information about the collection and use of your personal information, including information about access, retention, correction, deletion, security, and other topics.