Madrid is not only the capital but next to Barcelona, also the most popular city in Spain. But it's not just the attractions in Madrid that are absolutely worth the trip – with its beautiful parks, typical Spanish streets, and delicious food, a trip to Madrid is always a memorable experience. Since there is so much to see in the city, you should try to spend at least 3 days in Madrid.
In the following, we will take you to the most exciting places and the most beautiful sights. So let's dive right into our Madrid itinerary-3 days. Along the way, I'll also provide you with some helpful travel tips, so your three days in Madrid turn out even better.
Madrid Facts
Capital of Spain
The third biggest city in the EU
Geographical, political, and cultural Center of Spain
ca. 3,2 Million Inhabitants
Home of the Spanish King
How to spend perfect 3 Days in Madrid – An Itinerary for 3 days
What to do in Madrid in 3 Days – Day 1
La Puerta del Sol
Opening Hours Puerta del Sol: 24 hrs
Entrance Fee Puerta del Sol: free of charge
Metro Stop: Sol (L1, L2, L3)
La Puerta del Sol (The Gate to the Sun) is one of the most famous squares in the city and likely the most popular meeting place of the Madrileños (that's what Madrid's inhabitants are called – in English, by the way, Madrilenians).
The square is the central starting point of many city tours and can help orient yourself between all the things to see in Madrid in 3 days. Some beautiful historic buildings surround the Puerta del Sol. La Real Casa de Correos is arguably the most famous of these. Moreover, you can find a kilometer 0-point on exactly this square which marks the center of the city and the country.
This place's name is quite unusual for a Spanish square, as the names of these usually begin with "Plaza." It is believed that the name Puerta del Sol belonged to an entrance to a fortress that stood here in the 16th century.
Madrid Scam Alert: You will probably find some people dressed up trying to sneak into your pictures or convincing you to take a picture with them. Be aware that those pictures are not for free. They will definitely ask you for money after taking the picture.
Plaza Mayor
From Puerta del Sol, we follow Calle Mayor (main street), one of Madrid's most famous and essential streets, until we arrive at the next famous square of the city: the Plaza Mayor. The history of this plaza goes back to the 16th century. In addition to traditional Spanish restaurants, you will find some of the city's main attractions around Plaza Mayor. That's why Plaza Mayor should be an essential sight on your Madrid 3-day itinerary.
By the way, Plaza Mayor has different accesses – ten, to be precise. The most popular and most photographed of them is the Arco de Cuchilleros.
Mercado de San Miguel
Opening hours Mercado de San Miguel: Sun – Thu: 10 am-midnight; Sat + Fri: 10 am – 1 am
Entrance Fee Mercado de San Miguel: free of charge
Metro Stop: Ópera (L2, L5), Sol (L1, L2, L3)
Right next to the Plaza Mayor is the Mercado San Miguel. This old market, mostly made of glass and iron, was built in 1916 and completely renovated in 2003. On two floors and almost 1,200 m², you will find many fresh foods, delicious Spanish desserts, and snacks. In its new state, the market can best be compared to Mercat de la Boqueria in Barcelona.
Muralla Árabe
The Muralla Árabe, also known as La Muralla Musulmana de Madrid, is the remnant of a fortification built in the 9th century. It was created at the time of the Muslim rule on the Iberian Peninsula – hence the name. The walls' remains are considered Madrid's oldest surviving construction.
Catedral de la Almudena
Opening Hours La Almudena: 10 am – 08 pm (Jul + Aug.: 10 – 09 pm)
Entrance Fee La Almudena: 1 € donation
Entrance Fee View Point Museum: 6 €
Metro Stop: Ópera (L2, L5)
Following the Calle Mayor until the end, you will reach another Madrid sightseeing highlight: the Cathedral la Almudena. Located next to the Royal Palace, it is considered the most critical cathedral and one of the most instagram-worthy spots in Madrid.
Although planning this impressive cathedral was in full swing as early as the 16th century, construction just began in the 19th century. La Almudena was completed in 1993. Even though the church was designed and started in the neo-gothic style, it ended up being finished in a Neoclassical style to suit the neighboring royal palace. In 2004, the cathedral was on everyone's lips worldwide as the Spanish Crown Prince Felipe of Spain married his Letizia there.
The cathedral's interior is surprisingly modern and has décor by iconic painter Kiko Argüello.
Besides the crypt, there is also a museum in the cathedral, which is particularly popular for its vantage point, from which you have a magnificent view of the city.
Palacio Real
Opening Hours Palacio Real: Mon-Sat: 10 am-7 pm; Sun: 10 am-4 pm// October-March: Mon-Sat: 10 am-6 pm; Sun: 10 am-4 pm
Entrance Fee Palacio Real: 12 €
Free EntrancePalacio Real: for EU citizens: daily from 5 – 7 pm (4 – 6 pm in winter)
Tickets: Purchase your ticket on-site or online in advance via GetYourGuide
Opening Hours Campo del Moro: April – September: 10 am – 8 pm; October – March: 10 am – 6 pm
Entrance Fee Campo del Moro: free of charge
Metro Stop: Ópera (L2, L5)
The Palacio Real (Royal Palace) is, as the name implies, the seat of the Spanish royal family. On 135,000 m², there are 3,418 rooms, which make the palace the largest in Europe still used (for comparison, the Palacio Real de Madrid is about twice as large as Buckingham Palace in London).
Even though the palace is no longer used as the residence of the Spanish royal family today, but only for state acts, you can still find out a lot about the royal family's life there. The throne room and the imposing staircase are arguably the most impressive rooms of the palace.
Until the 18th century, there was an Alcazar in this place, which was also already used by the royal family. However, it was destroyed by fire, and subsequently, the construction of the Palacio Real, as we know it today, was commissioned. The palace's construction took many years, so three different architects were involved.
Barrio de las Letras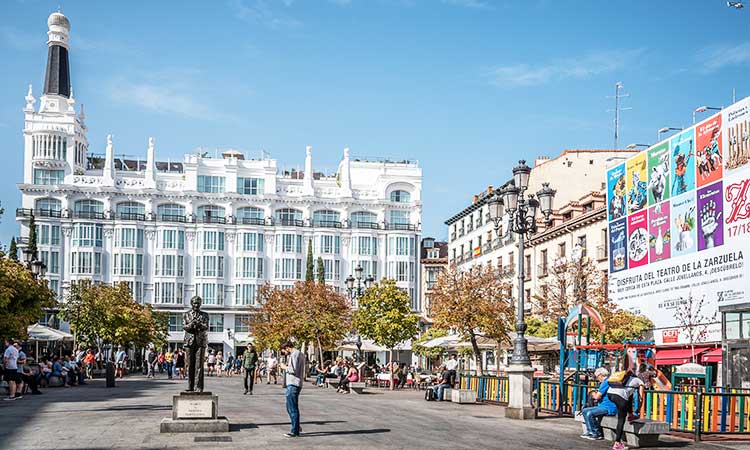 The Barrio de las Letras (Quarter of the letters) is still reminiscent of many important writers living there during the Spanish heyday (in the 17th century). Many of the streets and alleys in this area have been named after famous literati. Compelling examples of people that lived in this area are Cervantes, Lope de Vega, and Quevedo. In addition to literature, this neighborhood is also popular for its theatrical culture. Check out the Teatro Español if you're in the Barrio de las Letras.
What to see in Madrid in 3 Days – Day 2
Barrio de La Latina
The La Latina district is one of Madrid's most popular areas. Especially for going out, this part of the city is perfect. You will find exciting cafés, restaurants, and pubs with typical Spanish food and drinks at every corner. Many locals also use this area to go out. Several small streets lead you through La Latina.
But even during the daytime, La Latina is worth a visit. You can, for example, discover the Museum of San Isidro in the Plaza de San Andrés. This is the patron saint of the city. Another highlight of the neighborhood is Las Visitillas, one of the most beautiful viewpoints in the city. From here, you can perfectly overlook the southern part of Madrid and shoot a great photo of the La Almudena Cathedral.
La Lavapiés
Not far from La Latina is the district of La Lavapiés. Similar to La Latina, there are many narrow winding streets. La Lapiéz is considered one of the city's most traditional neighborhoods in Madrid and enchants with its medieval flair. Also, La Lavapiés is known for its cultural diversity.
When Madrid was named the capital of Spain, many immigrants moved there. Not only from the surrounding parts of the country but also from North Africa and India. Up to today, the neighborhood is known for its multicultural flair. Even in the food scene of La Lavapiés, the diverse cultures and countries of origin can be easily recognized.
If you come here on a Sunday morning, you should definitely visit El Rastro de Madrid. This is an open-air flea market, which is considered the most popular flea market in the country, with up to 3500 stalls selling their crafts.
Museo Reina Sofía
Opening hours Museum Reina Sofía: Mon + Wed-Sat: 10 am – 9 pm, Sun: 10 am – 2:30 pm; closed Tuesdays. Click here for the current opening hours.
Entrance Fee Museum Reina Sofía: 12 €
Free Entrance Museum Reina Sofía: Mon + Wed-Sat: 7 – 9 pm; Sundays 12.30 – 2.30 pm
Tickets Museum Reina Sofía: It's recommended to purchase your ticket online before arrival to avoid long lines or sold-out tickets on-site. You can find more information here.
Metro Stop: Atocha (L1), Lavapiés (L3)
This museum, whose full name is Museo Nacional Centro de Arte Reina Sofía (National Museum of the Arts Center Queen Sofía), was named after the Spanish Queen Sofía inaugurated in 1992. Inside the museum, you will find many impressive works by Spanish artists. Among others, there are works by Picasso and Dalí. Even before the famous museum's inauguration, there was already an art exhibition at the same spot. Today, the Museo Reina Sofía is one of the most visited art museums in the world.
Real Jardín Botánico – The Royal Botanic Garden
Opening Hours Real Jardín Botánico: 10 am – different, depending on the season. Find the exact opening hours here.
Entrance Fee Real Jardín Botánico: 6 €
Metro Stop: Atocha (L1), Banco de España (L2)
The Real Jardín Botánico was opened in 1755 by King Ferdinand VI, but at that time, it was still located at the other end of the city. A few years later, in 1781, however, the Royal Botanical Garden was relocated to its present location in the city center under Charles III.
There are three levels in the Botanical Garden, each planted with plants from Europe, America, and the Pacific. Over 5000 different tree and plant species can be found here today. If you are interested in nature or just want to take a nice walk in a green environment, this is a fantastic place for you to visit.
Museo del Prado
Opening hours Prado: Mon-Sat: 10 am – 8 pm; Sun: 10 am – 7 pm
Entrance Fee Prado: 15 €
Free Entrance Prado: Mon-Sat: 6 – 8 pm; Sunday- Holiday: 5 – 7 pm
Tickets Prado: It's a good idea to buy your ticket online before you arrive to avoid sold-out tickets and long lines. You can find tickets online at GetYourGuide
Metro Stop: Atocha (L1), Banco de España (L2)
The Museo del Prado (Museum of the Meadow), like the Museo Reina Sofía, is an art museum and is considered one of the most important museums in the world. In addition to many important Spanish works displayed in the Museo Reina Sofía, the museum also exhibits works by foreign artists such as Albrecht Dürer or Rembrandt. Art lovers should not miss this impressive museum.
Fuente de la Cibeles
Another unique Madrid attraction you should definitely not miss is the Fuente de la Cibeles. This impressive fountain represents the divine mother, Cybele, who the Greeks and the Romans once worshiped.
The Fuente de la Cibeles, or La Cibeles, as the Madrileños call it, was built in the 18th century under Carlos III's orders to make the city a little more attractive. In the Plaza de Cibeles, where the fountain is located, you can also find the Palacio de Cibeles, one of the most impressive buildings in the city (Definitely one of our favorites!).
Puerta de Alcalá
Very close to the Retiro Park entrance, about which we will talk later, is the Puerta de Alcalá. This is an impressive monument standing on the Independence square (Plaza de la Independencia) of the city.
In the past, the city boundary used to be located at this spot, and the road to Alcalá de Henares started here. Hence the name "Alcalá Gate." The 44 m wide and 22 m high gate was commissioned by Charles III and inaugurated in 1778. The purpose of this monument was primarily to replace the broken monument that stood there beforehand.
Option: Museo Arqueológico Nacional – National Archaeological Museum
Opening hours Museo Arqueológico Nacional: Tue – Sat: 09.30 am – 8 pm; Sundays and public holidays: 09.30 am – 3 pm; closed on Mondays.
Entrance Fee Museo Arqueológico Nacional: 3 €
Metro Stop: Retiro (L2), Serrano (L4)
The Museo Archeológico Nacional, also abbreviated as MAN, is often overlooked by tourists. However, it houses one of the most important collections of archaeological finds globally from the early period to the 19th century. History buffs should not miss this museum. The exhibition's primary focus is on the different Mediterranean cultures. It also presents art-historical exhibits that can't be found in the other art museums in the city, such as Greek ceramics.
Parque del Retiro
Retiro Park opening hours: April – September: 06 am – 00 am; October – March: 06 am – 22 pm
Entrance Fee Retiro Park: free of charge
Metro Stop: Retiro (L2)
With 125 hectares of land, the Retiro Park is the largest park in Madrid and is often referred to as the city's green lung. In addition to around 15,000 trees, there is an artificial lake where you can row around with a small boat, paths to go for a walk or run, and various gardens that have been planted in a variety of styles, such as the Jardines de Cecilio Rodríguez, an Andalusian-inspired garden.
There is also a glass Palace in Retiro Park, the Velázquez Palace, used as a showroom by the Reina Sofía Museum. The Parque del Retiro is just perfect for getting away from the hustle and bustle of the big city. During our stay in Madrid, we liked to come here to have a relaxed lunch (bring some sandwiches with you) and to enjoy the fresh, tasty fruits that can be found everywhere in Spain.
3 perfect Days in Madrid – Day 3
Templo de Debod
Opening hours Templo de Debod: Tue – Sat: 10 am – 8 pm, Monday closed.
Entrance Fee Templo de Debod : free of charge
Metro Stop: Plaza de España (L2, L3, L10), Ventura Rodríguez (L3)
This gem, located in the heart of Madrid, is often overlooked by tourists. However, this Egyptian temple from the 2nd century BC is worth a visit. How often do you have the chance to see such a historical Egyptian temple without traveling to Egypt?
The temple is located in the Parque del Quartel de la Montaña near Plaza de España. Due to the preservation order, however, only 30 people can be inside the temple simultaneously. For this reason, a maximum of 30 minutes applies to your visit.
How is it, then that an Egyptian temple stands in the middle of Madrid? The temple was a gift from the Egyptian government after a dam was built at its former location. So that the Temple of Debod didn't sink into the water, it was transported to Madrid.
Plaza de España
Metro Stop: Plaza de España (L2, L3, L10)
The Plaza de España (Spanish Square) is one of the city's largest and most important squares. The square is surrounded by two skyscrapers, Edificio España and Torre de Madrid, both of which were completed in the 50s.
In addition to a green area and a water basin, a large monument is dedicated to the famous Spanish author Miguel de Cervantes. It shows the famous poet and his most famous fictional characters, Don Quixote and Sancho Panza.
The Plaza de España is a great starting point as it borders the city's most famous street, the Gran Vía (read more about it later in this guide), and the Malasaña neighborhood, which we will visit next.
Barrio de Malasaña
The Barrio de Malasaña is the city's alternative and trendy district, comparable to Gràcia in Barcelona. There are mainly small local shops for art, design, books, and fashion, in addition to street art. Enjoy a Café con Leche in one of the many cute cafés and see what the small boutiques have to offer.
But for history buffs, this neighborhood is definitely worth a visit as well. Visit the Plaza del 2 de Mayo and learn more about the history of the place. The district was named after the Madrileness Manuela Malasaña, who played an essential role in the uprising of 2nd May 1808 against the French occupation. Even today, the archway of the former barracks reminds us of this historic event.
Iglesia San Antonio de los Alemanes
Opening hours Iglesia San Antoni: Mon – Sat: 10:30 am – 2:00 pm
Entrance Fee Iglesia San Antoni: 2 €
Metro Stop: Callao (L3, L5), Chueca (L5), Gran Vía (L1, L5)
Also, this church is not part of every Madrid Itinerary. However, this church is a pretty special one, indeed. Its surface is entirely decorated with frescoes – it simply offers a lovely picture to its visitors. After its inauguration in the early 17th century by Philip III, it was first used by the adjacent Hospital for Portuguese pilgrims. For this reason, they first decided to call it Iglesia San Antoni de Los Portugueses at that time.
However, at the end of the 17th century, the church was handed over to the German Catholics, who accompanied Charles II's wife. So the name of the church became the church of San Antoni de Los Alemanes instead.
Gran Vía
The end of our Madrid tour is getting closer, and we want to see yet another highlight of the city. Built on the Parisian model, this street was once the city's largest and most important street. But even today, there are many important and impressive buildings located. The most famous of those is probably the Edificio Metrópolis (Metropolis House), built at the beginning of the 20th century for the Spanish insurance company La Unión y el Fénix.
Anyway, also Edificio Telefónica is an essential element of Gran Vía. Another important building is El Círculo of the Bellas Artes, one of Madrid's most important cultural centers. Here you will also find a terrific vantage point over the Gran Vía. To go up to the roof, you pay € 4 for entrance.
Barrio de Chueca
This neighborhood, very close to Gran Vía, is a very open and lively. Not only in the LGBTQIA+ scene, but Chueca is also internationally known. Even if you are interested in culture, history, or architecture, you shouldn't miss this part of Madrid. In addition to the Romantic Museum, located in an 18th-century city palace, the Palacio de Longoria, a beautiful modernist building, highlights this district. In the History Museum, you can learn more about the history of Madrid.
But also, at night, you might want to stop by this neighborhood. Here we ate the best tapas during our stay. Some bars and clubs in Chueca have also gained international fame, such as the Museo Chicote, where Hemingway was already a guest. So you can enjoy Madrid's nightlife on your last night in the Spanish capital.
Madrid Transport – How to get around Madrid
Madrid is perfect for pedestrians, and if you follow this Madrid itinerary, very little public transport is required. Despite everything, if you have only little time at hand or aren't good on foot, various means of transport are available.
Metro & Bus
The easiest way to get around the city is by metro and bus. There are various lines and directions, and you usually don't have to wait more than 10-20 minutes for the next transport. At night you can take one of the night buses, which are called Búhos (Owls).
Cercanías – Regional trains
If you want to take a look outside of the city center, the Cercanías is the best choice. Just be aware that depending on your destination's zone, you may need another (more expensive) ticket. You can buy your ticket at any Madrid train station.
Tickets
To use public transport in the city, you need, of course, a valid ticket. Depending on travel time and route length, a single ticket costs between € 1.50 and € 2. If you want to save money and need several trips, you should buy a 10-seat ticket. It costs € 12.20 and can also be shared between several people. Those who have planned many trips during their time in Madrid can also switch to a day pass or multi-day ticket. Another option is to go on the Hop-on Hop-Off Bus to reach all the essential sights. You can find more information on this tour and tickets here.
How to get from Madrid Airport to the City Center
There are several ways to get from the airport to the city center (and vice versa). We chose the Airport Express Bus, which leaves every 15 – 20 minutes from the Atocha Station and Plaza de Cibeles. There is also a night bus, but only from Plaza de Cibeles. The cost of the express bus is € 5. You can get your ticket directly from the bus driver.
Another option is to get to the airport by metro or train. By metro, take line 8 (Pink) to get to the airport. By train (Cercanías) you can take the C1 to the airport. The Cercanías only stop at Terminal 4. To get to the airport, you need a special airport ticket for both the metro and the Cercanías, which is slightly more expensive than the regular tickets.
Best time to travel to Madrid
Madrid in Summer
Summer can get very hot, especially in July and August. The two months are also the driest. You can find the highest amount of tourists.
Madrid in Winter
Although Madrid's winter is generally milder than in Central Europe, snowfall can occasionally occur. Even though it is usually comfortably warm in the sun, it is much more likely to experience rainfall and clouds during winter.
Madrid in Spring and Fall
It is usually warm but not too hot during this time of year. We had fantastic weather during our stay in early/mid-September.
The best Madrid Accommodation
The best budget accommodation in Madrid
Great budget accommodation at a low price right in the center of Madrid. The accommodation offers private rooms of various sizes and features.
Check further info, prices, and availability of Casa Lemus
Best middle-class accommodation in Madrid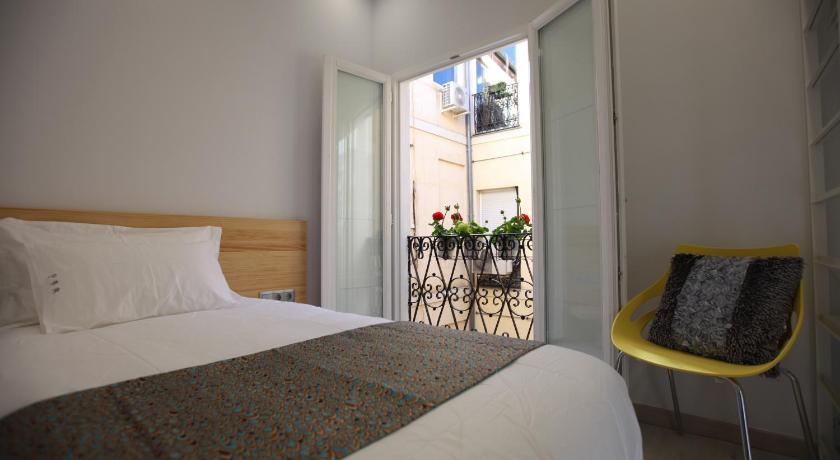 This 3-star accommodation is one of the best-rated in Madrid. The cozy accommodation is located within walking distance from the famous Gran Vía and other sights of the city.
Check further information, prices, and availability of Hostal Palacio Luna
Best Luxury Accommodation in Madrid
This 4-star hotel is guaranteed to leave nothing to be desired. Located near the central Plaza Mayor, comfortable and clean rooms await you after a long day of sightseeing.
Check further information, prices, and availability of The First One ansehen
FAQ about a trip to Madrid
How many days in Madrid?
The more time you have, the better. Generally, you should spend at least 3 days in Madrid to see all the major attractions Madrid has to offer. We recommend you spend 5 days in the Spanish capital and plan 1-2 day trips from Madrid.
What is Madrid famous for?
Madrid is most famous for being the capital of Spain and the geographical center of the country. The city is the seat of the royal family and is therefore known for the royal palace. Other famous sights of the city are the Retiro Park as well as the Museum del Prado.
Is Madrid safe?
Madrid, like other cities in Spain, is considered very safe. However, you should keep an eye on your belongings at all times, as there are some pickpockets in Madrid, especially in tourist places, restaurants, and public transport.
Madrid or Barcelona: Which one should I visit?
Whether you should visit Madrid or Barcelona depends entirely on your personal interests. Madrid is a typical Spanish city with many sights and the seat of the royal family. On the other hand, in Barcelona, you can learn more about Catalan culture and visit the beach.
Can I drink tap water in Madrid?
The tap water in Madrid is safe to drink. In fact, it is considered the best tap water in the country and is subject to strict quality controls.
How far is Madrid from Barcelona?
The Spanish capital Madrid is located about 625 km (380 mi) from Barcelona. This is equivalent to about 6 hours by car or a nearly 4-hour train ride. The flight route between Barcelona and Madrid is therefore considered the most popular in all of Europe.
---
Interested in Spain?