As the third largest city in Spain, Valencia is another popular destination in the country. And I have to say, it's certainly worth the trip or two. With historical sights, modern architecture and technology, and a beautiful Mediterranean coastline, you'll find Valencia just the perfect mix to make any city break perfect.
But what to see in Valencia in 3 days? Here's how you can experience picturesque Valencia in 3 days without missing a thing. For this Valencia 3 days itinerary, we've combined the city's most popular attractions with a few insider tips from a local. This way, you'll get an ideal insight into the city during your memorable three days in Valencia.
Before we get started exploring Valencia, I'd like to give you a few practical planning tips along the way.
Valencia Facts
The capital of the Valencian Community
The third largest city in Spain
Founded in the 2nd century B.C. under the name "Valentia"
It has its own language (Valencian)
Best time to visit Valencia
Valencia is one of the few cities that is worth visiting at any time of the year. While it can get very hot and crowded in the summer, the beautiful beaches in the surrounding area tempt you with a refreshing bath.
In winter, on the other hand, it's a bit cooler, but there are far fewer tourists in town, and the oranges taste as good as they do nowhere else. In autumn and spring, there are fewer visitors, and the temperatures are pleasantly warm. However, it can still be too chilly for a beach vacation.
Where is Valencia located?
Valencia is located on the Iberian Mediterranean coast in eastern Spain, approximately in the center of the country. The city is located in the middle of the Gulf of Valencia, where the Turia River flows into the sea.
How to get to Valencia
There are several ways to reach Valencia. It all depends on your preferences and where exactly you are. If you are traveling from abroad, you will most likely choose to take the plane. If you are already in Spain and want to see more of the country's sights, you may want to travel by car, bus, or train.
Getting to Valencia by plane
Valencia has its own airport, located in Manises, about 8 km/5 mi outside the city. There are several ways to get from Valencia's airport to the city center:
Metro: 4,90 € (3,90 + 1 € Ticket)
Aerobus: 2,50 €
Bus: 1,05 €
Taxi: ca. 17 €
Getting to Valencia by Train
If you are already on or near the Iberian Peninsula, it is worth taking the train to Valencia. In addition to regular regional trains, the city is also served by Spanish high-speed trains (AVE).
The AVE takes about 1 hour 40 minutes from Madrid and 2 hours 40 minutes from the Catalan capital Barcelona.
Getting to Valencia by Bus
Probably the cheapest way to get to Valencia from other Spanish cities is by long-distance bus. Several providers operate regularly at reasonable prices. It's worth booking your ticket in advance to avoid sold-out seats and save money on ticket purchases.
On Busbud.com, you can compare prices and times of the different providers and book your bus ticket online.
Getting to Valencia by Car
As the third largest city in the country, Valencia naturally offers good highway connections that link Valencia with other important places in Spain, such as Barcelona, Madrid, Zaragoza, and Alicante. This means that you can easily reach Valencia by car.
You can choose between your private car or a rental car. I personally use RentalCars.com in Spain to find the best deals on rental cars locally.
Valencia Transport
Conveniently, most of Valencia's sights are within walking distance of each other, so you can easily explore them on foot. If you are comfortable walking and following this Valencia 3-day itinerary, you can theoretically do without public transportation for the first two days (as long as your accommodation is close by).
Otherwise, of course, you can use public transportation such as the metro, buses, and streetcars. A ticket costs 1.50 €, and you can easily buy them on the bus or at the streetcar stop. For the streetcar, however, you need a pass first, which costs an additional €1 the first time you charge it.
Another option is to explore Valencia on a bicycle. Valenbisi stations are located throughout the city. You can rent a bike from these stations and return it to one of the other stations all over town.
The Valenbisi service is especially worthwhile for those staying in the city for a more extended period of time. A week for Valenbisi currently costs €13.30. The first half-hour ride is free of charge. More information about Valenbisi can be found on the official website here.
Valencia in 3 Days – Map
Valencia 3 days Itinerary – Day 1
Torres de Quart – The Quart Towers
Opening Hours Quart-Towers: Mon-Sat: 10 am – 07 pm; Sundays: 10 am – 01.30 pm
Entrance Fee Quart-Towers: 2 € (Currently free of charge)
The impressive Quart Towers are one of the old entrance and defense gates of the city. The imposing towers were built in the 15th century in the late Gothic style.
For a long time, the Torres de Quart was also known as Torres de la Cal (lime towers) because the lime supplies to the city were delivered through these gates.
Today, you can enjoy a great view over the rooftops of the city from the towers and get a first impression of Valencia.
Plaza de la Virgen
We begin our self-guided walking tour of Valencia in the historic center of the city, Plaza de la Virgin ("the Virgin's Square"). The historic plaza is often considered the city center of Valencia and is an important meeting and starting point for visitors and locals of the city.
If you want to join a guided walking tour of the city, it may well start right here.
Plaza de la Virgin is surrounded by a few important buildings and provides access to some of the main attractions in Valencia.
Fuente del Turia
The fountain of the Plaza de la Virgin will surely catch your eye as soon as you step into it. The Fuente del Turia is dedicated to the most important river in the area. Historically, it is so important for the Valencians that they even named their beer after it.
In the past, the Turia contributed to the wealth and irrigation of the city and is therefore immortalized in this fountain.
The figure in the center represents Rio (the river). The individual figures on the sides each represent a channel of the river.
Real Basílica de Nuestra Señora de los Santos Mártires y Desamparados
Opening Hours Basilica: 07 – 02 pm; 4.30 pm – 09 pm
Entrance Fee Basilica: free of charge
In addition, another of Valencia's attractions is located in the plaza, and that is the Basilica of the city. With its eye-catching pink color and round shape, you will hardly miss it.
The church is dedicated to the patron saint of Valencia, the Virgin of the Homeless. But also for the other patrons of the city, the martyr San Vicente and San Vicente Ferrer, you will find a dedication inside in the form of a statue.
The baroque building has been here since the 16th century and is one of the most emblematic places of worship in the city.
The Cathedral of Valencia
Opening Hours Cathedral: Mon-Sat: 10 am – 06.30 pm, Sun: 02 pm – 06.30 pm
Entrance Fee Cathedral: 8 €
Right next to the pink basilica is the city's next important place of worship, Valencia Cathedral (La Catedral de Valencia). You can recognize it by its eye-catching design, which reminds a bit of a Roman amphitheater. Its construction started as early as the 13th century.
A former Roman temple was chosen as the site on which a mosque had also previously been located. Today the cathedral is dedicated to the Assumption of the Virgin Mary.
Inside the cathedral, you can also visit the Virgin of the Good Nativity. It is said that pregnant women should walk nine laps around the statue for good luck in childbirth. It so happens that pregnant women with one companion get free access to the cathedral.
Another essential sight of the cathedral is the Holy Grail. A separate inside chapel has been dedicated to it.
Plaza de la Reina
Plaza de la Reina (Queen's Square) is another historic plaza of Valencia and remains one of the most significant squares in the city.
In addition to popular restaurants and cafes, the plaza is home to one of the city's most popular and oldest horchaterías, the Horchatería Santa Catalina. Here you can enjoy the typical Valencian horchata and fartons, prepared according to a more than a century-old tradition.
If you want to get an even better view of the historic center, from here, you have access to El Miguelete, the cathedral's bell tower.
Lonja de la Seda – The Silk Market
Opening Hours Lonja de la Seda: Mon-Sat: 10 am – 7 pm; Sundays & Holidays: 10 am – 2 pm
Opening Hours Antique collectibles flea market Lonja de la Seda: Sundays 10 am – 1 pm
Entrance Fee Lonja de la Seda: 2 € (Currently free of charge)
Let's move on to one of the most iconic sights of the city, the Lonja de la Seda ("Silk Market"). Valencia's silk market was built in the 15th century and completed in 1533. Although the distinctive building was initially intended as an oil market, it housed the city's silk market for several centuries.
Today, the building is a UNESCO World Heritage Site and impressive both inside and out. From the outside, the Gothic Lonja de la Seda appears a bit like a castle, while the interiors also enchant its architecture-loving visitors.
For all collectors, it is worth visiting on Sunday mornings. That's when a flea market and an exchange market for antique collectibles such as stamps and coins take place.
Plaza del Mercado
The Plaza del Mercado (Valencian: Plaça del Mercat) is the square in front of Valencia's central market. From here, you have the opportunity to view the impressive market building in its full size.
The square is a perfect place to experience the authentic atmosphere of Valencia. After all, there are numerous bars and cafes, where locals and visitors alike gather to enjoy the sunny days in this exciting Spanish city.
Mercado Central
Opening Hours Mercado Central: Mon-Sat: 07.30 am – 3 pm; Closed Sundays
Entrance Fee Mercado Central: free of charge
After a long morning in the historic center of Valencia, you'll probably feel a little appetite coming up by now. Therefore, you shouldn't miss a visit to the most famous market in Valencia, Mercat Central.
Inside, you'll find lots of tasty snacks, fresh fruit, vegetables, and everything that a good Spanish market should offer, such as meat and sausages, spices, olives, and many other local products.
But the central market is also worth a look from the outside. Built in the late 1920s, the building is a great example of the Valencian Modernisme style.
Extra tip: Ideally, don't visit the market too late, as some stalls start to dismantle and close as early as 1:30 pm.
Extra tip: Be sure to try freshly squeezed orange juice. Valencia is famous throughout the country for its excellent oranges, which taste great even in summer.
The Bullfighting Ring of Valencia – Plaza de Toros
Opening Hours Bullring: Tue – Sat: 10 am – 7 pm; Sun: 10 am – 2 pm; Closed on Mondays
Entrance Fee Bullring: 2 €
A short walk from the central market, you'll find the city's next landmark, Valencia's bullring, also called Plaza de Toros ("Bulls' Square"). With its remarkable size, towering four stories high, you'll hardly miss the circular building.
Since the mid-19th century, this historic building has already stood here in the square right next to Valencia's northern train station.
Not-So-Fun-Fact: In fact, bullfights still occasionally take place in the bullring. Of particular note are the events at Valencia's famous Las Fallas festival and the Feria. If you're against bullfighting like me, I recommend you only view the building from the outside so as not to support this ancient tradition.
Ruzafa Neighborhood
The former Arab quarter of the city, Ruzafa, is definitely worth a visit and is not on every Valencia itinerary.
As you stroll through the old streets of this barrio, you can take in the colorful house facades of Ruzafa. In doing so, you will slowly notice that you have left the tourist crowds in the historic center of Valencia behind you.
You'll probably see very few visitors in this neighborhood. Instead, you can experience the true local scene of Valencia. Ruzafa is especially popular for going out, and there are plenty of great bars, cafes, and restaurants waiting for your visit.
Mercado de Ruzafa
Opening Hours: Mon-Sat: 07.30 am – 03 pm
Entrance Fee: free of charge
Station: Autobús L6, L14, L15, L35
Having already explored Mercado Central, we now head to the far less touristy Mercado de Ruzafa, a local indoor market in the Ruzafa neighborhood. The colorful, eye-catching fronts of the large market hall invite you to marvel at the market.
Inside, fresh local ingredients such as fruits, vegetables, fish, and meat await you. But also other fresh products of good quality are for sale.
Even if you come outside the opening hours of the market, you should definitely let the colorful architectural elements of the unique market hall work their magic on you.
Ubik Café
Opening Hours Ubik Café: Mon + Tue: 5 pm – 00.30 am; Wed: 11 am – 00.30 am; Thu: 11- 01.30 am; Fri + Sat: 11 am – 02 am; Sun: 11 am – 01 am
Entrance Fee Ubik Café: free of charge
We would like to round off our first day with you with a delicious drink. And where could you relax better than being surrounded by books? And that's exactly what you can expect at Ubik Café.
The café combines a small library, a bookstore, and a relaxed café. So relax with a coffee, a drink, or some delicious tapas, and later browse through some exciting books.
3 Days in Valencia – Day 2
Playa del Cabanyal
With one of the most beautiful stretches of coastline in the Spanish Mediterranean in the region, a visit to the beach is naturally part of any trip to Valencia. Especially in nice sunny weather, a visit to the city beach of Valencia is worthwhile. The locals often also refer to the Cabanyal beach as Las Arenas.
That's why we would like to start our second day in Valencia right here at the Playa del Cabanyal. Especially in summer, it is certainly worth a visit because then there is a whole lot happening here: beach umbrella rentals, water activities, small bars that provide refreshments on the beach, and much more.
But a visit to the beach is also a must outside the summer months. Because in this period, you can take advantage of the wide sandy beach and the beach promenade for an extensive walk on the beach.
El Cabanyal
On the way to one of the main attractions of the city, we pass through the neighborhood Cabañal (Valencian: Cabanyal). With its colorful houses and unique atmosphere, in this neighborhood, you can step back in time to authentic Valencia.
Once, this historic part of Valencia was an independent municipality called Pueblo Nuevo del Mar ("New Village by the Sea"). Even today, you can still sense this former Mediterranean fishing village flair in the Cabanyal neighborhood.
Ciutat de les Arts i les Ciències
If there's only one landmark that everyone associates with Valencia, it's definitely the Ciutat de les Arts i les Ciències (City of Arts and Sciences). Once you reach the grounds of these remarkable buildings, you feel a bit like you've just stepped into a futuristic cityscape.
The different buildings of the complex offer various exhibitions and museums. Therefore, in the following, I would like to give you a quick overview of the most important ones.
L'Oceanogràfic
Opening Hours Oceanogràfic: Sun-Mon: 10 am – 6 pm; Sat: 10 am – 8 pm (in summer, partly extended opening hours)
Entrance Fee Oceanogràfic: from 33,70 €
Tickets Oceanogràfic: on-site or online, e.g. via GetYourGuide
If you are interested in the underwater world, our seas, and oceans, a visit to Oceanogràfic in Valencia is an absolute must. The huge aquarium is the largest of its kind in Europe and is home to 500 different species and almost 50,000 underwater creatures.
L'Hemisfèric
Opening Hours Hemisfèric: 10 am – 07 pm
Entrance Fee Hemisfèric: from 4,70 €
The Hemifèric is arguably the most emblematic building of the City of Arts and Sciences. With its iconic sphere, this building was once the first of the cultural buildings that were established here in the 90s.
The Hemisfèric offers a variety of movies depending on the time of day and the season. The films usually last around an hour and are shown either in 3D or in IMAX Dome format.
In most cases, the featured films are not only impressive but also educational. For instance, in one of the current films, you can learn something about the life of dinosaurs.
Extra tip: It is worth checking the movie schedules well in advance to know when which movie will be shown and in which format.
Science Museum Principe Filip
Opening Hours Museum: 10 am – 06 pm (07/09 pm in summer)
Entrance Fee Museum: from 8 €
Tickets Museum: on-site or online, e.g., via GetYourGuide
A visit to the Natural Science Museum of Valencia is not only worthwhile for families with children. With great interactive exhibits, learning new things has never been more fun.
The museum focuses mainly on the history of evolution and new technologies. So both young and old can definitely learn something new and discover the items in a fun way.
Extra info: Unfortunately, some information in the museum is not translated for international visitors.
Palau des Les Arts Reina Sofía – The Palace of the Arts
Opening Hours Art Palace: Mon-Sat: 10:30 am – 2:30 pm & 3:30 pm – 6:30 pm; Sun & Fri: 10:30 am – 2:30 pm
Entrance Fee Art Palace: depending on the performance and seat: 8 – 145 € (For exact prices and programs, visit the official website here).
The Palace of Arts of Queen Sofía is not an art exhibition but a cultural hall. Inside, there are regularly held performances such as music, dance, or other theatrical shows.
The building has a huge stage, as well as the latest technological equipment, which turns the palace into one of the most modern cultural centers in the world.
CaixaForum Valencia
Opening Hours CaixaForum Valencia: 10 am – 08 pm
Entrance Fee CaixaForum Valencia: 6 €
This strikingly colored building is the CaixaForum Valencia. Similar to its popular brother in Barcelona, we are talking about a large exhibition building of CaixaBank Spain, a popular bank in the country.
Depending on the season, it hosts various exhibitions, as well as live events like musical performances or conferences. On an illuminated board outside or on the Caixa website here, you can find out which exhibition is currently taking place.
Jardins del Turia
Opening Hours Jardins del Túria: 24 h
Entrance Fee Jardins del Túria: free of charge
How about a stroll through the largest river in the region? Okay, no, it's not quite like that after all. But hear me out – this park, which meanders through a large chunk of the city, is actually the former riverbed of the Turia River.
After devastating floods in the 1950s, officials decided to divert the river outside the city. Instead, they created this wonderful park in the now-dry riverbed.
A stroll through it is definitely worthwhile. As a green oasis, it attracts locals, visitors, families, walkers, and athletes at the same time. Whether for some relaxation or just a leisurely stroll today, the Jardins del Turia is an essential part of the city.
Valencia in 3 days – Day 3
Option 1: Take a Day Trip from Valencia
As you can probably already tell, Valencia is a gorgeous city, and there is so much to discover. However, Valencia's surroundings also feature a lot of places worth seeing. So why not explore a bit of the Comunidad Valenciana while you're at it?
There is a huuuuge choice of places to visit around Valencia. And I will definitely write another article summarizing the best of them soon. But for now, here are three fantastic destinations that are less than a 40-minute drive from the city of Valencia
Sagunto
Situated just a short drive from Valencia lies the small town of Sagunto (Valencian: Sagunt). With its impressive castle and ancient Roman theater, the small town captivates not only history buffs of different eras.
The castle of Sagunt can be entered free of charge. Feel free to take your time to explore the large complex. Especially impressive is the view from the higher parts of the castle. You can overlook the surrounding nature and, of course, the historic center of Sagunto.
El Palmar & the nature park L'Albufera
An authentic Valencian paella is simply part of any proper visit to Valencia. The traditional Spanish dish originated in Valencia and is nowadays one of the main things Spain is famous for.
So if you want to try a truly delicious paella in Valencia – some even say it's the best in the region – you should definitely plan a trip to Palmar as many of the restaurants here specialize in paella.
After you have eaten this delicious Valencian delicacy, the next highlight awaits you in the neighboring L'Albufera Nature Park: one of the most spectacular sunsets you have ever seen.
Around the village and along the lake, many boats are waiting to take you out on the lake in the evening. From here, you have a wonderful view of the park and the sunset.
Extra tip: Many blogs say that you can also watch the sunset for free from the boat jetties. However, these are usually privately owned and not accessible. So it can be quite difficult to find access to the lake.
Xàtiva
Xàtiva is definitely one of my favorite destinations near Valencia. The medieval village comes with its own unique atmosphere. Indeed, the big highlight of the small town is its remarkable castle, perched high on a hill above the rooftops of the city.
In fact, we liked Xàtiva so much that we stayed right there for the night. And our hotel was a whole attraction in itself. At the Mont-Sant, you can properly relax and enjoy a great view of the castle. With its huge garden, pool, and wonderful facilities, our stay at the former monastery of Mont-Sant will definitely not be our last stay there.
Option 2: Barrio El Carmen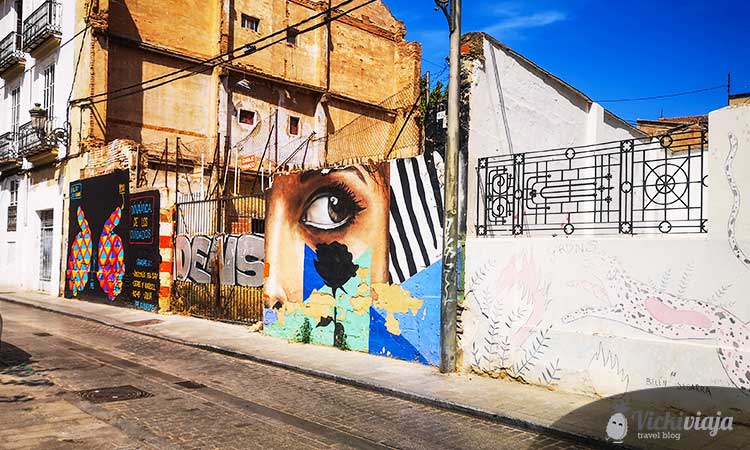 After visiting the less touristy neighborhoods of Ruzafa and El Cabanyal on the previous days, on your third day in Valencia, you could also discover one of the most touristy neighborhoods, El Carmen.
In this old part of the city, there are a lot of historically significant buildings, street art, and also a lot of cool bars, cafes, and restaurants to discover. No wonder this neighborhood is especially popular for going out and nightlife.
Check Valencia off the beaten path
València is full of great sights and attractions. We have already explored the highlights and main attractions during the last two days. But how about diving a little deeper into the Valencian culture and discovering places off the beaten path?
Where to stay in Valencia
The best Hotel in Valencia
This 2-star accommodation is considered one of the best rated by independent travelers. Venecia Plaza Centro is located in the historical center, in Plaza del Ayuntamiento, just a few minutes' walk from the main attractions of the city.
It convinces its visitors with a great location, and excellent cleanliness, and comfort.
Check more information, prices, and availability of Venecia Plaza Centro
The best budget accommodation in Valencia
If you're looking for a great place to stay in the historic center of Valencia but don't want to spend a fortune, Art&Flats is the place for you. This B&B offers clean, comfortable rooms, a great location, and friendly service at an excellent value.
The only downside to the accommodation is that it may be a little hard to find the first time around, as the signage is not ideal. But otherwise, the accommodation is very popular with travelers on a smaller budget.
Check more information, prices, and availability of Art&Flats
This doesn't include your ideal accommodation?
>> Check all accommodations in Valencia on Booking.com
FAQ about traveling to Valencia
How many days in Valencia?
It is recommended to stay at least 2-3 days in Valencia to discover the main attractions of the city.
The best day trips from Valencia?
There are so many great places to visit around Valencia. Among others, Sagunto, Xàtiva, El Palmar, Alicante, Altea, and more.
Is Valencia expensive?
Compared to other cities in Spain, Valencia is probably on the more expensive end. However, compared to many other European metropolises, a trip to Valencia is quite affordable.
Which language do they speak in Valencia?
There are two official languages in Valencia: Spanish (Castilian) and Valencian (often considered a dialect of Catalan). In most cases, signage and information are available in both languages.
Is Valencia safe?
Generally, Valencia is considered a very safe destination. Nevertheless, as with any destination, you should always keep an eye on your valuables.
---
Interested in Spain?