"Spaniards are easy-going and unpunctual, eating paella in the sun every day and taking a siesta afterward. In their free time, they prefer to watch bullfights, drink sangria, and dance flamenco." As you can see, there are many stereotypes about what Spain is famous for outside of Spain. And, of course, not all of them are true.
I, too, had many wrong ideas about what Spain is known for before I packed my bags in 2016 and moved to the Iberian Peninsula myself. So in this post, I want to answer the question, "What of the things Spain is famous for are actually typically for Spain – and what isn't?" To do so, I'll take a closer look at some of the most common clichés about the Mediterranean country and additionally mention some real famous Spanish things.
So let's get started right away and take a closer look at the things that represent Spain such as typical Spanish products, culture, customs, and gastronomic specialties.
What Spain is famous for – Costums and culture in Spain
"Spaniards love Bullfights"
Cliché: According to our understanding of things that are Spanish, bullfighting has been quite normal in the country up until today and deeply rooted in the Spanish culture. It is quite normal to go with your whole family to a bullring on the weekend to cheer on the toros as they fight with wild bulls.
Fact: The topic of bullfighting is currently highly controversial in Spain. The bullfighting events ("Corrida de Toros") date back to the 13th century and are therefore an important part of Spanish cultural history. However, nowadays, the fights are not as popular as they once were. In some parts of Spain, such as the Canary Islands and Catalonia, the killing of the animals or the bullfights themselves are now even completely banned.
Since the beginning of the 21st century, the number of events and active bullrings throughout Spain has greatly decreased. Despite this, many Spaniards still consider bullfighting as an important cultural asset. In addition, many jobs are associated with the events. Tourism also supports the fights, as for many foreign visitors, it is a fascinating spectacle that they do not want to miss.
Truth factor: 60%. Bullfighting is still present in many parts of Spain. Although many Spaniards still support the old tradition, there are also more and more residents and animal rights activists who speak out against the killing and torture of the animals. Therefore, the active events continue to decrease. In some parts of the country, bullfights are already banned.
"Flamenco everywhere you listen"
Cliché: Flamenco is an extremely popular music genre in Spain and is played everywhere. Moreover, it is typical for women in Spain to dress in flamenco clothes. At parties, flamenco is often played so that the guests can dance to it – after all, everyone knows the right steps.
Fact: This music is clearly one of the most famous things associated with Spain. Flamenco originates from Andalusia. The roots of this important Spanish art genre go back to the 18th century and are still an important part of Spanish culture today – just like cowboys in the US. If you're reading this now and you're not exactly living in the South of the USA, you're probably thinking to yourself, "But nobody here is actually dressing like a cowboy on a daily basis." And it's the same with flamenco. In Andalusia, the music and dance style is ubiquitous and definitely part of the culture.
In other parts of Spain, however, flamenco plays a rather minor role in the culture. Of course, the next time you visit Barcelona or Madrid, you can see a flamenco performance, just as you can enjoy a Texan barbecue in New York City.
Truth factor: 50%. In the south of Spain, flamenco is an important part of the culture, while it is not typical of other parts of the country.
"Spaniards take a siesta every day"
Cliché: Oh, a midday nap is so popular in Spain. In fact, it's so popular in Spain that everything shuts down during the early afternoon hours so everyone has enough time for an extended nap before heading back to work.
Fact: Yes, the siesta really does exist, and many stores close their doors during the lunch hour (around 2 – 5 pm). In the past, many companies also had a long lunch break where employees had time to get some rest. Today, however, the lunch break in companies is "only" about one hour. Of course, that's not enough time to go home and lie down.
Major supermarkets also rarely close their doors during the siesta period. And so, the siesta is withdrawing further and further from Spanish life. Especially in the north of the country, it is therefore becoming increasingly rare. However, the culture of lying down after lunch and spending the hot afternoon hours indoors still exists in Spain.
Truth factor: 75%. The siesta is still an important part of Spanish culture. Even if it is gradually receding, especially among the working part of the population, it still exists, even if not on a daily basis.
"Soccer craze in Spain"
Cliché: Everything revolves around just one thing – soccer. When an important match is on schedule, the streets are deserted, and everyone hangs out in front of the TV or in their favorite sports pub to cheer on their team.
Fact: The Spaniards are just as crazy about soccer as many other countries. Just as feverishly as some Americans follow the NFL, people in Spain root for their team in La Liga. However, just like in the US, plenty of people have little or no interest in soccer.
There are particularly large crowds at Real Madrid's games against FC Barcelona. Not only die-hard soccer fans tune in to watch, but also those who are not usually interested in the games.
Truth factor: 70%. In Spain, there are many soccer fans who cheer on their team at every game. But there are also a lot of people who have little or no interest in the sport.
"Party every night"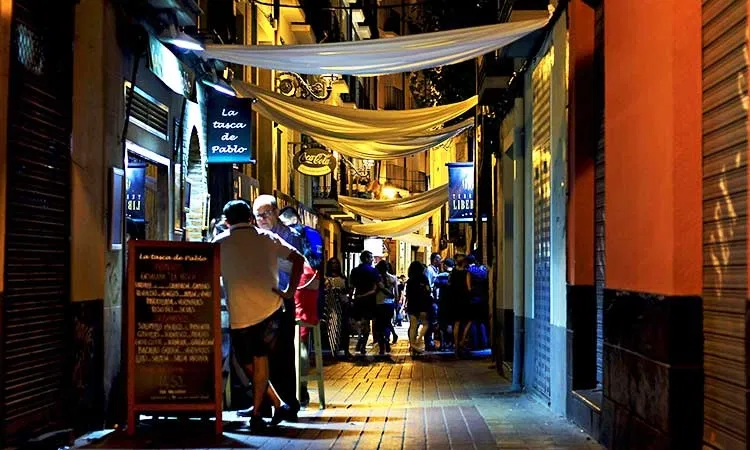 Cliché: Spain is a real paradise for party animals and night owls. No wonder, because the nightlife in Spain has gained worldwide fame. Everyone here is on their feet until dawn.
Fact: Life in Spain generally takes place later than in other European countries. While in Germany, the firsts are already on the way back home, it sometimes only starts in Spain. But since dinner is eaten very late here, people meet later and stay awake longer.
So if you want to party and enjoy the nightlife of Spain, you will certainly find the right place. Especially in big cities like Barcelona and Madrid, there are numerous clubs suitable for every music style and preference.
However, this does not mean that all Spaniards automatically go out partying every night. In general, however, we can say that dinner dates in Spain generally take place much later than in Central Europe.
Truth factor: 70%. Fiestas and nightlife are an important part of Spanish culture, so there is always something going on, even at late hours. Just like in other countries, however, it is rather the younger generation that goes out late at night.
What is Spain known for: Food and Drinks
Paella and Tapas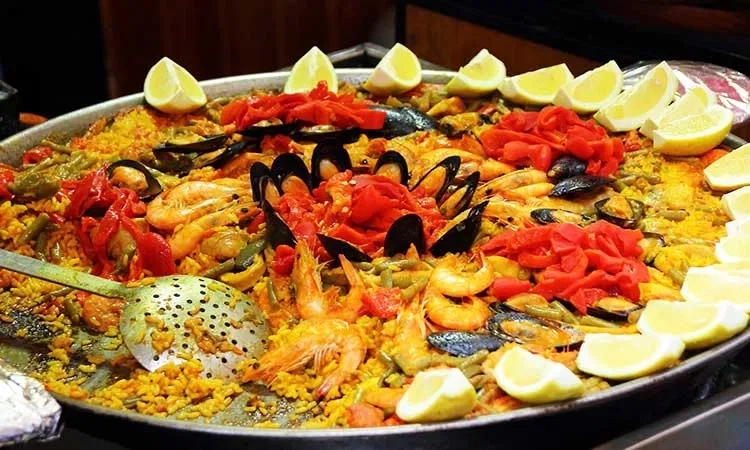 Think about a typical dish in Spain. Most likely, your thoughts will include at least one of the two dishes: Paella or the typical Spanish tapas. But do we really eat paella and tapas every day in Spain?
Every day, maybe not. But I have to admit that both tapas and paella are eaten relatively often. Paella is also a typical Sunday meal in our family. While we like to order tapas in good company. Even though they are usually not a complete meal, people like to order a couple of tapas while enjoying a cool drink with friends.
But also other Spanish dishes are typical for the country. However, depending on the region, the most popular dishes can differ. Typical dishes are gazpacho, tortilla de patatas, croquetas, Catalan dishes such as pan con tomate or botifarra and Valencian dishes such as fideua.
Sangria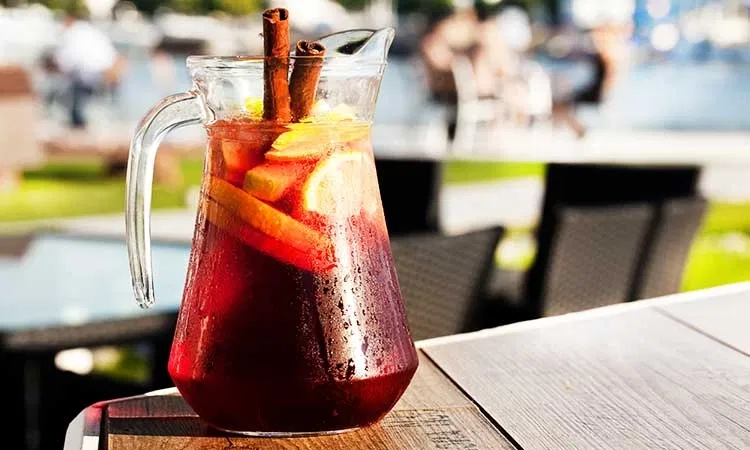 According to prejudice, Spaniards are particularly fond of drinking sangria, especially in summer. Sangria is a typical Spanish drink that tourists, particularly, like to consume. But that doesn't mean that locals don't also enjoy the refreshing summer cocktail.
However, many simply reach for a glass of wine. Spain is famous for its excellent wine production and exports its aromatic wines all over the world. But also beer, water and of course the standard well-known international soft drinks are enjoyed.
Coffee is also deeply rooted in Spanish culture, especially after a long, heavy meal. Before the meal, on the other hand, Spaniards like to enjoy vermouth.
Spaniards eat late
This prejudice on typical Spanish things is probably the only one on this list that I can sign 100%. Compared to Central Europe, people in Spain eat much later. Breakfast takes place at different times, depending on working hours and the rhythm of the day. Lunch is usually eaten around 2 pm. Dinner, on the other hand, is rarely eaten before 9 pm. With some Spanish families even only around 10 pm.
So it happens that some foreign tourists arrive at 6 pm already with a growling stomach in front of closed restaurant doors because many restaurants do not open before 8 pm (in tourist areas, they have adapted to us Central Europeans, though).
Typical Spanish snacks
One thing is for sure, anyone who travels to Spain rarely goes hungry. The selection of delicious dishes and snacks is far too large. But what do you actually eat in Spain when you're just a little hungry? Below you will find a small selection:
Jamón Serrano
Manchego cheese
Embutido ( cold cuts) such as Fuet
Churros con chocolate
Ensaimadas
Chupa Chups (they are originally from Spain)
Tapas
Potato chips
Olives
and many more
Spain is famous for what products
Think of a typical product from Spain… Well? Did you also think of food or delicacy? Because that is exactly what most foreigners associate with Spain. A Spanish wine, aromatic olive oil, or a Serrano ham…
However, there are also other products that come from Spain or that we associate with Spain:
Castanets
Fans
Traditional ceramic items
Manila cloths
Flamenco dresses
Seat cars
Spanish guitars
mops
Facts about Spanish culture – This is what all Spaniards have in common…or not
"Spaniards are loud"
The people from Spain always speak soooo loudly. That's one of the most common prejudices we have about the Spanish. And I have to admit that there is some truth in it.
Anyone who has ever sat in a Spanish bar or encountered a group of Spaniards on the beach will probably have noticed the small difference in volume. Because, on average, the Spaniards really do speak a bit louder than the rest of us. Besides, maybe if you are Italian.
"Spaniards are always late"
The truth of this statement lies at about 50%. Because yes, when you meet with Spanish friends, especially in a group or for a party, you can assume that they will be at least 15 – 30 minutes late.
My typical German punctuality just doesn't fit in here in Spain. And also, our habit to be there five minutes before would even seem super strange to a Spanish host.
But being late is not appropriate in every case. Because, again, it's not appreciated on the job if employees don't sit at their desks until after they've actually should have started to work. The same applies to public appointments, which are often even forfeited if the person is more than 15 minutes late.
After some time in Spain, however, you usually get so used to friends arriving late that you leave the house a few minutes later yourself, so as not to have to wait for everyone all the time.
"No one speaks English"
The level of English among Spaniards is very low compared to other European countries. Especially among the older generation, very few speak English. But even among the younger ones, many people speak no English or only very limited English.
Of course, this changes in tourist areas, where employees with English skills are specifically targeted. In your accommodation or a restaurant popular with tourists, you will find people who can communicate with you without any problems.
English classes in Spanish schools are usually limited, so many Spaniards who speak English learn the language in their free time, at a language school, or abroad. As a result, there is now a greater emphasis on including the language in the school curriculum for the younger generation.
Family first
La Familia – As in many other Mediterranean countries, family is very important in Spain. Weekly meetings and lunches together are not uncommon here. In addition, Spaniards live in Hotel Mama on average for about five years longer than young German adults.
Universities in the cities often offer a variety of courses of study, so Spaniards rarely move far from home. In fact, many Spaniards never leave the city where they grew up. Our apartment is also just a few minutes walk from where my parents-in-law live.
Everything is tranquilo
Due to the typical mañana-mañana attitude ("tomorrow, tomorrow") of the Spaniards, nothing can upset them. Everything will work out somehow, and what you can get done today, you can always get done tomorrow…or something like that.
The Spaniards are definitely known for their relaxed attitude to life. A sip of wine here, a siesta there, and don't let anyone stress you out. That's exactly how it goes here. BUT Spaniards can also be quite different. Despite their relaxed side, the average Spaniard has an extra portion of temperament and impatience. This brings us to our next point.
"Spaniards are temperamental"
Spaniards are known for their temperament. In general, the Spaniards seem to be less distant, because they also like to greet strangers with kisses and warm hugs.
Compared to us Germans, the Spaniards seem to be more spirited. From open-hearted hospitality and passionate dances to heated discussions. The Spanish temperament comes with all its facets. As in other countries, of course, the individual's personalities differ.
But the different regions of the country also differ, because the south of Spain seems to have got an extra portion of temperament.
"People in Spain are short"
Another of the famous prejudices about Spain is that all Spaniards are short. However, there are, of course, some tall people in Spain as well. Especially the younger generations grow much taller than their parents and grandparents.
Nevertheless, both Spanish men (1.75 m) and Spanish women (1.62 m) are, on average, four to six centimeters shorter than the average central European.
"Guaranteed vacation flirt in Spain"
The Spanish are also known for their flirting. At the latest, since the love songs of Enrique Iglesias, we have this image of Spanish men who are always flirting and promising you the most romantic things.
Although in Spain, as in many southern countries, there are a lot of self-proclaimed Latin lovers, it does not mean that you will automatically be flirted with everywhere you set foot on Spanish soil. My husband Eduardo, for example, is the perfect example that not every Spaniard is automatically a romantic flirting machine. Because he certainly isn't a romantic, he is by far not the only Spaniard who doesn't live up to this cliché.
Author's Note: After writing this post, it occurred to me that Eduardo might not be the best example at this point, since we did meet during my first trip to Spain.
Pssst…But if you're up for a little flirting on your Spanish vacation, you'll definitely find it on the beach or in one of the clubs.
"Spaniards are lazy"
Contrary to the prejudice others have of us Germans, Spaniards are not exactly famous for their efficiency. On the contrary, many have the image of Spaniards as rather lazy people. Of course, the mañana-mañana mentality that is so prevalent in the country doesn't exactly help in dispelling this rumor either.
The high unemployment rate in the country also contributes to this prejudice.
Nevertheless, I would not call the Spaniards lazy. The high unemployment rate in the country is not due to the fact that the locals don't want to work, but in many places, they simply can't find a suitable job. So it has little to do with laziness.
Spain was hit hard by the global economic crisis a few years ago. The Corona crisis has also already left deep scars on the Spanish economy.
Of course, in Spanish culture, people like to relax and postpone things until the next day, although these things also have little to do with each individual's personality. Just as Germany has rather lazy personalities, Spain also has quite a few hard-working personalities.
Chaotic traffic
Another prejudice against Spain is the chaotic car traffic. But contrary to some of our ideas, Spain is not exclusively inhabited by Sunday drivers. This is not true, but the streets of the big cities are usually a bit more chaotic than I am used to in Germany.
This is mainly due to the many scooters on the road. But it also has to do with the fact that red lights for pedestrians are often only seen as a recommendation.
Things that represent Spain – landscapes & Climate
"It's always sunny in Spain"
Even though one of the most famous things about Spain might be its sunny weather, of course, this is not true that the weather is always good. There are also one or two rainy days. On average, however, there are almost twice as many sunny days in Spain as in the UK, for example. Especially in winter, the difference between the British gray days and Spain's sunny hours can be seen strongly.
"It's never cold in Spain"
As much as I wish this to be true, it's unfortunately not true. Except for the Canary Islands, where temperatures are pleasantly warm all year round, there is also winter in Spain. In some regions, it can even snow.
In the winter of 2020/2021, Spain was even all over the news as it struggled with an unusual amount of snow. While most regions of the country don't get as cold in the winter as Central Europe does, you should definitely pack your winter jacket when vacationing during the winter months.
Typical animals in Spain
Spain also has an impressive animal and plant world. Of course, the first animal that comes to mind when we think of Spain is probably the national animal: the bull. It has been deeply rooted in Spanish culture for years and is, therefore, immediately associated with Spain.
Anyway, besides the bull, there are also other typical animals in Spain:
Dog
Cat
Canary
Seagulls
Brown bear
Iberian lynx
Beaver
Spanish ibex
genet
Iberian pig
bearded vulture
pilot whale
Iberian wolf
Wild boar
and others
Typical Plants in Spain
There are even some plants that we associate with Spain or native to Spain. Unfortunately, it is not possible to name typical plants in such a general way because the vegetation can vary greatly depending on the climate zone and altitude. Below you will find a small selection of typical Spanish plants:
Palm tree
Pine
Wine
Aloe
Olive trees
Orange trees
Laurel
Agave
Prickly pear
Pomegranate tree
Oaks
Fern
Orchids
Rhododendrons
Beeches
Birches
Broom
and others
---
So, what is "typically Spanish" for you? Were we able to dispel some of your preconceptions about Spain, or did you learn something new? Let us know in the comments below!
Interested in Spain?