The typical food in Spain is varied, extensive, and diverse, in addition to being extremely delicious.
Whatever you try, you will surely like it because this mixture of aromas, textures, and flavors will please any palate. It is not in vain that Spanish cuisine has achieved worldwide fame.
If you are interested in knowing the most popular food in Spain that you should not miss, continue reading this post, as we will name the best of them.
Spanish food to try
This wide variety of flavors is due to the influence of the different cultures on Spain's traditional food throughout its history, as well as to the landscape and climate. Hence, in each region, there may be differences.
For example, in Catalonia, there is a mixture of sea, mountain, and city cooking: sausages, fish, tomatoes, etc. While in Valencia, farm animals, rice and seafood are common.
Another example is the Canary Islands, whose gastronomy has Andalusian and African influences mixed with local ingredients and products: fish, mojos, and stews. While in the Basque Country, the ingredients of the Cantabrian Sea are distinguished: seafood and fish.
The same happens in Andalusia, whose rural and coastal culture gives priority to olives, vegetables, and oxtail, among others.
While there are differences, there are also many similarities in the use of some ingredients, such as garlic and olive oil, making the dishes of any region of Spain unique in the world.
Author's note: The order of these traditional dishes of Spain is alphabetical, and therefore, it is not a ranking. The ratings of each dish are based on our own preferences, which is why they should be seen as absolutely subjective opinions.
The best Food to eat in Spain
Albóndigas en salsa
Among the typical Spanish meals, we find Albondigas, balls of minced meat that can be beef, pork, or a mixture of both. They are marinated with different ingredients and spices, and then a sauce is added, which usually contains wine, broth, tomato, and garlic, among others.
It is a dish of Arab origin and is prepared in different ways throughout Spain. Regardless of the recipe used, it is usually a very tasty meal that pleases young and old alike.
Our Rating: Those who like their meat well seasoned and covered in a sauce will love the Spanish Albondigas, which are also excellent with potatoes, mashed potatoes, or rice. It is a good option for lunch, I recommend it.
Arroz negro
Another famous food in Spain is black rice, Arroz Negro, which is cooked in a clay pot or paella.
This dish owes its appearance to the natural squid ink that is released during cooking.
It has other ingredients such as fish broth, clams, peppers, and olive oil. This weird-looking food belongs to the favorite food of tourists visiting the regions of Catalonia and Valencia.
Our Rating: Although the color of this dish is definitely not everyone's cup of tea, if you are one of those who like fish and seafood, you will surely love this dish with its own appearance and flavor. It is a real gastronomic gem and one of Eduardo's favorites.
Bacalao Pil-Pil
Of Basque origin, Bacalao Pil-Pil is made with cod, garlic, olive oil, and chili peppers in a clay pot.
Despite the few ingredients, it is one of the typical Spanish dishes whose sauce captivates many people for its flavor and texture.
Our Rating: Every cod lover or those who have never eaten it should enjoy this excellent recipe. With bread, wine and good company it will be the perfect meal, trust me.
Snails (Caracoles)
A typical dish in Spain is snails, so it is common to find places specialized in preparing this dish. There are a variety of recipes: in sauce, Madrilenian style, "a la llauna", Andalusian style, and many more.
Our Rating: Not everyone dares or likes to eat snails, as is my case, however, if you are someone who loves this type of dish or you are willing to try them, then you should not hesitate to eat it, as some say, they are a gift from the gods. My father-in-law actually orders the snails whenever he finds them on the menu.
Cocido madrileño
Undoubtedly, Cocido Madrileño is one of Spain's traditional dishes and is quite representative of the cuisine of the Madrid region.
The main ingredient is chickpeas, which are combined for excellent taste with meat, potatoes, carrots, bacon, and chorizo, among others. The dish is highly nutritious and has an incredibly delicious flavor.
Our Rating: If you are a fan of chickpeas and meat, you can eat this yummy dish without any worries. I am sure you will love it. Besides, you can be sure that you will get a good supply of fiber, protein, and amino acids in one dish.
Croquetas
Although the croquette is of French origin, it became viral in Spain during the 19th century. They gradually acquired new nuances and began to be made with different ingredients, thus giving birth to the Spanish croquette.
Today, Croquetas are one the most important dishes of Spain. They are made with bechamel sauce and some other ingredients: Fish, chicken, ham, etc. Once the sauce is ready, it is dipped in egg and breadcrumbs and then shaped and fried. It can be served both as a main dish and as tapas.
Our Rating: This is a fairly light dish with an amazing flavor. Also, you can choose the one made with any ingredient of your preference – there are options with cod, chicken, ham, or veggies. We eat them both hot and cold and simply love them.
Fabada
Fabada is a traditional Asturian stew made with faba beans (white beans) and various sausages such as black pudding, pork shoulder, bacon, and chorizo.
Although it is a typical dish of Asturias, today, it has been widely spread within the Iberian Peninsula and is even known in some countries outside of Spain.
Our Rating: It is a strong dish with high caloric content but with a smoky flavor that is unmistakable and special. If you like grains and sausages, do not hesitate to delight your palate with this wonderful dish.
Fideuá
Among the typical Spanish meals, we find the fideuá, which is a dish whose preparation is very similar to that of the seafood paella.
The biggest difference between the two Valencian dishes is that Fideuá doesn't include rice but noodles. Among its ingredients are prawns, mussels, fish broth, and olive oil, among others.
Our Rating: It has an excellent texture and a flavor very similar to paella. So if you like noodles, seafood, and fish, then you will surely like this Valencian dish. Eduardo might even call it his favorite dish.
Gambas al ajillo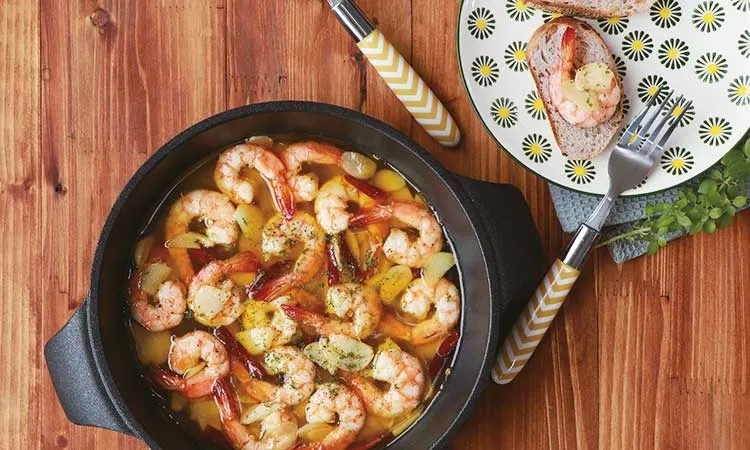 Among the yummiest dishes of the country, we can find Gambas al Ajillo, garlic shrimp, whose name clearly refers to its main ingredients.
It is prepared in an earthenware casserole where garlic, parsley, and olive oil are fried, and then the prawns are placed.
Our Rating: It is usually served as a traditional tapa, and in some places, it is an appetizer. Combining its ingredients makes it an irresistible and quite light dish that you can enjoy if you like shrimp. The best accompaniment to this dish is bread.
Gazpacho
Gazpacho is a drink or cold soup made with vinegar, olive oil, water, and vegetables such as tomatoes, onions, garlic, and cucumbers. However, as with many of Spain's traditional dishes, there are different versions of it.
Our Rating: This dish can be prepared by mashing its ingredients or placing them finely chopped. It is ideal for people who like vegetables and salads. I can absolutely recommend you try it. Especially during hot summers, it can be a great refreshment.
Jamón serrano
Jamón Serrano, Serrano ham, is one of Spain's main export products due to its worldwide popularity.
It comes from the pig and bears its name because it is cured in the mountains ("Sierra"). It is usually consumed as a tapa, although its exquisite flavor makes it perfect as an ingredient in various recipes or simply to eat with bread.
Our Rating: Serrano ham has a unique and incomparable flavor. So if you like pork, I recommend that you not try it. Because once you do, you will want more and more. If you have already eaten it, you'll probably understand perfectly what I mean.
Migas
This typical food in Spain, called Migas, is made with leftover bread from the previous day, to which garlic, olive oil, and chorizo are added.
Migas are usually served as a typical Spanish breakfast dish, for lunch, or as a tapa. Depending on the region, other ingredients are added, such as peppers, grapes, and melon, among others.
Our Rating: A good way to take advantage of and enjoy leftover bread is with this dish. If you like the combination, you shouldn't leave Spain without trying it. I'm sure you will like it as much as I do.
Pa amb tomàquet (Pan con tomate)
Pan con Tomate, bread with tomato, is a traditional appetizer or side dish that, although eaten all over the country, originates and is particularly popular in Catalonia. This easy Catalonian dish is a great example of how something so easy can have such a wonderful taste.
The toasted bread is prepared with garlic, tomato, salt, and olive oil. Although it seems easy to prepare, the tradition preserves some rules to follow regarding the cut of the tomato, the bread to use, and the type of olive oil you use.
Our Rating: It has very light ingredients, but together they form a dish worth eating. I love it! If you find the combination pleasing, you will surely enjoy this dish. It is best enjoyed combined with some Spanish cheese or Embutido.
Paella (Valenciana)
Paella has its origin in the Valencian community. However, today Paella can be seen as the National dish of Spain, and there are different variants of the dish all over the country.
Its recipe is based on rice, which is cooked with other ingredients. Depending on the region, those ingredients can be rabbit, chicken, or green beans.
It is different from Paella Marinera (also called Arroz a la marinera), which has other ingredients, including seafood and fish broth. However, in other regions, also authentic Paella can be served with seafood (e.g., in Catalonia).
Our Rating: Seriously, no one can leave Spain without having tried at least one type of Paella. There are options for every kind of taste – even a vegetarian version. So there is no excuse not to try. However, I am sure my mother-in-law makes the best paella in all of Spain.
Pimientos de piquillo rellenos
This bell pepper produced in Navarra has an intense red color and is small in size. They are creamy, somewhat sweet, and are usually stuffed with meat, cod, rice, shrimp salad, prawns, cheese, or other ingredients.
Our Rating: Those of us who have tried them can assure you that they are a real delicacy, the question is: Do you like peppers? If your answer is yes, you just have to look for the filling you like the most and enjoy one of Spain's traditional dishes. Our personal favorites are the ones filled with cod.
Pisto
Pisto is a recipe of humble origin that was prepared by farmworkers with vegetables that were in season, hence the existence of multiple recipes.
This traditional Spanish dish consists of frying various vegetables in olive oil and adding a tomato-based sauce. It is usually accompanied by bread and fried eggs.
Our Rating: Sauces made with vegetables are usually a good accompaniment to other meals. It's also worth eating it with some bread, that's what I do.
Pulpo a la gallega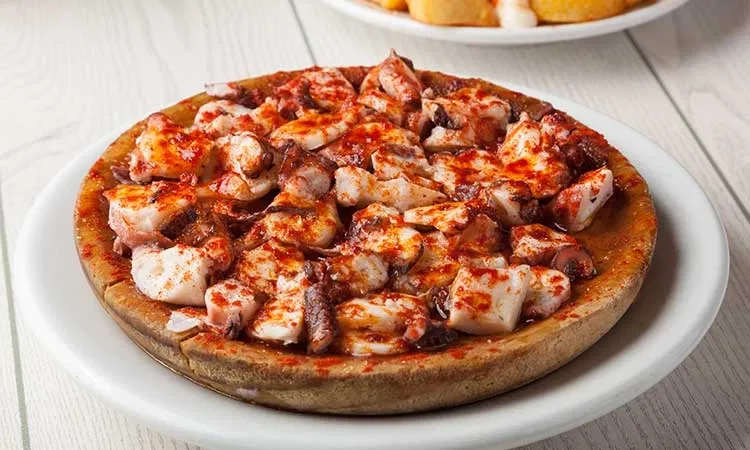 Among the most popular dishes in Spain, you will also find Pulpo a la Gallega, also called Pulpo a la feria. This octopus dish has its origins in Galicia, although nowadays, it is prepared all over the country.
The octopus is cooked whole in a copper pot, and after a long procedure, salt and cachelo (potatoes) are added. When serving, it is cut and sprinkled with paprika.
Our Rating: This is a recipe that is definitely aimed at octopus lovers, which, unfortunately, is not my case. However, Eduardos absolutely loves this dish. So if you are also an octopus or seafood lover, you have to try it without any doubt. And if you've never tried it, your trip to Spain is a good time to start.
Rabo de toro
Rabo de toro is a Cordovan stew that consists in elaborating a stew with oxtail, although veal or ox is also used.
In a casserole, the floured pieces of oxtail are placed in a casserole dish, and then a sauce of vegetables and red wine is added.
Our Rating: This special dish may not appeal to everyone in the same way. However, the meat is very tender, and the stew has a great flavor. So if you are a fan of hearty meats, this might be your new favorite dish. But honestly, it's all a matter of taste.
Salmorejo
This cream of Andalusian origin is prepared with bread crumbs, olive oil, garlic, tomatoes, and salt and is, therefore, very similar to the already presented Gazpacho.
Salmorejo is traditionally served with pieces of ham or hard-boiled egg on top and is usually eaten as a first course or to accompany other foods.
Our Rating: It is a fairly mild dish that serves as a starter and tastes very good. Like Gazpacho, it's best enjoyed on a hot summer day. I recommend trying both and finding your personal favorite.
Tapas
Tapas are another type or category of doof that people enjoy in Spain. Basically, they are appetizers served in restaurants and bars. Today, those tasty snacks are considered an important aspect of Spanish food culture.
Tapas are easily enjoyed while chatting and enjoying the day or night in a social context. The more people are part of your group, the bigger the variety of dishes you can try.
Among the tapas, we find a great variety: Boquerones, Serrano ham, cheese, olives, shrimps, potatoes, and many others.
Our Rating: Because tapas are appetizers and offer great variety then, it is hard to resist them, especially if they are accompanied by a good wine. My suggestion is to try as many different kinds as possible and ask for the regional specialty.
Tortilla de patatas
The potato omelet is a very well-known Spanish dish all around the world. It requires three to four basic ingredients: potatoes, eggs (onions), and salt.
Depending on your preferences, you can also add other ingredients, such as ham, beans, or chorizo, among others.
Our Rating: If you have no problem with any of these ingredients, you can eat it with confidence because it is a good-tasting and nutritious dish. As with croquettes, you can eat them fresh out of the pan or cold. Typically Spanish, we usually eat it with bread.
FAQ about Spanish food
Is Spanish food healthy?
With its fresh ingredients, Mediterranean cuisine is considered one of the healthiest in the world. Even today, a lot of homemade and fresh cooking is still done in Spain.
Is Spanish food spicy?
Spanish dishes are usually anything but spicy. There are very few dishes that are served spicy e.g. the popular tapa Patatas Bravas.
Is Spanish food Mediterranean?
We call all regions that belong to the Mediterranean region the Mediterranean. Accordingly, Spanish cuisine is also a Mediterranean cuisine. Many ingredients that we associate with the Mediterranean, are used such as zucchini, tomatoes, or olives.
Why is Spanish food so popular?
With its fresh ingredients, Spanish cuisine is very popular. Tapas also allows to share food with loved ones and try many different dishes.
Are there vegetarian dishes in Spanish cuisine?
Admittedly, Spanish cuisine relies a lot on meat and seafood. But there are also some vegetarian alternatives like patatas bravas, tortilla de patata, gazpacho or pisto.
Do you tip in Spain?
In Spain, tipping is usually reserved for exceptionally good service. Accordingly, tipping is not expected but is gratefully accepted in spite of everything.
Is Mexican food the same as Spanish?
Mexican and Spanish food are not similar. While Mexican cuisine relies a lot on spicy and strong ingredients, Spanish cuisine is rather mild. So in Spain, you will look in vain (except for Mexican restaurants) for burritos, tacos, and similar dishes.
How do I order food in Spain?
– "Un X, por favor" – "One X, please"
– "Me pones un X?" – "Can you give me an X?"
– "Para mi, un X" – "For me, one X"

---
Interested in Spain?