Maras and Moray are two of the most beautiful sights in the Peruvian Andes. If you are traveling in the Sacred Valley or Cusco in general, you should definitely keep some time free to visit these two Peru attractions.
Maras is a salt terrace where you can take awe-inspiring photos. In neighboring Moray, on the other hand, you can discover Inca ruins and learn more about Peru's ancient agriculture.
In this article, we will explain why you should visit the Salineras de Maras and the Inca ruins of Moray and the different ways of how to get to Salineras de Maras and Moray.
First, we will briefly introduce you to the salt fields of Maras and the ruins of Moray. Then you will learn the different ways to visit them from Cusco or Ollantaytambo with many helpful additional tips.
In addition, you will also find information if you also want to see the colonial church of Chinchero along the way.
This article will cover the following topics.
How to get there from Cusco
How to get there from Ollantaytambo
Combination of your trip with Machu Picchu visit
Combination of your trip with a visit to Chinchero
Hiking to Maras and Moray
Visit Maras and Moray by taxi/public transport
Visit Maras and Moray with a tour
Maras Saltmines – Las Salineras de Maras
The salt terraces of Maras, called Las Salineras de Maras in Spanish, are a salt mining area in the Sacred Valley of the Incas in the Peruvian Andes with a long history.
The salt fields in Maras consist of more than 4,000 salt pans where salt has been mined for hundreds of years using the same principle. That's quite impressive if you ask me.
Today, the Salineras de Maras is one of the most popular attractions near Cusco. Exporting and selling the salt mined here to tourists is also an important income source for the salt miners.
Especially the pink salt is popular with visitors and local restaurants at the same time. This is because it is said to be of excellent quality and even to have health-promoting effects.
Your visit at the Salineras de Maras
Opening Hours Salineras de Maras: 07 am – 05 pm
Entrance Fee Salineras de Maras: 10 Soles (ca. $ 2.6/€ 2,25) – Not included in Boleto Turístico
During your visit to the Salineras, you can enjoy a fantastic view over the salt mines, taste the different salts, meet locals, take some great photos and learn more about salt mining.
Climbing around the salt fields and seeing them up close, as possible until a few years ago, is no longer allowed for safety and hygiene reasons.
Where are the Salineras Maras?
The salt fields are located about 9 km/5.6 mi from Maras, 40 km/25mi from Cusco, 30 km/19 mi away from Ollantaytambo, and almost 18 km/11.5 mi away from Urubamba. At about 3,500 meters/11,500 ft. above sea level, the Salineras are located in the Sacred Valley of the Incas. Thus, they are considered the highest salt fields in the world.
That's how the saltmining in Maras works
For hundreds of years, salt has been extracted in the Salineras using the same principle. The workers here work hard and have a long day that stretches over many hours. Besides, the blazing sun shines on the salt fields throughout the day, as the lack of shaded areas makes the work difficult.
Unfortunately, it is precisely this sun that is so important in salt extraction. Water is fed into the individual salt ponds via a sophisticated irrigation system. The strong sunlight then causes the water to evaporate, leaving behind a layer of salt.
The terraced fields of Moray, Peru
You should not miss Moray's impressive Inca site on an excursion through the Valle Sagrado, the Sacred Valley of the Incas. The terrace formations, built at the time of the Incas and equipped with a cultivated irrigation system, can still be clearly seen today.
The circular formations, which extend up to 70 meters/ 229 ft. deep into the ground, create a simply unique picture. And the history of the Inca's use of agriculture is also fascinating.
Your visit to Moray
Opening Hours Moray: 07 am – 05 pm
Entrance Fee Moray: Included in the Boleto Turístico (Ticket for sightseeing spots in the Sacred Valley of the Incas – 10 days for 130 Soles)
Those who visit Moray can experience an incomparable view of the unique Inca site and learn more about Inca progress at the same time.
The surrounding pure nature also contributes to the idyllic landscape of Moray.
Where is Moray?
Moray is also located at an altitude of more than 3,500 meters/11,500 ft., about seven kilometers/4.5 mi from the village of Maras and just under 40 km/25 mi from Cusco.
That's how Moray was used
Already at the time of the Incas, the Inca plant was used for cultivation. Even if not all details about the plant's use are known until today, it fascinates many scientists.
It can be seen what precise planning must have gone into the construction of the plant. It so happens that even up to 50 years ago, the fields of Moray were purposefully used and further elaborated.
For the most part, Moray was used to grow various types of potatoes and corn. Researchers believe that already the Incas experimented here with the cultivation of various potato tubers. To this day, many different potato varieties are planted in the country and exported all over the world.
Probably one of the most interesting discoveries of the plant is the different microclimates between the individual fields. This difference in temperatures can be up to 15° C/59° F in the lowest of the plants, Qechuyoq. The temperature difference can make it easier to grow food.
Chinchero
Chinchero is a small historical town located about 15 km/9.5 mi from Cusco. It is located on the way between Maras/Moray and Cusco to be perfectly connected with the two sights of Valle Sagrado.
Although Chinchero is the whole town's name, most people refer to the small colonial church in the upper part of the town and the surrounding ruins. These can be visited with the Boleto Túristico.
The colonial church is special because it was built on a pre-existing Inca base. In this way, the two cultures and architectural styles are combined in a unique building.
Chinchero gained fame as a historical and tourist town, as it was once the summer residence of the famous Inca Túpac Yupanqui. Even today, there are some Inca ruins to discover in the city. It is often referred to by locals as Rainbow City.
If you have a little more time, be sure to visit the traditional market of Chinchero.
Fun Fact: A new airport is currently under construction in Chinchero, which will replace Cusco's airport in the future.
How to visit Moray and the Maras Saltmines from Cusco or Ollantaytambo (+ Chinchero)
In the first part of this post, we have already told you what there is to discover in Maras and Moray, in this part, we would now like to give you an insight into the possibilities to visit these incredible places and how to get there.
Visiting Moray and Maras with a tour
The first option to visit these great places in Valle Sagrado is to join a tour. Most excursions to Maras and Moray depart from Cusco, although you can also find a few local excursions from Ollantaytambo.
You can book such a guided tour either on-site or online beforehand. GetYourGuide has some great options and is my first choice for online tour bookings. If you want to book a tour on-site, be sure to read a few independent reviews about the tour provider before reserving your seat.
Whether booking online or on-site, there is a wide range of different providers and options. Below you will find the most popular tour options available to you.
Regular Tour to Maras and Moray from Cusco
As the name suggests, this is a simple half-day tour. On this tour, you usually start in the (early) morning hours from Cusco with a van or minibus and visit the sights together with your tour group.
During the tour, you will get some great background information on the places you visit. Another advantage is that you don't have to worry about anything and they will take you directly to the attractions. Once the tour is over, you will be taken back to Cusco along with your tour members.
Check more info about the half day tour to Maras and Moray
Combined Tour to Maras and Moray
Especially if you are short on time, seeing several of the Sacred Valley's sights in one day can be worthwhile. With a combined tour, you can combine a visit to Maras and Moray with a stop at other fascinating sights.
Popular tour options include combining with Chinchero or the Inca ruins of Pisac.
Check more info about the combined tours
Horseback Riding to Maras and Moray
If you want to make your trip to the Inca attractions something even more special, you can also visit the two sites on horseback. This way, you can enjoy the breathtaking landscape without having to walk over at 3,000 meters altitude.
If you are on horseback, be sure to wear a good sunscreen, as there is little shade along the way between the attractions.
Check more info about the horseback riding tour
Quad tour to Maras and Moray
One option for the more adventurous among you is a quad tour. The tour starts in Cusco, but not directly on the quad – the distances would simply be too great.
After an approx. 40-minute drive from Cusco, however, you're off to the quads. First, there is a short familiarization phase. Therefore, the tour is also suitable for inexperienced drivers. On the quads, you will then go to visit the sights.
Also, on this tour, you should pay attention to sufficient sun protection. The sun at those altitudes is really not to be underestimated.
Check more info about the Quad tour
Self-guided Maras and Moray Tour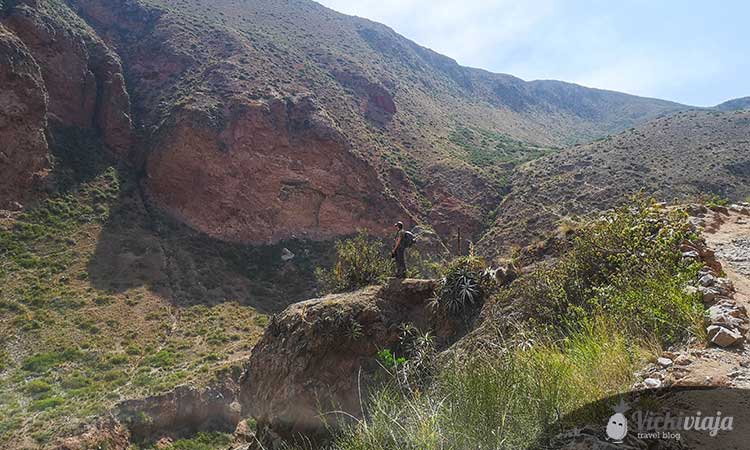 Maybe you don't feel like going on a tour but would rather visit both sights of the Sacred Valley of the Incas independently. Of course, there are also a few possibilities.
Also, in which order and where you want to start your hike or journey is entirely up to you. In the following part, you will find a few options.
Extra tip for the combination of your trip
Your trip to Moray and Maras can be perfectly combined with a visit to Machu Picchu. Just start from Cusco to Machu Picchu. (You can read about the details in our comprehensive How to get to Machu Picchu Travel Guide).
On the way back from Machu Picchu (mostly by van), instead of returning to Cusco, you can get off at Ollantaytambo and spend the night. After visiting the remarkable ruins in Ollantaytambo, you can perfectly plan your trip to Maras and Moray.
Before returning to Cusco, you can also plan a stop in Chinchero. This way, you can visit five of the best sites of the Sacred Valley and save a lot of time and detours.
Visiting by Taxi/Bus
One of the most popular ways to visit Maras and Moray is a mix of taxi and public transportation. To do this, first, take a bus or colectivo from Cusco or Ollantaytambo to Urubamba or Chinchero (about 4 – 6 soles).
From there it is easy to find taxi drivers to take you to the places you want to go. It is worth negotiating a fixed price to keep the same driver during your tour. If you can't find a driver with that much time, you can also take a colectivo between the Salineras and Maras for about 2 soles.
Moreover, you can hire a driver directly in Cusco or Ollantaytambo. However, this will make your trip much more expensive.
Hiking to Maras and Moray
Another option is to visit Maras and Moray on a hike. The complete hike is about 15-18 km/9.5 – 11 mi distance, depending on your choice. The advantage of hiking is that you can flexibly visit the sights and enjoy the beautiful landscape at the same time.
Below you will find the two most popular options for a hike and a few additional tips.
Tips for Hiking in the Sacred Valley
In any case, have a reliable rain poncho in your luggage at all times of the year. The weather can change at any time, and there is hardly any shelter on the way.
The same goes for sun protection. Be sure to wear sunscreen and headgear – the sun at these altitudes should never be underestimated.
Bring some snacks or a sandwich with you. The trail can be quite strenuous, and sometimes you will be glad to have something (sugary) to eat.
It's best to take a few days to acclimatize before your hike. The altitude can cause shortness of breath and even altitude sickness.
Coca leaves (chewable, in tea or candy form) can help with altitude sickness.
Take it slow – breathing is a bit more difficult for many at these altitudes
Be sure to wear appropriate and comfortable shoes – hiking boots are the best option.
Use Maps.me to check your locations on the map offline
Hike I – Media Luna – Salineras de Maras – Maras Pueblo – Moray
Hiking Distance: ca. 17 km/10.5 mi
Difficulty: Moderate
Startpoint: ca. 2,900 m/9,500 ft. Altitude
Highest Point during the Hike: 3,514 m/11,530 ft.
Getting there from Cusco
Take a colectivo from Cusco's minivan station in the direction of Urubamba, Chinchero. Ask the driver to let you out near Casita Media Luna or Los Arcos de Tarabamba. The ride takes about 1 1/2 hours and costs about 6 soles.
Getting there from Ollantaytambo
Take a colectivo from Ollantaytambo bus station in the direction of Urubamba. Ask the driver to let you out near Casita Media Luna or Los Arcos de Tarabamba. The ride takes about 20 minutes and costs about 4 soles.
From Media Luna to Salineras de Maras – ca. 2 km/1.25mi
To get to the Salineras de Maras trail, first, cross the river and follow the footpath. At the beginning of your hike, there is no incline, and the path is easy.
After a short easy walk, however, your path will reach a steep incline. Take your time because the blazing sun and the steep incline at an altitude of more than 3,000 meters can cost you a bit of energy.
At the end of the path, however, you will already find the Salineras de Maras.
From Salineras de Maras to Maras Town – ca. 9 km/5.5 mi
After enjoying the view over the Salineras and learning more about the salt mines, we continue towards Maras Pueblo. This is the longest section of our hike and probably one of the most strenuous, with some inclines and little shade along the way.
However, the most difficult part is already at the beginning of the path. Once you've reached the top of the mountain, there are some parts of the trail that don't have an incline or even go downhill for a bit.
You will also be rewarded with a more beautiful landscape. However, you won't find many trees or shady places.
If you want to skip walking this section, you also have the option of taking a colectivo to Maras for about 2 soles.
Maras Pueblo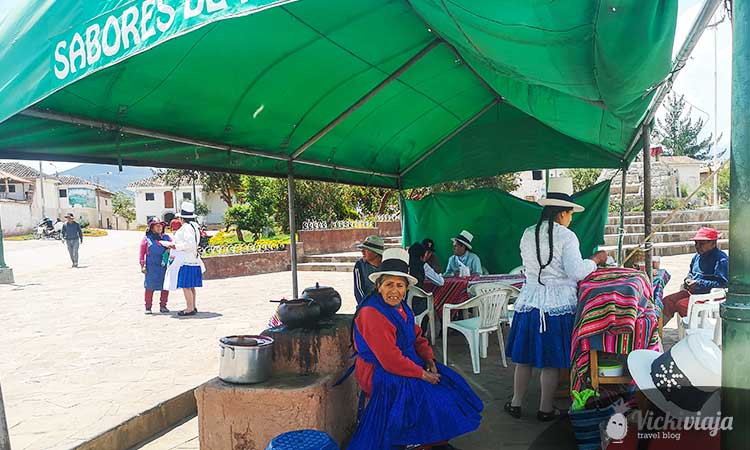 After about 9 km/5.5 mi of walking, you finally reach Maras Pueblo. In this place, time seems to have stood still. During our visit, we seemed to be the only foreign visitors. Many traditionally dressed locals met for lunch near the marketplace.
It was also surprising to us that instead of Spanish, the locals spoke to each other mostly in their local language, Quechua. Feel free to take some time to sit down and rest in a shady spot.
A hot lunch of Peruvian food might be a great idea at this point to re-energize you. We ate with the local ladies at the Sabores de Maras restaurant that had been set up in the marketplace.
Maras Pueblo – Moray – ca. 6 km/3.7 mi
Our last section isn't precisely a walk in the park. A lot of sun and so some ascents are waiting for you. We spontaneously decided to cheat a little bit by taking a Colectivo to Moray for the last section. But, of course, you can also continue the route on foot.
The section between Maras and Moray has by far the most beautiful landscapes to offer and so it is worth stopping in between for a few photos.
Moray
After reaching and discovering Moray, you can find a taxi to take you to Ramal. From here, you can find colectivos to Chinchero or transportation back to Cusco.
Hike II – Moray – Maras – Salineras de Maras – Media Luna – ca. 17 km/10.5mi
This hiking option is basically Hike I in reverse. Although getting there might take longer and is a little bit more complicated, this route can have its advantages. This is because many parts of the hike are now downhill instead of uphill.
Getting there from Cusco
Option 1: From Cusco take a colectivo or bus to Maras. From there, you can take a taxi to Moray.
Option 2: Take a colectivo or bus from Cusco to Ramal de Maras. From there, you can take a taxi to Moray.
Getting there from Ollantaytambo
Take a colectivo in the direction of Cusco. Ask the driver to let you out in Ramal de Maras. From here, you can take a taxi towards Moray.
From Moray to Maras – From Maras the the Salineras de Maras – From Salineras de Maras to Media Luna
From Moray, you can do the hike presented under Hike I in reverse. Later, when you arrive at the Casita de Media Luna, you can stop one of the passing colectivos to continue your way towards Cusco.
---
Which of these options do you like best? Feel free to share your experience with us below in the comments.
Interested in Peru?