The food in Peru is a dream. You will find tasty delicacies around the country that make your mouth water. Although the food to eat in Peru may not seem very diverse at first glance, Peruvian cuisine is definitely one of the best and most popular in the world.
In the following, we would like to introduce you to the most popular and tastiest Peruvian foods and specialties for every taste.
Author's note: The order of that typical food in Peru is alphabetical and therefore not a ranking. The ratings for each dish are based on our own preferences and are therefore very objective.
The best Food to eat in Peru
Our Peru Video
Aeropuerto
Aeropuerto (en. airport) is a pretty popular dish in Peruvian cuisine. It combines fried noodles and fried rice. This popular dish was created from the fusion of Chinese and Peruvian cuisine. This popular type of fusion in Peru is called Chifa. In probably every city of Peru, you can find such Chifa restaurants nowadays.
Our Rating: Who likes fried noodles and fried rice, will love Aeropuerto. Even if the name is a bit strange for a dish, you can hardly go wrong with this meal.
Ají de Gallina
This typical Peruvian dish can be found throughout the whole country. These are chicken and potatoes with a sauce of ají amarillo (a yellow South American chili), walnuts, turmeric, garlic, and various spices. This delicious dish is usually served with a boiled egg and an olive.
Our Rating: This delicious dish definitely became one of our favorite dishes in Peru. Mostly, it is hardly spicy despite the chili (also according to Western standards). If you don't like to eat spicy food, make sure to ask before ordering (Pica?)
Arroz Chaufa
This dish is very similar to the already presented Aeropuerto. It's rice fried with soy sauce. Arroz Chaufa (Chinese Rice) is also part of the Chifa fusion cuisine. Mostly this rice is served with meat, Chinese onions, and various vegetables.
Our rating: If you like Chinese food, then this dish is sure to be the right choice. The Chinese influence can hardly be concealed.
Arroz con Pollo
Arroz con Pollo can be easily translated as "rice with chicken". And that's exactly what you get served. With a few Peruvian spices and a bit of vegetable, you can not go wrong with this dish (unless of course, you're a vegetarian).
Our rating: A simple dish that will not knock you off your feet, but will not disappoint you either. If you don't feel like experimenting, with this dish, you are definitely going to be on the safe side.
Bistec (a lo Pobre)
One of the highest-calorie Peruvian dishes. As you might already be able to tell, this is a steak. However, where the name a lo Pobre (en. for the poor) comes from remains unclear to this day.
This dish is, as I said, a steak served with fries and fried eggs. Depending on the restaurant, fried plantains, lettuce, or tomatoes are being served along.
Our rating: Especially if you have high cholesterol, or just arrived in the Andes (like Cusco), you might want to skip this calorie bomb or postpone for later. Anyway, after a long day of walking, it is absolutely worthwhile to try.
Caldo de Gallina
Caldo de Gallina (en. chicken broth) is, as the name suggests, not even that much different from the Western variant. Caldo de Gallina is served in Peru depending on the restaurant and area with potatoes, spaghetti, or rice. Do not be surprised that the chicken in the soup is usually served here in one piece (with skin and bones).
Our rating: The good old chicken soup. A simple dish that tastes even in Peru is probably not so different than you are used to from home. If you've caught a cold or just looking for something tasty to warm you up, this dish is perfect.
Peruvian Ceviche
How could one talk about Peruvian food without mentioning the national dish of Peru? Probably the most popular and famous Peru dish is called Ceviche. This dish is so popular in the country that it owns its own National Holiday, on June 28th.
This dish, beloved in the whole country, consists mainly of raw fish. This is marinated in lemons or limes and served with onions, ají (a South American chili), and other chilies.
Our rating: Unfortunately, I'm not a fan of raw fish at all. That's why Ceviche definitely was not my favorite. However, the popularity in the country and in with people traveling in South America generally speaks for itself. If you are a fan of sushi and fish, you should definitely try this dish.
Author's note: Being raw fish, you should try the dish only in places that seem hygienic to you.
Cuy Asado – Peruvian Guinea Pig
Did you know that guinea pigs count as a popular dish in Peru? Especially in tourist areas, this dish is often offered. For many visitors, trying this dish is a must, an absolute no-go for others.
With about 60 soles (about $ 18/ 15 €), this dish is not exactly cheap. Since the preparation is only to order, you have to wait in some restaurants for up to one hour for your food to arrive, if you want to try Cuy asado.
Our rating: Since the guinea pig is served complete (with head), we just couldn't convince ourselves to try it. Therefore we cannot give you a rating.
Chicharrones
This dish is available in different versions. Probably the most popular variant, Chicharrones de Cerdo, we would probably translate with pork rind. The piece of pork is fried along with its skin and served with sweet potatoes, Peruvian corn (Mote), or potatoes. Chicharrones are also popular as sandwiches.
Other popular varieties of Chicharrones are Chicharrones de Pollo (chicken) or Chicharrones de Pescado (fish).
Our Rating: Who likes hearty pork, will love Chicharrones. If you are not a big fan but still want to try the popular Chicharrones, you can just try them on a sandwich. If that is still too strong, you should probably stick to the chicken or fish variant.
Filete de Alpaca
Those who travel through the Peruvian Andes can not avoid seeing a lot of alpacas. But did you know that alpaca is also a popular dish in Peru?
You can taste the Filete de Alpaca (en. alpaca fillet) in many different restaurants, especially in Cusco and the surrounding area. The alpaca meat can also be found in various other dishes, e.g. as Saltado de Alpaca (This is Lomo de Saltado – see next paragraph – only with alpaca meat) or on a burger.
Our Rating: Even though I felt terrible at the thought of the sweet little alpacas running around in Cusco, I have to admit that the alpaca meat was really tender and good. If you would like to try something unusual, you should definitely give the Alpaca Fillet a try.
Lomo Saltado
Lomo Saltado (en. Jumping Loin) may sound a bit strange at first. But if it's on the plate in front of you, you probably won't find this typical Peruvian dish strange any longer. This dish is beef cut into pieces, marinated in soy sauce, and fried with tomatoes and onions. The whole thing is served with rice and fries.
There is also a variation of this as a chicken dish. This variant is then called Pollo Saltado.
Our rating: Another dish of the Peruvian-Chinese cuisine and one of our clear favorites. If you're not a vegetarian, you should make sure to try this dish if you're in Peru.
Mondonguito a la Italiana
After introducing a lot of dishes with Chinese influences, here comes one with Italian influences. Mondonguito a la Italiana is tripe fried with onions, tomatoes, and Peruvian chilies. It is served with rice, fries, and depending on the restaurant, parsley, and parmesan.
Our Rating: Whoever, like me, is not really a fan of rumen and offal, maybe shouldn't order this dish. However, the sauce and seasoning are very tasty, which kind of neutralizes the strong taste of the tripe.
Papa a la Huancaína
Papa a la Huancaína is one of Peru's most popular appetizers. Mostly served cold, this dish includes Peruvian potatoes served with Huancaína sauce. The sauce usually consists of cream cheese, Peruvian chili, vegetable oil, and condensed milk.
In some areas of the country, there are also peanuts in the sauce. The potatoes are usually served on a salad bed, with quartered hard-boiled eggs and an olive.
Our rating: You should definitely have tried this yummy dish before leaving Peru! It's also suitable for vegetarians. Although the sauce is made with chilies, it is usually not or hardly spicy.
Papa Rellena
The Papa Rellena (en. stuffed potato) doesn't offer many surprises. Therefore, the Peruvian stuffed potato can be seen as a Peruvian version of the European croquettes. The potato is filled with minced meat, onions, various spices, and sometimes with hard-boiled egg and olives and then deep-fried. You can eat the potato-like as a snack, or it is served with a Peruvian chili- or Criolla sauce.
Our rating: The potato is deeply rooted in the Peruvian culture and can be found in many dishes. If you have the chance to try this dish, we recommend you go for it. It's really yummy.
Pollo a la Brasa
One thing you will not lack in Peru is chicken. Especially this dish is offered almost in every restaurant and is considered one of the most popular dishes in the country besides Ceviche. It can be easily and simply compared with the popular Western roast chicken and is prepared on the same principle.
You usually have the choice between a whole chicken, a half, or a quarter. This is then served with fries, salad with ranch dressing, and various sauces.
Our ranking: Pollo a la Brasa simply belongs to Peru. Especially in Lima, you will find many restaurants that specialize only in this one dish. If you like chicken, go for it!
Rocoto Relleno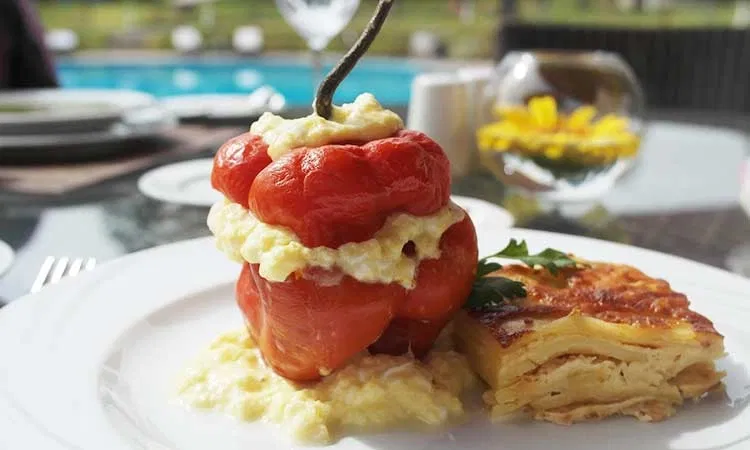 This dish is especially popular in Arequipa, but can also be found in other cities, especially in the Andes. These are stuffed chilies (Rocoto). The chilies are filled with minced meat. Be careful they might be really spicy!
This has been brought to Peru by the Spaniards. However, in Spain, they usually use peppers instead of spicy chilis.
Our rating: If you don't like to eat spicy food, you should better keep your hands off this dish. (In some restaurants, this dish is also offered as tomate relleno (en. stuffed tomato) and is therefore not spicy. Either version is totally delicious!
Salchipapa
This dish can be found throughout the whole country and is especially popular as a snack. The name of this snack is made up of the words Salchicha (en. sausage) and Papa (en. potato). As the name suggests, this is a mix between sausages and fries. Mostly Salchipapa is served with various sauces like ketchup and mayo.
Our rating: Perfect for a small snack in between! All the fries-lovers out there will love Salchipapas.
Seco de Res con Frijoles
Seco is a popular meat stew that can be found all over Peru. While several varieties are offered, Seco de Res (beef stew) is probably one of the most popular varieties. The dish is normally served with beans (frijoles).
Our Rating: If you are looking for a hearty meal on a cold day, Seco de Res con Frijoles is the right choice for you. Especially those who like to eat beans like Eduardo will love this dish.
Sopa Criolla
A typical Peruvian soup. This soup consists of a kind of broth with tomatoes, spaghetti-like pasta (Cabello de Angel), milk, minced meat, and egg. In addition, some spices, onions, and herbs are added, which give this soup its unique taste.
Our rating: Just super yummy! A perfectly balanced soup and great satiety and warm-up after a long day.
Tallarín Saltado
This unique dish is pretty similar to the Lomo Saltado described above. The only difference to Lomo Saltado is that this dish is served with pasta (Tallarín) instead of rice.
Our rating: Just like Lomo Saltado it's delicious. Those who are not vegetarians should try this dish.
Trucha Frita
Trout (Trucha) is arguably the most popular fish in Peru and is available in many varieties almost everywhere in the country. The most popular variant is probably Trucha Frita (en. fried trout). This popular dish is usually served with salad and potatoes.
Our rating: For fish fans a real must! Even I, (I am not such a big fan of fish) was convinced by this dish.
Dessert in Peru
Now that we've taken a look at the best main dishes in Peru, you're probably craving dessert, right? Therefore, I would like to introduce you to one of the most popular Peruvian desserts.
Mazamorra Morada
This popular dessert is a kind of pudding made from purple corn and starch. Additional ingredients are mainly cloves and cinnamon as well as other fruits or berries.
The dessert is particularly popular in the southern part of the country, such as Arequipa or the coastal region. In particular, the dessert with its striking color is enjoyed in spring (October).
Other popular desserts in Peru are Arroz Zambito, a type of Peruvian rice pudding, and Mazamorra de Calabaza, a dessert made with pumpkin.
And what do you drink in Peru?
Now that you have seen the most popular dishes in the country, we should also talk about what to drink in Peru. Therefore, in the following paragraph, you will find a few of Peru's most popular drinks
Water
Surprisingly, water is not considered the main beverage in Peru as it is in many other countries. You even have to pay extra for water in some restaurants, while other soft drinks like Coke or 7-Up are included in the menu.
In general, you can buy bottled water everywhere. However, you should never drink the tap water in Peru unfiltered, as the bacteria in the water can cause discomfort and even food poisoning.
Fun Fact: Peruvians love sweet drinks. Some even drink their water with added sugar.
Soft drinks
The most popular drinks in the country are soft drinks. Here you will find the conventional international brands you probably know from home like Coke, Fanta, 7-Up, Nestea, etc. Especially popular among Peruvians is also the so-called Inca Cola.
Inka Cola
Inca Cola is one of the most popular drinks in the country. Although it is called cola, it does not have much in common with international cola, except perhaps its sugar levels.
It is a bright yellow fizzy drink that consists mainly of sugar. Although it is officially supposed to taste like lemongrass, the flavor reminds most more of bubble gum.
Inca Cola is definitely not everyone's cup of tea. But if you like sweet drinks, you definitely shouldn't miss out on this Peruvian cult drink.
Chicha Morada
Another drink that is often served with food is Chica Morada. This is a non-alcoholic fermented juice made from purple corn.
The drink is particularly popular in the Andean region and, like many Peruvian drinks, tastes sweet.
Pisco Sour
No list of Peruvian drinks is complete without mentioning Peru's national drink, Pisco Sour. This is an alcoholic drink in which the South American liquor pisco is mixed with various ingredients.
In the original cocktail, the alcohol is mixed with ice, egg whites, sugar, and lemon juice. Nowadays, however, you can find the popular cocktail in all sorts of flavors.
---
More Peru?
Make sure to also check our following Peru articles to plan your perfect stay in Peru
Interested in Peru?