Machu Picchu is an absolute must-see for many visitors to South America. For some, it even is the main reason to visit Peru in the first place. It's totally understandable as it is one of the New Seven Wonders of the World. The ruined city, which is located near Cusco, is one of the top sights of every Peru tour.
However, we know the whole situation just too well – the information online can often be a bit confusing and overwhelming as there are just too many options on how to get to Machu Picchu. But when I finally visited Machu Picchu myself, I realized, it's actually not that difficult.
Therefore, in this article, we have not only put together the various alternatives of getting to Machu Picchu but also added a lot of information and Machu Picchu travel tips so that your Machu Picchu journey will be a complete success. In addition to the various hiking options, you will also find the fastest and cheapest way to get to the famous ruined city.
Basically, you will find everything you need to know for your trip to Machu Picchu, step by step.
Machu Picchu Facts
Built by the Incas in the 15th century
Is located at 2,430 meters/ 7,797 feet altitude
75 km/ 47 mi from Cusco
Built for the sun god Inti
Part of the UNESCO World Heritage since 1983
Best time to get to Machu Picchu
In general, winter (April – November) is considered the best time to visit Machu Picchu. Because at that time, there is the dry season in the country. From those months, April and May are considered the best months to visit Machu Picchu. It is not that cold yet, but there is way less rainfall than in summer. On the other hand, not too many visitors get to Machu Picchu at that time of the year.
Our Machu Picchu Video
How to get to Machu Picchu – Hiking
As a former pilgrimage site, it is still an absolute must for many to head for Machu Picchu on foot. There are various hikes to choose from, which you can either do on your own or in a group. In addition to treks that last a few days, there are even hikes that take a whole week or longer.
In the following section, you will find the most essential and popular hikes to Machu Picchu.
Inca Trail
Trek Duration: 4 Days
Trek Length: 42 km/ 26 mi
Trek Cost: around $ 650
Trek Difficulty: moderate to difficult
The Inca trail was the original trek that the Inca used to reach the lost city. It's the most popular trek to Machu Picchu, and there are limited permits available, so you must book far ahead. I had to book my November trek six months in advance.
The Inca Trail is a moderate to difficult 42 km trek that takes four days to complete. What makes the hike challenging is the altitude. The incline of the trek goes from 2400 m to 4200 m, so it is possible to experience altitude sickness.
The cost to hike the Inca Trail varies depending on the tour operator. I went with Peru Treks, and it was USD 650. This cost includes pick up from Cusco to the start of the trail, trek permits, two guides, porter services, food, camping equipment, entry to Machu Picchu, and a train ticket back to Cusco.
The first day of the trek is a relatively easy 12 km and serves as training for the days to follow. The second day has a reputation for being the hardest. It is a steep climb up to the highest pass of the Inca trail, Dead Woman's Pass, at 4200 m. From there, it's a descent down to the campsite.
The third day is almost all a descent through a beautiful cloud forest to the final campsite. On the fourth day, you wake up early for a short hike to the sun gate, where you can see the sun rise over Machu Picchu. It's magical! The Inca trail contains many Inca ruin sites as well as breathtaking natural scenery; passing through snow-capped Andes Mountains, lush jungles, and mystical cloud forests.
Recommended by Lora of Explore with Lora
Salkantay Trek
Trek Duration: 5 Days
Trek Length: 72 km/ 45 mi
Trek Cost: $ 170 – $ 500
Trek Difficulty: Moderate
The classic version of the Salkantay Trek spans five days and covers approximately 72 km. It is challenging in places but achievable for those with a decent fitness level. There are shorter versions available for those who are short on time. For the classic version of the trek, you can expect to pay anywhere from $170 USD, right up to $500 USD, depending on the level of luxury.
The first day of the trek will see you make your way to the start point, located in Challacancha. The trek is fairly gentle on the first day, although the altitude is tough. The trek covers 12 km and will finish when you have reached your sleeping spot for the night. There is usually an optional hike up to Humantay Lake that afternoon.
Day two is the most challenging and will see you cross the Salkantay Pass. For many, it is the highlight of the trek. On day three, you will hike out of the mountains and down into the jungle. The trek is likely to become hot and sweaty as you descend into Lucmabamba.
The penultimate trekking day sees you arrive in Aguas Calientes, the town closest to Machu Picchu. The last day begins at around 3 am when you wait at the entrance to the site before hiking up to the top!
The main selling point of the Salkantay trek is that it is said to be the most naturally beautiful of all the Machu Picchu hikes. It crosses through different ecosystems; trekkers will experience tropical forests and the dizzying heights of the Andes Mountains. The highlight is crossing the Salkantay pass, which is located 4,650 meters above sea level! Although many companies will provide a mule to carry your bags, you still need to consider what you will need to bring carefully. To make sure you are well-equipped for every ecosystem (and the weather), check out this
Salkantay Trek packing list
.
Recommended by Sheree of Winging the World
Jungle Trek
Trek Duration: 3-4 Days
Trek Length: ca. 50 km/ 31 mi
Trek Cost: from $ 150
Trek Difficulty: Moderate
The Inca Jungle Trek to Machu Picchu is so much more than a hike to the famous ruins. This route uses a variety of adventure activities to reach Machu Picchu. We also find it to be the best value trek to Machu Picchu, with a low price that includes adventure activities, meals, and lodging each night.
It all begins on the first day with an exhilarating mountain bike descent! After being shuttled through the Andes from Cusco, passengers reach an elevation of 4,300-meters, to then ride down on mountain bikes. It's a thrilling descent, that's complete with sweeping views and hairpin turns.
But the adrenaline doesn't stop there. Upon reaching a lower and warmer jungle environment, the bikes are traded for paddles. The afternoon is filled with whitewater rafting down the Urubamba River. The Class 2-3 rapids regularly toss people out into the swift-moving waters.
The second day involves a 21-kilometer hike through the jungle, with sections on the ancient Inca trail. The path follows a scenic river canyon for much of the way. When needing to get to the other side, swing bridges and hand-pulled cable cars are used to cross high above the river. Ultimately, the day winds down by soaking weary muscles in natural hot springs.
On the third day, trekkers transition to harnesses in order to take on a high-flying zip line course over the river. After that excitement, the adventure continues with a trek from the Hidroelectrica plant to Machu Picchu Pueblo.
The fourth and final day has an early start to get to Machu Picchu by sunrise. In doing so, it's a steep hourlong hike to the ruins that takes place in the dark. This pre-dawn trek culminates the days of adventure, making for a very rewarding experience to see Machu Picchu become lit up by the rising sun.
Recommended by John of Roaming Around The World
From Choquequirao to Machu Picchu Trek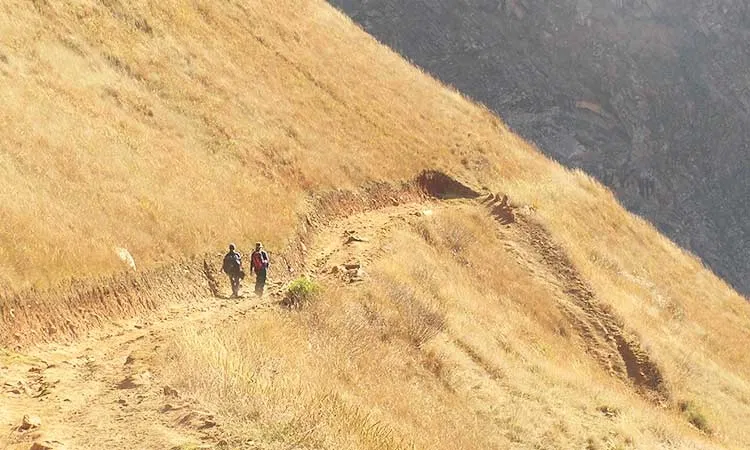 Trek Duration: 7 or 9 days (9 days is all walking. 7-day option involves being driven over the touristy Salkantay route down to Hidroelectrica Station)
Trek Length: ca. 100 km/ 62 mi
Trek Cost: about $ 1.500 (If you are doing it with a responsible travel operator, who pays staff properly due to the length of the trek and proper payment practices)
Trek difficulty: Challenging/ Difficult
The Choquequirao to Machu Picchu trek is one of the most unique, special treks in the Andes region. Not only does it link two incredible Inca cities – Choquequirao and Machu Picchu, but it also covers some stunningly beautiful terrain in between! And best of all – very few tourists do this trek, so this is for someone who loves solitude and adventure.
Days 1 & 2 follow the normal Choquequirao route, as you travel from Cusco to the trailhead at Cachora. From here, you descend to 1550 m, deep into the Apurimac Canyon, and then climb up to Choquequirao, which is at an altitude of 3110 m. Yes, that's right – you climb 1500 m in one day. This is one of the reasons that this trek is so difficult.
Days 3 & 4 From Choquequirao, you are literally into the untouristed territory, as you cross in the Rio Blanco River Valley. And guess what, in a repeat of days 1 & 2, you descend down to 1800 m before then climbing upwards to the Minas Victoria located around 4000 m.
Day 5 After crossing the San Juan Pass 4150 m, you are rewarded with some of the most stunning views across the Vilcabamba ranges before descending to the village of Yanama. From here, you have the choice of heading towards the Salkantay route (in the 7-day version of the trek) or the path to Vilcabamba, the Last Stronghold of the Inca Empire.
Days 6 & 7 These two days are wild, woolly, and totally amazing as you cover stunning terrain. On the approach to the Choquecatarpo pass, you stumble upon beautiful Inca roads and follow them up over the pass. These are unrestored Inca trails and give you an awesome sense of the abilities of the Incas. This pass is the high point of the trek at 4600 m before you begin to descend to Huancacalle for Night 7.
On Day 8, you visit the ruins around Huancacalle, including Vitcos, before being transferred by car to Santa Theresa and the hydroelectric station in order to then walk along the tracks into the village of Aguas Calientes. This evening you will stay in a hotel and eat in a restaurant, a reward after so many days on the trail.
Day 9, visit Machu Picchu and then return to Cusco.
Recommended by Ariana of World Of Travels with Kids
Getting to Machu Picchu by train – The fastest Option
Journey Duration: A few Hours
Journey Cost: from $ 150
Probably the easiest way to get to Machu Picchu is by train. Unfortunately, however, this option is usually anything but cheap. Anyway, if you don't have a lot of time on your hands or don't want to hike (this includes the 10 km walk from Hidroelectrica in the next point), the train is a great alternative.
Basically, two providers operate between Cusco, the Sacred Valley, and Aguas Calientes (Machu Picchu Pueblo): Peru Rail and Inca Rail. Both companies offer different classes. From the Standard Expedition (Peru Rail) and The Voyager (Inca Rail) to the luxurious variant, Belmond Hiram Bingham (Peru Rail), or the private option for eight people, The Private (Inca Rail) there are various options in between.
You are also faced with the choice at your departure point. You can either depart from Cusco (Poroy Station), Ollantaytambo (in the Sacred Valley of the Incas), or Urubamba.
How to book your train ticket to Machu Picchu
Book either directly via PeruRail or IncaRail, on-site via a travel agency (be sure to compare prices and book in advance to avoid booked-out tickets!), or online via GetYourGuide.
Pros and Cons of Taking the Train
Benefits of taking the train to Machu Picchu
Fastest Option
Comfortable
Also suitable for elderly visitors
Possible to see Machu Picchu as a day trip from Cusco (Going there in the morning – returning at night)
Drawbacks of taking the train to Machu Picchu
Pricey Option
No Hiking included = no "Pilgrimage Experience."
Visiting Machu Picchu on a Budget – The Cheapest Option
If you want to visit Machu Picchu for less, there are two great ways to visit the famous ruined city on a budget. Even if this option was not 100% legal until some time ago, it is probably the most popular method among backpackers in Peru today.
Going by Van to Hidroelectrica + 10 km/ 6.5 mi Walk
Journey Duration: ca. 10 hours (7 hours by van + ca. 3 hours walk)
Journey Cost: ca. 60 Soles/ ca. € 16.50 / ca. $ 17.70 (Return Journey)
Machu Picchu Tip: Be sure to leave your travel backpack/ luggage in Cusco so that you can do the 10 km hike and Machu Picchu the next day with just a small daypack.
In almost every travel agency in Cusco, you can now get tickets for one of the vans that take you to Hidroelectrica. For us, this was the ideal solution after we had to cancel our planned hike due to health-related reasons.
Your journey to Machu Picchu starts early in the morning. Mostly, you will be picked up from your accommodation, or you can meet in the Plaza de Armas. As soon as all passengers have arrived or have been collected, the van takes you to Ollantaytambo, where the last guests get on the van. From there, you'll go on a 6-hour ride to Hidroelectrica, a small town (if you can even call it a "town") 10 km from Aguas Calientes.
The ride is quite winding, and it goes up high before going down further. The change of altitude, not only changes the temperature in the car but also the surrounding landscape a lot.
Machu Picchu Extra tip: We highly recommend wearing layers because the temperatures can change significantly during the journey.
Machu Picchu Extra Tip 2: If you are prone to motion sickness, be sure to take a tablet before the ride. It gets shaky.
Around 2/2:30 pm, you will finally arrive in Hidroelectrica. Grab some lunch in one of the restaurants and start your hike to Aguas Calientes.
Machu Picchu Extra tip: There are two restaurants in the parking lot, but if you go a bit further, you will find even more restaurants, which are usually a bit cheaper. You can also buy fruit, ice cream, and drinks at some of the stands along the way.
The way to Aguas Calientes is easy to find. Just walk along the railroad tracks. You are accompanied by a whole host of other travelers so that you can not get lost under any circumstances. The 10 km is easy to do, and the path only goes straight ahead without any real climbs. Even though some may call the path boring, we found the landscape to be gorgeous.
The path along the railroad tracks is also a great way to meet other travelers. Of course, you also have the option to keep your distance from others if you prefer to travel alone.
Safety tip: Walk as little as possible on the rails and always try to keep a little distance. However, you can usually hear the train coming from a distance and can take a sufficient distance from the train tracks.
With this budget option, you'll arrive in Aguas Calientes around 5:30/6 pm and have to spend a night in town before you can visit the famous Machu Picchu the next day.
Pros and Cons of the Hidroelectrica Option
Benefits of the Hidroelectrica to Machu Picchu Option
Cheapest Option
A short and easy walk included
Drawbacks of the Hidroelectrica to Machu Picchu Option
Long and shacky ride
Not a lot of time to visit Machu Picchu the next morning or another night in Aguas Calientes needed
Hiking from Ollantaytambo
Journey Duration: ca. 11 Stunden (1 Hours Ride + 10 Hours Walk)
Journey Cost: ca. 15 Soles (ca. € 4/ $ 4.5 Return Journey)
The last and cheapest option is to walk from Ollantaytambo to Aguas Calientes.
Firstly you need to take a public bus, shared taxi, or Colectivo to Ollantaytambo.
From here, you take another Combi to the KM 82 train station. Once there, follow the rails to Aguas Calientes/ Machu Picchu Pueblo. We only recommend this hike if you are physically fit and trained in long hikes, as this route stretches over almost 30 km/ 18.5 mi.
However, there is also the option of splitting this hike over two days if you have a tent with you to sleep in.
As for the 10 km hike from Hidroelectrica, you should always pay attention to your surroundings, but especially to approaching trains. Also, have enough water and snacks with you. Moreover, the layered look is an absolute must for this hike, as you will walk through different altitude levels, and the temperature can change significantly on the way.
Machu Picchu Tickets – Prices and Options
If you want to visit Machu Picchu, you currently pay 152 Soles for a standard ticket, which corresponds to around € 40/ $ 42 (as of 2023). To see one of the two mountains next to the ruined city of Machu Picchu as well, you need to pay 200 soles (approx. € 50/ $ 55).
All Ticket Options
Machu Picchu Standard Ticket: 152 Soles —-› Check Ticket on GetYourGuide

Machu Picchu + Huayna Picchu: 200 Soles —-› Check Ticket on GetYourGuide

Machu Picchu + Machu Picchu Mountain: 200 Soles —-› Check Ticket on GetYourGuide
Where can I buy my ticket?
You basically have three options to buy your ticket to Machu Picchu. One way is to buy your ticket on the official website. A major disadvantage for many travelers is that this page is only in Spanish. You can also pay for your ticket in cash within two hours. You have this option in the official tourist offices in Cusco or Aguas Calientes – the exact address will be shown to you when you purchase your ticket. Make sure you have your reservation number with you and only go to the address shown – as there are some other offices on-site that happily take your money.
The second option is to buy your ticket online in advance. The price may vary slightly, but it is the better option for some travelers without knowledge of Spanish, as the tickets are also available in English and other languages. Anyway, you should make absolutely sure before buying that it is a reliable and reputable source. You are always on the safe side with GetYourGuide.
View Machu Picchu tickets on GetYourGuide
The third option is to book a full tour or buy your entrance ticket on-site at a travel agency in Cusco or Aguas Calientes. Make sure to compare the prices, as some travel agencies like to take a high commission.
Warning: With this last option, you should make sure beforehand that tickets are still available or arrive a few weeks/ days in advance. In the high season, the tickets are sometimes fully booked weeks in advance.
Which kinds of discounts are available?
As a student under 25 years old or a resident of the Andean Community (Peru, Ecuador, Colombia, and Bolivia), you can get a discount on your ticket. A valid student or personal ID must be brought along (In general, you must have a passport with you either way when you visit Machu Picchu).
Aguas Calientes/Machu Picchu Pueblo – What you need to know
Whichever mode of transport to Machu Picchu you choose, before you will be able to walk up to Machu Picchu, you will reach Aguas Calientes. The small tourist town in the Andes, known to travelers as Machu Picchu Pueblo (Machu Picchu Village), offers many accommodations and restaurants that sweeten your waiting time to visit Machu Picchu.
Even though the little town is extremely touristy and far more expensive than other places in Peru, we found this small place really cute. The atmosphere is very different from the rest of the country, but the backpacker/ hiker vibe is unique.
As soon as you arrive in Aguas Calientes, you should consider whether you want to buy a bus ticket for your way to/from Machu Picchu. You can find more information about that later in this guide.
The best accommodation in Aguas Calientes
In addition to dormitories, this hostel also offers private double rooms. The accommodation is kept simple but in spite of everything in good condition. Furthermore, the friendly and lovely staff is praised by many of the guests.
Just 100 meters from the bus stop to Machu Picchu and around 300 meters from Aguas Calientes train station, the location of this accommodation is just perfect for anyone who wants to explore Machu Picchu on a budget.
Check more information, prices, and availability of H.Falcon
Even though the name may be a little difficult to pronounce, this property is one of the most popular in Aguas Calientes. The accommodation is particularly recommended by its guests for its cleanliness, but also the breakfast, which is served from 4.30 am, also stands out positively.
The hotel is located around 200 meters from the bus stop to Machu Picchu and around 400 meters from the train station, making it great and central. The accommodation is perfect for those who want to discover Machu Picchu but still, value the quality of accommodation, maybe even want to spend more than one night in Aguas Calientes.
Check more information, prices, and availability of Qhaqya
Didn't find the perfect place for you?
See all accommodations in Aguas Calientes/Machu Picchu Pueblo
From Aguas Calientes to Machu Picchu
After you've most likely spent a night in Aguas Calientes, it's time to head to the impressive Machu Picchu. However, the ruined city is about 400 meters higher than Aguas Calientes. So how do you get up there? There are basically two options.
Walking up to Machu Picchu
Journey Duration: approx. 1 Hour
Journey Cost: free of charge
The cheapest way up to Machu Picchu is by foot. The walk takes about an hour and consists mostly of upwards steps. If you're averagely fit, this is a totally doable but somewhat tiring option. You can hardly get lost, given the large number of visitors who are on their way to the new wonder of the world.
Note, however, that you still have a bit of a walk in front of you at Machu Picchu if you visit other sights besides the ruined city, such as want to visit the sun gate or one of the mountains.
Taking the bus to Machu Picchu
Journey Duration: approx. 1 Hour
Journey Cost: 41 Soles/12 $ per trip
For those who find the climb to Machu Picchu too strenuous, there is the option of going up by bus. I have to admit that for health-related reasons we decided on this option instead of walking. And frankly, we were very happy to have gone up by bus earlier when we walked down the many steps on the way back.
You can either buy a single ticket (up or down) or a return ticket.
The lines in front of the bus can get quite long. Especially if you have your ticket for the opening of Machu Picchu at 6 am, you should get in line at the bus stop at around 4.30 am at the latest.
Machu Picchu Extra tip: If you take the van from Hidroelectrica back to Cusco, it is a good idea to walk down there, because you are already at the beginning of the way back to Hidroelectrica. If you take the bus, you have to walk all the way back from Aguas Calientes.
Where can I buy my Bus ticket to Machu Picchu?
You can either buy your ticket on-site at the official ticket center (bring some time as you most probably will stand in line) or buy it online on GetYourGuide.
Machu Picchu Opening Hours
The Machu Picchu is theoretically open from 6 am to 5 pm. However, there are different entry times, the first being at 6 am and from then on every hour until 2 pm.
Machu Picchu Travel 2023 – Rules that you should know
According to regulations, you can no longer enter Machu Picchu without a guide
So much for the theory: According to regulations, you cannot enter Machu Picchu without a guide. You can either hire a guide beforehand or find one at the entrance to Machu Picchu. There is the possibility to join a group and share the price or take a private guide.
The price per person changes depending on the price of the guide and the size of the group. You should expect to pay at least around € 15 per person.
In practice, however, this new regulation is not yet really enforced or controlled. We could easily walk through the UNESCO World Heritage Site without a guide. And we were far from being the only ones. Even when we asked at the entrance, we were told that we could enter without a guide.
You need a valid ticket and your passport
Without your ticket and passport, you will certainly not be allowed in. Especially during the high season, it is all the more important that you are there on time for your admission (if you are late, you may be refused entry). When entering, it is necessary to show your passport (a copy or photo of your passport is not sufficient!).
You must buy your ticket in advance
There are no tickets on sale (directly at Machu Picchu). You must, therefore, buy your ticket in advance (in Cusco or Aguas Calientes) or online.
Large pieces of luggage and backpacks must stay outside
Therefore, try to leave your luggage and your travel backpack in your accommodation. Whether this is your accommodation in Cusco or Aguas Calientes is up to you.
Fortunately, you can also drop off your luggage at the entrance of Machu Picchu.
Don't bring drones or heavy photo equipment such as tripods
Flying drones is also absolutely prohibited on the Machu Picchu site.
The rest should be common sense …
Of course, you must not do any damage to the ruins or leave your mark. Be it smearing or breaking stones or similar things. Nor is it allowed to climb around the walls or cross barriers. Just a few months ago, a tourist was arrested, who thought it was a great idea to do his business in the ruined city.
More practical Machu Picchu Travel Tips
Be sure to take a few coins with you. Each toilet visit costs you two soles.
Go to the toilet before entering Machu Picchu (there are no toilets on the premises)
Be sure to have a rain jacket with you no matter how pleasant the weather is. The weather can change easily in every season
Altitude Sickness – What you need to know
What exactly is Altitude Sickness?
Altitude sickness is manifested by dizziness, headache, digestive problems, nausea, shortness of breath, insomnia, and tiredness. The size and physical fitness of each individual do not influence whether and how altitude sickness appears. Some have no problems. Others are not doing well at all in the first few days in the mountains.
Fortunately, Machu Picchu is located on a lower level than Cusco. I.e., So even if you have problems with the height in Cusco, it does not automatically mean that you will also have the same struggle at Machu Picchu.
Tips against the Altitude Sickness
Take at least 2-3 days in Cusco to get acclimatized to the height before you start your trip to Machu Picchu
Stay Hydrated
Eat easily digestible foods
Avoid alcohol and caffeine
Try to get enough sleep
Avoid physical exertion
Coca in all its forms: chew the leaves, drink the tea, eat the sweets – the locals swear by it
Travel to Cusco by bus if possible (this will make it easier for your body to get used to the altitude than on a flight)
If the symptoms persist for more than 3 days or if you experience severe headaches/ breathing difficulties or similar, you should definitely see a doctor.
How to visit Machu Picchu Step by Step – A Summary
Approx. 6 Months before your visit
Think about whether you want to hike to Machu Picchu. Although most hikes, especially in the off-season, can also be booked later, you have to register for the Inca Trail already now.
Approx. 2-3 months before your visit
If you are traveling during the high season, it is advisable to book your tickets to Machu Picchu now. Especially if you want to climb Huayna Picchu mountain in addition to Machu Picchu itself.
If you are planning a hike, you might want to book it earlier than finding yourself with full tours upon arrival.
During the low season, you can also book them on-site or a few days/weeks in advance.
Several days before your visit
To avoid altitude sickness, you should arrive in Cusco a few days in advance to slowly acclimatize to the altitude. Try to drink a lot of water or tea, sleep well, and avoid physical exertion if possible.
If you haven't booked your transport, tour, or ticket yet, now is a perfect time.
Getting to Machu Picchu
Choose one of the arrival methods listed above. Whether you choose a hike, the van, or train is entirely up to you and your preferences (or your budget).
Staying in Aguas Calientes
If you don't choose a day trip by train (going there early in the morning, back in the evening), you have no choice but to spend at least one night in Aguas Calientes/Mach Picchu Pueblo.
Climbing up Machu Picchu
After you have most likely spent a night in Aguas Calientes, the big day has finally come: You can visit Machu Picchu. To reach the famous ruined city, you can either take the bus for $ 12 one way or walk up the stairs following a footpath.
Note: If you choose the bus, you have to buy your bus ticket in advance on-site (in Aguas Calientes) or online. You can purchase tickets at GetYourGuide here.
Machu Picchu and other Inca attractions
When you finally arrive at Machu Picchu, you can not only visit the famous ruined city with your standard entrance ticket but also the Puerta del Sol (Sun Door) and the Inca bridge. Make friends with free-running alpacas and llamas and enjoy the wonderful view over the surrounding green mountains and valleys.
Option: Climb the Mountains of Machu Picchu
If you chose the tickets with a visit to one of the mountains (Huayna Picchu or Machu Picchu Mountain) when buying your ticket, you are now able to combine your visit to the ruined city with some climbing. On your ticket, you will find the exact information about the admission times, which may differ from the general admission times.
Note: If you go back to Cusco by van from Hidroelectrica but still want to visit one of the mountains, you shouldn't make your way back to Cusco until the next day due to time constraints.
Option: Staying another night in Aguas Calientes
If you want to discover more of Aguas Calientes or visit Machu Picchu or one of the mountains during the (after-) noon hours, it is a good idea to spend another night in Aguas Calientes (unless you take the train back to Cusco).
Going back
And now your Machu Picchu adventure has come to an end. For your return journey back to Cusco, you can take the train from Aguas Calientes or the van back from Hidroelectrica (see arrival options).
Cusco extra tip: If you want to explore the Sacred Valley of the Incas in addition to Machu Picchu, it is worth taking the van/train only to Ollantaytambo instead of going directly back to Cusco.
Should I visit Machu Picchu in the morning or afternoon?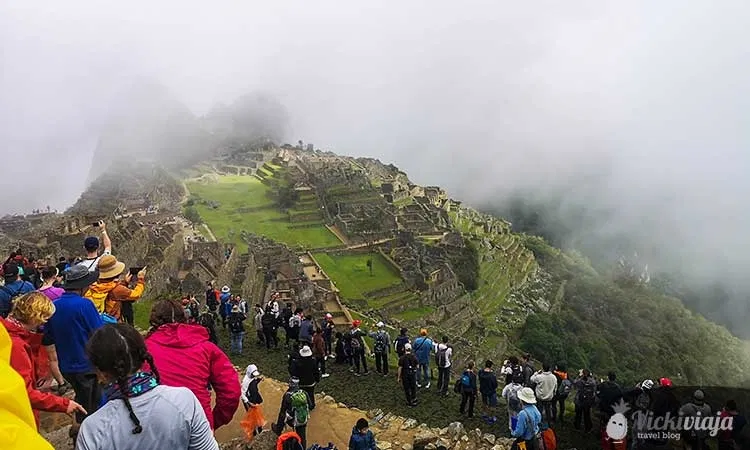 According to ticket times, you can book your ticket from 6 am every hour until 2 pm. In theory, upon entering, you have 4 hours to look around the UNESCO World Heritage site.
Benefits of visiting in the Morning
One of the first tourists to enter ⇒ fewer tourists
Sunrise
Drawbacks of visiting in the Morning
Getting up earlier
Many tourists go there for sunrise
Benefits of visiting in the Afternoon
On many days fewer tourists during the afternoon hours
Drawbacks of visiting in the Afternoon
In case you'll leave from Hidroelectrica one more night in Aguas Calientes necessary
You can't visit the mountains Montaña and Huayna Picchu
You can't see the sunrise over Machu Picchu
A little Machu Picchu Packing List – What you need to bring
In the following, we collected a few essentials that you need to bring when visiting Machu Picchu.
suncream
Hat
camera
sufficient water
Rain jacket
Layered look
sturdy shoes
Our personal Machu Picchu Travel Fail (Spoiler alert: it includes a Happy-Ending)
At 4.15 am, on time, we started getting in line for the bus ride to Machu Picchu while eating our breakfast provided by the hostel. We got tickets straight for 6 am when Machu Picchu opens its doors to visitors. After all, we wanted to be among the first to enter the property to have as few tourists as possible in our pictures and spend more time before heading back to Hidroelectrica at noon.
When it started to rain more and more on the way up, we didn't think much about it. Until we were finally allowed to enter, and the rain grew stronger. The rain itself was easy to ignore thanks to our rain jackets. Unfortunately, the Machu Picchu was simply not visible. Too many clouds and wafts of fog surrounded the ruined city.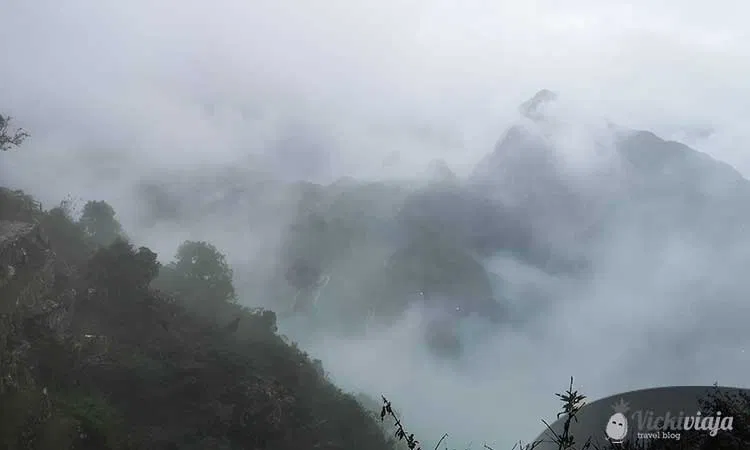 Despite everything, we followed our plan to walk up to the sun gate to enjoy the view of Machu Picchu. In fact, we were the first to arrive at the top (except, of course, the hikers who followed the Inca Trail). But there was no sign of Machu Picchu anywhere. Disappointment spread. More and more visitors reached the sun gate with disappointment.
An hour later, we were probably the only ones who were still waiting here for the clouds to clear and the view of the famous ruined city to be revealed. But at some point, we also had to give up and start the descent.
But when we got down there suddenly came a light wind that blew the clouds away and finally released the view of the new wonder of the world. From one minute to another, everyone's mood changed, and excitement spread that we could still enjoy the view of Machu Picchu. And the clouds surrounding it even created a mystical atmosphere that made the whole thing a completely unique experience for everyone.
FAQ about Machu Picchu
What does Machu Picchu mean?
The name Machu Picchu is Quechua and can be translated to "Old Summit."
At what altitude is Machu Picchu?
Machu Picchu is located at 2,430 meters/7,797 feet.
How big is Machu Picchu?
Machu Picchu covers an area of 325.9 km²/ 202.5 mi².
How much time do I need to visit Machu Picchu?
You should plan at least 2-3 hours for your visit. The more time you have, the better. In theory, however, you may not stay on the site for longer than 4 hours.
How far is it from Lima to Machu Picchu?
The distance between Lima and Machu Picchu is around 500 km/310 mi linear. In practice, however, almost twice that range is needed to reach Machu Picchu from Lima. First, you drive from Lima to Cusco. The journey by bus takes nearly 20 hours. You can as well go by airplane.
From Cusco, it depends on the chosen mode of transport. The way there can take from a few hours to several days.
Which airport for Machu Picchu?
If you want to reach Machu Picchu by plane, the best thing to do is to head to Cuzco Airport or Santa Maria Airport.
Are there toilets at Machu Picchu?
No, you should, therefore, use the toilets at the entrance before entering the Machu Picchu area (price: 2 soles). There are no toilets on the entire Machu Picchu property.
Can I bring food to Machu Picchu?
Eating is not allowed on the Machu Picchu property. Small snacks, such as Cereal bars are fine, however, only if you take the garbage back with you. Water can also be brought and drunk. Plastic bottles are officially forbidden, though.
Do I need a guide for Machu Picchu?
In theory, Machu Picchu can no longer be entered without a guide. In practice, however, this rule is not always enforced, so you can usually still explore the ruins without a guide.
What language is spoken in Peru?
The official languages ​​in Peru are Spanish and Quechua. In practice, however, there are many other languages ​​that are spoken depending on the area. In the region around Cusco, these are mainly languages ​​such as Aymara and Asháninka.
What currency do I need to visit Machu Picchu?
As in the rest of the country, Nuevo Soles is used to pay in and around Cusco. However, some tour operators also accept US dollars (we recommend soles anyway).
What vaccinations do I need for Peru?
Check in advance of your departure with your trusted family doctor about the vaccinations you need for your trip to Peru. A visit to the tropical doctor is even better.
Where can I get a Machu Picchu passport stamp?
Right next to the start of the stairs that you use to climb and descend Machu Picchu are various stamps with which you can give your passport a Machu Picchu stamp yourself.
---
Has anything remained unclear? Or maybe you have some updates or practical tips for a visit to Machu Picchu for us? Let us know in the comments below!
More Peru
Make sure to also check our other Peru Travel Guides
---
Interesse an Peru?