Welcome to Peru, a fantastic country full of adventure, breathtaking nature, rich culture, and magnificent landscapes. No wonder that more and more people decide to visit this fascinating country.
But Peru is no longer just a destination for backpackers. Every year, travelers of all ages are drawn to this interesting country. In this article, we will summarize the most beautiful places for you to create a unique Peru itinerary.
In the following, you will find six different Peru 10 days itineraries, for first-time visitors and already experienced Peru fans.
Author's note: Every Peru itinerary is designed for about 10 days in Peru. However, you can easily adapt and combine them if you have more time. We spent more than two months in Peru visiting all these places described in the text.
Planing your Peru Itinerary
The best time for visiting Peru
In general, the best time to visit Peru is considered to be the Peruvian winter, from June to September. At this time, the country has a dry season. However, in the summer (December to March) the rainy season prevails in the country.
Transport in Peru
If you are planning a Peru trip on your own, it is best to know how you will get from A to B before arriving in the country. Especially if you don't have much time at hand, it is practical to book your transportation before arriving in the country to save time and money and avoid sold-out tickets on-site.
Getting around Peru by bus and train
The most popular way to get from A to B within Peru is by bus o and train. Bus connections are generally available to all major destinations in the country. Train connections, on the other hand, are used more around Cusco to get to Machu Picchu (e.g., Inca Rail).
As in other countries, several bus companies are offering various routes. The quality and equipment of the buses differ depending on the company and the route. The same applies to the prices of the routes offered in each case. Among the most popular providers are Cruz del Sur, Ormeño, Oltursa, Civa, Tepsa, Movil Tours, and others.
To find out about the different operators on your desired route and to see prices and ratings, we recommend bus comparison sites like Busbud.
Getting around Peru by plane
The airplane is also a popular means of transportation within Peru. Especially those who want to visit the Andes and have only little time at hand often choose to go by plane.
Also, remote Peru destinations like Iquitos or Puerto Maldonado are mostly approached by plane. As always, the more flexible you are when it comes to flight times, the higher your chances of finding a good bargain.
Generally, you should book your flight ticket a few days, weeks, or even months in advance to find the best airfare. You can find the different providers and prices on flight comparison sites like Skyscanner.
Driving through Peru by car
Another option, of course, is to drive yourself simply. Anyway, I recommend renting a car only if you are an experienced driver. Especially in the Andes, there are many potholes and sometimes catastrophic road conditions.
You can find a car on-site or in advance via RentalCars.
The most beautiful places to visit in Peru
To be able to plan your Peru itinerary perfectly, you should be clear about which places you absolutely want to see on your trip. It is worthwhile to compare different places, sights, and offers.
The following Peru round trip itineraries already include some of the most beautiful places in Peru.
Your Peru travel cost
Unless you're flush with cash, you'll want to think about your approximate travel costs for Peru. The average traveler spends about $45/€38 per day in Peru. So for a 10-day Peru trip, you're looking at Peru travel costs of around $450/€380 per person (+ flights).
If you travel to Peru as a backpacker, you can even reduce your daily costs to around $18/€15 per day.
More Peru travel information and tips
Before you finally set off on your adventurous trip, you should inform yourself about the most important Peru travel tips. These can be simple vocabulary and phrases in Spanish or important information about the culture, country, and people.
In addition, you should inform yourself about the usual vaccinations and possible safety warnings at the Foreign Office. You should also check about altitude sickness, which affects many visitors during their stay in the Peruvian Andes.
Create your personal Itinerary for Peru
Now that you've read up on the most important Peru planning tips, it's time to create your own personal itinerary through Peru. Below, you will find six great sample itineraries, experiences, and tips.
You can either use these Peru itineraries as they are or combine and modify them as you see fit.
Peru itinerary 10 days Option 1: Peru's Highlights
Our first route takes us to the arguably most popular sights in Peru.
Day 1+2 Lima
Lima is the capital of Peru. That's why our first itinerary through this unique country starts in this beautiful city. If you visit Lima, you should definitely take a look at the historic center of the city.
Here, impressive colonial architecture and delicious Peruvian cuisine are waiting to be discovered by you.
Things you shouldn't miss in Lima
Plaza de Armas in the historic center
Miraflores District
Barranco District
Day 3 Paracas
Now that we have seen beautiful Lima let's continue a few kilometers south of the capital. Here we want to take a closer look at Peru's wildlife. Just a few minutes' drive off the coast of Paracas, we find the extraordinary Islas Ballestas.
There, various interesting bird species, especially Humboldt penguins and sea lions, are waiting for your visit. But also, the impressive Paracas National Reserve should not be missed.
Day 4 Ica
The next destination on our Peru trip is Ica. Here you can not only discover the city itself but also make some great excursions in the surroundings.
We can highly recommend the day trip to Cañón de los Perdidos. This is a canyon in the desert around Ica, which was completely undiscovered until a few years ago.
But also the oasis town of Huacachina is another popular day trip from Ica. Here cool activities like sandboarding or sand buggy riding are waiting for you.
Day 5+6 Arequipa
The next stop on our Peru trip is the White City of Peru. Arequipa is located in the southern part of the country and is, therefore, often overlooked by travelers.
The UNESCO-designated city is especially popular for its white unique architecture. But also some (day) trip destinations in the surroundings of Arequipa, like the popular Colca Canyon, attract many visitors.
Those who come to Arequipa should definitely discover the unique culinary offerings of the city, such as the delicious Rocotos Rellenos or the tasty Queso Helado.
Things you shouldn't miss in Arequipa
Plaza de Armas in the historic center
The cathedral of Arequipa
Mundo Alpaca
Day 7-10 Cusco and Machu Picchu
How could we talk about Peru's highlights without having seen Machu Picchu? That's why the second half of our trip takes us high up in the Peruvian Andes to Cusco.
However, first, you should take enough time to get used to the unfamiliar altitude. Once acclimatized, you can start exploring Cusco and the surrounding Sacred Valley of the Incas. There are so many extraordinary places to discover.
Our personal highlight was the trip to Pisac, in the Valle Sagrado. But also places like Ollantaytambo or the hike to Lake Humantay are very popular.
Of course, you should definitely plan a visit to Machu Picchu during your time in Cusco. You can visit this magnificent sight by train on a day trip from Cusco or on a multi-day hike.
Peru 10 days Itinerary Option 2 – Lima & the Andes
Day 1+2 Lima
We also start our second round trip itinerary here in the capital of Peru. Lima is simply a great starting point to get to know the culture and history of this impressive country.
Don't miss the center of the city. Here you can discover several interesting places of worship as well as the Plaza de Armas. It is also worth taking part in one of the free walking tours that start here almost every hour.
Things you shouldn't miss in Lima
Plaza de Armas in the historic center
Miraflores District
Barranco District
Day 3+4 Cusco
On our third day, we will leave for Cusco. Whether you go by bus or by plane is up to you. Anyway, what is very important is that you take some time to acclimatize to the high altitude after arriving in Cusco. Take it easy for the first few days, and don't plan any hikes or excursions yet.
Instead, use your time to explore the museums and sights of Cusco. Get lost in the narrow streets of the city and learn more about the unique culture of the Incas.
Things you shouldn't miss in Cusco
Plaza de Armas
San Blas District
San Pedro Market
Day 5 Visit the Sacred Valley
After getting used to the altitude of the Andes, it's time to plan your first excursion and explore the region around Cusco. You can either do this with public transportation like buses, combis and taxis or just join a tour. (You can either book such a tour locally or online via GetYourGuide).
Either choose one of the attractions of the Sacred Valley or combine several destinations into one tour. Our personal highlight in Valle Sagrado is Pisac. Other travelers love the trip to Maras and Moray most.
Day 6-9 Salkantay Trek or Inca Trail
Having already discovered the Sacred Valley, it is now time to embark on the greatest adventure of our trip: the hike to Machu Picchu. Depending on which hike you choose, you will be on the road for between three and five days.
For many, the hike to Machu Picchu is the absolute highlight of their Peru trip. The path leads you through breathtaking landscapes and numerous fantastic photo spots, which you would not have passed in any other way.
Day 10 Machu Picchu
Your last day in Peru will definitely be a real highlight. Today you will visit the famous Machu Picchu. Depending on which trail you have chosen, you will spend the last night near the famous Inca city (except for the Inca Trail, you will spend the night in Aguas Calientes, also known as Machu Picchu Pueblo).
On the last day of your trip, you can finally discover this impressive wonder of the world with your own eyes.
Later you will take the train back to Cusco. From here, you can head back home or to your next destination. Of course, you also have the option to extend your stay in this fascinating country and discover even more unique places.
Option 3: Your Peru Adventure Itinerary
Day 1+2 Cusco
We start our Peru adventure trip in Cusco. However, before we start our adventure, we first take the time to acclimatize. Sufficient acclimatization is important because the altitude of the Andes can have a great impact on our bodies.
So consciously take the time to get used to the new, unfamiliar altitude conditions and discover Cusco. Simply walk around and get lost in the capital of the Andes. Because there are a lot of great places to discover.
Things you shouldn't miss in Cusco
Plaza de Armas
San Blas District
San Pedro Market
Day 3-6 Jungle Trek
This itinerary also includes a hike to the famous Machu Picchu. Unlike the Salkantay Trek and the Inca Trail, the Jungle Trek is all about adventure.
As the name suggests, the Jungle Trek takes you through the jungle of Peru to Aguas Calientes at the foot of Machu Picchu. However, besides walking, the trek also includes other activities, such as wild water rafting and ziplining.
Day 6 Machu Picchu
At the end of this adventurous hike, of course, a visit to the impressive Machu Picchu is waiting for you. Get a good night's sleep because the day starts early in the morning with the walk up to the ancient Inca city.
You also have the choice of climbing up one of the mountains at Machu Picchu in addition to making the view of this fantastic Inca structure perfect.
At the end of the day, you will return to Cusco.
Day 7-10 Puerto Maldonado or Iquitos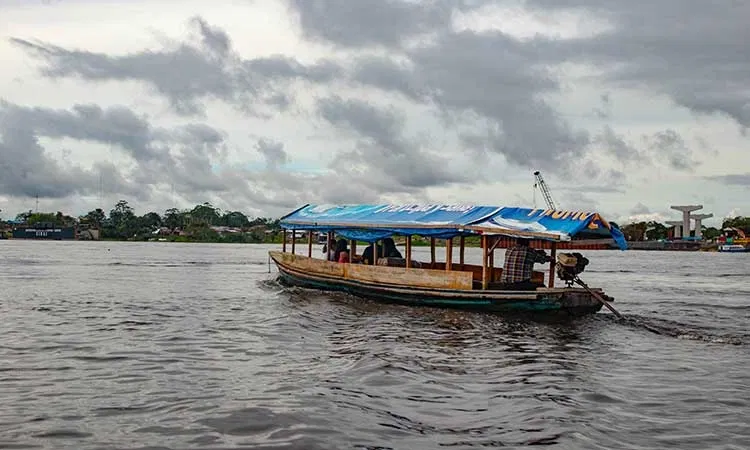 To complete your adventure trip to Peru, it's time for a visit to the Amazon rainforest. For this, you can take a flight from Cusco to Puerto Maldonado (also possible by bus) or Iquitos.
From both cities, you can start different tours and hikes through the Amazon according to your preferences. Whether it is a tour on land or water, a visit to the locals, or a tour to discover the local exotic flora and fauna is up to you.
As always, you can book tours either on-site or online in advance, e.g., via GetYourGuide.
10 days in Peru Option 4 – From Lima South
The following itinerary option is perfect for you if you are not particularly interested in the Andes or have already seen them before during another Peru trip.
Day 1+2 Lima
Following this route, we have enough time to have a look at the highlights of Lima. Due to the huge size of Lima, it usually takes some time to travel between the different districts of the city.
During your visit, you should definitely check out the historic center of Lima, the Miraflores district, and the Barranco district.
Things you shouldn't miss in Lima
Plaza de Armas in the historic center
Miraflores District
Barranco District
Day 3+4 Paracas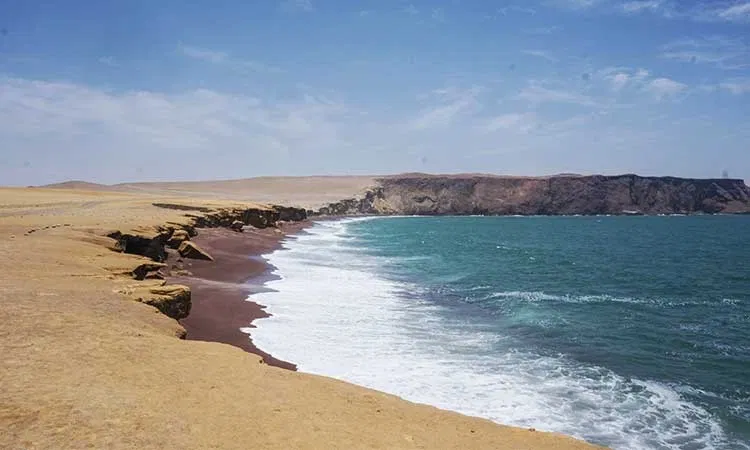 Eventually, from Lima, we set off to see the city of Paracas, about four hours to the south. After our arrival in Paracas, we used the time to book an excursion to the Islas Ballestas ("the Galapagos Islands of Peru") and the Paracas National Reserve for the next day.
On the boat trip to the Islas Ballestas, you will have the opportunity to observe penguins, sea lions, and other interesting bird species. A truly amazing experience. Later in the Paracas National Reserve, you can discover unique landscapes and rock formations. Depending on the tour, there will also be time to relax a bit on the park's beautiful beaches.
Day 5 Ica
From Paracas, you will go to the city of Ica, which is not too far away. Although there is not particularly much to discover in Ica itself, you can make some great day trips from here. So, use the day of your arrival in Ica to decide on one which of the day trip options is best for you.
The most popular place in the area is the desert oasis of Huacachina. Here you can ride a sand buggy, try your hand at sandboarding or just enjoy the unique feeling of visiting a real oasis town.
Another recommended day trip is to Cañón de Los Perdidos, a canyon located in the middle of the desert.
Day 6+7 Nazca
From Ica, let's continue to the unique city of Nazca. Here, a hidden treasure of Peruvian culture awaits you, the likes of which you've never seen before. And this treasure comes in the form of more than 1,500 shaded images, which are located on the desert floor.
You can see the spectacular images and symbols either from one of the observation towers or from an airplane. Therefore, many tourist flights are offered at a good price. You can book your sightseeing flight over Nazca either from a local travel agency or in advance online, e.g., via GetYourGuide.
Day 9+10 Arequipa
The so-called White City in southern Peru will be the last destination on this Peru round-trip itinerary. As one of the largest cities in the country, Arequipa has so much to offer: white unique architecture as far as the eye can see.
Furthermore, the colorful monastery in the city center is a real highlight for many visitors. Stroll through the white alleys of the Andean city and let the impressive buildings have an effect on you.
Things you shouldn't miss in Arequipa
Plaza de Armas in the historic center
The cathedral of Arequipa
Mundo Alpaca
Peru in 10 days Itinerary Option 5: Northern Peru Itinerary
In the following itinerary, we will see the unique sights that northern Peru has in store for us. Since the north of the country is left out by many visitors, this trip is perfect for those who have already been to Peru before and want to see more of this magical country.
Day 1-3 Lima
Another of our Peru itinerary ideas starts in the Peruvian capital Lima. We chose this place so often as our starting point mainly because most international flights land here. However, if you don't know Lima yet, I highly recommend using your days in the capital to get to know this fantastic city.
Walk around the historic center of Lima and explore the Miraflores and Barranco districts. There is so much to discover.
Things you shouldn't miss in Lima
Plaza de Armas in the historic center
Miraflores District
Barranco District
Day 4+5 Huanchaco
The next stop on our Peru trip is Huanchaco. The small beach village is just right for those who are looking for a bit of relaxation. After sightseeing in Lima, it's certainly a welcome change. If relaxation isn't what you're looking for, there are quite a few surfing opportunities in Huanchaco.
Be sure to plan a day trip to see Chan Chan. This extraordinary archaeological site was once one of Peru's most important cities, the capital of the Chimú. It was built entirely of clay and is full of impressive decorations and symbols.
Another popular excursion from Huanchaco is the nearby city of Trujillo. Especially the colorful Plaza de Armas is a real eye-catcher and a great photo motif.
Day 6-8 Chachapoyas
We continue to the capital of the Peruvian Amazon. Chachapoyas offers its visitors a completely different atmosphere than Huanchaco. In contrast to Huanchaco, Chachapoyas might remind you a little of other Peruvian Andean cities.
Arguably, the most impressive place to visit from here is Kuelap. The former ruined city was once the fortress of the Chachapoyas culture. Today it is called the Machu Picchu of the North. You can reach this extraordinary place by cable car.
Moreover, Chachapoyas offers other great destinations in its surroundings. One of them is the Gocta Waterfall, considered one of the highest waterfalls in the world.
Day 9+10 Máncora
After hiking a lot the last few days, you surely want to spend your last days in Peru a bit more relaxed. Luckily, Máncora is the perfect destination for doing so.
The small fishing village is a great place to unwind and, therefore, a great place to end your Peru vacation.
Treat yourself to a cool drink overlooking the beach or enjoy some delicious Peruvian food in one of the many restaurants along the main street.
Tag 10 Rückreise nach Lima oder Weiterreise nach Ecuador
Since Máncora is located pretty close to the Peruvian border with Ecuador, it might be a great idea to combine your trip with a visit to Ecuador. From here you can reach the cities of Cuenca or Guayaquil by bus during a night trip. From Guayaquil, I can absolutely recommend a visit to the Galápagos Islands.
Option 6: Your Peru Hiking Itinerary
Day 1-5 Cusco, Machu Picchu & Rainbow Mountain
We start this hiking route through Peru in Cusco in the Peruvian Andes. Theoretically, you could spend months here and discover new incredible hiking trails every day. That's because Cusco is surrounded by exemplary sights and fabulous nature.
Anyway, be sure to take it easy during the first few days to get used to the new altitude conditions. This is because altitude sickness affects many travelers in the Andes.
During our stay in Cusco, you can choose from a variety of hiking options. Maybe you also want to join one of the hikes to Machu Picchu. Or maybe you are more interested in smaller hikes, such as Humantay Lake or Rainbow Mountain, at nearly 5,000 meters.
Things you shouldn't miss in Cusco
Plaza de Armas
San Blas District
Sacred Valley
Machu Picchu
Day 6+7 Arequipa and Colca Canyon
Let's continue to the next Andean city on our list, Arequipa. Here you can either rest and explore the so-called White City of Peru or head to Colca Canyon.
Colca Canyon is most famous for the impressive condors that make their rounds over the canyon. We could have spent hours watching these majestic creatures.
But there are even more unique hiking opportunities in the Arequipa area. After all, there are three impressive volcanoes in the immediate vicinity: El Misti, Chachani, and Pichu Pichu.
Day 8+9 Huaraz
We continue to the more northern part of Peru, to Huaraz. Here, too, there are some great landscapes and hiking routes just waiting to be discovered by you.
The most popular hike in the area is the trail to Laguna 69, a turquoise lake that looks like being cut out off a postcard. With its vibrant colors, it makes any hike here an amazing experience.
But also other hiking options and treks can be found in the area. So you will definitely not get bored.
Day 10 Lima
The last trip of our journey takes us to the Peruvian capital, Lima. From here, there are several international flights that can take you back home or to your next destination.
If you have some time in Lima, be sure to explore the city's fantastic historic center. If you want to take it easy, you can also take a walk along the Malecón in Miraflores.
---
Now that you have an overview of the different itineraries, which is your favorite? Or do you have any great Peru insider tips of your own for us? Let us know in the comments below!
Interested in Peru?