The white city of Arequipa is a popular destination among Peru travelers and locals alike. The popularity of the Andean city is hardly surprising for us because there is really a lot to discover in the city.
But even outside the city gates, incredible day trip destinations and hiking opportunities in simply fantastic landscapes await you. Therefore, in this article, we want to take you on the best day hikes and trips from Arequipa. Of course, we also included three different options to visit the famous Colca Canyon from Arequipa.
Since we couldn't do all the excursions and hikes ourselves, I got a little help from some fellow travel bloggers who share their experiences with tours and hikes around Arequipa with you.
Where is Arequipa?
As you can see on the Arequipa map, the city is located in the south of Peru. For this reason, it is not only suitable for travelers in Peru but also visitors who are on their way to Chile or Bolivia.
In the Peruvian Andes, at an altitude of about 2,300 meters, there are plenty of great destinations around Arequipa that are truly worth a visit. Whether a wonderful hike in nature, a visit to the famous Colca Canyon, or a visit to other wonderful sights in the area of Arequipa.
Things to see in Arequipa
Those who come to the region of Arequipa should not miss out on seeing the sights in Arequipa town. Arequipa is also known as the White City since there are many attractions to discover here made of ashlar.
You should definitely explore the Plaza de Armas with the Cathedral and the San Lazaro neighborhood. You can find all the information you need about Arequipa, including helpful travel and accommodation tips, in our detailed Arequipa, Peru guide here.
Colca Canyon Tours from Arequipa
Let's start our list of the best Arequipa destinations with the most popular one: Colca Canyon. The Cañón del Colca, as it is called in Spanish, is located about 95 km/60 mi from Arequipa.
You can visit the popular canyon either as a day trip from Arequipa or in the course of a multi-day hike. You have the option to do your tour from Arequipa to Colca Canyon as a guided tour or on your own without a guide.
Colca Canyon is known worldwide as one of the three deepest canyons in the world. With depths ranging from 1,200 meters (3,900 ft) to 3,269 meters (10,700 ft), a trip here is admittedly very impressive.
But not only the depth of the canyon, but also the condors, one of the biggest birds in the world, flying around makes a visit to the Colca Canyon a special kind of excursion from Arequipa.
Cruz del Condor – A Colca Canyon Day Trip
The Cruz del Condor, AKA the viewpoint from where you can admire the majestic birds glide above the Colca Canyon, is one of the most popular day trips from Arequipa – and often part of a longer, multi-day tour of the canyon.
The Andean condors nest right by the rocky outcrop of the mountains, and at certain times of day, they can be spotted as they glide, enjoying the air currents that rise from the canyon. The sight is a majestic one: you can see the birds, the canyon 1200 meters below, and the Nevado Mismi on the other side of the ravine.
Tour Cruz del Condor
The "mirador" (viewpoint) is located at an altitude of roughly 3,700 meters above sea level – (that's 12,139 feet), at about 200 km (124 miles), and about a 4-hour drive from Arequipa. The easiest way to get there is on a guided tour departing from Arequipa. 
You can book tours with an agency on-site or online at GetYourGuide or Viator.
How to get there
If you want to visit independently, you'll have to factor in a night in Chivay, from where buses to Cabanaconde that go right by the mirador depart at 7:30 am. Alternatively, you can hop on a local colectivo used by people going to and from the area markets.
Recommended by Claudia from My Adventures Across the World
2-Day Colca Canyon Tour
One of the most famous attractions near Arequipa is the stunning Colca Canyon. Though not as famous as Peru's most popular attraction, Machu Picchu, Colca Canyon is actually very impressive. To start it off, Colca Canyon's deepest part is approximately 3,400 meters (10,700 ft.) deep, a depth that is twice as much as the depth of the Grand Canyon in the United States. The Colca Canyon is also home to the sacred condors, a bird that is known to represent the Hanan Pacha, or the heavenly world, in Quechua culture.
The easiest way to visit the Colca Canyon is through a day trip from Arequipa. While it is doable on your own, most visitors opt for a tour because of how far Colca Canyon is from Arequipa. The most popular tour is the 2-day Colca Canyon trekking tour, which involves hiking down to the canyon and back up.
On day 1 of the tour, visitors rise early in the morning to enjoy a magnificent view at the Mirador Cruz del Condores, a viewpoint at the top of the Colca Canyon where condors can be easily seen. Then participants are driven to Cabanaconde (~3,200 m/10,500 ft. in elevation), where they will begin their hike down to the Sangalle Oasis (2,100 m/6,890 ft. in elevation). Hikers will then enjoy a peaceful night at the bottom of the canyon before waking up early the next morning to hike back up to Cabanaconde.
2-Day Colca Canyon Tour
You can book tours with an agency on-site or online at GetYourGuide or Viator.
Recommended by Sean from Living Out Lau
3-Day Colca Canyon Tour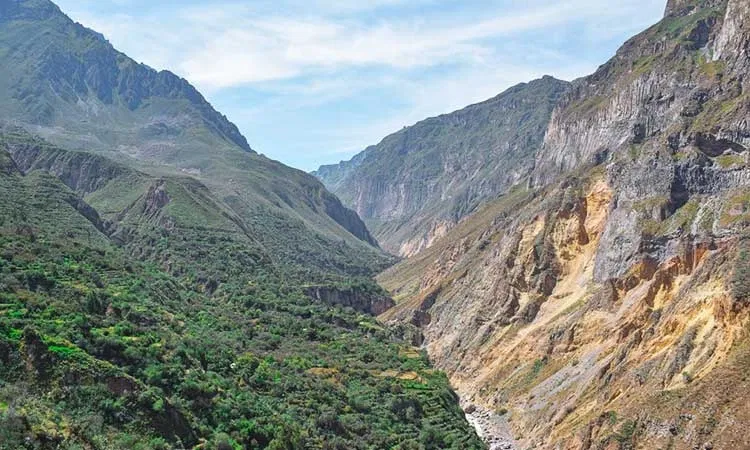 The Colca Canyon is one of the most extraordinary places to visit in Peru. This beautiful canyon is, in fact, deeper than the Grand Canyon and offers the chance to see Condors (huge birds) and views unlike anywhere else.
The best way to fully experience the Colca Canyon is on a 3-day hiking tour. A 3-day tour is one of the most in-depth Colca Canyon tours available. It allows you to explore more of the canyon and experience parts of it that those who only visit for a day miss out on.
The first day of the tour involves leaving Arequipa early in the morning. Your tour provider will pick you up and drive you out to the canyon, often stopping at viewpoints along the way. This morning also offers the opportunity to spot Condors. After the drive, the hiking begins. Luckily, day one is the easiest since the hike is almost entirely downhill as you descend into the canyon. In total, be prepared for around 4 hours of hiking today. That night, you'll stay at one of the small homestays deep within the canyon, enjoying locally cooked dinner.
The next day involves about 4 hours of hiking within the canyon. It is mostly flat this day and is by far the easiest day on the tour. Most tour providers stay at a lodge that evening with a pool! This way, if the weather is good, you can relax after a hard morning of hiking in the sunshine poolside. You can even purchase beers if you want!
After a fairly easy second day, you will have to get an early start on day three. Day three is by far the most challenging as you have to hike back up out of the canyon. Expect switchbacks and an overall challenging climb. This hike takes most people around 4-5 hours. If you really can't make it, there are horses available, but that will be an additional charge.
Colca Canyon 3-Day Tour
You can book tours with an agency on-site or online at GetYourGuide or Viator.
Recommended by Bailey from Destinationless Travel
The best (Day-) Trips from Arequipa
If you are not interested in the Colca Canyon or if you are looking for additional excursions, you will surely find what you are looking for in the following part of this article. Here, we present you alternative excursions and the most stunning hiking destinations from Arequipa.
La Ruta del Sillar (The Ashlar Route)
On the Ruta del Sillar, you will visit one of the most spectacular quarries worldwide. This may sound trivial at first (because let's be honest, how interesting is the average quarry?), but the quarries of this tour are something exceptional. Because due to stunning carvings and decorations, these ashlar quarries became an impressive work of art.
During the Ruta del Sillar ("Route of the Ashlar"), you will follow a circular route of about 2 km/ 1.2 mi and visit several quarries, along chiseled works of art and wonderful nature.
During the tour, you can also get to know the birthplace of Arequipa's fabulous architecture as many of the city's white buildings originated here.
In addition, you can also observe local sculptors at work. It is incredibly interesting to see how a piece of ashlar is transformed by hand into a unique art object.
How to get there
To visit the Ruta del Sillar on your own, you can take a colectivo from Paradero La Curva (across from Plaza Norte). The colectivo costs around 15 soles (about €3/$4) per person.
Entrance Fee Ruta del Sillar
5 Soles (ca. 1 €/$1.3)
Ruta del Sillar Tour
Of course, you also have the option to join a guided tour to visit the ashlar quarry. The tour lasts about 4 hours and costs about 9 €/$11. You can either book the tour online at Viator in advance or reserve your spot in a local agency.
Private tours, on the other hand, are available from around €30/$36 per person at GetYourGuide.
Vulcano Hikes from Arequipa
Arequipa is home to not one but three imposing volcanoes. Although the view of the three already looks absolutely impressive from Arequipa, a trip to the volcanoes is even more exciting and just right for mountaineers.
El Misti
El Misti is the name of the huge volcano, whose spherical shape you have probably already seen once or twice when visiting Arequipa. With more than 5,800 meters (19.000 ft), hiking here is not for the faint of heart.
If you want to climb the volcano, you should first acclimatize. In addition, there are strong winds and, depending on the season, cold temperatures. The landscape on the way, however, is fantastic.
Despite all this, the volcano is not too difficult to climb, except for its altitude and the "thin air" associated with it. However, a certain physical fitness is highly recommended.
How to get there
It is possible to climb Misti on your own. Convince one of the tour providers to drive you to Misti Base Camp (expect a price of about 50 €/$60 – depending on how good you are at negotiating).
The necessary equipment must be rented on site or brought along.
El Misti Guided Hike (2 Days)
Most visitors opt for a guided hike, which involves hiking up in a group, meals, and other tools you might need during your hike. Prices vary greatly depending on the provider, group size, trip length, and included equipment. On Viator, you can book a tour for around 150 €/$180. However, you will definitely find cheaper offers on-site.
If you have never been to such heights and don't really know how your body reacts to the altitude, it is highly recommended to do the hike with a guided tour.
El Misti Alternative Hike
If the airy heights of El Misti seem too challenging, you can also join a hike at the base of Misti. This way, you can see the impressive volcano and its surrounding nature up close without having to fight altitude sickness.
Chachani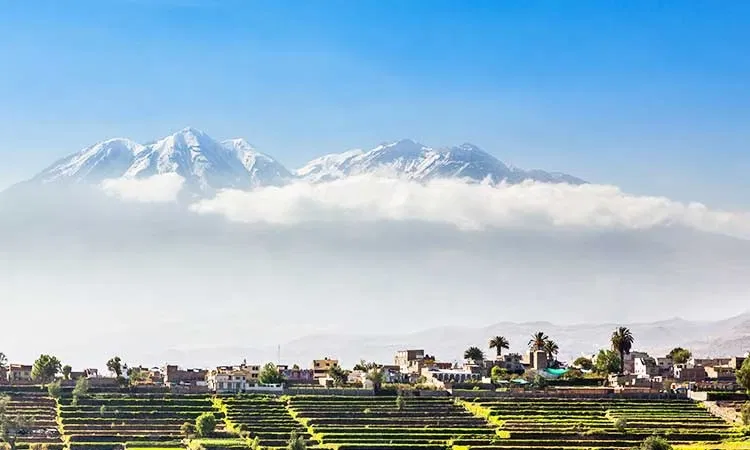 In general, you can imagine the ascent on Chachani similar to the just described El Misti. With an altitude of over 6,000 meters (19.680 ft), Chachani is similarly high. However, just like El Misti, the hike itself is fairly easy (except for the effects of altitude). It is even said to be the easiest 6,000-meter mountain to climb in the world.
Probably the bigger difference between Misti and Chachani is the number of tourists who hike each volcano. Misti seems to be far more popular with hikers than Chachani.
How to get there
Theoretically, it is possible to hike Chachani on your own. In Arequipa, you can find various providers who rent the necessary equipment. For transportation, you can join a tour group that will take you to the base camp (expect to pay around 30 – 40 €/$35 – 50 for transportation).
If you have never been to such heights and don't know how your body reacts to the altitude, it is highly recommended to do the hike with a guided tour.
Guided hikes to Chachani (2 Days)
Most visitors opt for a guided hike, which involves hiking up in a group, meals, and anything you might need during your hike. The prices vary greatly depending on the provider, group size, trip length, and included equipment. It is best to book the tour with a local provider (be sure to read online agency reviews beforehand!).
Pichu Pichu
At Pichu Pichu, not only one peak, but seven of them are waiting to be hiked by you. The highest peak of the volcano chain is about 5,660 meters (18.570 ft) high. Pichu Pichu is located very close to the Salinas Lagoon, which we will mention later in the article, and is therefore great to combine.
The special thing about the hike to Pichu Pichu is the impressive view of the other two volcanoes from the summit, El Misti and Chachani.
Pichu Pichu 2-Day Tour
Since the journey to Pichu Pichu is not easy, it is recommended to climb the summit as part of a two-day tour. You can find suitable tours locally in Arequipa or online in advance.
The tour usually combines the hike with a visit to the Laguna de Salinas.
How to get there
If you do decide to hike on your own, you can take a bus to Comunidad Paramayo or have a driver take you to Chiguata.
Rio Chile
If you are looking for an adventurous day trip from Arequipa, rafting on the Rio Chili in Peru is an unforgettable experience you can't skip! It is the perfect activity with friends, but it is also a kid-friendly activity for the whole family.
Get ready to cross a 6 to 7 km/3.5 – 4.3 mi section of the Chili River with class II and III and IV rapids. A well-trained English-speaking guide will be with you in the boat the entire time, all gear, like a helmet, life vest, a wetsuit is included in the price and obligated during this adventure. The rafting experience will take about three hours, and even if you have never rafted before, it is an unforgettable experience you simply don't want to miss out!
How to get there (Tour)
The river is only a 20-minute drive from Arequipa's city center. (if you are staying in the city center, hotel pick-up and drop-off, are included in the price.) You can book this experience for only $35 in one of the many tourist offices in town, in your hotel, or online on GetYourGuide or Viator.
Recommended by Stéphanie from Bey of Travel
Salinas and Aguada Blanca National Reserve
The Salinas and Aguada Blanca National Reserve lies between Arequipa and Chivay, making it the perfect Peru road trip and way to spend your day on the way to Colca Valley. The Reserve offers stunning views of volcanoes, opportunities to explore Peru's native wildlife, and other outdoor adventures.
Driving through the Reserve, a must-see is the wild, grazing vicuña. Several times through your trip, you will see these amazing creatures whose wool is the rarest natural fiber in the world. There are spots along the road for you to stop and admire the Throughout the Reserve, you will also find several different species of birds.
A detour to Salinas Lake will allow you to explore the different species of flamingos in Peru. It is definitely a sight to see flamingos at such a high elevation. You can obtain a guide before your trip and have fun trying to spot all of the different species of birds along the way.
At the end of your drive through the National Reserve is one of its most amazing vistas at the Abra de Patapampa. This mountain pass marks your descent into the Colca Valley, and at an elevation of 4,910 meters or 16,110 feet, it is well above Arequipa, Cusco, and even Machu Picchu. You can take time to explore the views of volcanoes or sign up for a mountain bike ride towards Chivay.
How to access the Reserve
Salinas and Aguada National Reserve is located north of Arequipa. Driving along Route 34A, you will travel along the edge of the Reserve towards Chivay and Colca Valley.
Aguada Blanca National Reserve Tour
You can book your tour with an agency on-site or online in advance on Viator.
Recommended by Sarah from Moment Mom
Salinas Lagoon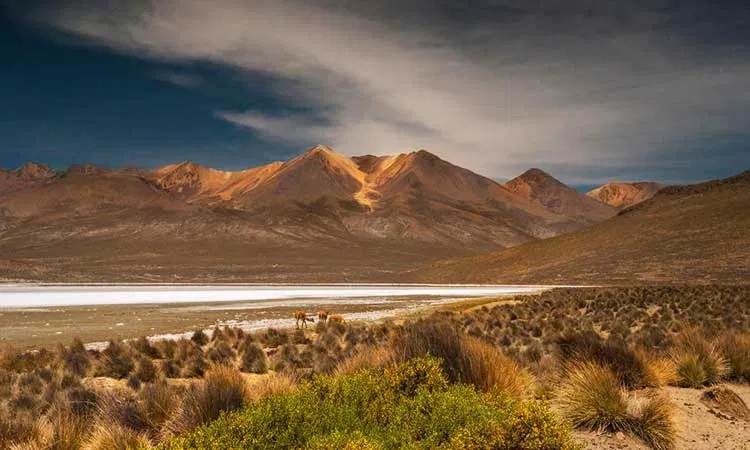 The Salinas Salt Lagoon is located in southern Peru, about two hours from Arequipa. This is a must-do if you're looking for a day trip or even a few days away from the city. This lagoon is stunningly beautiful and has even been compared to Salar de Uyuni.
Once you reach the lagoon you can go for a hike or simply explore. Definitely make sure to pack your camera; the photos will be absolutely stunning.
How to get there
Not a lot of tourists make the journey here, so you won't have to worry about encountering crowds. Since the lagoon is not as popular as other places finding transport, there can be tricky. There are next to no public transport options so you'll have to find a tour company to take you. There are some to choose from in Arequipa but make sure to book a few days in advance so you can get a spot on your preferred date. (You can book with an agency on-site or online with Viator.
Be aware that the roads to the Salinas Salt Lagoon are quite bumpy, and the ride will definitely not be comfortable. The drive takes between two and three hours, although most tours will take you to other places of interest along the way, so the trip will be longer.
Recommended by Victoria from Guide Your Travel
Andagua – Valley of Volcanoes
If you are an adventurous off the beaten track soul, then a trip to Andagua in Valley of the Volcanoes will make a great multi day excursion – usually 3 days and 2 nights!
The trip by bus is nothing short of stunning as you travel out of Arequipa with views of the volcanoes all around. Arequipa is famous around Peru for its delicious fresh milk and cheese, and some of these come from the green and luscious Majes valley.
One of the highlights of the trip to or from Andagua is a stop at the mysterious Toro Muerto (dead bull) petroglyphs which date back to the Wari period. On a wander around the thousands of petroglyphs, you can see many animal symbols and also daily life and is considered a remarkable place of rock art.
The drive into Andagua itself is insane (thousands of hairpin bends and snow) – and no wonder you are crossing the Coropuna pass, which is 4900m/16.000 ft – extremely high for a bus to go!
Once in Andagua you feel the isolation, it's like this rural community has stepped back in time –– we spent a day doing a short hike from a nearby village amongst the weird and wonderful lava fields back to Andagua.
This tour includes a LOT of driving – about 8 hours each way, so it is seriously for the lover of the off-the-beaten-track, isolated and different! However, if you are into biggest and best – this area is close to the Cotahuasi Canyon, the deepest in the world, and Mismi Mountain, where the source of the Amazon is found.
Recommended by Ariana from World of Travels with Kids
Yanque Village
Yanque is a charming village located just past Chivay, the gateway to the popular Colca Canyon. This hidden gem hamlet is often overlooked but offers a wide range of awesome things to do. Day-trippers will most likely spend the morning soaking in one of the popular thermal baths. Look out into the distance to see that this water is coming from the volcanoes that encircle the landscape. Yanque sits at an impressive altitude of 3,417 m/11.200 ft.
While it's possible to do Yanque as a long day trip from Arequipa, it's best to spend a few nights there. Besides the incredible hot springs, Yanque has a lovely artisanal market in the Plaza de Armas and is a quick ride to Chivay with its lively and bustling market filled with local dishes to try. Take a casual hike to the abandoned ruins of Uyo-Uyo. This Pre-Inca site boasts a waterfall, tombs with skulls, and can include the scenic hike to the tiny hamlet of Coporaque.
There are also nearby villages like Lari, which has one of the most important churches in the region and is the gateway village to access the Chimpa Fortress. From the top of the abandoned fortress is one of the most spectacular views of the entire Colca Canyon. The best part, it's completely free!
How to get there
Yanque can be reached from Arequipa via bus or frequent colectivos. Buses depart in the early morning from Arequipa's main terminal and take less than 4 hours. Colectivos are faster and drop in the village of Chivay. Chivay is only a 15 minute collectivo ride to Yanque. No Colca Canyon admission fee is necessary to visit Yanque.
Recommended by Megan from Packing Up the Pieces
---
Which of the excursions appeals to you the most? Maybe you even have a great tip for us, which trip from Arequipa absolutely has to be on the list? Let us know in the comments below!
Interested in Peru?