Tapas belong to Spain the same way the Eiffel tower belongs to Paris. And if you can only try one dish during your trip to this beautiful Mediterranean country, let it be Tapas. As with this amazing kind of food, you can try several dishes in just one meal.
So now that you know that tapas are a thing and that you should surely not miss them during your visit to Spain, you'll probably also want to know which are the best Spanish tapas to try. In this post, we will give you a list of some of the most popular tapas dishes in Spain that, surely, you will want to try someday.
Warning: Don't read this post while you are hungry as you will surely get the munchies while checking these best tapas in Spain.
But what are Tapas, you ask…?
Well, in Spain it is common to have different appetizers to accompany the popular Spanish drinks such as wine, beer, and Clara, among others.
So tapas are basically small portions of various dishes of Spanish gastronomy: omelet, seafood, olives, cheese, Serrano ham, and many more. They can be eaten hot or cold and are excellent for trying several dishes.
There are different theories about their origin. However, the most popular one is that to avoid insects falling into the drink, it was necessary to cover it during the meal. So they placed a small plate on top of the glass.
In any case, Spanish gastronomy is one of the best globally, and tapas is an ancient custom enjoyed by all Spaniards like nowhere else in the world. Sitting together and enjoying tapas is totally common when meeting friends and family. So without much further ado, let's dive right into the world of those popular appetizers in Spain.
The best Spanish Tapas to try
Aceitunas (Olives)
This fruit of the olive tree can simply not be absent from a Spanish table, whether as oil, condiment, or appetizer. They come in various shapes, colors, and sizes served plain, pickled, stuffed, or accompanied with other ingredients or dishes.
They have a pleasant and intense flavor and are one of the most popular tapas in bars and restaurants in Spain.
Eduardo particularly prefers the black ones, and he can eat them at any time of the day, but if he gets some green stuffed ones, he enjoys them anyway. For many, they are a dish worthy of the gods. Many people, I included, are not big fans of those little treats, though. However, I can totally get the deal of why so many people love them.
As with many of these appetizers, you can accompany them with different tapas such as Serrano ham, Spanish omelette or cheese, among others.
Bombas
Among the typical Spanish tapas, we can surely find Bombas. It is a kind of large round croquette made with potatoes, filled with meat, and covered with spicy sauce and aioli.
It is said that it bears this name after a customer said that due to the spicy sauce it was a bomb. This happened at an event that occurred in the Cova Fumada in Barceloneta in Barcelona, hence some consider that this is its place of origin.
However, bombas exist also in other regions of the country such as Toledo. Although they are not usually spicy and are accompanied by other types of sauces.
In Latin America, there is a similar dish called Papas Rellenas, popular in countries such as Colombia, Cuba, and also among the most popular Peruvian dishes.
So this recipe may have its origin in the cultural mix that united the Moorish gastronomy, which arrived in America by the Spanish, and that they took advantage of the potato, of American origin, to make this dish.
As an additional fact, we can say that the oldest recipe for stuffed potatoes can be found in a Manual of Peruvian Cuisine of 1895.
What there is no doubt is that the bomba de la Barceloneta is accompanied by a Salsa Brava that spicy lovers can't help but resist. That's why Bombas turns out to be one of my favorite tapas to try in Barcelona.
Boquerones (in vinegar or fried)
Boquerón is an oily fish that is also known by the names of bocarte (in Cantabria) aladroque (on the Baleares), or, when processed by salting, with the name of anchovies. It is one of the typical Spanish tapas that is prepared in vinegar or fried.
For its preparation, the fish loin is used, which is marinated in vinegar and is topped with parsley and garlic. It is usually served with soda or beer. However, it is not very common to eat them with wine because vinegar might be a bad pairing.
In the case of fried anchovies, they are dipped in wheat flour and egg, then fried in olive oil, and a few drops of lemon juice are added. It seems simple, but they are delicious.
If you are a fan of dish, you will surely want to try.
Calamares (Squid)
Although this food is consumed in many parts of the world, it is one of the favorite typical tapas in the country.
Although there are many ways to prepare them: stuffed, stewed, grilled, in its ink, or with garlic, the fried ones are usually the preferred ones.
They are also called calamares rebozados or calamares a la romana, and you will find them frequently in restaurants and bars, places where they are served as a tapa.
They are served with a slice of lemon and are perfect with a cold beer.
Chipirones a la Andaluza
Chipirones are small and medium-sized squids that are prepared in different ways, one of them is Andalusian style, which cannot be missed being in a beach bar at the seashore or in a good restaurant.
Why are they called chipirón? Well, in the Basque Country, they called the small squid txipirón, and over the years, this name spread throughout Spain but with the spelling of chipirón.
In the region of Andalusia, they prepare this crunchy tapa by seasoning the squid with garlic, salt, oregano, and cumin. Then they are dipped in chickpea flour to coat them in batter and fried until golden brown. They are exquisite, and you can't miss them.
Chorizo a la sidra
Among the best Spanish appetizers, we can name the chorizo in cider, a dish of Asturian origin that has spread throughout the Spanish territory to be served as a tapa.
To prepare this recipe, the chorizo is roasted, sliced, and cooked with natural cider, without foam. It is usually served very hot and is perfect if accompanied with wine, beer, or cider. It is commonly served in a clay pot.
Croquetas
One of the most popular tapas that cannot be missed at any gathering is croquettes.
About its origin, it is said that the French chef Antonin Carême was the one who, between the eighteenth and nineteenth centuries, introduced in the kitchens of the nobles a dish called croquettes à la royale. Being a time when famine was daily, and flour was abundant, they decided to make use of leftovers and make this dish out of them.
It is believed that during the War of Independence, with part of the country Frenchified, croquettes would enter and were perfected until they became a traditional food in Spain.
These tapas are made with bechamel sauce and some other ingredient is added: Fish, chicken, ham, etc. Once the sauce is ready, it is dipped in egg and bread crumbs and then shaped and fried. They are ideal for any gathering or party or simply enjoyed as a snack.
Embutido
Embutido is a piece of meat that undergoes a curing process and is then seasoned with aromatic herbs or spices, and are par excellence, popular Spanish snacks that you can not miss at a party or any social meeting.
There are many types of embutidos, however, among the most popular we can name: Salchichón, chorizo, sobrasada, lomo embuchado and longaniza.
Needless to say, there is nothing better in the world than drinking good wine while enjoying a slice of bread and some of those traditional Spanish sausages. I recommend it 100%.
Ensaladilla rusa
Another tapa on our list is this delicious salad, which is prepared in several countries in Europe, America, and Asia.
Generally speaking, its ingredients are potatoes, some vegetables, and mayonnaise, although each region has its own recipe. In Spain, tuna, egg, bell pepper, potatoes, carrots, mayonnaise, and, optionally, peas are added.
Although the reason for the Russian denomination is unknown, it is known that the cook Lucien Olivier, of French-Belgian origin, opened in 1864 a French haute cuisine restaurant in Moscow called Hermitage.
There, he served a salad with meat, caviar, jellied broth, and caper, around which he placed crab tails, boiled potatoes, veal tongue, cucumbers, and hard-boiled eggs. On top of that, he would put mayonnaise dressing.
As the customers mixed everything together before eating it, the cook decided to create a new salad with all the ingredients together and a higher proportion of mayonnaise. He named it Olivier salad.
Later, other restaurants would make similar recipes. It became a favorite dish among the Russian upper class, who would leave the country after the revolution of 1917 and would make this recipe known in other parts of the world but with a simpler version.
In any case, as a tapa it is ideal, and you only have to accompany it with bread and the drink of your choice.
Gazpacho
An amazing refreshment ideal for summer is gazpacho. This popular tapa is a cold drink or soup made with vinegar, olive oil, water, and vegetables such as tomatoes, onions, garlic, and cucumbers. However, as with many other dishes, you can find different versions.
It is an ideal tapa for people who like vegetables and salads, but it is also an antioxidant, and, thanks to the properties of tomatoes, it prepares your skin for a good tan. If this doesn't sound like a perfect dish for summer…
Huevos rotos (Broken Eggs)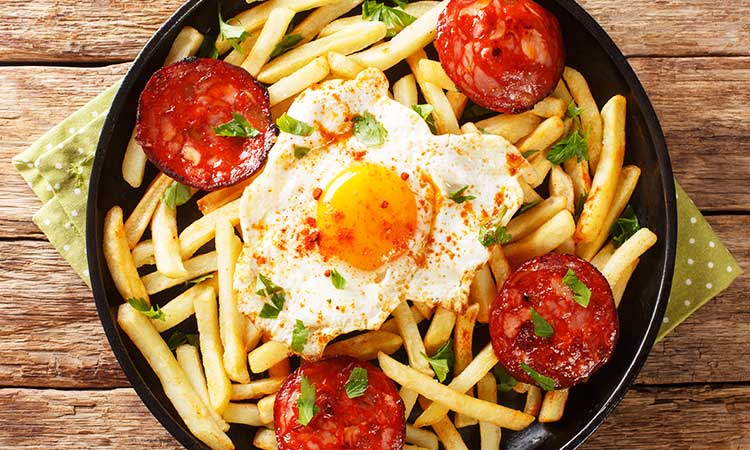 This is the name of an easy dish made with eggs, potatoes, onion, salt, and oil. They are also known by the names of huevos estrellados and sartenada de huevos con patatas.
Although it has the same ingredients as a Spanish omelet, it is somewhat different, since in this case eggs are fried and placed on a base of fried potatoes, which are mixed together.
The restaurant Casa Lucio in Madrid has been preparing this dish since 1975, and its owner assures that this recipe was an invention of his grandmother who, when she dropped an egg on the floor, picked it up and put it on top of the potatoes, so as not to lose it.
However, it is also said that by the 17th century this recipe already existed, because, in Lope de Vega's letters sent to the Duke of Sessa, the dish is mentioned when he says: "I read some verses with Cervantes' glasses, which were like badly made starry eggs".
Jamón (Ham)
This list of the best tapas wouldn't be complete without including Spanish ham, which is nothing more than the hind leg of the pig. Although it has different denominations and elaborations, we can distinguish two of them, according to the breed of the pig so that we can speak of Iberian ham and Serrano ham.
There are several denominations of origin for hams. In the case of Iberian ham there are Jabugo, Los Pedroches, Guijuelo Ham and Dehesa de Extremadura. In the case of the famous Pata Negra ham, it is a popular name of commercial origin prohibited by the Ministry of Agriculture.
As for Serrano ham, there are three qualities that are given according to the curing process: Bodega, Reserva and Gran Reserva. In addition there are the denominations of origin which are: Teruel, Trevélez, chato murciano and Duroc pork.
I would be lying if I told you which one I like more because each of them has a flavor that melts any palate, plus you can eat it with almost any drink, although particularly, I do it with red wine.
Mejillones (Mussels)
These mollusks are very popular as tapas and can be prepared in different ways: vinaigrette, plain, with tomato sauce, spicy, etc. So everyone can choose their favorite and enjoy it.
There are some called tigres, whose recipe of origin is in the north of Spain but have become popular in other regions of the country as well. They are mussels that are mixed in bechamel sauce, battered and fried in their shells.
They owe their name to the fact that they were originally spicy. However, this is not the case nowadays. If you have the opportunity to try them, you will most likely see that it is an excellent tapa. However, there are many people (me included) that are not big fans of mussels. If that's the case for you as well, you might want to choose another of the tapas on the menu.
Pa amb tomàquet (Pan con tomate or pan tumaca)
For me, one of the best site-dishes in Spain is the traditional Pa amb tomàquet, which, although it is eaten all over the country, has a particular rootedness in Catalonia (hence its Catalan name).
It is prepared with bread, tomato, salt, and olive oil. Although it seems easy to prepare, the tradition preserves some rules to follow regarding the cut of the tomato, the bread to use, and the type of olive oil.
You can enjoy it alone, although it is also possible to accompany it with Serrano ham, cheese or other sausage, because to tell the truth, its ingredients make it a very versatile tapa.
Patatas Bravas
These typical Spanish tapas have a somewhat uncertain origin, although it is believed that they appeared in Madrid during the 19th century, and it is known that two bars in Madrid that no longer exist claim to be the authors, and these are La Casona and Casa Pellico.
What is absolutely certain is that these fried potatoes in the shape of a dice, are accompanied by a spicy tomato sauce called Salsa Brava, which among its ingredients contains Cayenne.
You can find these delicious tapas in any region of the country and eat them while enjoying a good wine or a beer. From this list, Patatas Bravas are probably my favorite and always my go-to option.
Pimientos de Padrón
During the 17th century, the monks of the Convent of Herbón, Galicia, brought the seeds of these peppers from Tabasco, Mexico.
Later, they would make the process of selection and harvesting but always within the convent area, so its cultivation was not on a large scale. In the '70s, and with the new cultivation techniques, they began to be commercialized.
Although popularly known as Pimientos de Padrón, its Denomination of Origin is Pimiento de Herbón.
These peppers of green color, intense flavor, and some quite hot are prepared grilled or fried with olive oil and salt. They are perfect to accompany other dishes or food and to eat them with bread. For Eduardo and myself, they are undoubtedly one of the best tapas.
Pintxos
Pintxos in Basque, or simply pinchos, are associated with Basque gastronomy and consist of a slice of bread to which is attached a portion of food such as anchovies, potato omelette, croquettes, cod, or others.
They are called this way because the food and the bread are traditionally held with a toothpick, although they are not always served this way.
It is customary to eat them accompanied by a glass of red wine, in other parts of Spain they receive other names such as corto in La Rioja or penalti in Burgos.
These appetizers are usually placed on a tray on the bar, while people stand, have their drink, and eat while chatting with their friends or companions.
Pulpo a la gallega (Galician Octopus)
Another great dish on our list is octopus a la gallega, also called pulpo a la feria. It is a tradition in Galicia, although nowadays it is prepared all over the country.
The octopus is cooked whole in a copper pot and after a long procedure salt and cachelo (Galician potatoes) are added. When serving it is cut and sprinkled with paprika.
If you are an octopus lover, which, unfortunately, is not my case, you will enjoy it just as much as Eduardo does. But if you've never eaten it, it's a good time to start doing it.
Queso (Cheese)
Another Spanish snack that I adore is cheese, a product made from cow, goat, or sheep's milk, which definitely cannot be missing on a Spanish meal table.
Believe it or not, Spain has the largest variety of cheeses in the world because of its centuries-old cheese-making tradition. Therefore, it is possible to find cured, semi-cured, fresh, smoked, or cured cheeses with paprika, rosemary, wine, and beer.
I can only recommend that you accompany your cheese with a slice of toasted bread, that and a good drink will be the best. A nice cheese plate is often accompanied by a glass of romantic Spanish red wine.
Sepia (Cuttlefish)
Cuttlefish is a mollusk family of octopus and squid that also receives the name of choco, in southern Spain, chopito when they are smaller and puntillita as they call it in Andalusia.
It is prepared in different ways, grilled, stewed, skewered, with garlic and many other recipes. Many of the sepia dishes are accompanied by lemon.
I would recommend you to try the grilled cuttlefish with aioli, a classic recipe whose origin is located in Cantabria and that is extremely delicious; you will like it. Even I, who is anything but a seafood fan, have found my interest in this tasty dish.
Tortilla española (Tortilla de Patatas)
The Spanish omelet is one of the frequently eaten dishes in Spain. It is as famous as it is delicious. The Spanish tortilla is served alone or accompanied by other tapas such as cheese, cured ham, chorizo, and olives.
It is very well known in the world and its preparation requires four basic ingredients: potatoes, eggs, onion and salt. Although other ingredients such as ham, beans, or chorizo, among others, can also be added.
It is a very tasty and nutritious dish. As with croquetas, you can eat it fresh out of the pan or cold, I love to accompany it with bread.
---
Here we have named a great variety of tapas and, as you can see, there is something for all tastes and palates. It is possible that you can eat several of them combined when you go to a restaurant or bar, it all depends on what you feel like you at the moment.
If you were now encouraged to taste a tapa or you were invited to eat some, which of these would you choose, which one did you find most tasty?
Interested in Spain?
Subscribe!
Follow my adventures and get inspired for your next trip ;). No spam!
If you want, you can read a summary of our Data Protection here:

Owner: Vicki Franz
Purpose: manage the registration to the newsletter and send periodic newsletters with information and prospective offer of products or services. Your data will be stored at GetResponse, an email marketing provider that also complies with the RGPD.
Rights: You can exercise your rights of access, rectification, limitation and deletion of data on hello@eduardosans.com as well as the right to file a complaint with a supervisory authority.
Additional Info: At https://vickiviaja.com/privacy-policy-and-disclaimer/, you will find additional information about the collection and use of your personal information, including information about access, retention, correction, deletion, security, and other topics.