Anyone traveling to Peru will most likely have the capital Lima, Cusco, Machu Picchu, and the Sacred Valley of the Incas on their Peru itinerary. However, in the south of Peru lies another city worth visiting: Arequipa.
With its location in the south, you can perfectly combine a visit to Arequipa with a trip to Chile or Bolivia. But even if you don't plan to leave the country, Arequipa is always worth a visit. Because the so-called White City of Peru has it all.
Arequipa is the proud home of a unique UNESCO-listed historic center, hospitable locals, beautiful architecture, breathtaking surrounding nature, and some of the most delicious food in all of Peru.
That's why we want to take you with us to find out what to do in Arequipa in this article. Let's discover the most beautiful sights of Arequipa and create your personal Arequipa Itinerary.
Arequipa, Peru Facts
The Cultural and economic center of Southern Peru
The second-largest city in Peru
Located at an altitude of 2,300 meters
Arequipa's city center is a UNESCO World Heritage Site
Surrounded by three volcanoes
Check our Peru Video
Where is Arequipa
As you can easily see on the Arequipa map, the city is located in the south of Peru. For this reason, it is suitable not only for travelers visiting Peru but also travelers who are on the way to Chile or Bolivia.
Best time to visit Arequipa
The best time to visit Arequipa is difficult to determine, as travelers prefer different weather conditions.
Generally, the dry season takes place from May to September, so some consider this time the best for visiting Arequipa. Regarding this, July and August are thus considered the high season.
However, the warmest months to visit the city are late September – October.
On the whole, temperatures in the city vary little due to the altitude, so your travel time is not really that important.
How to get to Arequipa
Most likely, Arequipa will not be your first destination within South America or Peru. Therefore, below you will find the four most likely destinations from which you could travel to Arequipa.
From Lima to Arequipa
Many people are drawn from the Peruvian capital Lima to Arequipa. After seeing the beautiful sights in Lima, you can travel to Arequipa either by bus or by plane.
From Lima to Arequipa by bus
The trip from Lima to Arequipa by bus takes about 17 hours. Therefore, before booking your ticket, be sure to read reviews of the travel agency to catch a safe and comfortable bus.
Prices vary depending on the bus company. To compare the different prices, you can either check on-site at the terminal or book online at Busbud beforehand. (Especially for popular routes, it's worth buying your ticket in advance at the terminal or online to be able to choose a good seat and avoid fully booked buses).
Extra info: The bus from Lima to Arequipa also passes through Paracas, Huacachina, and Nazca.
Getting to Arequipa from Lima by airplane
Probably the more popular and, above all, the faster option is to go by plane. Alfredo Rodríguez Ballón Airport is located just under 30 minutes drive from the center of Arequipa. The flight from Lima takes about 1 ½ hours. It is worth booking your tickets in advance to find a good deal. You can find good prices on the flight comparison site Skyscanner.
From Cusco to Arequipa
A visit to Machu Picchu is probably part of every trip to Peru. Therefore, it can be worthwhile to visit both Andean cities.
Getting to Arequipa from Cusco by bus
Since the bus route between Cusco and Arequipa is very popular, there are almost hourly bus connections between the two Peruvian Andean cities. However, don't be fooled when looking at the Peru map. Because even though the two cities may not be too far apart, the trip still takes a good 11 hours.
Prices vary depending on the bus company. To compare the different prices, you can either ask at the terminal or book online at Busbud. (Especially for popular routes, it's worth buying your ticket in advance at the terminal or online to be able to choose a good seat and avoid fully booked buses).
Getting from Cusco to Arequipa by plane
If the bus ride is too long for you, you also have the option to fly from Cusco to Arequipa. The flight takes one hour. We recommend booking your ticket in advance to avoid overpriced tickets. Personally, I prefer to search for my tickets via Skyscanner.
Going from Cusco to Arequipa by train (not recommended)
The last option is to take the train from Cusco to Arequipa. The train connection takes you via Puno (Titicaca) and therefore takes a lot of time (you will be on the road for about two days). However, if you think that you might at least be able to save some money that way, you are wrong. The train is the most expensive travel option between Cusco and Arequipa.
From Puno (Titicaca) to Arequipa
If you are coming from Bolivia or have just visited Lake Titicaca before, you will probably want to travel to Arequipa from Puno.
Extra tip: If you visit Puno, we strongly recommend that you also cross the border into Bolivia and visit Copacabana.
Getting to Arequipa from Puno by bus
Unlike the bus connections from Lima or Cusco, you will only need about 5 hours to travel from Puno. You can either buy your bus ticket on the spot or book it online in advance.
From Chile to Arequipa
Since Arequipa is located in the south of the country, a visit here is also great to combine with a trip to Chile. We also visited Arequipa after returning to Peru from Chile.
Getting to Arequipa from Chile by bus
Many cities in the northern part of Chile offer bus services to Arequipa. The transport includes a stop at the border between the two South American countries to get your exit or entry stamp for Peru.
Theoretically, you could even take a bus from the Chilean capital Santiago de Chile to Arequipa. But don't forget how huge Chile is. Therefore, such a trip can take several days.
From Chile to Arequipa by plane
If you are in Chile's central or southern part, it is worth flying to Arequipa. Since domestic flights in Chile are often much cheaper, in some cases, it can even be worthwhile to fly to the north of Chile and from there, take the bus to Arequipa.
In any case, you should compare the prices of the different providers and book well in advance to find a good deal. You can find the different flight providers on flight comparison sites like Skyscanner.
Arequipa Transport – How to get around
Arequipa is a relatively small city, and the attractions of Arequipa are located quite close to each other in the center. Therefore, you can easily explore the attractions of the city on foot.
What to do in Arequipa – The best sights to add to your Arequipa itinerary
In the following, we will introduce you to the best places to see in Arequipa on a recommended 2-day itinerary for Arequipa.
However, depending on how much time you will spend in Arequipa and depending on which of the things to do in Arequipa you are actually interested in, you can adapt your personal Arequipa itinerary.
We recommend staying around 2-3 days in Arequipa. If you want to do hiking trips in the surrounding area, you might want to stay longer though. Personally, we stayed six days in the area.
Day 1 of your Arequipa itinerary – Arequipa's historic city center
Plaza de Armas
Like almost all cities in South America, Arequipa also has a Plaza de Armas. This is the name given to the city's main square, similar to a marketplace in Central Europe.
The magnificent square is considered one of the most beautiful Plazas de Armas in all of Peru. Especially the imposing cathedral stands out in the picture (but we will take care of that one in the next section). With its central location in the old town, the plaza is the perfect starting point for your walk through Arequipa's historic city center.
The surrounding buildings are built in colonial style and give the square an extraordinary charm, typical for South America. Restaurants and bars also invite you to linger.
The construction of the plaza was already started on the day of the city's founding (in August 1540), so that the square can look back on a long history.
Arequipa Cathedral – Catedral de Arequipa
Opening hours Arequipa Cathedral: Mon-Sat: 07 – 11.30 am & 05 – 07.30 pm; Sun: 7 am – 01 pm & 05 – 07 pm
Entrance fee Arequipa Cathedral: free of charge (Cathedral Museum: 5 Soles)
Arequipa Cathedral, also known as Catedral Basílica de Santa Maria, is the pride and joy of the Plaza de Armas. With its impressive length of 85 meters, the imposing building occupies the entire north side of the Plaza de Armas, making it hard to miss.
Just like the Plaza de Armas, where the cathedral stands, its construction was decided on the day the city was founded. Over the years, however, the cathedral was repeatedly destroyed by various earthquakes and then rebuilt and renovated. The last horrible earthquake took place in 2001 and destroyed the left bell tower of the cathedral. Only three years later, however, they had already rebuilt it.
The cathedral received its current neo-Renaissance design during reconstruction after a devastating fire in 1844.
Monastery (Monasterio) Santa Catalina
Opening hours Santa Catalina Monastery: 09 am to 6 pm (Last admission 5 pm) + Thu: 09 am to 8:30 pm (Last admission 7:30 pm)
Entrance fee Santa Catalina Monastery: 45 Soles (approx. 11.50 €/$ 12.3) + 20 Soles (approx. 5 €/$ 5.5) for a guided tour
The Santa Catalina Monastery is considered the main sight of Arequipa and is, therefore, a real must-see for many visitors. Covering an area of about 20,000 m², the monastery seems like a second small city in the center of Arequipa.
With its bright colors, the monastery's interior is very different from the typical buildings of the White City. And that is exactly why it is so popular. The monastery, as well as the attached church, were dedicated to Saint Catherine of Siena.
However, opinions about the monastery differ widely. In addition, the entrance fee can be seen as quite expensive by Peruvian standards. If you are interested in Arequipa's history, architecture, and places of worship, a visit here is definitely worthwhile for you. Especially if you decide to take a guided tour. Personally, we were not completely convinced by the monastery – but that's just our subjective opinion.
The tour lasts just under two hours and can even be done in English. Other languages like Spanish, German, or French are also possible. During the tour, you get a lot of interesting background information about the monastery and the life that once took place here.
Iglesia de la Compañía de Jesus
Opening hours church: 09 – 11 am & 03 – 06 pm
Entrance fee church: free of charge
The Jesuit Church in the heart of Arequipa is another highlight of the city. In typical Arequipa style, the church's exterior façade is white.
The popularity of this remarkable church is hardly surprising – after all, it took more than a hundred years to build. Dozens of detailed decorations show that this long work has paid off. The church was finally completed shortly before the beginning of the 18th century.
A look behind the church doors is also worthwhile. Golden decorations and ornaments are waiting for you to admire.
Claustros de la Compañía
If you visit the church de la Compañía, you should not miss the neighboring monastery. You can hardly get enough of the ornate columns of the cloister. And the small fountain in the middle of the courtyard is also a popular photo motif.
There is also a bar in the upper part of the courtyard. So if you want to enjoy the view of the magnificent courtyard a little longer, you can take a seat here for a glass of wine.
Mundo Alpaca
Opening hours Mundo Alpaca: Mon – Fri: 08.30 am – 06.30 pm; Sat: 09 am- 06.30 pm; Sun: 09 am – 05.30 pm
Entrance fee Mundo Alpaca: free of charge
Mundo Alpaca was our absolute highlight in Arequipa and is the right thing for everyone who likes those cuddly creatures as much as we do. Because at Mundo Alpaca (en. Alpaka World) the name says it all. Here you will find everything that has to do with the cute animals. But it is especially about the fur.
Finally, you can find out what the difference is between llamas and alpacas – and what were vicuñas? Discover the different breeds and types of fur – and on real animals. Because inside the building is a meadow with alpacas and llamas.
Ask an employee to hand you some fresh food with which you can feed the cute animals. Because that's how you'll get the best look at their soft fur. It will be adorable if there are newborn alpaca babies around.
But you can also learn a lot about the textiles of the Peruvians up to the time of the Incas. Moreover, in the gift store, you also get to purchase some textiles made of different types of alpaca fur.
Mercado San Camilo
Opening hours Mercado San Camilo: Mon-Sat: 06 am – 07 pm; Sun: 06 am – 01 pm
Entrance fee Mercado San Camilo: free of charge
After so much sightseeing, the first hunger pangs might arise. Whether it's a tasty snack in between or some fresh fruit: you're guaranteed to find what you're looking for at this market.
Besides food and snacks, there is also more to discover. Because here you can find souvenirs, decorative items and much more. If that's not enough on the upper floor, additional cafés and restaurants are serving whole meals.
Fun Fact: For those interested in architecture, it is also quite interesting that the market was designed by the French architect Gustave Eiffel. Exactly, this is the architect of the world-famous Eiffel Tower in Paris.
Day 2 of your Itinerary to Arequipa
San Lazaro Neighborhood
If you want to see Arequipa completely and in all its beauty, you should not miss the neighborhood of San Lazaro. The barrio (Engl. neighborhood) is located in the heart of Arequipa and is built entirely of ashlar.
With its white color, the San Lazaro neighborhood, which by the way is considered the oldest in all of Arequipa, just fits perfectly with the White City. Located about one kilometer from the Plaza de Armas, you can easily reach it on foot.
The white alleys seem to be from another world and time. So just walk around and lose yourself in the unique architecture dating back to 1540.
Mirador de Carmen Alto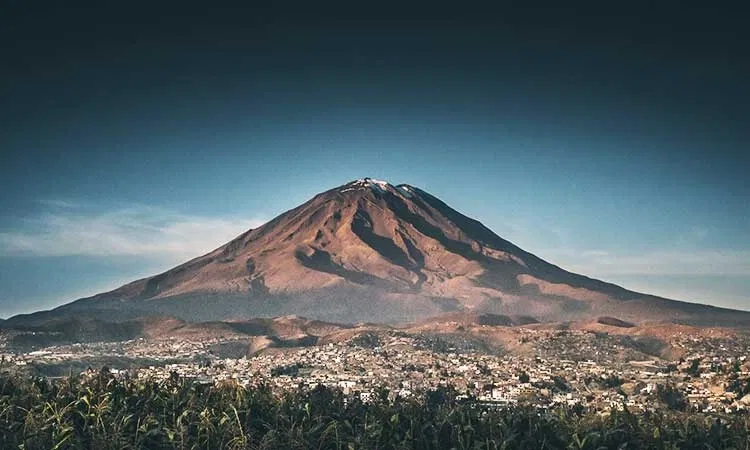 If you don't have time for day trips to the region but still don't want to miss the view of the surrounding nature and the extraordinary volcanoes, you should definitely plan a trip to the Carmen Alto viewpoint.
Because from here, you have an incredible panorama of the three surrounding volcanoes Misti, Chachani, and Pichu Pichu.
Complejo de San Francisco de Asís
Opening hours church: 07 – 09 am & 05 – 08 pm
For those who are particularly interested in places of worship and churches, the Complejo de San Francisco should also be on the Arequipa sightseeing itinerary. The Complejo consists of the San Francisco Church (Iglesia) and the neighboring monastery (Convento).
In keeping with the rest of the city, the church was also built of ashlar in 1569 and has been one of the most popular churches in the city ever since.
Museo Santuarios Andinos (MUSA) and the mummy Juanita
Opening hours Museum Santuarios Andinos: Mon – Sat: 09 am – 06 pm; Sun: 09 am – 03 pm
Entrance fee museum: 15 Soles (approx. 3 €/$4)
In this small museum, everything revolves around the mummy Juanita. This impressive and well-preserved mummy is a little girl who was frozen for about 600 years.
When you visit the museum, you can first watch a short film to explain the background in more detail. Afterward, there are many exhibits and information about the find and Juanita's grave in the museum.
Finally, you will want to see Juanita herself in her glass coffin. You can get even more information if you join a guided tour. It is best to inquire about the exact times for the English tours in the morning.
Mirador Yanahuara
Mirador Yanahuara is another vantage point that offers you a fantastic view of the nearby Misiti volcano. In good weather, you can also see the other two volcanoes of the region from here. The viewpoint is a real eye-catcher due to its ashlar arches which date back to the 19th century.
Mirador Yanahuara is located in the neighborhood of the same name, about 2 km from the historic center of Arequipa. You can get there by taxi or just take a short walk.
Unfortunately, not everyone is so lucky with the view. Because during our visit, there was pretty much only fog to see.
Puente de Fierro – The Bolivar Bridge
A visit to the Puente de Fierro (iron bridge), also called Puente Bolivar, is one of the attractions that only a few visitors to Arequipa have on their radar. The bridge, almost 500 meters long, crosses the Río Chili and was constructed in the 19th century.
It became famous as a typical iron bridge that can be crossed both on foot and by car. Therefore, the bridge is a popular place to take great landscape pictures.
Fun Fact: There is a misconception that this bridge was designed by the famous architect Gustave Eiffel. However, this is not true. The construction of this bridge was done by the US company Phoenix Co.
Day trips from Arequipa
With its extraordinary location, Arequipa is simply perfect for day trips and hikes in the region.
The most popular destination is of course the Colca Canyon, one of the main attractions in the region. This is a huge canyon that is best known for its majestic Andean condors that fly their circles here.
You can visit the Colca Canyon either as a day trip or as a multi-day hike.
Food in Arequipa – What you need to try
Rocoto Relleno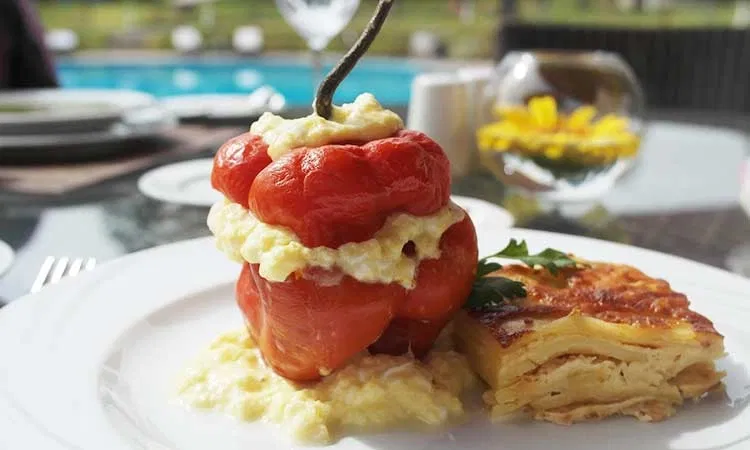 Just thinking about this delicious dish makes my mouth water. Rocoto Relleno is THE dish of Arequipa and is extremely popular among residents and visitors alike. This delicious food consists of spicy chilies stuffed with meat.
The delicious dish is a local variation of stuffed peppers, still a typical dish in Spain. Rocotos are often served with a potato casserole, which is very similar to the European potato gratin.
Queso helado
Queso helado is a typical dessert that is offered on every corner in Arequipa. Whether in restaurants, cafes, or from traditional vendors on the street.
Although the name translates as "frozen cheese", it is not actually cheese.
Rather, it is a type of ice cream that consists of frozen milk, cream, vanilla, cinnamon, and coconut. Since I'm personally a big fan of cinnamon and coconut, I just couldn't get enough of this deliciousness.
Where to stay in Arequipa
If you want to admire Arequipa's attractions, you will, of course, need a place to stay in the city. Below, you can find the best accommodations in Arequipa divided by budget. Since we picked the best places to stay, I am sure you will find something suitable for you as well.
The best Hostel in Arequipa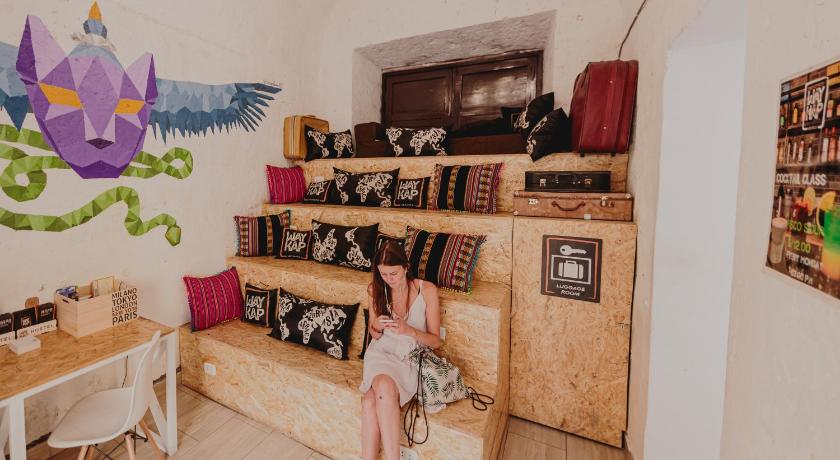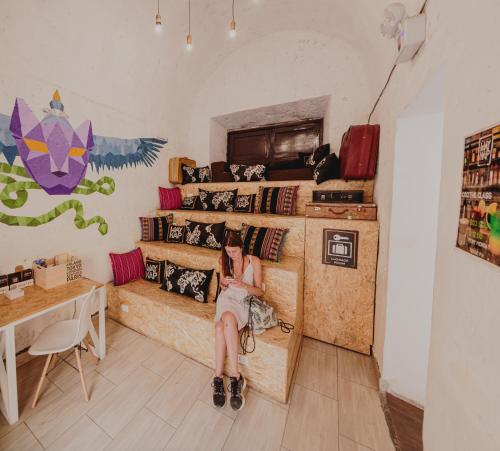 Especially popular among backpackers, this hostel offers dorms for women and mixed dorms in different sizes. The hostel is considered one of the best in the city and stands out, especially for its cleanliness, hot water, great breakfast, and helpful staff.
The location (10 meters from the Santa Catalina Convent) is also very well received by its guests.
Check more info, availability, and prices of Way Kap Hostel
The best budget accommodation in Arequipa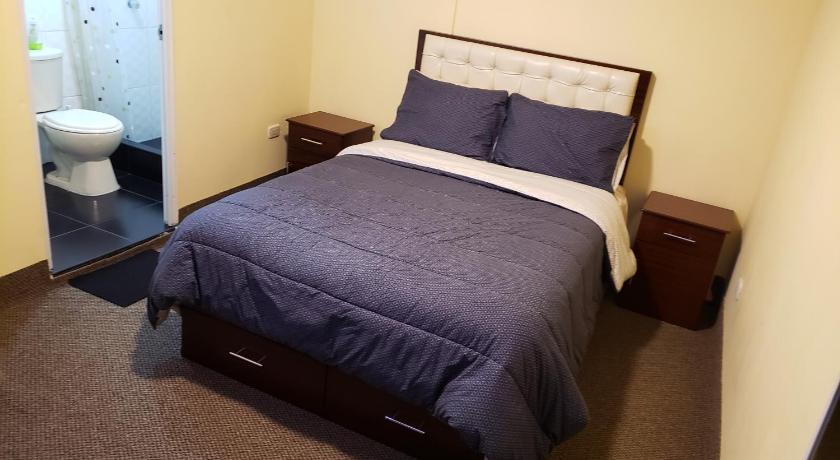 This accommodation is perfect for those who are traveling as a couple or group of two with a smaller budget but still do not want to sacrifice quality. All double rooms come with a private bathroom.
The accommodation is especially popular for its cleanliness and friendly hosts.
Check more info, availability, and prices of Casa de Turistas
The best middle-class-accommodation in Arequipa
In this bed & breakfast, various rooms of different sizes are waiting for you with private or shared bathrooms.
The accommodation is especially popular for its friendly staff and its convenient location only about 200 meters from the Plaza de Armas. The good breakfast served here is also a big plus for many.
Check more info, availability, and prices of Los Andes B&B
The best luxury accommodation in Arequipa
Wyndham Costa del Sol Arequipa
If you want to spend your stay in Arequipa luxuriously, this 5-star hotel is probably the best place for you. Large rooms and a fantastic outdoor pool await you here.
Located about 800 meters from the Santa Catalina Monastery, it's also a relatively short walk to the city's sights. If you're looking for some relaxation, you can enjoy the tranquility of the garden or swim a few laps in the pool.
Check more info, availability, and prices of Wyndham Costa del Sol
Couldn't you find the right place for you?
>> Check all accommodations in Arequipa on Booking.com
FAQ about visiting Arequipa, Peru
How high is Arequipa and is there a risk of altitude sickness?
Arequipa is located at an altitude of approximately 2,335 meters. While some visitors may experience symptoms of altitude sickness, the risk in Arequipa is lower compared to higher altitude locations in Peru.
What is the weather like in Arequipa, Peru?
Arequipa has a mild climate with plenty of sunshine all year round. The average temperature is between 10 and 25 degrees Celsius.
How many days to spend in Arequipa?
It is recommended to spend at least 2 days in Arequipa. If you plan a hike, day trip, or a visit to the Colca Canyon, you should extend your stay accordingly.
Is a visit in Arequipa worth it?
Considered "The White City", Arequipa is one of the most beautiful cities in Peru. The local cuisine is also very worthwhile, with many of its own dishes that are typical of the city.
Is Arequipa, Peru, safe for tourists?
Arequipa is considered one of the safest cities in Peru. Nevertheless, it is always advisable to take care of your valuables and be extra careful at night.
---
Which sight in Arequipa interests you the most? Or maybe you've been to Arequipa yourself and have a favorite sight that's not on the list. Make sure to tell us about it in the comments below!
Interested in Peru?