Lima, the capital of Peru, is underestimated and overlooked by many tourists. We think Lima is one of the most underrated places in the country and has a lot of great places to offer to its visitors.
For example, did you know that the colonial city of Lima is a UNESCO World Heritage Site? More on this later in this article. Since many people don't want to spend much time in the capital, we decided to make a list of amazing places you should visit during Lima in a day.
First of all, we want to explore the most beautiful sights to see during one day in Lima (or more) with you and provide all the important information and travel tips that you need to discover all of Lima's attractions for yourself.
So before, we tell you what to see in Lima, Peru in one day, let's check some facts and important information about the city.
Lima Facts
Capital of Peru
More than 10.000.000 inhabitants in the metropolitan area of Lima
UNESCO World Heritage Site since 1991
It almost never rains here
Where is Lima?
As you can see on the map, Lima is on the west coast of Peru, on the Pacific Ocean. The city is located approximately in the southern center of the country.
Our Peru Video
Best time to visit Lima
The best time to visit Peru is winter (here June to September), because there is a dry season. However, as there is almost no rainfall in Lima, the Peruvian capital can be basically visited in any season.
We found the spring (October/November) very pleasant, as the temperatures were comfortably mild, but not too cold.
How to get to Lima
Get to Lima by airplane
If you are not in the country or in neighboring countries, you are most likely to arrive by plane. As always, it helps to book your flight in advance to get a good bargain. For more tips, check out our detailed flight booking guide or compare prices with Skyscanner.
From Cusco to Lima
Cusco is probably the most popular destination in Peru as the "gateway to Machu Picchu". You can either travel by bus or by plane between the two major cities. The journey by bus is relatively cheap but takes about 21 hours.
The second option is to take a flight between Lima and Cusco.
How to get around the city
To summarize it briefly: The traffic in Lima is terrible! With around 10 million inhabitants that need to move around the city daily, it shouldn't be a huge surprise, though.
You most probably won't be staying in the center of Lima directly, as this night is not considered the safest neighborhood during the night (more on that later). That's why you probably won't get around using one or the other means of transport.
Below is a small summary of the various means of transport that you can use in Lima.
Micros & Combis
The cheapest option to get in Lima from A to B is the so-called Micros and Combis. However, these are probably the most chaotic way to get around.
First of all, you need to know exactly which direction you need to go. The buses have the individual areas in which they operate displayed on their windscreen and on the sides, e.g. Miraflores, Benavides, etc.
There are real bus stops ("Paraderos"), but you can also stop the small transports on the street when they drive slowly past you looking for more customers. An employee is standing at the door shouting loudly that there are still seats available. A ride will cost you about 1 Sol depending on the length. If you want to get out, just simply the employee ("Baja").
Eduardo's tip: It can be helpful to check on Google Maps or Maps.me (works offline) where you are so you don't miss your destination. As the staff often forgets to remind you when to stop.
Metropolitano
These are buses, in sizes as we know them from Europe. The big advantage is that this type of bus has its own roads and therefore arrives at its destination a lot faster. Unfortunately, the Metropolitano don't operate everywhere in the city (but you can take it from Miraflores to the center, for instance) and cost a bit more than the Micros & Combis.
Another big drawback of the Metropolitano is that they are likely to get extremely crowded, so it can get pretty tight inside.
In order to use the Metropolitano, you have to buy a ticket at the counter and charge it with a few soles. If you are not sure how much to charge, just ask the staff at the information desk how much your journey costs (+ return).
Metro
For some years, Lima even has a metro (subway) to offer. So far, however, there are not many stations. Limas subway is also extremely overcrowded and you may have to wait a long time to squeeze into one of the cars.
Also for the metro, you need a rechargeable card that costs you 5 soles. A single trip costs 1.5 soles. More information about stops can be found here.
Taxi & Uber
Another option is to use taxis, Uber and Co. to get around. Especially if you are traveling with luggage, it may be that you cannot find much space in public transport.
Check online or in your accommodation for the approximate price of your ride before you go. Foreigners are likely to pay a multiple of the usual price.
The best things to see during One day in Lima
The Historic Center of Lima
Plaza de Armas de Lima – Plaza Mayor
The Plaza Mayor or Plaza de Armas is the main square of the historic capital. It is surrounded by some of the most important buildings in the city and therefore a must-visit every visitor to the Peruvian capital.
The construction of the Plaza was commissioned in the 16th century by the Spanish colonial rulers. A special feature of the Plaza is its fountain, which is also of Spanish origin.
La Catedral de Lima
Opening Hours Lima Cathedral: Monday – Friday: 09 am – 05 pm, Saturday: 10 am – 01 pm; Sunday: 01 pm – 05 pm
Entrance Fee Lima Cathedral: free of charge; Entrance Fee Museum for Religious Art: 3 Soles (ca. 0,80 €, $ 0,88)
La Catedral de Lima is a Roman Catholic cathedral located in the Plaza de Armas de Lima. Walking through the Plaza de Armas you can hardly miss the Cathedral, which together with the Archbishop's Palace covers one side of the plaza.
Its construction began in 1535 and was completed in 1649. Since then, however, it has been rebuilt again and again, as it was often damaged by earthquakes. The main cathedral was dedicated to the evangelist John.
Palace of the Archbishop
Next to the cathedral is the imposing Palace of the Archbishop. Like many other buildings in the Plaza Mayor, the Archbishop's Palace unites a variety of architectural styles. As Lima has been repeatedly hit by earthquakes over time, repairs and renovations have typically been carried out in a certain style typical for each time, resulting in an interesting mix of different architectural styles.
Government's Palace – Palacio de Gobierno de Peru
This impressive palace has existed since the city was founded in 1513. Nevertheless, it was rebuilt over time and adapted further. Just as the building can be viewed today, it dates back to the 1930s.
From Monday to Saturday, a change of guard takes place in front of the palace. Unfortunately, you can't take very nice photos through the fence. A security guard takes good care that nobody gets too close to the fence.
However, to participate in a tour of the palace, you must first register with your passport. That's not so easy.
Iglesia San Francisco – Basilica of St. Francis and Franciscan Monastery
Opening Hours Basilica St. Francis Lima: 09.30 am – 05.30 pm
Entrance Fee Basilica St. Francis Lima: free of charge
Entrance Fee Franciscan Monastery and Catacombs Lima: 15 Soles (ca. 4 €, $ 4.40)
The church was inaugurated in the 17th century and was definitely one of the highlights in Lima for us. Its magnificent interior design is definitely different from other churches of its kind.
Even more, remembered is the adjacent Franciscan monastery. During opening hours there are tours every 15 minutes in English or Spanish. The entrance fee already includes the tour, as the monastery cannot be entered without a tour guide. It is also forbidden to take pictures or videos inside, so, unfortunately, I can only show you a picture from outside.
First, the tour goes through the monastery. Here you can see some artworks and exhibits, such as a fresco from the Last Supper. The Arabian influences, which are reflected in the Mudejar style inside, we found particularly interesting. Another highlight was the library.
In the last part of the approximately 45-minute tour, you will go into the catacombs of the monastery. Before there were cemeteries in the city, the dead of Lima were buried here. Even today you will find many bones that can be truly fascinating in a certain way.
Join a Free Walking Tour
A free walking tour is not only a great idea in Lima to get to know a new city.
Free can be taken literally here. That means you don't have to pay anything for your tour (despite everything, you should give a reasonable tip after the tour).
In the Plaza de Armas, you will find many guides who invite you to their Free Walking Tour. Many of them take place in Spanish, but we have also seen some in English. With the Free Walking Tour, you'll get hands-on background information and even discover a few places that were not on your Lima attractions list in the first place.
Afterward, our guide even invited us to a free Pisco tasting, where we could try different varieties of the popular Piscos. (However, the tasting took place in Spanish as we participated in the Spanish Tour, I am not sure if this is the case with the English Tour as well, but in that case, the Pisco stand is: El Marquez – Jr. Lampa 266 -Tda 156-157-159)
Casa de la Literatura Peruana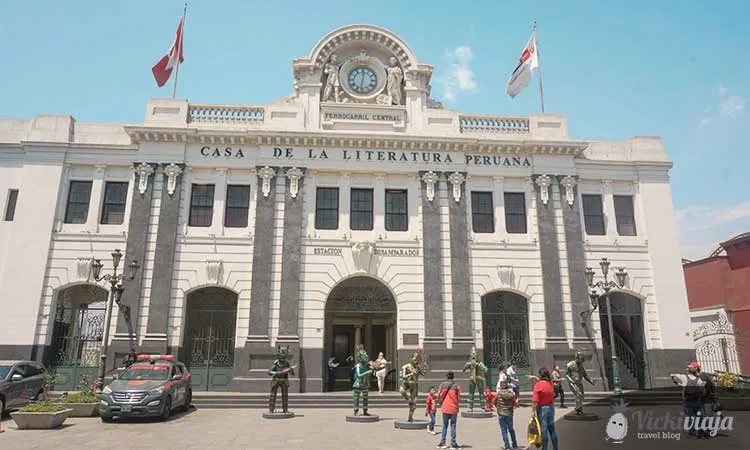 Opening Hours: Sunday – Tuesday: 10 am – 07 pm; Closed on Mondays
Entrance Fee: free of charge
The Casa de la Literatura Peruana is one of those places that we discovered only through the Free Walking Tour and would probably never have entered without it. Not only the cool statues in front of the building, that invite you to a photo, are worth seeing. Inside there are many interesting things to discover for anyone interested in literature.
Important: All information and exhibits inside are in Spanish only. If you don't speak Spanish, it's best to skip this attraction in Lima
Casa de la Gastronomía Peruana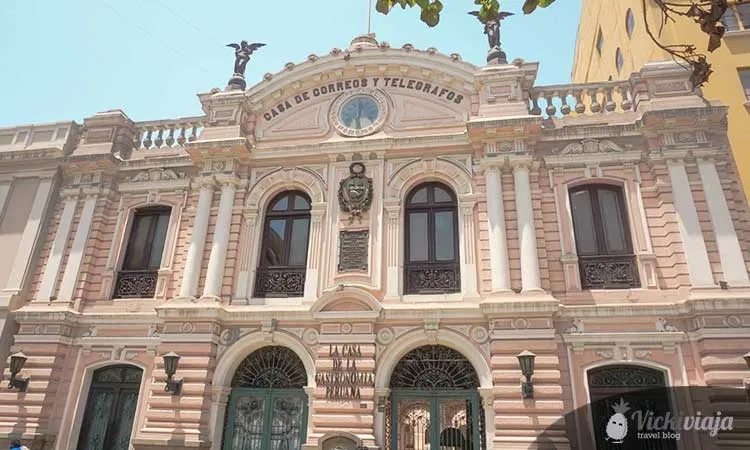 Opening Hours Casa de la Gastronomía: Tuesday – Sunday: 09 am – 05 pm, Closed on Mondays
Entrance Fee Casa de la Gastronomía Peruana: 3 Soles (ca. 0,80 €, $ 0.88)
In this museum, which is located in the old post office building of the city, everything revolves around one thing: Peruvian food. Here you can learn everything about the preparations and ingredients of the most popular dishes of Peruvian cuisine. Many of the statues and exhibits are even built in real life-size.
Gold of Peru – Weapons of the World Museum
Opening Hours Museum Gold of Peru: 10.30 am – 06 pm
Entrance Fee Museum Gold of Peru: 33 Soles (ca. 8,80 €/ $9,80)
Two other museums located in the historical center of Lima are the Museo Oro del Perú – Armas del Mundo. Since the late 1960s, those museums have become a popular attraction in Lima for those interested in Peruvian treasures and weapons.
Together, the two museums contain more than 25,000 exhibits. Especially the Pre-Inca Gold exhibits are impressive. In addition to gold and weapons, you can also find here all sorts of other exhibits from the period before colonization by Spain, such as antique ceramics or textiles.
Plaza San Martín
If you take the bus from Miraflores to the historic center of Lima, you can easily get off near the Plaza San Martín and walk from here to the Plaza de Armas.
The square was inaugurated in 1921 for the 100th anniversary of Peruvian Independence. The huge statue in the center of the plaza depicts the leader of the Peruvian independence movement and "Peru's Liberator" José de San Martín.
Miraflores
Huaca Pucllana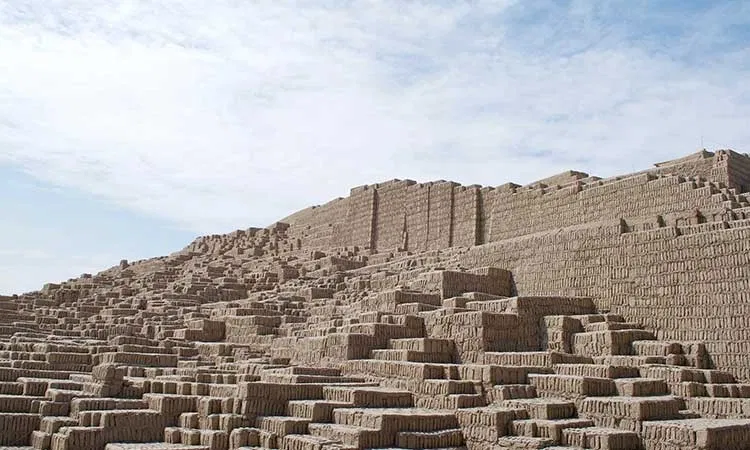 Opening Hours Huaca Pucclana: Wednesday – Monday: 09 am – 05 pm; Closed on Mondays
Entrance Fee Huaca Pucclana: 15 Soles (ca. 4 €/ $ 4,50)
Opening Hours Night Entry Huaca Pucclana: Wednesday – Sunday: 07 pm – 10 pm
Entrance Fee Night Entry Huaca Pucclana: 17 Soles (ca. 4,50 €/ $5)
Huaca Pucclana or Huaca Juliana is a claystone temple pyramid dating back to the lime culture of the years 200-700 AD. The clay bricks were built in the "bookshelf style" up to a height of 25 meters and are therefore a real eye-catcher.
Although the information boards are only available in Spanish, recreating everyday scenes around the pyramid will help you better understand the Lima culture.
The pyramid may only be entered with a tour guide, which is however included in the entrance fee.
Miraflores Central Park – Parque Kennedy
Opening Hours Kennedy Park: 24 hours
Entrance Fee Kennedy Park: free of charge
Located in the center of Miraflores, Parque Kennedy is one of the city's most popular green spaces. Named after former US President John F. Kennedy, this park is perfect for a bit of relaxation. Just sit down on one of the park benches and watch the cats running around in the park play and sleep.
If you are hungry, you can either enjoy delicious snacks and typical Peruvian, but also international dishes at one of the many stands in the park itself or in the nearby restaurant.
Lunch in La Lucha?
The Sangucheria chain La Lucha was recommended in some travel forums and blogs. Of course, we wanted to try it as well. The sandwiches here are a bit more expensive than the usual prices for Lima (besides other tourist restaurants). This is probably because most of the customers are tourists.
The sandwiches and highly acclaimed fries were quite good, but honestly, in our opinion, not outstanding or overly recommendable. If you fancy a burger with fries, you can happily eat here. If you miss this restaurant, it's not a huge loss, though.
Faro La Marina
The most visited lighthouse (Spanish: "Faro") in Peru. The dark blue white lighthouse was originally built in another city in Peru. In the 70s he was then dismantled and rebuilt on the coast of Miraflores.
The most beautiful thing about this lighthouse is not the tower itself, but the wonderful view that you can enjoy from here over the coast and the Pacific Ocean and one of the popular beaches in Lima.
Parque del Amor
Opening Hours Parque del Amor: 24 Hours
Entrance Fee Parque del Amor: free of charge
A short walk from the Faro La Marina, you can discover the Parque del Amor (eng: Love Park). In addition to the large statue El Beso (eng: the kiss) in the center of the park, you will find a lot of green and a wonderful view.
The mosaic benches all along the coast immediately reminded us of our hometown of Barcelona. Don't you think that the mosaics are very reminiscent of the mosaics in Park Güell by the great architect Antoni Gaudí?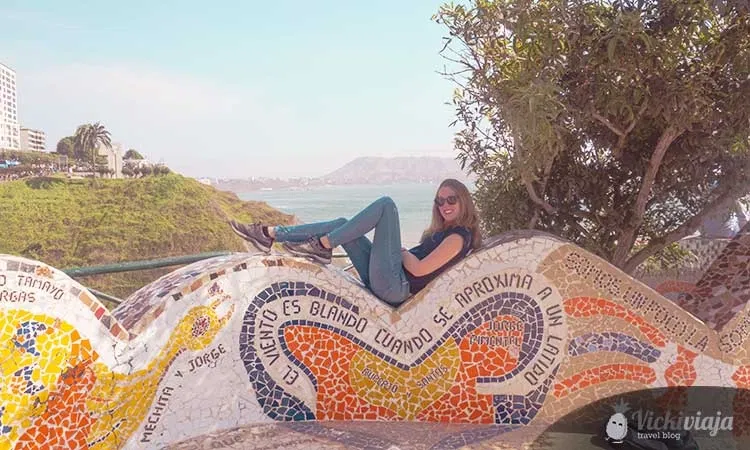 Larcomar Mall & View Point
Opening Hours Larcomar: 10 am – 10 pm
As you may have already noticed in my destinations guides, I rarely recommend shopping centers or malls. Larcomar is but a big exception. I don't recommend it because of the wide variety of shops and products (I was frankly, in no one and therefore cannot judge), but because of the beautiful view, you have from here on the Pacific Ocean.
Vicki's tip: Walk the beautiful path from the lighthouse La Marina along the coast, through the Parque del Amor to Larcomar. You can even extend your walk to Barranco, so you also save the bus/taxi there 😉
Barranco
Puente de Los Suspiros
If you walk from Miraflores to Barranco, the Puente de Los Suspiros (the Bridge of Sighs) is probably the first attraction you will discover in this area. From the bridge, you can admire the striking yellow church La Ermita.
This bridge is particularly popular with couples, as it is steeped in legend. According to the legend, couples stay together forever if they manage to cross the bridge while holding their breath. A local told us that you can wish for something when you hold your breath as you cross the bridge. So to play it safe, make sure to just wish for eternal love with your partner 😉
Discover the Street art in Barranco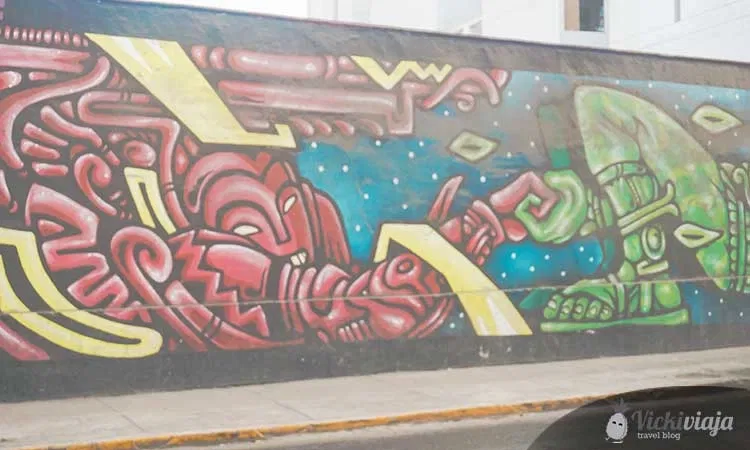 As you walk through the Barranco neighborhood, you can spot great street art on many walls, walls, and doors. So take some time to get lost in this part of Lima and stroll a little bit through the streets without a destination.
Try a Pisco Sour
The Pisco Sour is THE drink of Peru. You simply can not leave Peru without trying a Pisco Sour.
Pisco is a grape brandy named after the Peruvian city of Pisco that exists for over 400 years. A pisco sour is made from pisco, lime juice, sugar syrup, egg white, and crushed ice and tastes just great. (I have to admit, the raw egg in the drink didn't make it easy for me to have my first sip, but the taste definitely convinced me to have it all – and more of it.)
Barranco has many bars offering pisco and pisco sour. Our favorite was the strawberry pisco sour ("con fresa") in the Juanito Barranco bar. (But you should of course also try the original one).
Fun Fact: Pisco is so popular with the Peruvians that it even has its own holiday. On 23rd July the National Pisco Day is celebrated in Peru.
What else to do in one day in Lima, Peru
Parque de la Reserva or Parque de las Aguas (Water Park)
Opening Hours Parque de la Reserva: Tuesday – Sunday: 03 pm – 10.30 pm; Closed on Mondays
Entrance Fee Parque de la Reserva: 4 Soles (ca. 1 €/ $1,20)
This beautiful water park, located right next to the national stadium of the city (on the way from Miraflores to the city center), is filled with 13 wonderful fountains (Circuito Mágico del Agua). These electronically-controlled fountains provide a wonderful water show with lights every night (except Mondays) that you should not miss when visiting Lima.
Important: Make sure to visit during the dark!
Fun Fact: In 2009, the park even set a world record for the water complex with the highest fountains in a public park.
Cerro San Cristobal
If you want to see the huge capital Lima from above, you should not miss a visit to the city's local mountain. With a height of 409 meters, Cerro San Cristobal gives you an excellent view of the various districts of Lima.
Especially the historical center of Lima stands out. Note, however, that the way up is only worthwhile on a clear day. Otherwise, the view might be blocked by fog or clouds. The viewpoint (Mirador) is marked by a large cross, which can already be seen from below and is even illuminated at night.
A visit to Cerro San Cristobal is especially worth it at Easter time, as it attracts many pilgrims and religious people to hold the annual Easter Mass here.
Getting to the top of the mountain is probably the safest (and easiest) by taxi or public bus from the historic center (Plaza de Armas). A cab should cost you around 15 soles.
Spa visit in the SpaVida
Opening Hours SpaVida: Monday – Friday: 02 pm – 10 pm; Saturday: 10 am – 09 pm; Sunday: 11 am – 07 pm
Address: Av. Las Palmeras 4187 – Los Olivos, Lima (It's easiest to get there by Taxi or Uber)
Website: You can find their official Website here
Those who arrive in Lima after a long flight or have to wait for their flight need some relaxation. Not far from the airport you will find the SpaVida. It offers various spa treatments, massages, saunas, and many other services that are a perfect remedy for the physical and mental stress of traveling.
After battling our jet lag for two days and suffering from back pain since our 14-hour journey from New York, Eduardo felt like a different person after our massage. But also I could finally relax a little and enjoy the outstanding treatments.
The staff are incredibly friendly and help you find exactly the right application. The massages are performed by trained physiotherapists and help our aching feet feel like new again.
So, if you're in Lima and have some time before or after your flight, you should definitely pay a visit to this amazing spa!
Extra Tip: Make sure to have lunch in Parilla Campo Verde which is right across the street and has great food
Parque de la Amistad – Friendship Park
Opening Hours Parque de la Amistad: Tuesday – Thursday + Sunday: 10 am – 08 pm; Friday + Saturday: 10 am – 09 pm; Closed on Mondays
Entrance Fee Parque de la Amistad: free of charge
The Parque de la Amistad (eng: Friendship Park) is clearly one of the most beautiful parks in Lima. However, it is located just outside the typical tourist trails in the district of Santiago de Surco. But that also means that the park is not very touristy, which makes it, in our eyes, even more unique.
In every corner of the park, you can discover something different. From a train that drives you through the park, stalls offering snacks, refreshments, and even whole dishes, a pond filled with ducks and geese, and lots of play opportunities for children.
Pueblo Libre
This district of Lima is probably one of the most underestimated, but worthwhile districts of the city. Strolling through Pueblo Libre, you can be enchanted by the colorful facades of the houses and Plaza Bolívar.
Be sure to stop at the district's main attraction: the Church of Saint Mary Magdalene, one of the most impressive churches in the city.
However, many visitors come to the Pueblo Libre mainly to admire the artisan markets on Avenida La Marina. If you are looking for a nice souvenir for your loved ones at home or a unique souvenir of your trip to Peru, you will definitely find it here.
The district is also home to two other important museums in the city: the Museo Nacional de Arqueología, Antropología e Historia del Perú (National Museum of Archeology, Anthropology and History of Peru) and the Museu Archeológico Rafael Larco Herrera. The former, by the way, is Peru's oldest museum, having opened its doors to visitors as early as 1822. More than 100,000 fascinating exhibits on the history of Peru await you here.
Mercado No.28
If you get hungry while sightseeing in Miraflores, this market is probably the perfect place to satisfy your hunger. At the dozens of stalls of the small market hall, you will surely find what you are looking for, whether it's a whole meal or just a quick snack.
You can even choose between international and the best Peruvian foods.
Mercado de San Isidro
If you want to support local vendors and locals, you should not miss the San Isidro market. Because here, in addition to local food, you will be able to find mainly clothes and decorative items.
Day Trips from Lima
Peru's capital Lima offers various day trips. The most popular, however, are relatively expensive and are associated with a very long drive. We recommend that you visit the places listed below not as a day trip, but rather as a destination if you have the time – it's worth it!
Huacachina
Probably the most popular day trip from Lima takes you to the oasis city of Huacachina. From here you can surf on sand dunes and drive with a buggy through the desert. It's also a really popular place to have a drink or party at night. Our highlight was to watch the sunset from the sand dunes just outside of the oasis. Huacachina is around 15 minutes by taxi from the town of Ica.
Islas Ballestas
They are also called the Galapagos Islands of Peru – the Islas Ballestas. A small boat takes you to the islands, which are about 30 minutes away from the harbor in Paracas. The islands themselves will not be entered but your boat will drive around them on a 2 1/2 hour tour.
Still, it's an incredible experience when you see 100 of birds in their natural habitat. Especially the pelicans are impressive. Our favorites were (of course!) the penguins. I could have spent hours watching these sweet little creatures waddling around.
Eduardo's favorite were the sea lions. These huge sea creatures can be seen sunbathing on the rocks and if you're lucky, you might even spot a few baby sea lions.
This tour can also be done from Paracas or Pisco and connected with a visit to the Paracas National Park. Highly Recommended!
Nazca
Probably the most expensive day trip from Lima takes you to Nazca. Here you can discover the ancient lines on the ground of the city from a small plane – An extraordinary but not exactly cheap experience.
You can save money if you take this tour instead of from Lima, from Nazca itself.
Lima Accommodations – Where to stay in Lima
We strongly recommend that you check the safety and location of your accommodation in Lima before booking. Because as already mentioned – Lima is huge. So once you are on the road for hours to reach your sightseeing destination, valuable time is lost.
Therefore, we recommend you to look for accommodation in Miraflores or the Barranco district.
Best Budget Accommodation in Lima
Bed in Dorm
Miraflores
0 Stars
Best middle-ranged accommodation in Lima
Private Double Room with private Bathroom
Miraflores
3 Stars
Best Luxury Accommodation in Lima
Private Double- or Twin Room
Miraflores
3 Stars
Check all accommodation in Lima
---
What would you like to see, or which Lima attraction did you like the most? Or maybe you even have a Lima insider tip for us? Then please let us know in the comments below!
More Peru
Make sure to also check our other Peru Travel Guides
---
Interested in Peru?