New York City is a dream. Everyone who knows me is probably aware that I have fallen in love endlessly with the city that never sleeps. However, probably it would have been smarter to have chosen a much cheaper city as the city of my dreams. New York City is not only the most expensive city in the United States, but the 5th most expensive city in the world.
However, it is surprisingly possible to visit New York on a budget as there are some simply ways to visit New York without breaking the Bank. Because if you follow a few simple saving tips, you can easily, but effectively, minimize your New York travel cost.
In this article you will learn how exactly it's possible to visit New York on the cheap, what New York prices are waiting for you, and how you can visit the city as cheaply as possible.
In addition, we've listed our New York costs and expenses to the cent, so you have an idea of how much you spend on what.
New York Travel Cost
In the following section, we've listed the approximate New York travel costs that await you on an average day in the City. Of course, it depends on your personal travel style, how much you actually spend in the end.
Average New York Cost per Day
The average traveler spends about $ 220/ 200 € per day. Those traveling on a smaller budget spend an average of about $ 145/ € 130 a day. If you follow these tips, you'll be fine and easy on just under $ 74 /67 * € per day per person. In this article, you can find out how we did it and how you can do it, too.
* As we visited New York City during our honeymoon we also treated ourselves to some things that were actually a little over our normally tight budget (such as a helicopter flight over Manhattan and a meal in a very good restaurant.) Together with these two things we spent an average of $ 98.96/€ 89.23 per day.)
On the other hand, if you use Couchsurfing, you could even stay in New York for about $46 /€ 42 a day.
Author's Note: Keep in mind, the shorter your stay, the more you usually pay per day. Our New York travel cost for one week (7 ½ days) were: $ 742.29/ 669.27 €
Our detailed Expenses per Day
Food: $ 22.42/ 20.22 €
Accommodation: $ 24.18/ 21.81 € (* We got one night for free due to an error in our booking)
Activities & Entry Fees: $ 35.04/ 31.6 €
Transport: $14.08/ 13.35 €
Random Expenses: $ 2.47 / 2.23 €
Author's note: Little decrepancies might happen due to roundings.
New York Prices – What costs what
Budget Accommodation (Private Double Room for 2) from $ 44/ 40 € per Night
Private Double Room Airbnb (for 2): from $ 44/ 40 € per Night
Budget Accommodation (Bed in Hostel/Dorm): from $ 30/ 28 € per night
Lunch in a cheap Restaurant (Menu): from ca. $ 15 (ca. 13.50 €)
Dinner cheap Restaurant: ca. $ 20 (ca. 18 €)
Dinner for 2 in a good Restaurant: ca. $ 80 (ca. 73 €)
1,5 Liter Water in the Supermarket: ca. $ 2,30 (ca. 2 €)
0,5 l Bottle local beer in the Supermarket: ca. $ 2,30 (ca. 2 €)
Single Ticket for Subway: $ 3 (ca. 2,70 €)
How to visit New York on a Budget
Now that you've got a brief overview of how much things in New York City cost, in the next section, we'll tell you how to save a ton of money during your New York trip with a few simple tricks.
New York Transport on a Budget
In the following section, you'll find plenty of helpful New York travel tips to help you save real money on transport to and from New York.
How to get there
Even before you even arrive in the NYC you can already save some money – because the journey is often one of the most expensive factors of traveling (depending, of course, how far away you are located).
The more flexible you are in terms of time and departure airport, the more you can save. For our flight from Barcelona to New York, we paid, for example, only € 100 (ca. $ 110) + € 40 ($ 44) for our luggage – a real bargain.
When you decide to go there by plane, it is important to book your flight in advance and compare prices. For that I prefer to use flight comparison sites like Skyscanner.
From the New York Airports to the City Center
Of course, if you finally reach your destination after a long drive or an exhausting flight, you probably only want one thing: to finally arrive at your accommodation and relax. It seems that the easiest and quickest way is to get into the next taxi and go to your accommodation.
However, those who use public transport, not only do a big favor to the environment and save some money. It also usually doesn't take much longer than going by taxi. (During peak hours, you can even travel faster by public transport).
Before you arrive at your destination, check for the cheapest and fastest way (whichever is more important to you) to get to the center or your accommodation.
From the JFK, you can easily use the Air Train, which brings you to the Jamaica Station for $ 5 $ 7.25 (* already as I wrote this post, the price went up). From there you can get to your accommodation by purchasing a subway ticket. Read the next section to learn how to save money when purchasing your subway ticket.
Subway
If you spend a week or even 30 days in the city, you can really save on transport costs. For a 7-day ticket with "Unlimited Rides", you pay $ 33 (+ $ 1 for a new card, if you don't already have one). This ticket entitles you to use the city's subways and local buses during the 7 days as often as you like (before midnight). Already with 2 trips per day during a 7-day stay in the city, this ticket pays off.
For the 30-day Unlimited Rides ticket, you pay $ 127 (+ $ 1 for a new card, if you do not already have one).
By Foot
Some of the New York City attractions are not even far from each other. If you plan well, you can cleverly combine the visit to some of them with each other. So you not only save time but also subway trips and thus money *.
And the best? It is completely free. It's best to use a city map, google maps, or the offline maps.me map to find your way around the city.
* If, of course, you have opted for the 7-day Unlimited Rides Ticket, you don't really have to pay attention to the number of Subway rides.
Explore New York by bike
If walking takes too long, but the subway is too expensive, there's another great way to get around the Big Apple: the bike. In the city, there are a lot of providers that let you rent bicycles. You also have the opportunity to join a sightseeing tour on the bike. You can find some great tours here.
Especially if you are only for a couple of days of even just 48 hours in New York, taking the bike is definitely going to pay off.
New York Accommodation on a Budget
The accommodation is probably one of the aspects that make up for most of your travel costs during your trip. Therefore, it is important to think about how and where you would like to spend the night in the city. There are several tricks to help you save a lot of money on your accommodation.
Book in advance
If you start looking for accommodation early enough, you will not only have more places to choose from, but you might even find one or the other bargain. I myself use Booking.com to find the best accommodation. With Booking, you can find accommodation of all price ranges with numerous helpful reviews of other travelers worldwide.
Check Booking.com for Accommodation in New York
Travel outside the main season
Those who have school-age children usually have no choice but to travel during the summer or Christmas holidays. However, if you have the opportunity, be sure to try out-off-season travel to get the best deal for your accommodation.
I've visited NYC twice in October and think it's a great time to visit.
Find the right neighborhood for you
NYC has several neighborhoods that differ not only in features but also in where they are located. Depending on where you spend the night in the city, you can either find great bargains or pay even more than the usual price.
A great option is not to stay in Manhattan, but to rather move to surrounding areas like Brooklyn or Queens. It will be even cheaper if you stay in New Jersey instead. For a great double room with private bath and stunning views of the Manhattan skyline right on our doorstep, we paid just under $ 50 a night.
In our detailed New York Accommodation Guide you will find all the major neighborhoods and the best accommodations in each area. So you can easily save a few bucks without finding yourself in a run-down sleazy hotel.
Use Airbnb
Especially if you spontaneously go on vacation and all other promising accommodations are already occupied, it can be helpful to look for a suitable stay on Airbnb. Here you will find many locals who rent their guest rooms to travelers. Especially if you are traveling as a couple or in a small group, Airbnb often offers a lot of great rooms for a small price.
What's even better is that Airbnb gives you unique insights into the culture of a country, since you are at home with locals. Your hosts can also give you the best insider tips and answer many of your questions.
Important: To help the local community, please only rent rooms in a house/flat of locals and not a whole apartment. Renting out flats to tourists raises rental rates throughout the city, driving local people out of town who can no longer afford their homes. But if you stay overnight in the guest room of locals, you will help them pay their rent and benefit from tourism in their city.
Check Rooms in New York on Airbnb
Or just stay without paying anything?
There is an even cheaper option – it's actually for free. This possibility is called Couchsurfing. We love Couchsurfing and have stayed in various countries on three continents and have only had great experiences. Note, however, that you should only do Couchsurfing if you plan to spend some time with your host and give him something in return (for example, you can help him learn your language, cook something delicious, etc.). Please use Couchsurfing not only as a free place to stay, but as an opportunity to immerse yourself in the culture of the country and meet locals.
Look for Hosts in New York on Couchsurfing
New York Food on a Budget
New York is the perfect destination for Foodies. Even though as for the big choice of restaurants it's not always easy to figure out where to eat in New York. So be sure to eat as much as you can. In the following, we will show you how to save some bucks on New York's amazing food.
Avoid tourist restaurants & compare prices
Take a look around where the locals eat and compare prices. Instead of eating right in the tourist center, try out the side streets – because the prices often look quite different there.
Anyway, in New York, there are just soo many options to eat (I once read that if you eat every day in another restaurant in New York, you'd need more than 50 years to try them all), so you will certainly find a good deal.
Buffets
Especially in Manhattan, we discovered many restaurants offering buffets alongside sandwiches and snacks. In such places, you usually have a huge choice between various dishes. The food is billed by weight. In average, you pay around $ 10 a pound (lbs *)
* 1 pound equals approximately 0.45 kg
Have lunch instead of dinner
During the day, many travelers are so busy with sightseeing that they hardly have time to eat. So often for lunch, you might just have a little snack while eating out at dinner time instead. Locals, on the other hand, often look for a cheap meal during their lunch break.
This is exactly what many restaurants take advantage of by making dinner far more expensive than lunch. So if you eat at the restaurant for lunch and instead prefer a sandwich in the evening, you can often save another few dollars.
Buy in supermarkets
If you want to save money on food, you should eat and shop where the locals go. Unsurprisingly, that's not the tourist area, of course, where everything costs a multiple of the normal price.
Instead of eating something warm in the restaurant two to three times a day, you might as well get a snack in a supermarket (CVS, for example). Here you will usually find everything you need to prepare your own meal.
Pizza, Bagels & Hot Dogs
You can not leave New York without trying a real New York pizza. The hot dog stands can be found on every corner and they are somehow part of the whole New York experience. Bagels, on the other hand, are the perfect way to start the day (my favorite are the cinnamon bagels with cream cheese, but I can't say no to the blueberry ones either).
And the best? You can get those three popular New York snacks for just little money. In some places, you can buy the New York Pizza Slices for as little as $ 1. (Pay attention to where the locals eat to avoid an upset stomach after eating;))
A Picnic in Central Park?
If you don't want to miss out on a beautiful view while dining, you can, as explained in the last point, simply get something delicious in the supermarket and then walk over to Central Park. Having some snacks here is just one of the fantastic things to do in Central Park.
Get a small blanket, get some bread (it will be cheaper if you get the ingredients for it in the supermarket than a sandwich in a sandwich shop), and enjoy your picnic. By the way, delicious snacks can also be found in China Town – I just looove Chinese sesame balls.
Have Breakfast in your Accommodation
Many accommodations offer their guests breakfast. Often this is already included in the room rate, some at extra cost. Often it is worth accepting such an offer instead of having breakfast outside.
If you eat enough for breakfast, usually a small snack at lunchtime is sufficient instead of a whole menu. And so you can not just save one but even two meals outside.
Cook yourself
Another great opportunity to really save money on food in New York is to cook it yourself. Book an accommodation where you have access to a kitchen (for example, Airbnb). So you can prepare something warm in the evening instead of eating in an expensive restaurant. Everything you need can be found in the supermarket.
Refill your bottle
There are water fountains all over the city where you can refill your water bottle for free. With this method, you not only save money, but also help the environment by avoiding plastic waste while traveling.
Take advantage of the Happy Hour
Alcohol and drinks in New York City can be a little bit pricey. You can save a bunch of money if you take advantage of the happy hour. Many of the bars in the city offer such happy hour deals, where you can save up to 50% of the actual price (for example, 2 for 1 offers).
The happy hour times vary from bar to bar but are usually between 4 pm and 7 pm. Well then, cheers!
New York Sightseeing on a Budget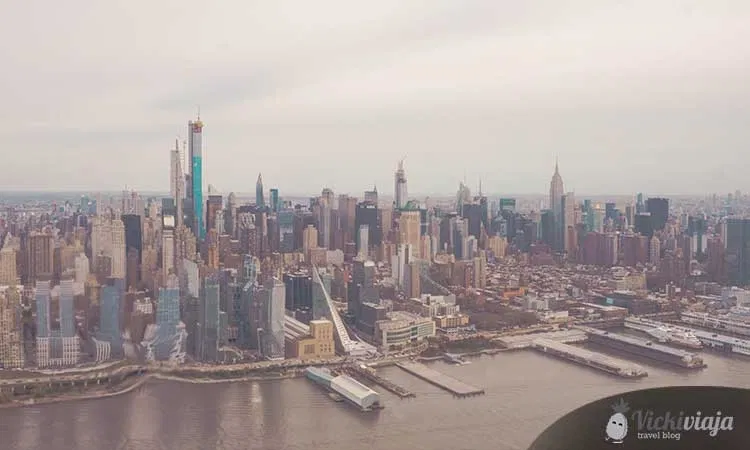 As in any touristy city, many popular attractions require an entrance fee – which of course is no different in New York. On the contrary – the entrance fees of some attractions are anything but cheap.
It helps to think about what you want to see during your time in the Big Apple in advance. With TripAdvisor and similar portals, you'll find a lot of helpful reviews and tips from other travelers about each of the city's highlights. But there are many other simple tips to spend significantly less on sightseeing and activities in New York.
Make sure to check the free attractions of New York City
Not every sightseeing-spot in the city has to cost a lot. There are even some NYC attractions that you can visit for free. Below are a few highlights in New York that will not cost you a penny.
Central Park
Governor's Island
The High Line
Brooklyn Bridge
Times Square
9/11 Memorial
Chelsea Market
The Vessel (You need a ticket anyway)
Staten Island Ferry
African Burial Ground
City Hall
Flatiron Building
Federall Hall
Charging Bull (Wall Street)
Bushwick Collective
Greenwood-Cemetery
National Museum of American Indian
New York Public Library
Rockefeller Center Public Art
Grand Central Station
and more
Free Statue of Liberty Views
One of the most popular tours in New York is the boat trip to the Statue of Liberty. Of course, from the mainland, unfortunately, it is hardly recognizable. So there is no way but booking a tour… or is there?
The Staten Island Ferry operates every 30 minutes between Manhattan and Staten Island. And a trip with the ferry is absolutely free. Get your seat on the right side of the ferry by the window and enjoy your free views of the Statue of Liberty.
Visit the 9/11 Museum for free
The 9/11 Museum definitely left a deep impact on us. We spent 4 hours in the museum and left it only because an employee told the museum was being closed. We could easily spend another 1-2 hours there.
On Tuesdays from 5 – 8 pm you can visit the museum free of charge.
However, you have to be there on time (preferably an hour before) to secure your free admission. Unfortunately, getting in free of charge also means standing in line for some time.
The big drawback, however, is that you only have 3 hours (assuming you're among the first to enter the museum) to explore all the exhibits at the museum.
(Almost) Free visit to the Guggenheim Museum
Ok, ok, unfortunately you cannot get into the Guggenheim Museum completely for free. However, there is a pay-as-you-wish campaign on Saturdays between 05.45 pm and 07.45 pm. This means that you can decide for yourself what you want to pay for entering the museum.
Join a Free Walking Tour
You are the guided-tour kind of traveler? Of course, it has great advantages to take a tour as you can get a lot of interesting information about the place you are visiting.
Such a free-walking tour, as the name implies, is completely free of charge. So it's easy to join. (Anyway, you should give a decent tip after all).
Save a lot of money with the discounts and free entries of one of the New York Passes
Like most major tourist cities, New York also offers some discount and tourism tickets for sale. Below, you can find a small overview of the most popular passes. A more detailed comparison can be found in our comprehensive New York Pass Comparison.
New York Pass
From $ 132
Pros
Most highlights in New York are included
If you want to see a lot, you can save a lot
Cons
One World Observatory is not included
only worth it if you really see many attractions
possible time pressure
Is suitable for
Travelers who want to see many attractions
The more, the more you can save
Check information & prices of the New York Pass
New York Sightseeing Pass
Depending on the type of pass (Day Pass) ab $ 129 oder (Flex Pass) from $ 64
Pros Day Pass
Most highlights in New York are included
If you visit a lot, you can save a lot
Includes Hop-on-Hop-Off Bus every day
Cons Day Pass
The Empire State Building Observatory is not included
only worth it if you really see many attractions
possible time pressure
Is suitable for
travelers that want to see many attractions
The more days you choose, the more money you save
Check Information and Prices of the New York Sightseeing Day Pass
Pros Flex Pass
You can choose between most highlights in New York
Time flexible (You have 30 days after activating your card)
Cons Flex Pass
The Empire State Building Observatory is not included
Only the attractions you choose are included – more attractions cost more
Is suitable for
Travelers that want to see a few attractions
Travelers that have been to New York before
Check Information & Prices of the New York Sightseeing Flex Pass
New York City Explorer Pass
From $ 64
Pros
Many of the highlights in New York are included
Time flexible (You have 30 days after activating your card)
You pay only for the attractions you really want to see
Cons
One World Observatory is not included
Only the attractions you choose are included – more attractions cost more
Is suitable for
Travelers who want to see a few attractions
Travelers who are not first-time visitors
Check Information & Prices of the New York City Explorer Pass
New York CityPass
$ 132
Pros
If you want to see exactly these attractions, this is a great deal
Time flexible (you have 9 days after activating your card)
Cons
One World Observatory & other major attractions are not included
Little flexibility in the choice of sights
Is suitable for
travelers that want to see exactly those attractions
Check Information & Prices of the New York CityPass
Could you find any helpful New York Budget tips? How much did you spend during your time in New York? Do you have any other great tip to save money in New York? Let me know in the comments below!
More New York?
Make sure to also read our other New York articles that help you plan a perfect trip.
Interested in The United States?