Paracas, Peru – A destination that is too often overlooked by travelers and often missed out on the Peru trip. Too bad, because the Paracas National Park and the Islas Ballestas (there are penguins in Peru!) were definitely one of the highlights of our trip through the country.
Below you will find everything you should know about this amazing place including the best things to do in Paracas, las Islas Ballestas (the so-called "Poor man's Galapagos Islands"), la Reserva Nacional de Paracas and the other Paracas sights.
How to get to Paracas, Peru
From Lima to Paracas by Bus
Duration: ca. 3 ½ Hours
Cost: ca. $ 6.5 – 12 (ca. 6 – 10 €) (Try to book your ticket in advance to save some money)
Tickets: You can either buy your ticket for the Bus Line "Lima-Paracas" spontaneously at the bus terminal (however, there may be waiting times if the bus is already full) or online here on Busbud.
Most probably you will try to reach Paracas from Lima. There are direct buses from various providers that take you directly from Lima to Paracas or, of course, vice versa from Paracas to Lima. The buses run several times a day.
Take a tour from Lima to Paracas
Travel time: day trip
Cost: from approx. 100 € (depending on whether you choose a private or shared tour)
Booking options: On-site in a travel agency or online here
There is also the option to visit Paracas as a day trip from Lima. This tour is usually offered in combination with a visit to Huacachina or Nazca.
In the next paragraph, we also talk about the advantages and disadvantages of taking a tour or going to Paracas independently.
From Nazca to Paracas
Travel time: ca. 3 ½ Hours
Cost: ca. 4 € (Try to book your ticket in advance to save some money)
Ticket: You can either buy your ticket for the "Nazca – Paracas" bus spontaneously at the bus terminal (however, there may be waiting times if the bus is already full) or online here on Busbud
Also from the popular travel destination Nazca, some travelers head towards Paracas. Some bus companies also run from Nazca several times a day.
Our Peru Video
Going to Paracas as part of a tour? The pros and cons
Many travelers visit Paracas as part of a day trip from Lima. Such a tour has advantages and disadvantages, which are summarized below.
Benefits of a Tour to Paracas
Time-saving – So you can visit Paracas within a day
Guided tour – your guide is there with you and you don't have to worry about anything
No knowledge of Spanish required
Drawbacks of a tour to Paracas
Little time
Often only includes the Islas Ballestas
Can be pricey
very inflexible, since the program points are already fixed
Our Conclusion: Tour to Paracas yes or no?
If you have the time, we definitely recommend you to travel to Paracas on your own and take a tour from there (or even explore the area on your own. You will learn about the various options later in this article).
If you don't have much time on hand, taking one of the Paracas tours from Lima is a great way to discover the wonderful Paracas sights even if you just have one day in Paracas.
The best things to do in Paracas
Las Islas Ballestas, Paracas
Price of the Tour from Paracas: 46 Soles (ca. $ 13.60 / 12.50 €) (Including entree fee and port tax)
Tour duration: ca. 2 ½ hours
Schedule: 08 am or 10 am
Book your tour online in advance: If you want to book online, you can do so here. (But you can as well book your tour easily on-site)
The Islas Ballestas, Paracas were definitely one of the highlights of our Peru trip. Not a surprise since I am a big penguin fan (You can't tell me that they aren't simply adorable!). The islands, which are also known as the "Poor man's Galapagos", are less than a 30-minutes boat ride from Paracas harbor. During the tour, you will not only see those super cute Humboldt penguins but also pelicans, South American sea lions (maned seals) and many other bird species (e.g. Guanocomorans or Inca terns).
Since the animals are used to the boats and know that people do not enter their island, they usually remain calm and can be admired up close. A truly unique experience.
Our guide was great. He had a lot of information about the islands and the animals on it sprinkled with some jokes. He managed to do the tour in Spanish and English, so everyone could understand.
You can buy your ticket either at your accommodation, at travel agencies in Paracas or directly at the port. Be sure to get a receipt and only buy from reputable providers to avoid tourist traps. If the price are off significantly, be skeptical.
But there is also the possibility to book online in advance if you don't have much time at hand, e.g. here.
There are two tours every day, one at 8 am and one at 10 am. We were recommended to take the tour at 8 am because the sea is usually calmer at this time of the day. Since it is mostly cloudy, sunburn can be avoided.
When going on the boat, the best thing to do is try to get a seat on the left side, as this will give you the best view (if that doesn't work, don't worry. There is also a good view from the other side).
Important: the boat will not be left during the tour. The islands cannot be entered. The boat will only drive around the islands.
The Paracas Candelabra – The Candlestick, another highlight of the Tour
On the way to the Islas Ballestas, you also pass another popular highlight of the region: the Paracas Candelabra also called the candlestick of the Andes. This 181-meter long symbol, which, as the name suggests, resembles a candlestick, can be seen in a dune.
Even if the meaning of the candlestick is still unclear to this day, one suspects that this symbol is around 2500 years old. The candelabra is often associated with the Nazca lines.
Extra tip: Even if the water is usually quite calm: If you are prone to motion sickness/seasickness, it is better to use meds, ginger or chewing gum before you take off.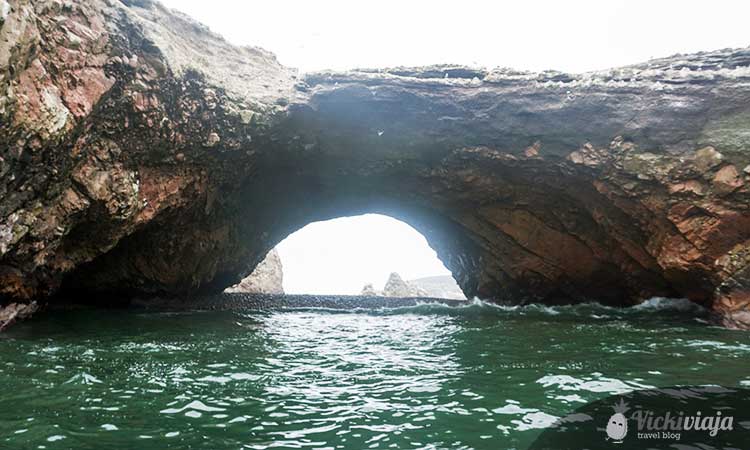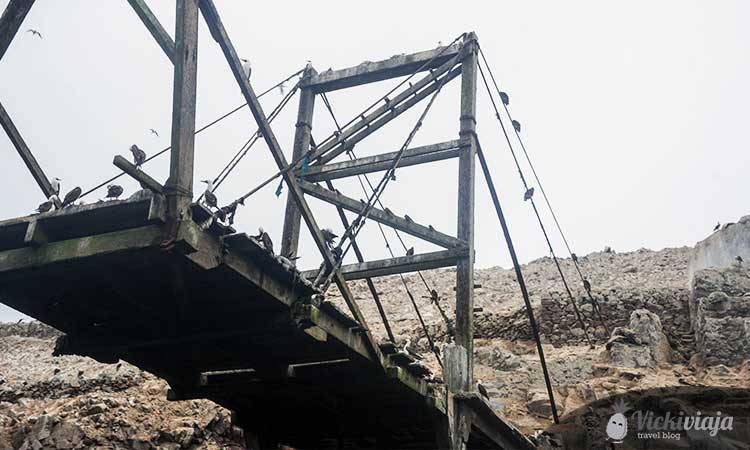 Reserva Nacional de Paracas, Peru – The Paracas National Reserve
The Paracas National Reserve was definitely one of the highlights of our trip to the region. There are so many wonderful places to discover that I have never seen anything alike anywhere else in the world. In the following, we want to take a look at the highlights of the park that you can discover during your tour.
In the national reserve, you will find a beautiful landscape (the mix between desert and sea was really unique for us) as well as lots of birds and other animal species. With a little luck, you can even spot seals and dolphins.
Playa Supay
The first stop on our tour was Playa Supay. This section of the beach is often not visited by the typical tours and if so, only from the Mirador (viewpoint). That's why we particularly liked this place in the park. Nobody but we walked down the stairs to the beach, which allowed us to take beautiful photos without meeting a soul down there.
Playa Roja
Probably the most popular place in the park, where the typical tourist photos are taken. The red sandy beach is a really unique and beautiful sight. No wonder this place is so popular.
Please note, however, that the beach itself may not be entered. Even though there is always an idiot that does it anyway.
La Catedral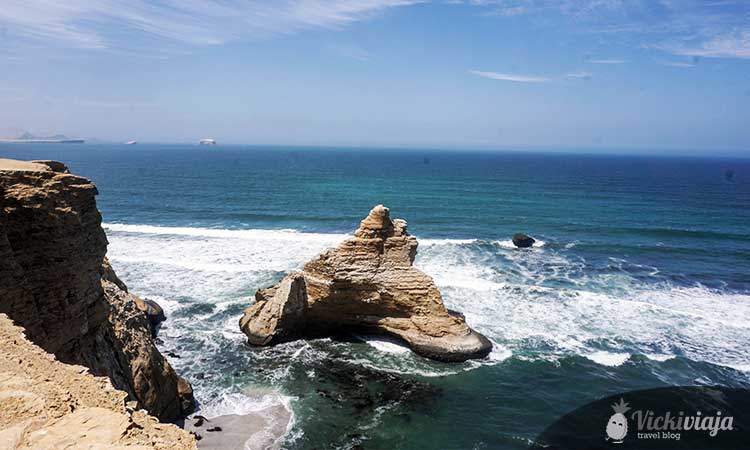 La Catedral (eng. the cathedral) is not, as you may think now, a building, but an imposing rock formation that you can admire from the Mirador. Unfortunately, a large part of it was destroyed in the severe earthquake in 2007, so that only the remains can be seen today.
A visit is worth it anyway because the view from here is simply breathtaking.
Playa Mina
Playa Mina is a very popular beach in the region. That's why you will find many locals here who enjoy the sun and the refreshing water. By the way, refreshing is a matter of definition, because the water is usually very cold. So whether you want to swim or not is entirely up to you.
However, the beach section is beautiful even without a cold bath.
Now that we have introduced you to the individual highlights of the park, let's talk briefly about how to get to the Reserva Nacional de Paracas and how to get around there.
Paracas Nationalreservat a Tour
Price for a tour from Paracas: from 40 Soles (ca. $ 12/ 11 €) + 11 Soles (ca. $ 3.20/ 2.90 € ) Entrance fee (not including lunch)
Duration of the tour: ca. 4 hours
Schedule: 11 am
Online Tour Reservation: either on-site or online here
The most popular way to see the Paracas National Park is a tour. Due to the departure time, this tour can, therefore, be perfectly combined with the Islas Ballestas tour. A minivan takes you to the most important sights in the park.
Cons of the Tour
shared with a bunch of people
no flexibility
Paracas National Reserve with driver/taxi/rented car
Duration of the Tour: Upon consultation
Price of the tour: From 120 Soles (ca. $ 35/ 32 €) per car + 11 Soles (ca. $3.20/ 2.90 €) Entrance Fee
How to book: Look for a driver on-site or check online here
If you prefer to discover the national reserve undisturbed and want to take photos without dozens of visitors in the background, you should probably opt for a private tour. You can simply hire a driver to take you to the most popular locations in the park.
Another option is to rent a car and drive on your own. While we were considering this option, later we were glad we didn't. Depending on the route, the paths can be quite narrow and sandy. In most parts, there is no paved road.
We also opted for a tour with a private driver and it was worth every penny. We had the beaches and sights all to ourselves. Only at the end of our tour did we discover the first tour mini-vans filled with tourists. And of course, all of them starting posing for the perfect Instagram picture right after leaving the van.
Benefits of going by private car
Flexibility
More time
No other tourists
The bigger your group, the cheaper it gets per person
Drawbacks of going by private car
more expensive than the tour
if you are traveling alone, you won't meet other travelers
Paracas National Reserve by bike
Duration of the Tour: Depending on your plans and fitness
Price for the bike rental: From 20 Soles (ca. $ 4.5/ 5 €) per bike + 11 Soles (ca. $ 3.20/ 2.90 €) Entrance Fee
Another possibility is to discover the national park on your own by bike. As you can imagine, it can get pretty warm and exhausting as the National Park is located in the desert. If you decide to go by bike, you should definitely start early in the morning to avoid the midday sun.
A little bit of physical fitness is also recommended. 😉
Benefits of going by bike
Flexibility
More time
No other tourists
Cheapest option
Drawbacks of going by bike
It can be exhausting
Almost no shadow within the National Park
Extra tip: Be sure to bring a good head and sun protection and stay hydrated, whether on a tour or by bike. The sun shines very strongly here.
Paracas Budget tip: Bring your own lunch box or visit in the morning. The food here in the park is not cheap.
Eat at the As de Oro Restaurant in Pisco
For fish and seafood lovers, this restaurant is a real highlight during your visit to the Pisco region. We were very surprised when we passed this huge restaurant. It somehow doesn't fit into the environment at all.
Even if the dishes here are a little more expensive, you will probably find the best quality and largest selection in the city. The restaurant is even recommended by Lonely Planet.
I highly recommend the salmon, by the way.
A trip to Ica and Huacachina
The region's next highlight is not far from Pisco: Huacachina. You can visit this small and impressive oasis town either as the main travel destination or take a day trip from Ica or from Pisco or Paracas. (If you want to stay a night and don't like to party, we recommend you to stay in Ica as the town is super touristy)
The most popular activity in Huacachina is buggy driving through the desert and sand surfing. Our personal highlight was to admire the sunset from the sand dunes.
You can either book your tour on-site or online here.
A trip to Nazca
Another famous sight in Peru is also located near Paracas: Nazca. The small town is best known for its lines that have been in the ground for hundreds of years and are remnants of ancient cultures.
Although there is a viewpoint, the best way to view the lines is from a small plane. There are lots of tours to be found. And even if this is not the cheapest activity on your trip, it is worth it.
You can book your tour to Nazca either on-site or online here.
You can visit Nazca either as the main travel destination or as a day trip from Paracas, Pisco or Lima.
Where to stay in Paracas
The best budget accommodation in Paracas
El Buen Samaritano Backpackers
Double, twin or quadruple rooms with private or shared bathrooms on the El Chaco promenade
Check Informationen, Prices, and availability here
The best hotel in Paracas
Double or twin room (with balcony) with private bathroom on the El Chaco beach promenade
Check Informationen, Prices, and availability here
The best luxury hotel in Paracas
DoubleTree by Hilton Resort Paracas
Suite with king-size bed and pool view or sea view in the 5-star resort
Check Informationen, Prices, and availability here
Check all accommodation in Paracas
Where to stay in Pisco
The best Budget accommodation in Pisco
Twin, double, quad, or family rooms 20 meters from the Plaza de Armas
Check Informationen, Prices, and availability here
The best hotel in Pisco
Queen room with sea view or garden view 30 meters from the beach
Check Informationen, Prices, and availability
Check all accommodation in Pisco
Where to stay – In Paracas or Pisco?
What many don't know is that Paracas belongs to the province of Pisco (yes, correctly recognized – the alcohol that is popular in Peru is named after this city – even though in Chile, they say otherwise). The capital of the Pisco region, Pisco, is just a 25-minute drive (approx. 20 km) from the El Chaco area in Paracas. So you can also discover Paracas while staying in Pisco.
Below you will find the advantages and disadvantages of both destinations.
Benefits Paracas
Directly on site – no transport necessary
Many restaurants, souvenir shops etc. on-site
very safe for tourists
Drawbacks Paracas
very touristy
more expensive than Pisco
it can get loud at night
Benefits Pisco
cheaper than Paracas
fewer tourists
Drawbacks Pisco
Transport with Colectivo/taxi necessary
hardly any supermarkets
Conclusion: Staying in Paracas or Pisco?
It all depends on your personal preferences. If you prefer quiet and less touristy, Pisco is the right choice. If you prefer to be right where things are going on, you should choose Paracas.
We stayed in Pisco ourselves and didn't regret it. Especially after taking a walk through the touristy Paracas, we couldn't wait to return to Pisco.
FAQ
Where is Paracas?
Paracas is located on the west coast of Peru, about 300 km south of Lima.
What is the best time to visit Paracas?
The best time to travel to Peru is generally considered to be winter (here June to September) since the country is dry at this time. However, since there is almost no rainfall in the Pisco province, to which Paracas belongs, this region can be visited well in every season, because the weather in Paracas is good in every season.
We found the spring (October / November) to be great, as the temperatures are still pleasantly mild, but not too cold. If you are looking for sea lion cubs, you should probably arrive in fall (mid-March).
Paracas Altitude
The height of Paracas is just 2 meters above sea level. Since Paracas is located on the west coast of Peru, it is not as high as many other parts of the country.
What is the Paracas culture?
The Paracas culture existed in the region from around 900-200 BC. It was only in the 1920s that finds of this ancient culture were discovered.
The so-called Paracas skull is particularly striking. The heads of this culture were deformed. It is believed that the heads of the children and adolescents were intentionally deformed in order to make the ethnicity clearly visible.
Like the Nazca culture, lines were found in the Paracas culture, like the famous Nazca lines.
---
More Peru?
Make sure to also check our following Peru articles to plan your perfect stay in Peru
Do you still have questions? Or have you been to Paracas yourself? Let us know your highlights in the comments below!
Interested in Peru?
Subscribe!
Follow my adventures and get inspired for your next trip ;). No spam!
If you want, you can read a summary of our Data Protection here:

Owner: Vicki Franz
Purpose: manage the registration to the newsletter and send periodic newsletters with information and prospective offer of products or services. Your data will be stored at GetResponse, an email marketing provider that also complies with the RGPD.
Rights: You can exercise your rights of access, rectification, limitation and deletion of data on hello@eduardosans.com as well as the right to file a complaint with a supervisory authority.
Additional Info: At https://vickiviaja.com/privacy-policy-and-disclaimer/, you will find additional information about the collection and use of your personal information, including information about access, retention, correction, deletion, security, and other topics.