Miraflores district in Peru's capital, Lima, is one of the most beautiful and popular neighborhoods among visitors and locals alike. As one of the city's most affluent districts, Miraflores exudes a unique charm. With a mix of renovated colonial buildings and an international ambiance, its popularity is hardly surprising.
Although you can already find the main sights in Miraflores in our comprehensive Lima 1-day Sightseeing Guide, we want to take a closer look at the best things to do in Miraflores here and tell you more about this great neighborhood.
Miraflores, Peru Facts
One of 43 districts of Lima
Just under 10 km² in area
Also known as the "City of Heroes" because of its history
Before being incorporated into Lima, it was an independent city
The cultural center of Lima
What makes Miraflores, Lima so special?
Today Miraflores is one of the most popular neighborhoods in Lima, the capital of Peru. Its wealth has allowed many of the colonial buildings in this area to be renovated, helping Miraflores to regain its splendor.
Before, the district was even a city in its own right, which to this day bears the nickname "City of Heroes," since it was here that the Chileans were stopped in their advance by the Battle of Miraflores in 1857. (The next day, however, Lima was nevertheless conquered by the Chileans.)
Unser Peru Video
Where is Miraflores?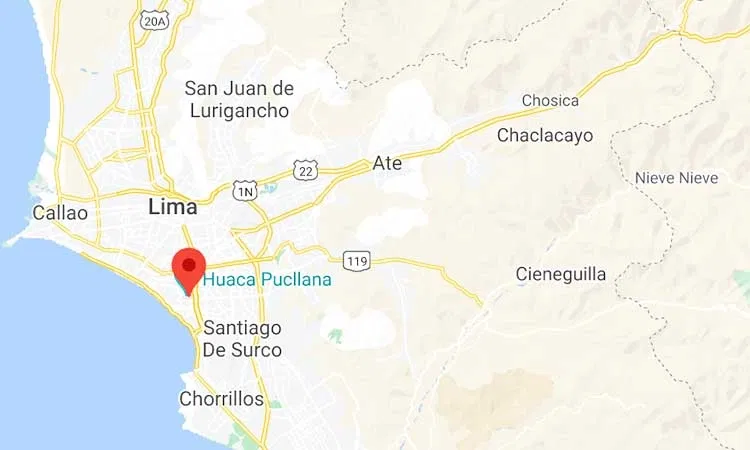 The Miraflores district is located in the southern part of Lima, about 10 km from the historic center. The neighborhood borders the equally popular Barranco district to the south and San Isidoro and Surquillo to the north. To the west, the district is bordered only by the Pacific coast.
How to get to Miraflores
Viele Besucher suchen sich Miraflores als ihren Aufenthaltsort während ihrer Reise nach Lima aus. Das liegt daran, dass Miraflores nicht nur als einer der schönsten, sondern auch sichersten Stadtteile Lima gilt. Im folgenden Teil erfährst du also, wie du vom Flughafen, bzw. aus dem historischen Zentrum Limas aus nach Miraflores gelangst.
Micros & Combis
The cheapest option to get to Miraflores from other parts of Lima are the so-called micros and combis. However, these are probably also the most chaotic option.
First of all, you need to know exactly which direction to go. The buses have the individual areas that are being served printed on their windshields and sides. So look for one that says "Miraflores."
Actual bus stops ("Paraderos") do exist, but you can also stop the small transports on the street as they slowly pass you looking for more customers. An employee stands at the door and shouts loudly that there are still free seats.
A ride will cost you about one sol, depending on the length. If you want to get off, just let the employee know by calling out loud, "Baja." It may be helpful to check Google Maps or Maps.me (it works offline!) to find out exactly where you are so you don't miss your destination.
Metropolitano
In Lima, you can also find big buses. The big advantage is that this type of bus has its own roads, so it arrives at its destination a lot faster. The Metropolitano bus also costs a little more than the Micros & Combis.
Another big disadvantage of the Metropolitano is that they tend to get extremely crowded, so it can get pretty cramped inside. Make sure to take good care of your valuables. Indeed, an elderly lady pulled Eduardo's smartphone out of his pocket as he was boarding (we got it big in the end, but this is a story for another time).
To use the Metropolitano, you'll need to buy a card at the counter and charge it with a few soles. If you're not sure how much to pay, just ask the employee at the information desk how much your ride (+return) will cost.
Metro
For a few years, Lima even has a metro (subway). However, so far, there are not a lot of stations to choose from. Lima's subway is also extremely crowded, and you may have to wait for a long time to squeeze into one of the cars.
You'll also need a rechargeable card for the metro, which will cost you 5 soles. A one-way ticket costs 1.5 soles. For more information on stops, check here.
Taxi & Uber
Another option is to use cabs, Uber, and the like to get to Miraflores. Especially if you're coming from the airport, this seems to be probably the safest method. The prices are quite reasonable by Western standards.
Just find out the approximate price of your ride online or by contacting your accommodation before you arrive. Foreigners here otherwise have to pay many times the local price.
The best things to do in Miraflores, Lima
Huaca Pucllana
Opening Hours Huaca Pucllana: Wed-Sun: 09 am – 5 pm; Mondays closed
Entrance Fee Huaca Pucllana: 15 Soles (ca. $ 4/ € 3.5)
Opening Hours Night Entry Huaca Pucllana: Wed-Sun: 7 pm – 10 pm
Entrance Fee Night Entry Huaca Pucllana: 17 Soles (ca. $ 4.5/€ 4)
Did you know that right in the center of Miraflores there is a pyramid whose construction dates back to the 5th century? Huaca Pucclana or Huaca Juliana is a temple pyramid made of adobe. This unique structure dates back to the lima culture that once lived here.
It is believed that the pyramid has been built between 200 – 700. Huaca Pucllana's adobe stones were built on top of each other up to a height of 25 meters. A really impressive size.
Although the information panels are only in Spanish, recreated everyday scenes around the pyramid give you a great insight into ancient Lima culture.
The pyramid may only be entered with a tour guide, but this service is included in the entrance fee.
Parque Kennedy – Central Park
Opening Hours Kennedy Park: all around the clock
Entrance Fee Kennedy Park: free of charge
Located in the center of Miraflores, Parque Kennedy is one of the most popular green spaces in the city. Named after former U.S. President John F. Kennedy, this park is perfect for taking a little siesta in peace and quiet.
Kennedy Park is one of the two parts of Miraflores Central Park separated by a street. The other part of the park, by the way, is called Parque de 7 de Junio (7th of June Park).
What makes this park so special is that, in addition to the Virgin Milagrosa Church and the City Palace, it's also home to dozens of cats that make themselves comfortable in the shade or romp through the green spaces. So if you're a real cat fan like us, you definitely shouldn't miss a visit to Miraflores Central Park.
If you get hungry, you can find delicious snacks and typical Peruvian dishes, but also international ones, either at one of the many stalls in the park itself or at the restaurant located around.
The Malecón of Miraflores
If you've ever been to one of the coastal cities in Latin America, you may have heard of the term malecón. This is a type of stone seawall that runs along the coast. Miraflores also has such a malecón and it is considered one of the most beautiful sights in all of Lima.
Whoever walks along the Malecón strolls from one park to the next, so that one is constantly surrounded by well-maintained green space. The most famous of these are Parque del Amor, Parque Salazar, Parque Antonio Raimondi, and Parque Miguel Grau.
While walking along the Malecón of Miraflores, you can experience a breathtaking view of the Pacific Ocean, which you can hardly find in any other place in Lima. In the following section, we would like to take you to the most beautiful attractions of the Malecón of Miraflores.
Faro La Marina
Faro de Marina is considered the most visited lighthouse in all of Peru. Hardly surprising when you see what a beautiful picture the lighthouse de Marina makes.
With its blue and white striped color, the tower, which is about 21 meters high, is not only a great photo motif but also a popular picnic spot for locals and visitors. The tower has been here since 1900 and has since become one of the most popular meeting places on the Malecón.
Parque del Amor
Probably the most impressive green space along the Malecón is the Parque del Amor (Engl. Love Park). In the center of this park is the approximately three-meter-high statue El Beso (Engl. the kiss) by designer Víctor Delfín.
But the park is not only a great place for lovers to relax, but it also offers a killer view of the sea. Especially during the warm months, a whole lot of people flock here to enjoy the sun or take photos of the popular kissing statue.
Around the statue, you can find lots of small walls decorated with a colorful mosaic. The design reminded us almost a bit of the famous mosaics of our hometown Barcelona.
Larcomar
Opening hours Larcomar: 10 am – 10 pm
One of the most popular viewpoints of Malcón is the shopping center Larcomar. But not only the classy view attracts numerous visitors every day, but of course also the shopping opportunities.
Moreover, Larcomar also offers many great opportunities for culture and entertainment. Whether it's a restaurant, bar, cinema with English and Spanish movie options, bowling center, pool tables, video games for children, or numerous stores – you certainly won't get bored in Larcomar.
Paragliding
If instead of a relaxing walk, you're in the mood for a little more action, you also have the opportunity to try paragliding at the Malecón. Along the way, numerous providers are waiting to throw themselves off the cliffs with you.
The most popular paragliding drop zone is located in Parque Antonio Raimondi. Paragliding is also suitable for complete beginners, as you will be strapped in with an experienced paraglider during a tandem flight. The flight then takes about ten minutes and costs around 260 soles (about $ 70/€ 60).
If that's not enough, you also have the option of taking a paragliding course that lasts several days.
Costa Verde
As the only coastal capital in South America, Lima is particularly proud of its direct connection to the sea. The stretch of coast we've already looked down on from Malecón in Miraflores is called Costa Verde (Eng. Green Coast).
Especially during the summer months (December – April), the beaches of Costa Verde are particularly popular. However, this part of the coast is less suitable for relaxed splashing. The water here is quite cold all year round, and there is a strong current. If you are looking for a more relaxed beach to swim in, you can make yourself comfortable about 40 km further south at the beach of Ancón.
It is precisely this strong current, however, that Lima's surfers take advantage of. Because the Costa Verde is just perfect for all surfers and those who want to learn how to surf.
Museums in Miraflores
If you are more into a bit of culture, you can, of course, visit one of the museums in Miraflores. Although a much larger percentage of museums tend to be located in the historic center of Lima, there are a few opportunities to visit a museum in Miraflores as well. However, if you want to take advantage of the museums Miraflores has to offer, you should probably speak Spanish.
El Lugar de la Memoria (LUM)
Opening Hours LUM: Tue – Sun: 10 am – 6 pm
Entrance Fee LUM: free of charge
El Lugar de la Memoria, la Tolerencia y la Inclusión Social (Engl. the place of memory, tolerance, and social inclusion), LUM for short, is a museum that deals mainly with human rights and violent activities between 1980 and 2000. Here you can learn more about terrorist activities and violent crimes in Peru. However, the information exhibited here is only available in Spanish.
Textilmuseum Amano – Museo Textil Precolombino
Opening hours Textil museum: temporarily closed
Entrance Fee Textil museum: 30 Soles (ca. $8/€ 6,50)
If you are interested in the history of textile production in Peru and South America, the Amano Museum is the right place for you. Because here you can learn a lot about the ancient textiles from Peru in various exhibitions and even admire some antique exhibits.
Shopping in Miraflores
After seeing the most important Miraflores sights, some visitors are drawn to the city's many stores. We have already introduced you to the popular shopping center Larcomar. But Miraflores is also known for its original gift and handicraft stores, where you can get some specialties and unique souvenirs.
Where to eat in Miraflores
La Lucha
On many travel blogs and forums, the Peruvian sandwich chain La Lucha is highly praised. Of course, we had to try the food here once when we were in Miraflores. In total, two of the restaurants are located in Miraflores. One is located at Kennedy Park, while you can find the other branch at the Larcomar shopping center on the Malecón.
Personally, I must admit that the food here did not convince us 100 %. It was definitely good, but not too exceptional to our taste.
La Vista
One of the most popular restaurants in Miraflores is La Vista. The name says it all. The restaurant convinces with a brilliant view from the Malecón directly to the sea. A specialty of La Vista is fish and seafood dishes.
Panchita
The Panchita restaurant is also popular with residents and visitors alike. Here you can expect typical Peruvian dishes.
Miraflores at night
As in other cities in South America and Lima, you should be careful when going out at night. Although Miraflores and the neighboring district of Barranco are considered the safest districts in the city, you should never be out alone at night and try not to leave the main streets.
Also, to be on the safe side, use cabs or Uber at night instead of walking back to your accommodation in the dark.
Mercado No. 28
The popular market in Miraflores is a great place to eat, especially in the evening. You'll find everything from pizza to sushi to Peruvian specialties. You can also enjoy a cold beer or a pisco sour, the Peruvian national drink.
Where to stay in Miraflores
Miraflores is one of the most popular places for visitors to Lima, not only during the day but also at night. This is mainly due to the fact that this district of Lima is classified as particularly safe. So it is natural to look directly for accommodation in Miraflores.
Best budget accommodation in Miraflores
Dragonfly Hostels Miraflores
This popular hotel is located only about 300 meters from Kennedy Park in Miraflores. It offers clean private rooms with shared or private bathrooms in a family atmosphere.
Check more info, prices, and availability of Dragonfly Hostels
The best accommodation in Miraflores in the mid-pricerange
Selina Miraflores Lima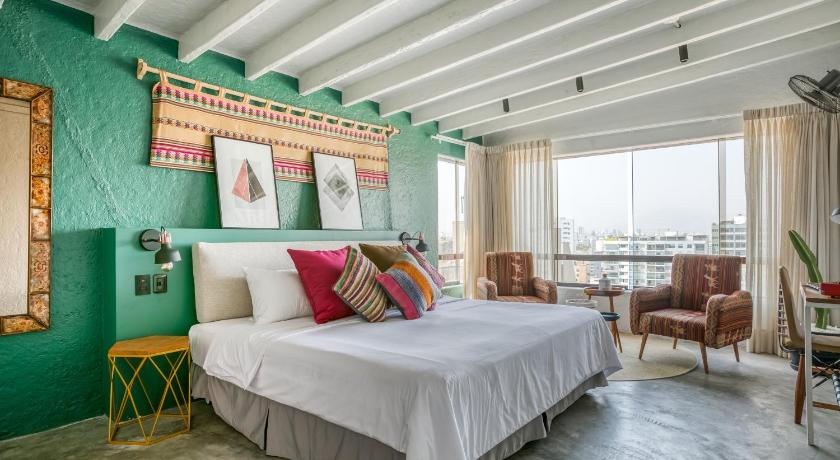 The 3-star Hotel Selina Miraflores convinces especially with a great location and exceptional value for money. The hotel offers private rooms of different sizes with shared or private bathrooms. It is located about 300 meters from Kennedy Park.
Check more info, prices, and availability of Selina Miraflores
The best luxury accommodation in Miraflores
Hotel Boulevard
The 4-star luxury Hotel Boulevard is quietly located 600 meters from Republica Square. It convinces with outstanding service and is, therefore, one of the best-rated accommodations in the city. There are several rooms with a view and a good breakfast and the use of the outdoor pool and gym are included for guests.
Check more info, prices, and availability of Hotel Boulevard
All accommodation in Miraflores
Check all accommodations in Miraflores
FAQ about your visit in Miraflores and Lima
How many days to spend in Lima?
We recommend you to take at least one full day for sightseeing in Lima. Around 3 days in the Peruvian capital are probably the best.
Is Miraflores safe?
Miraflores is considered one of the safest districts in Lima. Nevertheless, you should take good care of your valuables and it is best not to walk around alone at night.
Can I drink the tap water in Lima?
You should never drink tap water in Peru, as it contains many harmful bacteria. Drink only filtered, boiled, or bottled water.
What districts in Lima should I visit besides Miraflores?
In addition to Miraflores, we highly recommend a visit to Barranco and the historic center of Lima.
What currency is used in Lima?
In Lima, as in the rest of Peru, payment is done in Peruvian soles. One euro is equivalent to about 4.4 soles while one US-dollar equals around 3,8 soles.
---
Interested in Peru?