The Galapagos Islands were an absolute highlight of our 5-month trip to South America. Here you can discover flora and fauna that cannot be found anywhere else in the world. No wonder Darwin was inspired to come up with his evolution theory in this extraordinary place. But did you know, it's totally possible to see the Galapagos Islands without a cruise as well?
In this article, we have put together a practical Galapagos itinerary that will allow you to discover the breathtaking Galapagos Islands by land. This travel itinerary contains the main sights to see in the Galápagos Islands in 10 days (or more) with many exciting alternatives.
Galapagos Islands Facts
Consist of approximately 130 islands
Located in the Pacific about 1000 km/ 600 miles from the mainland of Ecuador
Covering an area of 8,010 km²
The islands were named after the Galapagos tortoise resident there
Part of the UNESCO World Heritage since 1978
Discovered by the Spaniards in 1535
Where are the Galapagos Islands?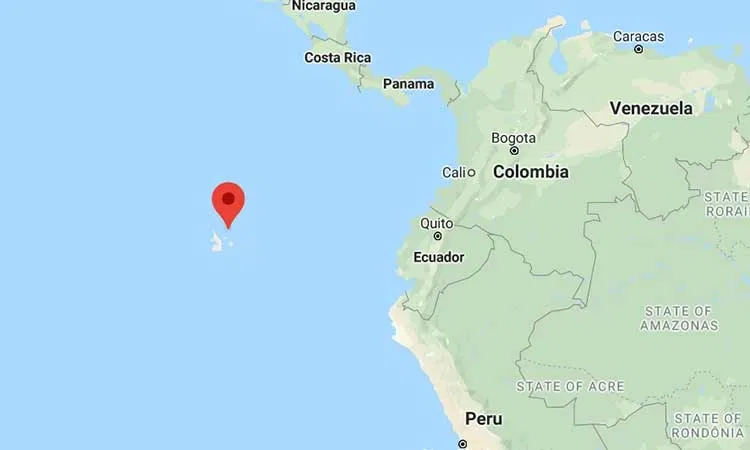 The Galapagos Islands are part of Ecuador and are located approximately 1,000 km (ca. 600 miles) west of the mainland in the Pacific Ocean.
Our Galápagos Video
How to get to the Galapagos
The Galapagos Islands can only be reached by plane. Even if you're visiting the islands as part of a cruise, you'll still need to travel by plane.
Direct flights are only available from the Ecuadorian cities of Guayaquil and Quito. (Although many flights from Quito stop in Guayaquil.) It is worth booking a few days/weeks in advance to save some money.
You can usually find the best flight deals with Skyscanner.
How to get around the Galapagos
Various means of transport are available to get you from A to B on-site. On the islands, you can either take a taxi or a water taxi to get to your desired destination.
You can also rent bicycles or kayaks.
You can cross between the islands (Santa Cruz, Isla Isabela, San Cristóbal and Floreana) with a ferry. The ferries cost around $ 30 and always run between Santa Cruz and the respective islands. (So if you want to go from Isabela to San Cristóbal, you have to go back to Santa Cruz first).
Galapagos Itinerary (10 Days)
Author's note: The following Galapagos Islands itinerary is designed for 10 days. However, depending on the length of your stay, you can adjust it by adding some of the listed alternative attractions or by omitting other attractions or Galapagos activities. This Galapagos itinerary focuses primarily on marine life. If you are more interested in birds, hiking, or the beach, you can exchange and adapt the experiences according to your preferences.
Galapagos Travel Itinerary – Day 1
Flight to the Galapagos Islands
Before proceeding to check-in, you must first acquire a transfer permit for $ 20. Here you have to enter your data (name, passport number, etc.) and how long you want to stay on the islands. Then you need to go to the baggage screening. (You cannot bring any kind of fruits, plants or veggies). Only after this procedure, you are allowed to check-in your luggage at the counter as usual.
Arriving in Galapagos – Isla Baltra
Finally, you are here. Of course, you certainly want to get started right away and see all the incredible things that can be discovered on the Galapagos Islands with your own eyes. But first, there are a few kilometers between you and Puerto Ayora, the city of Santa Cruz.
However, before you can leave the airport and pick up your luggage, an admission fee of $ 100 will be charged (for locals in Ecuador, it is only $ 6)
From the Airport Isla Baltra to Puerto Ayora (Santa Cruz)
Bus to the port
Cost: $ 5
If you haven't booked a fixed tour that picks you up from the airport, you must first take the bus from the airport to the port (Itabaca Channel). The journey takes about 5 minutes.
Getting to Isla Santa Cruz
Cost: $ 1
After arriving at the small port of the Itabaca Channel, you have to take a small ferry to the other side, Santa Cruz. The crossing costs you $ 1 and takes only a few minutes.
By Taxi or Bus to Puerto Ayora
Costs Bus: $ 5 per Person
Costs Taxi: $ 25 (for up to 4 people)
When you finally arrive in Santa Cruz, you have two options. From here you can either take the public bus, which costs $ 5 per person. Although the bus is cheaper, it stops at every small bus stop on the way, so the journey takes a lot longer than by taxi. The second option is to take a taxi.
Galapagos travel tip: If you are traveling alone or as a couple, try to team up with 2-3 other passengers and take a taxi. So you arrive at your accommodation much faster and more comfortably.
If you choose a taxi, you have two options:
– Either drive into the city and check-in at your accommodation, relax a little or eat something before continuing
– Or go to our first activity directly from the port. So you can negotiate a price with a taxi driver of about $ 50 to drive you to El Chato/Primicias and then to your accommodation. This way, you can save about $ 15.
Visit the Galápagos tortoises in El Chato/Rancho Primicias
How to get to El Chato: By taxi from Puerto Ayora (approx. $ 40) or the airport (Baltra) (approx. $ 50 (including the ride to Puerto Ayora) or by bike from Puerto Ayora (approx. $ 15 per day rental)
Admission fee El Chato: $ 5
El Chato opening times: 8 am. – 5 pm.
Approximate length of stay: approx. 50 minutes
Author's note: To be honest, the El Chato/Primicias reserves hardly differ from each other. They have the same entry price and offer the same experience. You only need to visit one of the two facilities. El Chato is often visited in conjunction with the Lava Tunnel, while Primicias is said to be less touristy.
What are the Galapagos Islands famous for? – Exactly, for its giant tortoises. That's why we wanted to visit them on our first day on the island. El Chato is not, as some might suspect, a zoo, but the natural habitat of the giant tortoise.
After you have picked up a pair of rubber boots in your size (in muddy conditions – included in the entry price), you will walk on a circular route through the reserve. Along the way, you will always come across the tortoises that are grazing peacefully. Some of the turtles can look quite impressive with their size, but they are absolutely harmless.
Nevertheless, you should keep a distance and never touch the animals – after all, they are wild animals.
The walk through El Chato or Primicias is highly recommended and a real must-do for all visitors to the Galapagos Islands. It is awe-inspiring to see these giant creatures grazing in the wild.
At the end of the circuit in Primicias, you'll find two tortoise shells that you can climb into to find out what it feels like to be a tortoise. Or just for a funny souvenir photo.
Option: Lava Tunnels
If you still have energy and time left, you can also visit the lava tunnels, which are near the two giant tortoise reserves.
The tunnels were formed, as their name suggests, through the flow of hot lava. Even today, they run through Santa Cruz for miles. Whether you just take a look inside or take a longer walk is entirely up to you.
The best Accommodation in Santa Cruz
Hostal La Mirada del Solitario George
This hostel is considered one of the best-rated accommodations on the island by guests. The 3-star accommodation offers deluxe and economy rooms of various sizes. Well located, all of the sights in Puerto Ayora can be reached relatively quickly.
All rooms are equipped with a private bathroom, a bath and a shower, and air conditioning.
Check Prices, Information, and availability here
Check all accommodation on Galápagos
Best Budget Accommodation in Santa Cruz
You can find the best Budget accommodation on Airbnb.
Look for accommodation in Puerto Ayora with Airbnb
Galapagos Islands by Land – Day 2
Today we want to start our day smoothly. Sleep well, rest a little, and enjoy a delicious breakfast.
Book your tour
The morning is at your leisure. Walk around and get to know the islands. We spent our first morning visiting various travel agencies on the island and inquiring about the different tour options on-site. Although the tours offered are basically the same, prices, service, and comfort of the tours can differ significantly.
The destinations can also differ (slightly) depending on the agency. It is therefore helpful to check the precise information about the transport (size and equipment of the boats), the meals included, the duration of the tour, the destinations and equipment included (e.g., wet suite, snorkeling equipment, etc.)
The Fish Market of Puerto Ayora
While strolling through the streets of Puerto Ayora, you should definitely stop at the fish market. In addition to freshly caught fish, there is one thing above all: hungry sea lions hoping for a few falling fish. The perfect place to take a close look at these cute fellows. But you can also meet some pelicans here. They, too, are waiting for a piece of fresh fish.
Warning: the fish market closes on Sundays.
Charles Darwin Research Station
Charles Darwin Research Station Opening Hours: 7:30 am – 12:30 pm; 2 – 5.30 pm
Admission fee Charles Darwin Research Station: free of charge
The Charles Darwin Research Station is the perfect start for your trip to the Galapagos Islands. Here you can learn more about the giant tortoises that make the island so famous. But there is also some information about the birds and other species on the island and of course about Darwin himself, who did his research on evolution here.
Galapagos Extra Tip: Be sure to bring your passport with you when you visit Darwin Research Station. Because here, you can get a stamp of the Galapagos Islands.
Playa de la Estacion
After spending some time in the warm Ecuadorian sun, it's time to cool down. Right next to the Charles Darwin Research Station is a beach that invites you to take a first bath/snorkel trip.
In the clear water, you can spot some tropical fish and rays.
Galapagos tip: Swim along the line of stones a little further from the beach. Here you have not only a better view but also a lot fewer people and therefore more chances to discover a few underwater inhabitants.
Day 3 Snorkeling Trip to Pinzón
Tour duration: approx. 8 hours
Price: from $ 100
Our absolute highlight during our time in Santa Cruz was our snorkeling trip off the coast of Pinzón. Each provider has its route, but basically, the tours are all very similar to each other.
The tours usually include all of your snorkeling equipment, snacks, drinks, lunch, transportation, and a guide. Depending on the trip, snorkeling takes place at two different locations: off the coast of Pinzón and another area on the way there. The most popular of these are La Fe, Las Palmitas, and Roca Sin Nombre. The guides might fish while being on the way. Some tours prepare the caught fish as lunch for the tour participants on-site.
Galapagos tip: If you are prone to seasickness, you should take a pill to treat motion sickness before the boat trip (approx. 1 hour – 30 minutes before the start of the tour). Either take a tablet from home (that doesn't make you tired!) Or get an Anautin on-site in a pharmacy. This pill was recommended to us by various tour agencies and helped me a lot, as it can get a bit shaky, especially when getting ready or eating on the boat.
Extra tip: Of course, the travel pill doesn't last forever. It is advisable to take a second tablet after a while (e.g., at best after lunch).
Snorkeling in La Fe
Our first stop during our tour was La Fe. The view of the water was not overly pleasant. There were a lot of fish to see, but nothing to knock my socks off. (However, I have to admit that after various snorkeling tours and diving trips in Asia, I am quite spoiled when it comes to seeing exotic sea creatures.)
We swam to the coast – at low tide the way there can be quite narrow in some places because there are many stones on the ground. From there, we took a short walk to see the crabs and marine iguanas on the island.
On the way back to the boat, we could even spot a shark that made its rounds nearby.
Pinzón
The next stop on our tour was Pinzón. When we arrived, we could see the first sea lions playing in the water. Just unbelievable! The water is crystal clear, and there is an (almost) perfect view.
In the water, you can discover all kinds of underwater creatures. In addition to sea lions (our absolute highlight!), You can spot sharks, sea turtles, rays, and a whole lot of exotic fish in the water.
Even as a spoiled snorkeler, this tour was clearly one of the most unique that I have been able to join so far. Even though the tour isn't exactly cheap (like every tour in the Galapagos Islands), we think it's worth every penny.
1835 Café Lab
After getting up so early today and spending half the day in the water, you need a delicious coffee. But no need to look for long, you can find the best coffee on the whole island in the Café Lab. Designed in Darwin style, there you'll have fresh coffee directly from the Galapagos Islands.
The selection is vast – get advice and find the perfect coffee for your taste. Even non-coffee drinkers will find a fit here. The ice-cold fruit juice was also delicious.
Galapagos without a cruise – Day 4
Sunrise in Playa de Los Alemanes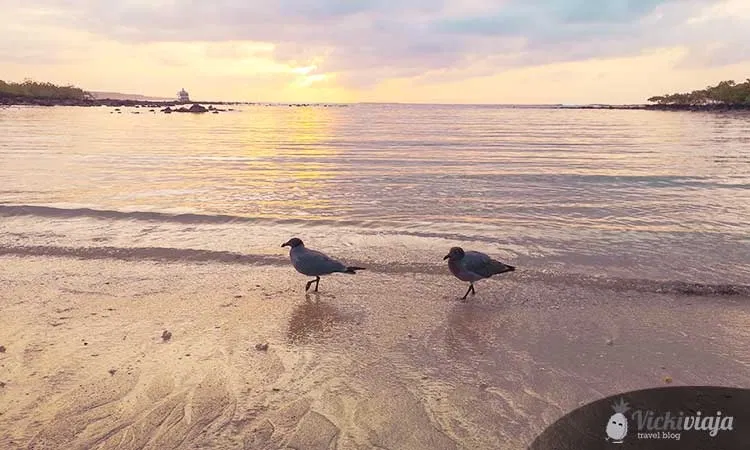 As it is well known, the early bird catches the worm.
Water taxi: $ 1 (before 6 am), $ 0.80 after 6 am
Playa de Los Alemanes and las Grietas are two of the most popular sights on the island. If you want to enjoy these two places without the annoying crowds of tourists, we recommend you to come here at sunrise.
Take a water taxi from the port at around 5.45 am so that you will be at Playa de Los Alemanes around 6 am – just in time for sunrise. At this time, you don't usually meet a human soul here. Enjoy the magnificent sunrise, and follow the path to Las Grietas afterwards.
Las Grietas
One of the most beautiful places in Santa Cruz – unfortunately, this is not an insider tip. If you follow our suggestion and arrive early in the morning, you have this fantastic place all to yourself. Enjoy the cool water, take some extraordinary photos, and be on your way back as soon as the first tourist groups arrive.
Extra tip: It is worth bringing your snorkeling goggles (if you have one). There are a few big and brightly colored fish here. Before the water is full of people, you have a great view.
Alternative: If you visit Las Grietas later when the water is already full of people, you have the opportunity to climb over the stones to another bay. But it can get slippery, so it's best to wear swimming shoes.
Tortuga Bay (Bahía Tortuga)
How to get to Tortuga Bay: approx. 1-hour hike from Puerto Ayora
If you don't want to do without a dreamy beach when visiting the Galapágos Islands, you shouldn't miss Bahía Tortuga, the turtle bay.
Be sure to take plenty of water with you, as it can get warm on the 1-hour hike here. But there are also plenty of exotic birds to spot along the way.
Once you've arrived, a wonderful beach is waiting for you. Tortuga Bay is not great for swimming. But you can find a little bay near to it for swimming. Anyway, you most probably will be able to see the marine iguanas swimming and warming-up afterwards on the beach.
Purchase your ticket to Isla Isabela
The next day we want to set off to discover another incredible Galapagos island. Theoretically, ticket prices should be the same all over the island – but in practice, they might differ. We paid $ 25 for our ticket to Isla Isabela. There is also the possibility of buying a return ticket directly.
You can find the tickets either directly at the port or in one of many travel agencies on the island.
Have a dinner Galápagos Style
We recommend that you eat at the night market at least once during your stay in Santa Cruz. One of the streets in the center is closed to motorists and instead is filled with chairs and tables. On a long table, the restaurants located here offer you great food.
Especially fans of fresh fish and seafood can find delicious dishes here at a relatively low price. How about e.g., with lobster in coconut sauce or freshly caught fish from the grill? (both dishes cost around $ 15)
Galapagos tip: There has been an ATM on Isla Isabela for a short time, but it doesn't always work. So make sure that you have enough cash with you (tours and accommodation must usually be paid for in cash).
Alternatives in Santa Cruz
Playa El Garrapatero
This beach is located a little further outside of the city but, therefore, less visited. It's best to rent a bike or e-bike to visit this beach. You can also take a taxi. There are better places to snorkel on the island, but the beach itself is worth it – comparable to Tortuga Bay.
Laguna Las Ninfas
This lagoon is perfect for anyone looking for a quiet nature walk. On a wooden walkway, you walk through the mangroves, and you can spot some birds, rays, or even turtles. You cannot swim here, though.
Los Gemelos
Also known as the twin crater of Santa Cruz, these deep pits are another popular attraction on the island. If you want to discover the Gemelos, it is best to make a stop here when you arrive from Baltra airport, as they are located directly on the route to the city.
In addition to beautiful nature, there are a lot of local bird species to discover on this hiking trail.
Day 5 Boat Ride to Isla Isabela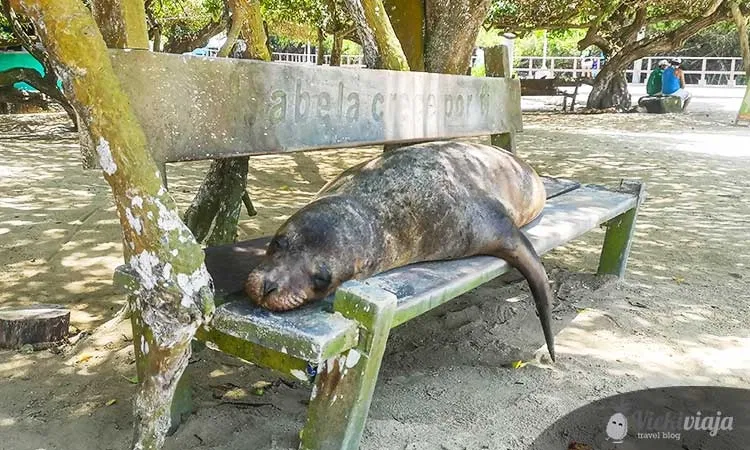 Travel time: approx. 2 hours
Travel expenses: approximately $ 25 + $ 10 entrance fee to Isla Isabela
Galapagos tip: If you are prone to seasickness, you should definitely take a pill for motion sickness before traveling between the islands. To do this, either bring your tablets from home or buy Anautin on-site (4 pills cost around $ 1).
You can take the boat from Santa Cruz to Isla Isabela twice a day. The ride can be a bit shaky and annoying (there isn't really anything to see besides water)
Extra tip: It is best to bring a hat and a cloth/jacket, as the sun may shine on your skin/your head depending on the boat and the seat you choose.
The best accommodation in Isla Isabela
This well-rated property is just a short walk from the port. Many of the spacious rooms overlook the courtyard. The owner of the accommodation remains a positive memory for many guests. There is also a private bathroom and a shared kitchen.
Check Prices, Information, and availability here
We particularly liked the hammocks in this lounge area. The owner built many parts of the building himself, and we loved it. We also enjoyed our spacious room. There was enough space, and the air conditioning was just what we needed after a day in the hot sun of the Galapagos. The rooms are equipped with a private bathroom.
Check Prices, Information, and availability here
Check all accommodation on Galápagos
Look for accommodation in Puerto Villamil with Airbnb
From the port to the town
Depending on your chosen accommodation, it is around 1 km to the town (Puerto Villamil). You can either walk or take one of the (shared) taxis that are already waiting at the port. Taxi fare is $ 1 per person.
Book your tour
And again, it's time to compare offers. In Isabela, we also recommend that you not only pay attention to the price when booking but also what is included in the tour. Pay particular attention to the type/size of the boat, including meals/snacks, included drinks, towels, snorkeling equipment, photos of the tour, etc.
We chose the tour agency Pahoehoe and can recommend the service of the tours and the staff with a clear conscience.
Day 6 Los Tuneles
Tour duration: approx. 5 hours
Tour cost: from $ 100
The tour to the Tuneles is another real highlight of the Galapagos Islands that you shouldn't miss. Depending on the provider, the tour includes a walk and two snorkeling stops.
With a bit of luck, you can spot some unique animals in the sea on the way. Our first short stop was at La Unión rock. This rock is a popular place for seals and Nasca boobies. After a few rounds and time to take photos, we went on to the Tuneles.
Once there, we were allowed to climb on the front part of the boat to enjoy the breathtaking view. A short time later, it was time to get off the boat and discover some of the many blue-footed boobies in their natural habitat. The blue-footed boobies were just beginning to breed (mid-March) and so we were able to spot blue-footed booby pairs during their mating dance, as well as young boobies in their natural habitat.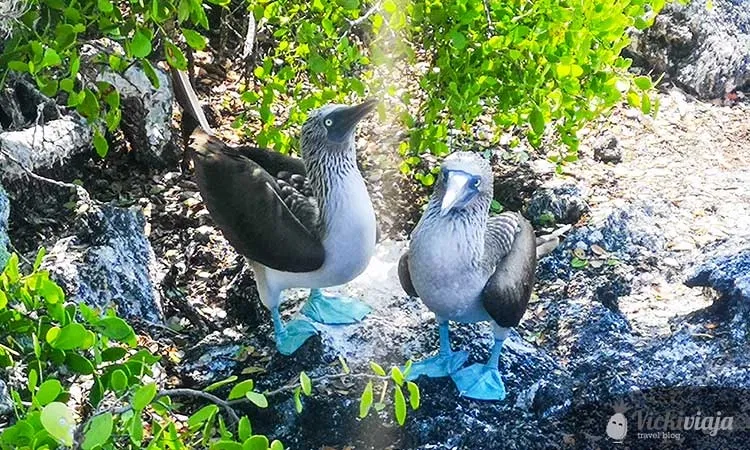 Then we went on to our first snorkeling destination. Even though there was not a lot of marine life to be discovered here, the landscape in which we went snorkeling was all the more beautiful. Despite everything, we were able to spot one or two turtles or rays.
At our second stop, it looked very different. We saw a whole host of impressive turtles swimming, sleeping, and eating. You can also spot Galapagos sharks and a variety of tropical fish here.
A real highlight is the seahorses, which you might be able to find in the shallow water. With a little luck, you can even swim with penguins here. Unfortunately, we were not so lucky during our tour.
Galápagos without a cruise – Day 7
Las Tintoreras Kayak Tour
Tour duration: approx. 2 hours
Tour cost: from $ 40
The Las Tintoreras kayak tour is also highly recommended. And it became one of my favorite trips in the Galapagos Islands (I know, I say this about almost every tour we took there).
Don't get me wrong, Eduardo and I didn't precisely discover our love for kayaking on this tour (rather the opposite). Instead, we were lucky enough to see penguins up close (how cool is that ?!)!
But let's start from the beginning. Your tour begins on the beach next to the port of Puerto Villamil. Anyone who has never kayaked before will get a brief introduction. But don't worry – this tour isn't challenging, and it's not exhausting in the first place.
So let's get started. Follow your tour guide's kayak to the Tintoreras, which are not far from the coast. You can spot turtles, baby sharks, and rays in the shallow water on the way there.
If you are lucky, you will see penguins at the Tintoreras. Of course, these are wild animals, which is why there is never a 100% certainty that you will actually meet them. First of all, we couldn't find any penguins either.
I have to admit there definitely was some disappointment after we didn't see any penguins waddling around the Tintoreras. The penguins were the main reason why we signed up for the tour.
And then finally, when we got ready for a snorkeling session in the cold-ish water on our kayaks, we saw him: a little penguin that was swimming in the water right in front of us. I couldn't have been happier.
But there were also some rays, iguanas and a shark swimming through the Tintorera island.
On the way back, when the harbor was already in sight, the real highlight of our tour happened. One of the penguins started swimming between our kayaks and stretched out his head out of the water from time to time. It came so near that we could have even touched it. It almost seemed as if he was enjoying our attention.
A few seals also joined us and dived between our boats—a real Galapagos highlight.
Tintorera's tour tip: In any case, let your tour agency give you a wetsuit. Not only because the water here can be pretty cool, but also because you spend the whole time in the sun without any shade. The sun here so close to the equator is a lot stronger than we are used to from Europe.
Playa de la Concha
After the end of the tour, we were allowed to take our snorkeling equipment free of charge to the neighboring Playa de la Concha for the rest of the morning. This place is also absolutely worthwhile for a small snorkeling tour. And the best? Snorkeling here is absolutely free and within walking distance (you only need snorkeling equipment).
You can spot lots of fish as soon as you dive into the water. While swimming around, we could not only observe a massive shoal of probably several thousand fish, but also a whole bunch of sharks that swam their rounds through the fish.
Really impressive! Depending on the time of day and season, various marine animals are sighted here. Some even tell of penguins.
Discover Flamingos in the Flamingo Lagoon (Posado de Flamengos)
Entry fee: free of charge; bike rental: around $ 15 per day or taxi: around $ 10
If you want to discover Galapagos flamingos, this is the right place to visit. Depending on where the animals are in the shallow water, you can take breathtaking photos here.
Pozas Salinas de Puerto Villamil
Entry fee: free of charge
On the way back, you should definitely stop here and take a little walk over the wooden footbridge. In addition to some flamingos, you can discover all kinds of exotic birds.
You will also be able to watch some iguanas sunbathing here.
Alternative activities in Isla Isabela
Volcano Sierra Negra
The Sierra Negra volcano, with a diameter of around 11 km, is one of the largest craters in the world. It can be visited on various tours and hiking trips. At 1,100 meters height, its size is quite impressive. No wonder that a hike takes an average of 6 hours here.
If you have always wanted to climb an active volcano, you should definitely visit Sierra Negra.
Chico Volcano
Anyone visiting Sierra Negra can combine this activity due to its proximity. Volcán Chico is a collection of smaller volcanoes. The biggest highlight of a visit is the excellent view of the island, which you can enjoy here.
El Muro de las Lágrimas – The Wall of Tears
Another popular Galápagos attraction is the Muro de las Lágrimas. If you are not only interested in the beautiful nature and breathtaking wildlife, but also the history of the island, you should definitely visit this place.
After the Second World War, this 25-meter high wall was built by prisoners. Many workers died in its construction. For this reason, the wall is said to be surrounded by strange energy until today.
The best way to get to the wall of tears is by bike. The journey takes about 1 – 1½ hours.
Arnaldo Turpiza Breeding Station
Those who haven't had enough of the giant tortoises in Galápagos will love this facility. With a trained eye, it can be seen that the tortoises are other species than those on Santa Cruz and San Cristóbal – namely turtles that can only be found on Isla Isabela.
Day 8 – Going to San Cristóbal
Day 8 of our trip will be anything but exciting because we are going to San Cristóbal. Unfortunately, there is no direct connection between the islands, so a stopover in Santa Cruz is necessary.
So today, it is time to get up early because you have to be at Isabela port by 5 am with most providers. You will reach Santa Cruz at around 8 am.
Enjoy a big breakfast and a delicious coffee while waiting for your boat to San Cristóbal. This one leaves the port of Santa Cruz at 1 pm so that you will arrive in San Cristóbal around 3 pm.
After such a long day of traveling, you might be a little tired. After checking in, you can lie down for a bit of a nap. Or discover the port of San Cristóbal on a walk.
Book your tour
Until 6.30 pm you also have time to visit the various tour agencies and choose a suitable one for your tour tomorrow. We decided to go with I-Galapagos (near the port) and were more than satisfied. The guide, as well as the organizer, were super friendly and took great care of us – in Spanish and English.
San Cristóbal is full of sea lions that just lie on every corner and doze away. Especially if you visit the beach at the harbor after sunset, you can hardly see the sand between all of those animals.
Best accommodation in San Cristóbal
This inn is within walking distance of the Puerto Baquerizo Morenos coast. In addition to its garden, this property is particularly popular for its shared kitchen. Each room is equipped with a private bathroom and air conditioning.
Check Prices, Information, and availability here
Check all accommodation on Galápagos
Look for accommodation in Puerto Baquerizo Moreno with Airbnb
Day 9 – Snorkeling tour to Roca León Dormido – Kicker Rock
Tour duration: approx. 7 hours
Tour cost: from $ 120
Another snorkeling tour that you shouldn't miss. If you also choose a tour with I-Galapagos, it will take you about 40 minutes on a big two-story boat to the Roca León Dormido (English name is Kicker Rock). The ship has a lot of space so that you can move freely during the trip.
Once you have arrived, it's already time to jump into the water. The tour takes you along and through the rocks of Kicker Rock. There is especially one thing to discover here: lots of turtles. I have never seen giant marine turtles like this before in my life. You can watch them swim or rest on the rocks.
The real highlight here is the hammerhead sharks. With a little luck, you can spot them in the water. Eduardo and I were lucky enough to spot one in the water just below us. However, when the rest of our group came swimming, the shy animal disappeared as quickly as it appeared. I have to admit, the hammerhead sharks are pretty impressive in size – but don't worry, they won't do you any harm.
On the way back, the boat stops near a beautiful beach. You can either relax on the boat, snorkel a bit (we saw a lot of rays in the water), or go for a walk on the beach.
The beach is beautiful, but it can get really hot in the intense afternoon sun near the equator without any shade.
Alternative activity: Die 360° Tour
Tour duration: approx. 8 hours
Tour cost: from around $ 130
Another popular activity on San Cristóbal is the 360° tour. This tour takes you around the island and gives you a brief insight into the most beautiful parts of the island. On this tour, you can discover the most important places around the island while snorkeling, on land, and from the boat.
Day 10 in Galápagos – It's time to say Goodbye
Before you hop on the plane back to the mainland, I have another activity for you that helps you to learn more about life in the Galapagos Islands.
San Cristóbal Interpretation Center
Opening hours Interpretation Center: 10 am – 8 pm
Entrance fee Interpretation Center: free of charge
Here you will find not only some interesting information about the evolution theory that Darwin once researched here but also lots of facts about wildlife in the Galapagos Islands. A perfect ending for your once-in-a-lifetime trip to the Galápagos Islands.
Flight back
And then it's time to say goodbye and make your way to the airport. The airport is just a short way from the city. You can even walk.
Alternative activities in San Cristóbal
Hiking up Cerro Tijeretas
For all hikers, this is the perfect activity on San Cristóbal. The view from here is just fantastic. In addition to the crystal-clear water, you can see as far as the León Dormido (kicker rock)!
La Loberia Beach
Loberia Beach is an excellent beach for anyone who can't get enough of the Galapagos Islands' beaches. A large group of sea lions on the island once used to hang out here, but today you can find them instead on the city beach (Playa de Oro).
This beach is perfect for relaxing and snorkeling (just watch out for the lava stones that are here).
You can reach this beach either on foot or by taxi.
Puerto Chino Beach
Puerto Chino Beach is another beach on the island that is perfect for relaxing and swimming in the lukewarm water. Moreover, this beach is also ideal for bird lovers, as you can discover the blue-footed boobies that are typical of the Galapagos Islands.
Usually, there are not too many tourists who come to this place because it is a little out of the way and can only be reached by car and then on foot. That makes it one of the quietest beaches on the island.
You can reach this beach by taxi, followed by a 15-minute walk.
La Galapaguera Tortoise Habitat
If you still couldn't get enough of the giant tortoises in the Galapagos Islands, then a visit here is a must! The concept of this facility is similar to that of El Chato in Santa Cruz. Here you can admire giant tortoises without cages in their natural environment.
FAQ about Galapagos Islands
What country do the Galapagos Islands belong to?
The Galapagos Islands belong to Ecuador and are located in South America.
What currency is used in the Galapagos Islands?
As on the mainland of Ecuador, the Galapagos Islands also pay with US dollars. While the same notes are used in the United States, there are US and Ecuadorian coins.
How much does a trip to the Galapagos Islands cost?
Of course, that depends on where you are traveling from, what season you are visiting the islands, what kind of tours you will take, and what type of accommodation you staying in (+ other factors). We spent € 1,125.26/$ 1,269.23 per person for the tour listed above (including flights from Guayaquil, Ecuador). With cheaper accommodation and more home-cooked dishes, your trip can even become a little less expensive.
Make sure to read our Galápagos Budget Guide for our exact travel cost and helpful Budget tips for your vacation on the Galápagos Islands.
Are the Galapagos Islands expensive?
Of course, it all depends on your travel style and whether you are visiting the Galapagos Islands on a cruise or on your own. The islands are indeed a lot more expensive than the mainland of Ecuador and other parts of South America. The isolation of the islands and the associated journey by plane can also cost quite some money. Above all, the tours on-site are arguably the most pricey.
How many days should I stay in the Galapagos Islands?
As many as possible! There is so much to discover, and every day there is full of great adventures. Of course, it depends on how much time you have and on what budget you are traveling. We spent 12 days traveling on the islands and found it a great time to discover everything we had planned. We recommend staying at least 10 days if possible. If you stay 7-8 days, we recommend that you only visit two islands.
Note, however, that you cannot spend more than 60 days in the Galapagos.
Can I visit the Galapagos Islands without a tour?
Yes, you can visit the Galapagos Islands on your own. This way, you are more flexible; you can design your trip according to your personal preferences and usually also save money.
Are there ATMs (Cajeros) on the Galapagos Islands?
There are ATMs on the three main inhabited islands, Santa Cruz, San Cristóbal, and Isla Isabela. While you will find a relatively large selection of different providers on Santa Cruz, there are three different ones on San Cristóbal (2 at the port, one at the airport). Isla Isabela has only had an ATM for tourists for a few months, which does not always work. So better carry enough cash with you. (As of April 2020)
Are there mosquitoes in the Galapagos Islands?
Yes, there are a lot of mosquitoes, more or less, depending on the island and area. So better bring a good mosquito repellent with you.
Are there any dangerous animals in the Galapagos Islands?
If you keep the specified distance of 2 meters from wild animals, usually none of the animals or sea animals will be dangerous.
Is there wifi in the Galapagos?
Theoretically, there is Wifi on the three inhabited islands of Santa Cruz, Isla Isabela, and San Cristóbal. However, the connection is not really good. It is enough to check emails and receive messages/send photos via Whatsapp. However, you probably shouldn't count on Netflix or video calls during your trip.
Is the tap water on the Galapagos Islands safe to drink?
The tap water in the Galapagos Islands is not drinkable. So only drink bottled water, filtered or boiled water.
Can I take a boat to the Galapagos Islands?
As a tourist, you usually travel by plane. Cruises also start from the Galapagos Islands themselves. Although there are ships between the islands and the mainland, these are generally not accessible to tourists (it takes four days to reach the islands).
Where can I fly from to the Galapagos Islands?
The Galapagos Islands are only served by the Ecuadorian cities of Guayaquil and Quito (although most flights from Quito often make a stopover in Guayaquil).
Which islands in the Galapagos Islands can I fly to?
From the mainland, you can fly to Seymour Airport on Baltra (near Santa Cruz) and San Cristóbal Airport on San Cristóbal.
Isla Isabela also has an airport. However, this one is only served by aircraft within the Galápagos Islands.
Do people live in the Galapagos Islands?
Yes, some of the Galápagos Islands are inhabited. Santa Cruz has, by far, the most inhabitants, San Cristóbal and Isla Isabela are also inhabited. The island of Floreana also currently has around 100 inhabitants.
What can I not bring to the Galapagos Islands?
You must not import food or seeds that could become plants (e.g., fruits and vegetables). The introduction of plastic (bags, bottles, etc.) is not officially prohibited but should be kept as low as possible, or at best brought back to the mainland.
Can I bring food to the Galapagos Islands?
You can bring processed and packaged food, e.g., Pasta, canned foods, tomato sauce, etc. However, you must not import seeds or plant products that could develop into plants.
How much cash should I bring to the Galapagos Islands?
When entering the Galápagos, you will have to pay an entrance fee of $ 100 per person in cash.
There are ATMs, but you should carry some cash with you anyway (just in case), especially if you want to visit Isla Isabela. $ 100-200 per person is appropriate.
What language is spoken on the Galapagos Islands?
As in the rest of the country, Spanish is spoken on the Galapagos Islands.
What vaccinations do I need for the Galapagos Islands?
Before your trip, it is best to visit your family doctor or, even better, a tropical doctor to discuss the most important vaccinations.
---
Have you ever been to the famous Galapagos Islands? What was your absolute highlight? Or maybe you even have a great tip for us? Let us know in the comments below!
Interested in Galápagos?