When visiting Barcelona, keep in mind that Catalonia is full of many more amazing places besides only the Catalan Capital- from stunning beaches to lovely Mediterranean cost towns and medieval cities near Barcelona worth visiting. There are many Catalonia destinations that deserve much more attention.
That's why I highly recommend planning at least one or even more day trips from Barcelona during your stay. And since there are just so many great places to visit in Catalonia, in this article, let's have a look at the best Barcelona day trip destinations.
But don't take my word for it. I asked some of my fellow travel bloggers and Barcelona locals about their favorite Catalonia day trip destinations. In the following, you find their great recommendations on the 27 best places in Catalonia that make for a memorable day trip from Barcelona.
Best Places in Catalonia Map
Day Trips from Barcelona – Overview
| | | | |
| --- | --- | --- | --- |
| Catalonia Destination | Type of Day trip | Travel Time | Mode of Transport |
| Sitges | Beach, Small Town | 40 Minutes | Train, Car |
| Rupit | Small Town | 2 Hours | Car |
| Cap de Creus | Nature | 2 ½ Hours | Car, Bus |
| Sant Cugat del Vallès | Small Town | 30 Minutes | Train, Car |
| Girona | City Trip | from 40 Minutes | Train, Car |
| Salvador Dalí Triangle | Culture | 2 Hours | Car, some destinations bus/Train |
| Tarragona | City Trip | 1 Hour | Zug, Train, Car |
| Calella de Palafrugell | Beach, Small Town | 2 Hours | Car |
| Costa Brava Beaches | Beach | from 1 Hour | Depending on the beach, car or train/bus |
| Puigcerdà | Small Town, Nature | from 2 Hours | Car, Train |
| Vic | City Trip | from 1 Hour | Train, Car |
| The Pyrenees | Nature | 3 Hours | Car |
| Cadaqués | Small Town, Beach | 2 ½ Hours | Car, Bus |
| Lloret de Mar | Small Town, Beach | 1 ½ Hours | Train, Car, Bus |
| Santa Clotilde Gardens | Gardens | 1 ½ Hours | Car, Train |
| Penedés Wine Region | Wine Region | 1 Hour | Train, Car |
| Colonia Güell | Culture | ½ Hours | Train, Car |
| Tossa de Mar | Small Town, Beach | 1 ½ Hours | Car, Bus |
| Lleida | City Trip | 1 ½ Hours | Train, Car |
| Besalú | Small Town | 1 ¾ Hours | Car, Bus |
| Cardona | Historic Castle | 1 ½ Hours | Car, Bus |
| Montserrat | Nature | ¾ Hours | Train, Car |
| Begur | Small Town, Beach | 2 ½ Hours | Car, Bus |
| DO Empordà Wine Region | Wine Region | 1 ¼ Hours | Train, Car |
| Banyoles | Nature, (Small Town) | 1 ½ Hours | Car, Bus |
| Castellfollit de la Roca | Small Town | 1 ½ Hours | Car |
| Ferrari Land | Theme Park | 1 ½ Hours | Train, Car |
Top 27 Best Catalonia Destinations
Sitges
Sitges is probably one of the most popular day trips around Barcelona. Since it's just around 35 km from Barcelona, it is easily accessible.
Sitges is especially popular as a beach destination. In total, it offers 17 wonderful beaches to relax and refresh from the strong Spanish sun.
But the town itself is absolutely worth it as well! It offers several historical buildings, such as a bunch of museums. But for us, the true highlight is just getting lost on the narrow streets of this Mediterranean gem.
Each year for Carnival (February/March), people from all over Spain come here to have a big Fiesta. But also the Film Festival of Sitges (usually in October), which is one of the most important film festivals for Horror and Fantasy Movies, attracts people from all over the world.
Getting there: The easiest option to get to Sitges is to take the train R2S (in direction of Vilanova) from Sants estación. (about 40 minute's ride)
Rupit
About 100 km from Barcelona, you can find the small medieval village of Rupit. The village center is full of stone houses which have been built in the 16th and 17th centuries. You can spend some time just walking around and looking at those old buildings. Another attraction of Rupit is the suspension bridge, Puente Colgante de Rupit, which leads over the Riera de Rupit, a small river that runs through this little Catalan village.
When walking around the area, you can as well see the Església de Santa Magdalena (Santa Magdalena Church), which is a little bit outside the walls of Rupit. (About a 10-minutes walk) From here, you have an amazing view of the medieval constructions of Rupit.
But not only this little place itself makes for great day trips out of Barcelona. You can as well go hiking in the stunning nature of the area. You could, for instance, visit the waterfall Salt de Sallent, which is about 30 minutes walk away from Rupit.
Getting there: The easiest way to reach Rupit is by car. But there is also the possibility of getting here by public transport.
Cap de Creus
Located in the most eastern corner of the Iberian Peninsula, in the province of Girona, Cap de Creus is a Natural Park consisting of rocky cliffs that have been shaped by the impact of waves due to the Tramontana, a very strong northern wind that is characteristic from Alt Empordà region.
Attracting tourists from all over Western Europe but, controversially, many locals from Barcelona and Girona, Cap de Creus is one of the most breathtaking places in the country, to the extent that it has been a real source of inspiration for many artists, including the worldwide famous Salvador Dalí, originally from Figueres, but who had a summer house here in Cap de Creus.
Cap de Creus is a place to enjoy with its many empty cales (small beaches with stones that are not easily accessible), trek over the cliffs, and eat at its famous restaurant, which serves the best arròs caldós (kind of juicy paella) I have ever tasted.
Getting there: If you want to go by public transportation, the best is to take a train from Barcelona Sants or Passeig de Gràcia to Figueres (45 min to 2h) and then take a Sarfa bus to Cadaqués (1h). Cap de Creus is a few kilometers after the Cadaqués. Alternatively, you may also find a direct bus from Barcelona to Cadaqués, leaving from Estació del Nord.
Recommended by Joan from Against the Compass
Sant Cugat del Vallès
Located only 20 minutes by train from Barcelona, Sant Cugat del Vallès is a charming small town that has a lot to offer to the day-tripper – history, nature, and vintage shopping.
It is most famous for its 9th-century monastery, the Royal Monastery of Sant Cugat. It is one of the finest examples of medieval art and architecture in Catalonia. It has an impressive church, a magnificent cloister, and the abbot's residence. You can still feel the power and splendor this monastery had throughout the complex. The cloister is the highlight here, an impressive arcaded open patio area at the center of the monastery, where monastic life took place.
But my favorite thing to do in Sant Cugat del Vallès is to visit Mercantic Vintage Market, a permanent furniture, antiques, and curiosities market that has become a European hotspot for collectors and interior decorators. It has almost 200 shops and stalls, so you could easily spend a whole day here! Don't miss out on visiting El Siglo, Spain's largest second-hand bookshop, with over 100,000 books for sale. It also has a little theatre inside where they hold concerts and all sorts of cultural activities.
Getting there: The direct train from Barcelona only takes about 30 minutes.
Recommended by Teresa from Brogan abroad
Girona
Made up of beautiful gothic churches, cobbled streets, Roman ruins, and a stunning canal, Girona is an absolute must-visit if you're staying in nearby Barcelona.
There's plenty to see and do here, certainly more than enough to make a day trip out of it. The Jewish Quarter (El Call), in particular, is incredibly photogenic. It's a fun maze of clandestine gardens and narrow passages, and it was once home to the Kabbalistic School, which housed some of Europe's greatest scholars and thinkers.
Jumping onto other religions that have left their footprints on this city, the Arab Baths are also worth a visit, along with Girona Cathedral.
Finally, before it's time to head back to Barcelona, spend some time exploring the old Roman walls that mark the former boundaries. You can actually walk along these, and it's a fantastic place to take some all-important snapshots of the city.
Getting there: Girona is located 40 minutes from Barcelona by train and just under an hour and a half from Barcelona by car.
Salvador Dalí Triangle (Figueres)
Salvador Dalí was born in Catalonia and spent most of his life and created most of his work here. There are three main sites related to Salvador Dalí that have become popular tourist attractions, and these 3 places make up the so-called Dali Triangle.
The most popular place is Figueres which is Dalí's birthplace and the place where he is buried. Here you find the Dalí Theatre and Museum, which contains the largest collection of Dalí's artwork. The museum itself is a piece of art, and you navigate this maze-like museum without much direction, which is part of the intended experience.
The next stop is the home of Dalí's wife, Gala, Púbol Castle. Here you can tour the castle, learn more about Gala, see exhibitions, and see where Gala is buried. The third stop is Dalí's home in Portlligat, where he and Gala lived. This is the only place where you can really see what Dalí's home life was like, and it includes many of the original furnishings from their home and some pieces of art.
But you can also find a number of other Salvador Dalí attractions near Barcelona, and you may want to take the time to visit some of these lesser-known attractions if you are a fan of the artist.
Getting there: All places can be visited by car or via a guided tour. Some can also be reached by train or public bus.
Recommended by Jessica from Independent Travel Cats
Tarragona
Roman charm on the Mediterranean. This is probably the easiest way to summarize Tarragona. The city, which is now a UNESCO World Heritage Site, is another fascinating trip destination from Barcelona. Unlike many of the destinations on this list, Tarragona is not on the Costa Brava but is considered the capital of the Costa Dorada.
Almost 200 BC Tarragona was conquered by the Romans and one of the most important cities in the region under the name Tarraco. Today you can still admire the remains of some of the most important Roman buildings in the city.
The amphitheater, which is located directly on the sea, is particularly worth mentioning. But the remains of the once almost 4 km long wall, which Tarragona protected from enemies, are also worth a visit. The same applies to the former city gate and the towers.
A bit outside the city walls is the imposing aqueduct, Acueducto de les Ferreres, also called Pont del Diable (Devil's Bridge). Don't miss the impressive cathedral, which was completed in the 13th century.
You can end the day comfortably at the Balcón del Mediterráneo, the balcony to the Mediterranean Sea, from where you can enjoy a spectacular view of the sea.
How to get there: Basically, there are good connections between Barcelona and Tarragona. So you can either arrive by car, train (approx. 1 hour) or bus.
Calella de Palafrugell
Imagine a typical Mediterranean fishing village. Small houses, narrow streets, small boats lying on the beach, cliffs on the coast – behind them are pine trees, and there is a breeze of salt in the air. Exactly this atmosphere awaits you in Calella de Palafrugell.
If you are looking for relaxation and countless heavenly beaches, then Calella de Palafrugell is the right place for you. The picturesque beaches and bays in the village invite you to take a refreshing dive in the cool but clear water of the Costa Brava.
The Cap Roig Botanical Gardens also provide an even more romantic backdrop to the town. If you want to experience even more the exuberant atmosphere of this fishing village, you should come here on the first weekend in June when the Cantada de Habaneras takes place. This local festival is dedicated to Habaneras. These are Caribbean sailor songs that are so famous in the region of the Costa Brava. It was brought back from Cuba many years ago and has since been an important part of the culture of the region.
How to get there: Unfortunately, it is relatively difficult to get here without a car. By car, the route takes you almost 1½ hours from Barcelona. By public transport, you'd have to take the train from Barcelona to Flaçà (approx. 1 – 1½ hours). From there, take the bus to Calella de Palafrugell, 25 km away.
Costa Brava Beaches
The Costa Brava, literally the Rough Coast, is located in the Northeast of Spain. The secluded coves and hidden beaches in the Costa Brava are dreamy destinations, and not only in summer. Some of the most popular beaches can become somewhat crowded in summer, but without too much effort, you can find lots of small coves with transparent water where you can enjoy solitude even in the high season.
Aiguablava, with white sandy beaches, can remind you of the Caribbean, whereas the coves between Cadaqués and Cap de Creus are famous for being an awesome destination for snorkelers and divers. As mentioned, the Costa Brava is also a favorite destination for hikers since you can follow the "Camino de Ronda", a lovely trail that follows the 150 km long coastline.
How to get there: The main towns of the Costa Brava area are easily accessible by public transport from Barcelona, but in order to get to the more remote and pristine beaches, renting a car is highly recommended.
Recommended by Gábor from Surfing the Planet
Puigcerdà
Puigcerdà is a town up in the Spanish Pyrenees and is the regional capital of the Baix Cerdanya region. Founded in 1178, the town occupies a commanding position atop a hill, with stunning views of the surrounding valley and Pyrenees mountains.
In the town, there are a number of attractions, including the old bell tower (worth the climb to the top for amazing views), and the medieval town center. This has a number of churches and other ancient buildings, and if you pop into the tourist office (found at the base of the bell tower), you can pick up a walking map to get around. The town lake is also a lovely spot for a walk.
If you have a bit more time, there are numerous attractions a short drive from Puigcerda, including in Winter the ski slopes of La Molina and La Masella, as well as a number of lovely old medieval villages. Hiking is also a popular activity in the area, as well as cycling – although the high altitude and hilly terrain means you'll want to be quite fit!
For more sightseeing ideas, take a look at our guide to what to in La Cerdanya, which has information on Puigcerda as well as other highlights of this wonderful region.
How to get there: You can get there either by car (about 2 hours), bus (about 3 hours) or a direct train from Barcelona (about 3 ½ hours).
Recommended by Laurence from Finding the Universe
Vic
Vic is one of the Catalan cities that tourists are reluctant to overlook. Anyway, it is a little bit more popular with locals. But not only the super delicious Catalan food drives visitors here, also the classic architecture also enchants everyone who ends up visiting the small town.
With its location between Barcelona and the Pyrenees and its much higher location, it is usually a few degrees cooler here than in Barcelona, ​​making Vic a great destination, especially in the hot summer. Those who are looking for snow and cooler temperatures in winter will also love Vic.
One of the reasons why so many visitors come to Vic, especially on Saturdays, is because of Vic's markets. There is a weekend market taking place every Saturday where you can find all kinds of great things. By the way, Vic is famous for its excellent food, especially Fuet, a kind of cold cut and a real Catalan specialty that you should definitely try. The medieval market in Vic is also recognized throughout the region.
Furthermore, you should definitely stroll through the narrow medieval streets and let the Roman influences of the city work on you. The Cathedral of Sant Pere is particularly impressive.
By the way, the name of the Catalan city is derived from the Latin word Vicus, which used to refer to small settlements in Roman times.
How to get there: There is a direct train between Barcelona and Vic (approx. 1 hour, 20 minutes). But you can also get to the Catalan city quickly and easily by car (approx. 1 hour).
The Pyrenees
Though it's not ranked among the world's tallest mountain ranges, the Pyrenees is arguably one of its most picturesque. Spanning approximately 260 miles, with quite a few summits towering over 11,000 feet, these peaks in northern Catalonia divide the Iberian Peninsula from the rest of Europe.
The Pyrenees are easily among western Europe's most awesome eco-tourism attractions. The gorgeous foothills, which feature numerous waterfalls and hot springs, reach almost the Mediterranean coast. There are some hiking trails that traverse the entire length of the range, while four national parks (three in Spain, and one in France) offer shorter trails. The area is extremely popular in winter: Dozens of ski resorts can be found on both sides of the range.
Though not quite as rich with wildlife as mountain ranges in Asia and the Americas, the Pyrenees do boast some weird endemic animals. These include the shrew-like Pyrenean desman, the salamander-like Pyrenean euprocte, and the Pyrenean brown bear, which is slowly making a comeback after reintroduction.
Getting there: The Pyrenees are very accessible from Barcelona and other major cities in Catalonia. Several tour operators offer a full-day experience that stops in the charming medieval town of Vic before heading to the stone-built village of Queralbs. There, travelers can catch the train that takes them over 6,500 feet up into the mountains to the verdant valley of Vall de Núria.
Recommended by Bret Love & Mary Gabbett from the Green Global Travel
Cadaqués
Cadaqués is a quaint coastal village in Costa Brava, on the Northeastern coast of Spain. It's famous for surrealist artist Salvador Dalí as his haven where he spent his summer vacations. Unlike the modern surrounding towns of Catalonia, Cadaqués has maintained its old-world village character: small whitewashed homes with boldly painted doors and colorful flowers draping the walls.
Other artists like Pablo Picasso and Henry Matisse also spent much time here admiring the serene sea and landscape. If you go here, meander the narrow cobblestone streets and peep through the arches and see the fishing boats floating in the Mediterranean Sea. Or spend time in one of the tranquil, rocky coves decorated with brightly-colored boats and soak up the sun.
Getting there: Driving is most convenient (although you'll have to endure a dizzy, winding road) and takes over 2 hours. To take a bus, head to Estació del Nord. The bus ride takes 2 hours and 45 minutes.
Recommended by Justine from Latitude 41
Lloret de Mar
The next destination is avoided by many travelers due to being infamous as a party town. Indeed, it is definitely the perfect destination for anyone looking for a party and beach. Known as a travel destination to celebrate after graduating from school for German students, Lloret also offers fantastic beaches for everyone who has not just come get drunk.
In addition to the beautiful Santa Clotilde Gardens (see next paragraph), the Passeig de Mossèn Jacint Verdaguer invites you to take a relaxing walk. As you stroll through the beautiful streets of the small town, you will notice the beautiful old mansions that were once built by returnees from Cuba to savor their newfound wealth.
Another special building that stands out from the cityscape is the Parroquial de Santa Romà church. With its colorful towers, the Gothic church built in the 16th century is a real highlight. If you still couldn't get enough of the beautiful landscapes, I recommend the Camino de Ronda. This fantastic walk takes you along the Costa Brava. From here you can discover the most beautiful photo motif in the city – the old castle from the sea.
Lloret extra tip: If you are not coming to Lloret de Mar to party, we definitely recommend you come here as early as possible when the party-goers are still asleep and recovering from the last night.
How to get there: From some train stations in Barcelona, there is a direct train to Lloret de Mar. The trip takes about 1 hour 20 minutes.
Santa Clotilde Gardens
People visit Costa Brava for the beaches, but when you need an escape, the Santa Clotilde Gardens in Lloret De Mar are a welcome oasis from the heat. Designed in the Renaissance style and named after his first wife, the gardens are evergreen rather than botanic, which means they can be enjoyed at any time of the year. The gardens can be found on the cliffs above the sea, so there are many beautiful views of the coast as you walk around and also access to a beach that can only be reached through the gardens.
Around Santa Clotilde, you'll find sculptured gardens, water features, and unique statues like the mermaids that gaze down towards the sea below. Take some time out from your beach break in the Costa Brava to immerse yourself in the peaceful gardens that were once only available to the family but are not open for everyone to enjoy.
How to get there: From some stations in Barcelona, there is a direct train to Lloret de Mar. This takes about 1 hour and 20 minutes.
Recommended by Sonja from Migrating Miss
Penedés Wine Region
Since my girlfriend has been living in Barcelona for over two years now, I have been traveling back and forth to the capital of Catalonia. I absolutely love Barcelona and the great tapas restaurants, but whenever we have the chance, we try to leave the city over the weekend. From all the short trips we took from Barcelona, the Penedés wine region was my favorite place. The wine region is located just a short 1-hour drive northeast of the city limits. Several smaller and larger wineries are welcoming visitors to their premises and offer tours of the wine cellars and the wineries.
One of the most famous producers in the region is the Freixenet Winery, famous for its sparkling wines that are available worldwide. The massive scale of the production facilities is impressive and absolutely worth a visit. However, if you are looking for a less famous winery with fewer visitors, head to the Parés Baltá Winery. They produce their fantastic wines in an organic way, and every visit to the winery ends with a tasting of several wines.
How to get there: There are direct trains from Barcelona that take just under an hour. Otherwise, you can also reach the Penedés wine region by car (about 50 minutes drive).
Recommended by Mike from 197 Travelstamps
Colonia Güell
Colonia Güell is a UNESCO heritage colony town, a working example of Antoni Gaudí's architecture and Catalan Modernism design. Eusebio Güell was a Catalonian industrialist who first met Gaudí at the Paris World Fair in 1878. He became Gaudí's patron, and in return for financial support, Gaudí created buildings and designs for him, including Park Güell, Palacio Güell, and the crypt at the Church of Colonia Güell. All three are UNESCO World Heritage-listed sites, but Colonia Güell, on the outskirts of Barcelona, is arguably the most fascinating.
Modeled on the British industrial towns of the great industrialists, colony towns provided a complete living environment for employees and their families. Eusebio Güell moved his textile factory to one of his properties in Santa Coloma, on the outskirts of Barcelona, in 1890. He set about creating a complete town and social infrastructure to provide for his employees and their families.
With about a thousand factory and estate management staff, he planned a town to provide homes for everyone. Something of a visionary, Güell also built a school (designed by Gaudí), one of the pinnacle buildings in the town. Unlike many of his contemporaries, Güell believed that educated workers would only enhance his business.
How to get there: Only a 20-minute drive from Barcelona center, or 6 minutes on the train, I cannot recommend Colonia Güell enough as a place to understand the context of Gaudí's work.
Recommended by Fiona from London-Unattached
Tossa de Mar
If you can't choose between a wonderful beach and fantastic medieval architecture at your destination from Barcelona, ​​Tossa de Mar is the right place for you. The beach is considered by many to be one of the most beautiful sections of the Costa Brava. Tossa de Mar is therefore often referred to as the "Pearl of the Costa Brava".
You can also discover the typical cliffs combined with strong green plants on the way along the coast. So it is worth taking a few photos.
But it is not only worth the trip to Tossa de Mar for the beach. The small town also has a lot to offer. The old town, called Vila Vella, stands out. You can still visit the strong city walls and seven impressive towers that have protected Tossa de Mar since the Middle Ages. Much of the fortification was built in the 12th century. However, after the risk of attack decreased over the years, the Catalan city continued to grow outside the city walls.
But you should also visit the neighborhood Sa Roqueta during your visit. In contrast to the medieval Vila Vella, Sa Roqueta shows the typical Mediterranean fishing village charm.
How to get there: The easiest way to get there is by bus from Barcelona. Either take a direct bus (about 1 hour 20 minutes drive) or take the train to Blanes and from there continue by bus to Tossa de Mar (approx. 2 hours).
Lleida
Lleida is a beautiful and ancient city in the Catalonia region and has more to offer in the way of history and culture than I had expected. It was a bright sunny day when I reached Lleida by train. After checking into my hotel, I started exploring the city on foot.
Lleida is a small town, so it can be covered on foot. Strolling on perhaps the longest shopping street in Europe, you can see many inviting shops of international brands and little cafes on both sides. The old town is surrounded by some of Lleida's most striking and symbolic buildings. The River Segre flows parallel to it, which can also be seen from the castle of Suda.
This Catalan town has attractive parks and botanical gardens, perfect for an evening stroll. There are several cathedrals and interesting museums with ongoing exhibitions relating to the city's past. One of the museums, Museu de Lleida, has special arrangements for people who can't visit Lleida. Some of the artifacts of this museum travel to other cities occasionally.
But what stole my heart was the Castle of Suda. It is undoubtedly the most distinctive landmark of the city. It also has an old cathedral. Towering over the city, it offers splendid views of the city below, the river, and countryside surroundings. To go up the castle, you can either use the elevator from the old town or go by road.
The beauty and history of this wonderful city, along with some traditional Catalonian cuisine, are to be enjoyed before you plan to leave.
How to get there: There are many trains from Barcelona daily, the time taken is around 1 and 20 minutes.
Recommended by Nisha and Vasu from Lemonicks
Besalú
Besalú is a cute small town in the province of Barcelona with a fabulous medieval heritage. Located at an important and traditional crossing of paths in the east of the Garrotxa, Besalú was in the middle ages the seat of the important county of Besalú. From that period, the town still keeps most of its medieval layout of winding and narrow streets and parts of its fortified walls. Also, there is beautiful architecture, with many interesting Romanesque buildings from the XIIth century.
During the middle ages, the town was counted as an important Jewish community. In the Jewish quarter, you will want to visit their unique Miqvé (Jewish purification baths), one of the two only Miqvés found in the Iberian Peninsula. However, Besalú's jewel is, without any doubt, the medieval bridge crossing the river Fluviá, built during the XII-XIV centuries. This unique bridge, made of 8 arches on pillars and 2 defensive towers, is also the emblem of the town.
Getting there: Besalú is one of my favorite day trips from Barcelona. Located only 130km from Barcelona, it is very easy to reach by car, but you can also reach it by bus (Teisa 1920 bus, line Barcelona – Olot – Banyoles).
Recommended by Elisa from World in Paris
Cardona
Let's talk about the most unknown day trip on our list. Even for some locals, Cordona is completely unknown. And that even though Cardona Castle was voted the most popular monument in Catalonia in 2017.
With less than 5,000 inhabitants, Cardona is truly not a big city, but it was all the more important in the history of Catalonia. With its strategic road connection and high salt deposits, the small town has become an integral part of Catalan history.
Today the salt mountain is considered Cardona's most impressive sight. In the natural park of the salt mountain, you can marvel at the salt hill from both inside and outside. You can walk a full 86 meters into the depths of the salt mountain and admire the spectacular natural formations inside.
The real highlight of the city, however, is its impressive castle. Throughout its history, it has not even once been occupied, which makes it very special. The first parts of the imposing castle were completed in 886 and can still be visited today. If you want to extend your visit to the impressive castle, you can even stay at the Hotel Parador inside the castle.
Also, don't miss the Basilica of Sant Vincenç, which is part of the fortress.
How to get there: The easiest way to get from Barcelona to Cordona is by car. The journey takes about 1 hour and 20 minutes. For everyone without a car, there is the possibility to take the bus. This runs several times a day and takes about 1 ¾ hours.
Montserrat
If you are already visiting Catalonia, you absolutely have to make a day trip over to Montserrat. It's just a 45-minute train ride away, and it's a totally affordable trip. There is so much to do in Montserrat, and its vicinity to Barcelona is why it's one of the most popular day trips from Barcelona. You'll get a chance to bask in the Spanish countryside and take in all the breathtaking views from the monastery. One of the highlights is a Benedictine monastery called the Santa Maria de Montserrat which features a statue of one of the few black madonnas in Europe.
There is much to do once you arrive, you can hike up to the highest peak of Montserrat: Sant Jeroni, or take a beautiful cable car ride up to the top. Catalonia is a total foodie destination, and Montserrat features a national dish called goat water, which is a hearty goat stew served with hot, fresh bread rolls. There are also many fruits that are unique to this region, and they are best enjoyed in juice drinks. It's definitely a must-visit destination!
How to get there: The easiest way is to take a direct train or bus from Barcelona (about 45 minutes). You can also arrive by car or join one of the many daily tours.
Recommended by Kaila from Kaila Yu
Begur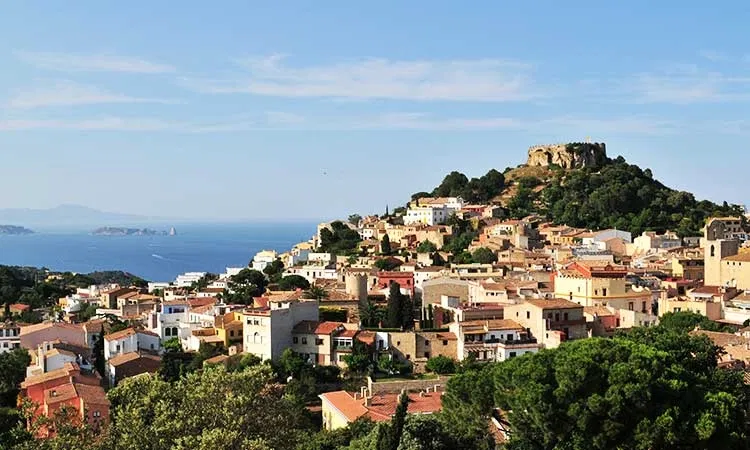 Now we come to a more unknown Barcelona destination, Begur. The small town on the Costa Brava is particularly known in Catalonia for its watchtowers that are up to 12 meters high. That is why it is sometimes referred to as "The town of Defense Towers".
The little town that belongs to the Comarca (region) Baix Empardà is only a very small town with just under 3,000 inhabitants. Nevertheless, a trip is worthwhile. In addition to the defense towers, which date from the 16th century and were supposed to protect the city from pirates, the architecture of the small town is really unique.
Impressive colonial buildings still point to the rich returnees from the new world who had their houses built here. They never tried to hide their newfound wealth, as can easily be seen in the houses.
But a short hike to the castle ruins on the castle hill is also recommended. The remains of the castle, which was destroyed in 1810, still stand out clearly from the cityscape. From there, you have a wonderful view of the city and the wonderful landscape of Costa Brava.
If you are still looking for some refreshment, you should not miss a visit to one of the 8 surrounding beaches and bays of the Costa Brava.
How to get there: The easiest way to get there is by car. There is also a bus that goes to Begur from Barcelona. The journey takes approximately 2.20 hours
DO Empordà Wine Region
The DO Empordà is the oldest wine region in Spain. The wine itself takes on the characteristics of the Costa Brava — the sea, the mountains, and the winds. But the people behind this Costa Brava wine region offer some great opportunities for exploration by wine lovers and visitors to Barcelona.
There are over 400 winegrowers in Empordà and about 50 DO Empordà wineries, which together produce almost 4 million bottles of wine a year. Approximately 30 of these wineries are specifically dedicated to preserving the history of the region by forming the DO Empordà Wine Route.
Some of the closest wineries to Barcelona are in the Baix Empordà, or lower Empordà, around the area of Palamós. Two of the easiest wineries to visit are Celler Mas Oller and Celler d'en Marc. They offer tastings and tours in English that can be booked on their website.
How to get there: You can reach the DO Empordà wine region in only 1 hour and 10 minutes from Barcelona by train. By car, on the other hand, you need about 1 hour 40 minutes.
Recommended by Amber from Only in Costa Brava
Banyoles
I've visited Catalunya several times, and the last time was in October when we went hiking in the Pyrenees. One of the places we liked best in the region was Banyoles, a small town located close to the foothills of the Pyrenees and a perfect departure point for many day hikes such as the one to Besalu, a stunning medieval town.
However, even if you don't hike, Banyoles is a great day trip from Barcelona. Most people come to Banyoles to see the wonderful Estany, a lake right in the center of town, where you can swim, kayak, run around or relax and enjoy nature, looking at the sunset while the cool transparent water changes color.
The town itself is also very nice – you can spend a few hours wandering around the historic center and explore plazas, churches, and even a remaining section of the medieval city walls. If you're visiting in October, don't miss the Medieval Festival, when the whole town fills with performers, visitors, and a medieval market spread all over town, reenacting the Middle Ages. We saw a falconry performance, watched a street parade, and even tried some medieval snacks. It was great – a reason to love Banyoles even more!
Getting there: It's only about one hour and a half away, there are four daily buses.
Recommended by Margherita from The Crowded Planet
Castellfollit de la Roca
This small Catalan village is one of the few examples of places that are even more impressive from the outside than from the inside. That s because Castellfollit de la Roca is nestled on a rock. The small town almost seems to merge with the large rock on which it is perched at a height of about 50 meters.
Before you visit Castellfollit, it is, therefore, worthwhile to make a small stop at the lower end of the rock. From here, you can appreciate the true splendor and uniqueness of this place.
You can cross the village itself in just a few minutes. However, it's worth taking your time as you stroll through the narrow picturesque streets. At the far end, you will be offered a fascinating panorama. Because from here you have a wonderful view over the surrounding nature and neighboring towns in Catalonia.
Since a visit to the small village usually does not take a lot of time, it is worth combining this excursion destination with other places nearby. Great options for this are Besalú and Banyoles.
How to get there: Castellfollit de la Roca is somewhat isolated. That's why the best way to get there is by car. From Barcelona, you drive about 1 hour 40 minutes.
Ferrari Land
In Ferrari Land, it is possible to live an authentic Ferrari experience in its more than 70,000 m2 of excitement, adrenaline, and fun for the whole family.
Get ready to accelerate your emotions and passion for Formula 1 and the amusement parks at Ferrari Land Port Aventura. Let the speed invade you while you go from 0 to 180Km / h in just 5 seconds.
Along with the Ferrari World of Abu Dhabi, it's one of the famous Italian brand for the enjoyment of its fans across the world. It was opened in 2017 to commemorate the brand's 70th anniversary. That's why, on top of the attractions and the thematic areas, in the Ferrari Experience building, it is possible to visit the Ferrari Land Gallery and learn about the mythical founder of Ferrari: Enzo Ferrari; today's brand, its past, and of course the future of Ferrari, formula 1 and the GT world. Ferrari Land's most epic rides are Red Force, The Thrill Towers, Maranello Grand Race, and Kid's Podium.
Getting there: This park is located in Salou-Tarragona, a touristy town one hour away from Barcelona and accessible by public transport from Barcelona.
Recommended by Inma from A World to Travel
---
Interested in Barcelona?