Battambang is one of the destinations in Cambodia that still doesn't get all the attention it deserves. We absolutely liked Battambang. The cozy city in the Western part of the country is primarily known for its bamboo train. (I will talk about it later in this post, don't worry), but trust me there are other sights that are nontouristic and mostly unknown, but totally worth seeing. There are so many more things to do in Battambang than just the bamboo train.
Facts about Battambang
The Capital of the Province with the same name
City in the West of Cambodia
In the 19th century, Battambang belonged temporarily to Thailand (Siam)
How to get to Battambang
By Boat from Siem Reap
Duration: ca. 7-9 hours
Price: ca. $ 7
Probably the most adventurous way to travel between Siem Reap and Battambang is by boat. Depending on the season and water level, the duration of this boat trip differs. But the experience is unique in any case. During the trip, you will pass floating villages and discover the country from a whole new perspective.
From Siem Reap to Battambang by bus
Duration: 3-4 hours
Price: ca. $ 8
If the boat trip across the Tonle Sap is not an ideal means of transport for you, there is, of course, also the possibility to travel by conventional means of transport between Siem Reap and Battambang.
You can find all information about the different transport and booking options on 12Go Asia.
From Phnom Penh to Battambang
Duration: 6-7 hours
Price: $6
There are several bus and minivan companies that operate between Phnom Penh and Battambang. The ride on the bus can definitely be a bit shacky.
Find all the information about different transport options on 12Go Asia.
Where to stay? – Battambang Accommodation
$ Best Budget Accommodation in Battambang
Maybe not the best accommodation of our trip but definitely the cheapest we had during our whole trip: The Chhaya Hotel. (Check Prices and availability here.)
The rooms were obviously not really luxurious but there was nothing missing. It was clean and the beds were comfy.
Moreover, the owner is super nice. He helped us to plan our stay in Battambang with information and prices. He got us our boat tickets to Siem Reap for a really good price. Furthermore, we got water for free and during the mornings you could get coffee.
$ Accommodation in Battambang
Blue Diamond (With a swimming pool!)
$ Luxury Accommodation in Battambang
Delux Villa, Battambang (With a big swimming pool!)
The best things to do in Battambang, Cambodia
A ride on the Bamboo train
Ride with the bamboo train: $ 5
Opening Hours Bamboo Train: 07 am – Sunset
The bamboo trains, also called Norry, have been used since 1980 to transport people and loads in the area. Nowadays, however, the bamboo train is mainly used for tourism. The operation is supervised by the local tourist police. That's why you buy your ticket from a policeman who greets you with "Hello, where are you from?". Depending on the answer, he has a few words in stock in your local language.
The ride takes about 40 minutes back and forth. (A bit longer for us because we just had too much oncoming traffic). It's a unique experience and the nature you get to see is beautiful.
And what to do if another car is coming towards you? No problem. The Bamboo Train cars can be disassembled in a jiffy so that the oncoming vehicle can get through. And then you're ready to move on.
At the end of the route, there is a short break of about 10 minutes before returning to the start. Here, you can walk around and check out the souvenir stands, purchase something to eat or a cold drink. The kids were already waiting to sell us one of their bracelets. Admittedly, this was a bit exhausting. And saying no to kids is always hard. But anyway, everywhere you go you are asked not to buy souvenirs from kids, otherwise, you motivate them to skip school and sell souvenirs instead.
It's best to get off right on the other side to avoid being besieged like that in the first place.
After that, however, it's time to go back again. The wind from the ride is super refreshing on hot days and a little cooling from the hot midday sun.
How to get there?
The bamboo train is about 5 km outside the city center.
You can take one of the many tuk-tuks and try to negotiate a good price.
Or you can walk as we did. However, please keep in mind that the second half of the walk is outside the city center. We decided to have lunch halfway and in the end, had to postpone our lunch for a few hours on the way back because there are no restaurants on the way.
Ta Dumbong Statue
The impressive Ta Dumbong statue is located in the middle of a traffic circle in the east of the city. According to legend, Ta Dumbong was a shepherd who gave Battambang its name. With the help of a found magic wand, he ousted the king from the throne and became the ruler of the region himself.
The imposing statue is frequently visited not only by tourists but also by locals and is, therefore, as a kind of landmark of the city, a real must on any visit to Battambang.
Phnom Samphou (Killing Caves, Temple, Bat Caves, Battambang)
Entrance fee: If you want to go up to the killing caves of the temple you have to pay an entrance fee of $1
Opening times: the act of the bats takes place after sunset, so it is best to arrive around 05.30 pm to find a good spot.
How to get there?
These three sights are located around 12 km outside of the city center. The easiest way to get there is by tuk-tuk or motorcycle. You can get up to the foot of the mountain. But you gotta walk up yourself! (There are tours that will drive you up in a van though)
If you want to save some money, you can try to find other travelers to share your ride with.
The Killing Caves Battambang
The Killing Caves are truly impressive. Especially, if you are familiar with the backgrounds of this cave.
As you can already assume by the name, many Cambodian people have been killed here during the Khmer Rouge dictatorship by being pushed down the cave.
Even if you've already visited the even more famous Killing Fields in the capital Phnom Penh, it's worth a visit. The tragic history of this place still goes through your heart and soul.
Phnom Samphou
Walking upwards a bit from the Killing Caves you will already find the top of the mountain and a beautiful temple. Don't get discouraged by the view from below as the mountain can seem quite impressive. But to be honest, the way up was way easier and faster than it might seem.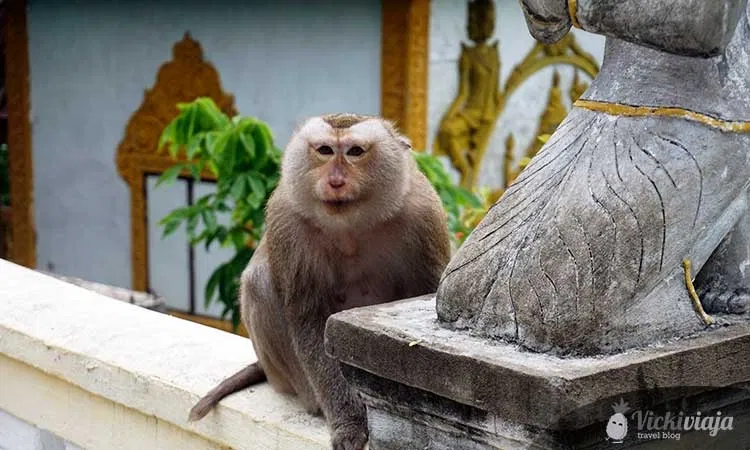 Besides a magnificent view over Battambang, you will find mainly one thing: monkeys and monks. These definitely contribute to the mystical atmosphere of this place.
Besides a terrific panorama over Battambang, you will find mainly one thing here: monkeys and monks.
The monkeys are used to humans (probably even too much) and that's why they're not shy at all. On the contrary, if they assume you might carry food with you (especially if you are carrying a plastic bag with you) they will start to approach trying to steal whatever they can reach.
I can only recommend everyone to take the path to the top of the mountain and Phnom Samphou and stop for a few minutes to enjoy the beautiful view and watch the monkeys playing.
The Bat Cave Battambang
As soon as you have reached the foot of the mountain again (ideally you take the stairs down as it leads you directly to the exit of the Battambang bat cave) you can look for the best spot to see this magnificent act of nature. You might wanna get there around 5.30 pm to make sure you catch the best spot.
Of course, every restaurant will try to convince you they offer the best view of the bat caves. They will not mention that they also offer totally overpriced drinks and snacks. But actually, the best view you'll probably have is from the (free) benches right in front of the bat caves.
As soon as the sun goes down the hungry nocturnal bats will wake up to go hunting. An absolutely unique experience. Thousands of bats are leaving their cave at the same time.
Unfortunately, it can be pretty complicated to take a good snap of it. As the sun is already going down the lightning conditions are surely not the best. Moreover, animals are actually quite small.
So, just put down your camera for a while and enjoy with your own eyes instead.
Wat Damrey, Wat Kandal, Wat Bovil, Wat Bo Knong, Elephant temple
On our last day in Battambang, we decided to visit the non-touristic temples in our area that we've found on Google Maps. Simply discovering the "real life" besides tourist crowds.
And we didn't get disappointed. Firstly, we didn't have to pay an entrance fee. So we could spare some money. Secondly, there were no tourists wandering around, so we could look around and take pictures in a relaxed atmosphere without being bothered by others.
Furthermore, all these temples are within walkable distance from each other, so you don't have to take a taxi or tuk-tuk.
The first temple grounds that we visited was a little flooded by the monsoon rain. But still, (or maybe especially because of that?) it was totally beautiful walking around.
The nontouristic temples just had this peaceful tranquil area. Exactly what we were looking for after the exhausting last day of sightseeing.
Our last stop was the white elephant temple. Unfortunately, many of the white elephants were already fallen apart. Anyway, a really nice place to see and we enjoyed having a walk around there.
The Circus of Battambang – Phare Ponleu Selpak
Another popular activity in Battambang is its circus. More specifically, Phare Ponleu Selpak is a circus school where advanced students give performances. The circus is meant to give disadvantaged children and young people an alternative to the street and thus give them a better life.
The circus is Battambang's pride and joy, so you can get tickets to a performance at almost any local accommodation.
Wat Ek Phnom
Opening Hours Wat Ek Phnom: 08 am – 11 am; 2 pm – 5.30 pm
Entrance Fee Wat Ek Phnom: $ 2
About 12 km outside the city center, another highlight awaits you, Wat Ek Phnom. The ancient Hindu temple from the 11th century could easily pass as the little brother of the impressive Angkor temples. So if you haven't visited Siem Reap yet, Wat Ek Phnom could be a great alternative for you.
However, let's face it, if you have already visited Angkor Wat and even spent several days there, Wat Ek Phnom may be just "another temple ruin" for you.
---
Have you ever been to Battambang? What did you like the most? And if not what are you interested in? Let me know in the comments below.