Are you looking for the perfect Tarragona beach and coves? Then you will definitely find it here. Whether you are looking for beaches close to the center of Tarragona or unique beaches in Tarragona's surroundings.
Eduardo has spent almost every summer in the region for more than 30 years and has already visited quite a few beaches near Tarragona. We have therefore gone in search of the best Tarragona beaches and summarized them for you in this list.
Tarragona Beaches and Coast
Tarragona is located on the Catalan coast south of Barcelona. The coast here is called Costa Dorada (Costa Daurada in Catalan) and includes about 60 beaches of various sizes and facilities, stretching over a length of almost 90 km/56 mi.
The best Tarragona Coves and Beaches
In this article we don't want to beat around the bush and present you the best beaches of Tarragona right away. If you want to learn more about Tarragona and its attractions, make sure to read our detailed Tarragona sightseeing guide.
Author's note: The order of the beaches refers to their proximity to Tarragona and does not represent a ranking.
Playa del Miracle, Tarragona
The city beach of Tarragona may not be a classical paradise beach, but it is the easiest beach to reach within Tarragona. Because from the center of Tarragona, you can reach it quickly and easily on foot.
The beach is well maintained, but unfortunately, it is usually quite crowded during the summer. Despite this, El Miracle offers everything a good sandy beach should offer: clean water, showers, toilets, restaurants and cafes, and more than 500 meters of golden sand.
The best view of this beach you get from the Balcó de Mediterrani, a viewing platform at the entrance of Tarragona. From here, the beach makes for a truly picturesque setting.
Extra tip: If you visit Tarragona in June, be sure to watch the annual fireworks from Miracle beach. It's probably the most beautiful vantage point to admire the fireworks show.
Playa L'Arrabassada, Tarragona
The next beach on our list is Playa L'Arrabassada in Tarragona. This semi-urban beach is located about two kilometers outside the city center, so it can be reached via a short walk or by car.
This beach is especially popular with surfers due to its wind conditions. But also sun worshippers and keen swimmers can definitely enjoy themselves here. With great relatively soft sand, a few chiringuitos (beach bars) here and there, as well as services like showers and toilets, the beach is great equipped.
Surrounded by palm trees and cliffs, Playa Arrabassada offers magnificent scenery and is also perfect as a photo motif. However, due to its proximity to the city center and easy accessibility, the beach is usually quite crowded during the summer.
Cala Fonda (Waikiki Beach), Tarragona
Cala Fonda, also known as Waikiki Beach, is a real visitor favorite and is even considered by many to be the most beautiful beach in Tarragona. Due to its not-so-easy accessibility and lack of bars and other services, this beach is a true paradise for nature lovers.
The popular beach is located about 6 km/3.7 mi from the center of Tarragona and is best reached by car and a subsequent walk. You can best park at Camping Torre de la Mora and from there, follow the approximately 20-minute path to the beach.
Surrounded by stone cliffs and pine trees, the result is a truly spectacular landscape that enchants visitors and locals alike every day. The fine golden sand and crystal clear waters of the Mediterranean Sea also contribute to the picturesque atmosphere.
Platja de la Móra, La Móra
Platja de la Morá is located next to the small town of Morá. Since the beach can only be reached by car, on foot from Morá, a short hike from Altafulla, or by bus from Tarragona, it usually doesn't get quite as crowded here.
The semi-urban golden sandy beach stretches for about 500 meters/0.3 mi. In addition to a handful of bars and restaurants, you can also find the main services here, such as showers.
The surroundings of Platja de la Morá are quite charming, as the beach is surrounded by cliffs and pine trees. Therefore, despite its proximity to the city, the unique Catalan nature is really not missed.
Due to its bay-like shape, the water at Platja de la Morá is usually rather calm, which makes it great for a relaxing swim, also for families with children.
Cala Jovera, Tamarit
Another dream beach that does not require services or car access is Cala Jovera in Tamarit. You can only reach this small virgin beach on foot from the beach de la Morá or Platja de Tamarit.
Contributing to its beauty are not only the fine-grained golden sand, the clean water, but also the neighboring Tamarit Castle, which is located right on the beach and separates Cala Jovera from Platja de Tamarit.
Cala Jovera is one of the smallest beaches in the region and has a length of just 90 meters/0.5 mi. And yet, it is usually far less crowded than its neighboring beaches. The pine trees that border the beach also contribute to its gorgeous atmosphere.
Platja de Tamarit
If you are looking for a beach at the Tamarit Castle, but you don't want to give up the luxury of services like showers and toilets, the Platja de Tamarit is the right place for you.
You can reach this 1750 meters/1 mi long beach by car or on foot from the station of Altafulla. It is easy to reach, which contributes to its popularity during the summer months.
The fantastic picture that emerges from the beach overlooking the impressive Tamarit Castle is already a great reason to visit. But also the relaxed atmosphere, the clear water, and the fine sand will make your visit to the beach a real highlight.
Platja Altafulla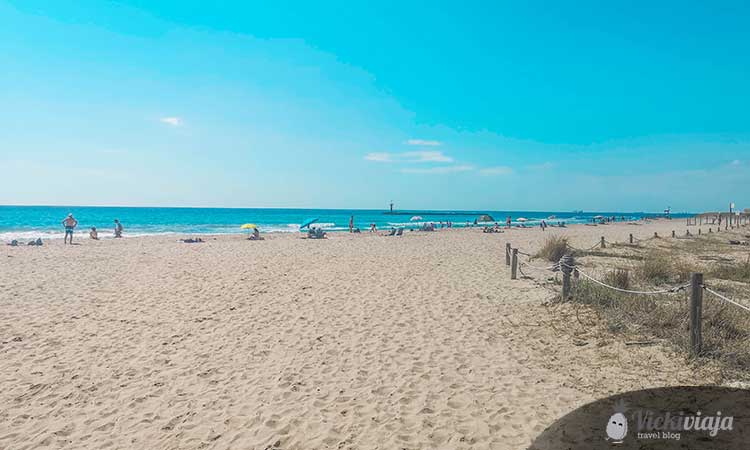 With a length of 1,100 meters/0.7 mi, the beautiful Platja Altafulla is waiting for you. You can reach it on foot from the Altafulla train station via a short walk. Due to its easy accessibility, the beach is also perfect for a trip with children.
Especially if you want to enjoy a cool drink or a delicious lunch with a view of the beach, Platja Altafulla is the right place for you. Because here you can find a few restaurants and cafes directly on the beach.
Platja Altafulla is also great for watersport fans as the Club Náutico de Altafulla, where there are many water sports offers such as kayaking, windsurfing or paddle, is located right at the beach area.
Platja de Canyadell, Torredembarra
Surrounded by cliffs and typical Catalan vegetation such as pine trees, Platja Canyadell, also called Cala Capellans, between Torredembarra and Altafulla, is another fantastic beach in the Tarragona area worth visiting.
Compared to other beaches in Tarragona, Platja Canyadell tends to be less crowded and is therefore great for those looking for some tranquility. Speaking of tranquility, the bay's waters are also known for their calmness, which makes it great for a refreshing swim.
The 60 meters/200 ft. long beach is popular among visitors mainly for its seclusion and surrounding nature.
Platja de La Pineda, Vila-seca
Platja de la Pineda is one of the most highlighted beaches in the region. Almost four kilometers/2.5 mi long, the beach is mainly promoted as a family beach and is therefore great for a visit with children.
Besides, the water access and the gentle current also make the beach simply ideal for a visit with the little ones.
Make sure to have a long walk along the beach as there are some unique sculptures you can discover along the way. Moreover, there is a possibility to follow the bike path along the coast.
In general, a walk near the beach is worthwhile, because La Pineda is surrounded by a lot of beautiful nature.
You can easily reach La Pineda on foot from the city center.
Platja de la Cala Crancs, Salou
Let's move on to another idyllic beach, located at the city gates of Salou: The Platja de la Cala Crancs. Unfortunately, with a length of just under 90 meters/300 ft, it gets a bit crowded here during the summer months. Therefore, it is worth getting up early.
The semi-urban beach is especially popular with snorkelers due to its clear, calm waters. Due to its proximity to the city, Cala Crancs can be easily visited on foot, but despite everything seems to be surrounded by typical Mediterranean nature.
Also, facilities such as showers and the like do not have to be renounced at this beach by any means.
Platja Llarga, Salou
Platja Llarga is, as the name suggests, the long beach of Salou. At almost 650 meters/0.4 mi you will find a beautiful sandy beach and great vacation vibes. It is not to be confused with the beach of the same name, which is located in Tarragona (more about this at the end of the article).
The beach can be reached on foot from Capellans or Cap de Salou, by car or by public transport.
If you follow the beach promenade, you can also find a few refreshment options in the form of beach cafes (chiringuitos). But also on the beach itself, there are plenty of services like showers and water sports rentals.
Playa de Calafell
Over a distance of more than a kilometer/0.6 mi stretches the fine sandy beach of Calafell. For us, definitely one of the most beautiful beaches in the Tarragona area, and not only because we got engaged here.
With many bars and restaurants directly on the beach boardwalk, the vacation vibes definitely do not come up short here. Due to its length, the Platja de Calafell is, despite everything, usually not too crowded and offers plenty of space.
Enjoy a cool drink or a delicious ice cream along the beach promenade, relax in the sun in the golden sand of Calafell or try one of the offered water sports.
Calafell Platja is quickly and easily reached by a short walk from Calafell's train station.
Platja de Ribes Roges, Vilanova i la Geltrú
For those who like it a little quieter, Platja de Ribes Roges in Vilanova i la Geltrú is the place to be. The beach can be reached quickly and easily on foot from Vilanova i la Geltrú train station and is also a great day trip from Barcelona due to its direct connection with the Catalan capital.
The wide beach stretches over a length of about 1,200 meters/0.75 mi and therefore offers plenty of space for long walks on the beach. Despite its length, it can still get quite crowded here, especially in the summer. During your walk, you should definitely take a look at the Pasiphae statue, which is popular with the residents of Vilanova.
In addition to walkers, water sports enthusiasts are especially drawn here. Whether kayaking, surfing or jet skiing, there is a lot on offer.
Cala Calafato, L'Ametlla de Mar
If there were exotic palm trees instead of pine trees, you would think you had landed in the Caribbean when you visit this beach of Tarragona. Because at Cala Calafato in L'Ametlla de Mar, a paradisiacal dream beach with golden sand and crystal clear water awaits you.
Although this beach is only one of 18 calas in the region around Ametlla de Mar, Cala Calafato is definitely one of the most beautiful. The small bay is located at the entrance of the small town of Calafat.
But not only the paradisiacal landscape on this beach enchants its visitors. Also the great biodiversity under water paired with the crystal clear water of the Costa Daurada are a true dream for every snorkeler.
More beaches in Tarragona
Platja Savinosa, Tarragona
Platja Savinosa is another beach in close proximity to Tarragona. As a nudist beach, the natural yellow sandy beach is very popular with visitors to the region.
Platja LLarga, Tarragona
Not far from Platja Savinosa we find Tarragona's long beach, Platja Llarga. This semi-urban beach is the longest beach in Tarragona, with a length of almost 3 km/1.8 mi.
Cala de La Roca Plana, Tarragona
Cala de La Roca Plana is the neighboring beach of the already mentioned Waikiki beach (Cala Fonda). If you want to visit the popular Waikiki beach, you can't avoid visiting Cala de La Roca Plana on the way there.
Even if the Cala is not quite as famous as Cala Waikiki, it is definitely worth a visit due to its natural beauty.
---
And which one is your personal favorite? Let us know below in the comments!
Interested in Spain?