A visit to the German capital is a real must for every Germany Itinerary. But what many don't consider is that area around Berlin also has a lot to offer. Therefore I have summarized a few of my favorite Berlin day trips for you. However, this list of day trips from Berlin didn't get very long. So I started wondering Where do Berliners and Berlin-Fans go in their free time? That's why I asked some Berliners and travel bloggers about their personal recommendations for a travel destination near Berlin.
And here you will find the result: 23 fascinating day trips from Berlin. Whether you are looking for culture, nature, or swimming fun; Whether it's an excursion for two, a solo traveler, or a Berlin trip with kids – these destinations include the perfect day trip for everyone.
The best Berlin Day Trips
The following Berlin activities are ordered by their distance from Berlin. In addition to Brandenburg attractions, you will also find city trips and other amazing destinations nearby, which you can visit from Berlin in a day.
Berlin Trips on a Map
Day Trips from Berlin – The most beautiful places in Brandenburg
Potsdam
Journey Duration: approx. 40 Minutes
How to get there: Potsdam can be reached quickly and easily by train or bus (N1325)
Potsdam is arguably the most popular Berlin day tour. And that's not just because the capital of Brandenburg is right outside Berlin. Potsdam has a lot of great sights to offer.
The city is especially known for its outstanding castle and park facilities. Especially the imposing Sanssouci Palace shouldn't be missed on any visit to Potsdam. The real highlight of the castle is the impressive castle garden, which extends around the castle.
But there is also a lot to see in the city center. Especially, a visit to the Brandenburg Gate is an absolute must. And no, you didn't read that wrong, there is also a Brandenburg Gate in Potsdam. Furthermore, you should also pay a visit to the Dutch Quarter. As you stroll past the 143 brick houses here, you might almost think that you've suddenly landed in the Netherlands.
Moreover, Potsdam is also definitely worth a trip for anyone interested in the world of movies and cinema because both the Filmmuseum and the Filmpark Babelsberg are waiting for your visit there.
Tropical Islands
Journey Duration: approx. 1 – 2 hours from Berlin
How to get there: By train to Brand Tropical Islands station or by car via the A-13 (Berlin-Dresden)
Feeling the warm sand between your toes – lying on the beach in the sun totally immersed in your book while sipping an exotic cocktail – slide into the clear water to refresh yourself after a stroll through a tropical jungle landscape. If you think of the Caribbean now, you're wrong. Tropical Islands is not that far from Berlin.
In this holiday world, you can feel like a holiday in the tropics, whether beach holiday, Thai massage, mini-golf, or Germany's highest water slide tower. In Tropical Islands, you can experience a day of vacation without hopping on a plane. Even diving courses, safaris, and balloon rides are offered here.
This tropical amusement park was built from the former airship warehouse here in 2003 and still attracts dozens of visitors every day. This day trip is perfect for families with children and couples, but even solo travelers will get their money's worth – in other words: Tropical Islands is a great destination for everyone.
Teufelsberg
Journey Duration: ca. 35 minutes
How to get there: Getting there requires some hiking through the forest trails and takes over an hour to reach from the city center using public transit or driving.
One cool day-trip from Berlin is the site of Teufelsberg. It's technically on the outskirts of the city in the Grunewald Forest and translates to 'Devil's Mountain'.
Teufelsberg is the site of a cold-war era NSA spy station that is now open to the public for a small admission fee. No longer used for espionage, the grounds and the tower are full of artists, street arts, and vendors. Every wall of the massive building is covered in street art which you can admire as you climb to the listening station at the top. The former spy station is built atop a man-made plateau which offers a great view of the city and surroundings.
 The area around the tower was formed when WWII rubble was cleared from West Berlin and used as fill to cover a planned Nazi military-technical college. The project was never completed but was covered up anyway. The Western powers tried to blow up the Nazi building but couldn't. Since they had to clear the city of rubble and couldn't dump it in Soviet-occupied East Germany, this solution was effective.
Still, the way in which the hill came to be has given birth to urban legends of secret technology discovered on the site and confiscated by Cold War America. Regardless, it's a great way to spend a day outside of Berlin's city center because it combines hiking, street art, and history with an attraction that feels like a hidden gem.
Recommended by Derek and Mike from Robe Trotting
Wannsee
Journey Duration: approx. 30 Minutes
How to get there: By train, bus, by car via A115 or by bike
"Pack your swimming trunks, take your little sister. And then you let's go to Wannsee." Probably every German has heard this popular song about Berlin's Wannsee before. A popular lake destination near Berlin for tourists and locals alike. Young and old have been coming here for over 100 years, especially during the warm summer months.
If you don't want to drive all the way to the Baltic Sea, the Wannsee lido is the place for you. Whether sunbathing in the warm sand, swimming, trying out water slides, splashing around, or just relaxing – you've come to the right place. Whether family outing, relaxation alone, or a cozy time for two, the Wannsee is simply the perfect destination on a warm summer day.
But there is also a lot to experience for the active people. In addition to beach volleyball, you can also experience the lake on a long bike path or do various water sports. In addition to canoeing or kayaking, you have the opportunity to try stand-up paddling.
After an exciting day in the fresh air, you can then end the evening with a barbecue.
Nature Park Westhavelland
Journey Duration: approx. 1 – 2 hours
How to get there: By train (e.g. R1, R2 or R5), bus (line 684), car (via B5) or bike
Not far from Berlin, there is a lot of fabulous nature to discover. Because there is 1,315 km² of the fascinating landscape to be found in West Havelland. The nature reserve, which is considered the largest wetland in the European interior, is the perfect excursion for every nature lover.
The nature park is home to many endangered species and is particularly suitable for bird watching. But a visit at night can also be worthwhile since West Havelland is considered one of the best places in Germany to observe the stars and the Milky Way on clear nights.
A great way to discover the area is by bike. You can either rent a bike on-site or travel on your own bike. The Havel cycle path starts in Potsdam and leads a total of 371 km along beautiful landscapes and various lakes.
In addition to great nature, numerous hiking trails and lookout towers, there are also plenty of small villages and towns in the area that invite you to visit. In addition to the Paretz Castle, the two towns of Caputh and Ferch are popular travel destinations in the region.
Senftenberg
Journey Duration: approx. 1 1/2 hours by car
How to get there: Senftenberg is located in the South of Brandenburg and worth a visit. There is a direct train connection between Berlin Ostkreuz and Senftenberg. By train you need around two hours, if you go by car you need around one and a half hours. The most comfortable way to travel to Senftenberg is to go by car or by train. Another possibility is to use an intercity bus to Cottbus where you change to a train. Otherwise, there are only busses available from the nearest cities around.
Senftenberg itself is more like a town than a city. The most famous place is the Senftenberg Lake that is visited by many tourists and residents yearly. Every year in August/September the Hafenfest (harbor festival) takes place, where different musicians have gigs, where you can enjoy drinks and food. You also have the possibility to take a trip with a pedal boat or cruise around with a Segway.
If you want to go explore the city, you can take a walk around the old town, but it is not suitable for a shopping tour. You will not find the typical fashion stores. The better options are to discover the Senftenberg castle and its small mine, as well as the animal park. If you are more into hiking you should do a hiking trip along the lakes to get to know the "Rostiger Nagel". Nature and pleasure united.
Recommended by Michelle from The Road Most Traveled
Sachsenhausen Memorial & Museum
Journey Duration: 40 Minutes
How to get there: Sachsenhausen is located in the town of Oranienburg and can be easily visited on a day trip from Berlin. The total journey should take less than an hour. To get to Sachsenhausen, take the S Bahn from Berlin HBF to Oranienburg HBF (approximately 30 minutes). From there, you can either take the bus (signs are posted near the train station with directions on which bus to take to the memorial) or hop in a taxi to get to the memorial site. Sachsenhausen is located in Zone C – keep this in mind if you've purchased a public transportation pass while exploring Berlin. If you've only purchased an AB pass, you will need to buy a separate ticket for the journey to Sachsenhausen.
Admission to Sachsenhausen Memorial and Museum is free; audio guides and guided tours of the site are offered for a small fee.
Located just 40 minutes from Berlin, Sachsenhausen Memorial and Museum is a somber reminder of Germany's turbulent history.
Sachsenhausen was a Nazi concentration camp that held prisoners from its opening in 1936 to 1945. More than 200,000 inmates were held at the camp with more than 100,000 being murdered by the Nazis. Today, the camp is home to a museum and memorial in remembrance of the innocent lives lost there.
There are many interesting exhibits detailing the history of the camp and the horrors that occurred there. Visiting the museum is a sobering and emotional experience. While there, it is important to remain respectful of the site's history and avoid behaviors such as talking loudly, taking selfies or otherwise inappropriate photos, or behaving in ways that are disrespectful to the victims who were imprisoned and murdered at the camp.
Recommended by Sydney from A World in Reach
Spreewald
Journey Duration: 1 hr by train from central Berlin
How to get there: Take the regional train from Hauptbahnhof, Alexanderplatz, or other central train station to the town of Lübbenau, the rest is accessible by foot or boat
The Spreewald is a cozy green biosphere reserve just a short train ride away from Berlin. It's the perfect place to escape the busyness of the city and get into nature. The Spreewald's claim to fame is its intricate network of narrow canals that meander through forests, marshlands, and charming old German towns. Taking a boat tour here is a must. You can hop on a scheduled tourist route but for an even more intimate experience, rent your own kayak and paddle deeper into the reserve.
In addition to exploring the canals and rural corners of the Spreewald, there are plenty of other activities to enjoy. This area is a famous location for wellness getaways with multiple spas, saunas, and thermal baths in the area. You can also stroll through the towns on the edge of the reserve such as Lübbenau and Lübben with their cobblestone streets and timber-framed houses. Visit the Spreewald Museum, tour one of the nearby castles, or simply go for a relaxing nature walk.
Although the Spreewald is well known amongst German travelers, very few foreign visitors know about it. This makes it the perfect place to get off the beaten path whether you're in Berlin for only a couple of days or you want to call the city home.
Recommended by Casey from Carefree Compass
Oder-Spree Lake District
Journey Duration: 75 Minutes from Berlin Hbf to Bad Saarow
How to get there: By train from Berlin Hbf to Bad Saarow or one of the other places in the Seenland Oder-Spree
There are more than 400 lakes in the Oder-Spree lake district. And with so many lakes, it's all about water activities. Paddling, rowing, swimming, or sailing: everyone will find their water fun here. My favorite tip: a canoe tour on the Spree from Neubrück to Drahendorf.
Surrounded by a green landscape, you can explore the idyllic landscape of Brandenburg. On the way, an experienced canoe couple told me that this is one of the most beautiful canoe tours on the Spree. If you are lucky, you can even see a beaver or sea eagle.
But even those who prefer to stay on the land, the Seenland Oder-Spree has enough adventures to offer. Here you can hike beautifully in Märkische Switzerland or ride a part of the Oder-Neisse cycle path.
Recommended by Janna from Janna – Slow Travel und Mikroabenteuer
Oderbruch
Journey Duration: approx. 1 ½ hour
How to get there: The most beautiful places of the Oderbruch – such as the old colonist village Neulietzegöricke, Altlewin, or Zollbrücke – are served by the Oder bus on summer weekends. The newly established 879 bus stops at 32 stops between Bad Freienwalde and Wriezen. Bad Freienwalde on the edge of the Oderbruch can be reached in one and a half hours by train from Berlin Hauptbahnhof. Take the RE3 to Eberswalde and from there continue on the RB60 to Bad Freienwalde. There is also a connection to the regional train in Wriezen.
Flatland stretches 50 kilometers east of the city limits of Berlin: the Oderbruch. Until 250 years ago, the inland delta of the Oder was swampy, crossed by numerous watercourses, and plagued by swarms of mosquitoes. The few residents lived on fishing.
Today, the surrealistic landscape behind the Oder dike is a popular destination for cyclists, hikers, and other people who love being apart from the hustle and bustle. The quiet Oderbruch has also developed into a retreat for Berliners who have had enough of the city noise. Some new citizens in the tranquil villages of the Oderbruch even say they can no longer stand society. They seek and find peace and seclusion to live on the very edge of Germany.
Nevertheless, there is more to see in the Oderbruch than gnarled pastures and drainage ditches shaped by the wind. Although I think the landscape alone is worth a trip. But the Oderbruch also culturally scores with the unusual. The Theater am Rand in Zollbrücke is one of them. The place Neuhardenberg with a worth seeing Schinkelkirche and the magnificent castle of the von Hardenberg family also. Fans of moving concerts make a pilgrimage to Altfriedland Abbey ruins in summer.
Recommended by Beate from Reiselust Mag
Schorfheide-Chorin Biosphere Reserve
Journey Duration: approx. 1 hour (by car); up to 2 ½ hours (by public transport)
How to get there: The biosphere reserve can be easily reached by car via the A11 or by train and bus
The Schorfheide-Chorin Biosphere Reserve is one of the largest forest areas in the country. Some of its landscape sections have even been recognized as a UNESCO World Heritage Site. Not far from Berlin, kilometers of beautiful nature and wonderful places, such as the monastery in Chorin, are waiting for you.
The area as big as 90,000 soccer fields are home to a large number of different animals and plants and almost 240 lakes. The Buchenwald Grumsin in particular is a popular destination for young and old. The area is great for walking and spending some time in the green.
But you will also find plenty of hiking spots in other parts of the huge green area. Of course, you can discover them yourself and enjoy the peace and beauty of nature. Anyway, you can also participate in a guided tour. The aim of these tours is to bring you closer to the nature and culture of this unique region.
Destinations and activities under 2½ hours from Berlin
Lusatian Lake District
Journey Duration: Less than 2 hours by train
How to get there: By train or by car via the A13
Summer in the City and you just want to get into the water? The Baltic Sea beaches and the Wannsee are crowded, what to do? I have an idea for you: 25 lakes, almost 2,000 kilometers of bike paths, natural accommodation options in the treehouse or wooden hut by the lake, stand-up paddling and sunset walks to the sounds of the cranes – all of this can be found in the Lusatian Lakeland in Brandenburg (and a little in Saxony).
The Lusatian Lakeland, as it is today, is still quite young – and not even completely finished, because it was created by the flooding of former coal mines. One of the first to be flooded was the Senftenberger See on the very pretty town of Senftenberg, which is a great starting point for a trip to the Seenland.
For a weekend or even longer, because the Lusatian Lakeland is really ideal for calming down and taking a breath.
But even if you are looking for action, you will get your money's worth here, for example when rappelling from the F60 clearing conveyor bridge in the visitor mine. You can find out what else you can experience in the Lusatian Lakeland here.
Recommended by Sandra from Tracks and the City
Rakotzbrücke
also called The Devil's Bridge
Journey Duration: Two hours from Berlin by car. Three hours by public transport.
How to get there: Rakotzbrücke is located at Kromlau Park. The easiest and quickest, way to get there is by car as it's mainly on the Autobahn. There is also parking available (€2.50) across the street from the park. If you prefer public transport then take the train to Weißwasser (via Cottbus.) Then you will need to take the bus no. 257 to Kromlau, before walking the final 1 km to reach Rakotzbrücke.
If you've seen Rakotzbrücke, or the Devil's Bridge, on social media then you might have wondered which fairytale-inspired such a unique, and iconic, construction.
There were many devil's bridges built around Europe during medieval times. These bridges were thought to have been so intricate, or difficult to build, that they could only have been completed with the help of the Devil himself.
The devil's bridge in Kromlau Park certainly looks like something from a mythical world. The delicate stone arch, with its jagged spires at either entrance, was commissioned in 1860 by a local knight. The park itself is also the perfect place to have a picnic or a quick walk around the trails.
The Rakotzbrücke is spectacular all year round but possibly the best time to visit is autumn/fall. The foliage around the lake at this time really adds to the mythical atmosphere that already surrounds the place.
Walking onto the Rakotzbrücke is prohibited to preserve the bridge, which is fine as that's not even the best thing about this place!
The highlight is, of course, capturing that iconic image of the bridge in front of the lake. The arch is beautifully reflected in the water to form a perfect circle. Perhaps Satan did play a role in such a creation?
Recommended by Jeff from Life of Y
Wittenberg
Journey Duration: Approx. 40 Minutes to the main train station + 10 minutes walk to downtown
How to get there: Wittenberg can be reached by car from Berlin in 1 hour 20 minutes, which makes it a perfect destination for a small day trip. It is even faster by train from the main station.
Wittenberg is a very special city because Martin Luther, the founder of the Reformation, lived and preached here. In the beautiful little old town, which has small alleys and wonderful house facades, you will find three particularly important historic buildings that even belong to the UNESCO World Heritage:
In the former home of Martin Luther, there is now a museum where you can see Luther's personal belongings. Even if you are not a fan of museums, you should at least take a look at the unusual house, which was once an Augustinian monastery, and the idyllic courtyard!
The impressive town church, which is considered the original church of the Reformation, overlooks the pretty market square. Here the reformer delivered his sermons.
Luther is said to have nailed his 95 theses to the door of the unusual castle church at the other end of the old town.
Recommended by Bettina from Urlaubreise.blog
City breaks from Berlin
Dresden
Journey Duration: 2.5 Hours
How to get there: There are multiple buses and trains that go between the two cities daily, so you can easily get from Berlin to Dresden and back in a day.
One of the most important historic cities in Germany, Dresden is the capital of the important Germany state of Saxony. Bombed by the Allies during World War II and center-stage in Kurt Vonnegut's Dresden, there are centuries of Dresden history to explore and learn while you are here.
In the Altstadt, you can tour the Dresden Semperoper, explore the Frauenkirche, and see the city's cathedral. One thing to keep in mind is these beautiful buildings are all reproductions since this part of the city was completely destroyed by the bombing campaigns in World War II.
Across the river in the Neustadt, you can take in Dresden's great street art, visit the beautiful Pfunds Molkerei milk shop, and explore fabulous Baroque architecture. These buildings here are older than the ones in the Altstadt since it was mostly safe from bombing, so here you're seeing a bit of Dresden's fabulous original architecture.
Recommended by Stephanie from History Fangirl
Leipzig
Journey Duration: 1.5-2-hour train ride from Berlin; 2 hours by car from Berlin
How to get there: By train: Take the ICE 501 from Berlin Central Station (3 stops) to Leipzig Main Station; By car: Fastest via A9 highway
Home to artists of all kinds, Leipzig is one of the most intriguing destinations in Germany and once saw people from all over the world as a central hub on Medieval trade routes. This exchange of ideas helped stoke a sense of creativity that has remained in Leipzig's sense of identity today.
Post World War II, Leipzig struggled economically. Residents abandoned the city, and many structures fell into a state of disrepair. But over the past three decades, the city has had a cultural Renaissance, becoming one of the fastest-growing cities in Germany with galleries, performance venues, and universities emerging bringing life into once-empty buildings. Before your visit, look at the upcoming schedule for Oper Leipzig, the city's spectacular opera house. Tickets may need to be purchased in advance.
Learn more about the city's history at the Museum of Leipzig. Then, walk the grounds at St. Thomas Church. Across from the church is a museum dedicated to Johann Sebastian Bach, where you can see Bach's handwritten music manuscripts. Another must-visit site is the Museum der Bildenden Künste, a cube-shaped museum with artworks that span to the Medieval and Renaissance eras. No visit to Leipzig is complete without a wander through the Markt, a square where festivals, street performances, and markets often take place throughout the year.
Recommended by Chantae from Chantae was here
Weimar
Journey Duration: 2:10 hours from Berlin
How to get there: ICE Berlin Hbf – Weimar (1x change) Buy your ticket one month in advance approx. € 36, Flixbus 3.5 h journey (direct) approx. € 15, carpool approx. 3.5 h (depending on the offer) approx. € 14Weimar not only offers a high-quality range of cultural activities but is also a green place to spend a few hours in the park. Goethe's garden house is right in the park on the Ilm and the Bauhaus University is nearby to explore. If you want to find even more classical Weimar attractions, I recommend a visit to Goethe's house and Schiller's house.
All the sights I have listed are included in the Weimar Card. You can buy one of those on the Weimar marketplace for € 32.50 and benefit from many advantages. Free admission to many museums, such as the Bauhaus Museum or the Museum of Prehistory and Early History, and a guided tour of Weimar are included. I was there for the big city tour, for which you should plan about 2 hours. Here you will learn a lot about the history and changes of the city, which is the symbol of Weimar and why Weimar is considered the cultural capital.
For a lunch or coffee break, I recommend stopping by in the bread hatch on the Frauenplan (directly opposite Goethe's house). You should definitely try delicious coffee and a filled sourdough "Stulle". If you prefer fast food, then you should definitely not miss out on the Fritz Mitte fries.
A special festival in October attracts over 300,000 visitors every year. It is the onion market. This tuber has been honored in all variations on that special weekend for more than 365 years. From the casserole to an onion cake to decoration as a braid. This year the festival will take place from October 9th to 11th, 2020.
Recommended by Lisa from wanderwithlilu
Hamburg
Journey Duration: 1 hour 45 minutes to 2 hours
How to Get There: Take the Deutsche Bahn Intercity-Express train from Berlin Hauptbahnhof to Hamburg Hauptbahnhof
Hamburg has a wide variety of sightseeing to offer, including both natural beauty and its unique maritime and industrial heritage. Indeed, these are often intertwined, for example in the Speicherstadt district. Here you'll find peaceful canals lined on either side by red-brick warehouses, which are especially beautiful when lit up at night. Many of the sights of interest in Hamburg are centered around various bodies of water, including the Alster and Elbe rivers and the Alster Lake. As the second-largest port in Europe, it's not surprising that water is the main focus here.
Although if you get stuck with bad weather, one indoor attraction that you definitely shouldn't miss is Miniatur Wunderland. Often billed as the largest model railway in the world, it's actually much more than that. Artists have recreated entire cities, countries, and continents in miniature, with amazing attention to detail. And they are constantly adding new details, so the models just keep growing. Recent additions include a miniature Greta Thunberg protesting climate change on a shrinking iceberg, and a miniature version of the Elbphilharmonie, Hamburg's new concert hall.
Which, by the way, you should also see while you're in the city. There's a free viewing platform at the top, called The Plaza, that offers amazing views. Hamburg has some great restaurant options too, including plenty of vegan and vegetarian restaurants. Happenpappen and Fried Club are two of my favorites.
Recommended by Wendy from The Nomadic Vegan
Magdeburg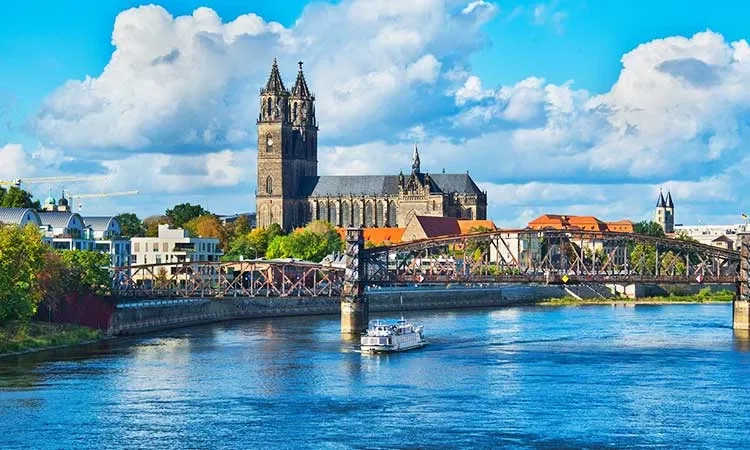 Journey Duration: approx. 1 hour 40 minutes (by train) or 2 hours (by car)
How to get there: Magdeburg can either be reached by direct train from Berlin or by car
The state capital of Saxony-Anhalt is often overlooked by tourists. Because although it is not exactly known as one of the main tourist destinations in the country, Magdeburg has a lot to offer.
The so-called Ottostadt offers antique attractions as well as modern sights. One of them is the Green Citadel of Magdeburg. The pink building, overgrown with many green plants, clearly stands out from the cityscape and is a real masterpiece. The building, inaugurated in 2005, was designed by the famous architect Friedensreich Hundertwasser. With this impressive project, he definitely succeeded in his plan to create a small oasis in the city.
The most famous sight in the city, however, is the Magdeburg Cathedral. Because it is not only one of the largest churches in the country but was the first Gothic-style cathedral built in Germany. It is no wonder that the imposing cathedral is considered the main attraction of the city because it is well worth a trip both inside and out.
Other places of interest in the city are the waterway cross, the art museum Kloster Unserer Lieben Frauen, the old town hall s0, and Elbau park.
Rostock
Journey Duration: ca. 2 hours
How to get there: Rostock is an easy trip from Berlin; simply hop on the Deutsche Bahn Intercity train at Berlin Hbf and in two hours you'll arrive at Rostock Hbf. The station is about a mile from the historic center of Rostock but there is a tram from the station that will take you to any of several stops in the center.
A regional capital in Northern Germany, the town of Rostock dates back to medieval times when it was an important member of the Hanseatic League and shipbuilder. During WWII Rostock was heavily damaged, but it has been restored and offers visitors a place to escape the hustle and bustle of Berlin.
While small, Rostock is a pretty town with several attractions. Starting with New Market Square, the city's gathering point, you'll find an unusual combination of beautiful historic buildings and drab communist-era construction. The highlights are the pretty and pink Town Hall, a reconstructed row of merchant houses, and a great fountain in the middle of the square.
Next to the square is the 14th-century Gothic St. Mary's Church which is one of the best attractions to visit, especially if you can time your visit for noon when its astronomical clock shows the apostles circling Jesus. The church also contains one of the largest stained-glass windows in Europe, an elaborate Renaissance pulpit, and a beautiful Baroque organ.
To learn the history and culture of Rostock head to the Cultural History Museum that is housed in a 13th-century monastery. It has a wealth of artifacts and is just a short walk from picturesque University Square.
Finally, finish off your day with a view over Rostock at St. Petri's Church. For just a few euros you can take an elevator to the top for a view over the Old Market Square and across the vibrant orange roofs.
Recommended by Lee and Stacey from One Trip at a Time
Wolfsburg
Journey Duration: approx. 1 hour (by train) – 2 ½ hours (by car)
How to get there: With the direct train from Berlin or via the A2 highway by car
At first glance, Wolfsburg is rather inconspicuous. However, the city makes for a great day trip. Although you won't find the half-timbered houses and antique architecture so typical of Germany here, Wolfsburg beckons with something completely different: its cars.
Volkswagen's Autostadt is not only the main reason for the city's founding but is still Wolfsburg's most important tourist hotspot. Wolfsburg was only founded in the late 1930s to provide a home for the Volkswagen factory employees. In addition to various temporary exhibitions, you can find everything about the VW car in the Autostadt. Interactive exhibitions and a train are waiting to take you through the factory halls.
If you take a trip from Berlin with children, you should definitely stop by the Phaeno. This science museum is a great experience for all little explorers. There is a large experimental landscape here, with many projects to try out. In this way, you can playfully discover and learn new things.
Another reason to visit Wolfsburg is the city's art museum. Many exhibits on modern and contemporary art are waiting for you here.
Kassel
Journey Duration: The trip Berlin – Kassel is very easy and it only takes 2 hours and 40-minutes
How to get there: by direct train
If you are interested in discovering new places in Germany other than the main sights, Kassel can be an excellent day trip from Berlin.
Kassel is a city located right in the center of Germany, in the state of Hessen. The city is crossed by the river Fulda and it is well known for the Grimm Brothers, who lived there some years, and for the Documenta, the world's most important fair of Contemporary Art. Kassel also has a UNESCO World Heritage Site, the Bergpark Wilhelmshöhe, famous for its summer fountain show (the Wasserspiele).
Christmas Market lovers will be interested to know that Kassel's Christmas Market, despite not being in the list of most picturesque markets, was voted in 2019 the best Christmas Market in Germany, which makes another reason to visit the city for at least one day!
Day-trippers will enjoy walking along the river Fulda, which also offers water activities like boat cruises or canoeing. By the river, there's the magnificent Karlsaue, with a beautiful Orangerie on one of its sides, and very similar to the park that surrounds the Versailles Palace. The city center does not have many historical buildings (most of them were destroyed during WW2) but the Market Hall and the surrounding houses are well worth a detour.
Finally, visit the museum dedicated to the Grimm Brothers displaying objects related to their life and work.
Recommended by Elisa from World in Paris
Harz Mountains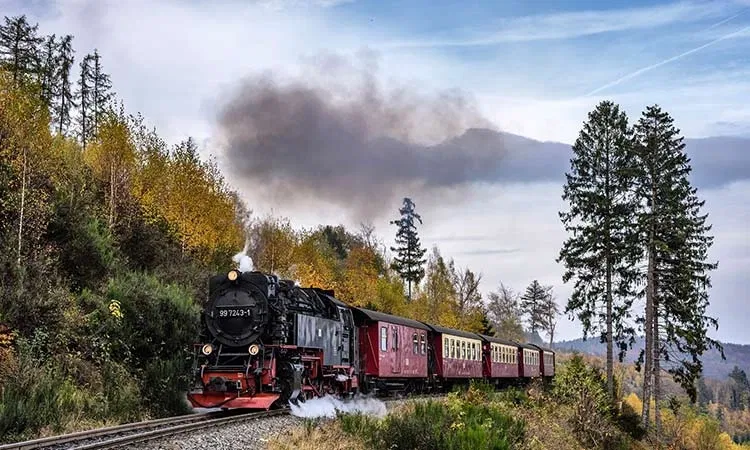 Journey Duration: approx. 3 hours
How to get there: By car via the A2 or by train via Hanover or Magdeburg (destination Goslar, Bad Harzburg, or Wernigerode) or continue from Goslar with bus 830 to Clausthal-Zellerfeld or Hahnenklee
Anyone looking for miles of beautiful nature or small medieval UNESCO old towns from Berlin should definitely go to the Harz Mountains. Germany's most beautiful low mountain range is just a 3-hour drive from Berlin.
At this point, I recommend you of course, as always, a visit to my beautiful hometown Goslar. Stroll through the UNESCO Old Town and get lost in the beautiful medieval streets of the city. Visit the impressive Kaiserpfalz and drink a refreshing Gose beer, which can look back on centuries of history.
But a stop in the small town of Wernigerode is also worthwhile. Just like in Goslar, you will also find a beautiful medieval UNESCO-awarded old town here. In addition, Wernigerode offers a fascinating castle that seems to be from a Grimm fairy tale.
But the Harz offers one thing above all: fantastic nature. For example, go to Hahnenklee or Claustahl-Zellerfeld. Hundreds of hiking trails await you here. In addition to hiking, you can also pursue other outdoor activities. Skiing, mountain biking, paragliding, and high ropes courses are just a few examples.
---
Did you find the right day trip for you? Or maybe you have another great suggestion yourself? Let us know in the comments below!
Interested in Germany?