Aren't we all dreaming of a wonderful beach vacation? However, it does not always need distant tropical countries to enjoy a wonderful beach vacation. Because also Germany indeed, has some beautiful beaches. Therefore, in this article, we will have a look at the 14 best German beaches.
These include not only the Baltic Sea beaches in Germany but also North Sea beaches and another great insider-tip that is not even one of the Northern Germany Beaches.
However, before we introduce you to the most beautiful beaches of Germany, we would like to briefly tell you about the differences between the North Sea and the Baltic Sea in Germany.
North Sea or Baltic Sea in Germany
Let's start with the most important fact first: both, the North Sea and the Baltic Sea, offer some amazing beaches. And a vacation on both coasts is definitely worth it. Many Germans have their personal favorites anyway, which they are always drawn to. However, if you are still undecided, the following comparison table may help you decide which one to choose.
| Characteristic | North Coast | Baltic Sea Coast |
| --- | --- | --- |
| Water Quality | Good Water Quality | Good Water Quality |
| Average Water temperature (June - September) | 15,5°C | 16°C |
| Tides | Strong Tides | Almost no Tides |
| Beach Chairs | Available | Available |
| Salinity of the Water | 3,5% | 0,3 - 1,8% |
| Price of a night | $$$ | $$-$$$ |
| Climate | mostly windy | Usually mild climate |
The 14 best German Beaches
Below you will find an overview of the most beautiful beaches in the nation. However, the order is not intended as a ranking – attentive readers will find that the beaches are listed in alphabetical order.
Binzer Beach, Ostseebad Binz, Rügen
Rügen is not only one of the most popular German holiday islands, but also the most populous island in the country.
The 5 km-long Binzer beach is particularly popular. With its fine golden sand without stones, this beach offers a great experience for your feet. But not only your feet will thank you for visiting here. Due to its weak surf, the water offers a great bathing experience for young and old.
The beach is also perfectly equipped. In addition to disabled-friendly access, there are sections of a dog beach and a nudist beach. Even volleyball and campfire sites contribute to the great beach experience.
If you like it a bit more unusual, you can even get married on this beach, visit a spa concert or visit Prora, one of the longest buildings in the world.
Beach Am Ellenbogen, Sylt
If you are looking for a typical North German beach landscape, such as those with lighthouses, pasture sheep, and dunes, as you know them from postcards, then the Ellenbogen Beach in List on Sylt is the right place for you.
The beach is not only considered one of the most beautiful, but also the northernmost beach in Germany. In good weather, you can even see as far as Denmark from here.
Due to its mostly stormy weather, the beach is also a paradise for all kite and windsurfers and those who want to become one. There's even an extra section of shallower water that's perfect for beginners.
The only thing you probably shouldn't do here is swimming. Due to its rather stormy nature, bathing enthusiasts might want to choose a different beach from this list.
Juist, Juist Island
The beautiful Juist beach stretches 17 km. The beach is not only known for its wonderful fine sand, but also for its incredible sea view.
It follows the entire length of the island, which is why you definitely have enough space for a long walk. Due to its high salt content, the air here on the beach is particularly healthy, which is why a walk along the coast is worth it even more. The air on this north German island is even healthier because Juist is a car-free island.
In addition, many great activities await you here, such as Kitesurfing, volleyball, fitness workouts on the beach, Nordic walking, and soccer tournaments for the little ones.
Kühlungsborn Beach
Without leaving the mainland of Germany, you can easily and quickly reach the beach in Kühlungsborn. Therefore, this beach is not only one of the most beautiful holiday destinations in Germany, but also one of the most popular.
Stroll along the 4-km long beach promenade and enjoy a large number and boutiques, such as cafes and restaurants, which look forward to your visit here. This beach is also particularly suitable for dog owners since there is a separate beach area for you and your four-legged friend.
But also more active vacationers will definitely get their money's worth here: there are volleyball fields and illuminated floating walkways.
Kniepsand, Amrum
The Kniepsand in Amrum is also one of the most popular beaches in the country. And that, although it is actually not a beach, nor is it located on Amrum directly. Strictly speaking, the Kniepsand is a steadily growing sandbar right next to Amrum.
Young and older visitors can really enjoy themselves here in an area of 10 km². With its shallow entry into the sea, this beach is particularly popular with families with (small) children.
With its size and seemingly endless expanses, the beach is also a real favorite with walkers. There is plenty of space for long walks on the beach and even more space for playing and romping for the little ones.
But despite its vastness, your safety is also ensured on this beach. Trained lifeguards always keep an eye open here.
Northern Beach, Norderney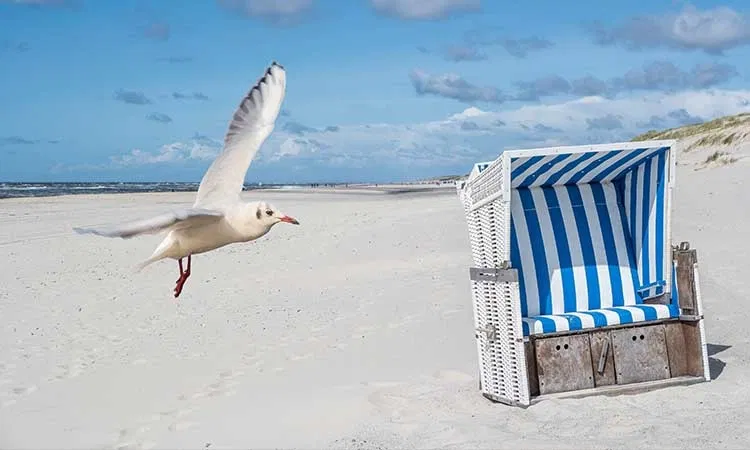 The north beach stretches along the north side of the island until it merges directly with the west beach after about 10 km. The beach, which is also called the "city beach", is divided into two parts, Nordstrand I and Nordstrand II.
In addition to wonderful scenery, a lot of cool events take place every year on the north beach, which attracts visitors from all over Germany, even from all over the world, e.g. the White Sands Festival.
The beach is also particularly suitable for surfing. With its usually somewhat stormy weather, the right wave is there for you too. For those who prefer to relax, there are also plenty of beach chairs that are just waiting for your visit.
Ostseebad Karlshagen, Usedom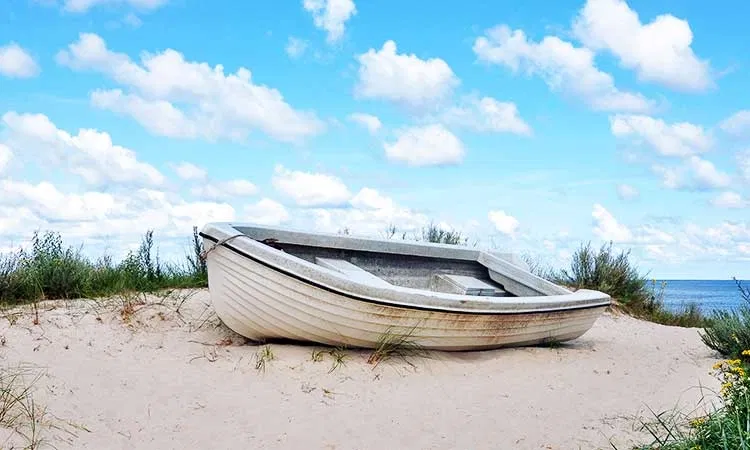 The next beach on our list is especially praised for its cleanliness by its visitors. In addition, great importance is attached to ensuring that even the youngest holidaymakers are satisfied here. Because there is even a children's course director as the only place on the German Baltic Sea. This ensures that our little ones lack nothing.
But there is also plenty to do for the grown-ups. On the beach forecourt, on the figure of the "beach virgin", especially during the warm months, activities, programs, and various events take place almost daily.
The place also advertises to offer its visitors the warmest bathing water in the area. This is because the entry into the water is initially very flat so that the water can warm up more quickly here.
St. Peter-Ording
Did you know that the beach at St. Peter-Ording, SPO for short, is the largest beach on the German mainland? So a lot of space for walkers, active holidays or relaxation. After carrying out a project for the city's tourism board with my university a few years ago, I know the city's beach offer very well – and the offer is big.
Health vacationers in particular are drawn here. No wonder, the salty air and even endless walks in the Wadden Sea are just perfect for your health. But spas, massages and other offers also contribute to the diversity of the city.
However, this does not mean that people looking for an active vacation will not get their money's worth either. Surfing and standup paddling are just two of the many options available to you here.
Even if you get bad weather, the bathing fun continues in the thermal bath.
Southern Beach, Helgoland
The North Sea island of Helgoland is popular with the Germans for their summer vacation. As on other islands, there are various beaches for swimming and relaxing on Helgoland.
Arguably the most beautiful beach on the island is the south beach, also called the harbor beach. As it can be assumed, the south beach is not far from the island's harbor and is therefore difficult to overlook.
Since there are only a few activities and services on offer, this beach is often visited by people who are only looking for tranquility and relaxation without the hustle and bustle and sports activities.
On Helgoland, you also have the opportunity to observe a few super cute seals.
Timmendorfer Strand
Timmendorfer Strand is not precisely one of Germany's hidden gems as it's one of the most visited beaches in the country. This is not only due to its location on the mainland, in the Bay of Lübeck. This means that this beach can be visited without having to cross over to one of the islands. Which makes it a great place for a day trip from the surrounding regions. However, the popularity of the beach also has to do with its beauty.
In addition to families with children and the older generation, many young people are also drawn to Timmendorfer Strand. This may be due to the free sports program that is offered here every year during the summer months.
Another popular activity is cycling along the beach promenade. So you can also discover more of the beautiful surroundings.
Wannsee, Berlin
You've caught us – this beach located is neither on the North nor on the Baltic Sea. However, that doesn't make it less beautiful. Because the Wannsee beach definitely deserves a place on our list.
The almost 1 km long sandy beach almost makes you forget that you are not really at the sea. Beach chairs and bathing fun also contribute to the ultimate beach feeling.
Entertainment is of course also provided. In addition to a slide and a beach bar, the boat rental also ensures a lot of fun. The Wannsee bath is considered the largest open-air swimming pool in Europe on inland water and is even a listed building. With its location, it is quick and easy to reach from the German capital as well as from Potsdam. No wonder that Wannsee is one of the best day trip destinations from Berlin.
For over a hundred years now, the lake has been visited by different generations, both locals and tourists.
Warnemünde Beach
The Warnemünde beach is also a mainland beach. This in Rostock located beach, which is considered the widest beach on the German Baltic Sea, is not only popular with locals.
The beach is popular not only with families with children but also with young people. In addition to surfing and sunbathing, walks along the promenade up to the lighthouse is a popular activity. Moreover, its very fine-grained white sand makes it a real German dream beach.
However, if you travel with your dog, this beach is probably not the right one for you, as dogs are only admitted to a limited extent.
Weiße Düne, Norderney
You may have already noticed that this is the second beach in Norderney on our list. This is not only because both beaches are beautiful, but also because both beaches offer a completely different atmosphere. While the north beach is more suitable for active vacationers and families, Weiße Düne (white dune beach) has its very own vibe.
Weiße Düne is perfect for anyone looking for relaxation. Because on this stretch of beach relaxation is very important. In addition to beach massages, there are also some other activities that are waiting for you here.
The popular restaurant with the same name is also located in this area and is often visited after a stay on the beach to satisfy the hunger that such a sunny day on the beach leaves.
As the name suggests, a beautiful white sandy beach awaits you here, which is cleaned regularly. Only around 4 km from the center of the island, the White Dune is also easy and quick to reach.
Westerland, Sylt
Previously in this post, we already presented the Ellenbogen Beach on Sylt, which simply captivates everyone with its beautiful dream landscape. Unfortunately, bathing is not possible there. That's why you should also definitely visit Westerland Beach during your vacation on Sylt.
If you want to experience something and want to get to know the typical "Sylt" that you can see on TV and holiday brochures, you shouldn't miss this area of the island. Because here is the main promenade of Sylt. Restaurants like Gosch, which have achieved national fame, can also be found on the Westerland beach. Also, Musikmuschel is particularly popular.
There are also many offers for visitors to Westerland, such as Spa concerts and various events.
The beach itself offers pure security and relaxation. Enjoy your time out in one of the beach chairs.
---
Which of those German beaches is your personal favorite? Or maybe you even have an absolute insider tip for us? Let us know in the comments below!
Interested in Germany?