Barcelona is a fascinating city. While strolling through the picturesque streets of the city, there is so much to discover. But also from above, the Catalan capital is really somewhat magical.
That's why in this article, we want to take you to places where you can discover the city from a whole new angle. Let's discover together the best viewpoints in Barcelona. We will check some free options, observation towers, hiking spots, and Barcelona viewpoints right in the city center.
The 16 best Viewpoints in Barcelona
Tibidabo
"I was just outside Barcelona, hiking in the foothills of mount Tibidabo…". If you're a big fan of the Friends series like me, you've probably heard of Barcelona's local mountain, Mount Tibidabo, in Joey's backpacking story in season eight.
The 512-meter-high mountain (1,860 ft) is one of Barcelona's two local mountains, along with Montjuïc. With its great location, from here you can see not only the city itself but all the way to the sea.
In fact, on Tibidabo, there is not one, but several fantastic Barcelona vantage points. One of them is the amusement park, Parc d'atraccions Tibidabo. Whether it's from the main square, from the rides, or from the Ferris wheel: Here you can experience the panorama of Barcelona in an extraordinary way.
The second spectacular viewpoint from Tibidabo is the Temple Expiatori del Sagrat Cor. From many parts of the city, you can already spot this imposing structure. What from a distance looks a bit like a fairy tale castle (especially in combination with the Ferris wheel in front of it) is actually a beautiful church.
Opening Hours Amusement Park Tibidabo: You can check the current opening hours here.
Entrance Fee Amusement Park Tibidabo: 28,50 € (Only Panorama-Area 12,70 €)
Tickets Amusement Park Tibidabo: Check tickets online here.
Opening Hours Sagrat Cor: 11 am – 07 pm (Check recent Opening Hours here)
Entrance Fee Sagrat Cor (Tower): 4 €
Getting to Tibidabo: Bus T2A and T2B or Bus 196 and Cable Car (4,10 € per Person)
Los Bunkers del Carmel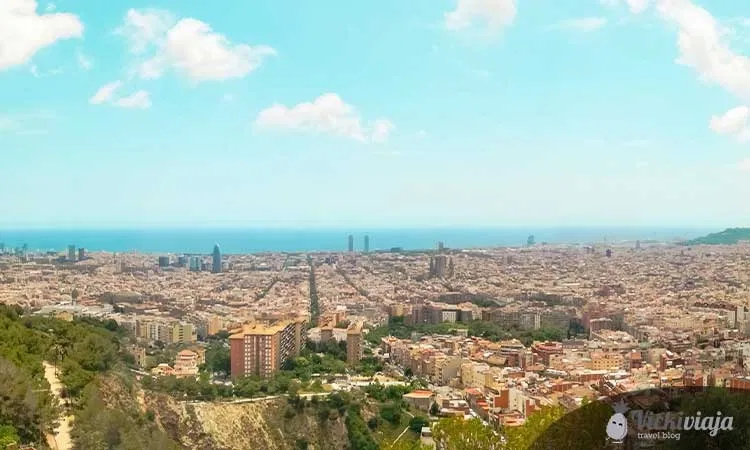 The Bunkers del Carmel are my personal favorite viewpoint in the city. And of course, this has nothing to do with the fact that this point is just a short walk from our apartment.
I particularly like this mirador in Barcelona because you get a great view of the entire city, across the rooftops to the sea. In addition, the Bunkers are relatively easy to reach on foot or by bus.
The Bunkers is located at the Turó de la Rovira at about 250 meters (820 ft) above sea level. As the name suggests, this is actually an old air-raid shelter from the Spanish Civil War. Because of the splendid view over the city to the sea, approaching attackers from all directions could be perceived early.
Opening Hours Bunkers del Carmel: Open Space (Soon, they are planning of closing them during the night)
Entrance Fee: free of charge
Getting there: Bus 119 Marià Lavèrnia or walking
Montjuïc
Let's move on to Barcelona's second local mountain, Montjuïc. With a height of 173 meters (568 ft), this hill is much smaller than the Tibidabo just presented. But its location is also different from Tibidabo. Because the Montjuïc is not so far away from the port of the city.
The fact that there is an old 17th-century defensive fortress on the hill is hardly surprising, considering the great view from here. For this very reason, Montjuïc Castle is now considered one of the best viewpoints in the city.
The observation deck atop the castle is also fondly referred to as Barcelona's 360° panorama. Walking along it, you can enjoy views of the city, the port, the airport, and Tibidabo.
The walk up to Montjuïc is also a real experience. On foot, you can discover great plants in the park. But probably the most popular way up is the cable car, the Telefèric de Montjuïc or Telefèric del Port. But since the cable car is such a great experience, it deserves an extra point.
Opening hours: 01.11. – 31.03.: 10.00 am – 06 pm & 01.04. – 31.10.: 10.00 am – 08 pm
Entrance fee: 3 € (for people under 30) and 5 € (for adults over 30)
Free entrance: First Sunday of the month & Sundays after 3 pm.
Getting there: Bus 150 to Castell or by cable car from the port or the foot of the mountain
Tickets: Tickets for Cable Car from Harbour can be found here, the Tickets for the Montjuïc Cable car can be found here.
Telefèric de Montjuïc & Telefèric del Port – Cable Cars
Floating high above Barcelona by cable car is a real highlight for many during their trip to Barcelona.
Telefèric de Montjuïc
The ride starts in Avenida Miramar and goes up to Montjuïc, the local mountain just presented. The ride includes three stations where you can get off and look around at your leisure. The modern cable car has run since 2007 over a distance of 750 meters (half a mile) each.
The first station is Parc de Montjuïc. This is where your impressive journey begins at lofty heights. The second station is Mirador. If you get off here, be sure to check out the Mirador de l'Alcalde gardens. This green space with a wonderful view is dedicated to the former mayor of Barcelona, Josep Maria Porcioles. The last stop is the castle of Montjuïc.
Telefèric del Port
The second cable car in Barcelona also goes to Montjuïc. Unlike the other route, however, this cable car also takes you over the port of Barcelona. This popular cable car route has been in operation since the early 1930s and covers a length of 1292 meters (0.8 mi).
The ride starts either at the station in Avinguda de Miramar or at the San Sebastían tower in Barceloneta. Until recently, there was an intermediate stop at Torre Jaume I. However, unfortunately, this one is closed for the time being.
Route: From Barceloneta or Avenida de Miramar to Montjuïc.
Cable car opening hours: Depending on the season: 11 am – 6 pm/30 pm or 7 pm
Price cable car: From 8.90 € (one way) / 13.50 € (round trip)
Tickets: Tickets for Cable Car from Harbour can be found here, and the Tickets for Montjuïc Cable car can be found here.
Torre de Collserola
Although we have already mentioned Tibidabo, Barcelona's local mountain, we would like to add Torre de Collserola as a separate point. As one of the highest points of the city, you have a spectacular view over the roofs of the city.
The 288-meter (945 ft.) high tower is actually a television tower. In the meantime, however, it is also popular with tourists, because on its highest floor, at about 135 meters, there is a viewing platform.
Already on the way to this Barcelona observation tower, you can enjoy the great view over the city during a pleasant small hike. From the tower itself, you are on one of the city's highest points and can see far into the distance.
Opening Hours Torre Collserola: Sat + Sun: 12 pm – 02 pm (March – December)
Entrance Fee: 5,60 €
Getting there: Funicular Tibidadbo or walking
Sagrada Familia
How could you name viewpoints or sights in Barcelona without mentioning the most famous of all Gaudí's buildings: the imposing Sagrada Familia?
Besides a unique (interior) design, you can also book a ticket for one of the towers of the basilica instead of just the standard entrance ticket. As the highest building in the city, you have a simply extraordinary view from here.
Depending on which of the two towers you choose, you can see different parts of Barcelona. In any case, it is worth a visit.
Opening Hours Sagrada Familia: 09.00 am – 06/07/08 pm (depending on the season)
Entrance Fee Sagrada Familia: from 30 €
Tickets: You may want to book your ticket online in advance to avoid sold-out tickets on the spot and hours of waiting in line. You can find tickets and tours online here.
Metro-Stop: Sagrada Familia (L5 or L2)
Park Güell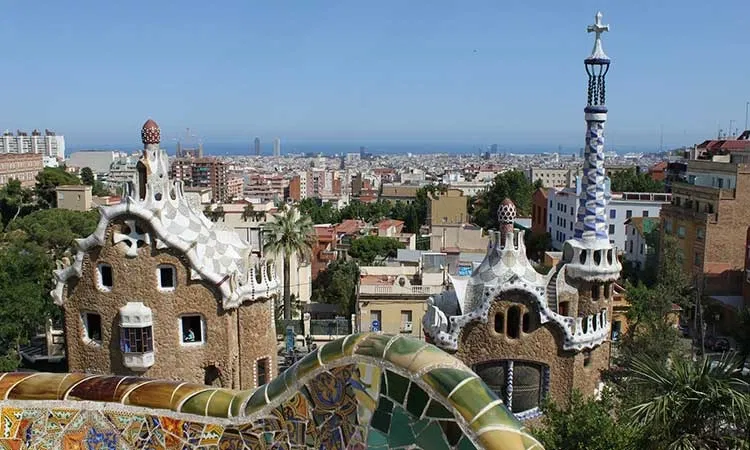 Let's move on to the next iconic viewpoint of the Catalan capital, Park Güell. Known to some as "Gaudí Park", this park is another landmark of the city and one of the must-sees along with Sagrada Família.
Besides Gaudí's unique designs, however, the great view over Barcelona also attracts many visitors here. Both in the free part of the park and in, the paid part, you will find a breathtaking view over the rooftops of the city.
Especially popular is the view from the mosaic benches, as you can see in the photo above. Hardly any travel guide for Barcelona does not have at least one such or similar photo.
Opening hours Park Güell: 09.30 am – 07.30 pm
Entrance fee Park Güell: from 10 €; rest of the park: free of charge
Tickets: You should definitely reserve your ticket in advance to avoid long queues. Tickets and tours for Park Güell online can be found here.
Getting there: Metro Lesseps (L3) or bus 24 (direction El Carmel) to Trav de Dalt.
Basílica Santa Maria del Pi
The Basílica Santa Maria del Pi (Santa Maria del Pino in Spanish) is still rather one of the insider tips in Barcelona as a vantage point. The impressive basilica is located in the Gothic Quarter of Barcelona (Barrio Gótico).
The basilica was once named after a pine tree that stood here for several centuries to represent Mary's purity.
While the 15th-century Gothic church on Plaça de Pi already has a beautiful interior, its bell tower is definitely worth the climb. A magnificent view over the Gothic quarter awaits you here.
Opening hours Santa Maria del Pi: Friday + Saturday: 11 am – 6 pm (Belltower from 1 p.m.)
Entrance fee Santa Maria del Pi: 10 € with belltower; 5 € without belltower
Getting there: Liceu (L3)
Monument al Colom – The Columbus Column
Although many admire the impressive Columbus Column at the end of Las Ramblas, it seems to be rather unknown that the Columbus Monument is actually a fancy Barcelona lookout point as well.
On the 60-meter (ca. 200 ft.) high observation deck, built in honor of Columbus, you have a 360° panoramic view over the old port (Port Vell), Las Ramblas, and the rest of the city.
Many of the tickets also include a glass of delicious Catalan cava, which you can enjoy while savoring the magnificent view over Barcelona.
Opening Hours Columbus Column: 08.30 am – 08.30 pm
Entrance Fee Columbus Column: 8 €
Getting there: Metro Drassanes (L3) (Las Ramblas)
Las Arenas
Let's move on to one of the newest viewpoints in the city. And this is located in an old bullring. Since bullfights have been banned in Catalonia for several years, this old arena on Plaça Espanya has been converted into a shopping center.
Besides dozens of shopping possibilities, a modern cinema, and lots of restaurants, the real highlight of this mall is the observation deck at the top. You can reach it via the escalators and elevators inside or take the paid elevator outside.
From here you have a fantastic view of Plaça Espanya, Montjuïc, and the surrounding parts of Barcelona.
Opening Hours Las Arenas: Mon-Sat: 09 am – 09 pm; closed on Sundays
Entrance Fee Las Arenas: free of charge
Getting there: Metro Espanya (L1, L3, L8)
Palau Nacional & MNAC
Not far from Las Arenas is the Palau Nacional, Barcelona's national palace. Inside this fascinating building, opened in the late '20s for the Barcelona World's Fair, is now the National Museum of Art, or MNAC.
While the museum and the interior architecture of the Palau Nacional are already really impressive, a visit to the roof terrace is especially worthwhile. From here you have a great view over the surrounding areas of the city like Plaça d'Espanya and more.
Extra tip: If you don't want to pay an entrance fee, it's still worth going to the Palau Nacional. Because from here you also have a great view over Plaça d'Espanya and Las Arenas (see photo).
Opening hours Palau Nacional: Tue – Sat: 10 am – 7 pm; Sun: 10 am – 2.30 pm; Closed on Mondays; Current roof terrace opening hours can be found here
Entrance Fee Palau Nacional: 12 €; Roof access: 2 €
Free admission MNAC: Every Saturday after 3 pm, first Sunday of the month
Getting there: Metro Espanya (L1, L3, L8)
Mirador Torre Glòries
Let's move on to the newest viewpoint in Barcelona. The Glòries Tower, also known as Torre Agbar, has been an integral part of Barcelona's cityscape since 2007. However, the panoramic viewpoint on the 30th floor of the tower did not open its doors to visitors until 2022.
Glòries Tower is located in the area of the city of the same name, which is also home to the shopping mall Westfields Glòries, popular with locals.
The tower offers a view from a whole new angle that you won't get anywhere else. Especially Sagrada Família can be perfectly observed from here.
The visit is also worthwhile in the evening when the tower is illuminated in red and blue light and thus becomes visible in many parts of the city. In addition, you have the opportunity to discover the exhibition Cloud City inside.
Opening Hours Torre Glòries: 10 am – 09 pm (Apr.-Oct.) / 10 am – 07 pm (Nov.-Mar.)
Entrance Fee Torre Glòries: 15 € (+ Cloud City: 22 €)
Tickets: On-site or online here
Getting there: Metro Glòries (L1)
W Barcelona
Probably the most iconic of all beach hotels in Barcelona is the W Barcelona. With its location right on the beach, it is simply ideal for all luxury lovers. But did you know that you can admire the outstanding view of the beach in the hotel not only as a hotel guest?
Because you can visit the hotel bar Eclipse on the 26th floor also as a non-hotel guest as long as you order something to eat or drink there. As you can imagine, the prices here are not quite cheap, but the view is all the more beautiful.
Extra tip: Pay attention to your clothes. You will not be allowed in here with flip-flops or beachwear.
Extra Info: The W Hotel is also home to one of the best Rooftop Pools in Barcelona.
Opening hours Eclipse (W Hotel): Wed-Sun: 05 pm – 03 am
Entrance fee Eclipse (W Hotel): free of charge
Getting there: Metro Barceloneta (L4)
La Catedral
Barcelona's cathedral is located in the heart of the Barrio Góticos and is even considered by many to be the landmark of this neighborhood. While the interior and exterior of the cathedral are already beautiful, many visitors are unaware that you can also visit the roof of the church.
Because from the observation deck of Barcelona's cathedral, you can experience the Gothic Quarter from a whole new angle.
A visit is especially worthwhile on Sunday mornings during the summer months. Then the typical Catalan dance, Sardana, is danced in the cathedral square.
Opening hours La Catedral: Varies. Mostly from 8.30 am – 07.45 pm – Check the exact opening hours here.
Entrance fee La Catedral: 7 € (5 € if you are with a group)/ 3 € for roof access
Tickets: We recommend visiting La Catedral either early in the morning or late in the afternoon, as the queue is shortest at this time. Tickets are best purchased on-site.
Getting there: Metro Jaume I (L4), Liceu (L3), Urquinaona (L1)
Parque del Turó del Putxet
Let's move on to another rather unknown place in Barcelona. The Park del Turó del Putxet is located near the Gràcia neighborhood. This park is especially popular with locals not only because of its quiet atmosphere and greenery but also mainly because of its great view.
The park is located at an altitude of almost 180 meters (590 ft.) above sea level. From here you can see over the roofs of the city to the sea. So grab a picnic blanket when you visit this great park in Barcelona.
Opening Hours Parque de Turó del Putxet: 10 am – 07 pm
Entrance Fee Parque de Turó del Putxet : free of charge
Getting there: Vallcara (L3)
El Corte Inglés, Plaça Catalunya
El Corte Inglés is a chain of shopping stores combined in a mall. The most famous Corte Inglés in Barcelona is located on Plaça Catalunya and is a favorite of visitors and locals alike.
What many people don't know, however, is that on the top floor of the building a great view over the neighboring Plaça Catalunya and the surrounding area awaits you. What's more, the view can be enjoyed free of charge. All you have to do is go up to the highest floor.
Opening Hours El Corte Inglés: Mon – Sat: 09 am – 09 pm; So: 12 pm – 08 pm
Entrance Fee El Corte Inglés : free of charge
Getting there: Catalunya (L1, L3)
Helicopter flight over Barcelona
If you are planning something extraordinary and don't mind spending a little more (about €80-150 per person), you might want to consider a helicopter flight over Barcelona.
With one of several providers in the city, you can experience the entire city from a whole new perspective. While you will likely not only get the best view of Barcelona on a helicopter flight, it is definitely an experience that you will remember for a long time.
Price Helicopter Flight: ca. 80 – 150 €
Booking: Booking directly through the providers or check GetYourGuide or Viator.
Which one is the best Barcelona Viewpoint?
As almost always at this point, I can't give you a concrete answer, because – let's be honest – everyone has different preferences when traveling.
My personal favorite is the Bunkers del Carmel. The bunkers grant a magnificent Barcelona 360° panoramic view and are also easy to access, free of charge, and accessible without queuing. I particularly like that they combine the view over the city with the view of the sea. This is not the case with many other Barcelona viewing platforms.
If you don't have a lot of time and maybe even spend only one day in Barcelona, I recommend you choose a viewpoint that is already connected to an important sight of the city, like Sagrada Família or Park Güell.
If you prefer something out of the ordinary, a helicopter flight offers not only the best view but also an unforgettable experience in Barcelona.
---
Now it's your turn! What's your favorite viewpoint in the city? Let us know below in the comments!
Interested in Barcelona?