Kyoto is definitely one of the most beautiful travel destinations in Japan. As the cultural capital of the country, this city should definitely be part of every Japan trip. We recommend that you spend at least 2 days in Kyoto.
Kyoto is full of incredible sights and temples. For this reason, in this post, we have put together a unique Kyoto 2 days itinerary to the most beautiful attractions and top 5 temples in Kyoto. So that you get the most out of your stay in Kyoto and don't miss anything.
In addition, you will also find a lot of helpful Kyoto travel tips that will help you plan your trip to Kyoto.
Kyoto Facts
Located on the Japanese main island of Honshu in the Kansai area
For many years it was the seat of the Imperial Court
UNESCO World Heritage City
It was the Japanese capital for many years under the name Heian-Kyot
Best time to visit Kyoto
The best time to visit Kyoto is spring and fall. In other words, the months of March – early June and September – mid-November. It is not too hot in these months, but the temperatures are usually pleasantly warm.
However, note that during the cherry blossom season, prices can almost double and the accommodations can be fully booked well in advance. Even in summer and at Christmas time, it is usually very crowded in Kyoto.
How to get to Kyoto
Getting to Kyoto is fairly easy. In the following, you will find the best options on how to get to Kyoto.
How to get to Kyoto by air
Unfortunately, Kyoto itself has no plane. But you can still reach this wonderful city easily and quickly if you arrive by plane.
The nearest airport is Itami Airport in Osaka. But you can as well fly to Tokyo (Narita or Haneda Airport).
As always, we recommend that you book well in advance to save some money. You should also use a flight comparison site like Skyscanner to find the cheapest connection.
From Osaka to Kyoto by train
The popular cities of Kyoto and Osaka are only around 54 km apart. Because of this, you can easily, quickly and comfortably travel between the two Japanese cities.
From Osaka, you can e.g. Take the JR Line's Special Rapid Train (approx. 560 yen/4,70 €) to Kyoto. The journey takes just under 30 minutes. Those traveling with a JR Railway Pass can even travel this route free of charge.
From Tokyo to Kyoto by train
Kyoto is located about 365 km from the capital of Japan. With the trains of the JR Tokaido Shinkansen Line, you need between 2 ½ and four hours (Nazomi trains 140 minutes, Hikari 160 minutes and Kodoma approx. 4 hours). The Kadoma and Hikari trains can be used free of charge with the JR Pass.
Getting to Kyoto by Bus
Another option is to travel to Kyoto by bus. You can do this from many major cities. The bus is usually cheaper than the train but usually costs less. So the bus is a great way to save money in Japan.
If you have planned several bus journeys during your Japan trip, a Willer Bus Pass can be worthwhile.
The journey from Tokyo to Kyoto by bus takes around 7-8 hours.
The big advantage is that you can also make the trip as a night trip, saving you time and money for accommodation.
How to get around in Kyoto
Probably the easiest way to get from A to B in Kyoto is by bus. Depending on where you are staying, it basically takes you anywhere. You can get a day ticket from 600 Yen (ca. 5 €/ $ 5.6).
If your accommodation is further out, there is also a subway available.
Where to stay in Kyoto
Overall, Kyoto has great places to stay in. Thus, it's not difficult to find something suitable. Despite everything, we recommend that you reserve accommodation before you arrive. Especially if you are traveling during the high season, especially during the cherry blossom season, the best accommodations are often booked well in advance. As always, we recommend Booking.com to book your accommodation.
Click here to check all accommodations in Kyoto on Booking.com
In traditional Kyoto, the possibility is perfect to spend a night or a few nights in traditional Japanese accommodation, a so-called ryokan. Practically, you can find the best ryokans in the city in our detailed Kyoto Ryokan comparison.
In short, our personal favorite is the Kyoto Takasegawa Bettei Ryokan.
If you are traveling on a smaller budget or just do not want to sleep in a ryokan, you can of course also find normal accommodations for different budgets in Kyoto.
Our Top 5 Temples in Kyoto
5. Ryoanji
4. Chion
3. Kiyomizu-Dera
2. Kinkaku-Ji
1. Fushimi Inari-Taisha
Kyoto 2 Days Itinerary
Kyoto Map
2 Days in Kyoto – Day 1
Kiyomizu-Dera Temple
Opening Hours Kiyomizu-Dera Temple: 6 am – 6 pm
Entrance Fee Kiyomizu-Dera Temple: 400 Yen (ca. 3.00 €/ $ 3.72)
The Kiyomizu-Dera temple is popular due to its amazing view. Moreover, this unique temple also belongs to the UNESCO world heritage since 1994.
Besides the beautiful view, the temple has even more to offer. There is a big amount of shrines and stands to be found.
One part of the temple is dedicated to the god of love Okuninushi-no-Mikoto. This part offers so-called love stones. Those love stones lay 18 meters apart from each other. It's said that if you can walk with closed eyes from one to another you will find love very soon.
If someone is helping or guiding you, it means that you find this love with help from someone else. In this part of the temple, you should take care. It's easy to get run over by Japanese schoolgirls with closed eyes. 🙂
Higashiyama
Higashiyama is one of eleven districts in Kyoto, and we think it's one of the most beautiful. There is hardly another district where the traditional Japanese style is as well preserved as in Higashiyama. So don't forget your camera when strolling through this area of the city.
Let yourself be surprised by the many small Japanese shops that can be discovered here. It's also the perfect place to get some typical Japanese souvenirs. However, if you don't feel like shopping for souvenirs, you can simply immerse yourself in the traditional atmosphere that this neighborhood provides.
Perhaps you have seen a picture from this area of Kyoto before.  Because the Yasaka Pagoda is a popular photo motif. To explore this popular pagoda more closely, you can visit the Hokan-Ji Temple.
However, the most popular temple in this area of Kyoto is the Yasaka Shrine. This shrine is not only known for its particularly old age. It is also particularly popular in July during the Gion Matsuri Festival.
Chion-in
Opening Hours Chion-In: 9 am – 4.30 pm
Entrance Fee Chion-In: free of charge
The Chion-in Temple is known for its colossal main gate. Since this gate is the biggest in the whole of Japan. Moreover, it is said to be one of the most important Japanese cultural goods. This impressive gate is 26,7 meters (87,6 ft.) bride and 12,3 meters (40,35 ft.) high. The constructions of this gate have probably been finished around 1620.
Indeed, the gate is marvelous. The temple, on the other hand, doesn't really feel special to us compared to the other amazing temples we saw in Japan. A visit to the Chion-in temple is worth it, nevertheless. Even if it's just for the gate.
Maruyama Park
Opening Hours Maruyama Park: 24 hours
Entrance Fee Maruyama Park: free of charge
This park in the Higashiyama District, opened in 1886, is considered the oldest park in the city. Located right next to the Yasaka Shrine, a visit to these two sights of the city can be perfectly combined.
The park is perfect for a little picnic as a snack in between. You can get a small (warm) snack in a 7-eleven, e.g. a sandwich or some fruit. Sit down somewhere in the green and enjoy the tranquility of the park. You can also visit one of the restaurants located in the park.
Especially during the cherry blossom season in spring, this park is one of the most popular and most visited places in the whole country.
Fushimi Inari-Taisha
Opening Hours Fushimi Inari-Taisha: 24 hours
Entrance Fee Fushimi Inari-Taisha: free of charge
Fushimi Inari-Taisha, the popular orange temple in Kyoto, is probably the most famous sight in Kyoto. This Shinto Shrine counts as one of the biggest and most visited shrines in all of Japan.
Everywhere in the temple grounds, you will find these typical orange gates (Torii). Most of them were donated by families and companies. To clarify, their names are printed on each of the donated gates. Moreover, you can find price lists next to the ways. That's how you can tell who donated how much to the shrine. The smallest gates already start at prices around 1500 Euros. All in all, there are way more than 1000 gates in the park. They work as tunnels and mark the way up to the mountain.
You can either walk as much as you feel like and then return to the entrance. The other option is doing the whole roundtrip which guides you up to the mountain peak. It might be a little exhausting up to the top. But it is worth it from the moment you realize that the amount of tourists gets fewer with every meter up.
After you have left the crowds behind you, you can finally take one of those famous pictures. You should keep in mind though that this roundtrip might take several hours.
Everywhere on your way, you can find fox statues. That's because this Fushimi Inari-Taisha temple is dedicated to the rice god Inari. And his messenger is a fox.
Besides the way through the orange tunnels upwards there are also many small ways to smaller shrines.
Our personal tip: In the first part of your way up, you can find this sign. If you go up to the Fushimi Kandakara Shrine you can find a beautiful bamboo forest up there. We spent around half an hour in this place to take pictures and have a little rest before walking up to the mountain top.
Hanamikoji-dori Geisha District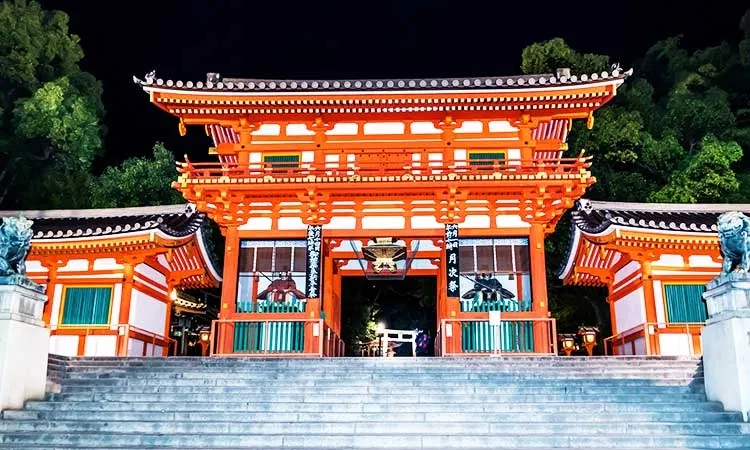 Another must-see spot in Kyoto is the Hanamikoji-Dori Geisha District. Hanamikoji is the main street that runs for 1.4 km through the popular Gion ward of Tokyo.
This is the perfect place to spot geishas. Just walk along this popular traditional Kyoto street in the evening. So you have the best chance of discovering a geisha that fastly walks down the street.
However, please note: Please treat the geishas with respect and do not stop them to take a picture with them.
But even without seeing a geisha, this is one of the most beautiful areas in Kyoto. With its small shops and beautiful architecture, you feel almost back in time in ancient Japan. The small tea shops also add to the traditional atmosphere.
Start your walk at the Kennin-Ji Temple and walk along Hanamikoji-Dion. Get lost in the narrow side streets and discover more of this great place. Don't worry if your feet are getting tired, we'll come back here tomorrow night to discover more of this beautiful place.
Kyoto 2 Day Itinerary – Day 2
Kinkaku-Ji Temple
Entrance Fee: 400 Yen (ca. 3.00 €/ $ 3.72)
Opening Hours: 9 am – 05 pm
The famous Golden Temple of Kyoto. A true gem of Japan.
The upper floors of the Kinkaku-Ji Temple are completely covered in gold. This masterpiece is orientated to the Chinese Zen Architecture. After its construction in the 14th century, the famous golden pavilion actually only served as a relic hall. It belonged to an old palace complex that a former shogun took over and had renovated.
Fun Fact: The temple is actually called Rokuon-Ji, but was named after the Golden Pavilion in its center (Kinkaku)
This temple was absolutely beautiful and we liked it a lot. But (yes, unfortunately, there is always a but…) the drawback is the huge amount of people pushing each other through the park. It truly makes the whole experience less enjoyable.
Special tip: You might want to get there right when the temple opens at 9 am and get there during the week to avoid the crowds.
Ryoanji
Entrance Fee: 500 Yen (ca. 4 €/ $ 4,70)
Opening Hours: 08.00 am – 05.00 pm
The Ryoanji temple that has been built around 1450 is a Zen temple. In 1994, the Ryoanji temple has been declared a UNESCO- World Heritage besides other sights of Kyoto. Anyway, the unique part of this temple is its stone garden.
Before you reach the actual temple, you first have to walk through a small park. (The entrance to the temple is also rather inconspicuous, so pay close attention to the signs to the temple). Now you'll walk past a quiet pond until you reach the actual temple building.
Many stay here to let their gaze wander over the rock garden. There are 15 stones in various shapes and sizes.
By the way, you should take off your shoes inside the building. Here you can find traditional Japanese interior design aspects, such as the bottom of the braided straw.
All in all, the temple wasn't exactly a highlight of our visit to Kyoto. Of course, this is only our personal opinion and can look very different for you. However, this temple belongs to one of the most important temples of Kyoto and is, therefore, still worth a visit.
Sagano-Arashiyama Bamboo Grove
Entrance Fee: free of charge
Opening Hours: 24 hours
The Arashiyama Bamboo Garden is one of the most famous sights of Kyoto.
As you might imagine, this park is not without a reason one of the most-visited places in the city. Undeniably, it's an absolutely stunning place. While strolling through the high bamboo plants, you can not only enjoy the view but also a big variety of temples and shrines along the way.
Inside the bamboo park, you can follow one of several walks. Each one seems almost like from another world. The huge bamboo plants are also the perfect photo backdrop. That's why you shouldn't forget your camera when visiting the park.
If you follow one of the paths, you will come to Kameyama-Koen Park, which is also perfect for spending a little time in beautiful nature.
You probably might want to get there early in the morning. As it's starting to get crowded in the Bamboo Grove after 10.30 am. Moreover, the light shining through the bamboo looks much more beautiful around the morning time (or during the sunset).
Togetsukyo Bridge
If you walk from Arashiyama Bamboo Grove to our next point, the Iawatayama Monkey Park, you will hardly be able to avoid crossing the Togetsukyo Bridge. From this almost 150 meters long bridge, a fantastic view of the Katsura River and the surrounding picturesque landscape awaits you.
Fun Fact: The name "Togetsu" means something like "moon crossing". This name comes from a fairy tale in which an emperor thought at a boat party that the moon looked as if it was crossing the bridge.
Iwatayama Monkey Park
Opening Hours Iwatayama Monkey Park: 9 am – 4 pm
Entrance Fee Iwatayama Monkey Park: 550 Yen (ca. 4,50 €/ $ 5,20)
The Iwatayama Monkey Park was definitely one of the highlights of our trip to Kyoto. A visit here is a real must for animal lovers. Since the monkeys are able to roam freely here, this monkey park is very different from a zoo.
Located on the top of Mount Arashiyama, this attraction is a real experience. You can move freely and watch the monkeys play, eat, and frolic. We were totally fascinated by how similar these human beings seem to be to us.
If you like, you can even feed these interesting primates. However, feeding them doesn't just happen outside. To be able to feed the animals, you have to enter some kind of cage. From here you can reach outside with your hand with the food so that the animals can help themselves. You can buy the food inside "the cage" for little money.
We loved the idea that you are in the cage yourself and the monkeys can still move freely. In our opinion, this is how zoos should always be since it's much more ethical towards the animals.
Nijo Castle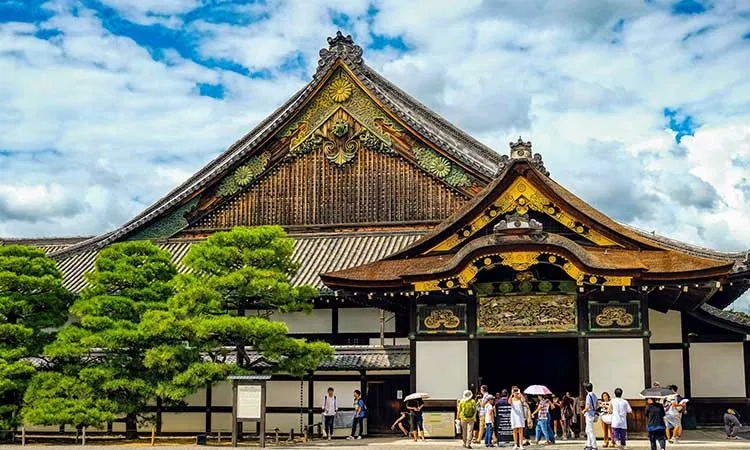 Opening Hours Nijo Castle:
Depending on the season 8 / 8.45 a.m. – 5/6 p.m. You can find the current opening times
on the official website here
Entrance Fee Nijo Castle: 620 yen (approx. € 5.20 / $ 6) / 1,030 yen with Ninomaru Palace (approx. € 8.60 / $ 9.80)
Nijo Castle is probably the most impressive castle in the region. Right since is construction in 1601, it was one of the most important representatives of the Edo period architecture. The castle has once been the seat of the Tokugawa Shokune, which ruled Kyoto for more than 200 years.
While the standard ticket only includes the property behind the walls, you need the second ticket to visit the inside of the Ninomaru Palace.
Inside the palace, you can discover traditional Japanese architecture, stunning Japanese art pieces, and beautiful decorations. While the palace was still in use, only very important visitors were allowed inside the palace. A look at the center of Ninomaru palace, in particular, was denied to many visitors at the time.
With your ticket, you also have the opportunity to admire the beautiful Ninomaru garden that surrounds the palace. With its more than 400 church trees, a visit here is a unique experience, especially during the popular cherry blossom season. But even outside the cherry blossom season, the garden is beautiful and perfect for a walk.
Nishiki Market
Opening Hours Nishiki Market: 8 am – 6 pm
If you want to try fresh food and traditional dishes in Kyoto, the Nishiki Market is the place for you. Basically, you will find everything a Japanese Foodie could be looking for. Also known as "Kyoto's Kitchen" there are over 100 stands where you can buy a wide variety of specialties. Whether fresh ingredients, snacks, sushi, or whole dishes, you will find something for every kind of taste.
The market is very popular with locals and visitors at the same time and is therefore always well attended.
Gion & Potocho
As already announced yesterday, we also want to spend our last evening in Kyoto in this district of the city. While you were walking along the Hanamikoji-Dori yesterday, you can discover the smaller side streets today.
So if you weren't lucky enough to spot a real geisha yesterday, you can try your luck again today. Go for a walk in this area of ​​Kyoto, stroll along the beautiful streets, and let the traditional atmosphere work on you.
If you are looking for a traditional Japanese experience and you don't mind spending a little more money, you can attend a traditional tea ceremony here. In one of the tea houses and high-class restaurants, you can watch real geikos and maikos (geishas and their apprentices) at work.
Then it goes to the neighboring district of Potocho. Here you will also find traditional Japanese architecture and great views over the Kamagowa River. Moreover, this area is full of great restaurants where you can taste tasty Japanese dishes. We recommend Yakitori if you haven't tried it yet. These are grilled Japanese style skewers.
Your first time in Japan?
Find a lot of helpful information in my post about Things I wish I had known before visiting Japan here.
More Kyoto?
Make sure to check those 18 unusual non-touristy things in Kyoto and also read this great 4-day Kyoto Itinerary or this One Day in Kyoto.
---
Interested in Japan?